Looking for ideas on where to go in October? October is a great month to visit some of the most popular American National Parks, especially the ones that are too hot in the summer and those that are famous for their fall colors. Furthermore, it's a shoulder season with very few tourists and lower prices.
But what to expect when visiting one or the other park and what are the best National Parks to visit in October?
In this article, we feature a selection of some great American National Parks with tips for visiting them in October. Why go in the fall, what kind of weather to expect, and what to know. We included some of the best-known National Parks, but also some lesser-known parks that see even fewer crowds and make a great fall getaway.
For quite a few National Parks featured here, October is one of the absolute best months to visit. So if your travel dates are flexible and you've always wanted to experience some of the most phenomenal scenery without the crowds, this might just be one of the best months to make that dream trip!
Need a rental car for your National Parks road trip?
We recommend renting your car via the Rental Cars website. You can compare different companies and their offers, and find the best prices for your trip. They also have an excellent cancelation policy and you can also get full insurance for a much lower price than at the counter. We personally always use this website for all our trips.
Good to know: For this inspirational post for where to go in October, we also asked opinions of fellow travel bloggers. They share some of their favorite National Parks that they visited this time of the year and offer some experience-based tips for your visit. We also included some of our personal suggestions. Take a look!
READ ALSO: Where to Go in September
PRO TIP: If you are planning to visit several National Parks, get an annual NP's pass. It's called America the Beautiful Pass and costs 80 USD for the whole family traveling in the same vehicle. It is valid in all National Parks and 2,000 federal recreation sites across the United States for one year from the month of purchase.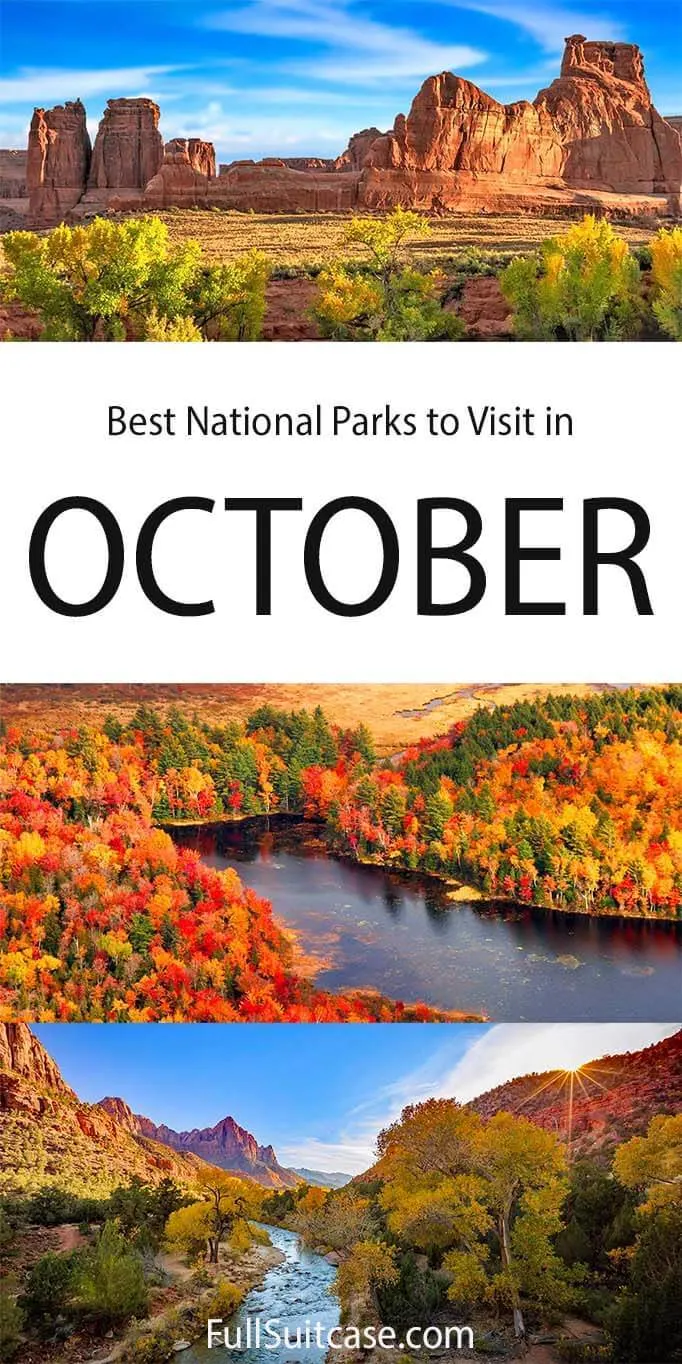 These are some of the best American National Parks to visit in October:
1. Acadia National Park
Situated in Maine, Acadia National Park is known as the crown jewel of the North Atlantic Coast. Outdoor lovers will be in their element finding hugely varied wildlife, ocean-front landscapes, mountain bike tracks, and some of the amazing Acadia hiking trails.
You can easily explore the park by car (check out this self-guided tour to be sure you don't miss any of the 'musts'). If you are here for the hiking, you'll find nearly 160 miles of trails, ranging from multi-day epics to beach strolls. The Beehive Trail is short but one of the most popular choices, and from the summit, you'll be rewarded with inspiring views of Sand Beach and Frenchman's Bay. This is also a great spot to watch the sunset.
Acadia National Park is an epic destination throughout the year, but for one of the best experiences, you have to go in October! The park can get busy in summer when the weather is at its warmest, whilst the winter can be fairly bitter and drop below freezing. Fall is the perfect time to visit. You'll still find pleasant weather but can often miss the crowds.
Everything remains open at this time of year and October daytime temperatures in Acadia National Park are in the high 50's-low 60's (12-18°C). So take a jumper and enjoy some solitude on the trails.
Acadia is also famous for its fall foliage and leaf-peeping possibilities. So if you visit in October, you can enjoy the fiery autumnal colors as well! For that, the 2nd and the 3rd weeks of October are probably the best time to be in Acadia NP.
LEARN MORE: Acadia National Park Itinerary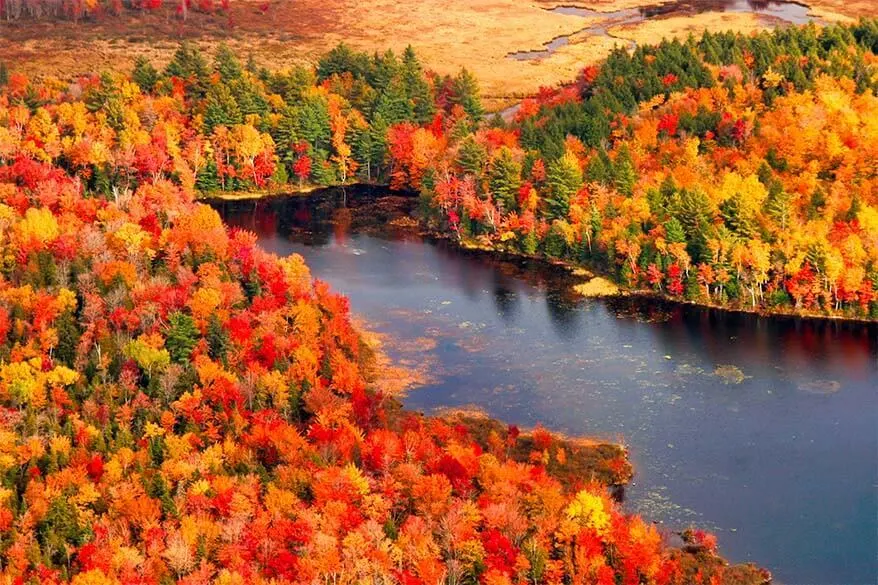 2. Great Smoky Mountains National Park
Location: At the border of Tennessee and North Carolina
Suggestion by Ketki from Dotted Globe
Where to stay: The best place to stay nearby is Gatlinburg, TN. Alternatively, try Townsend, TN.
Great Smoky Mountains National Park is a popular nature getaway in any season, #1 among the most visited national parks in the USA. But in my opinion, the best time to visit the Smokies is in the fall when the park is awash in brilliant autumn colors. It's one of the best National Parks for October holidays!
While the peak fall color changes from foothills to mountain peaks, the leaves color in yellow, orange, red, and even occasional violet tints. If you visit the Smokies from mid-October to early November, you are sure to see some beautiful fall foliage in the park! Just try to avoid weekends towards the end of October as it's one of the busiest times of the year in the Smokies!
Start your visit in Gatlinburg, Tennessee which is the gateway to exploring the Great Smoky Mountains. The city is full of fall decor including pumpkins and scarecrows and events like Oktoberfest. But the real fun lies inside the national park.
Drive along the scenic Cades Cove Loop to see the beautiful fall foliage and historic buildings in the Smokies. See the working Cable grist mill and its waterwheel near the Cades Cove Visitor Center.
For a scenic drive with very few crowds and lots of waterfalls, drive along the Roaring Fork Motor Trail. Climb up Clingman's Dome which is the highest point in Tennessee to see the stunning fall foliage from above.
Fall is also a great time to spot the Smokies wildlife. You might see black bears, elks, deer, turkeys, and pheasants along both Cades Cove Loop and Roaring Fork Motor Trail.
Be sure to carry a warm jacket and a winter hat, as the park gets pretty cold in fall. Here you can find more information for visiting the Great Smoky Mountains NP in the fall.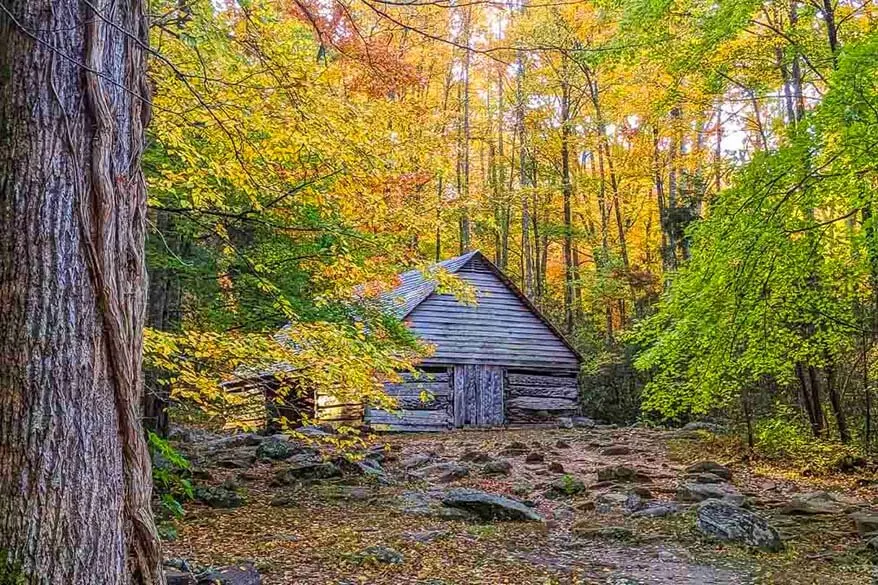 3. Yosemite National Park
Location: California
Suggestion by Zach and Julie Ruhl from Ruhls of the Road
Where to stay: Inside the park, try Ahwahnee Hotel and Yosemite Valley Lodge (both in Yosemite Valley) or Wawona Hotel. Just outside of the park, Yosemite West has more lodging options at somewhat lower prices. Book well in advance!
Yosemite National Park is one of the most visited NPs in the United States. June to September are the busiest months attracting big crowds. October is a shoulder season and a unique and special time to visit Yosemite NP.
October brings spectacular fall colors throughout the park as the big-leaf maples, black oaks and other deciduous trees turn beautiful shades of yellow, orange, and red. However, most trees in the park are evergreen, so the sightings of colorful foliage really depend on when or where exactly you visit.
Daytime temperatures in Yosemite in October are in the comfortable 60-70°F (15-20°C), which is ideal for hiking Yosemite's best trails! The night can get really cold though, so be prepared if you're planning to go camping.
As the shoulder season begins, you can enjoy Yosemite's beauty without the crowds. October is also a more budget-friendly time to visit Yosemite National Park. Perfect time to go if you are looking for a cheaper fall getaway in the most beautiful nature.
In October, Yosemite National Park is usually dry, with an average of 3 days of rain. This also means that you won't see the raging waterfalls as in spring or in summer. However, this means that you can enjoy the Mist Trail, one of the best hikes in the park, without getting soaking wet.
If you are keen on hiking Yosemite's most famous hike, Half Dome, it will be best to go in early October as the cables are usually taken down the day after the second Monday in October. Please note that a permit is required for this hike, so plan your trip ahead of time to be prepared.
LEARN MORE: Yosemite Travel Info & Tips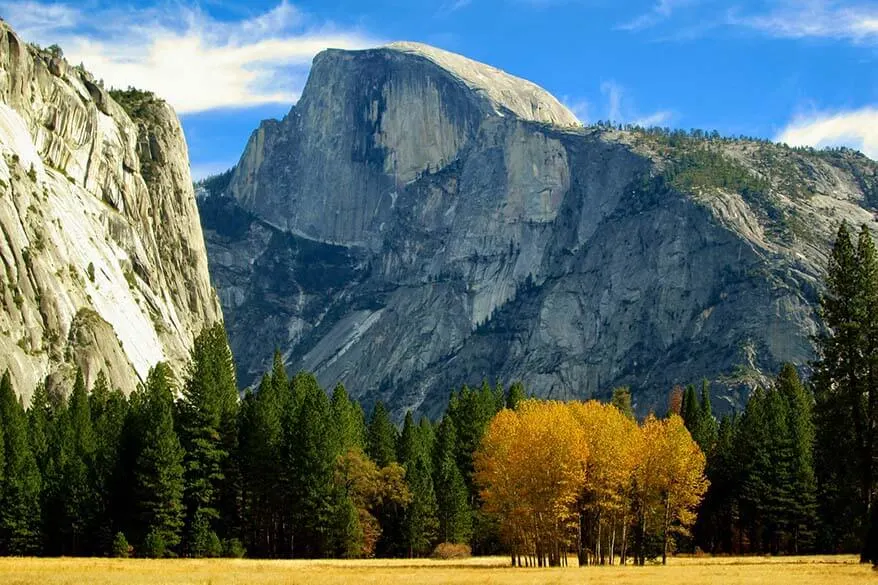 4. Grand Canyon National Park
October is a great time to visit the Grand Canyon National Park. The summer crowds have thinned out and the weather this time of the year is still pleasantly warm. You can expect daytime temperatures around 60-70°F (15-20°C) and lots of sunshine.
All the hiking trails in the Grand Canyon are usually still open in October. South Rim trails remain open year-round, but the North Rim closes at the first snowfall after mid-October. However, this rarely happens before November.
The pleasant temperatures make hiking easier. In fact, October is one of the best months for hiking in the Grand Canyon NP. You can do shorter hikes during the day around the Rim of the canyon or even attempt a longer hike between South Rim and North Rim. A longer hike down to the bottom of the canyon and back up to the top is not possible in just one day. You will need to get a permit to camp at the bottom of the canyon and these are hard to get. Be prepared for cold nights, though.
Helicopter tours are amazing at any time of the year, and October is also the best time for other backcountry activities such as white water rafting, horse riding tours, as well as backpacking tours (some offer mules to help you carry the bags). Reserve early if you want to stay at the Phantom Ranch, the only lodge in the Grand Canyon's base, located near the shores of the Colorado River.
We visited the Grand Canyon in October and stayed in one of the accommodations inside the park. That made it easier to catch the sunrise which – at that time of the year – is around 6.30 AM, so much easier to wake up for than in summer.
Sunrises and sunsets in the Grand Canyon are spectacular and one of the best parts of our visit. Sunsets are quite early in October (around 5.30 PM) and that's a very convenient time for family travelers. Since Grand Canyon is a very popular destination and can easily be visited as a day trip from Las Vegas, even in October you can expect large crowds at South Rim, also at sunset.
READ MORE: Grand Canyon in 1 day
TIP: Don't just limit your visit to the Grand Canyon! See our suggested 2-day itinerary for Route 66, the Grand Canyon, Horseshoe Bend, and Antelope Canyon for some inspiration on where to go.
Even if you are short on time, you can see some amazingly beautiful natural landmarks here, and October is a great time for a road trip in Arizona! Here you can also find more inspiration for some of the best places to see in Arizona.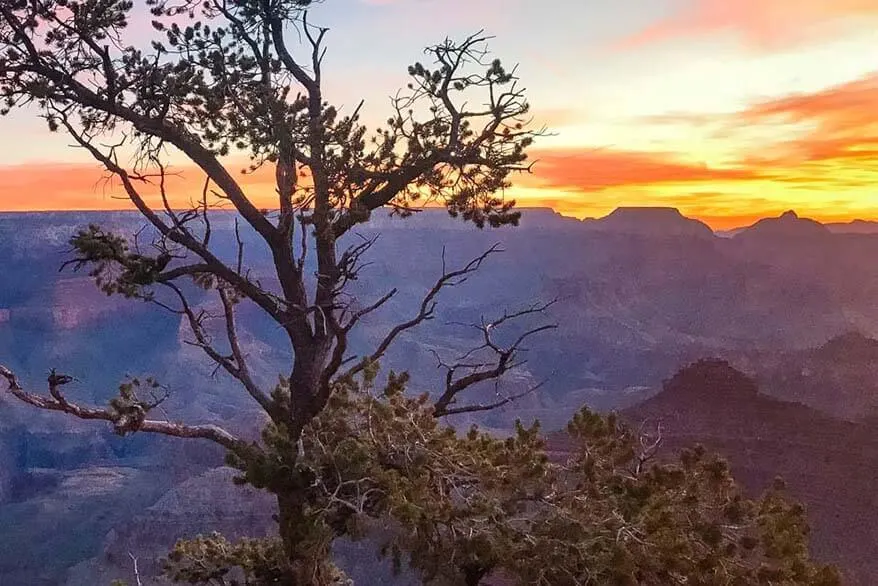 5. Shenandoah National Park
Location: Virginia
Suggestion by Carrie from Trains, Planes and Tuk Tuks
Where to stay: Big Meadows Lodge is one of the nicest places along Skyline Drive. Alternatively, stay in Luray north of the park.
Shenandoah National Park is undoubtedly one of the most beautiful places in the US to visit in October. Fall colors really shine in this slice of Appalachia!
The best views of Shenandoah in autumn are from the top of Old Rag Mountain. Getting here is quite an adventure. One route involves a steep set of switchbacks followed by a 90-minute-long rock scramble (not suitable for small kids or anyone mobility-impaired). Alternatively, hike up the back of the mountain on a moderate half-day hike. Either way, be sure to bring a picnic for the top.
If you'd rather be immersed in the changing forest, Lewis Falls is the classic autumn waterfall hike. This easy 3-mile loop takes you to the park's most iconic cascade. Here you can find these and other suggestions for Shenandoah hikes.
Or, simply take your car and drive Skyline Drive, stopping at the lookouts along the way. Big Meadows Lodge and Skyland Lodge are both open for a meal stop or overnight stay along the way.
The weather in Shenandoah in October is absolutely perfect. It's in the 40s-50s (5-10°C) at night, often rising to 60-70°F (15-20°C) during the day. Totally cloudless days are the norm. You can comfortably camp at any of the lodges, campgrounds, or backcountry sites (with a permit).
If you're planning to visit Shenandoah in the fall, you'll need to prepare for crowds. Traffic jams on Skyline Drive are common, even in October. Reserve lodging months in advance (even if camping). The closest bigger towns to stay near Shenandoah are Charlottesville and Harrisonburg and there are also some accommodations inside the park (see above).
TIP: If you want to avoid the crowds, consider visiting the northern sector and focusing your hikes on the Appalachian Trail. The overlooks here are just as impressive, but you'll be way more off the beaten path.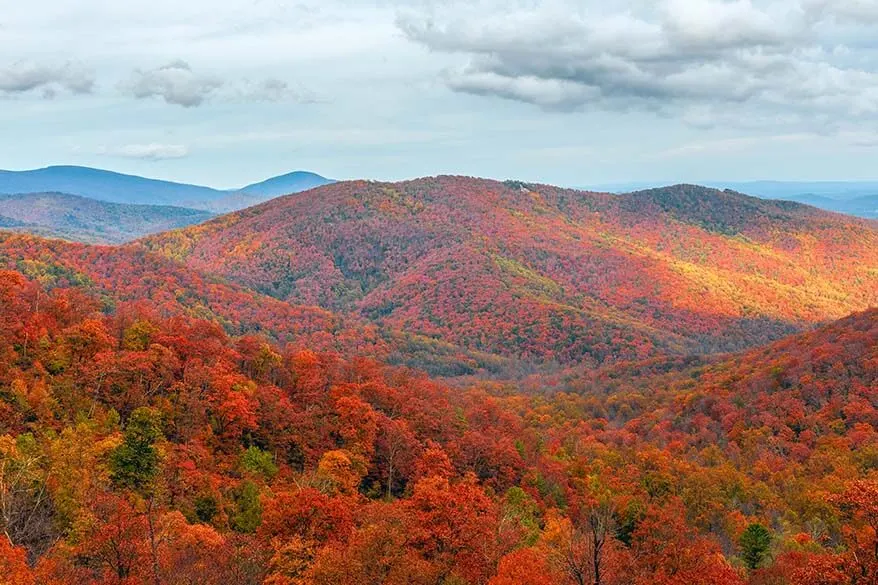 6. Zion National Park
October is probably one of the absolute best months to visit Utah's National Parks and Zion National Park is no exception. In summer, the temperatures here are so hot that it's difficult to enjoy the park to the fullest. Canyon hikes might be impossible due to spring runoff and it regularly snows in winter.
Fall weather is usually perfect for hiking and October is really as good as it gets for visiting Zion!
Average daytime temperatures in Zion in October are in the high 70s (24-25°C) and average low temperatures are in the high 40s (8-10°C). The weather in Zion changes often and you can expect to get some rain, but it's usually not much of an issue.
Because of this, Zion NP is still quite busy in October. Utah fall school break (a long weekend around mid-October) is usually very busy here, but apart from that, it's nothing compared to the high season. Zion shuttle buses also run during October and all the park facilities are open.
If you are looking for fall colors, the best time to be in Zion Canyon is late October.
If you like hiking, October is the absolute best month for that. Some of the best shorter hikes include Canyon Overlook, Emerald Pools, Riverside Walk, and Hidden Canyon. If you are looking for more challenge, consider the famous Angel's Landing. Either way, there is so much to see and do in Zion that you can easily spend several days here.
TIP: If you are looking for something unique to do in Zion at this time of the year, check out this highly-rated UTV/hiking tour to spectacular slot canyons in Zion.
READ MORE: Best Hikes in Zion National Park
Good to know: Stay in Springdale, just near the southern park entrance. This is the best place to be if you want to beat the crowds. Here you can find our complete guide for where to stay near Zion National Park.
And if you have some extra time, combine two parks in one trip. See our Zion – Bryce Canyon itinerary for tips and recommendations.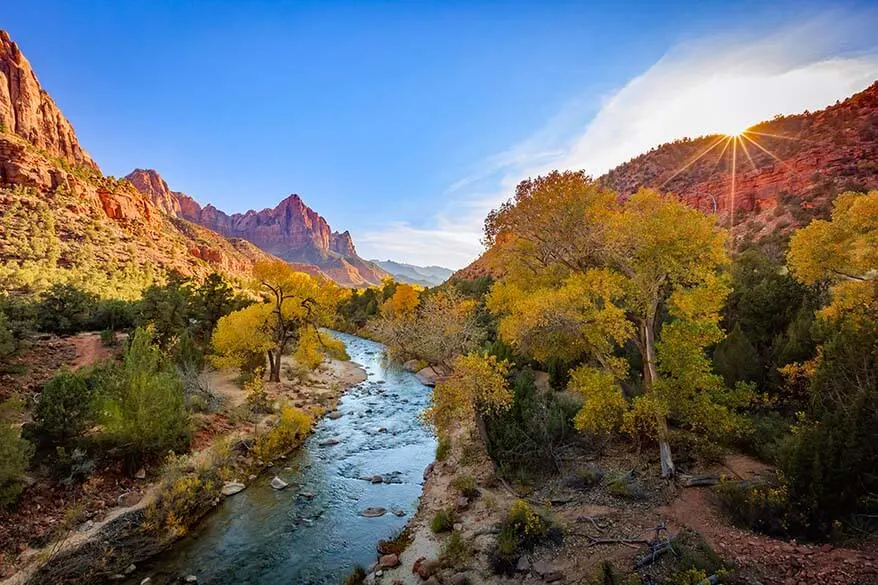 7. Arches National Park & Canyonlands
Arches National Park is one of the most popular parks in the USA. Visiting this place with its incredible orange and red rock landscapes with more than 2000 sandstone arches is like stepping into another realm. Arches has something for everyone. Hiking, camping, 4×4 tours, stargazing, rock-climbing, ranger-led programs, and even scenic flights – there are so many things to do.
If you love hiking, this is your paradise. Start with a hike to the famous Delicate Arch early morning to see the sunrise or in the afternoon to see the sunset. The Landscape Arch and the North & South Windows are all easy hikes, just as the Balanced Rock, right next to the road.
If you have kids, the Sand Dune Arch is easy as well, especially if you want to escape the crowds and relax on the sand. Here you can find more ideas for what to see and do in Arches National Park.
October is one of the best months to visit Utah's National Parks! The best part about visiting Arches NP in October is that you don't have to deal with the summer crowd and traffic congestion at the best viewpoints along the Scenic Road in Arches.
However, Arches can get really crowded during the fall school holidays in Utah (generally the long weekend from Thursday to Sunday around mid-October). But if it gets too busy, you can always escape to the nearby Canyonlands National Park – it's just 30 minutes' drive from Arches and sees much fewer visitors. Here you can read more about the best things to do in Canyonlands.
Another great thing about Arches or Canyonlands in the fall is that the parks are not as hot as in summer and not as cold as in winter. October weather is generally very nice, with daytime temperatures in the low 70's (21-25°C) and just a few days of rain.
It's perfect weather for exploring and hiking and you may get to see some colorful foliage. The chances of getting snow in Arches in October are extremely slim.
TIP: Even if you go in October, you still have to make sure that you stay hydrated and apply ample sunscreen. If you plan to go hiking, make sure to wear sturdy shoes with enough tread to give you traction. For the best experience, stay in Moab and plan at least 2-3 days in this area.
READ ALSO: How to Visit Arches and Canyonlands in One Day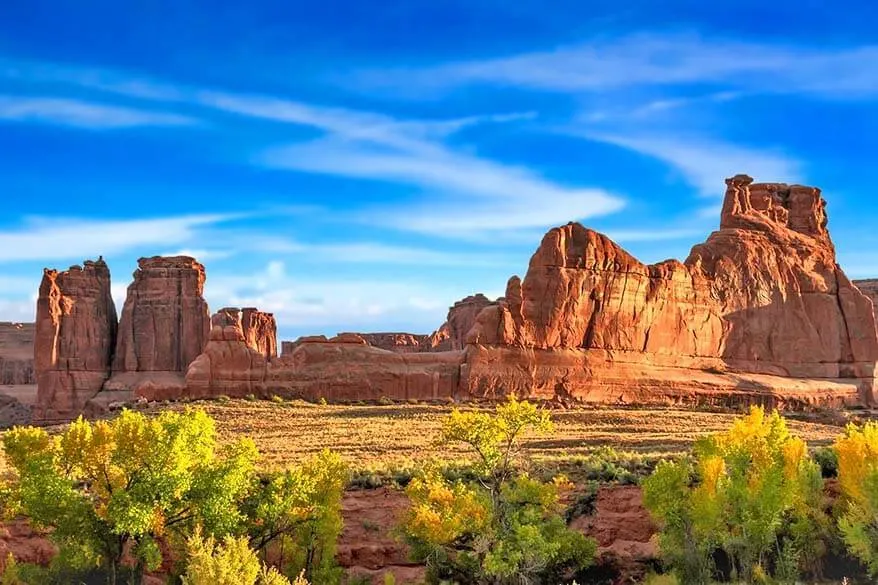 8. Bryce Canyon National Park
Location: Utah
Where to stay: The Lodge at Bryce Canyon has the best location and it's open until the end of October. Alternatively, stay in Bryce, where you can find good price/quality lodging options.
Another of Utah's Mighty 5, Bryce Canyon National Park is also a great choice in October. Due to higher elevation, it's not as warm here as in Zion or in Arches, and that's also why October is already low season in Bryce. So if you come here in October, you'll find no crowds, but still pleasant weather for outdoor activities.
You don't need much time to see Bryce Canyon NP – half a day is enough for the highlights. You can take a walk along the rim and drive to four main viewpoints – Sunrise, Sunset, Bryce, and Inspiration points. If you have more time, you can consider one of the longer hikes as well. Horseback riding tours inside the canyon still run in October as well.
Fall brings the most beautiful autumn light! Because of the shorter days, sunrises are quite late and sunsets – early. This makes it easier to see some of the most famous viewpoints of Bryce at the very best times.
Average high temperatures in Bryce in October are about 58°F (14°C) and it can freeze at night. That also means that you might be lucky to get some snow that makes Bryce Canyon look truly magical, although it doesn't often snow in October!
Most trees at Bryce Canyon are evergreen so it's not really a place for fall foliage, but you might see some beautiful fall colors along the road when driving in the area.
Some facilities at Bryce Canyon NP might close already or operate at reduced hours in October. But if you don't mind that, October is the perfect shoulder month to visit Bryce Canyon.
TIP: Bryce Canyon NP is a perfect addition to your trip to nearby Zion National Park and can also be combined with a trip to Arches NP or Grand Canyon (all listed above). October is a wonderful time for a nice road trip combining several of these great National Parks!
LEARN MORE: How to Plan a Trip to Zion & Bryce Canyon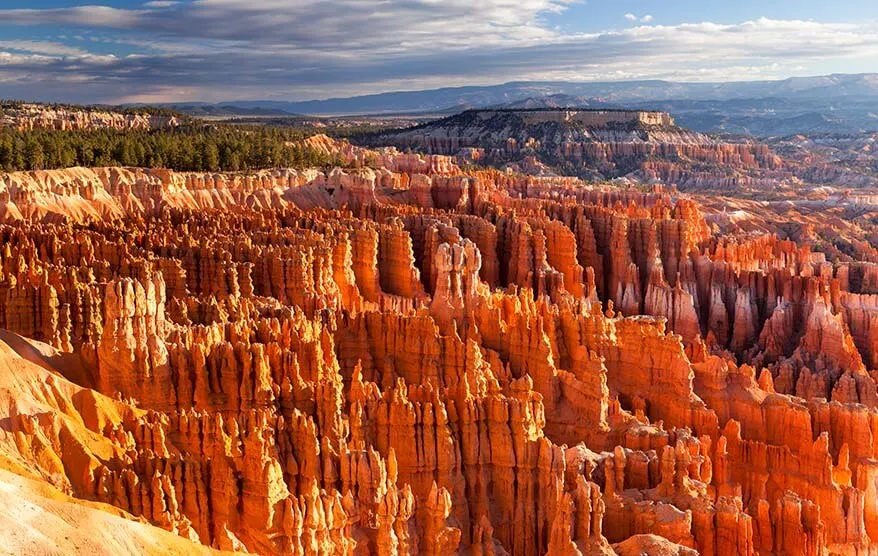 9. Rocky Mountain National Park
Just two hours from the city of Denver sits one of the most famous and most popular National Parks in the United States. Surrounded by epic natural attractions, Rocky Mountain National Park serves as America's doorway to the Rocky Mountain range.
Rocky Mountain National Park is gated at either end by two picturesque mountain towns, Estes Park, and Grand Lake. The two towns are connected via one of the most epic drives in North America, the famous 48-mile Trail Ridge Road.
The Trail Ridge Road crests the top of the Colorado Rockies. It offers scenic vistas that can only be matched by very few places in the country. The drive rises 4,000 ft (1,200m) in just a short period of time. This experience can both figuratively, and literally leave you breathless. However, depending on the snowfall, Trail Ridge Road can close quite early in October (generally around mid-October), so keep this in mind when planning your visit.
There is much more to Rocky Mountain National Park than just the drives. In this vast natural area, you'll find beautiful hiking trails, cascading waterfalls, and a huge variety of wildlife that seems to explode from everywhere within the park. Large herds of elk, graceful deer, foxes, and black bears, among others, call Rocky Mountain National Park home.
Fall is one of the best times to visit Rocky Mountain National Park. We went in October and had a great time. The huge summer crowds begin to dwindle, and the mountain foliage bursts into color. The waterfalls may not be at their peak, but the color and crisp air bring a unique atmosphere to the landscapes.
Wildlife is in full engagement as they graze, harvest, and prepare for the harsh Rocky Mountain winter. The end of September to mid-October is also the elk rutting season and you can hear their bugling sounds or even see the elk fight.
Good to know: There is a big difference between visiting the Colorado Rockies at the beginning or towards the end of the month. If you want the ultimate experience with beautiful fall colors, wildlife, open roads, and better weather, then visit Rocky Mountain NP at the beginning of October. Late October can also be magical, but it will be much colder already.
TIP: We recommend staying in Estes Park and exploring the Rocky Mountain NP from there. That way, you are not dependent on Trail Ridge Road being open and can access the most beautiful parts of the park anyway. If you only have a day, check out this itinerary from Denver to Rocky Mountain National Park – it covers all the musts and can be perfectly done in October as well.
READ MORE: Rocky Mountain NP itinerary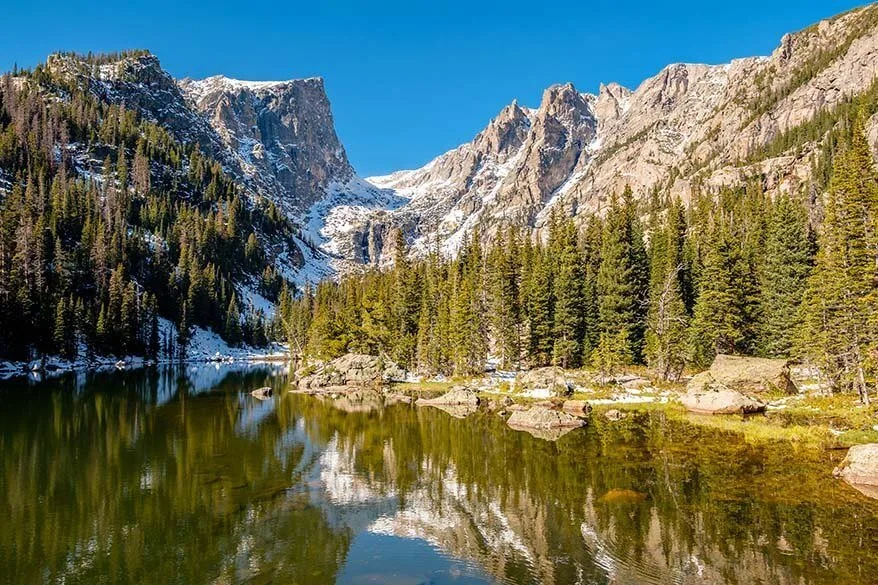 10. Hawaiʻi Volcanoes National Park
Hawaii is always a good idea, but if you're looking for pleasant weather, fewer people, and better rates, October is one of the absolute best months to visit. And one of the best things to do on the Big Island is, undoubtedly, a visit to Hawaiʻi Volcanoes National Park.
October is a great time for the popular Volcanoes National Park! There are fewer people, lots of events in the park, and the weather is good for outdoor activities. Daytime high temperatures average in the mid 80s (30°C) and even nighttime temperatures are in the 70s (20°C).
The park is home to the Kilauea volcano which has been active between 1983 and 2018 and is the biggest draw for visitors to the island.
Since the National Park reopened in 2018, many of the park trails and attractions are open for visitors. Volcanoes National Park is easy to explore on your own, or you can also sign up for ranger talks and guided tours through different parts of the park.
Start your visit to the park by going to the Visitors Center for orientation, talk to rangers, and don't miss the fantastic video about the park.
You can easily drive to the main attractions by car and you can also do some fantastic nature hikes. The are many hikes for all difficulty levels and you'll find informational placards along the trails explaining more about the surroundings. And if you don't have a car, you can also easily visit here with this popular tour.
TIP: For more Hawaii travel inspiration, make sure to check our guide to the best things to do in Maui and Maui itinerary suggestions.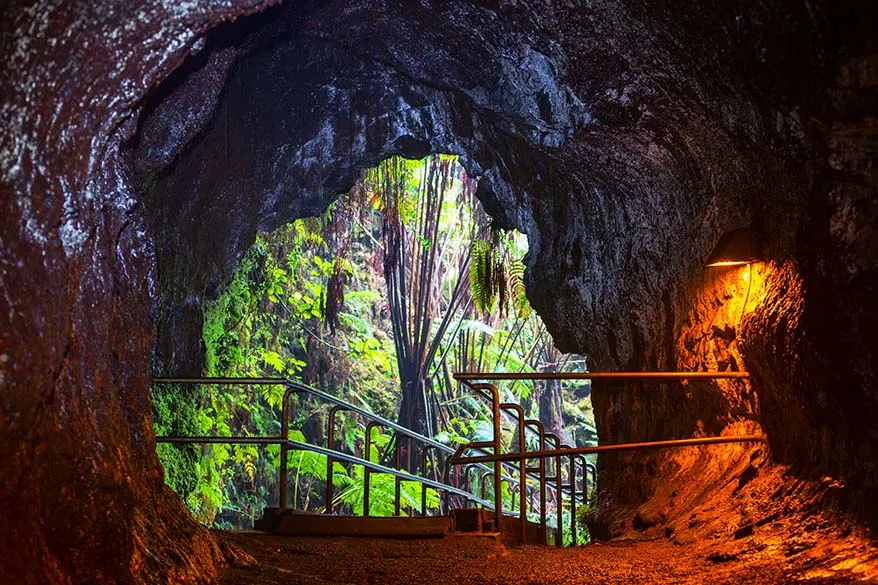 11. Sequoia National Park
When you're looking for a great nature getaway in October, Sequoia National Park is one of the best. There are tons of amazing things to see and do in this national park and shoulder season is the optimal time to enjoy the best that this park has to offer.
October is an excellent month to visit Sequoia NP for several reasons. First, there are fewer people and no traffic congestions. Furthermore, it's also a great time for outdoor activities as cooler weather makes hiking more pleasant.
Average temperatures in Sequoia in October are in the low 50s (10-12°C). However, be aware that it can be chilly at night so be prepared to bundle up! Light snow is not uncommon at the end of October, but it usually melts very quickly.
If you decide to visit Sequoia in October, you should also know that some amenities and areas of the park will begin to close. Crystal Cave usually closes at the beginning of October, and a few lodges, campgrounds, or cabin setups start to close during this time as well.
There is more open during the first half of October than during the second, but in both cases, you can rest assured that there will still be plenty of lodging, food services, etc. for you to enjoy.
Opening hours of visitor centers are also shorter in October and there are fewer ranger programs. So you may have to plan your agenda a bit more carefully than you would if you came here during the summer.
But it's definitely worth it for the beauty that is Sequoia during the fall! October is a gorgeous month and you'll find plenty to enjoy all around you – from seeing the largest tree in the world (General Sherman), to hiking to the top of Moro Rock for breathtaking panoramic views. You'll be tempted to return to Sequoia in the low season again!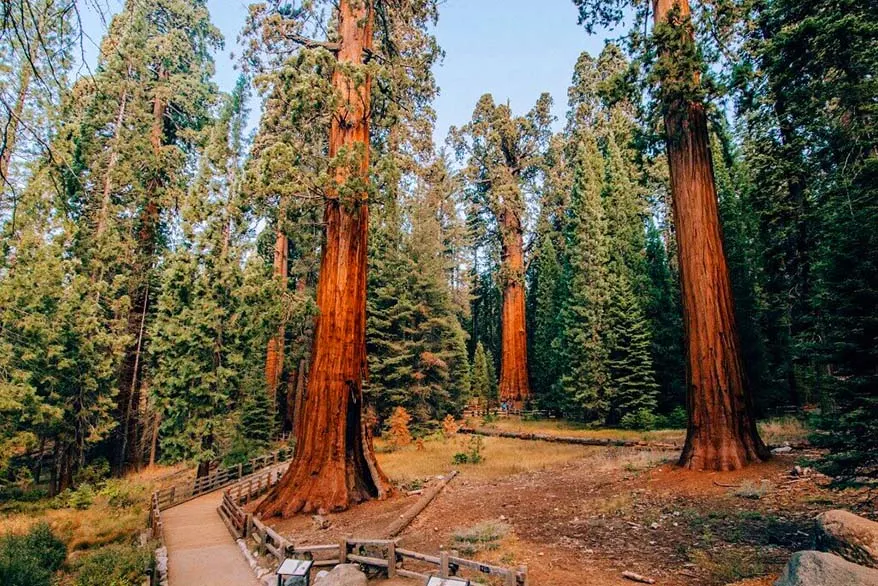 12. Joshua Tree National Park
Location: California
Suggestion by Jade from Vagabond3
Where to stay: There is no lodging in the park. The best place to stay is 29 Palms, at the north entrance.
October is a great time to visit Joshua Tree National Park and it's a bit of a shoulder season with less heat than in the summer and fewer crowds than later in the fall.
The hot summer heat has finally worn off, with October average temperatures in the mid-70s (24°C). At the same time, the days are still long and the autumn rays color the rocks in the most beautiful colors.
October also sees lower numbers of visitors than any other time of year, so you'll have most of the hiking trails and rock climbing spots to yourself.
Don't miss Skull Rock Interpretive Loop, an easy 1.7-mile loop with the famous skull rock right off the road. The Maze Loop is much longer at just over 6 miles but weaves through desert cactus, Joshua Trees, and granite rock structures.
Since Joshua Tree National Park is so remote, it is best to camp in the park or get accommodation in 29 Palms, the small town right outside the north entrance. Camping is easy and safe as well. Alternatively, you could stay in Palm Springs, but it is about a 45-minute drive each way.
Good to know: Recently, the Joshua Tree Music Festival Fall edition has moved to mid-October. So you could even enjoy some incredible music during your visit. However, that might also mean more crowds during that period.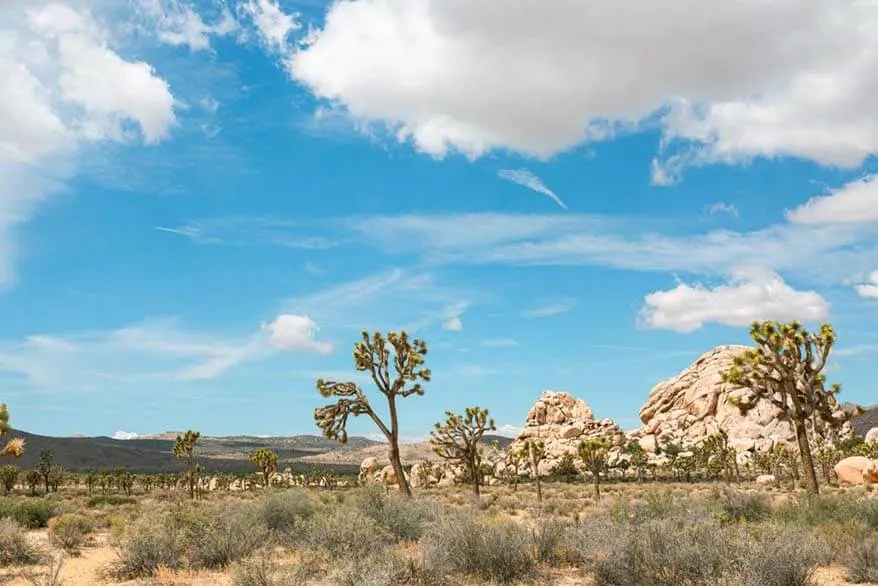 13. Lassen Volcanic National Park
The beginning of autumn is the perfect time to visit Lassen Volcanic National Park in Northern California. As one of the lesser-known or visited National Parks already, Lassen Volcanic National Park is especially void of tourist crowds in October, making it a great month to visit.
Although October is a relatively dry month for the park, it does get very chilly in the afternoon, so warm clothing is a must! High daytime temperatures in Lassen Volcanic NP in October are usually in the 50s (10-15°C), but it can also freeze at night.
Lassen Volcanic National Park is located about 4 hours from San Francisco. The nearest major city, Redding, California, is about 2 hours away, with no shuttle service or direct public transit access. A day trip is possible if you only want to see a few things and don't mind a long drive.
Otherwise, consider staying at one of the smaller towns in the area. For overnight stays, there are no cabins or hotel lodgings inside the park, only campsites and RV hookups. All park services are open through fall, so you can enjoy the complete amenities without waiting in line.
The Pacific Crest Trail also runs through Lassen Volcanic NP, and the trails are lined with beautiful red, orange, and yellow foliage. As the name suggests, Lassen Volcanic National Park also has acres of geothermic areas, so you can stroll past fragrant pools of bubbling mud after lunch.
But hands down, the best perk of the park is the sheer absence of light pollution. Lassen Volcanic National Park has the absolute clearest night skies in California! It's a perfect place for stargazing and finding the many constellations only viewable in the fall.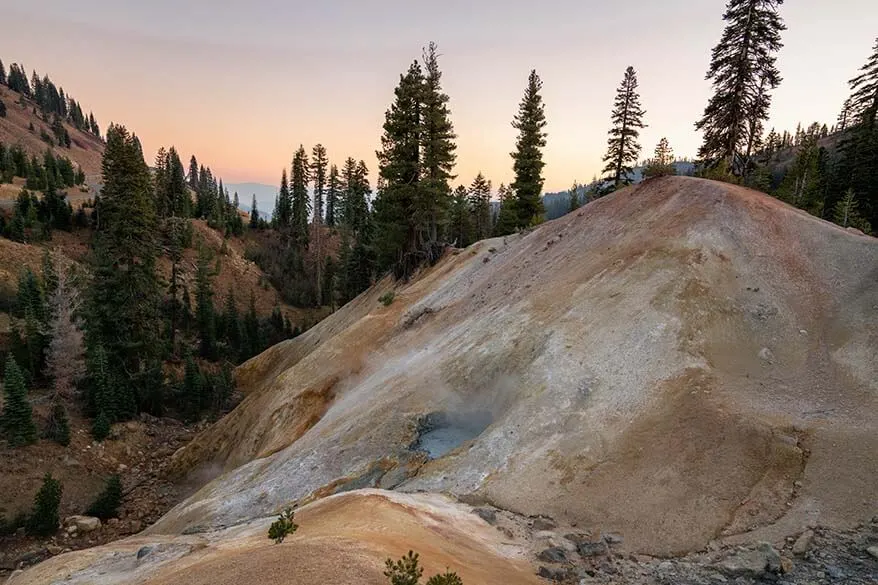 14. Crater Lake National Park
Location: Oregon
Suggestion by Zach and Julie Ruhl from Ruhls of the Road
Where to stay: Crater Lake Lodge inside the park. There are also several accommodations in Fort Klamath just nearby and more options a bit further away.
Crater Lake National Park, located in the Cascade Mountains, rightfully earned a spot in the list of Oregon's 7 wonders! It's breathtaking and the scenery and the colors are ever-changing depending on the season and light conditions.
Crater Lake was created by the eruption and collapse of Mount Mazama around 7-8000 years ago. It's now the deepest lake in the U.S. and also one of the cleanest and clearest lakes in the world. The cleanliness of the lake gives it a deep blue color that is absolutely stunning to look at.
You can hike to Mount Scott if you'd like a stunning 360° view from above or hike Cleetwood Cove trail if you want to get down close to the lake. In summer, you can go swimming here, but it's probably not the best idea in October as the water is freezing cold… On the other hand, when will you have the opportunity to jump into America's deepest lake again?
October is the shoulder season at Crater Lake National Park, therefore it is a great time to visit if you are looking for less crowds and cheaper prices. The drawback is the uncertainty about the weather.
Typically, Crater Lake NP will start to see snow in October, but you can also have nice sunny days with daytime temperatures in the low 50s (10-12°C). Fresh snow gives a bright white dusting to the landscapes surrounding the lake and, in our opinion, makes the scenery even more beautiful.
We visited at the beginning of October and saw very few hikers on the trails and we were able to enjoy many gorgeous places completely alone.
The rim roads typically begin to close at the end of October or early November. So keep an eye on the NPS website when planning your visit, especially if you are traveling at the end of the month. When we visited, all the roads were open and that allowed us to do a full loop around the lake and many hiking trails along the way. All trails were open except trails located on Wizard Island due to the shuttle boat being shut down for the season.
Cross-country ski and snowshoeing opportunities can begin as early as mid-October when the winter's first snowstorms can drop a foot or more of snow. Plan a trip for early October if you are looking to do more hiking and swimming or late October if you are looking to do winter activities.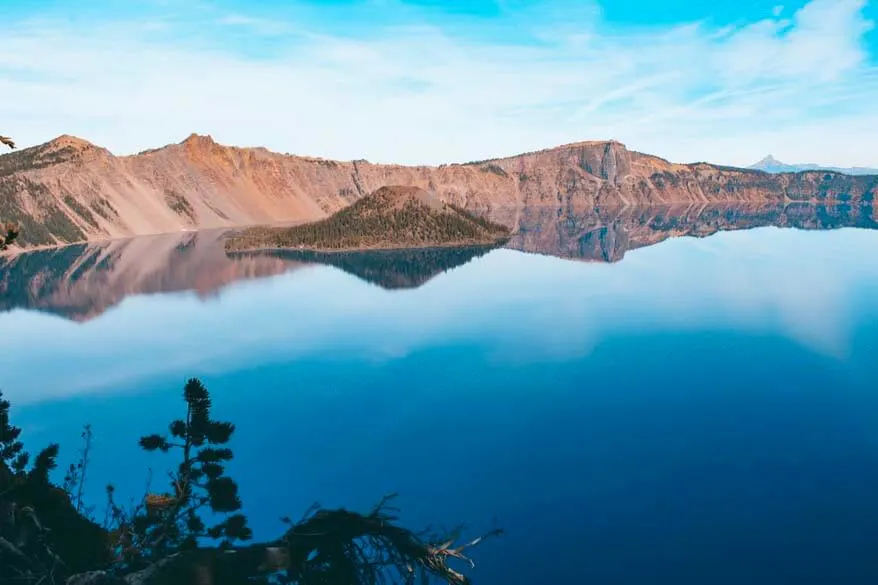 15. Dry Tortugas National Park
Dry Tortugas National Park is located in the Gulf of Mexico, just off the coast in Florida. It comprises of several islands and is only accessible by boat or air. Probably best-known for the coastal fortress Fort Jefferson, this National Park is also a paradise for diving, snorkeling, or bird-watching.
October is one of the rainiest months in this area, but with an average of just 7 days of rain and daytime temperatures around 75-85°F (24-30°C), it is a great month to visit Dry Tortugas. In general, the weather is beautiful, with lots of sun, and it's not too hot.
Going after the peak summer months is also more budget-friendly. You have to keep in mind that October is still hurricane season in Florida, but the chances for a hurricane are much lower than in August or September.
TIP: Since Dry Tortugas NP is usually visited as a day trip from Key West, you can always change your plans if the October weather turns out rainier than expected. Just make sure to book a tour with free cancellation.
There are several activities to partake in at Dry Tortugas, including taking a tour of Fort Jefferson (or you can explore on your own), snorkeling (gear provided or you can bring your own), fishing (bring your tackle), and bird watching.
If you book far enough in advance, you can even go camping and spend a night here. Everything is open, although going in October makes bird watching a little more difficult as the nesting season generally ends in September.
If you keep an eye on the weather forecast and visit on a beautiful sunny October day, you'll find crystal-blue water and amazing marine life. If you're not going for the birds and are looking for a lower-cost off-season experience, then October is a very good month to visit Dry Tortugas National Park.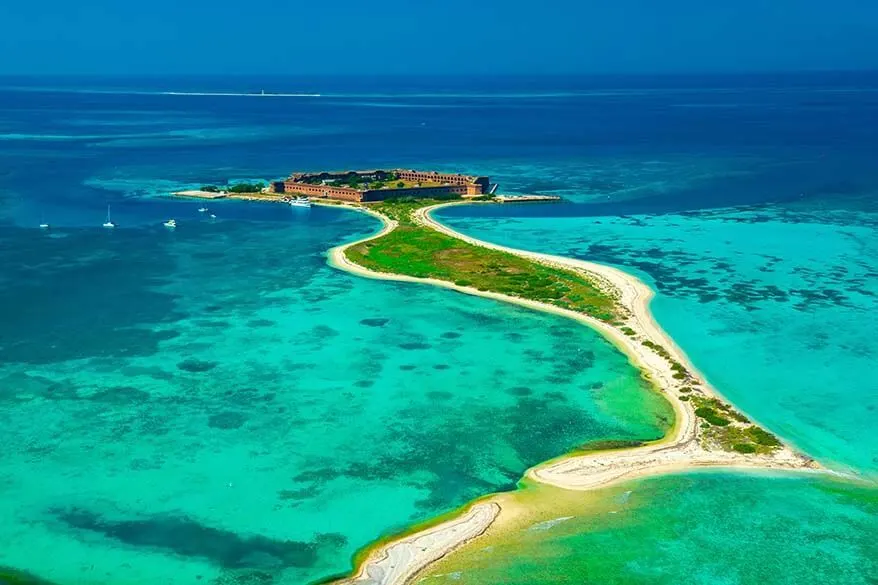 So, this is our selection with suggestions for some of the best National Parks to visit in October. I hope that you found some new ideas for fall travel! What's your favorite American National Park in October? Feel free to leave a comment below and tell us all about it!
READ ALSO: Best National Parks to Visit in November
More National Parks travel inspiration:
If you found this post helpful, don't forget to bookmark it and share it with your friends. Are you on Pinterest? Pin this image!