Looking for ideas for spring break destinations in the USA? In this article, we cover some of the best places to visit for spring break in the US. Where to go, why it's a perfect spring break destination, what to see and do, and experience-based tips for your visit. Find out!
March and April are good months to visit many places in the United States, but it's not perfect everywhere. Needless to say, spring weather is very different in the Colorado Mountains than it is in Florida… So depending on what type of vacation you are looking for – beaches, city trips, or snow holidays – you have a choice of very different spring break destinations.
In this article, you can find ideas for some of the very best places to visit in the USA in the spring. In addition to our personal recommendations, we also feature favorite American spring break destinations of several other traveling families. For every destination, we included recommendations of the best things to do, what kind of weather to expect, and some useful tips for your vacation.
This list isn't complete in any way – there are just so many great destinations to visit in spring, all across America! We aimed to create a list that has a good mix of spring destinations – from mountains and deserts to beaches, and from theme parks to city trips. So there's something in here for everyone. Below, you'll find plenty of ideas of where to go for spring break. Scroll down to read more!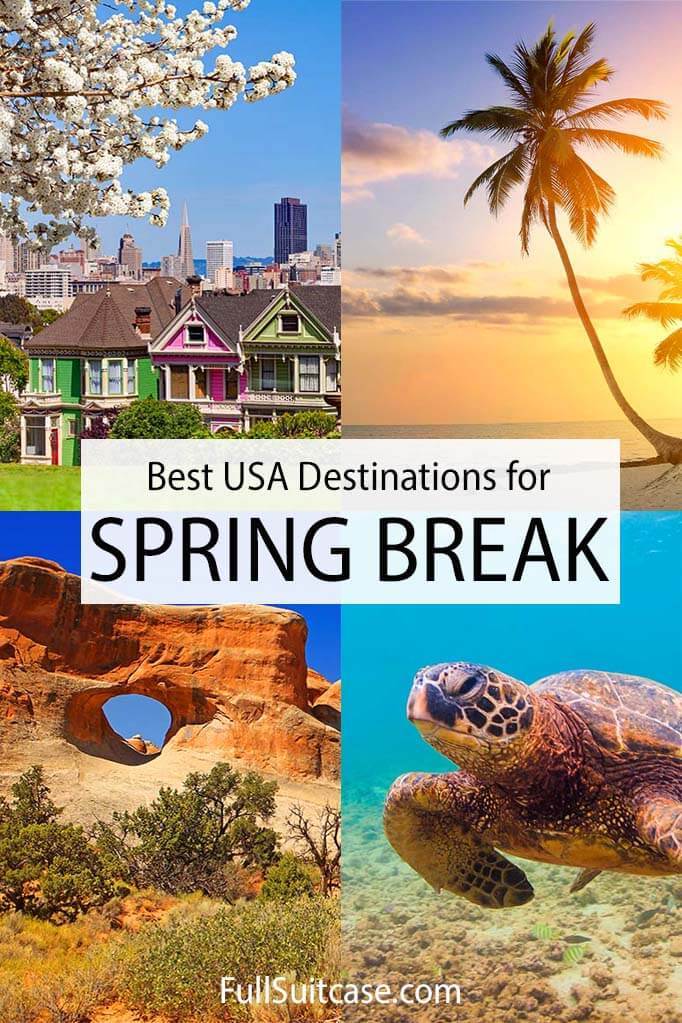 These are some of the best spring break destinations in the U.S.:
1. Moab, Utah
Our personal recommendation
Moab in Utah must be one of the best American spring break destinations for nature and outdoor lovers! There is so much to see and do in the area and spring weather is perfect for exploring!
The highlights of the area are, of course, Arches and Canyonlands National Parks and also the Dead Horse Point State Park. These parks have lots of easily accessible landmarks that everyone can visit and also a variety of hikes for all levels. In addition, there's is also a big choice of fun activities including ATV rides, family-friendly rafting (available from around mid-March), mountain biking, and more!
In Arches NP, drive the Arches Scenic Drive stopping at all the main viewpoints. Take an easy hike to Landscape Arch, an iconic Delicate Arch hike, or one of the longer trails to many other natural arches of the park. For more information, please check our guide to the best things to do in Arches National Park.
In Canyonlands NP, visit Island in the Sky district that offers easy access to many viewpoints with jaw-dropping views of the area. Also don't miss a short Mesa Arch hike. For more information, please check our guide to the best things to do in Canyonlands National Park.
TIP: Don't miss the sunset at Dead Horse Point State Park! Also, take at least one ATV tour to explore the areas that you wouldn't be able to easily access otherwise. See our selection of the best Moab tours for more info.
Spring weather: The weather in Moab in March and April is as good as it gets in this area! Daytime temperatures are around 65-75°F (18-24°C) and you can expect sunny skies with just a very small chance for rain.
What makes it great for spring break: With phenomenal landscapes, a big variety of activities, and excellent weather, Moab is a wonderful destination for an outdoorsy vacation in spring. Furthermore, because you spend the majority of your time outdoors, it's also very budget-friendly! Another big advantage is that you can just stay in Moab and explore so many beautiful places in the area without having to drive far every day. See Moab itinerary suggestions for more details on how to plan your trip.
2. San Francisco, California
Recommended by: Debbie Fettback of WorldAdventurists
San Francisco is one of California's most vibrant cities and a wonderful destination for spring break! The city has a great mixture of urban and natural scenery and each neighborhood has its own distinct vibe. It feels like you will never run out of sights to see here!
Wander through the attractions and shops at Fisherman's Wharf (including Pier 39), which is full of fun shops, good eats, but also barking sea lions. You can drive, bike, or walk across the iconic Golden Gate Bridge, or enjoy the dreamy views of the Golden Gate Bridge from Baker Beach.
Check out the famous Victorian homes at Alamo Square Park, known as the Painted Ladies. Admire the local art scene and murals. And make sure to drive down Lombard Street, the most crooked street in the world. Also, no visit to San Francisco would be complete without taking a ride on its famous cable cars. It's the last manually operated cable car system in the world, an iconic thing to do, and it's fun for young and old!
TIP: One of our personal favorite activities is the history lesson from taking a boat ride across to the eerie Alcatraz Island. Just make sure to book your Alcatraz tour in advance as it can sell out fast!
San Francisco has been well illustrated in television and movies, but it still managed to surprise us, even with our lofty expectations from the big screen!
Spring weather: San Francisco has a very mild climate the whole year, but sunny and mostly rain-free spring is considered one of the best seasons to visit. The temperatures in March and April are between 50 and 65 F – perfect for sightseeing. However, this is also the windiest time of the year in the Bay Area. So do not forget a jacket and some layers; it can still get chilly from the wind.
What makes it great for spring break: San Francisco is a great spring break destination! Not only is the weather pleasant and the crowds are low, but it's also a very family-friendly city. There is a great variety of attractions and activities to entertain both kids and adults. Furthermore, San Francisco is also a great starting point if you want to include a road trip away from the hustle-and-bustle to somewhere like Carmel-By-The-Sea or Big Sur.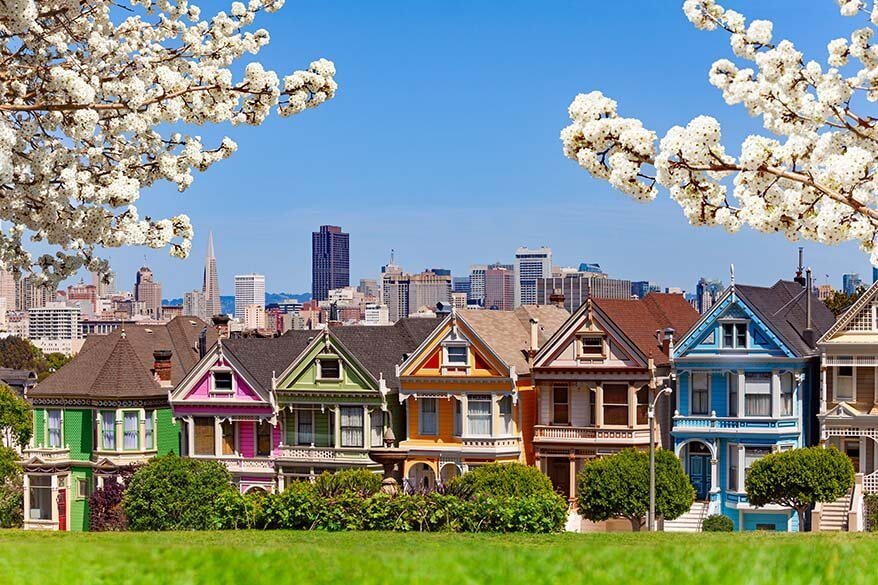 3. St. Pete Beach & St. Petersburg, Florida
Recommend By: Stephanie Taleghani, Consistently Curious
The charming, old Florida ambiance of St. Pete Beach entices guests with pristine sandy beaches, a delightful historic district, and an array of eccentric museums. Book a room at the iconic Don CeSar, known as the legendary Pink Palace Resort. This monument to glamour and leisure makes the ideal home base for a luxurious spring break in this area.
Escape into a tranquil forest surrounded by lush exotic plants, towering palms, and friendly flamingos during a visit to the Sunken Gardens. One of America's last original roadside attractions, it still continues to wow guests today.
A lively tourist scene awaits in historic downtown St. Petersburg, just nearby. The city has a great atmosphere with trendy boutiques, top museums, and upscale restaurants. Make time to venture into the intriguing Dali Museum to look at the life and art of the influential and innovative artist Salvador Dalí.
Other popular museums to visit include the Museum of Fine Arts, Great Explorations Children's Museum, and The Florida Holocaust Museum. Hop aboard the St. Petersburg Trolley, which will take you throughout downtown with stops near all major museums and attractions. And furthermore, riding the trolley is FREE!
Plan an afternoon exploring historic Fort De Soto Park. This county park is home to award-winning beaches, canoe trails, fishing piers, campgrounds, and Battery Laidley's remains. You can walk through and explore Battery Laidley; however, ensure to visit the Quartermaster Museum to get a full history of the fort.
Spring weather: The weather in St. Pete Beach, FL is ideal during spring break. It's warm and sunny, but not overly humid or too hot. Perfect weather for sightseeing and beaches.
What makes it great for spring break: St. Pete Beach is a beautiful spring break destination. Not only it is one of the USA's best beaches with the perfect spring weather, but there is so much to see and do nearby! With a plethora of activities, attractions, and restaurants you can pick and choose your own perfect itinerary for a family-friendly spring vacation that has it all.
LEARN MORE: Things to Do in St Petersburg, Florida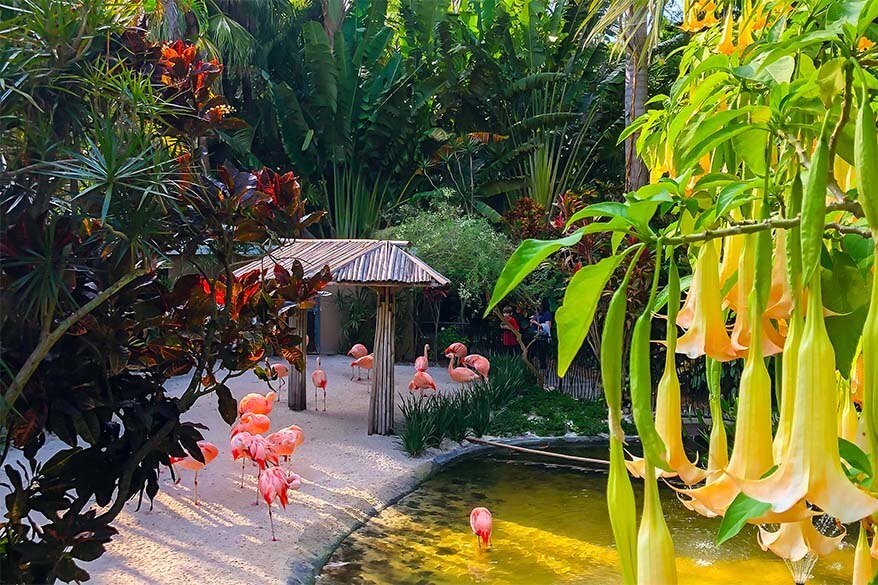 4. Oahu, Hawaii
Recommended by Marcie Cheung, Hawaii Travel with Kids
To us, one of the best places to travel for spring break in the USA is Oahu, Hawaii. It's a tropical paradise with gorgeous beaches and incredible resorts. Furthermore, Hawaii has a rich history and culture so it feels like you're traveling abroad even though you're still in the United States.
There are tons of fun things to do on Oahu with kids. Out of all the Hawaiian islands, Oahu has the most activities, tours, and attractions. It's where you'll find Pearl Harbor, Waikiki Beach, and the Polynesian Cultural Center. Also worth a visit is Kualoa Ranch where they filmed Lost. And if you like to do some shopping, head to Ala Moana, the largest outdoor mall in the world.
In addition, you can try all the typical Hawaiian things like learning how to surf, watching a Hawaiian luau, eating shave ice, going snorkeling, hiking up mountains, relaxing at the beach, and so much more. Parents will love sipping tropical drinks while their kids play at their resort pool.
Spring weather: The weather on Oahu during spring is pretty nice. It's not as rainy as winter and it's not as hot as summer. Expect mostly sunny skies in the mid 70s to low 80s (24-28°C).
What makes it great for spring break: Oahu is the ultimate spring break destination because you can do/see just about everything on the island in 7-10 days. There are options for educational experiences, outdoor adventures, or simply enjoying a resort vacation.
Because it's the most populated Hawaiian island, you'll also find the best deals on airfare, car rentals, and hotel rooms.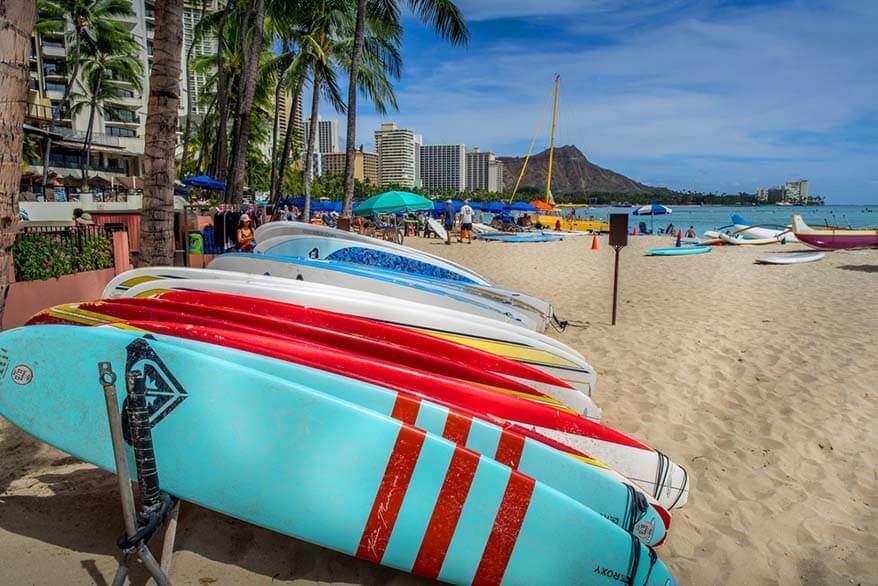 5. Disneyland, California
Recommended by: Kim Tate, Stuffed Suitcase
Disneyland with its two parks – Disneyland Park and Disney California Adventure Park – is a happy place no matter the season. But visiting in March or April means that you have the chance to experience the Food and Wine Festival. This is an excellent time to enjoy the parks and enjoy some delicious California food!
Each year the festival chefs work with local farms and businesses to create a California-inspired menu. And let's not forget the drinks: local breweries, wineries, and distilleries are also featured.
You can enter Disney California Adventure Park with regular admission and then taste your way around the various themed booths. You can even pick up a tasting passport to keep track of all the bites and sips you try.
The park also has some amazing live performances during the festival, so grab something tasty and walk over to the stage to watch a musical performance while you eat. And of course, don't forget to make time for all the fabulous attractions and entertainment at both Disneyland theme parks. It's a great destination for kids and adults!
Spring weather: Spring in Anaheim, CA is beautiful, as you'd expect from Southern California. Daytime temperatures are in the 70s (20-25°C), but do be mindful of the cool evenings and pack a jacket or sweater.
What makes it great for spring break: Disneyland is a fabulous destination to visit in spring! The weather is pleasant and because it's a peak travel time for the parks, the opening hours are long, there are lots of shows and performances, and there should be minimal closures for attractions. The above-mentioned Food and Wine Festival is a real treat as well and makes a theme park visit more special for the whole family!
LEARN MORE: Disneyland Guide & Tips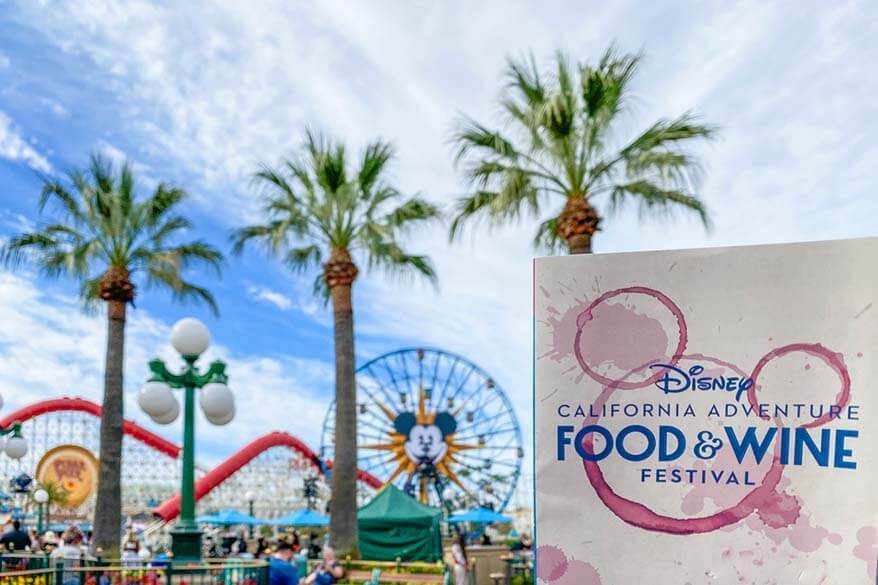 6. Las Vegas, Nevada
Recommended by Anjali from Travel Melodies
Las Vegas needs no introduction! The vibrant and colorful city is one of the most unique places on earth, one that you should visit once in your lifetime. It's a classic for a reason! From family activities to adult fun and from world-class shows to the great outdoors nearby – Las Vegas offers a complete sensory experience!
Simply stroll down the Strip (4.2 miles of magic) and take in the charm of Vegas. There are also a lot of free and kid-friendly activities offered by the resorts on the Strip.
We highly recommend indulging in the dancing fountains of Bellagio, the botanical conservatory at Bellagio, wildlife habitat at Flamingo, a circus show at Circus Circus, flowers displays at Wynn, erupting volcano at Mirage, and the tour of the Ethel M Chocolates Factory. You must also check out the thrilling Stratosphere tower and Shark Reef at Mandalay Bay.
And, you haven't really visited Las Vegas if you haven't seen Cirque du Soleil, one of the best shows ever.
In addition, there are so many amazing places to see near Las Vegas that you can easily spend an entire spring break here and never get bored!
Spring weather: Spring weather is very pleasant in Las Vegas, making it one of the very best times to visit. Temperatures hover between 50-70°F (10-20°C) in March, 55-77°F (13-25°C) in April, and 65-90°F (19-32°C) in May.
What makes it great for spring break: Las Vegas is a wonderful spring break destination because of the great mix of activities and perfect weather! Comfortable temperatures make sightseeing and excursions very pleasant. Plus, it's a good time to take advantage of special spring break deals on accommodations and activities.
LEARN MORE:
Best Things to Do in Vegas
Las Vegas Tips for Your First Visit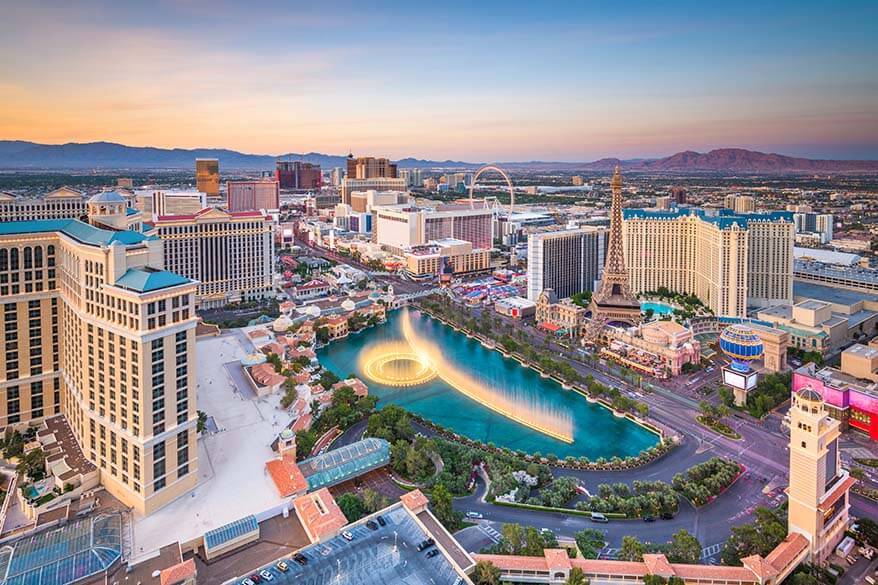 7. Charleston, South Carolina
Recommended by Julie from More than Main Street
Charleston, South Carolina is one of the best spring break destinations in the southeast USA! Whether you're into history, shopping, beaches, or outdoor activities, Charleston has it all.
Start your visit downtown with a historic carriage tour, followed by a stop at the famous Rainbow Row, City Market, and Waterfront Park. Next up, get your history fix by visiting one of the area's many plantations, Fort Sumpter or Patriot's Point Naval & Maritime Museum.
Visiting Charleston with kids? Check out the SC Aquarium, the Children's Museum of the Lowcountry, or the North Charleston Fire Museum.
Charleston is also well known as a foodie's paradise. Make sure to try Slightly North of Broad (SNOB), Magnolia's, and Callie's Hot Little Biscuit while you are in town. Finally, if you're an outdoor lover, then be sure to check out Shem Creek, one of the five area beaches, or visit the majestic 400-year-old Angel Oak Tree.
Spring weather: Charleston weather during springtime can vary. Most often you can expect warm daytime temperatures averaging around 70°F (21°C) during late March and early April. Bring layers for cooler evenings, but also don't forget to pack your bathing suit and sunscreen. If you're lucky, it may just be warm enough for a dip into the Atlantic Ocean during an afternoon at the beach.
What makes it great for spring break: Whether you're traveling with your family, your spouse, friends, or even solo, there is literally something for everyone in Charleston, SC. It's one of those destinations our family returns to year after year.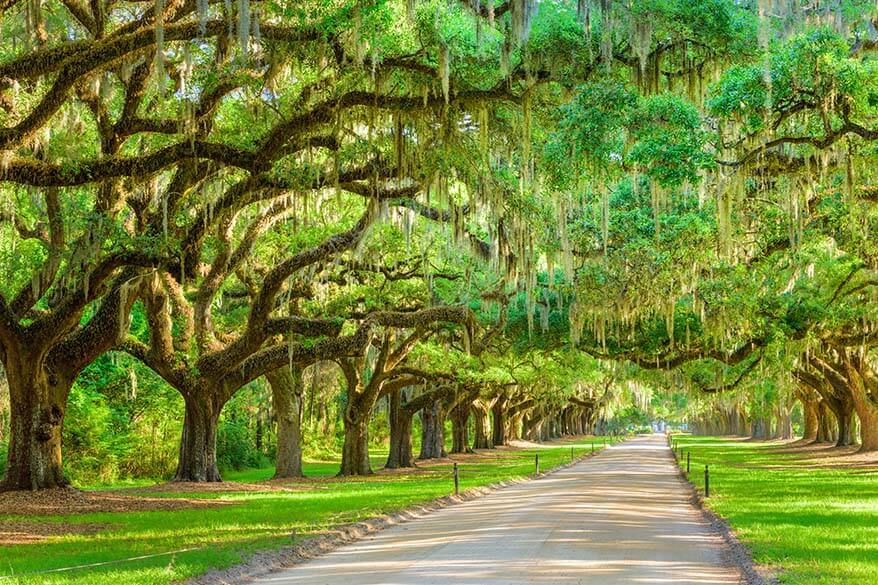 8. San Diego, California
Recommended by: Astrid Vinje, The Wandering Daughter
For families who love sunshine, San Diego is the perfect destination to visit, any time of the year. Located in Southern California, San Diego offers a unique combination of sunny beaches, family-friendly attractions, and interesting culture.
Popular attractions in San Diego include the San Diego Zoo and SeaWorld. However, for more affordable San Diego kids activities, head to Balboa Park, a sprawling historic park located in the heart of the city. This must-see park is home to several museums, theaters, and a funky artist village.
Beach-loving families can have their pick of beaches to visit throughout the city, including Coronado Beach, LaJolla, and Mission Beach. To get a taste of San Diego's historic and cultural charm, you can take a stroll through the historic Old Town, or spend an afternoon at the laid-back Seaport Village. If you enjoy hiking, explore Cabrillo National Monument, Torrey Pines Natural Reserve, or Tecolote Canyon Natural Park, all located within the city.
For a quick day trip from San Diego, visit Legoland, which is only 30-40 minutes away from the city. Other day trip options include the coastal city of Carlsbad and the historic mission of San Juan Capistrano. For more information, please check our San Diego itinerary suggestions.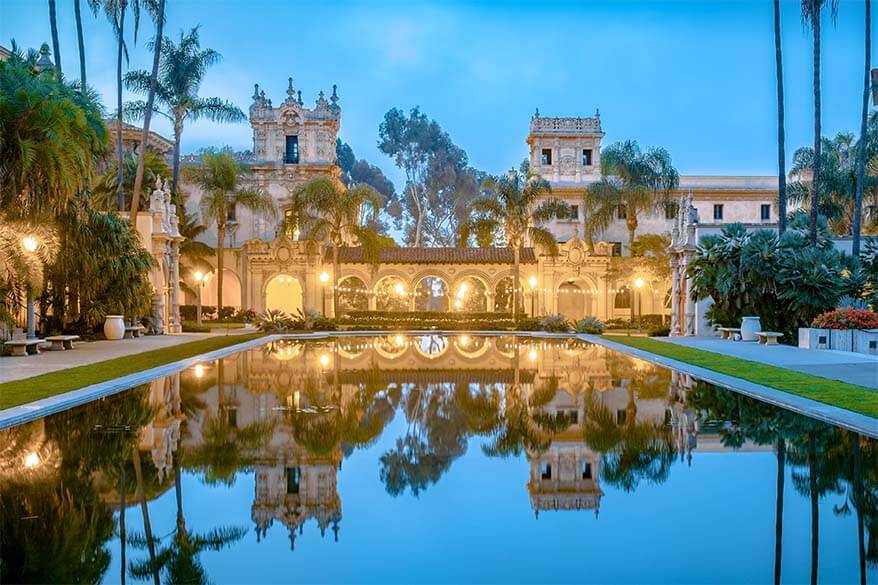 TIP: Carlsbad flower fields are amazing and the best time to see the flowers is from mid-March to mid-April/ May. So don't miss if visiting San Diego in spring!
Spring weather: During the months of March through May, the temperature in San Diego usually ranges from 54 to 69°F (12-21°C). While some rain may occur during the early part of the spring season, the weather usually becomes consistently sunny and warm later on.
What makes it great for spring break: With plenty of sun, beaches, and family-friendly attractions, San Diego is an easy destination choice for families looking to get away during the spring months. The city has a fun mix of activities, nature, history, and culture, all rolled into a relaxed Southern California vibe.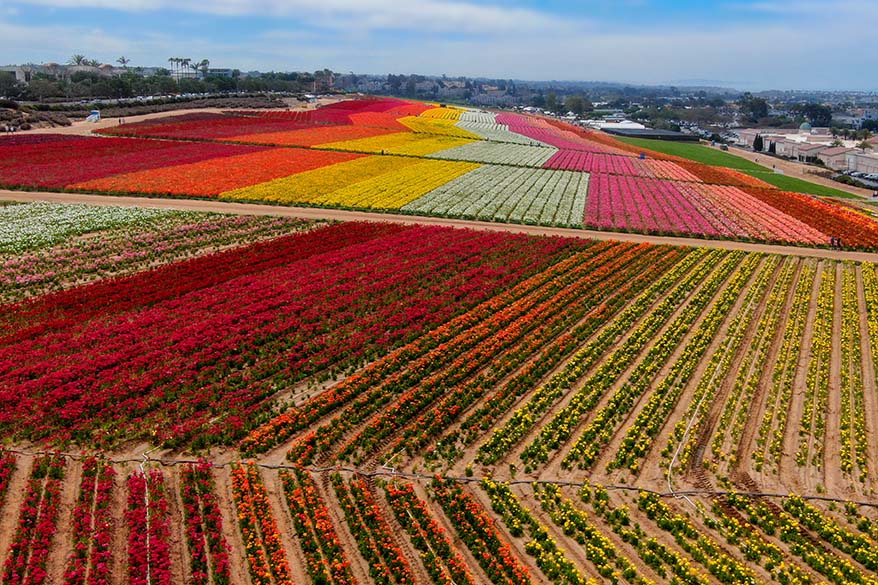 9. Rocky Mountains, Colorado
Recommended by Tanya Raedeke of Rad Family Travel
Colorado mountains is a fantastic place to be for spring break with your family. Sunny blue skies and warmer days make March and the beginning of April one of the best times for snow holidays in the Colorado Rocky Mountains. If it's not sunny, then it's probably snowing, which means fresh powder for great skiing and snowboarding conditions.
By March and April, all ski lifts and runs are likely open at each ski resort since the snow base layer has been well established by this time of year.
With big ski resorts like Aspen, Breckenridge, Keystone, and Copper Mountain, plus smaller ones like Arapahoe Basin and Loveland in popular Summit County, there are several great choices for families to head to just 50-80 miles outside of Denver. The ski towns of Breckenridge, Dillon, Silverthorne, and Frisco are all great for staying in the area. They all offer great restaurants, accommodations, and more fun things to do when you're not skiing.
As a family of six, with three skiers and three snowboarders, we have skied the larger Copper Mountain resort and nearby smaller Arapahoe Basin over different spring breaks. Both are wonderful. If you are on a tight spring break budget, there are many fabulous, smaller ski resorts sprinkled around the state of Colorado. Smaller resorts are ideal for families because it's easier to find each other if you get separated.
TIP: If you want to ski in the heart of the Rockies, check out Monarch Mountain for an affordable day of skiing (base yourself in the historic wild west town of Salida). This smaller ski and snowboard area offers 54 trails and two terrain parks. Ride the Panorama Lift up to the Continental Divide at 11,960ft for some great family pictures and then zoom all the way down the mountain. We've skied Monarch several times over spring break and loved it every time.
Spring weather: Daytime temperatures in the ski resorts in March and April are usually just above freezing point (at around 38-43°F) – perfect for skiing in the mountains, where it's usually a few degrees colder. There is also lots of sun, although you may get some snow days as well. Don't forget your sunscreen and ski goggles or sunglasses!
What makes it great for spring break: If you are looking for a spring break vacation in the snow, then Colorado mountains is a great place to be. Many ski resorts are just a short drive from Denver where the main airport of the area is located, there's plenty of affordable accommodation for families, and you'll find plenty of winter activities in addition to skiing.
TIP: If you are in the area, why not visit Rocky Mountain National Park as well. Here you can find our suggested 1-day Rocky Mountain NP itinerary that can also be adapted for winter/ spring trip.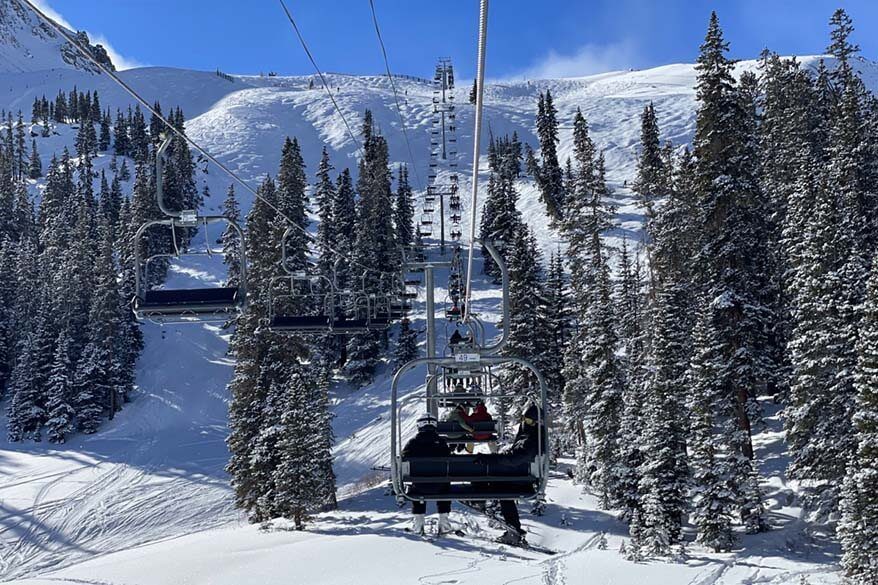 10. Florida Keys
Recommended by Amanda Emmerling, Toddling Traveler
To us, Florida Keys is one of the best Spring Break destinations in the US! From Key Largo to Key West, the Keys offer a variety of things to do for every family and various interests. You can find anything from deep sea fishing and marine life, to state parks and beaches, as well as great restaurants and unique places to stay.
When planning a Florida Keys family vacation, we recommend staying in Islamorada. Not only does it have a great, central location for exploring the Florida Keys, but it's also a very nice laid back fishing town. There are several family-friendly resorts, restaurants with outdoor seating, and fun things to do with kids.
Theater of the Sea is a family-friendly attraction that can't be missed. Among other things, you can swim with dolphins there. Robbie's Marina is another great stop for family fun and most notably, feeding the Tarpons. You can also find so many outdoor activities and water sports throughout the Florida Keys, from snorkeling and kayaking with manatees to jet skis and boating.
If you want to experience a unique town with great restaurants and nightlife, Key West is worth the visit as well. Notable attractions in Key West include the Butterfly Conservatory, Southernmost Point, and the Ernest Hemingway House.
TIP: The nearby Dry Tortugas National Park is a popular day trip from Key West (you have to book in advance!).
Spring weather: The weather is perfect in Florida in March and April – it's warm enough for the beach, but also not too hot or too humid for sightseeing. You can expect temperatures between 70-80°F (20-27°C) and beautiful sunny days.
What makes it great for spring break: In addition to warm, sunny weather and stunning beaches, Florida Keys also offers a lot of unique things to do for the whole family. It's a great warm-weather getaway for spring break!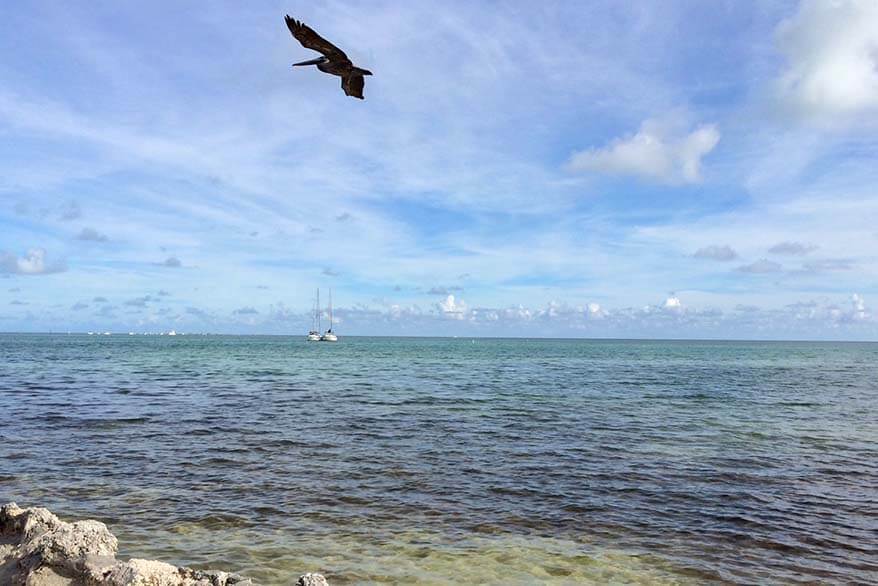 11. New Orleans, Louisiana
Recommended by Priya Vin from Outside Suburbia
New Orleans offers a fun atmosphere, incredible history, and delicious food. The temperatures are mild year-round and there is plenty to see and do!
The French Quarter is the most popular area and you can easily wander around while taking in the unique architecture and the incredible and historic sights. Jackson Square is the French Quarter's main plaza. A good way to explore the rest of the city is by taking a hop-on hop-off bus.
New Orleans is also a great city for foodies! Start the morning with coffee and sugar-dusted beignets at Cafe Du Monde and then some po'Boys for lunch. Make reservations for a nice dinner at one of New Orleans' best restaurants. And don't forget to have a mint julep or two. Finish the night by watching a live Jazz performance at Bourbon Street. It is lined with bars and filled with tourists looking to experience some New Orleans nightlife.
The Mardi Gras festival in February is the most popular time to visit New Orleans. If you come on the weekend before Mardi Gras, you can catch the many parades and festivities celebrated throughout the city. But even if you're not in town for the actual festival, you can go behind the scenes of one of America's most renowned celebrations at Mardi Gras World. There, you can get a peek at some of the flamboyant floats and costumes that are used during New Orleans' famous party.
TIP: Just outside of New Orleans lies the beautiful Oak Alley Plantation. Originally built in 1839, it is best known for the double row of live oaks planted nearly 300 years ago. You can follow the guides in period costume to learn about history and life on the plantation.
Spring weather: The weather in New Orleans in the spring is in the 70s. Perfect for sightseeing, but also warm enough for beach and pool fun.
What makes it great for spring break: In addition to nice weather, a plethora of sights, and lots of great dining options, New Orleans also hosts various festivals and celebrations in spring. If you are visiting New Orleans during Spring break in March, you can join the St. Patrick's Day celebrations. New Orleans Wine & Food Experience where you can enjoy grand tastings and try some scrumptious food also happens during spring (usually mid-March).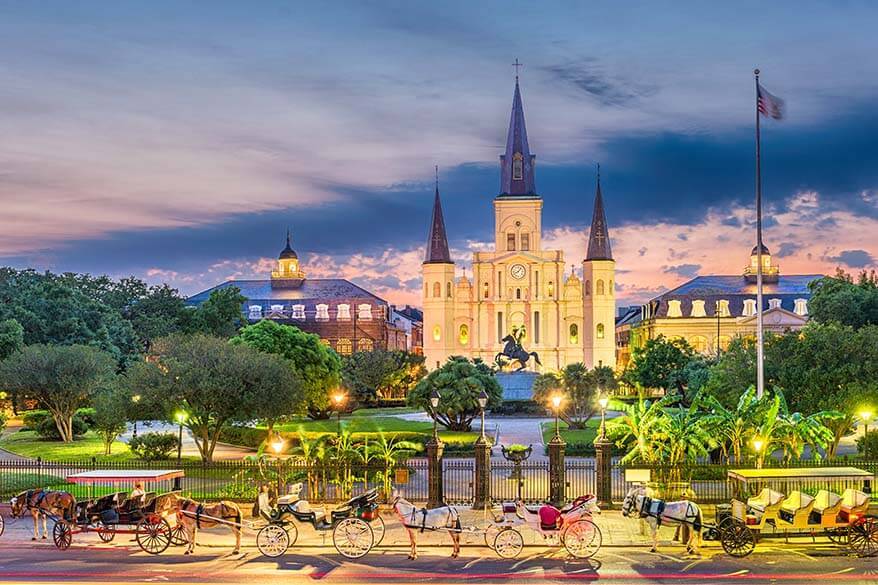 12. St. George, Utah
Recommended by Amy Martin, family travel blogger at Two Little Pandas
We love St. George, Utah because it has so many unique family-friendly things to do. The area has almost unlimited hiking and outdoor opportunities with landscapes so interesting that the whole family will appreciate it – from young kids to teens and adults.
Pioneer Park, located right on the north side of town, has arches, gullies, and big sandstone rocks to climb, plus some pretty amazing views to take in. We also love the Upper Galoot area, and the Lava Tube Loop hike in Snow Canyon State Park.
The area around St George is also packed with lakes, reservoirs, waterfalls and swimming holes. This is perfect for boaters, kayakers, jet skiers, standup paddle boarders, and beach lovers, and families who just love the water. You can also take a rocky drive to Toquerville Falls where you can swim in and under a beautiful waterfall.
Perhaps our favorite St. George activity is a UTV ride at Sand Hollow. The Sand Mountain area of Sand Hollow has 15,000 acres of dunes and sandstone rocks for all levels of off-roading (and you can even strap your car seats in and take the kids).
TIP: While in the area, don't miss the opportunity to visit Zion National Park, just 45 minutes away. There, you can take on bucket list Zion hikes, like The Narrows or Angels Landing.
Spring weather: While St. George, and really all of southern Utah can be unbearably hot in the summer, in spring the weather is heavenly! By March, temperatures are typically in the 70°Fs (20-25°C), and because it's a desert, you can count on sunshine nearly every day.
What makes it great for spring break: With beautiful weather and tons of outdoor activities to get out of the winter rut, St. George is a fantastic spring break destination. And even better, with many free outdoor activities, and tons of low-cost lodging options, it's very budget-friendly as well!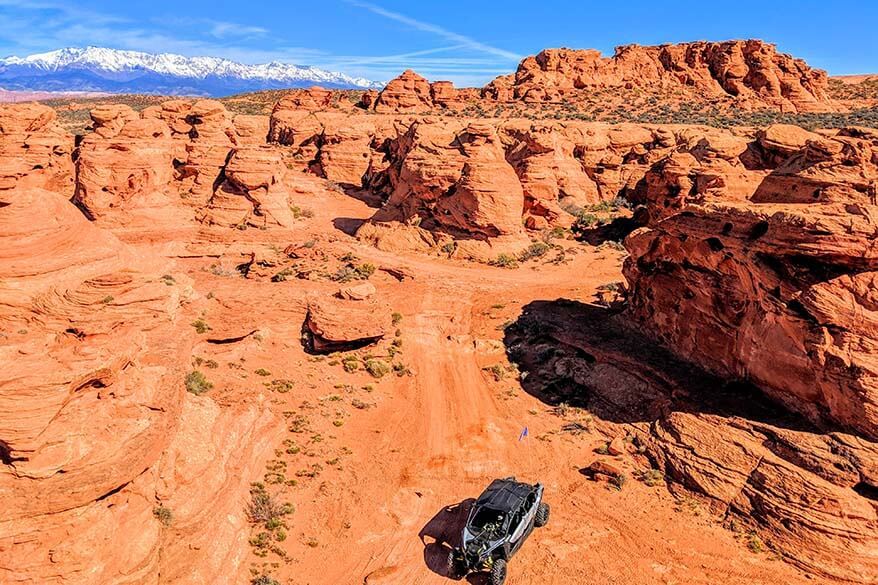 13. Outer Banks, North Carolina
Recommended by: Neha Kulshrestha, Travelmelodies
Outer Banks, an archipelago of islands off the coast of North Carolina is a destination to charm you with its sandy beaches and lots of outdoor activities. OBX, as called in short, boasts of being the "First in flight" state where the Wright Brothers built and flew the aircraft for the first time. So visiting the Wright Brothers Memorial is one of the best things to do in Outer Banks NC.
With a coastline spanning 200-miles, there are many beautiful beaches, sand dunes to climb, and lighthouses worth visiting. Currituck Beach Lighthouse, Bodie Island Lighthouse, and the iconic Cape Hatteras Lighthouse are some prominent ones. You can even climb atop these lighthouses from Spring to summer for scintillating views.
For adventure seekers, Outer Banks has one of the best beaches to drive on, and the thrill to ride on the beach is unmatched for. Corolla and Cape Hatteras do allow driving, but a permit is required for Cape Hatteras.
TIP: Drive along the Outer Banks Scenic Byway to breathe in the beautiful vistas and make memories of lifetime.
Spring weather: The weather begins to get warm with the air being crisp in Outer Banks in the spring. With temperatures ranging from mid 60's to 70's (18-21°C), it is perfect to enjoy the many outdoor activities.
What makes it great for spring break: Spring time is the off-season, when the temperatures are warm and the hotels are affordable. There are many great Airbnbs in Outer Banks by the beach best suited for families traveling with kids. It makes it the perfect and budget-friendly destination for the spring break sans crowds.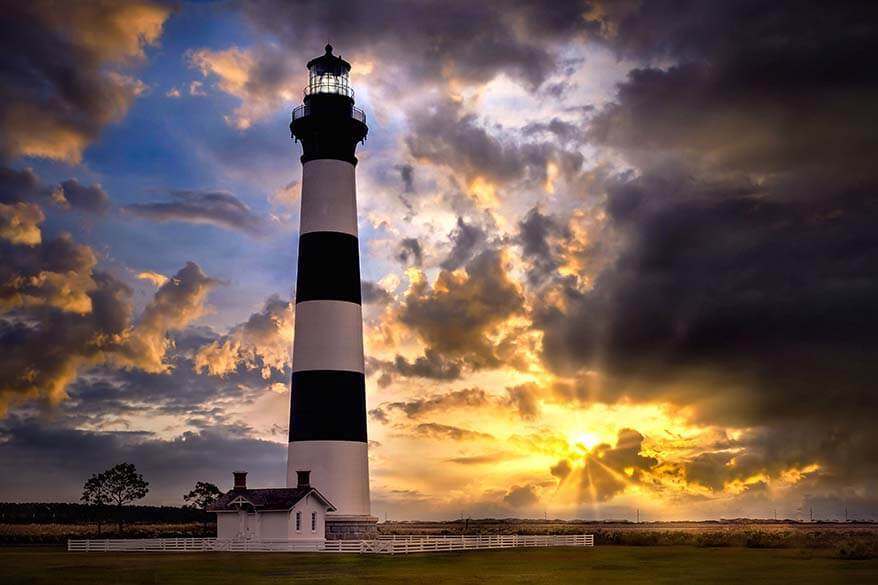 14. Texas Hill Country
By Kay of Enchanting Texas
The Texas Hill Country, located in Central Texas, is a beautiful landscape of rolling hills, gently flowing rivers, and lots of swimming holes. Outdoor recreation is one of the best things to do in the Hill Country. You can hike, mountain bike, camp, visit waterfalls, and go horseback riding in the region. River tubing is also big here.
Spring is the bluebonnet season in Texas, meaning you will find the countryside carpeted with blue flowers. Ennis and Burnet are among the best places to see bluebonnets in Texas.
The small towns of Texas Hill Country are incredibly romantic. They are perfect to stay for the night and rest while you search the countryside for wildflowers. Explore charming Fredericksburg and its authentic German heritage or take a stroll in Historic Downtown Brenham. Enjoy the bluebonnets in Marble Falls and listen to a concert in Luckenbach.
The area is also famous for its wineries. You can take a tour of several beautiful vineyards and enjoy wine tasting. Apart from wineries, you will find peach orchards, wildflower farms, distilleries, and breweries in the Texas Hill Country.
Spring weather: Spring temperatures are between 70-80°F (21-27°C) in Central Texas in March and April. Not too hot for sightseeing, but warm enough for all the outdoor activities.
What makes it great for spring break: Spring is the perfect time to visit the Hill Country for multiple reasons: the weather is perfect for spending time outdoors, it's the flower- and blossoms season, and there are many events and things to do for the whole family.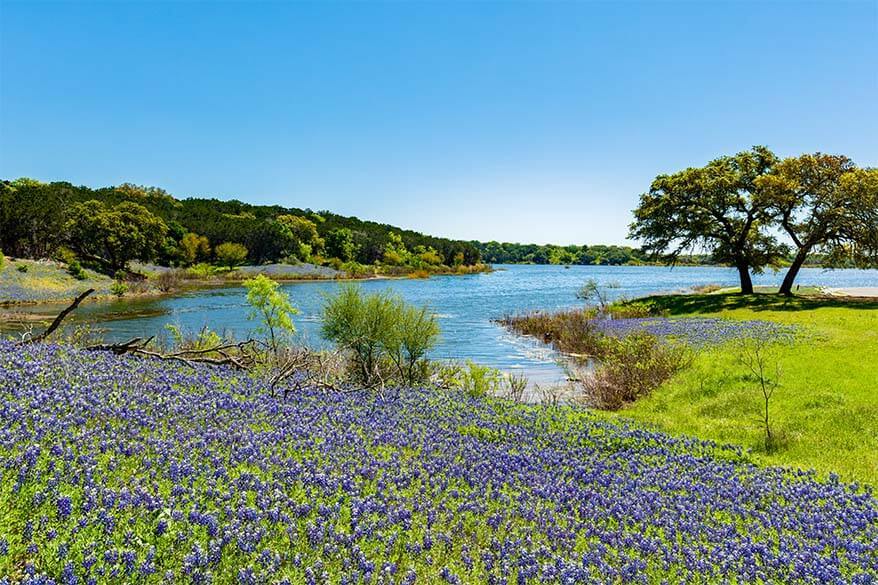 15. Maui, Hawaii
Our personal recommendation
Maui Island in Hawaii is another wonderful place to go to for spring break in the U.S.! Just as Oahu Island mentioned above, Maui offers a great mix of relaxing beach time, stunning landscapes and outdoor activities, and also a chance to get to know local culture and traditions. Don't miss a luau, a traditional Hawaii feast!
There's so much to see and do in Maui that you can easily fill a week or even two here. Don't miss the Road to Hana, a scenic drive with gorgeous coastal scenery and waterfalls. Another must-see is Haleakala National Park, where you can see the sunrise from the top of a volcano. For more adventurous, there's also an opportunity to zip-line or bike down the volcano.
Maui also has beautiful beaches and a wonderful underwater world. You can swim with turtles, go snorkeling or diving. There's also sailing, paddle-boarding, kayaking, and so much more. Plenty to keep the whole family happy!
TIP: Spring months are also good for whale watching in Maui, with whale season running from November to May. So make sure to take a whale watching tour to see these impressive giants!
Spring weather: Average temperatures on Maui in March and April are in the low 70s (21-25°C), but there are big differences depending on where you are on the island. It will be significantly cooler on the volcano than at the beach.
What makes it great for spring break: Maui is a great spring break destination for those who want to get the absolute most out of their vacation. With nice weather, beaches, natural and cultural attractions, there is plenty to do in Maui for the whole family. For tips on how to plan your trip, please check our Maui itinerary suggestions.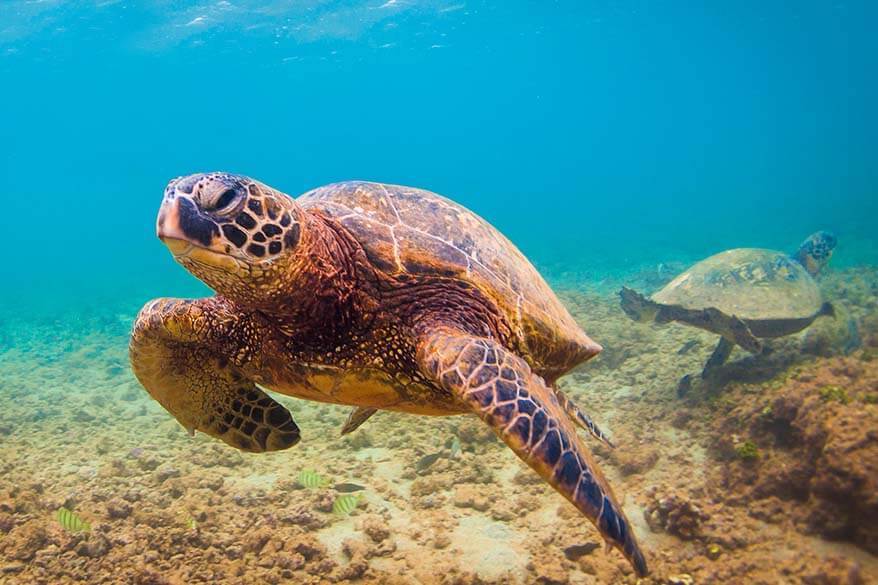 16. Disney World, Florida
Recommended by: Adriane from Put on Your Party Pants (and Keep Them on Until 8pm)
Disney World in Orlando, Florida, is a destination in itself! It consists of four theme parks, two water parks, over two dozen resorts, countless restaurants, and Disney Springs, a center with shopping and dining. Whether you are a Disney fan or are just looking for a kid-friendly spring break, you can't go wrong with planning your family vacation here!
You'll enjoy every place you visit in Disney World. But the majority of the highlights of Disney World are found at the theme parks, Magic Kingdom, Epcot, Hollywood Studios and Animal Kingdom.
Magic Kingdom has tons of rides with no height requirement whatsoever. There are a few larger rides, like Space Mountain, an indoor roller coaster through space, and Seven Dwarfs Mine Train, a roller coaster with some slow-moving sections featuring animatronics from Snow White and the Seven Dwarfs. This is also a perfect park for families with very young kids.
Epcot features a World Showcase with sections devoted to eleven different countries. There is also a large aquarium and pavilions featuring interactive, educational exhibits. Best rides include Test Track, a ride that ends in a 65mph lap around a track, and Soarin' Around the World, a ride that gives you the sensation you are flying.
Hollywood Studios has Toy Story and Star Wars sections that are very popular. Whereas Animal Kingdom is essentially a zoo with rides. It also has intricate theming inspired by Africa and Asia.
TIP: Spring break is a busy time at Disney World, so try to make a touring plan before you arrive.
Spring weather: Spring weather is beautiful in Orlando. The average high is in the high 70s to low 80s (25-30°C). You will also get much less rain than summer visitors, making the long days at the park very comfortable.
What makes it great for spring break: Disney World is a perfect spring break destination because it has something for everyone. The majority of the rides can be enjoyed by the whole family, there are tons of characters, and the dining is better than you will find at most theme parks. There is so much to do that no one will be bored.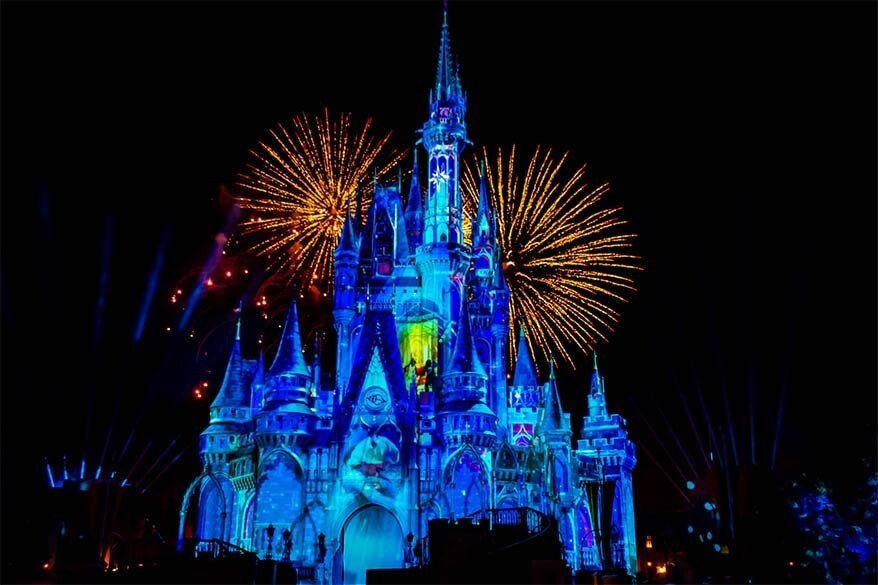 17. Grand Canyon, Arizona
Our personal recommendation
No list of best American spring destinations would be complete without mentioning one of the most-visited national parks – the Grand Canyon! There is no bad time to visit this natural wonder, but spring is pretty much as good as it gets!
The best places to visit in spring are the South Rim where all the main viewpoints are located, and Grand Canyon West, where you'll find Grand Canyon Skywalk.
Some of the best-known postcard views of the Grand Canyon are easily accessible at the South Rim. Don't miss the Mather Point, Mohave Point, Hopi Point, and Powell Point. A helicopter flight above the canyon is a real bucket list experience! You can see the main highlights of the Grand Canyon in one day, but if you plan to go hiking, you can easily spend a few days here.
Grand Canyon Skywalk is relatively close to Las Vegas and can easily be visited with a day tour. Just as the South Rim, it's open the whole year round.
TIP: You can easily combine your visit to the Grand Canyon with that of Las Vegas, St. George, Zion National Park, Bryce Canyon, Sedona, or Phoenix and Scottsdale. If you go in another direction, you can visit Page, AZ, area with the famous Antelope Canyon and Horseshoe Bend, but also Monument Valley. There's enough to see and do in the area to fill a couple of vacations! Here you can find a suggested Grand Canyon, Antelope Canyon & Horseshoe Bend Itinerary, and you can easily expand it to make a longer road trip visiting some of the best places in Arizona.
Spring weather: Spring weather is usually dry at the Grand Canyon and mild temperatures are perfect for sightseeing and hiking. Average temperatures at the South Rim are 53-61°F ( 12-16°C), but it is much warmer inside the canyon.
What makes it great for spring break: If you want to explore the Grand Canyon to the fullest and go hiking, spring is truly one of the best times to be here. If you come in summer, it's so hot that hiking inside the canyon can get dangerous. Furthermore, even though busy, the crowds are still much lower in the spring than in the summer.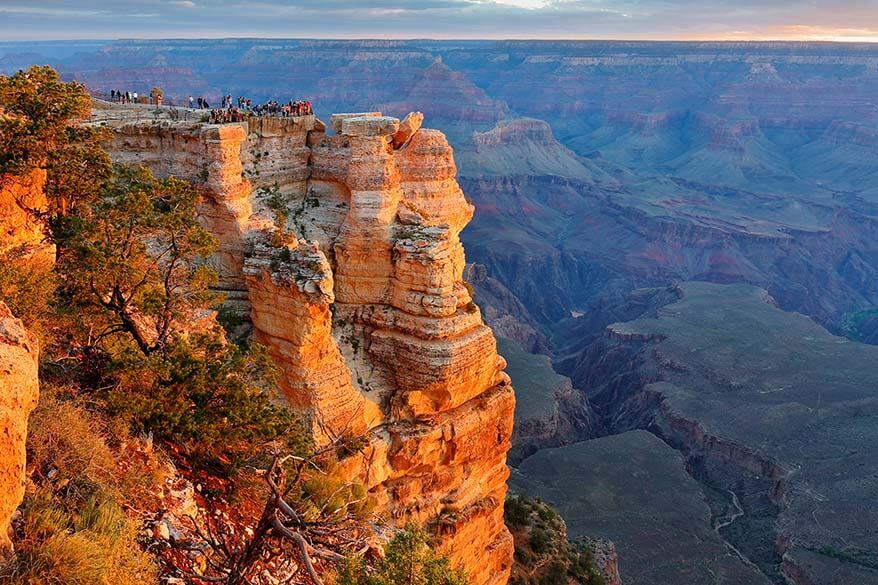 So, here are our suggestions of some of the best places to visit in spring all across the United States.
TIP: If you are looking for even more inspiration for where to go in spring, please check our guides to the best National Parks to visit in March, the best National Parks to visit in April, and some great National Parks to visit in May.
READ ALSO: Where to Go for Spring Break in Europe
If you found this post useful, don't forget to bookmark it and share it with your friends. Are you on Pinterest? Pin these images!