Visiting Paris for 4 days and wondering how to best plan your time so that you can make the most of your trip?
In this guide, we share a suggested Paris 4 days itinerary based on our recent trip (and taking into account what can actually be done!). It includes all the must-sees, a few amazing places that are often overlooked by first-time travelers, and some lesser-known gems that will make your trip even more special. Take a look!
The capital of France, Paris is one of the most beautiful cities in Europe. With such an old history and an incredible number of landmarks, I'm sure you understand that there is no way to see 'everything' in Paris in four days. But if you plan well, you can definitely see all the musts and get a good feel of what Paris is truly like.
Below, you'll find our suggested 4-day Paris itinerary that covers all the main landmarks and most interesting places in the most efficient way. Of course, there are many ways to plan any visit to Paris and this is just one of them. But if you want to see the very best of Paris, but also get a bit off the beaten path and truly experience the city, this guide should help you do just that.
Good to know: This itinerary is quite packed, but it's based on our personal experience and on what can actually be done. It takes into account opening times/ walking distances/ metro and the time you need to visit each place. Plus, when possible, you'll be at the most popular places at the best possible time. We also include some alternative suggestions so that you can personalize and plan your own perfect trip based on what interests you the most.
We also created an interactive map indicating all the sights. That way, you can have a better idea of how it all fits together.
Please note that the hours in the itinerary below are only indicated for your reference and are based on our personal experience. That way you have a better idea of how much time you need and can also decide to skip some places if you rather take it easier.
PRO TIP! Where applicable, we also share practical info and tips on which tickets to prebook. Without advance reservations, you will waste many hours waiting in lines and won't be able to see as much. In fact, you may not even be able to visit certain places at all. Paris has changed a lot in recent years, and planning a spontaneous visit as we often did in the past is no longer straightforward.
Furthermore, by booking in advance, you can immediately see if the place is open on the day of your visit and can avoid unpleasant surprises. We had to adjust our itinerary several times based on the availability of some tickets (like Moulin Rouge, for example, where almost all the shows appeared to be sold out 3 weeks before our trip, or Paris Opera which was exceptionally closed on several days during our visit).
As a minimum, book the tickets/ tours/ experiences for those sights which you absolutely don't want to miss!
For some of the most popular attractions in Paris, booking in advance will save you money but also lots of time! You can go straight to the entrance without having to queue at the ticket desk.
Good to know: If you visit at least 2-3 museums per day and stay in Paris for a few days, Paris Museum Pass offers excellent value for your money. It includes most of the 'musts' and offers skip-the-line access at most attractions. However, keep in mind that you will first have to pick it up at a certain location and – at the moment – they also recommend booking timed-entry slots for several of the most popular places, such as the Louvre or Sainte-Chapelle. That's one of the reasons why we personally opted to just get timed-entry tickets rather than this pass…
TIP: A much more convenient ticket for the main sights is this digital Paris City Card. It includes the 3 most popular activities in the city and you can immediately prebook the time slots where needed.
If you are visiting Paris with kids, teens, or young adults, you will be glad to know that most Paris landmarks offer FREE entry to everyone under 18 (and for EU residents, even under 26). However, you also need a timed reservation for the free tickets.
READ ALSO: Paris Travel Tips & Tricks
MAP of this 4-day Paris itinerary
To help you plan your visit to Paris, we created a map indicating all the places mentioned in our guide.
As you can see below, each day has a different color, so you quickly get a good overview of how it's structured. We tried to group the sites in the most logical way so that you can walk between the sights as much as possible. When possible, we also take into account the best times to be at each place.
How to use this map: Use your computer mouse (or fingers) to zoom in or out. Click on the icons to get more information about each place. Click the arrow on the top left corner for the index. Click the star next to the map's title to add it to your Google Maps account. To view the saved map on your smartphone or PC, open Google Maps, click the menu and go to 'Your Places'/'Maps'. If you want to print the map or see it in a bigger window, click on 'View larger map' in the top right corner.
DAY 1
Île de la Cité – Arc De Triomphe – Champs Elysées – Les Invalides or Rodin Museum or l'Orangerie (optional) – Place de La Concorde – Tuileries Gardens – Louvre Museum (at the quietest time).
Day 1 – planning info/tickets to book:
Good to know: All of these places are included with the Paris Museum Pass. Even if you decide to visit the Louvre with a guided tour as we did, this pass can still be good value, depending on your overall Paris itinerary. The Louvre and l'Orangerie are closed on Tuesdays and Rodin Museum is closed on Mondays. Other places are normally open daily.
Île de la Cité: Sainte-Chapelle, Notre-Dame & More
9-11 AM.
Île de la Cité is a small island in the middle of the River Seine, best known for the Notre-Dame Cathedral. This was the birthplace of Paris in the 3rd century BC.
If you come here before 9 am, you could walk around the island and explore it a bit deeper. In that case, you may want to start at Pont Neuf, the oldest stone bridge in Paris, with 384 grotesque face ornaments lining its sides. Next, head to Square du Vert-Galant, the westernmost point of the little island. The views from here are quite nice.
Then walk past Place Dauphine, a cozy town square at the western end of this little island, and on to the Conciergerie and its Clock Tower. Built in the 14th century, this is the oldest public clock in France, and you can see it from the street.
The Conciergerie is a former courthouse that also served as a prison. Nowadays, this is a museum that you could consider visiting if you have at least an hour to spare. With 4 days in Paris, and depending on your interests, I'd just see it from the outside.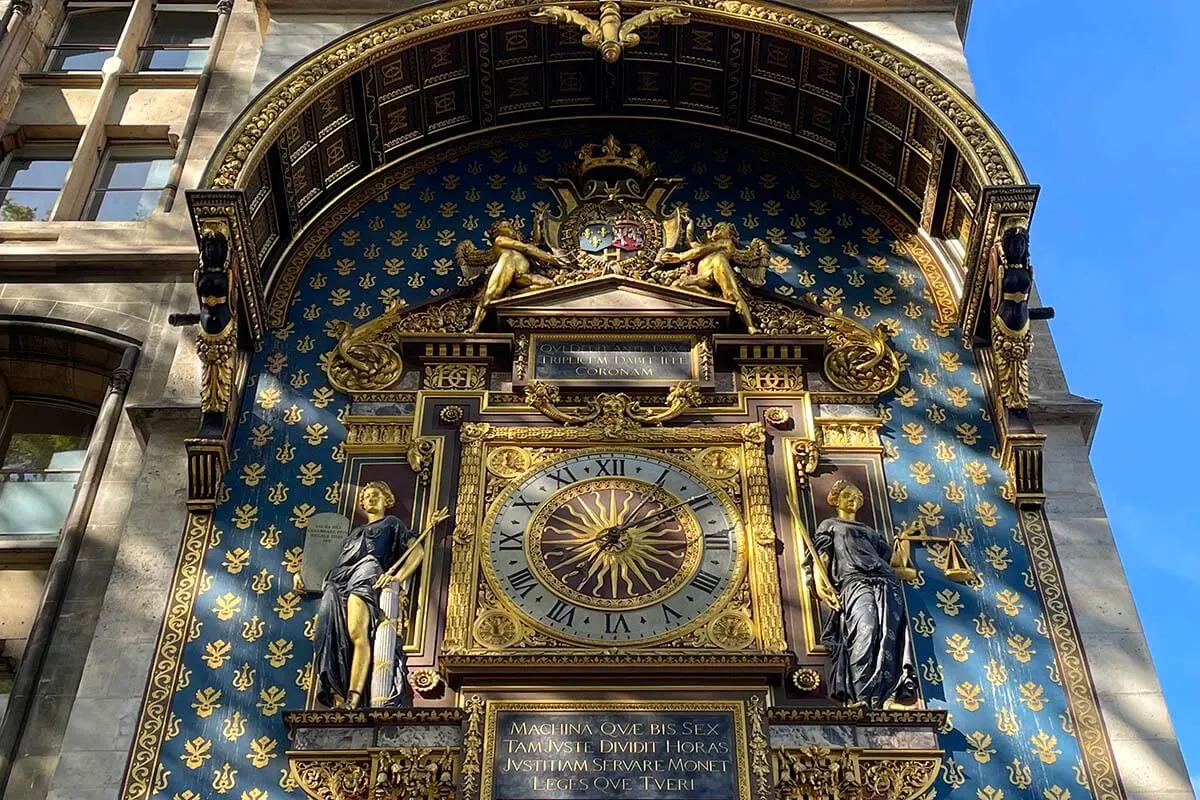 The most impressive place to visit on Île de la Cité is Sainte-Chapelle. This is the 13th-century royal chapel that I can only describe as the most beautiful chapel in the world. It will take your breath away!
Please note that there are actually two chapels here, connected by a small staircase. The lower level (where you enter) was used by servants and the upper chapel – by the Royal family. They are both very impressive, but the upper one is absolutely stunning, so if it's not too busy as you enter, head there first.
TIP: You really have to reserve your tickets in advance for Sainte-Chapelle!!! For this itinerary, it's best to book the tickets for 9 am and arrive at least 15-20 minutes before it opens. You will still have a small queue at the security check, but it will be incomparably quieter than later during the day.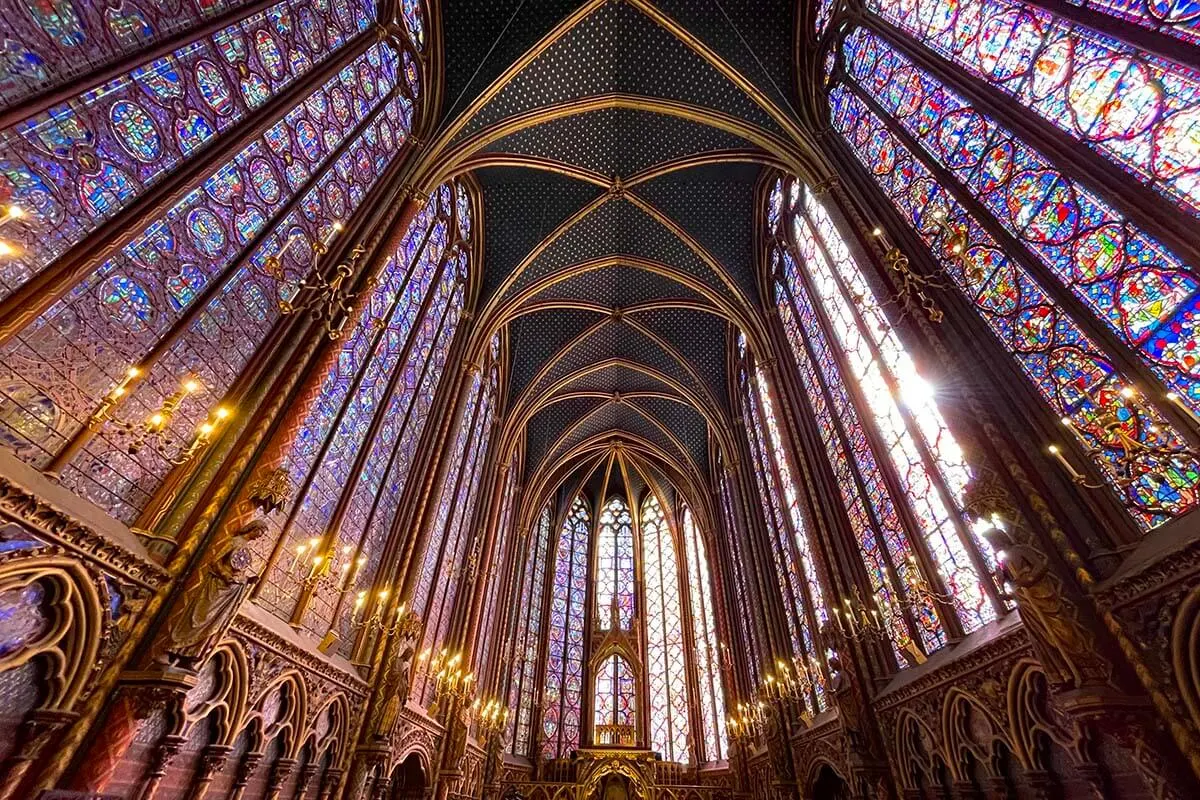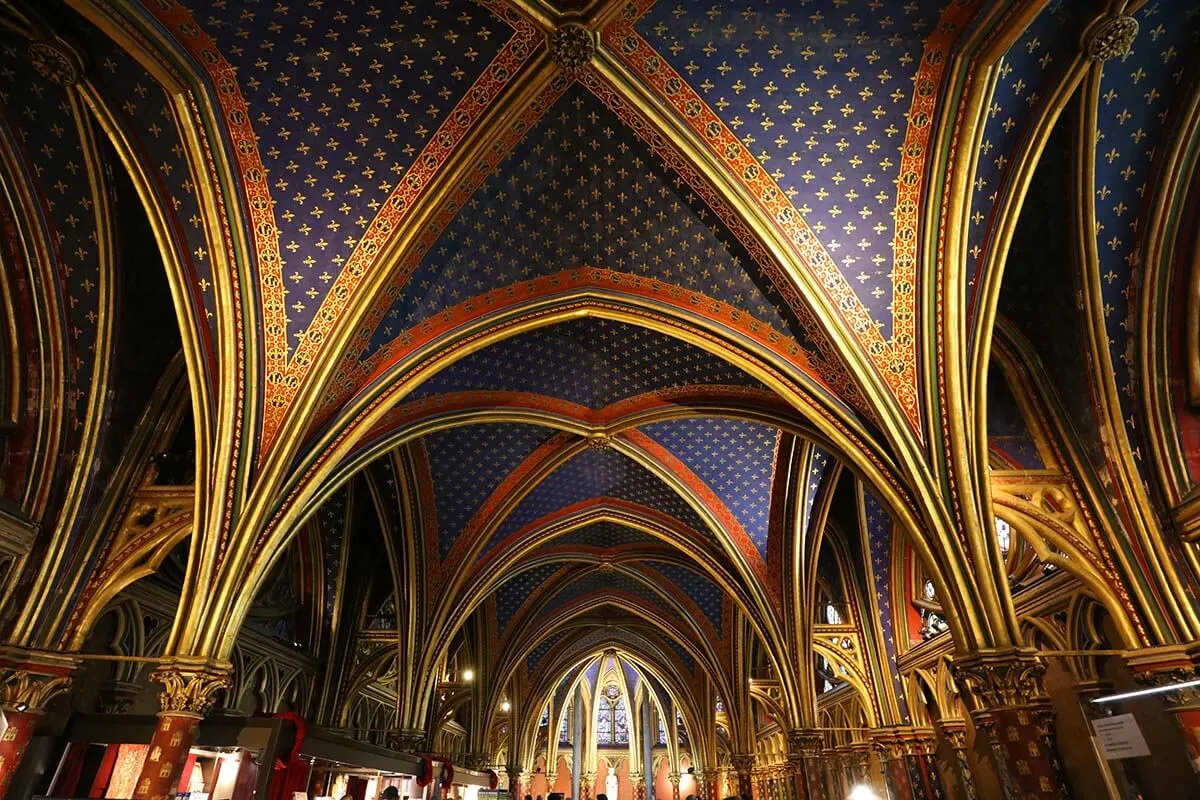 Near Sainte-Chapelle, you can visit a flower market. It's just a short photo spot, but quite nice to see.
If interested, you could also walk to see Au Vieux Paris, aka the most charming café in Paris. It usually only opens at lunchtime, but most people come here just for the picture of its exterior anyway.
It's definitely not a must and we saw many other cafés in Paris that looked at least just as charming, but it's just a small detour. You could also come for lunch here, but it will likely be much too early for that.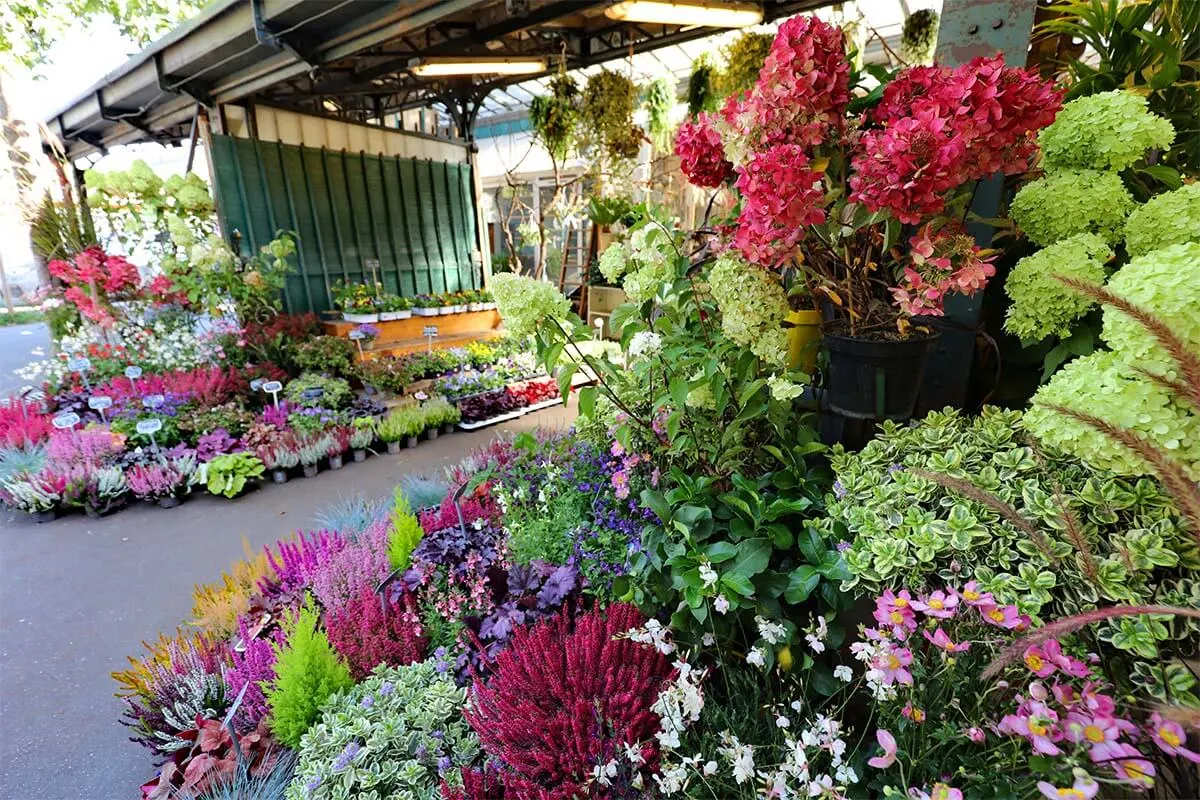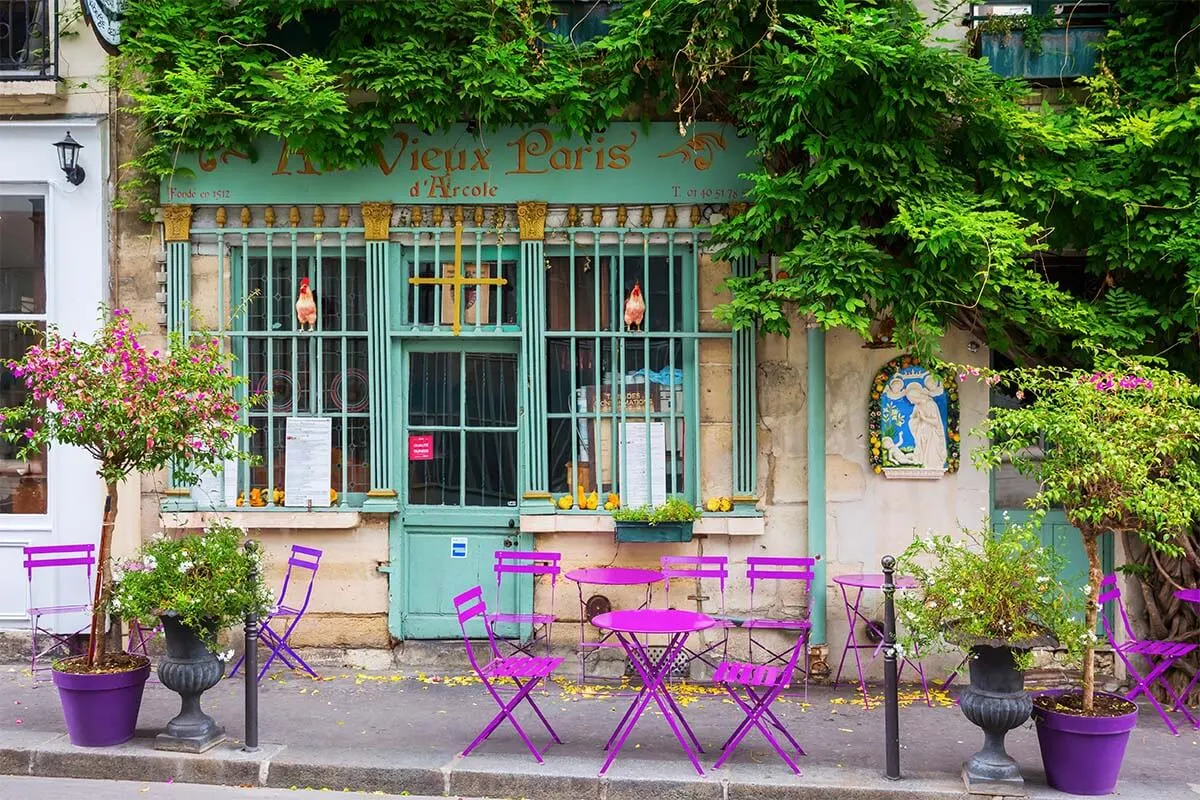 Next, head to Notre-Dame Cathedral. At the moment, it's being rebuilt after the 2019 fire. Behind the fences, you can still see the two towers of Notre Dame, but that's really it. You can't even step on the iconic 'Point Zero' from which all the road distances in France are measured.
Anyway, it's still worth a few minutes of your time to see this famous Paris landmark.
Good to know: Based on the official sources at the moment of writing, Notre-Dame Cathedral is supposed to reopen in spring 2024, just in time for the Paris Olympics. I'm quite skeptical about this extremely ambitious deadline, but who knows… If someone at the highest level decides that it's a matter of prestige and puts huge resources into it, magic can happen.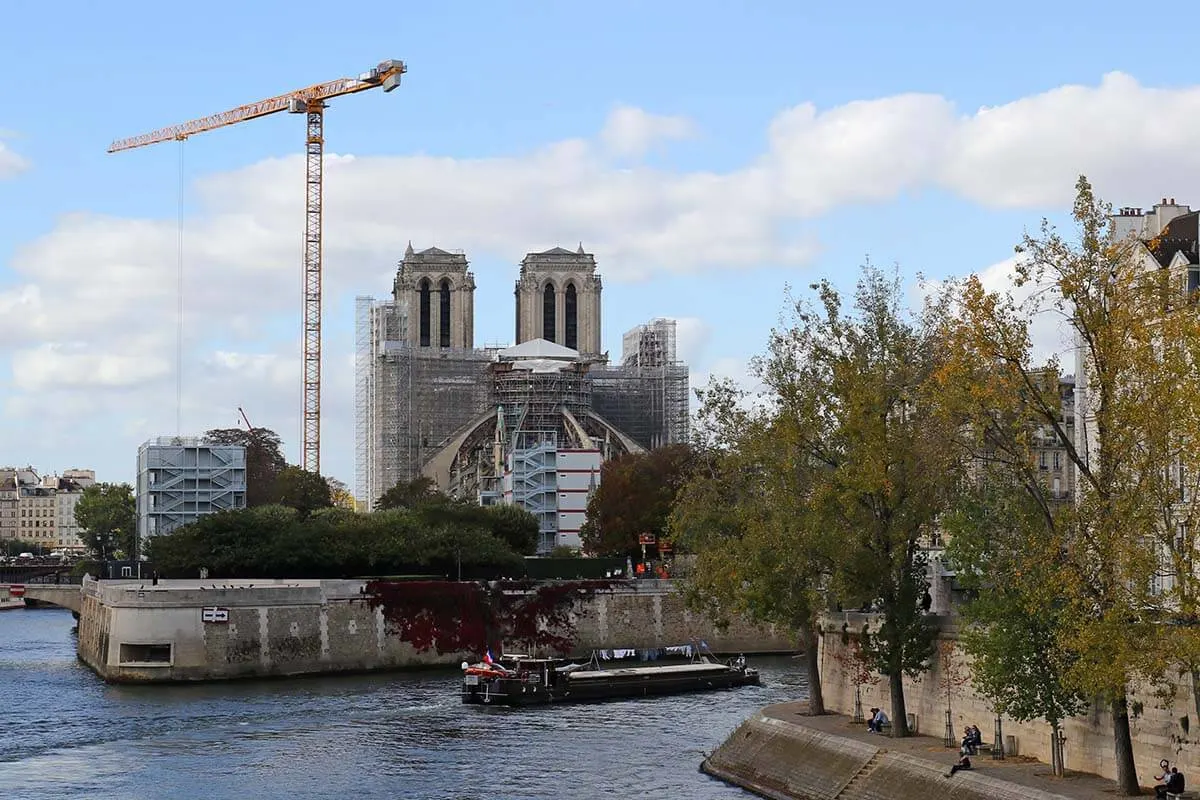 Arc De Triomphe
11-12.30 PM.
Time for the next place on your Paris itinerary – Arc de Triomphe de l'Étoile. The distances are big and you'll be walking a lot as it is. So to get there, it's best to take the metro.
Arc de Triomphe needs no introduction. Commissioned by Napoleon to celebrate all his victories (he never lived to see its completion), this is one of the most recognizable landmarks of Paris. Under the arch, you can see the Tomb of the Unknown Soldier and the eternal flame that is rekindled at 6.30 pm every evening. Inside, there's also a small exhibition.
While you can just see the arch from a distance, we highly recommend that you also visit the rooftop. The views from here are among the best in Paris! Keep in mind that there are 284 steps to reach the top. They also have a small elevator which is reserved for people with reduced mobility, but it stops at the exhibition level, so you'll still have to do some stairs.
Good to know: Do not attempt to cross the busy roundabout in order to get to Arc De Triomphe. There is a well-indicated underground passage for that!
TIP: While not absolutely needed, booking a ticket in advance will save you at least one queue (you'll still have a security check, as in most places). If you are visiting in the high season, definitely book upfront! Even with the skip-the-line tickets or Paris Museum Pass, count at least 45 minutes for a visit here.
READ ALSO: Best Views in Paris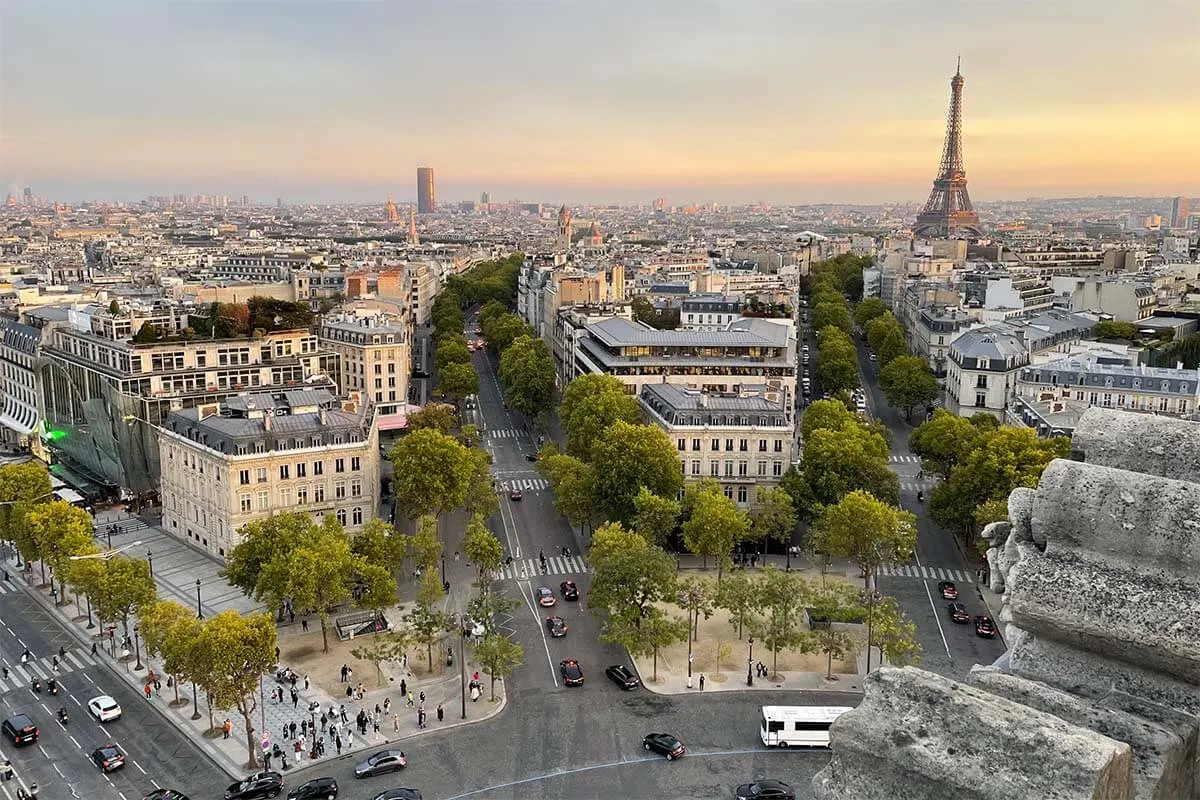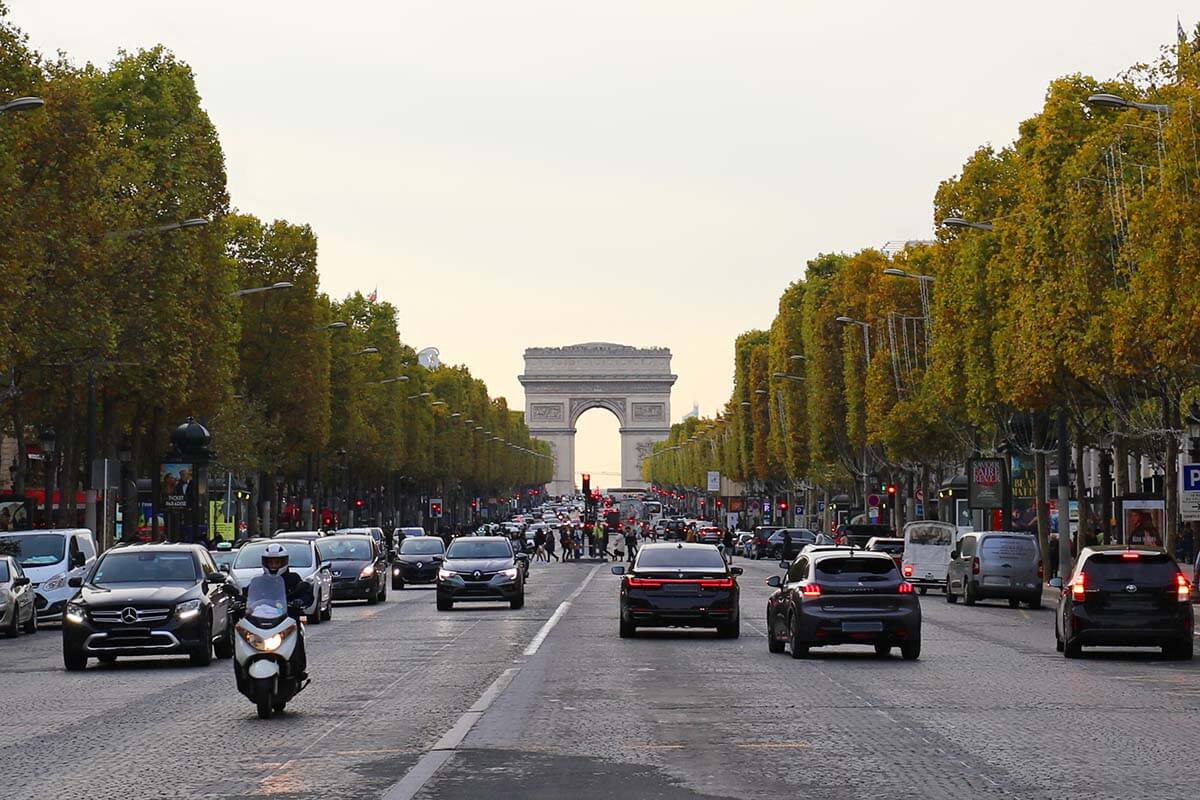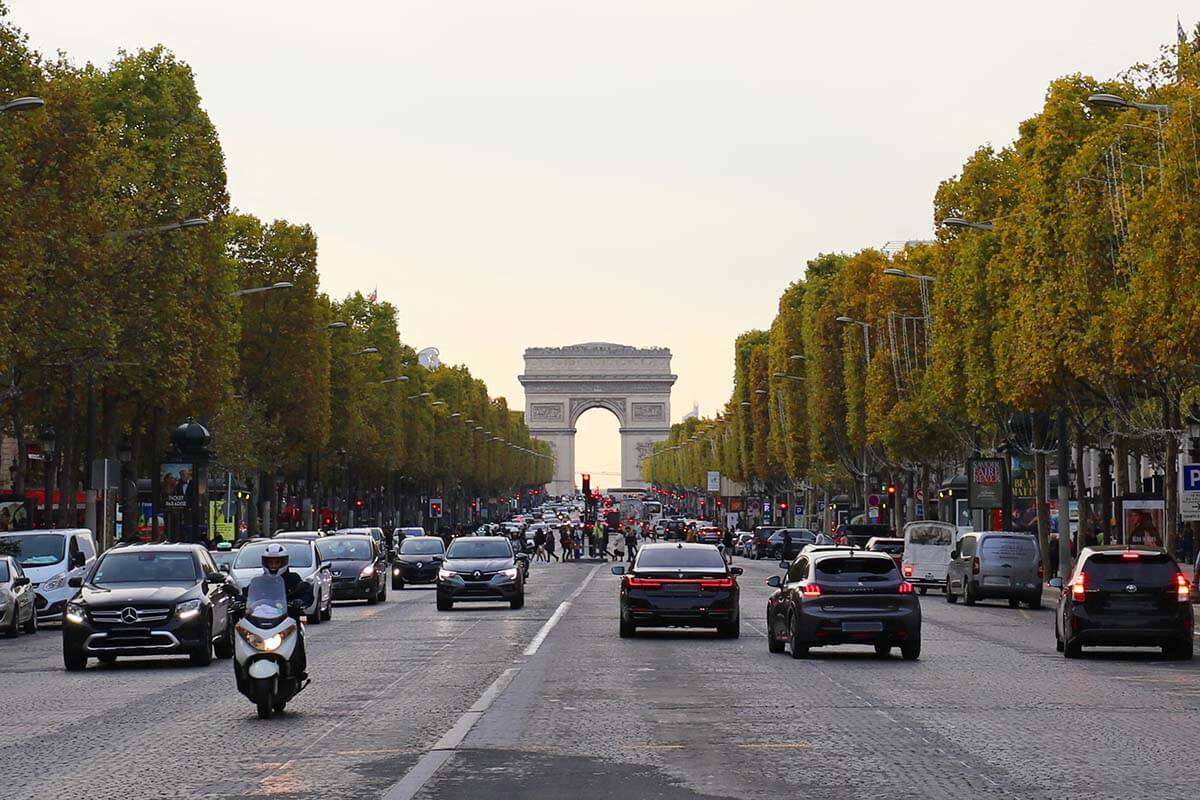 Champs-Élysées & Lunch
12-1.30 PM.
Avenue des Champs-Élysées is probably the most famous street in Paris. This wide avenue is nearly 2 kilometers in length, but the liveliest part with most shops and restaurants is right next to Arc de Triomphe.
Here, you will find some of the most expensive designer shops in the world. Amazingly enough, there are often huge queues to get inside the luxury stores of Dior, Moncler, or Louis Vuitton, to mention just a few. Most of the restaurants in this area are also on the pricier side and very busy.
Time for lunch!
You'll find many traditional Parisian brasseries and restaurants in this area, or you can just get a sandwich at PAUL's or similar (this will save you a lot of time vs sitting down for lunch). For a truly Parisian experience, you could also opt for some sweet pastries and macarons at the iconic Ladurée. And yes, there are fast-food restaurants here too, but come on – you are in Paris!
Good to know: If you want to be sure to have a table at a specific restaurant, be sure to reserve in advance! For example, without a reservation, you'll likely waste at least 30-40 minutes in line at Ladurée, maybe even more in the high season.
Just keep in mind that these are not the places where you go if you are hungry; rather for a special treat. I always have to laugh at my husband's experience at Ladurée years ago. He ordered a coffee and a sandwich and ate the one-bite snack thinking that it was something extra served with coffee. He then sat there waiting for his sandwich to arrive. But it never did. It turned out that the tiny bite was in fact the sandwich that he ordered. We've been to Paris many times, but there is no way I can ever convince my husband to go for 'lunch' at Ladurée again. 🙂
In fact, we have similar stories about a few other restaurants on Champs-Élysées. Let's just say this area is really touristy and you won't find the best value or service. But I guess it's just part of visiting Paris for the first time…
TIP: There's one traditional Parisian restaurant that we quite liked near Arc de Triomphe. It's called La Flamme and is located on one of the side streets, so not on Champs-Élysées itself. On our recent visit, we had dinner here and found that the service, as well as the food, were excellent. The prices were also very reasonable for this area.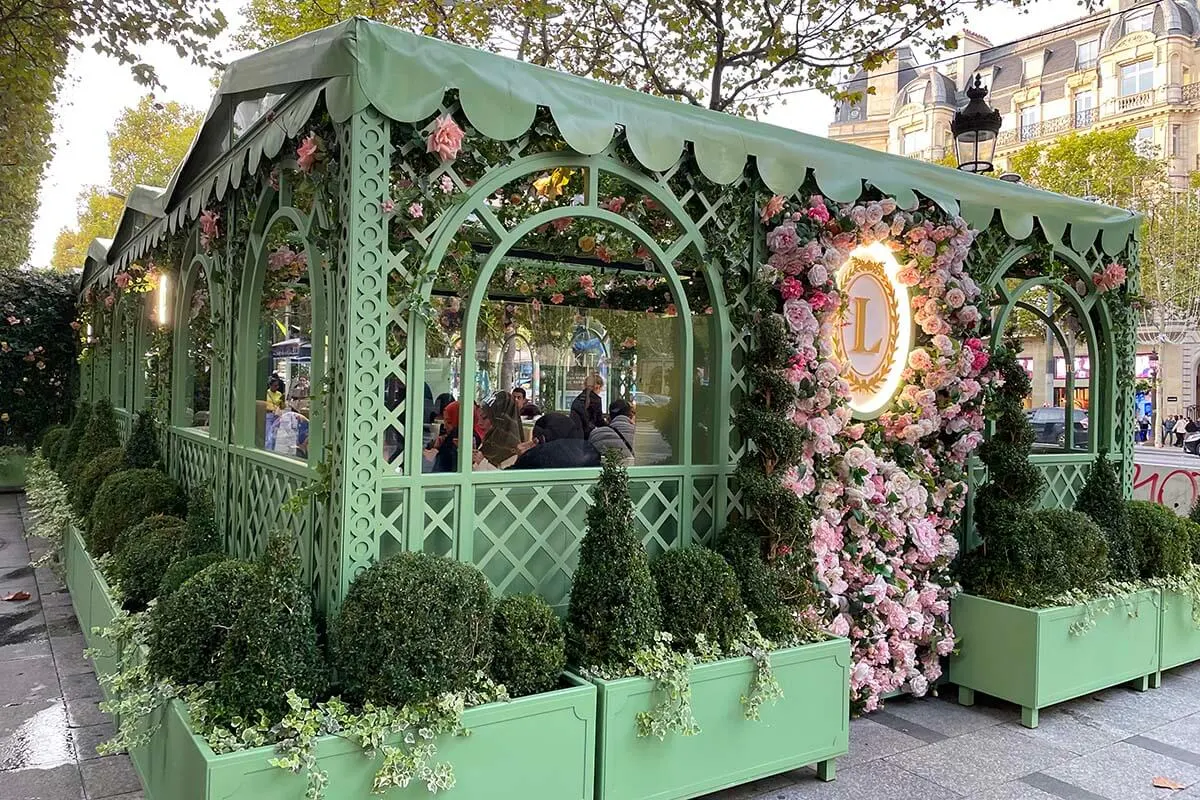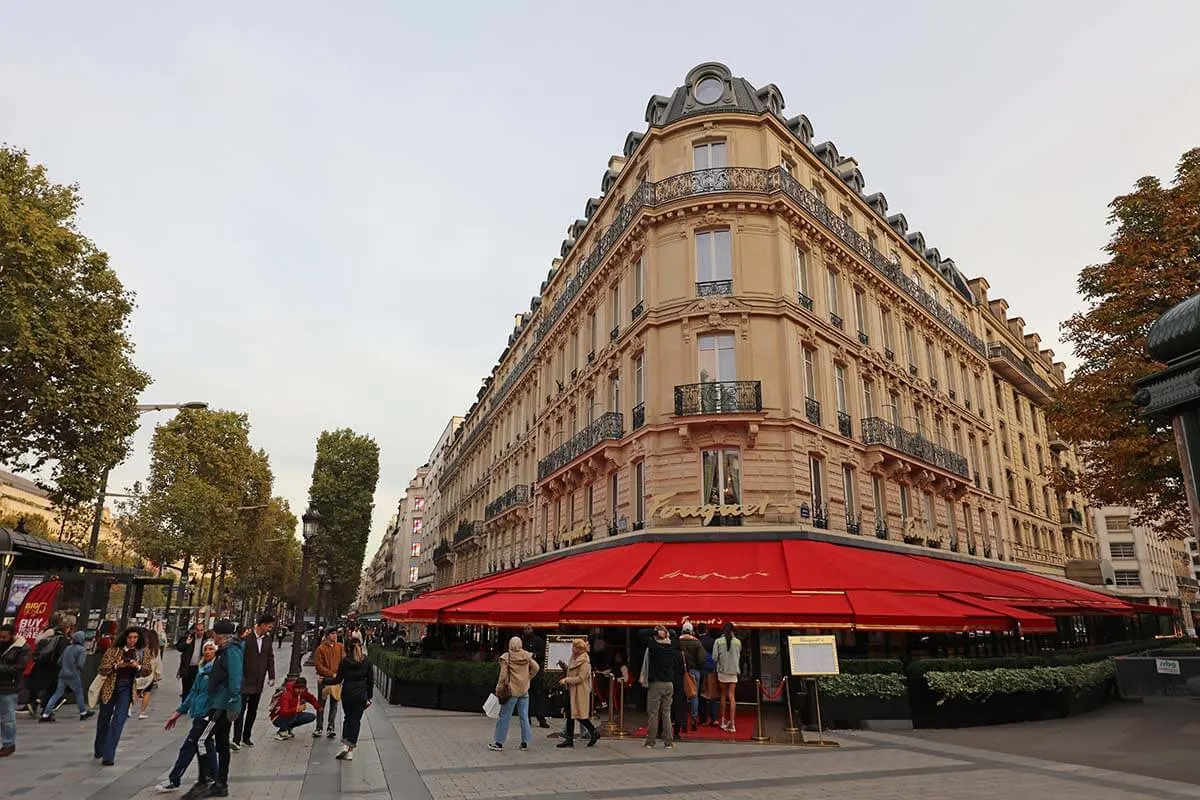 Jardin des Champs-Élysées – Grand Palais – Petit Palais – Pont Alexandre III
1.30-2.30 PM.
After lunch, continue east down the Champs-Élysées. You'll soon reach the greener area with several small parks on both sides of the boulevard. If you have some time, it's nice to explore these gardens a bit more.
Be sure to also check out the two iconic buildings known as Grand Palais and Petit Palais. These Art-Nouveau-style buildings date from the early 1900s.
At the moment, the Grand Palais is being renovated and is not open to the public.
Petit Palais houses an art museum which is free to visit. However, it sometimes closes for special events, which was the case every time we were in Paris… Anyway, it's worth seeing it from the outside too, and if it's open when you are there, be sure to take a look inside!
TIP: Check out the "Bouquet of Tulips" sculpture in the gardens behind the Petit Palais. This huge hand holding a bouquet of colorful flowers is the work of American artist Jeff Koons.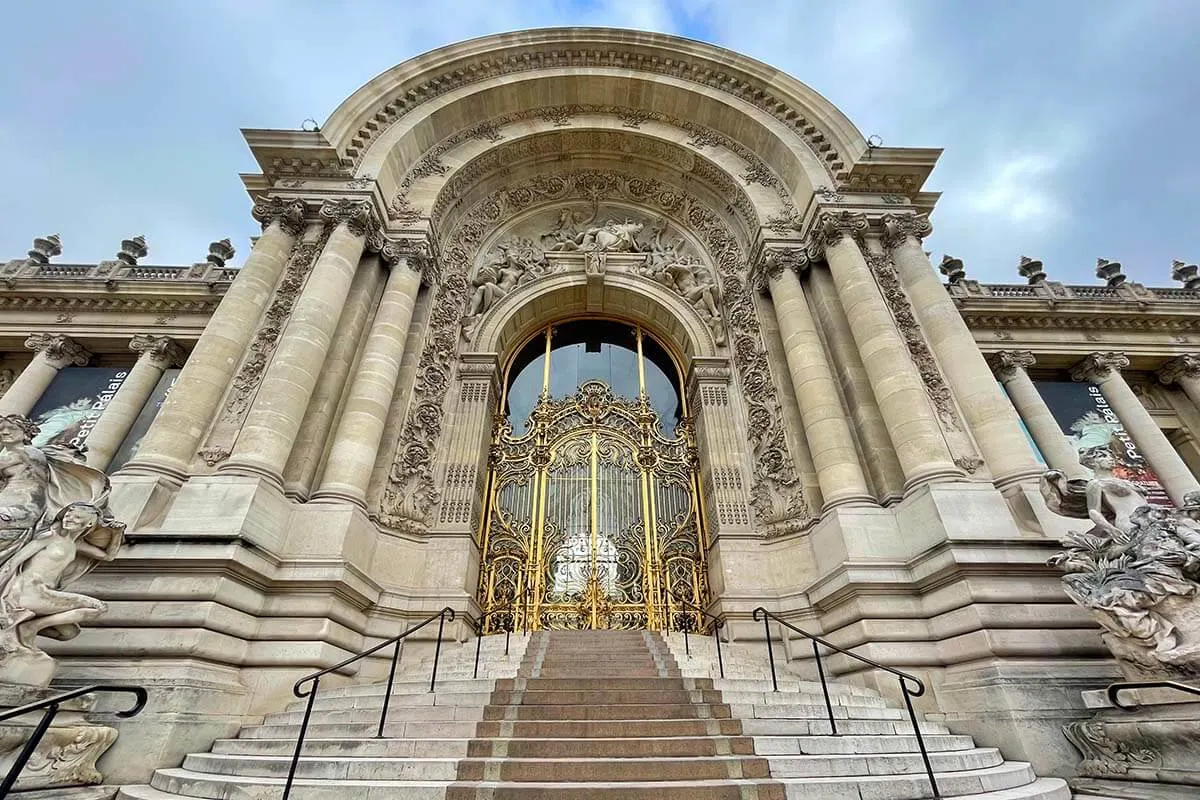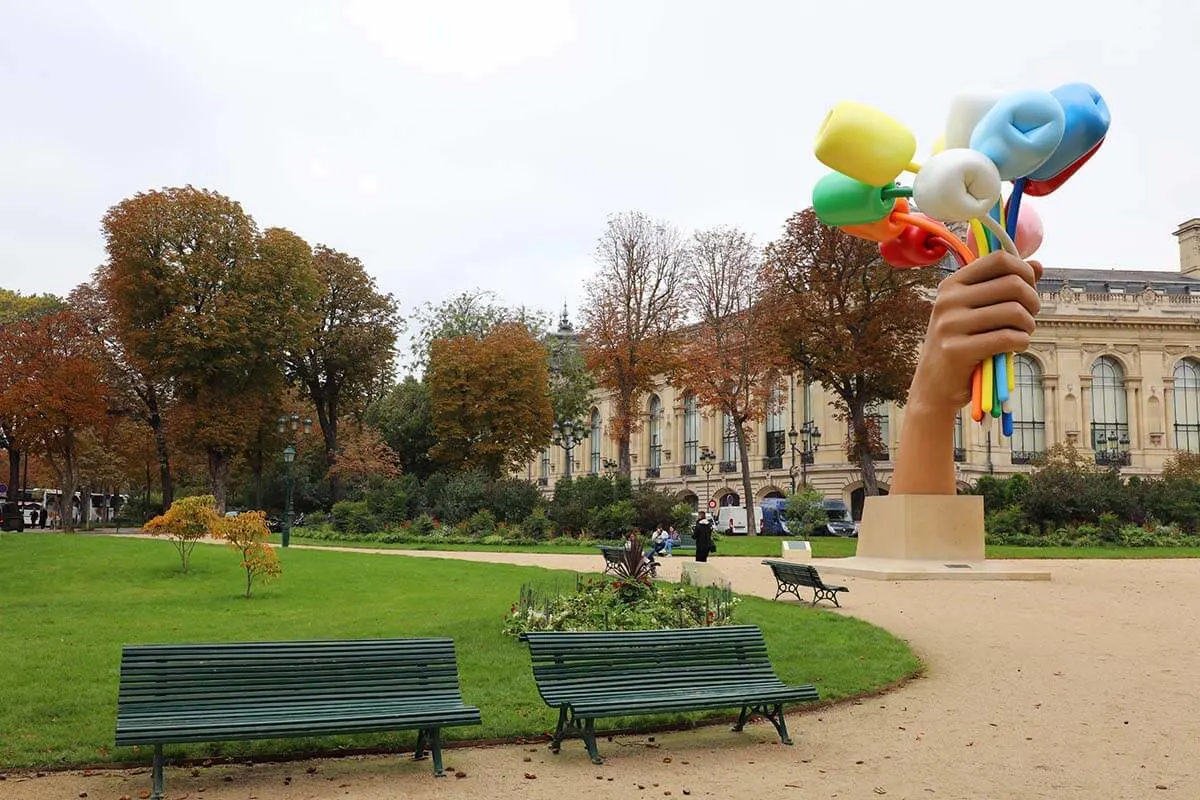 Just nearby, you can see one of the most beautiful bridges in Paris – Pont Alexandre III. Even if you decide not to walk to Les Invalides on the other side of the river, it's well worth making a small detour to see this bridge.
This remarkable Beaux-Arts style bridge was inaugurated in 1900. It is lined with beautiful lampposts and lots of impressive sculptures. On each corner, you can also see four winged horses which represent Sciences, Commerce, illustrious Arts, and Industry.
From the bridge, you also have great views over the River Seine and Eiffel Tower in the distance.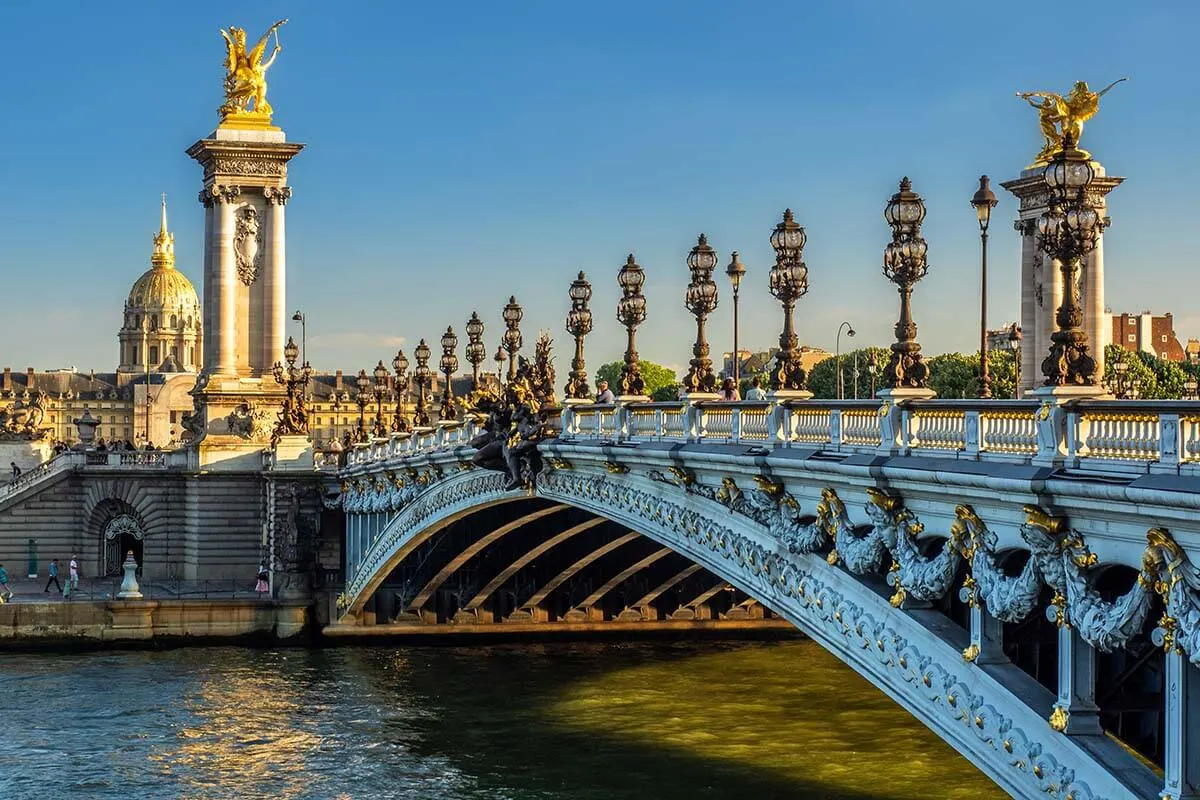 Les Invalides OR Rodin Museum OR Musée de l'Orangerie (optional)
3-5 PM.
If you are not going shopping at Champs-Élysées and want to pack as much as possible into your day, there are a few interesting places in this area that you could add to this itinerary.
Hôtel des Invalides (or simply Les Invalides) and Rodin Museum are located just next to each other on the other side of the river, about 15 minutes walk from the bridge. Alternatively, you could visit Musée de l'Orangerie which is conveniently located on the way to the Louvre.
TIP: Depending on your interests, I'd only visit one of these museums or not even at all, or you risk getting a 'museum burnout' on your first day in Paris already. You can get tickets for Rodin Museum, or for Les Invalides, or l'Orangerie separately, but if you decide to come here in addition to all the other places mentioned in our guide, then it's definitely better to get the Paris Museum Pass. That way, you can just decide if/which of these museums you want to visit on the day itself.
While not unknown, these places are not on the must-see list of most first-time visitors to Paris. But you really need either a skip-the-line ticket or a museum pass so that you don't waste any time in lines, definitely in the high season.
Built as an accommodation and a hospital for wounded soldiers in the 17th century, the Hôtel des Invalides is now a military museum. It's best known for the incredibly grand Tomb of Napoleon Bonaparte. While you likely need at least 2 hours for all the museums here, you could visit the tomb in about half an hour.
Rodin Museum is dedicated to the works of the French sculptor Auguste Rodin, showing how his technique and style evolved over time. The must-see here is the Sculpture Garden and his most famous work "The Thinker" (Le Penseur). However, there are multiple copies of this sculpture worldwide and you can also see one inside the D'Orsay Museum (see day 2 of this itinerary).
Musée de l'Orangerie is a recently-restored art museum mostly focused on impressionism and post-impressionism. The most famous works here are "Water Lilies" by Claude Monet, but you'll also find paintings by Picasso, Renoir, Cézanne, Henri Matisse, Modigliani, and many others.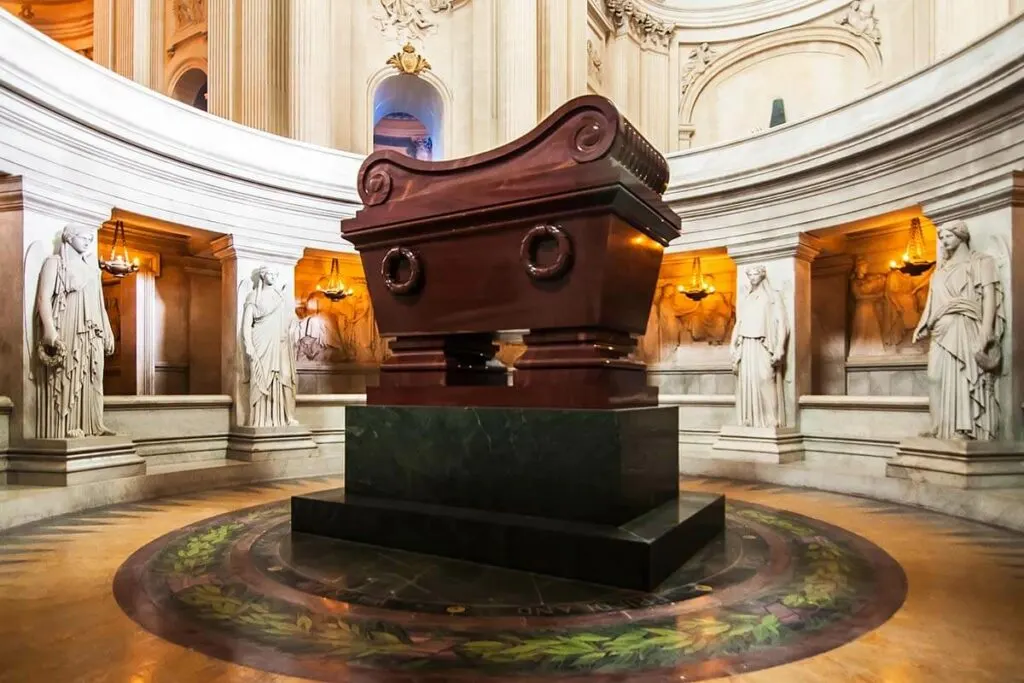 Place de La Concorde – Tuileries Gardens
5 – 6 PM.
Next, return to the northern side of the river and walk to Place de La Concorde. This is the largest square in Paris, and since there's lots of traffic here, it's an experience in itself. Be careful when crossing the streets! Even if it's green, be sure to look well in all directions – also for bikes, e-steps, tourist rickshaws/ pedicabs, etc.
While navigating the crazy traffic, don't miss the Egyptian Obelisk and the beautiful fountains!
Interesting to know: During the French Revolution, this square was the site of many public executions, including that of the last king of France, Louis XVI, and his wife Marie Antoinette.
Next, walk to Tuileries Gardens (this is also where Musée de l'Orangerie is located). These beautiful gardens connect the Place de la Concorde to the Louvre and are popular among tourists and locals alike. There are chairs around the big pond in the middle and benches throughout the park. It's a nice place to sit down, rest a bit, and do some people-watching.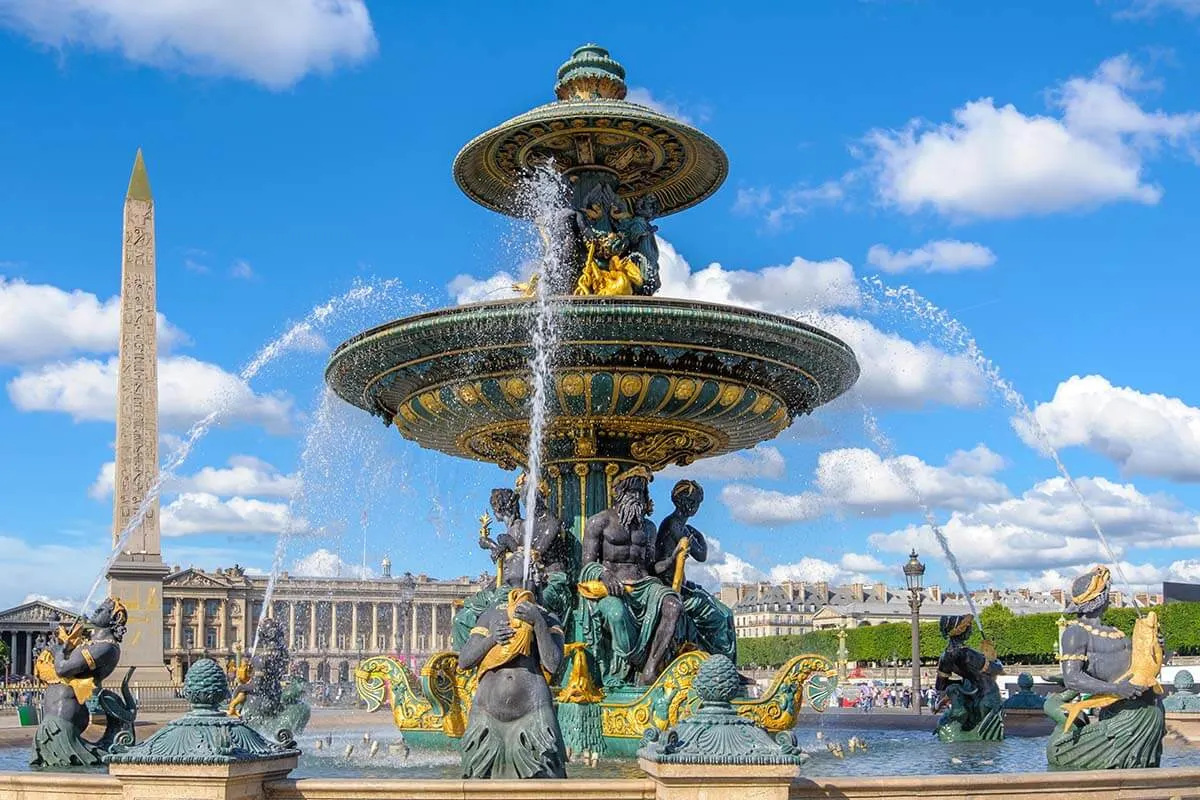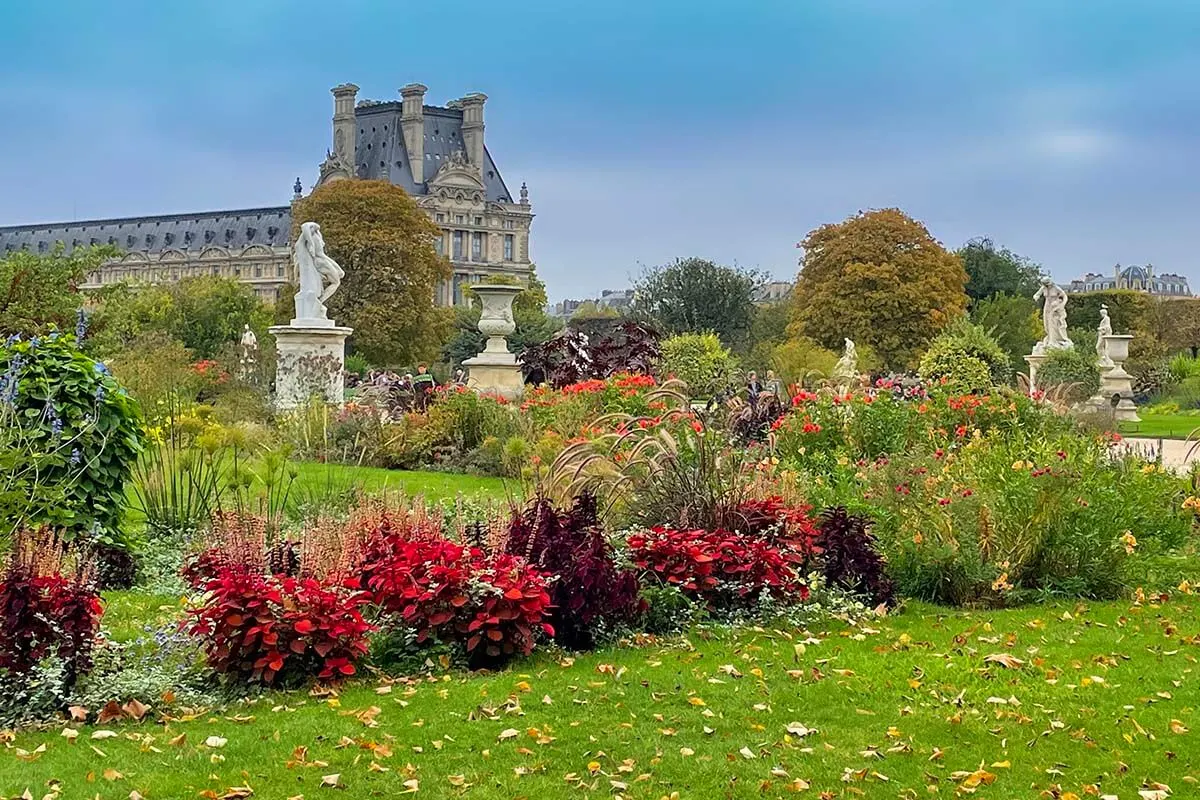 TIP: If you are not planning on doing shopping or visiting any of the museums, you'll have quite some free time left. You may want to stop for some afternoon tea at Angelina Paris, just next to Tuileries Gardens. This is a very popular 120-year-old tea room that – according to the locals – serves the best hot chocolate in the world. However, it's pricey and very busy. Try to reserve in advance or prepare to wait for a while.
Next, check out the Arc de Triomphe du Carrousel, right in front of the Louvre. Built in 1806-1808 to celebrate Napoleon's victories, this ornate arch is a predecessor of the more famous Arc de Triomphe de l'Étoile that we mentioned earlier.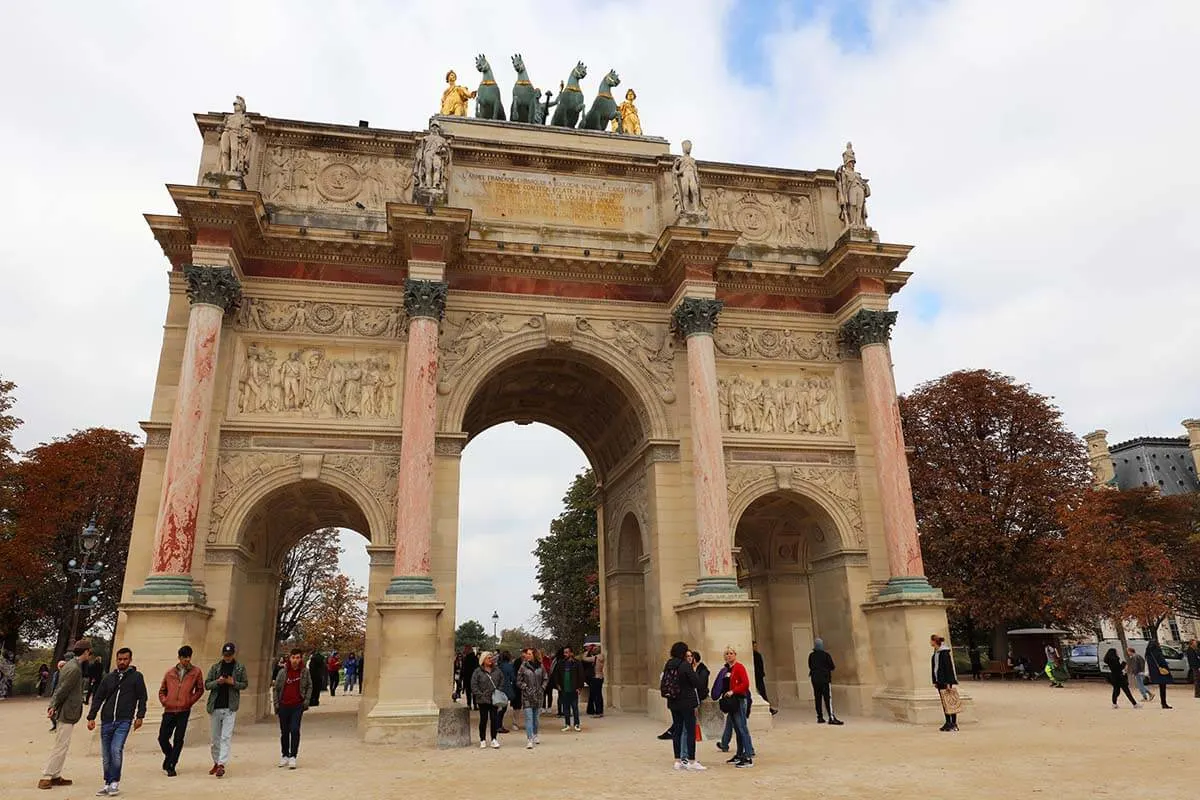 Louvre Museum
6.30-9 PM.
End your first day in Paris with a visit to the most famous museum in the world, The Louvre. It's also one of the most-visited tourist attractions in Paris, so it's always busy here. But if you come in the evening, a few hours before the closing time, you will be able to avoid the biggest crowds.
Louvre Museum is so big that you could spend several weeks inside and still not see everything. But most people come here for the most known artworks such as La Gioconda (Mona Lisa) by Leonardo da Vinci, the ancient Greek sculpture Venus de Milo, or the Winged Victory of Samothrace (the Nike), etc. For the highlights, you need at least 2-2.5 hours, plus count that it will also take you some time to get inside.
Good to know: The opening times of the Louvre Museum depend on the season and on the day when you visit. But since you need to get timed tickets anyway, you can immediately see what is available. In the high season, it's normally open late (9-9.45 PM), so you could come here at around 6-6.30 PM.
Alternative – if visiting Paris in the low season. In the low season, the Louvre is normally open until 6 PM (unless on Fridays when it remains open until 9.45 PM). In that case, you will have to adjust this itinerary. You can come here after visiting Notre-Dame and then continue with all the other places as described above and end your day at Arc de Triomphe which remains open late.
PRO TIP: No matter when you visit, be sure to get timed-entry tickets for the Louvre in advance. But in all honesty, this is one place where it really pays to visit with a guided tour. Otherwise, it can get very overwhelming just trying to figure out which entrance to take and where to go or what to see inside.
We opted for this closing time at the Louvre tour (Mona Lisa at her most peaceful). It's a great way to skip the queues at the entrance and see all the musts in a short time. It wasn't our first time at the Louvre, but we learned so much from our guide! Highly recommended.
As you exit the museum, take the time to enjoy the Louvre Pyramids. You can take some nice pictures here, especially around sunset.
READ ALSO: Tips & Tricks for the Louvre Museum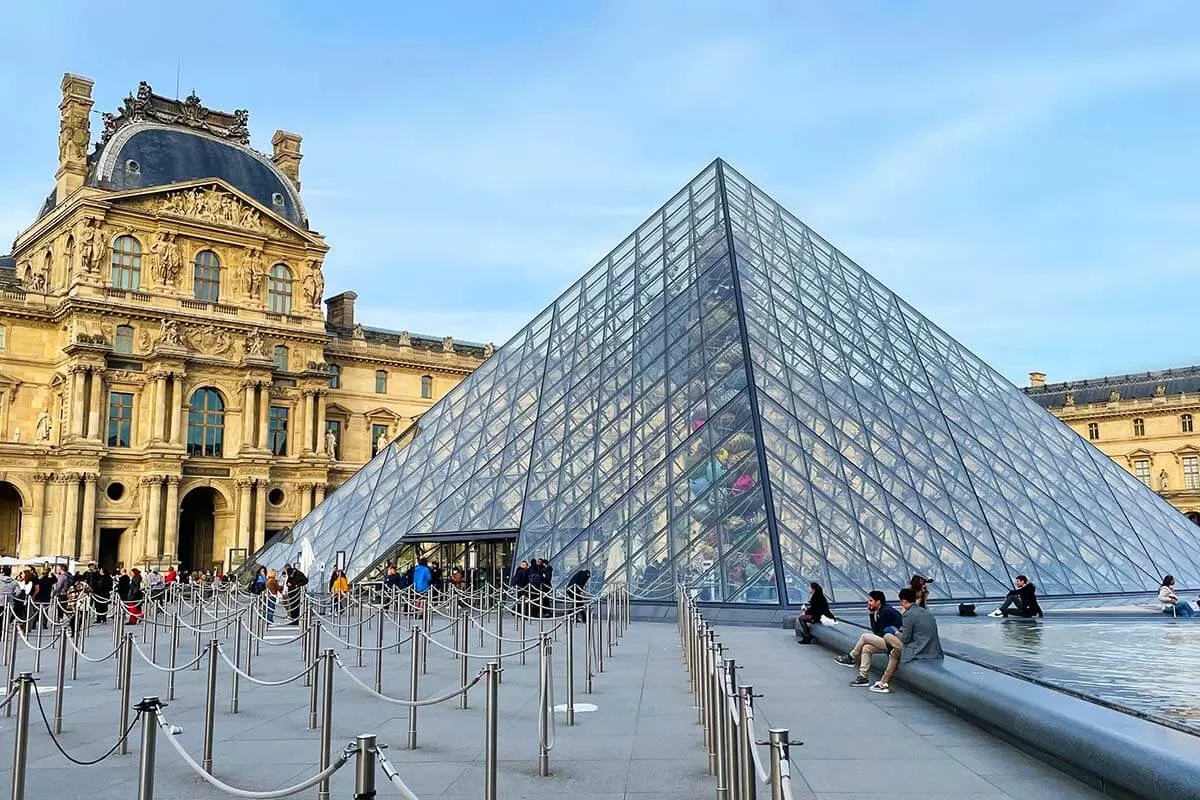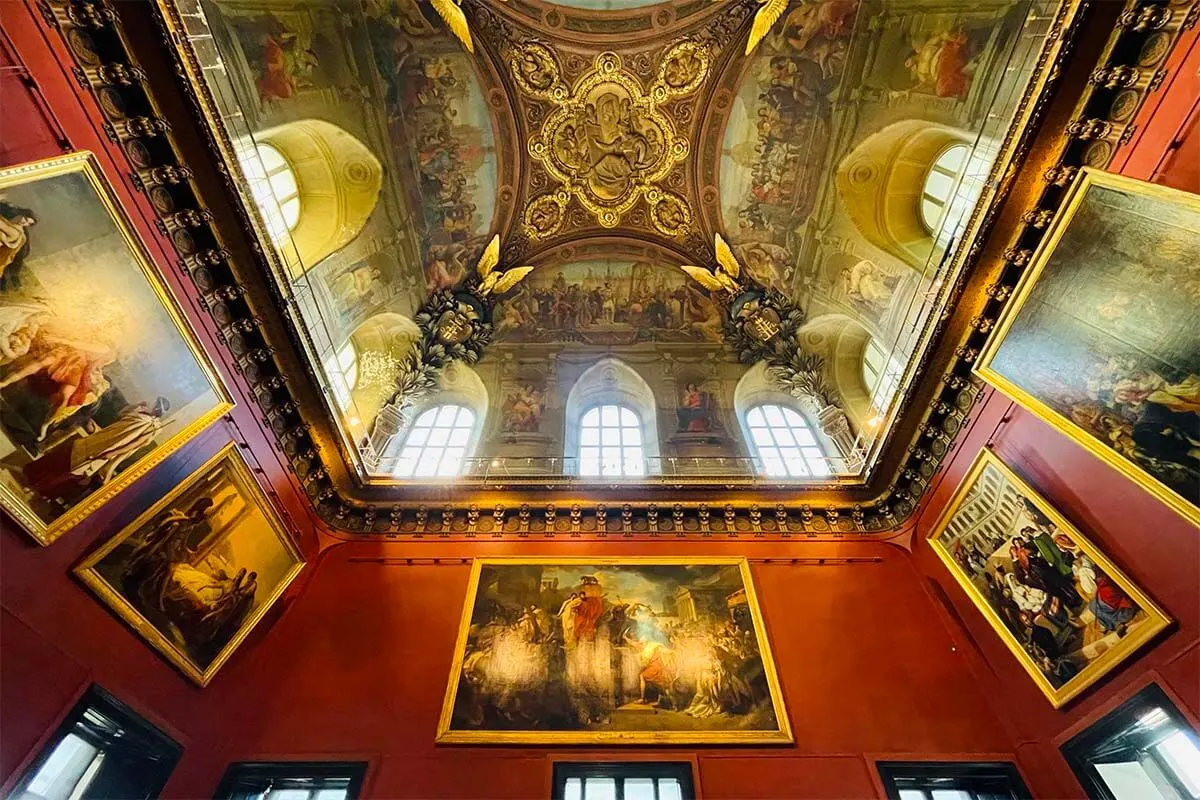 Colonnes de Buren
Just a few minutes walk from the Louvre, you can also check out the Colonnes de Buren at the courtyard of the National Royal Palace. It's just a quick photo stop and there are quite some restaurants nearby, so you could come here before dinner.
Alternatively, you can also visit here on day 3 of this sightseeing itinerary. This square is also the start of many walking tours that visit the covered passages of Paris.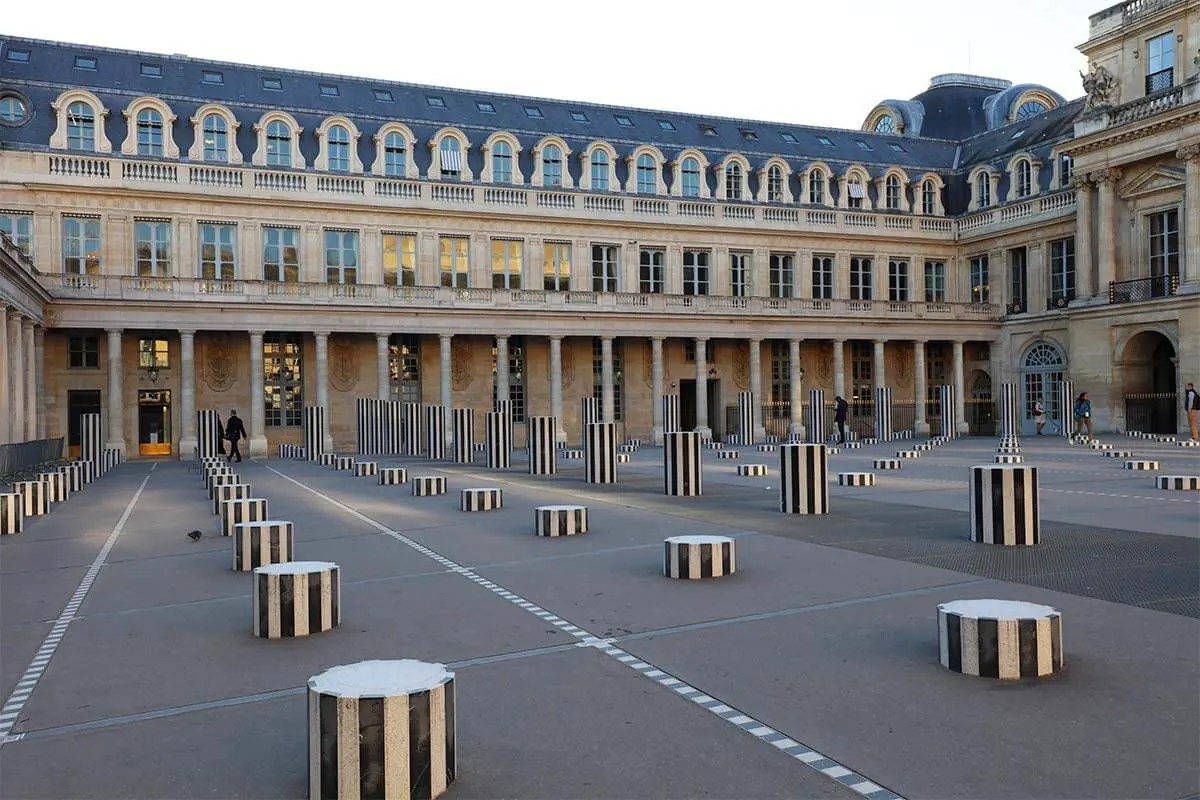 Dinner
For dinner, you'll find lots of restaurants in all price categories in the area to the north/northeast of the Louvre. We reserved a table at Pizzeria Popolare, which is located about halfway between the Louvre and the hotel where we stayed.
This is a very trendy Italian restaurant, one of the Big Mamma Group restaurants in Paris. They are all excellent and extremely popular with long queues every evening. So it really pays to reserve a table in advance.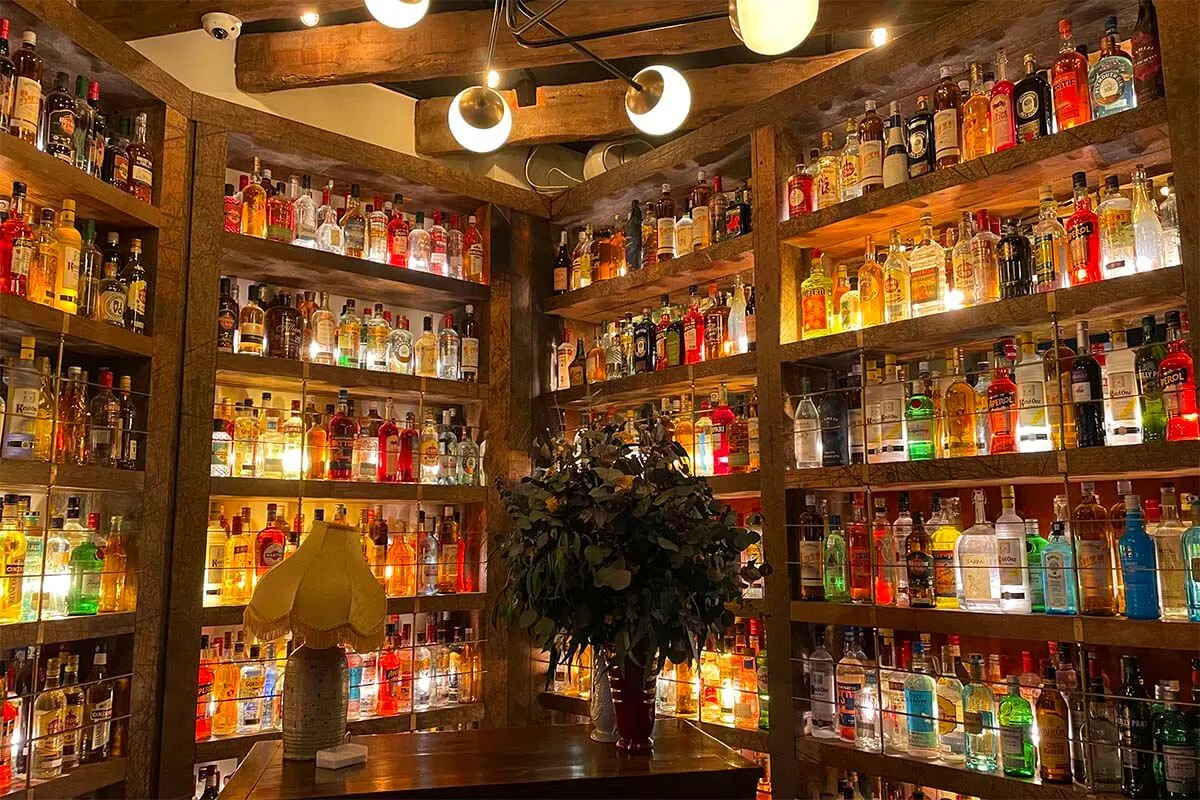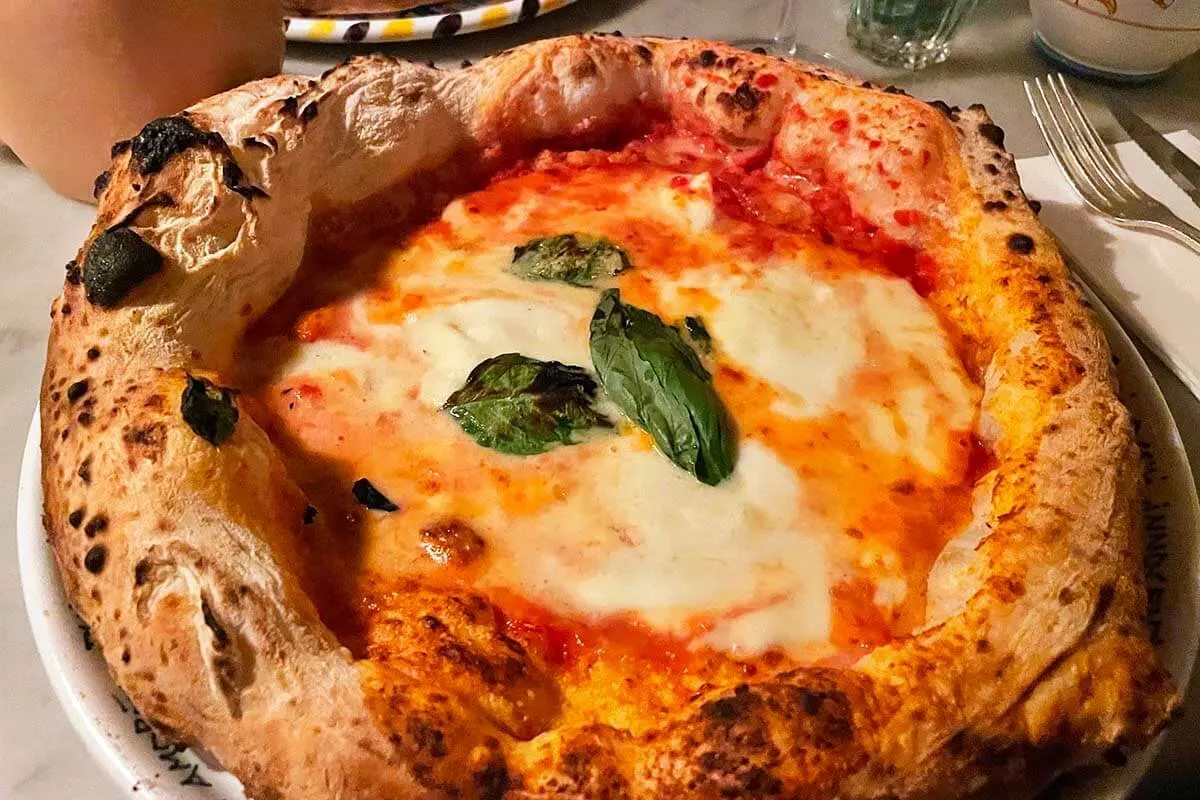 DAY 2
Riverside walk (optional) – Musée d'Orsay – Versailles – Eiffel Tower – Seine Cruise – Eiffel Tower Lights & Sparkles.
Day 2 – planning info/tickets to book:
Good to know: Orsay Museum and Versailles Palace are included with the Paris Museum Pass (although we really recommend a guided tour in Versailles). Also, extra shows in Versailles Gardens are not included. Keep in mind that both – Orsay Museum and Versaille Palace – are closed on Mondays, so adjust your itinerary if necessary.
Riverside walk
You could start your morning with a stroll on the Seine riverside. The first stop on your itinerary today is Orsay Museum, so you could start from Ile de La Cite or from the Louvre, and walk to the museum enjoying the nice views of the river and the surroundings.
Of course, this is not a must, and you can just take the metro straight to the museum.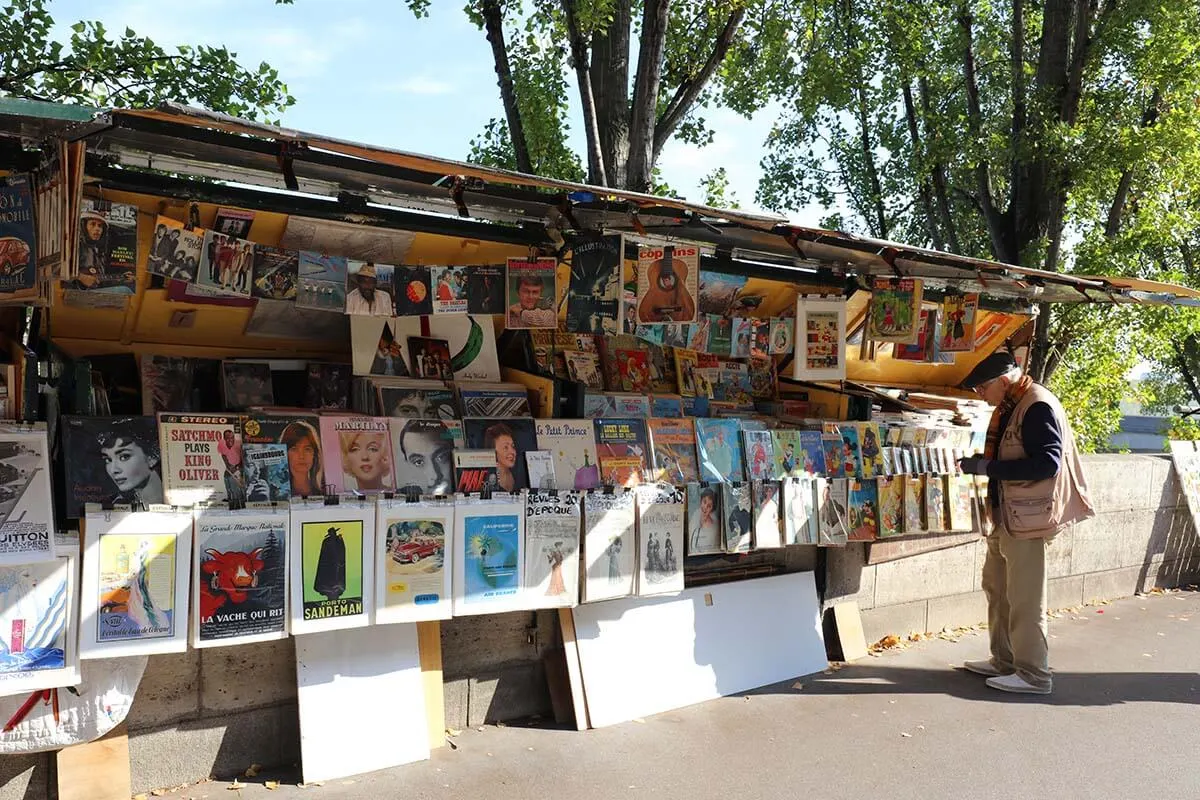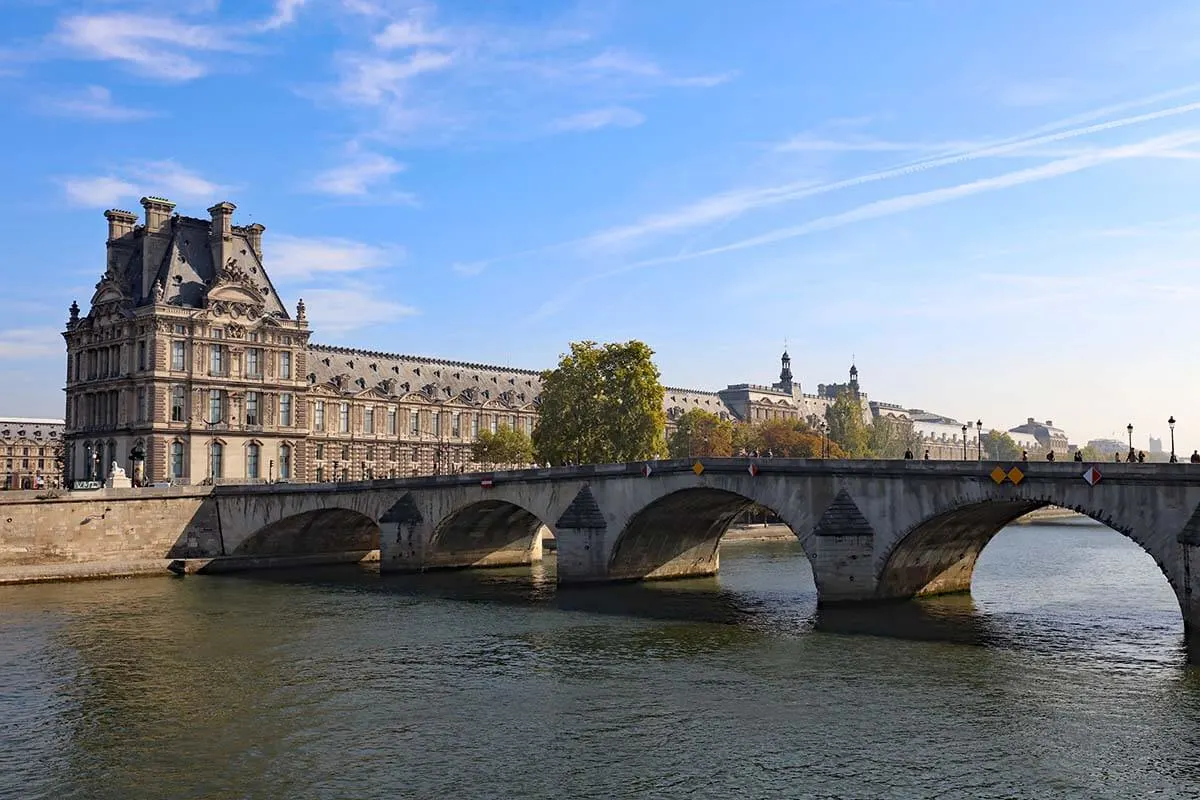 Musee d'Orsay
10 AM-noon.
Start your day with a visit to one of the best museums in Paris – Orsay Museum. It's located inside an old railway station and the building is worth seeing in its own right. As you walk inside the huge covered hall, it's easy to imagine steam trains arriving and departing from here a hundred years ago.
D'Orsay museum is probably best known for its incredible collection of impressionist- and post-impressionist art. It's here that you will find some of the best works of Monet, Manet, Renoir, and Van Gogh.
You can see lots of other masterpieces here too, including some fantastic temporary exhibitions. When we visited, we could also see the works of Edvard Munch, but also some incredible and touching contemporary art by American artist Kehinde Wiley.
Don't miss the impressive station clock on the top floor. From here, you also have nice views of the city and the river, and the clock makes for some nice pictures too.
TIP: The impressionist collection is located on the top floor and it's the most popular area of the museum, so you may want to head there first before it gets too busy. For that, walk straight all the way to the back of the museum. Against the back wall, a bit to the left, you'll find escalators that can take you all the way to the top floor.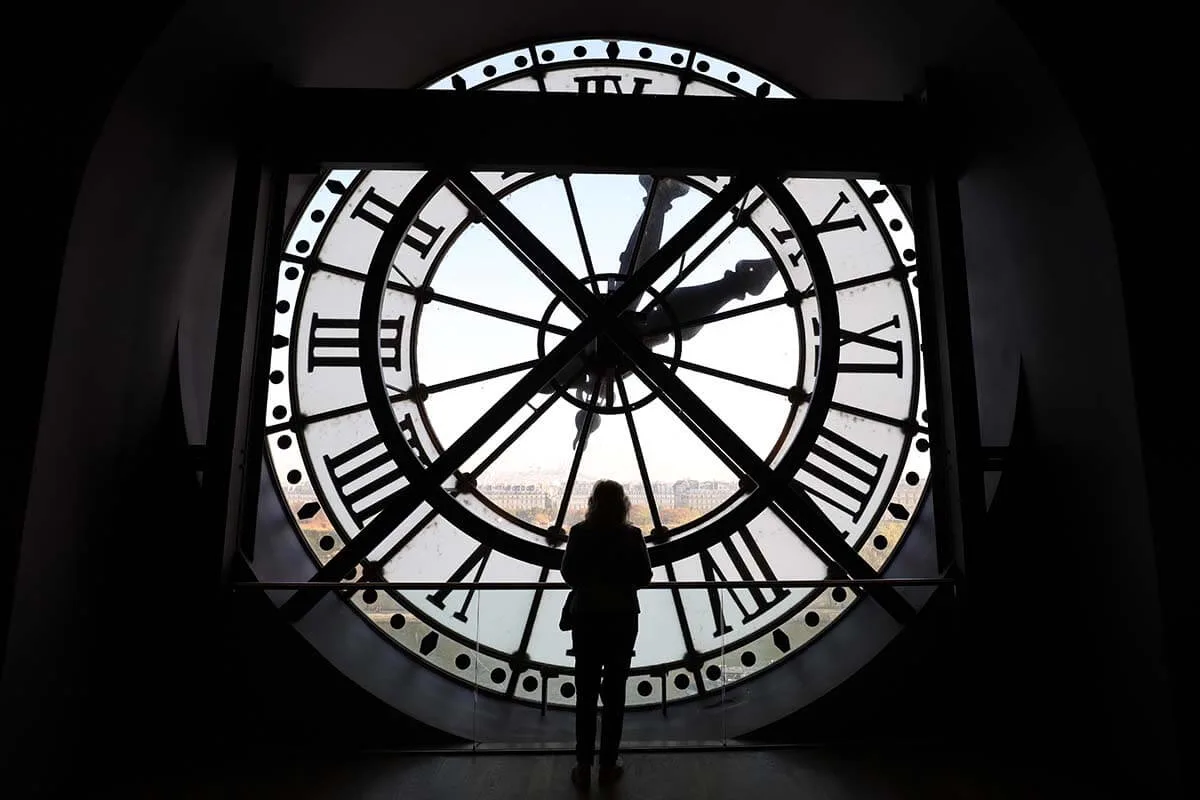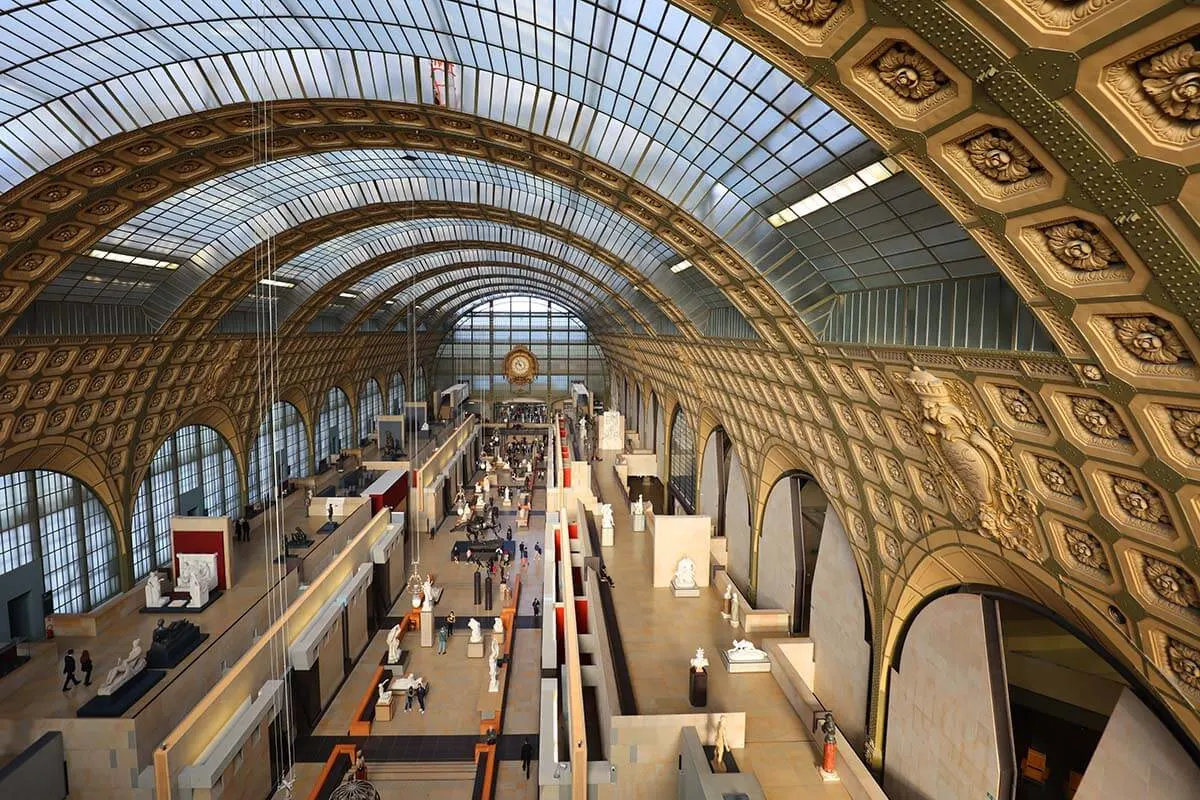 Train to Versailles and quick lunch
12-1.30 PM.
Right next to Museum d'Orsay, there is a train station from where you can take a direct train to Versailles. There are regular trains throughout the day and the journey takes about 30-35 minutes. You can get a ticket at the station (a regular Paris metro ticket will not be sufficient).
Important! You will need line C in the direction of Versailles Château Rive Gauche station. The same line splits in many different directions and there are lots of trains on the same track too, so double-check the direction so that you do not get on the wrong train!
In the old town of Versailles, you will find plenty of cafés and restaurants. However, if you don't want to waste too much time, you can also just get a sandwich or something small to eat. We stopped for a sandwich at Madeleine just across the station and it was excellent (and quick). It's conveniently located right next to the GetYourGuide office, which was the meeting point of our guided tour of Versailles.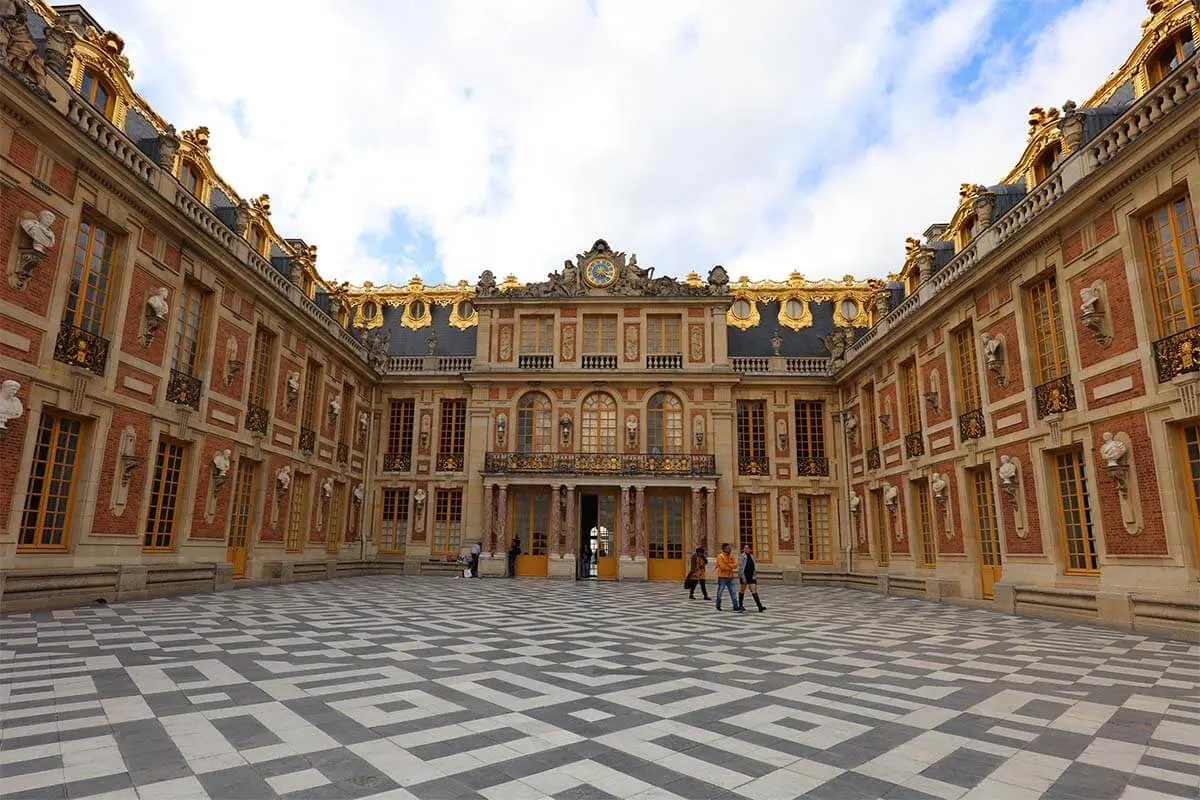 Versailles Palace and Gardens
1.30-4.30 PM.
Together with the Eiffel Tower and the Louvre, the Palace of Versailles is one of the most popular tourist attractions in Paris. And once you see this grand palace with its opulent royal chambers and impressive vast gardens, you'll understand why.
There is a lot to see in Versailles. In fact, you could easily spend an entire day here. But if you just want to see the main palace and some of the gardens, you'll need about 2-3 hours. That's what we recommend if you have just 4 days in Paris because there are just so many other amazing places to see.
Versailles Palace boasts more than 2,300 rooms. The most impressive are the King's and the Queen's bedrooms and the world-famous Hall of Mirrors. And while the gardens are huge and have a lot to offer too, some of the nicest ones are located right next to the main building. So with just a few hours in Versailles, concentrate on the main sights.
TIP: While you can easily visit Versailles on your own (be sure to get a timed entry ticket!), we highly recommend taking a guided tour. It's not just the best way to see all the 'musts' in a few hours, but you'll also appreciate it all so much better. With a good guide, the walls and the furniture come to life and you leave Versailles with a much better understanding of how unique this place really is.
We opted for this highly-rated tour and it was really worth it. Alternatively, you can also opt for a tour that includes a guide/transportation from Paris; this is a good option if you are worried about the practical side of getting to Versailles (it's really not difficult though).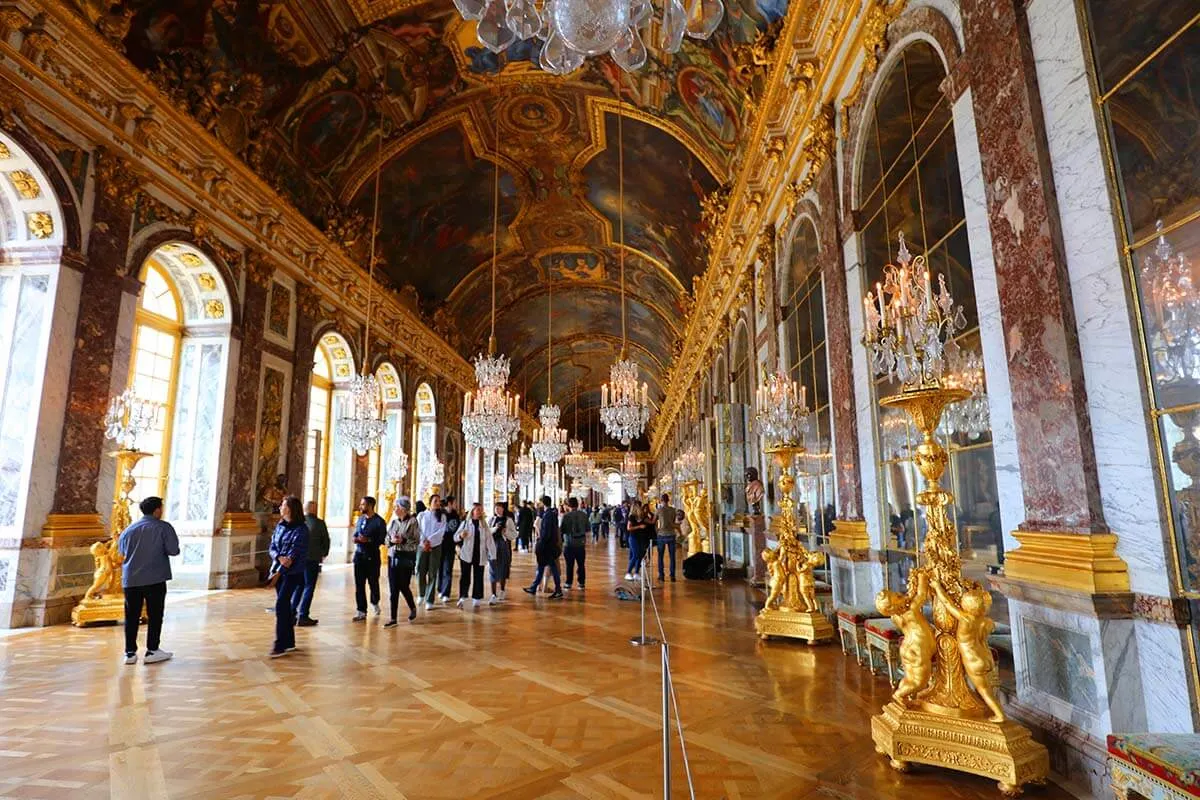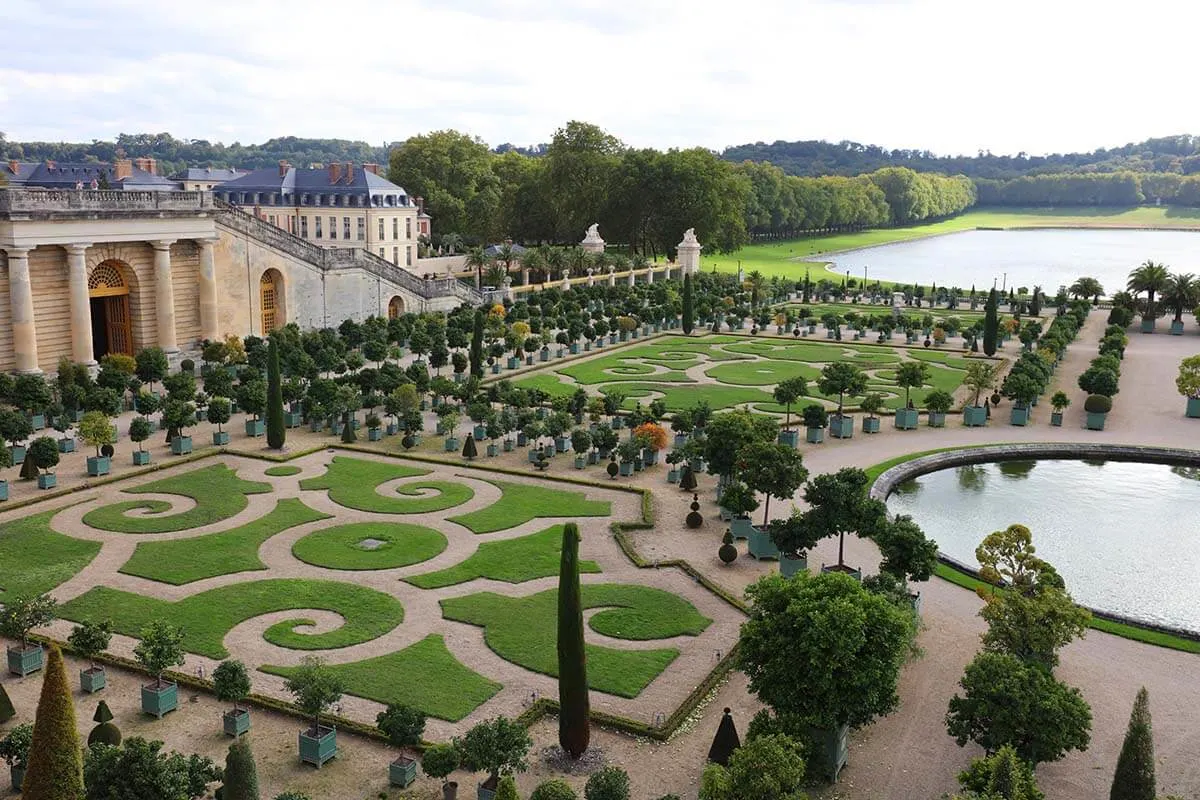 Train to Champ de Mars & Eiffel Tower Views
4.30-5.30 PM.
After visiting Versailles, take a train back to Paris and get off at the 'Champ de Mars' station. This is right at the Eiffel Tower, which is the next destination on your itinerary.
If you have some time to spare before visiting the tower, you could first walk to the nearby bridge Pont de Bir Hakeim. It's located just next to the train station.
This metal multi-storey bridge is a sight in itself, but the main reason to come here is the amazing views of the Eiffel Tower. This bridge is just a tiny bit further away from the tower and gives you a nice perspective. Plus, it's not nearly as busy as the Pont d'Iéna bridge right in front of the Eiffel Tower and is lined with street vendors and hundreds of tourists posing for pictures.
Cross the bridge and walk to Trocadéro Gardens. From the upper terrace here, you have an amazing view of the Eiffel Tower.
Of course, you can also visit all these places after visiting the tower, but if you want to go to the top at around sunset, it's probably better to do this first.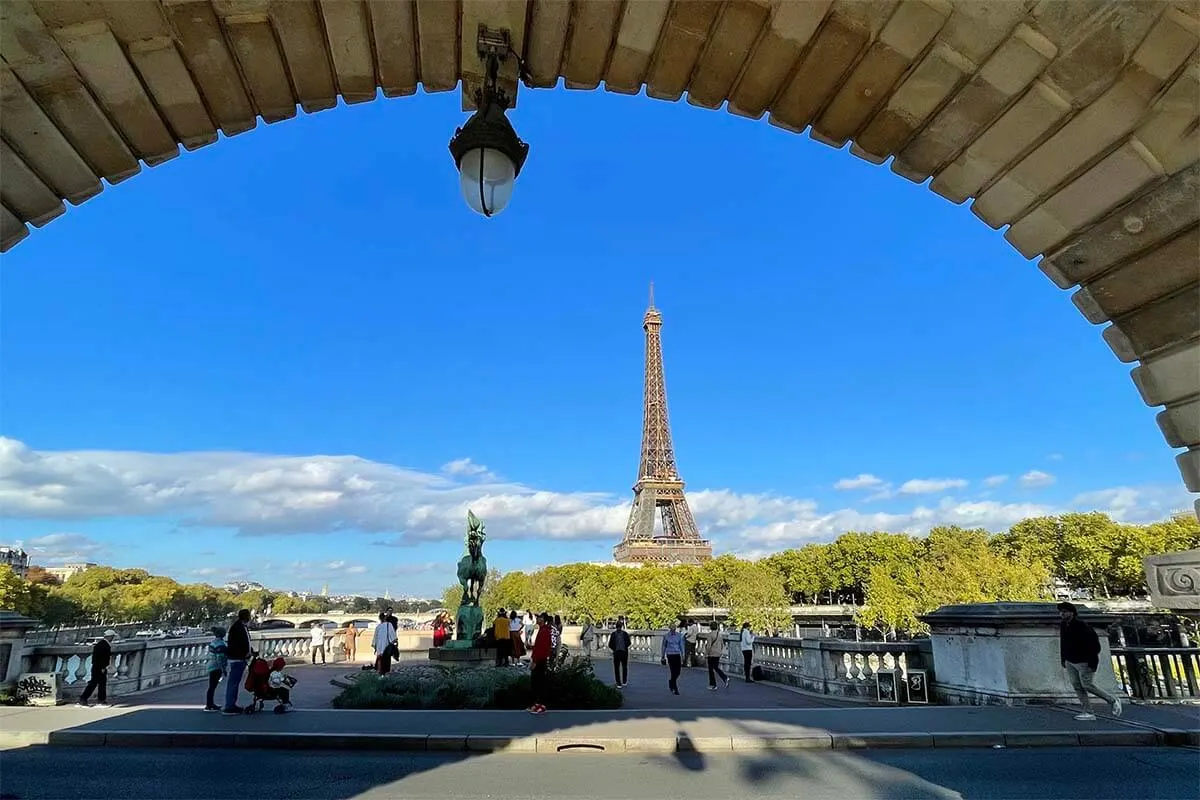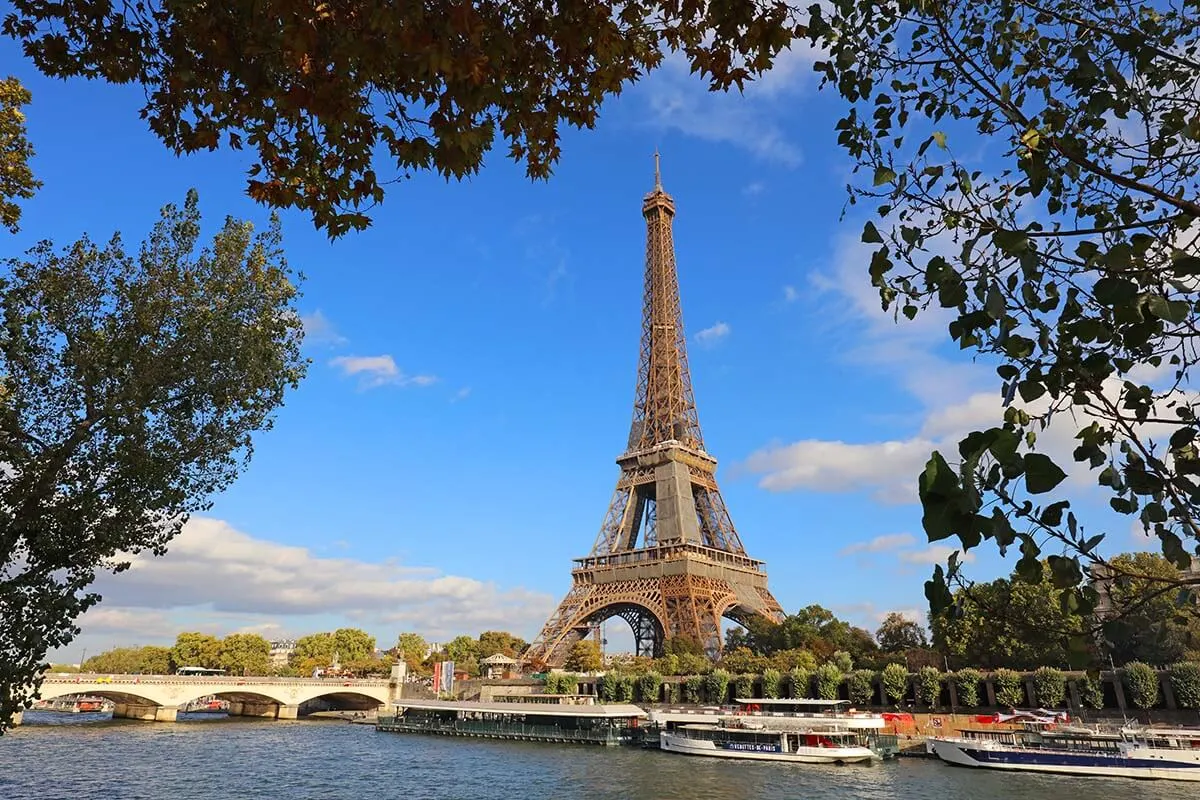 Eiffel Tower
6-8 PM.
Eiffel Tower is at the top of any Paris bucket list. So if this is your first time in Paris, you will likely want to go to the top of the tower too. There are a few things you should know.
First, there are several types of Eiffel Tower tickets. First, you have to make the choice of visiting up to the 2nd floor or going all the way to the summit. To keep things cheaper, you could also opt to climb to the 1st/2nd floors via the stairs instead of taking an elevator. Depending on the day, this might also mean that you'll spend less time queuing.
I find that the city views are best from the 1st and the 2nd floors of the Eiffel Tower. The only reason to go all the way to the top is to tick the box and have done it all so that you have no regrets later. It is a special experience, that's for sure, but not an absolute must.
No matter which option you choose, if you want to visit Eiffel Tower at a specific time without wasting too much time in lines, it's best to book your timed tickets online in advance. And if you can time your visit so that you are at the top about half an hour before sunset, it might make it even more special. But remember that a nice sunset is never guaranteed, so don't obsess about this.
For the tickets, at the moment, the cheapest option is booking via the official site. Just keep in mind that these tickets are not refundable and you can't change the dates either. Also, sometimes summit tickets are not available on the official site anymore, but can be available via other websites like GetYourGuide or Tiqets.
The biggest advantage of booking Eiffel Tower tickets via GetYourGuide is that – for most tickets – they allow free cancelation up to 24 hours before your visit. On this website, you can also find some guided tour options, or get a ticket where you'll also meet a host and get some guidance on where to go, etc.
Good to know: You can always just queue at the tower upon arrival and get your tickets on the spot, but – depending on how busy it is – it can mean that you are queuing for a few hours. Also, even with the timed tickets, arrive at least 30-40 minutes earlier so that you have enough time to get through the first security check before you even get to the actual queue to go up (and the second security check).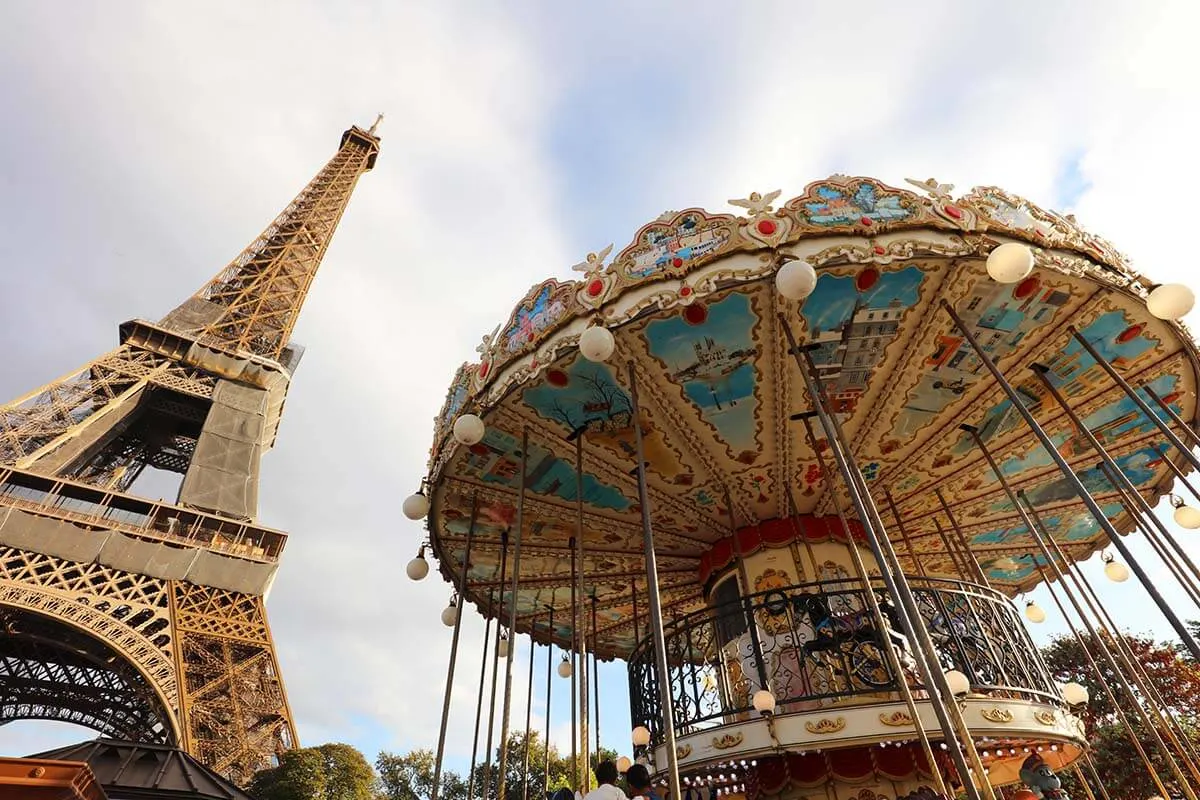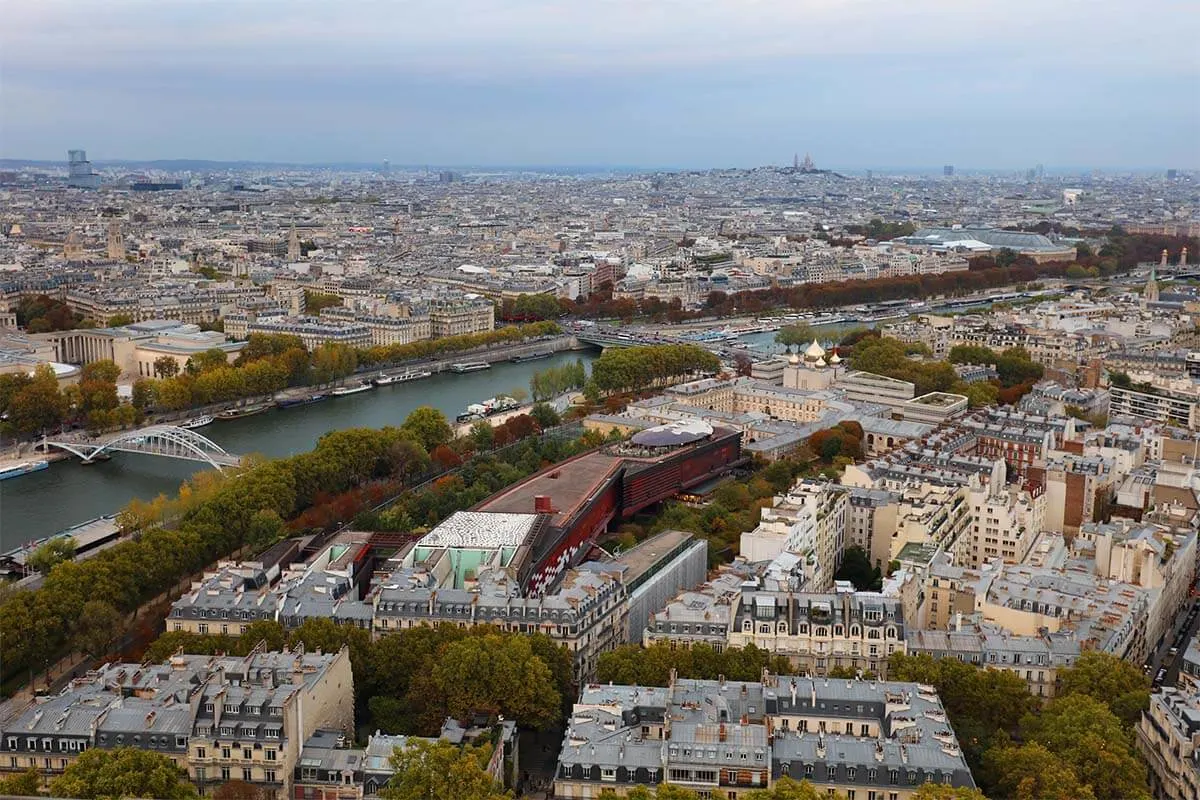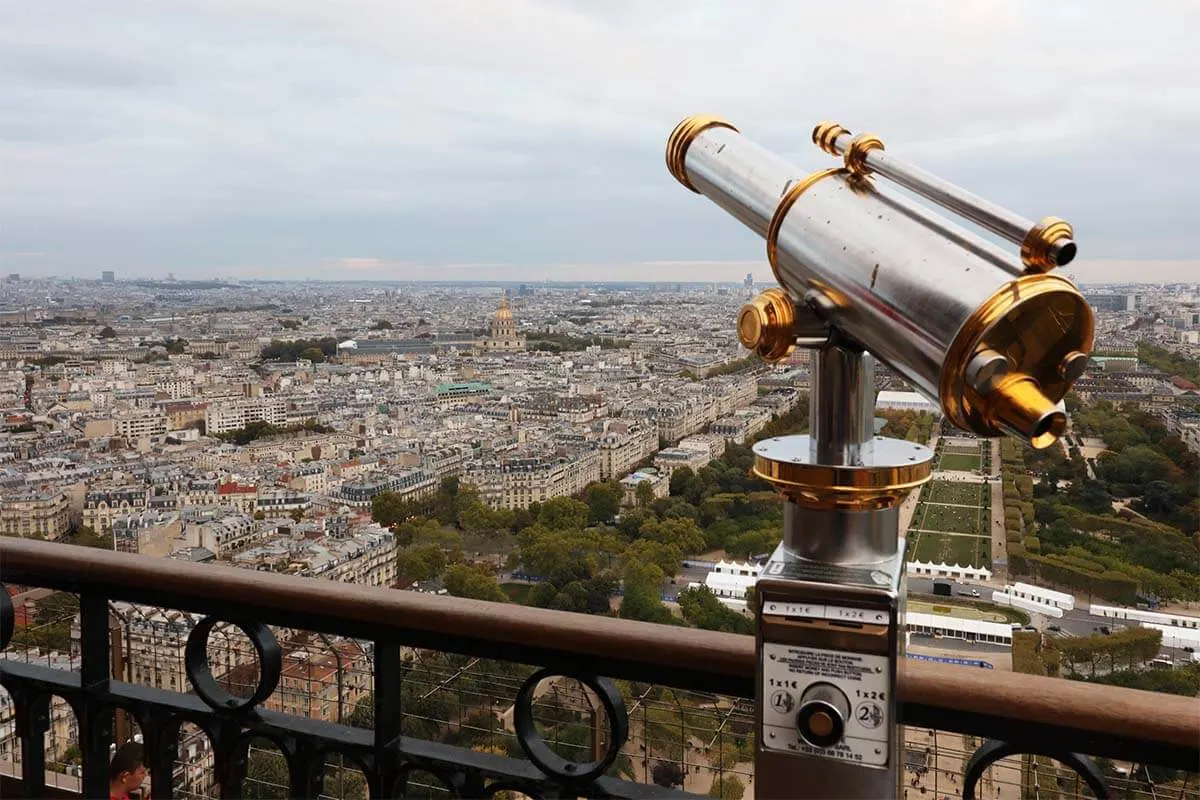 Seine Cruise (with dinner)
+-8.30 PM.
To end your second day in Paris, you could opt for another typical Parisian experience – a Seine cruise. It's something that's popular not just among tourists, but also business travelers, and locals who take their guest for a special treat. This is especially the case with the cruises that include dinner.
There are many various cruise options, and most Seine cruises depart from one of the bridges at the foot of the Eiffel Tower. So if you want to do this at any time of your trip, this is the best moment in this itinerary.
The most popular option is the 1-hour cruise. You can take any boat which suits your schedule best and see all the highlights next to the river. On the way, you'll pass many of the most famous landmarks of Paris, including the Louvre and Notre Dame. It's a really nice way to see the city from a different angle and something I really recommend doing.
Alternatively, you can opt for an evening cruise that includes dinner. There are also quite a few options here and the choice can be overwhelming. This highly-rated dinner cruise offers really good quality and it starts/ends at the Eiffel Tower, so it would be a great fit for this itinerary. The fact that it's also popular with the locals says it all.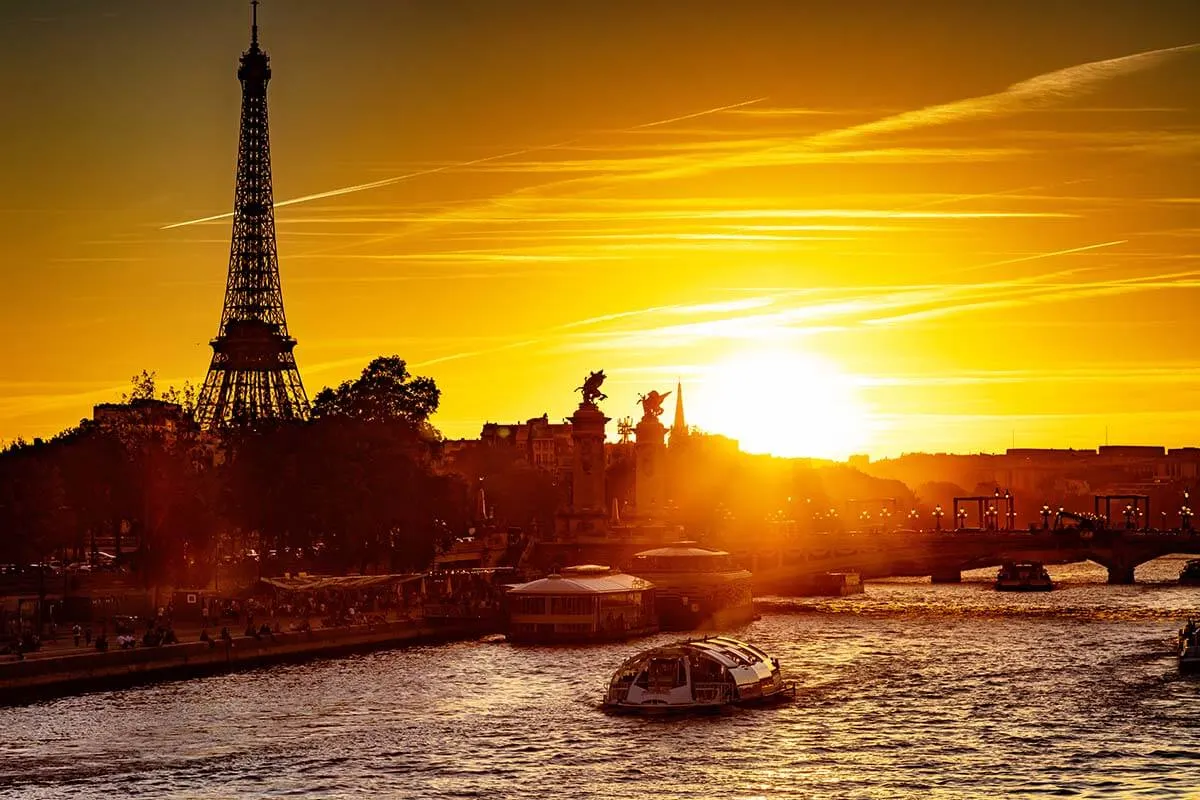 Eiffel Tower Lights and Sparkles
As it gets dark, the Eiffel Tower is lit up every evening. In addition, it also sparkles for a few minutes every hour. It's an unforgettable sight!
So after returning from your (dinner)cruise wait for the tower to sparkle. If you are visiting in the summer when it gets dark late, you could first go for dinner nearby. If you take a dinner cruise, it should be dark by the time you get back. In the winter, it's quite likely that the tower will lit up when you visit it or even before that.
Good to know: Eiffel Tower light installation is automatic and it switches on a few minutes after sunset. At the moment, the tower remains lit until 11.45 pm. The sparkles go on on the hour every hour, between dusk and 11 pm. The spectacle lasts for about 5 minutes.
TIP: Some of the best places to enjoy the view on the sparking Eiffel Tower are Champ de Mars, a park southeast of the tower or Trocadero park northwest of the tower, on the other side of the river. When the weather is nice, you will see hundreds of people (often with picnic blankets and wine bottles) enjoying the views of the beautifully-lit tower. It's always a great atmosphere! You will usually see street vendors walking around selling wine and champagne (and also paper cups), so you can join in with the fun.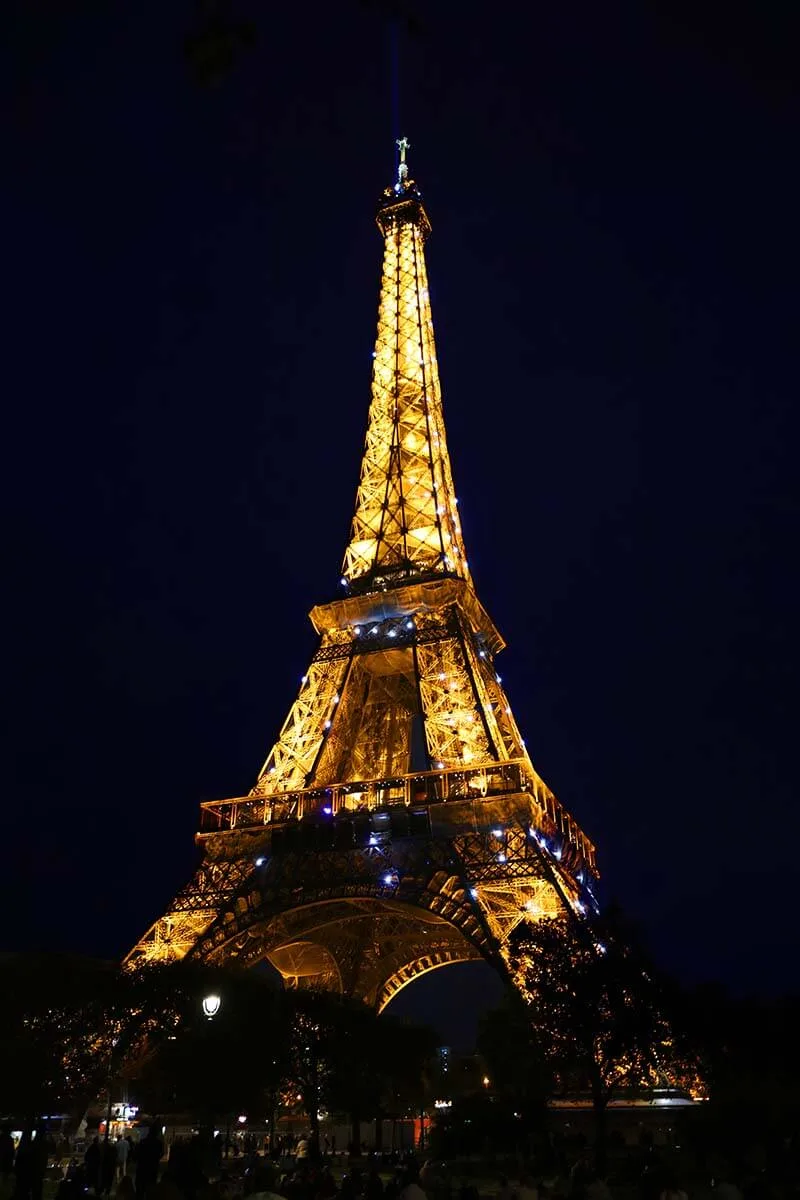 DAY 3
Place Vendôme – Opera – Galeries Lafayette Haussmann and (optional) Printemps Haussmann – Grévin Wax Museum or Covered Passages (optional) – Montmartre – Moulin Rouge Show.
Day 3 – planning info/tickets to book:
Good to know: None of these places are included in the Paris Museum Pass. Also, your overall itinerary on this day (and how much time you'll have everywhere) will depend a bit on which Moulin Rouge tickets you get – an early show with dinner (+-7 PM), just the show (+- 9 PM), or the late-night show (+-11.30 PM). So if you opt for a later show, you'll have more time everywhere and/or be able to get back to your hotel to change if you like.
Place Vendôme
9-9.30 AM.
In the morning, you could visit Place Vendôme, one of the famous squares in Paris. This huge square is lined with some of the most expensive designer clothing- and jewelry stores. It's much more exclusive than the luxury stores on Champs-Elysees or pretty much anywhere else in Paris.
One of the most luxurious hotels in Paris – the Ritz – is also located here. This is where Princess Diana stayed on her last night in the city.
The main landmark on the square is Colonne Vendôme. This is a 44 meters high bronze column that dates from the early 19th century and was ordered by Napoleon. It was made using over 1,200 cannons that were seized from the enemy during the battle of Austerlitz, and was dedicated to the French soldiers.
You don't really need much time here, but since the next place on this itinerary is nearby, you could make a small effort and visit Place Vendome in the morning. Alternatively, just head straight to Palais Garnier (see below).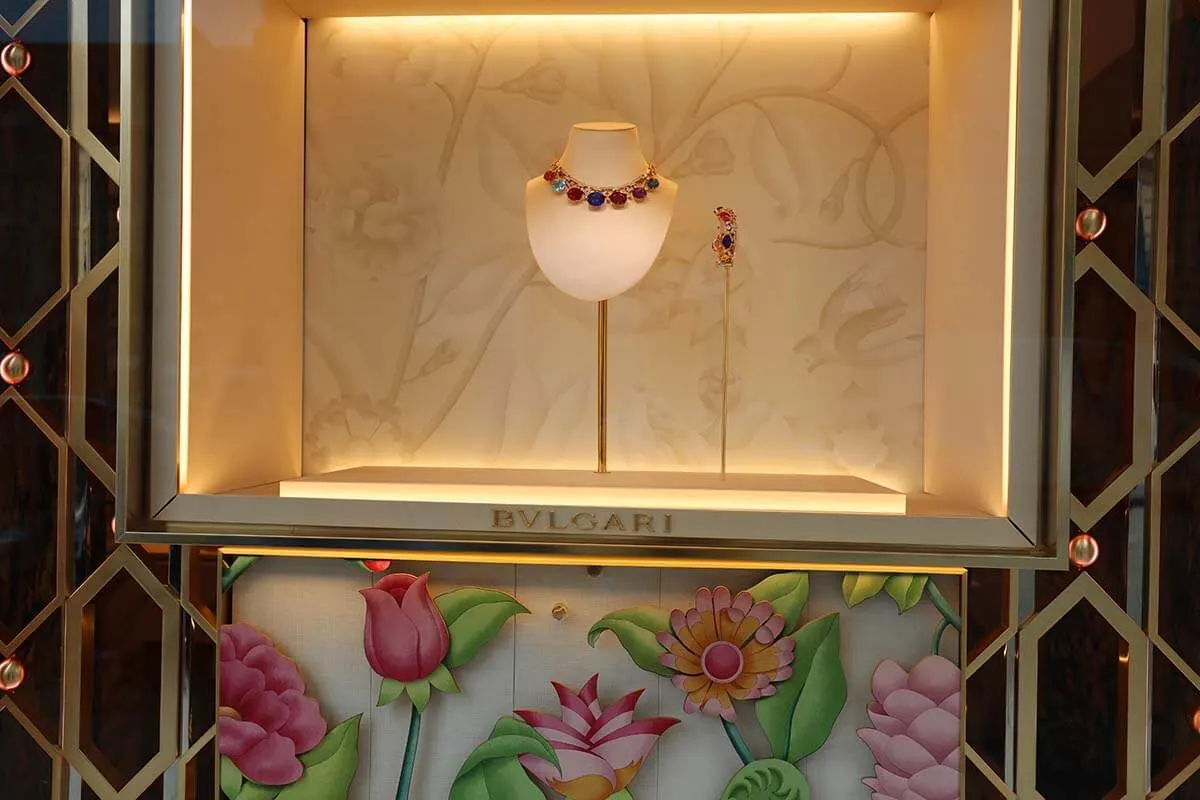 Palais Garnier (Paris Opera)
10-11 AM.
Opera Garnier is one of the places you really should see in Paris! I have to admit that it took me multiple trips to finally make the time for it, and wow, we should have done it right from the start. The architecture and the grandeur of this palace is absolutely dazzling!
Built in the late 19th century, Palais Garnier is the largest opera house in Europe. It's not only its size that is impressive, but mostly the interior. I can't even start to compare it to any other opera house we had seen (and we visited quite a few of them all over Europe including some of the most famous opera houses in Italy).
It's not just the main hall/stage that is worth seeing, but there are so many other impressive halls and chambers. Everywhere you look, it's a real feast for the eyes! In fact the Grand Foyer inside Palais Garnier is so exquisite that it could compete with the famous Hall of Mirrors in Versailles!
Good to know: Paris Opera is normally open for visits daily from 10 AM. However, it sometimes closes for special events. You can immediately see if it's open on the day of your visit when you check the availability and buy your ticket. If needed, adjust your Paris itinerary, but don't miss it!
Of course, you could also check their calendar and see if there are any performances that you could potentially visit during your stay in Paris.
TIP: For a small additional fee, you can get an interactive audio/tablet guide at the opera. If you have time to explore deeper, it's worth it. And otherwise, just walk around and enjoy!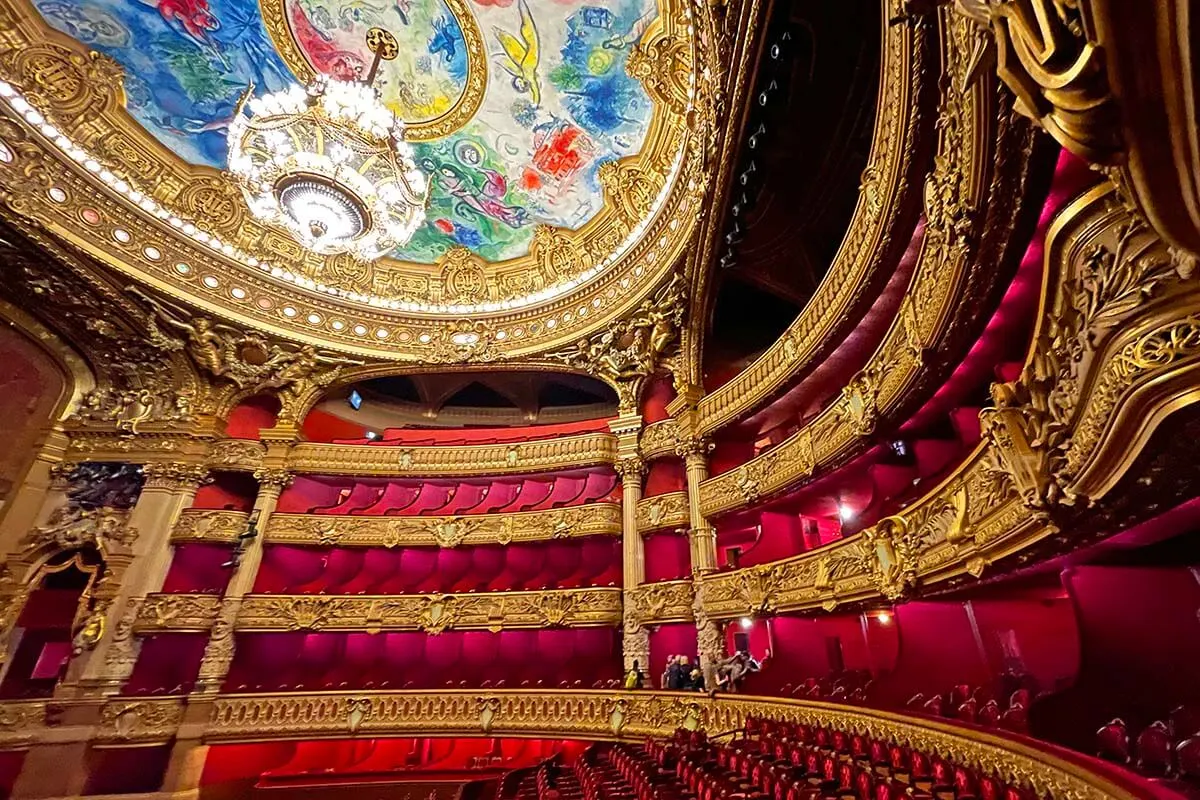 Galeries Lafayette – Printemps – Lunch
11 AM – 1 PM.
Right across the street from the Opera, you will find the most famous department store in Paris – Galeries Lafayette Haussmann. This is where the richer tourists come to do some shopping, but even if you are not interested in buying anything, you should really take a look inside!
The central area with an impressive glass dome is absolutely not to be missed! However, in addition, be sure to also visit the rooftop terrace! The views from here are really nice and there is now a big 'Paris, je t'aime' (Paris, I love you) sign where you can take some nice pictures with the Eiffel Tower in the distance.
TIP: If you are looking for a similar experience without the crowds, check out the nearby Printemps Haussmann department store as well. Its top floor also has a very impressive glass dome, and they also have a rooftop terrace with stunning city views. There was one other tourist here when we visited; for the rest – only locals.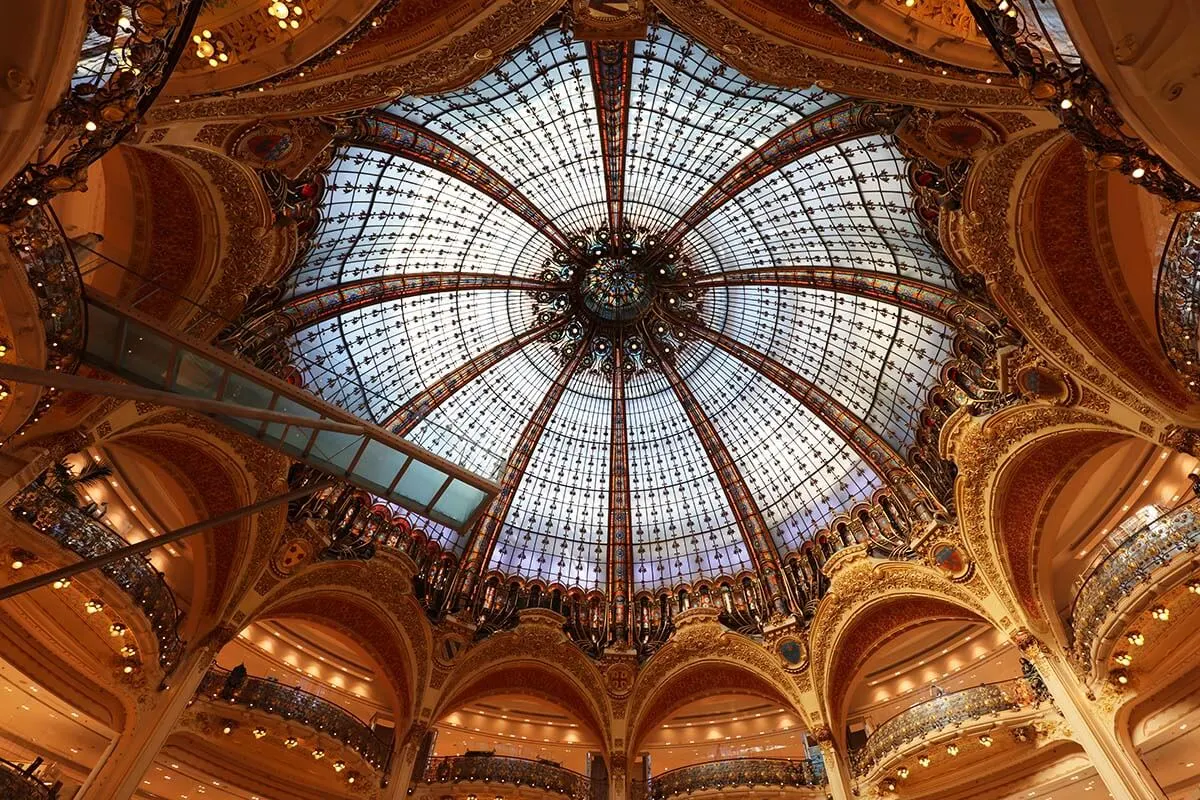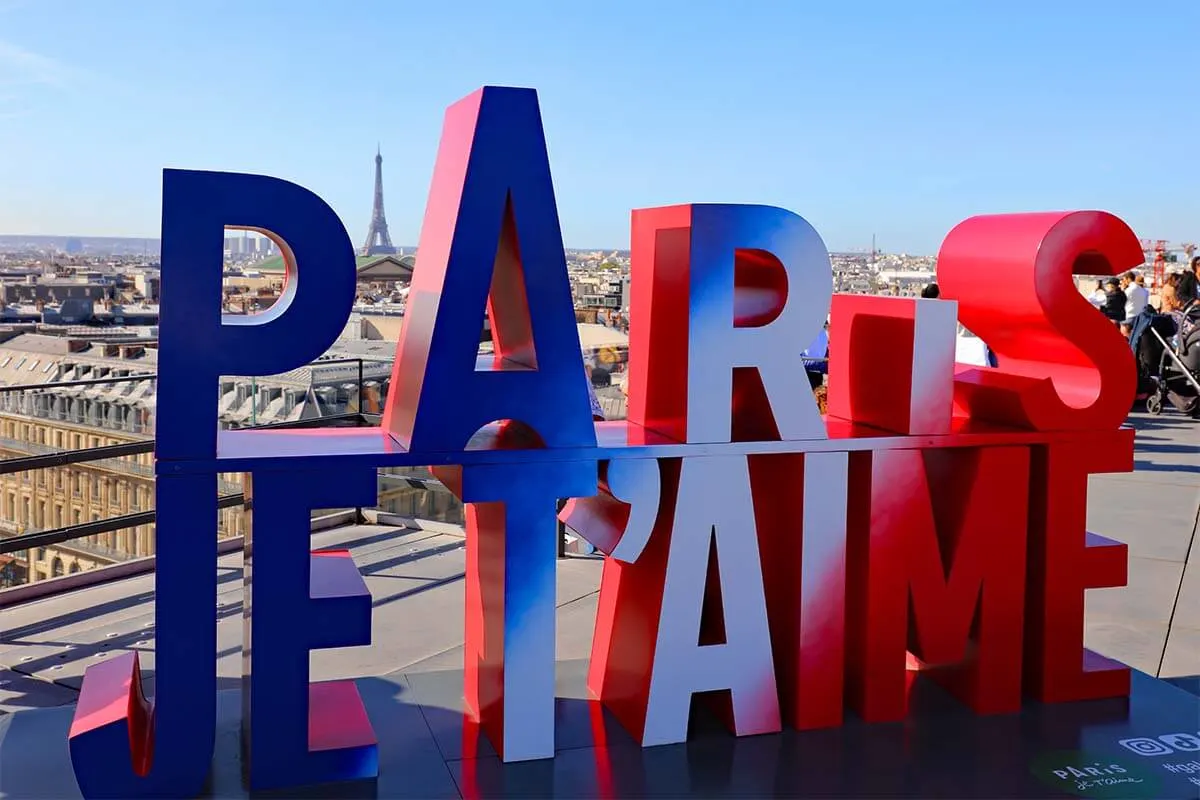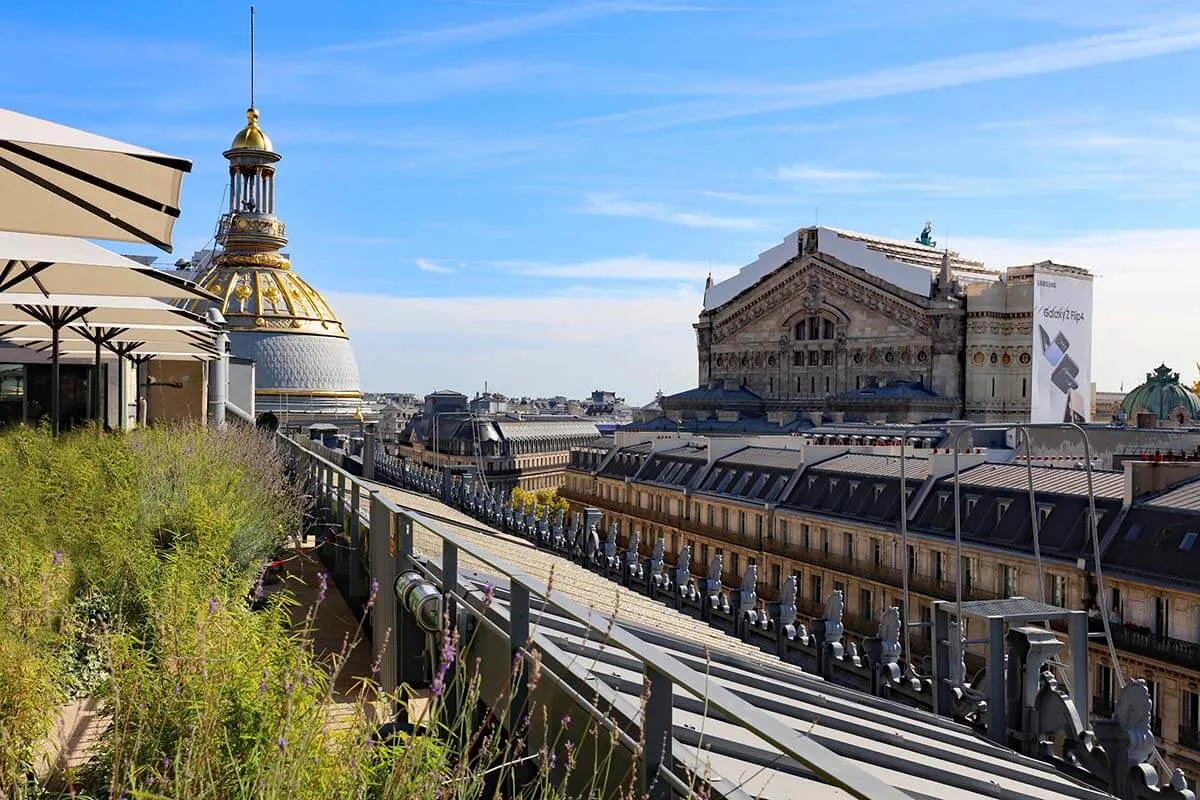 Good to know: Both of these department stores have some nice restaurants and cafes where you could sit down for lunch.
If the weather is good, you could also try to find a table at one of the cafés on the rooftop terraces (both, at Lafayette and Printemps). However, if you are just looking for a more simple quick meal, then you'll find much better options in the nearby streets.
We really enjoyed crepes at La Crème de Paris, about 12 minutes walk from here, but there are tons of other nice options in this area too. And no worries – I indicated all the places mentioned here on our map, so you don't have to write down or remember all the names.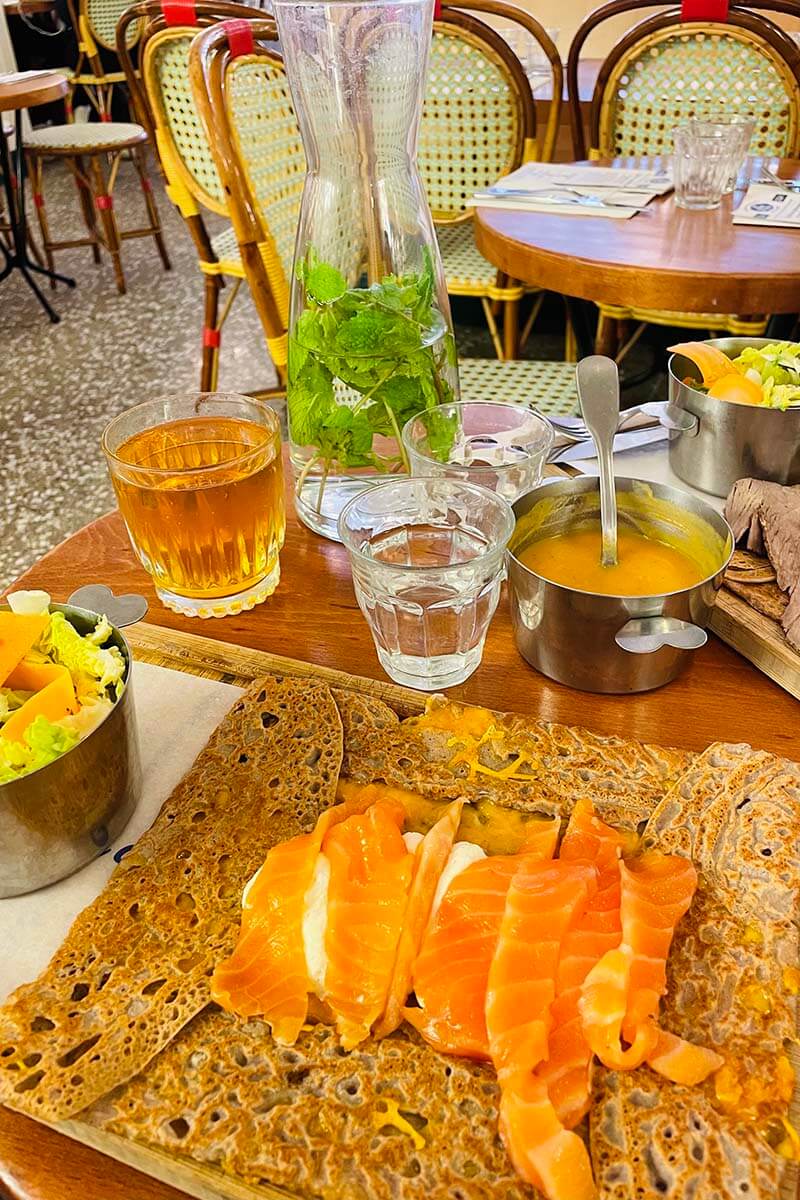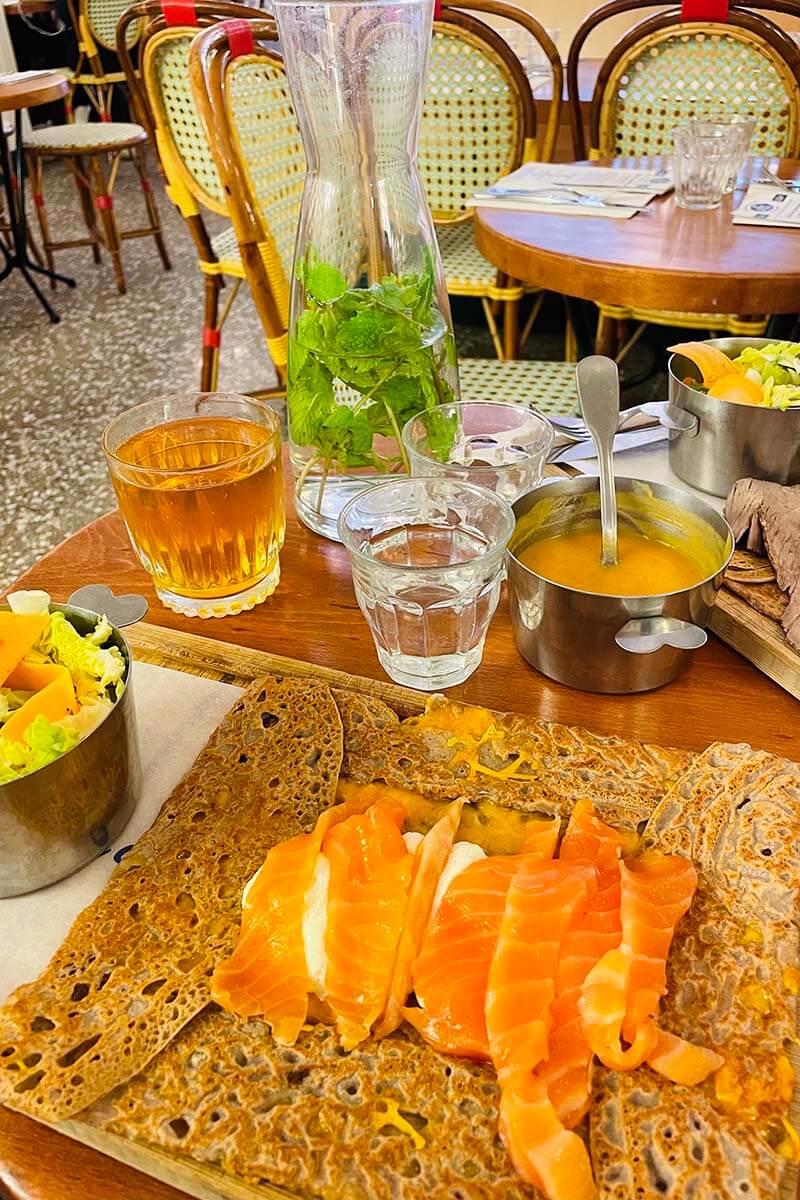 Grévin Wax Museum or Covered Passages (optional)
1-3 PM.
In this same area, you can visit Grévin Museum. If you have been to a wax museum (like e.g. Madame Tussauds), it's a very similar experience. Except that here, you will see more famous French people. But there are plenty of big international names too.
You can get the tickets for this museum in advance and in the high season, it can help you to skip the lines, but they aren't very well organized so it's not always the case. Or you can just see how busy it is on the day itself and decide if you want to visit at that time.
Another nice alternative in this same area are the covered passages. There used to be about 150 covered galleries in Paris, out of them about 20 remain today. You can see a couple of them here – on both sides of the street next to and opposite the museum.
Good to know: There are some tours that also visit these – and many other – covered passages. Or you can also opt for the self-guided audio tour. Just keep in mind that almost all of them start at Colonnes de Buren (close to the Louvre – see day 1 of this itinerary), which is about 15-20 minutes walk from the Opera or Grevin Wax Museum. If you are interested, I think that the self-guided tour will be the best option for this itinerary since it gives you complete flexibility on when to start/end.
TIP: It's also really easy to adjust this itinerary so that you start with the self-guided covered passages tour in the morning (you can start as early as you like). The tour ends close to Grevin Wax Museum and you can then visit the Opera and the department stores nearby.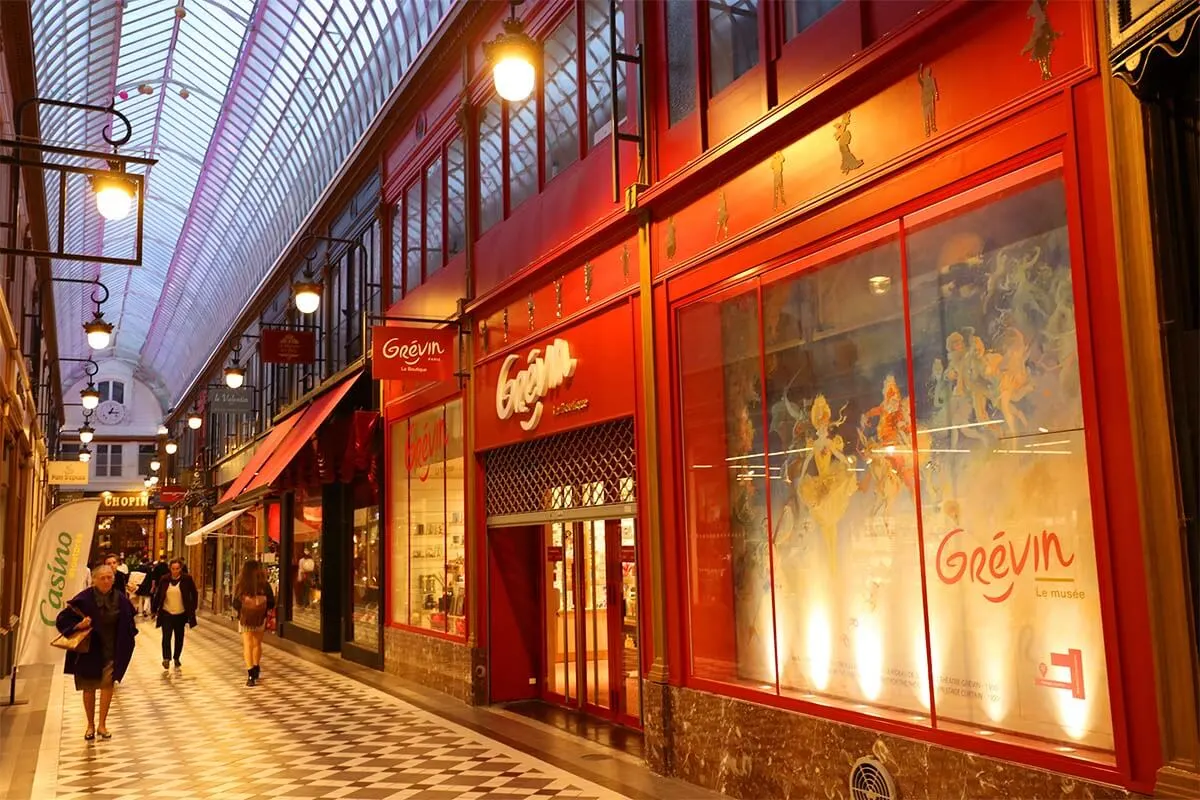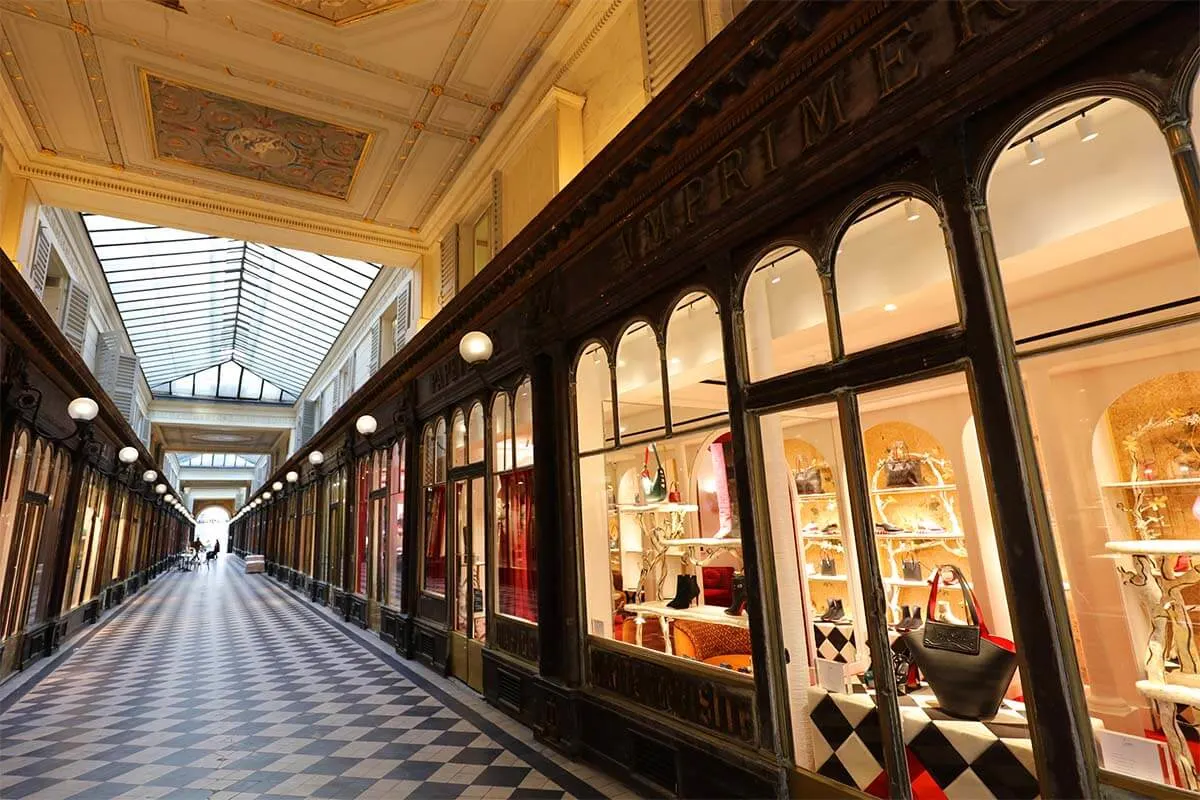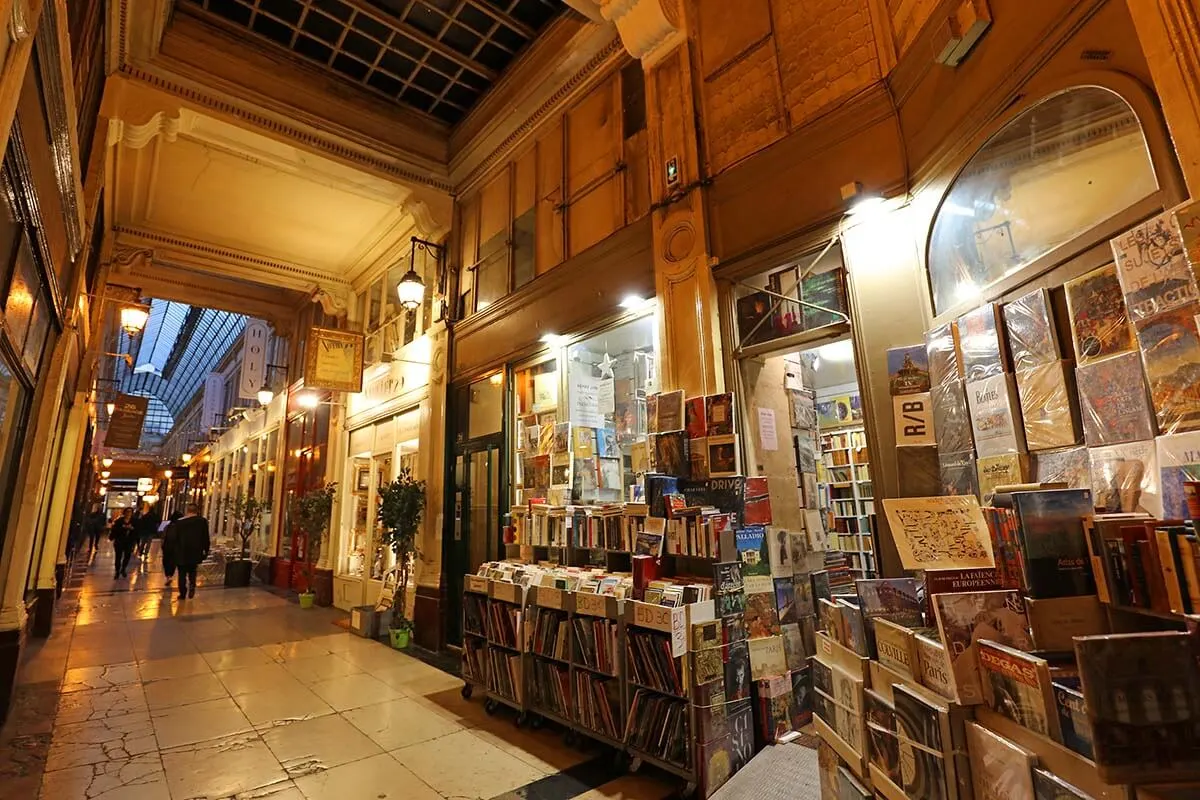 Montmartre & Sacré-Cœur Basilica
4-6.30 PM.
Next, make your way to Montmartre, one of the most iconic neighborhoods of Paris. You could walk here or take the metro which will take about the same amount of time.
A good place to start your visit to this area is Abbesses metro station at the foot of Montmartre. From here, you can walk/ take a funicular to Sacré-Cœur Basilica which is located on the hill.
I highly recommend that you take a guided tour of Montmartre, or you risk missing all the best parts of this neighborhood!
There are really nice tours of Montmartre, and many of them start at around 3-4 PM. So it could work for this itinerary really well.
If you rather explore on your own, you can also opt for this great self-guided audio tour (this is what we did since we weren't sure how the timing would work out). Despite having visited Montmartre many times in the past, we've learned so much more and saw some nice areas that we would have missed otherwise.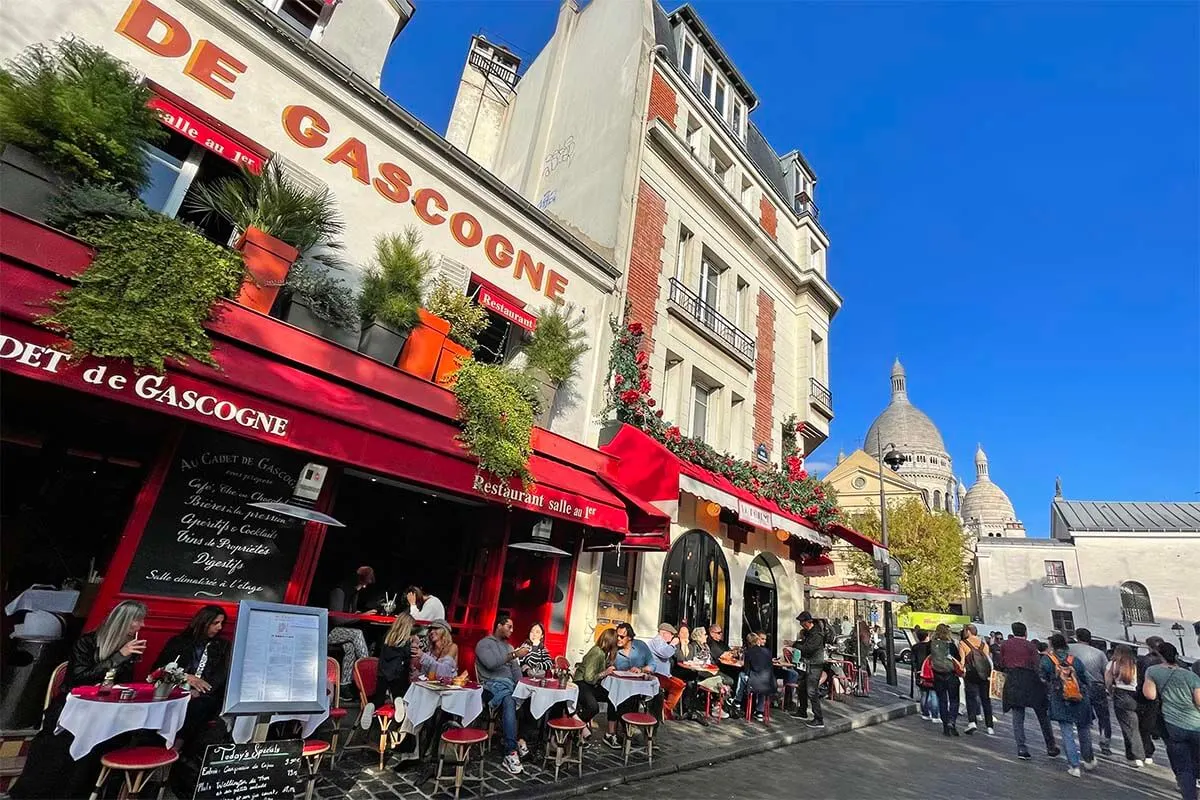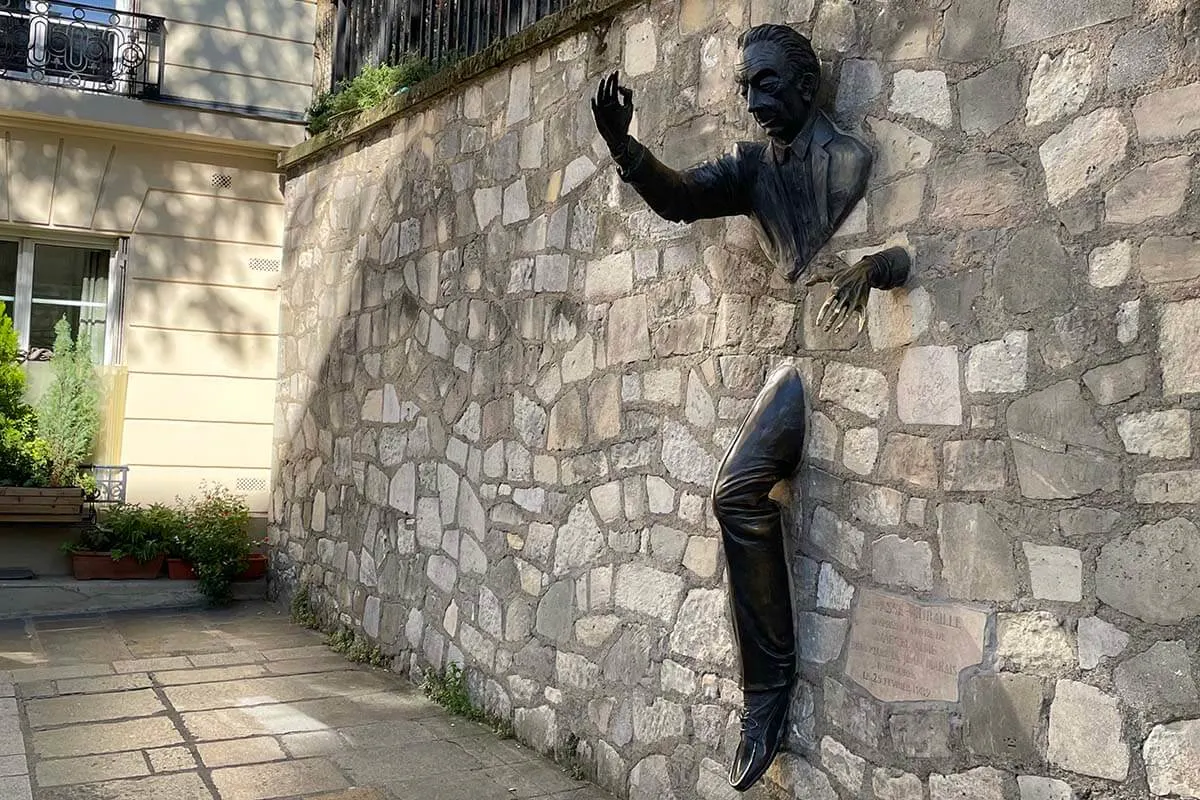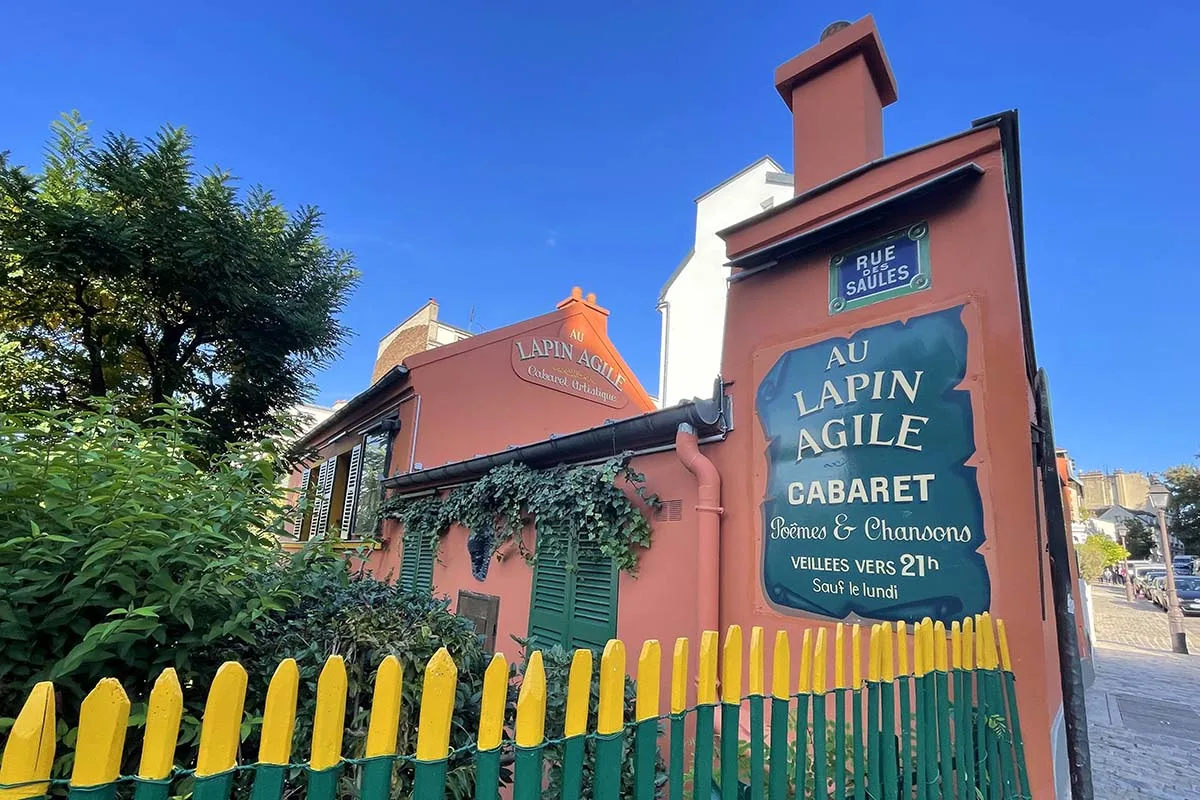 The main landmark of Montmarte is the Sacré-Cœur (Basilica of the Sacred Heart). Most tours will end here allowing you plenty of time to see it inside.
TIP: If you are fit and can do 300 steps, be sure to climb the Dome of Sacré-Cœur. The 360° views from the top are absolutely worth the effort. Normally, the Dome is open until 8.30 PM and you can just get the ticket on the spot. When we recently visited Paris in October, there was no queue at all and we could just walk in (despite it being quite crowded at the Basilica itself).
READ ALSO: Best Things to Do in Montmartre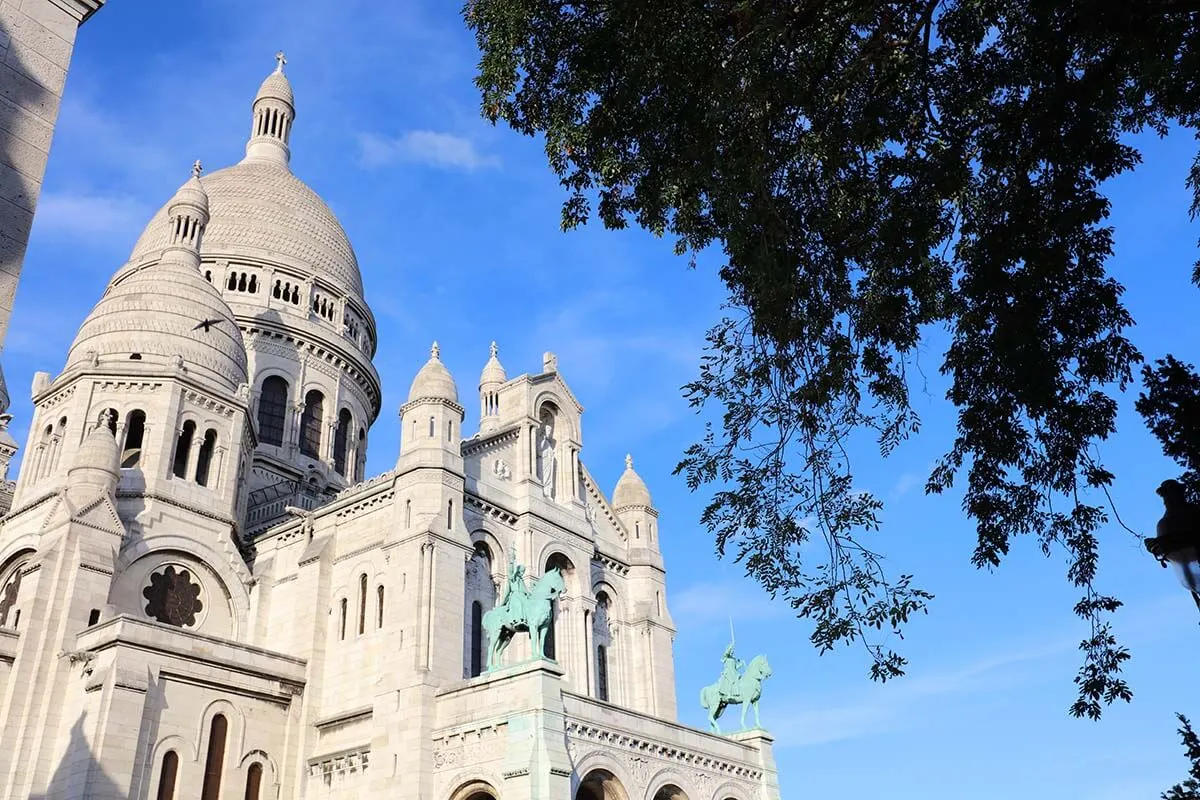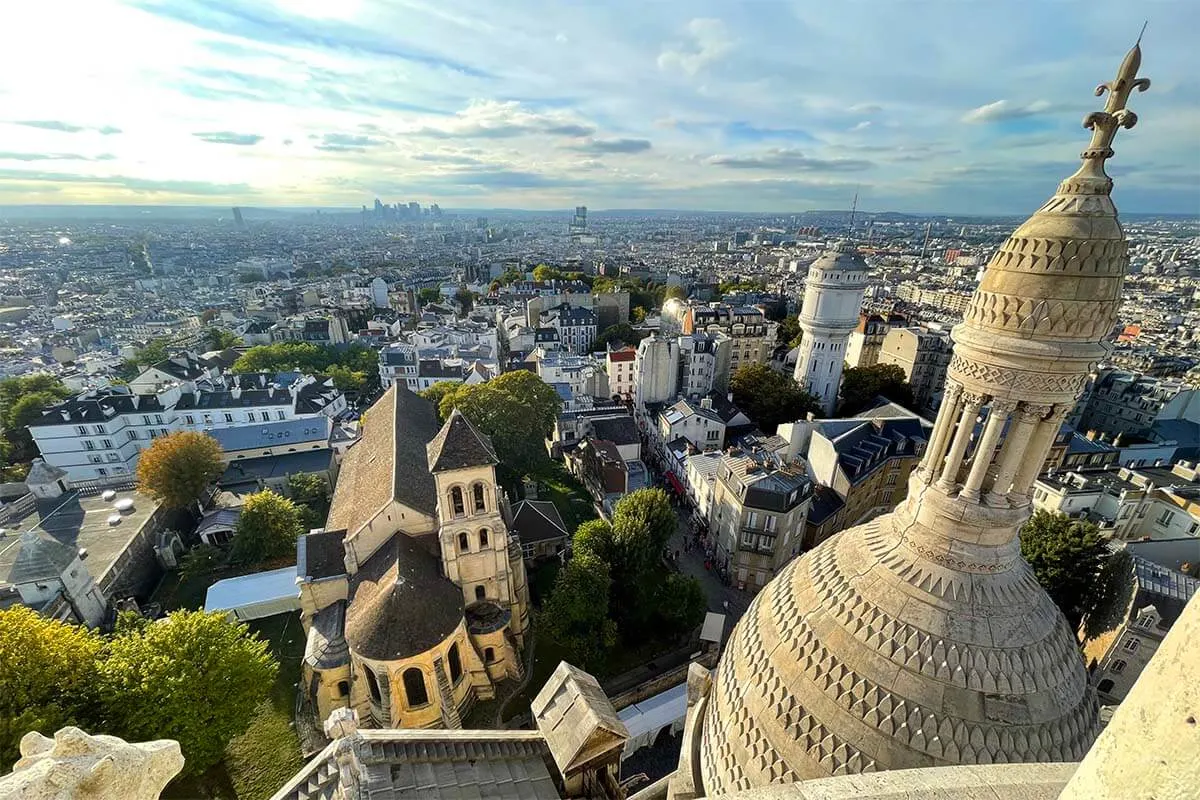 Moulin Rouge Show (with dinner)
Next and final stop on this itinerary is the iconic Moulin Rouge, the most famous cabaret in Paris. It's located just near Montmartre and so you could easily come here after seeing all the rest.
If you are wondering whether a Moulin Rouge cabaret show is a good idea, I'd say don't hesitate. It's an amazing experience and so typically Paris. You can even do it with kids, just prepare them for the fact that there will be some nudity. And yes, there are quite a few other cancan shows in Paris (and you could easily visit one or two more), but if you choose just one, make it the Moulin Rouge!
A few things to keep in mind. They do have a certain dress code, so ideally, you don't come here in jeans and sneakers (shorts are definitely not a good idea). But it's not like you need evening attire either. When we visited, we saw everything – from very casual pants/blouses to high heels and evening dresses (these were rather an exception and not the rule). So if you want to go back to your hotel to change, foresee some time for this. Or simply dress up a bit more during the day already.
Normally, there are two shows every evening, one at around 9 PM and one at around 11.30 PM. You can also opt for dinner+show option, which usually starts at around 7 PM. This is a really high-quality dinner created by an award-winning chef, so the food is excellent.
PRO TIP: No matter which option you choose, be sure to book your Moulin Rouge tickets asap! Because this is a very popular experience in Paris (also among locals and business travelers), the shows usually sell out a few weeks in advance. Sometimes, there are only late shows available, which was the case when we booked tickets 3 weeks (!) before our visit.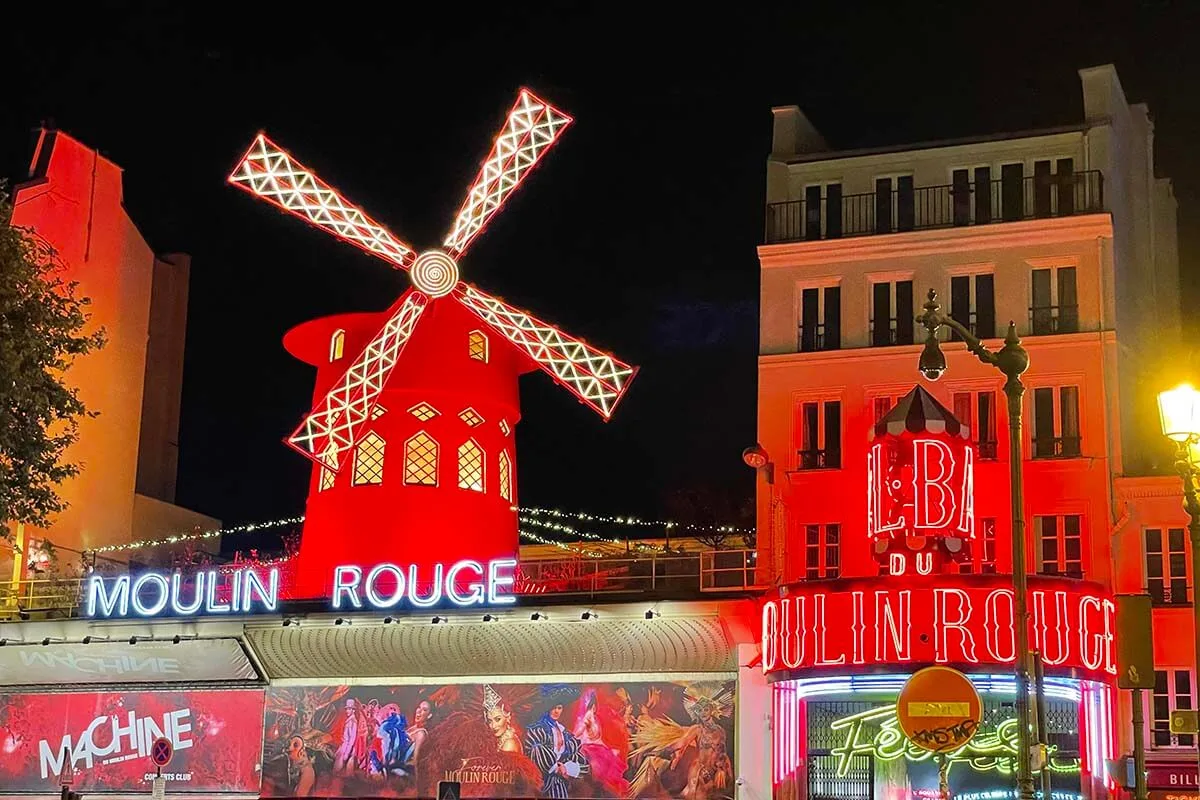 Our experience: Due to it being the only available choice, we booked a late show at the Moulin Rouge and it worked out really well. Since our hotel wasn't that far away, we went back to change our clothes. At 9 PM we had dinner at a very popular restaurant Bouillon Pigalle, just a few blocks from Moulin Rouge.
I indicated this and one other good restaurant in this area on our map. Try to reserve in advance because both of these restaurants are really popular and very busy! Alternatively, you'll find plenty of other places to dine in this area.
Based on our experience, I say don't worry about the late show. In fact, it's maybe even better if you don't mind staying up late. It leaves you more time for sightseeing and you can also get back to the hotel to change your clothes and have a quiet dinner before coming here. So just see what works best for you.
TIP: If the Moulin Rouge is sold out, you should be able to find tickets for one of the other cabaret shows. A popular (and also more budget-friendly) choice is Paradis Latin, the oldest cabaret in Paris. We once also went to see the Crazy Horse show and it was excellent too.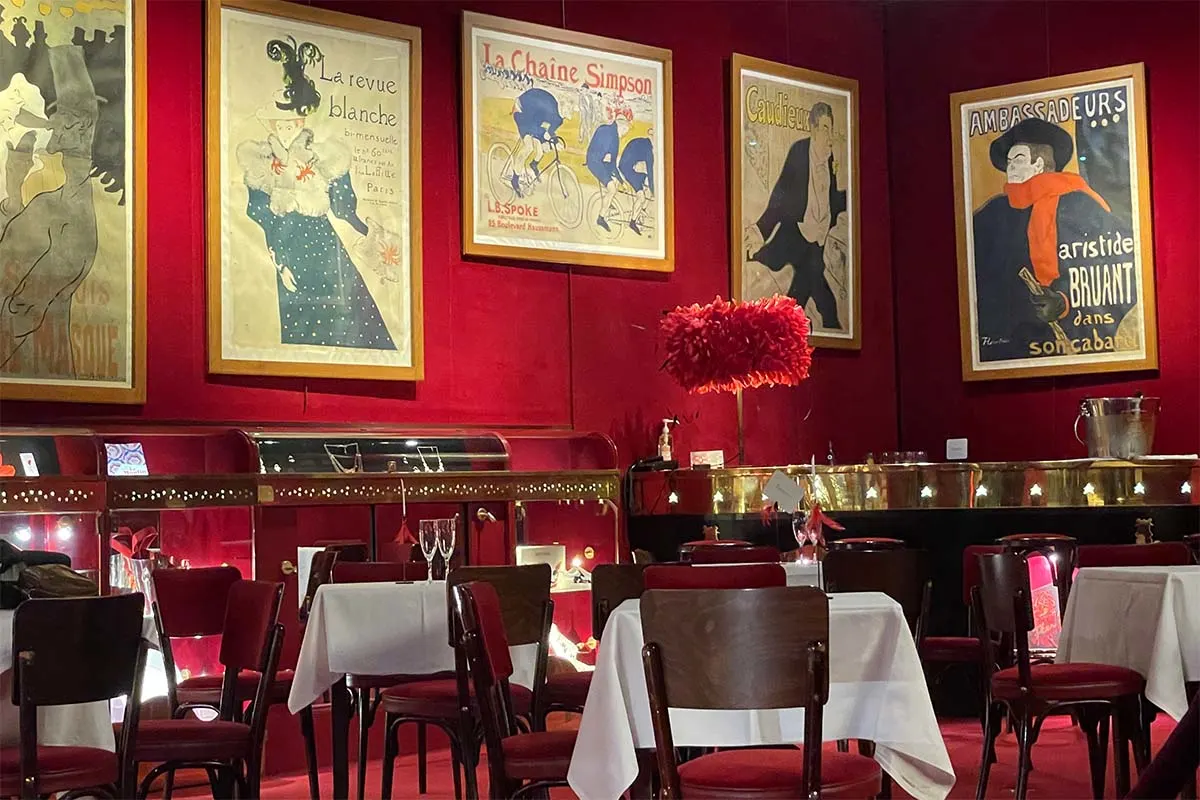 DAY 4
Hôtel de Ville – Centre Pompidou – Stravinsky Fountain – Le Marais neighborhood – Pantheon – Latin Quater – Luxembourg Gardens – Catacombs + Montparnasse Tower.
Day 4 – planning info/tickets to book:
Good to know: The Pantheon and Picasso Museum are included with the Paris Museum Pass.
Hôtel de Ville – Pompidou Center – Stravinsky Fountain
8-10 AM.
Start your day at the Hôtel de Ville, the city hall of Paris. It's a beautiful neo-renaissance-style building that is well worth seeing.
In front of the city hall, there is also a large square with fountains where various events are held. For example, in December, you'll find a Christmas market here. During our last visit, Paris was already in preparation mode for the 2024 Summer Olympics, with colorful Olympic Rings set right in front of the city hall.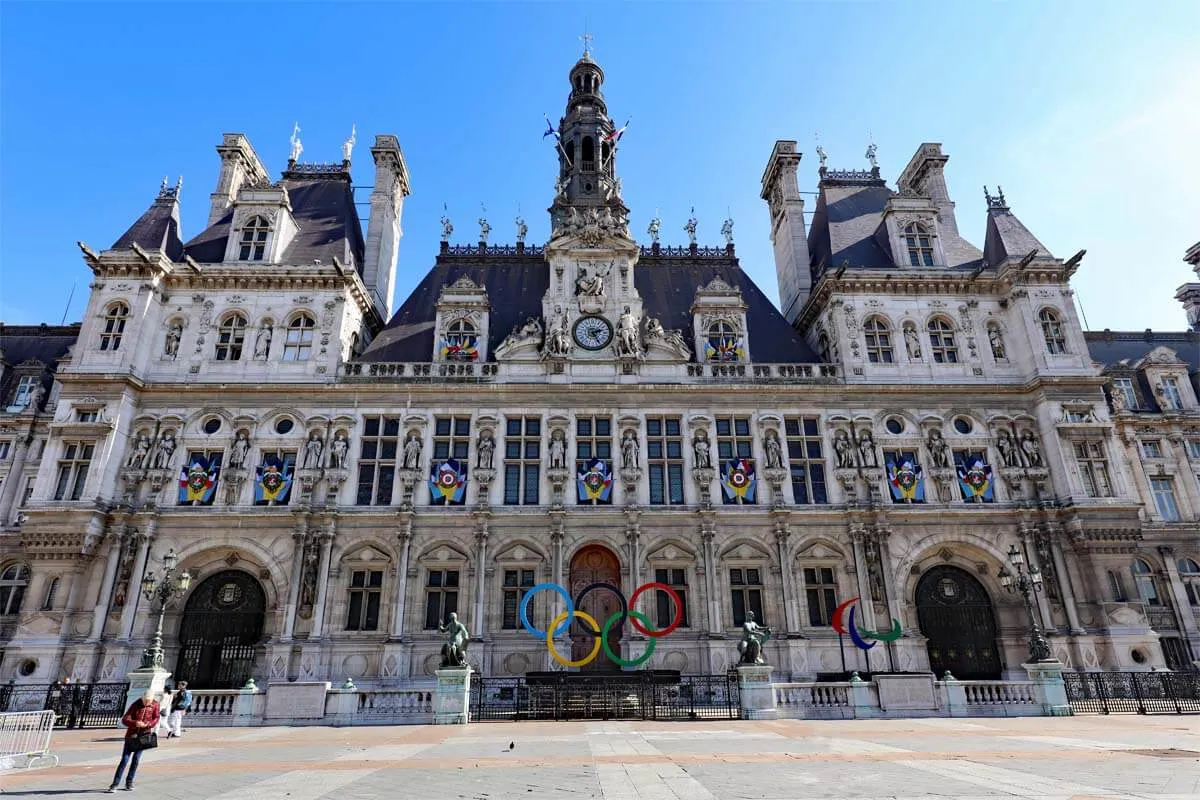 Next, walk to the Centre Georges Pompidou. This iconic building dates from the 1970s and is best known for its unique architecture.
You can see colorful piping all over the facade and each of the colors actually means something. Yellow pipes are for electricity, green – for water, blue – for ventilation and air-conditioning, and red for lifts and escalators. The building has several functions including a library and a modern-art museum. There is also a rooftop restaurant with nice city views.
You could spend a few hours here, but with just four days in Paris, we suggest only seeing this remarkable building from the outside. Also – if you would like to visit – keep in mind that it only opens later in the day. In that case, you'll have to adjust your itinerary.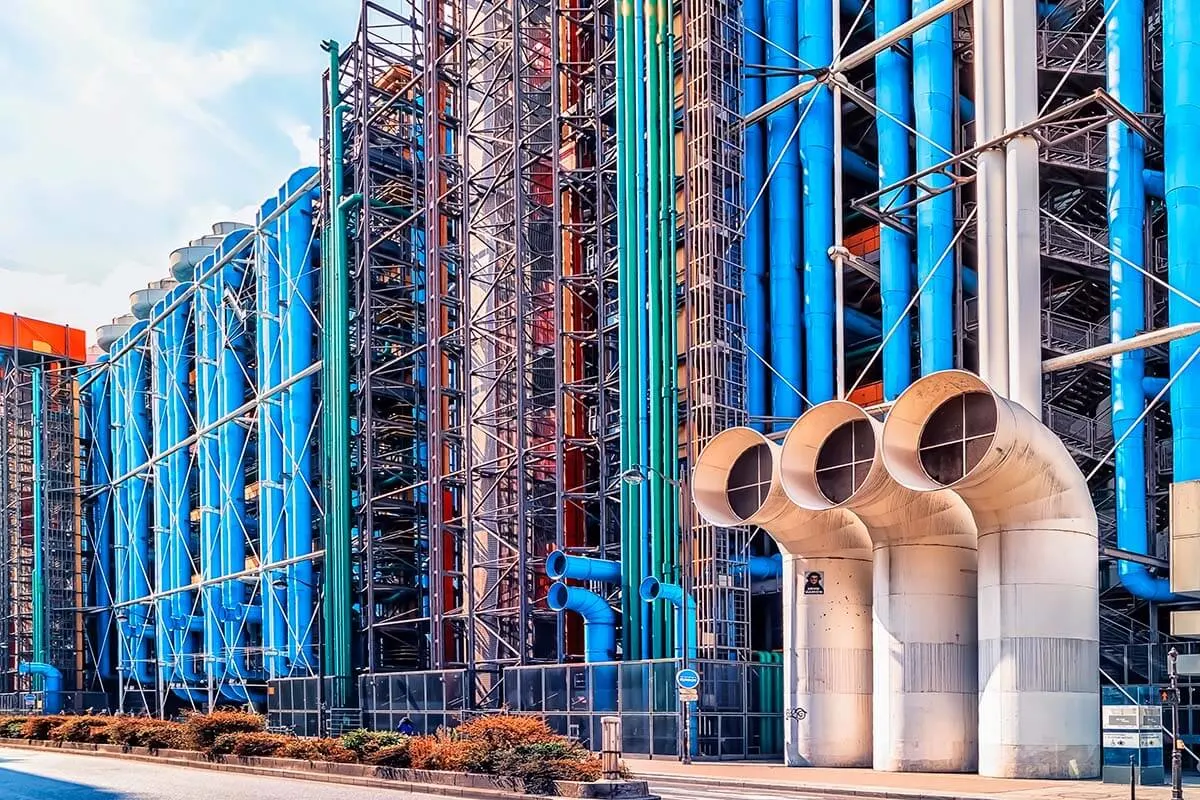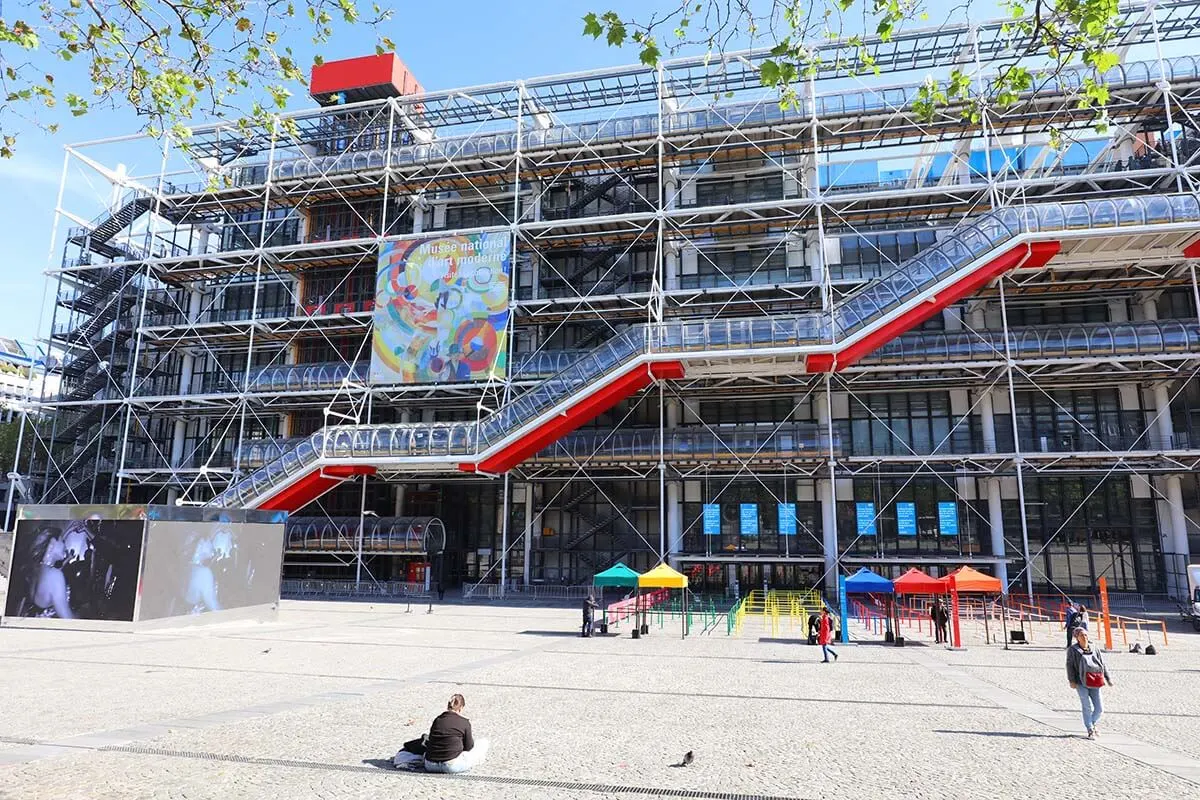 Just next to the Pompidou Center, on the southern end of the square, you can see another famous Paris landmark – the Stravinsky Fountain. Built in the early 80s, this colorful fountain is made up of 16 moving figures, each representing different works of composer Igor Stravinsky. It's very unique and makes for some fun photos.
Important! At the moment of writing, the fountain is closed for renovation and all the sculptures have been taken away (there's nothing to see here at all). It should reopen again in May 2023.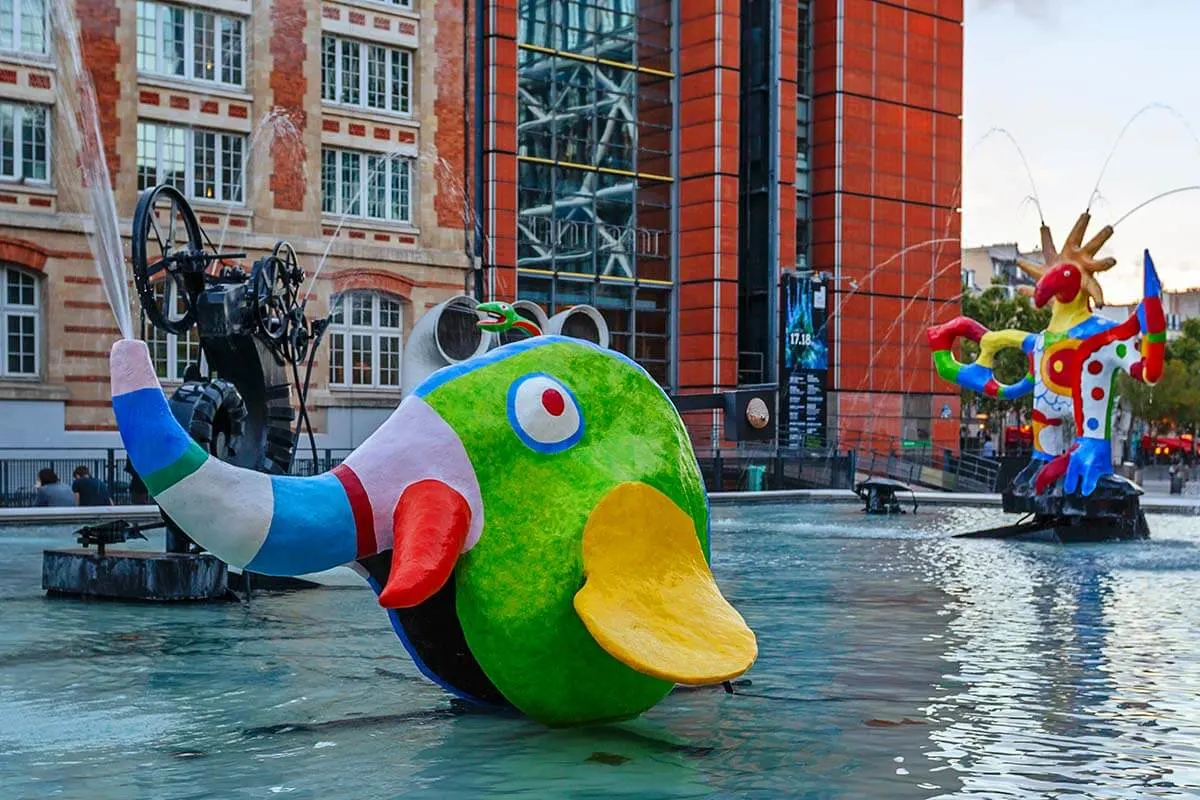 In this same neighborhood, you could also walk to Forum des Halles, a huge modern shopping mall.
Next to it, you can also visit an impressive Saint-Eustache church. You could also start here early in the morning, but nothing will be open yet.
This is not really a must, but something to consider depending on the rest of the plans for this day.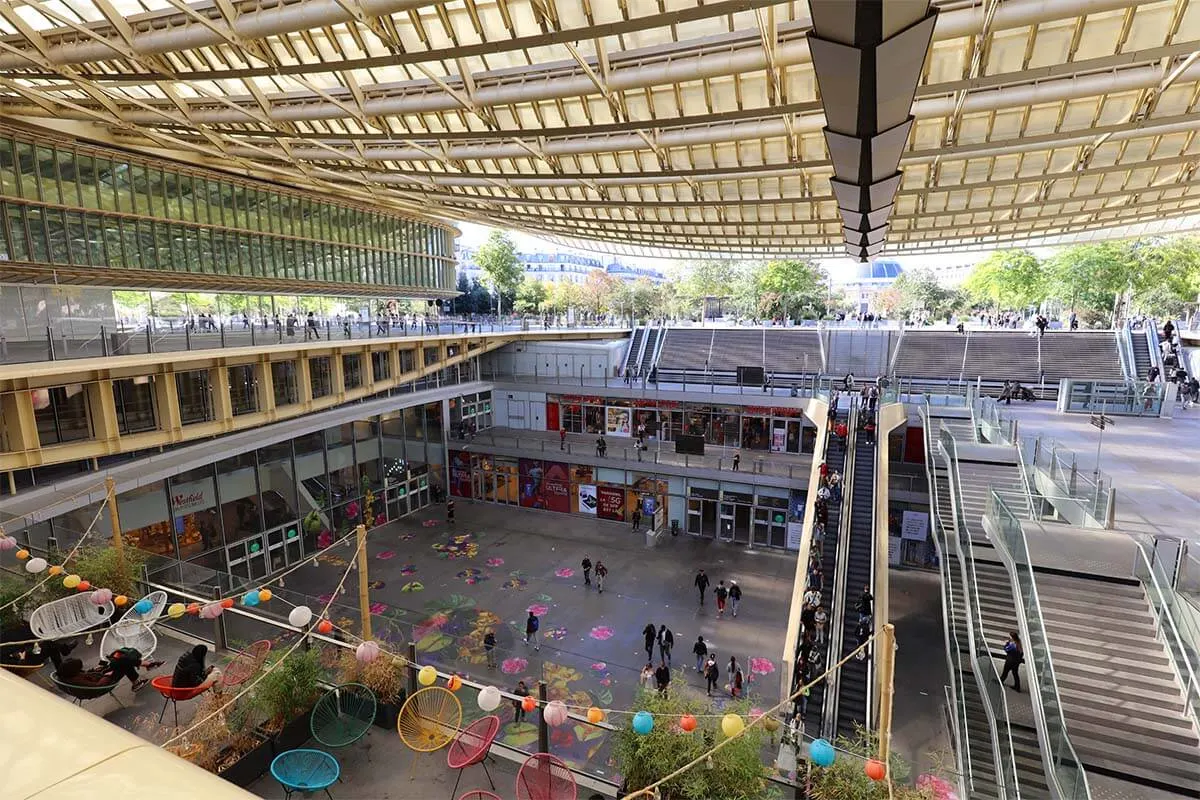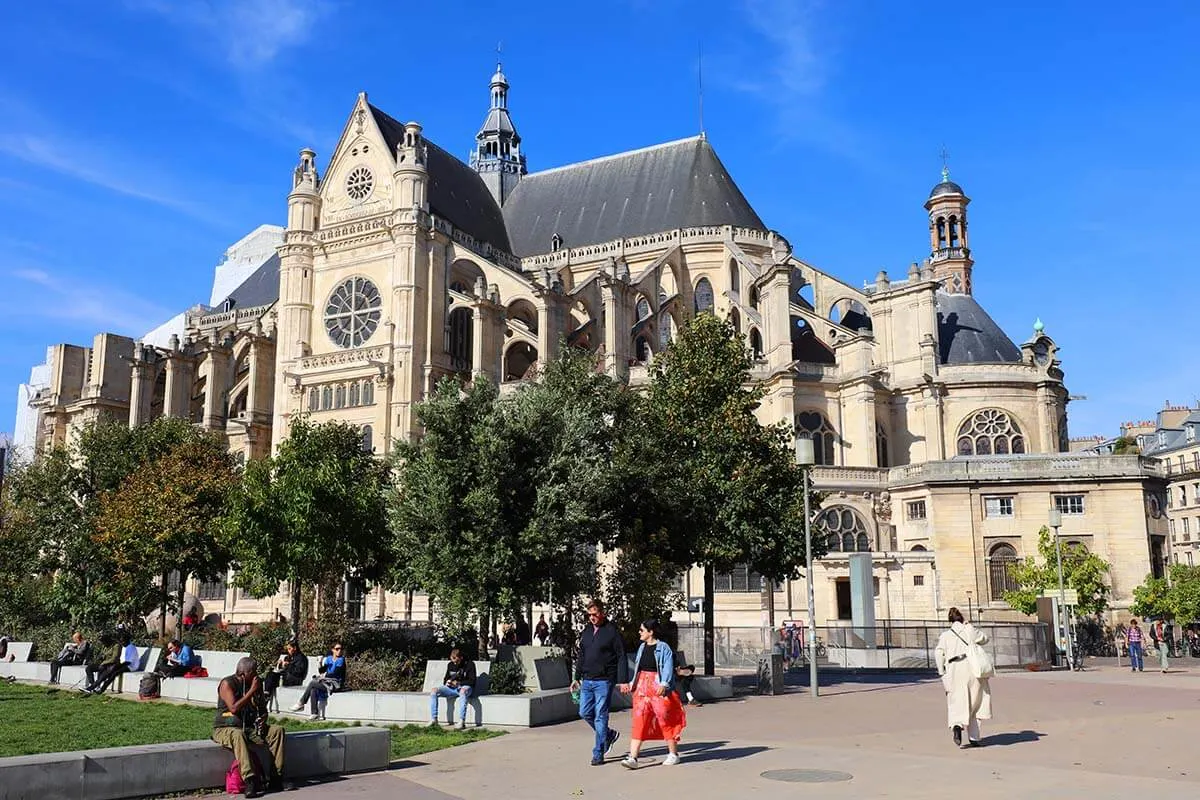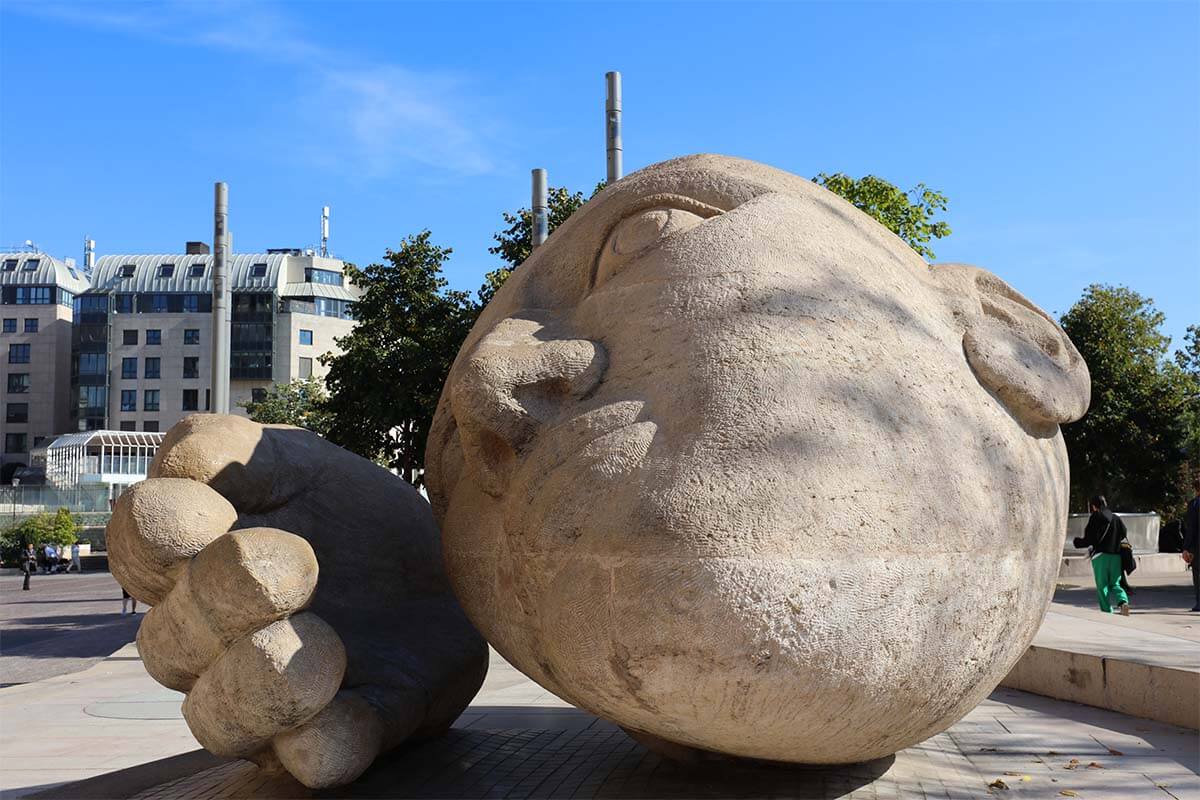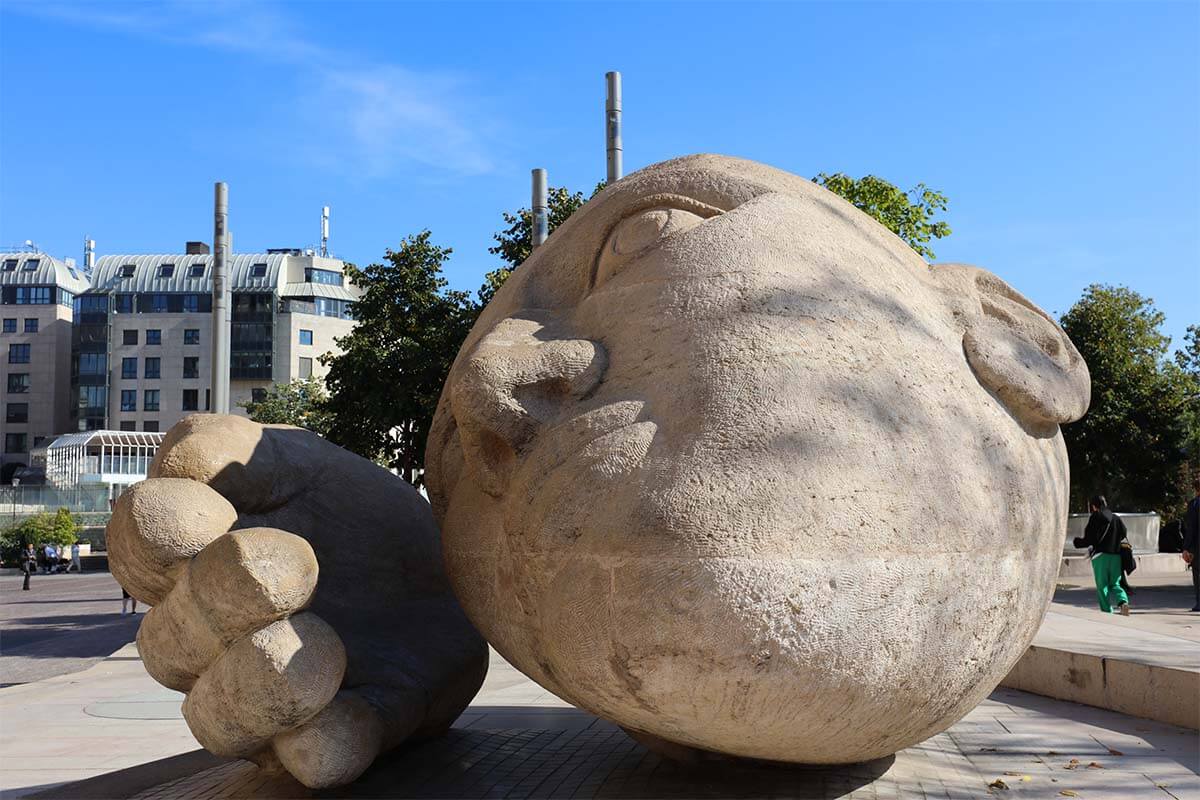 Le Marais Neighborhood (walking/food tour)
10 AM – 2 PM.
With 4 days in Paris, you should be able to have at least a few hours to get a bit off the beaten path, beyond the main landmarks. For that, we highly recommend a walking tour through the charming Marais neighborhood.
Located in the heart of old Paris, this is the best-preserved medieval area of the city and also the heart of the Jewish community. Despite its proximity to so many popular landmarks and touristy places, this is a wonderful area with a feel of authentic Paris.
Le Marais is a great place to taste all kinds of food, which is as diverse as the residents of this neighborhood. From traditional Parisian and French food to Moroccan and middle-eastern cuisine and typical Jewish dishes, there's truly something here for everyone.
And if you need some more convincing to visit this neighborhood, you might want to know that Le Marais is also home to the Picasso Museum, which is located in a beautiful building that is worth a visit in itself.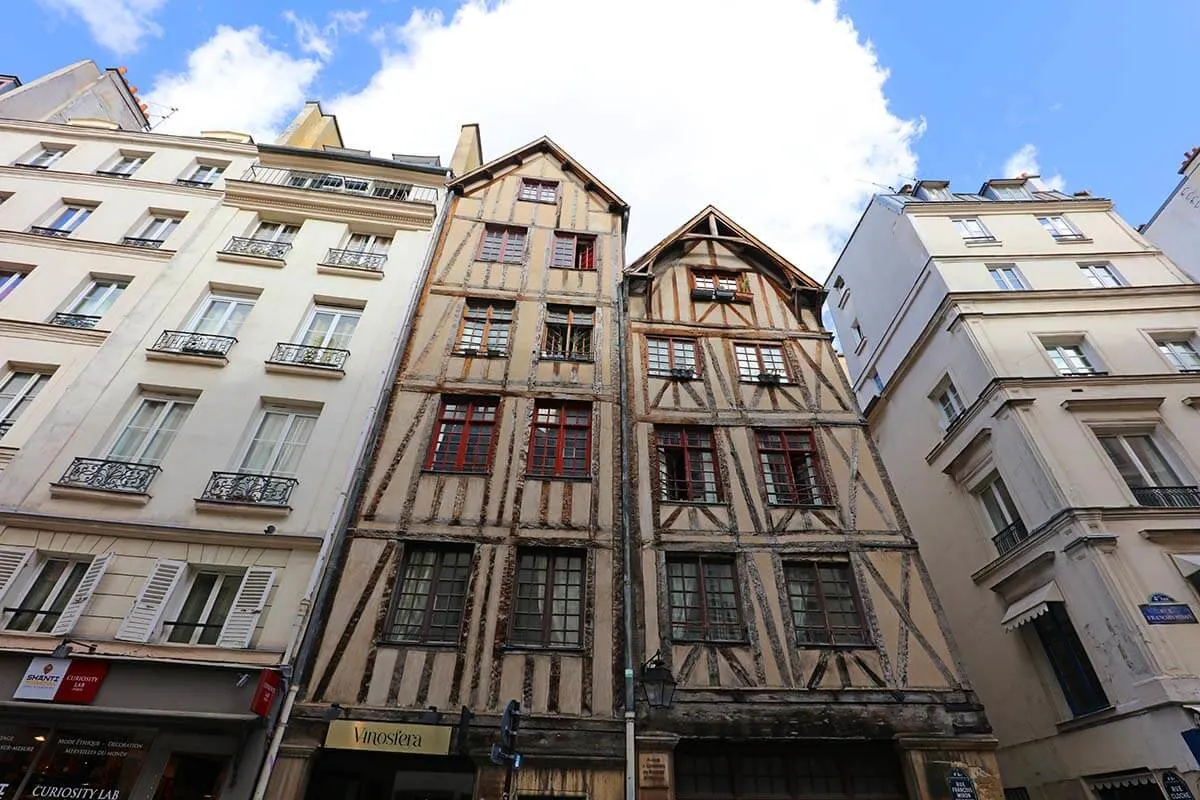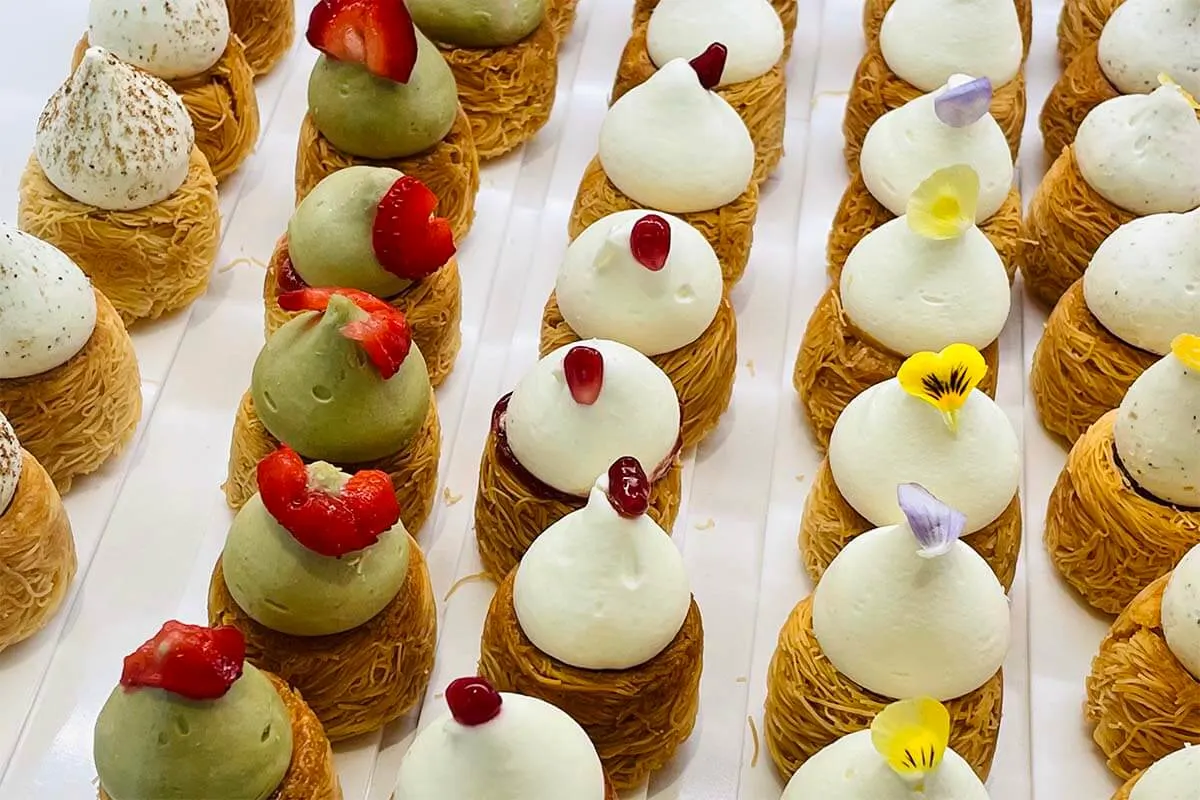 TIP: If you decide to visit this neighborhood, I highly recommend that you consider a guided tour. There are quite a few tours that come here (on foot or by bike), sometimes in combination with some other neighborhoods nearby. Without a guide, you might not appreciate this area unless you do lots of research in advance and know exactly the best spots.
We opted for this amazing food-tasting tour and it was by far the best tour we did in Paris. We also considered this walking tour (which doesn't include any food and is much cheaper) and met a few people who did it and said it was excellent. As you can see, there is truly something for everyone and all budgets. Needless to say, 3-4 hour tours that include food tasting will be much more expensive than walking tours of less than 2 hours.
Good to know: Your overall itinerary on this day will depend on the tour that you choose here (if any). As you can see in the indicated timing, we foresee about 4 hours for this area (based on the tour that we did). If you join a shorter tour, you could also visit Picasso Museum, or simply continue with the rest of this itinerary allowing yourself more time at the other places indicated further below.
Also, pay attention to the starting times of the tours when deciding as this might be different depending on the season, etc. Ideally, you finish at no later than 2.30-3 PM so that you still have plenty of time for the rest of this itinerary.
READ ALSO: French Food: Best Local Dishes to Try in France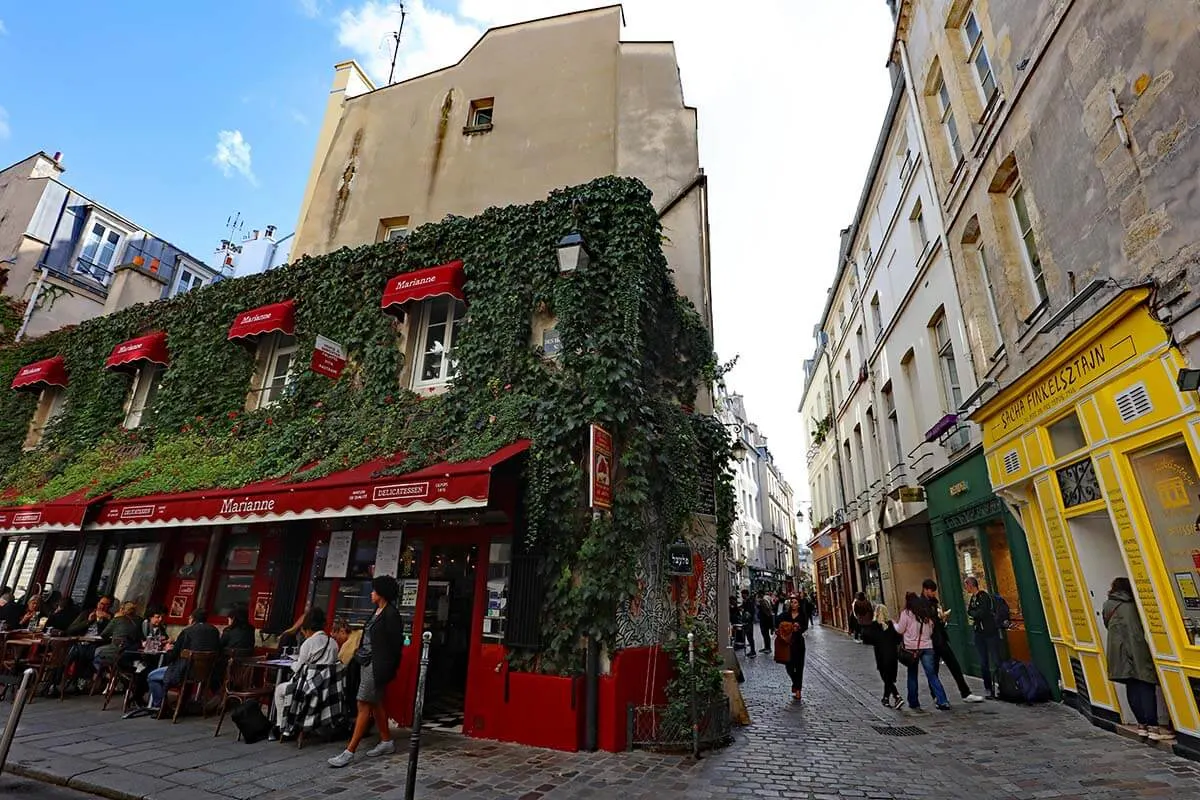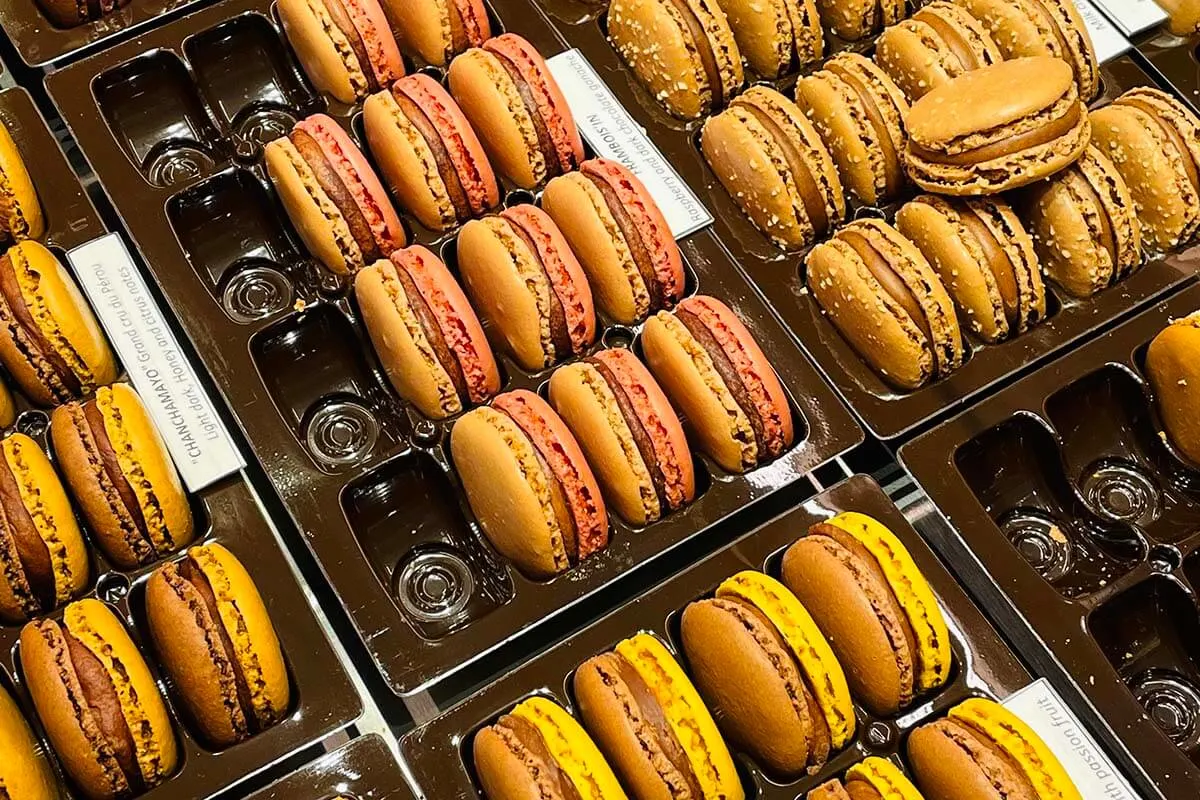 Panthéon
2.30 – 3.30 PM.
Built in the 18th century as a church, the Paris Panthéon later became the burial place for many famous French personalities, artists, and intellectuals, since the time of the French Revolution.
In the underground crypts of the Pantheon, you can see the tombs of French writers such as Voltaire, Victor Hugo, and Alexandre Dumas, but also the scientists Pierre and Marie Curie, and many others.
The building itself is really grand too and the interior is very impressive. Plus, you can climb to the top of the dome from where you have nice views of central Paris.
Good to know: Unless you have the Paris Museum Pass, get the tickets for the Pantheon online in advance. This was one place where we didn't book upfront and we wasted almost 45 minutes in line (and it wasn't even high season). The tickets are not timed and are valid the whole day, and it can save you a lot of time.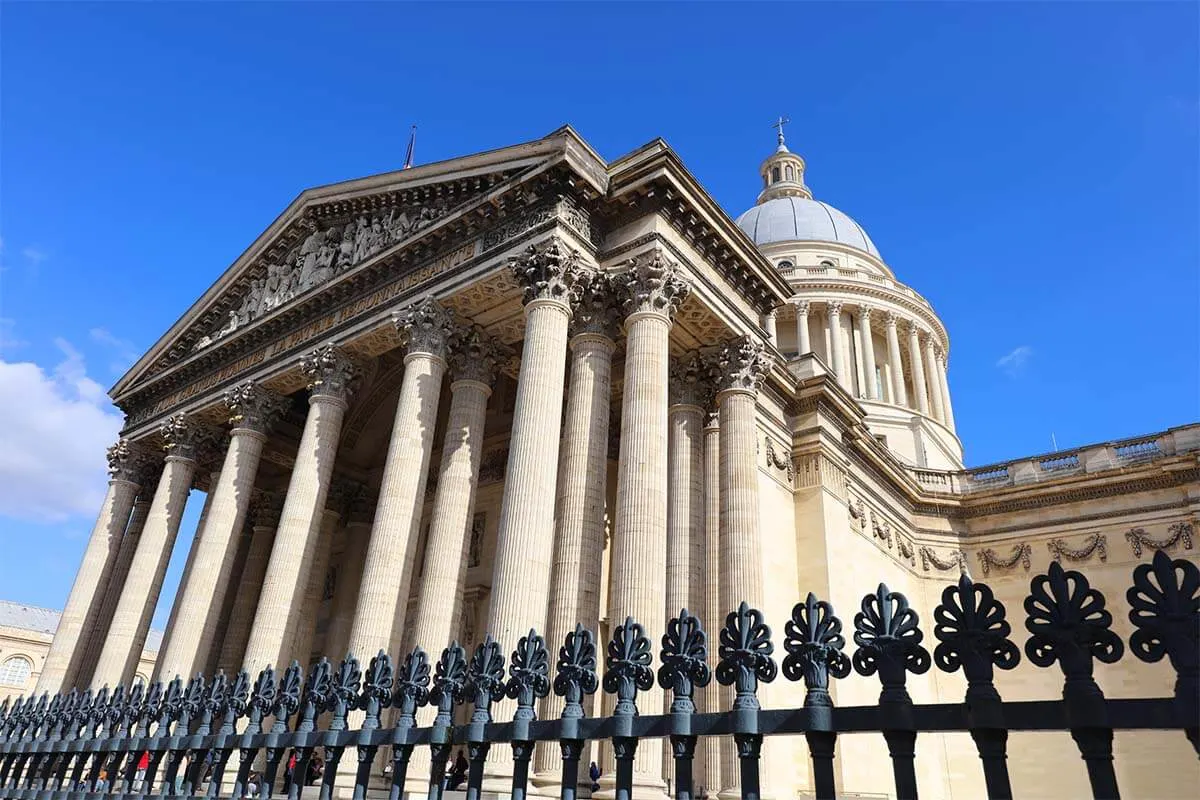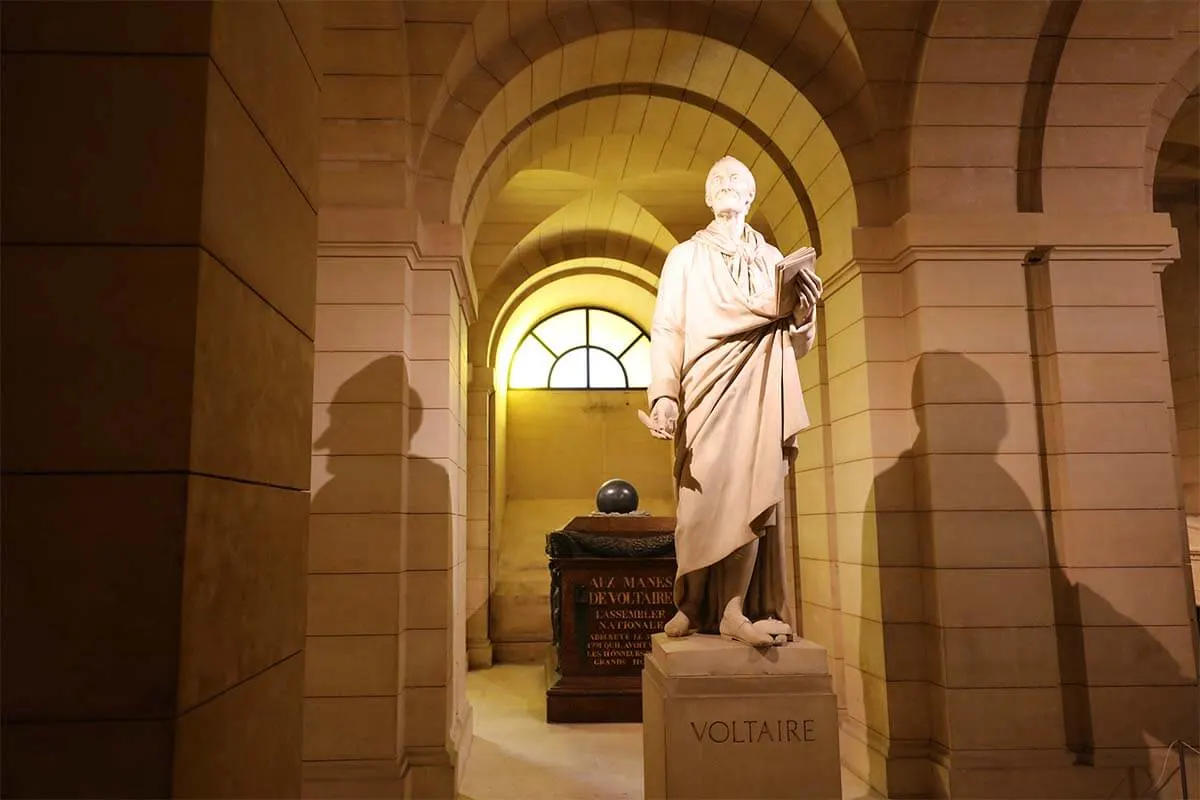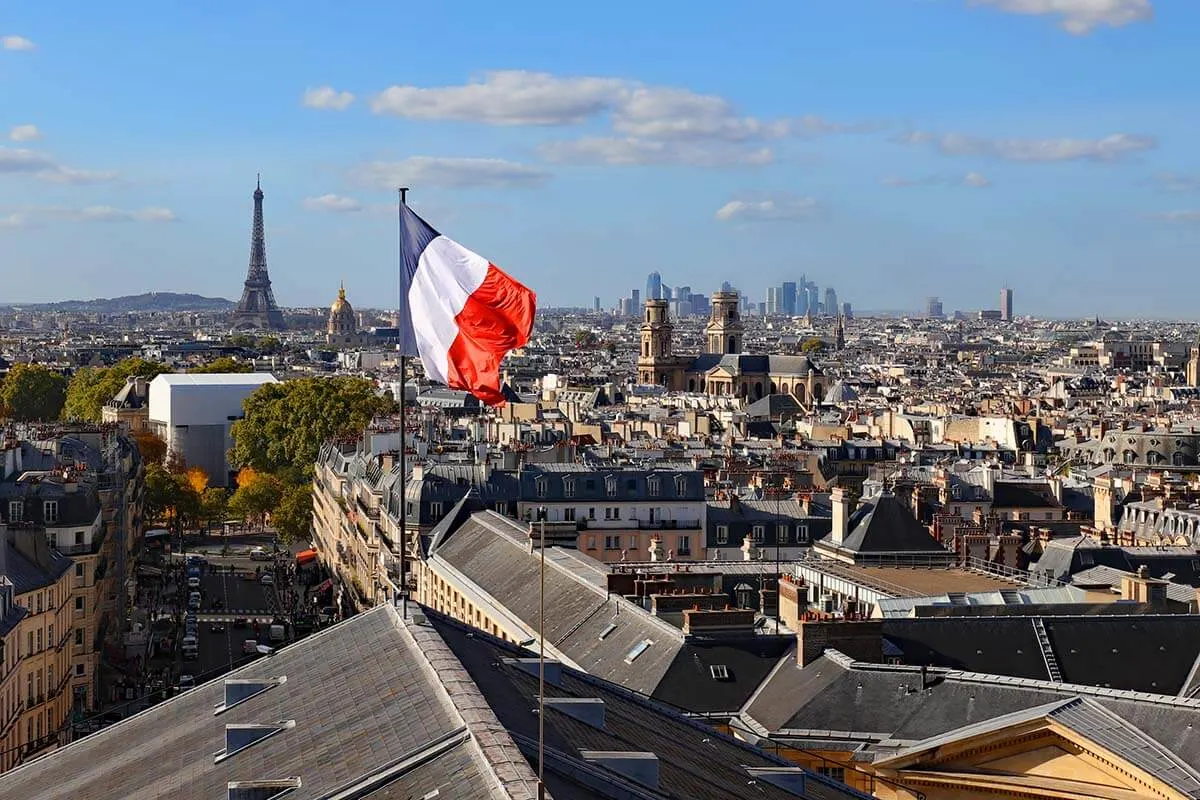 Saint-Étienne-du-Mont Church (optional)
3.30-3.45 PM.
Right next to the Pantheon, you will see the church of Saint-Étienne-du-Mont. And while there are countless beautiful churches that you can visit in Paris, this one is truly one of the most impressive ones (and it fits this itinerary really well, so you don't have to go out of your way to see it).
The interior of this impressive church is even more breathtaking than its exterior. Inside, you can also see the shrine of Saint Geneviève, the patron saint of Paris. On the right side close to the altar, you'll find an impressive glass coffin containing her relics.
There is no fee to visit and it only takes a few minutes of your time. I highly recommend that you check it out!
TIP: If you'd like to see more churches in Paris, you may want to make a small detour and visit the Église de Saint Germain des Prés. It's a bit out of the way, but still in the same neighborhood. It's beautifully restored and many Parisians say it's now one of their favorite churches to show to tourists. We didn't get there anymore – there's just so much you can squeeze in a day. But if you have some time to spare, you'll find it indicated on our map.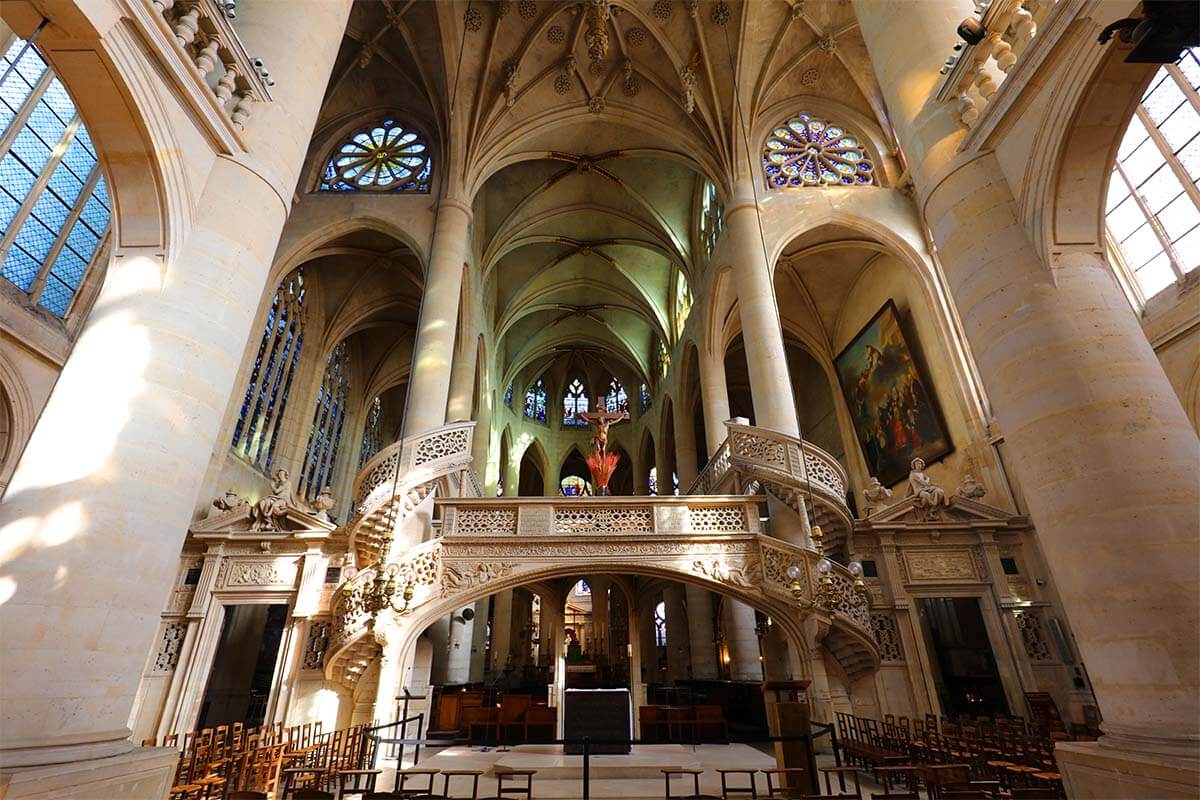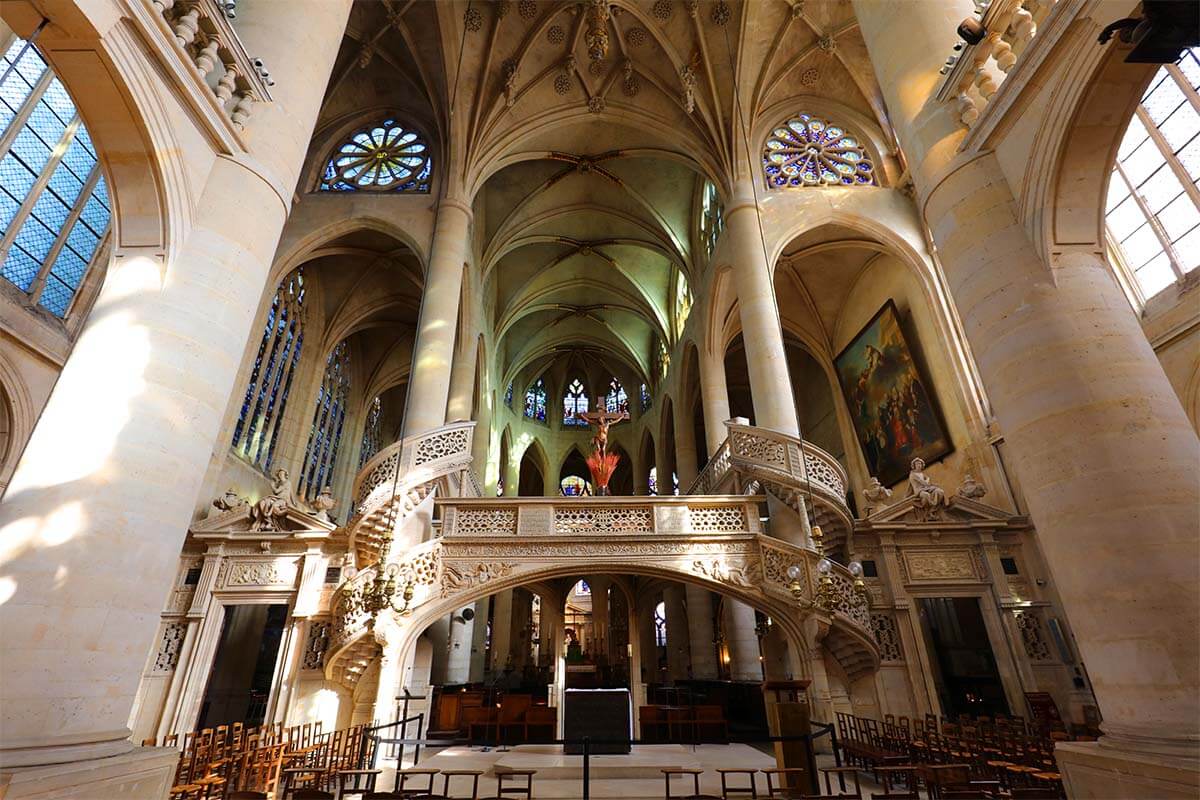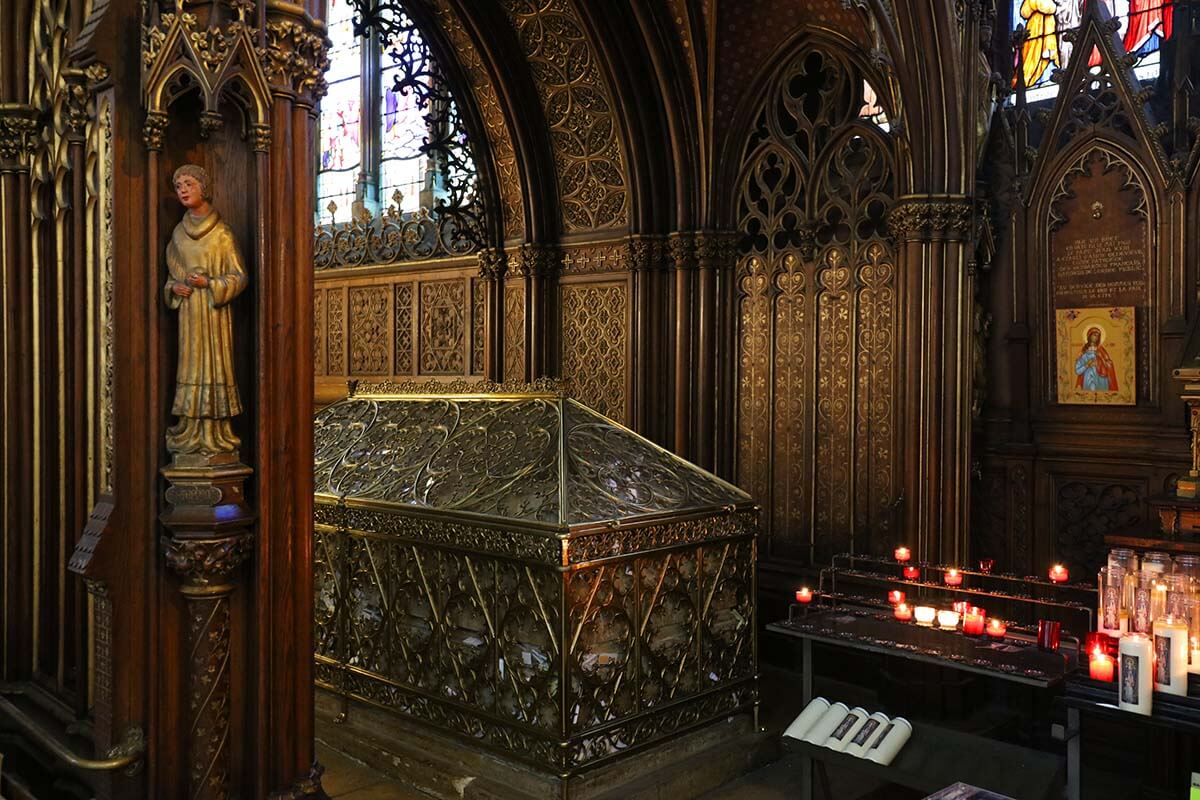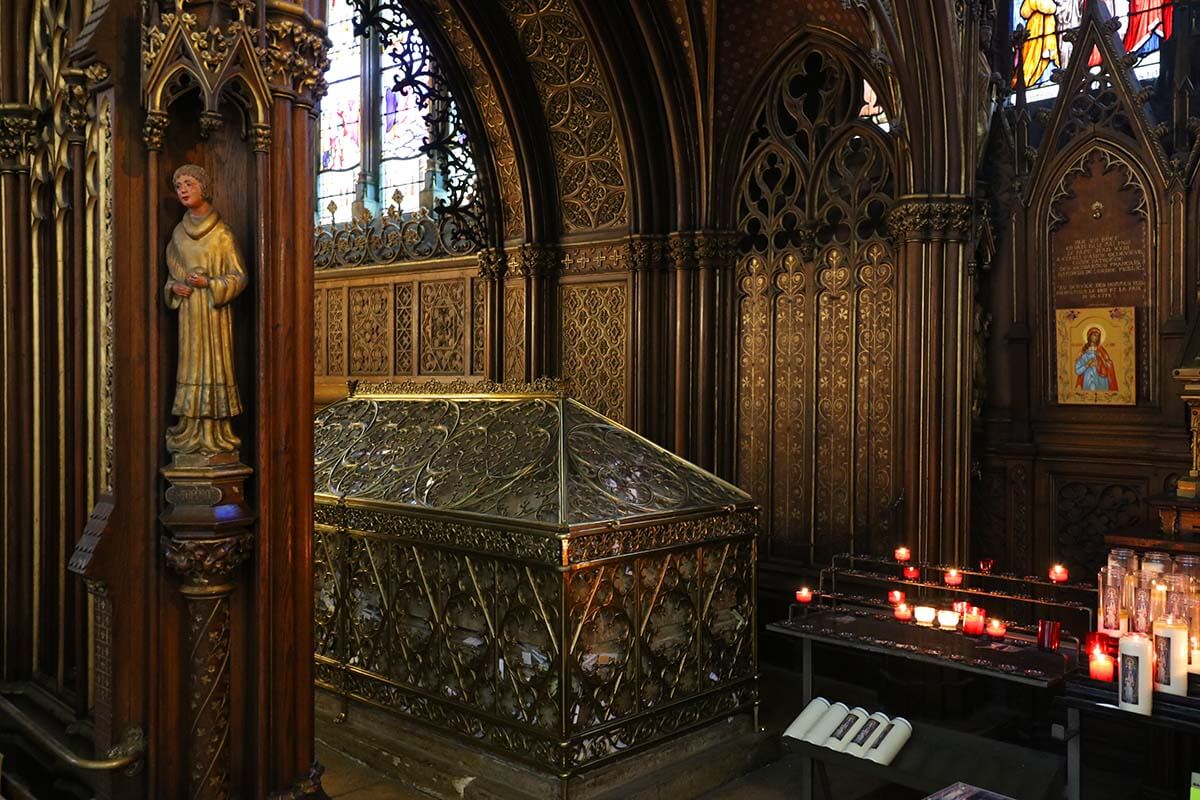 Latin Quarter – Luxembourg Gardens
4-5 PM.
Next, explore the Latin Quarter a bit more and walk to Luxembourg Gardens. These gardens are among the must-sees in Paris and really worth a visit at any time of the year.
You could start at Luxembourg Palace. This former Royal Palace is now used by the Senate. Then check out the beautiful pond in the middle, and walk south all the way to the "4 Corners of the World" fountain.
From here, it's just a short walk to the next stop on this itinerary – the Catacombs.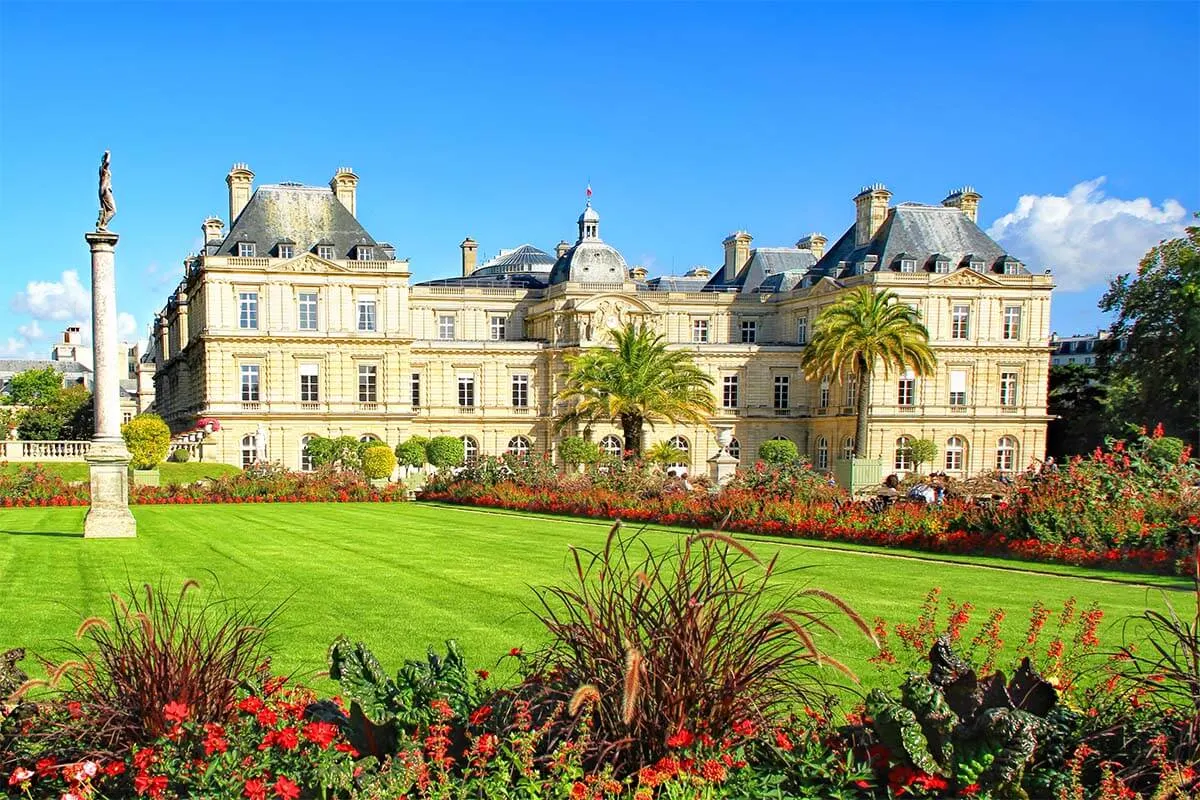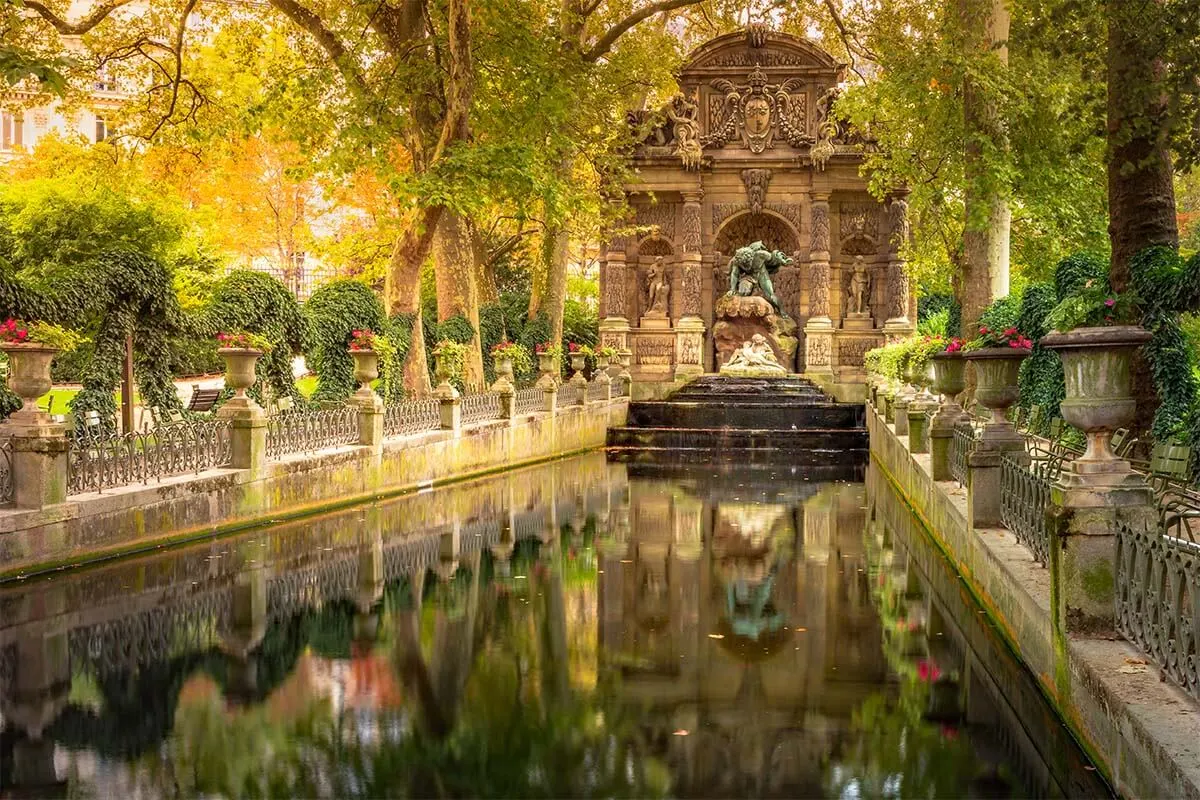 Catacombs
5.30-6.30 PM.
It took me many years and many trips to Paris to finally visit the Catacombs. And now that I did, I highly recommend considering adding this unique place to your Paris sightseeing itinerary. It's a truly unique place that will show you the dark side of the City of Lights.
Paris Catacombs date from the 18th century when the city was expanding and the decision was made to clear up the overflowing cemeteries. The remains of about 6 million people were carefully moved to this new location. Already at that time, it became a quirky attraction. They even organized midnight concerts here…
It's really special to descend deep under the streets of Paris and discover this huge labyrinth lined with millions and millions of bones and skulls. We have visited numerous catacombs and bone chapels in Italy (Rome, Naples) and Portugal (Evora) before, and each and every one of them is so different.
The Paris Catacombs are absolutely massive! To give you an idea, you exit them about 0.5 km further than where you entered.
Good to know: While it's not a spooky place, a visit to this 'Empire of Death' can be quite confronting. Plus, you will be underground for about 1 hour, so it's not suited for people with claustrophobia. There are also some stairs that you have to negotiate, but nothing too strenuous.
TIP: Book your tickets for the Catacombs in advance! The tickets are timed and they only allow a certain number of people inside. It usually sells out, so you really can't count on being able to visit without a reservation. On the GetYourGuide website and also on Tiqets, you can usually book the tickets weeks upfront. On the official site, they only start selling 7 days upfront. The price is normally the same everywhere, but not all time slots are available on all sites. If it's available, get them as soon as you start planning your itinerary; and if not, mark your calendars and try the official site 7 days before your visit.
Alternatively, if available for your travel dates, you could consider visiting the Catacombs with this tour. They take you to some chambers inside the Catacombs that are not open to the general public. This tour has fantastic reviews, but it is often sold out. It was also fully booked when we traveled. A self-guided visit is also ok, but I'm sure we would have learned so much more with a guide.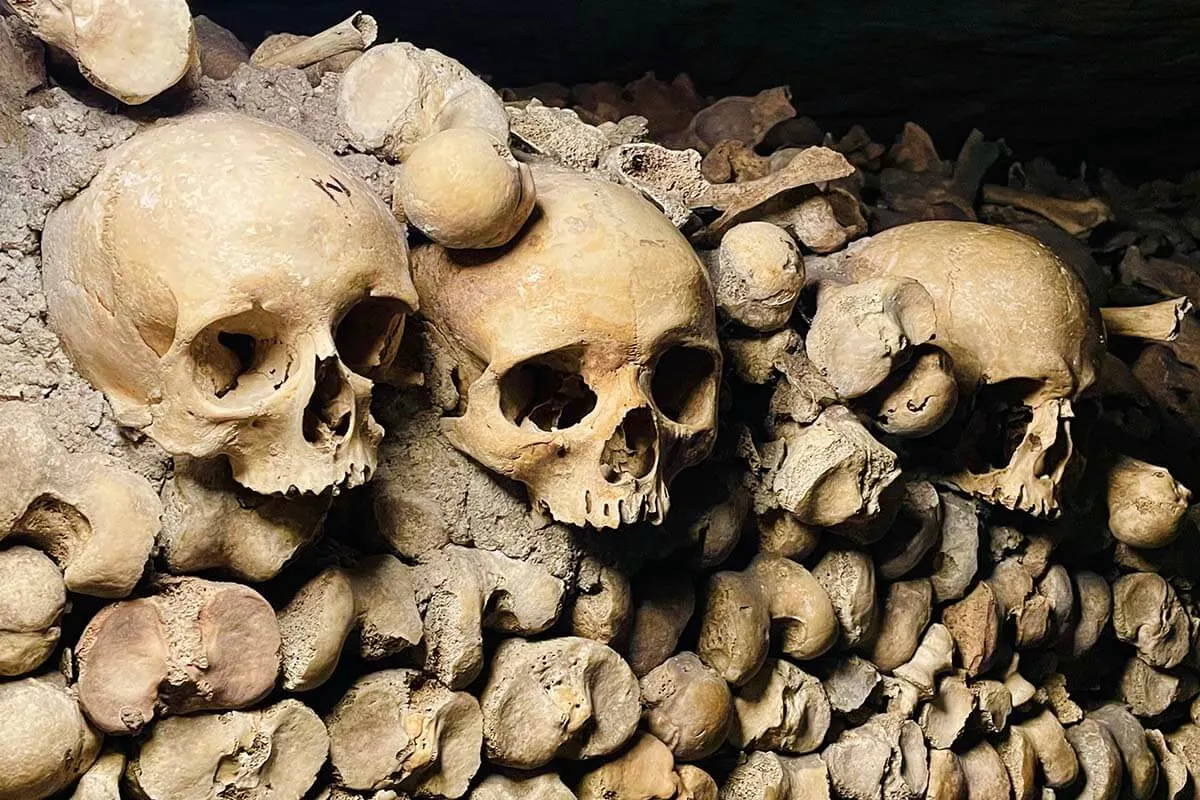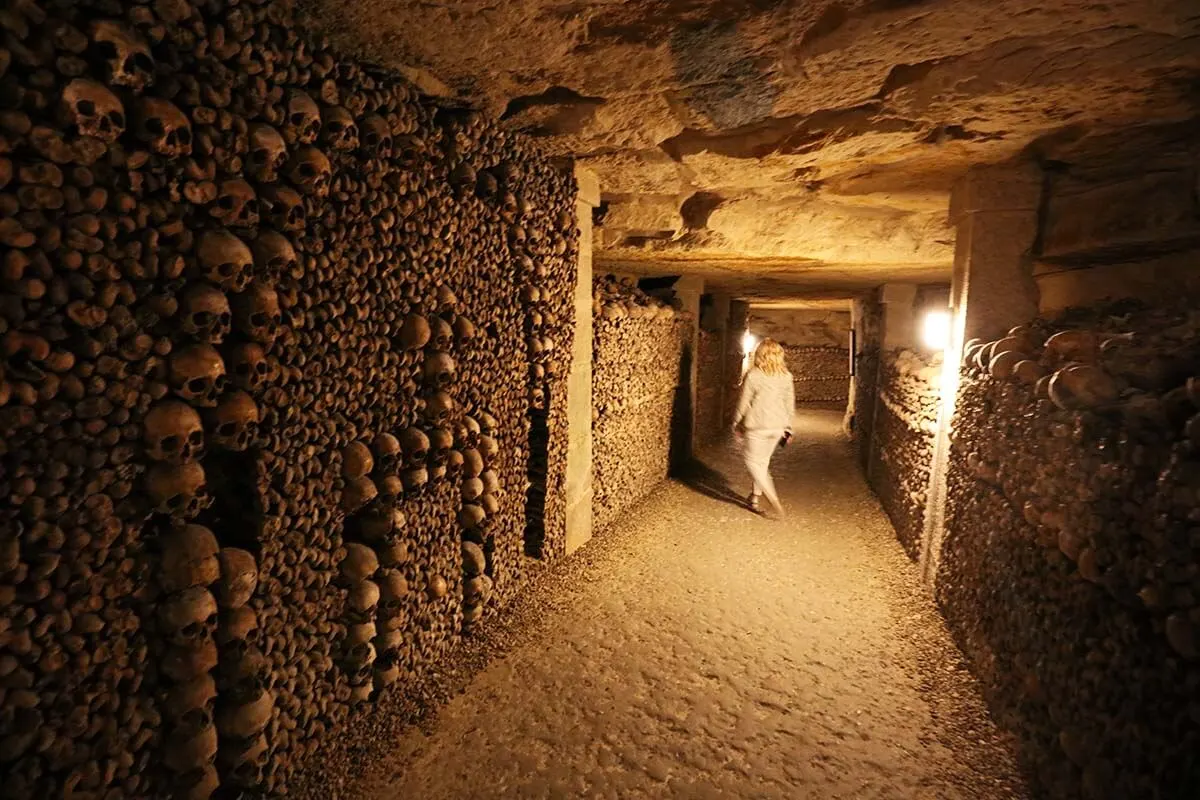 Montparnasse Tower
7-8 PM.
The last place on this 4-day Paris itinerary is one more amazing viewpoint – the rooftop terrace of Montparnasse Tower. This is the second-highest viewing terrace in the city (after the Eiffel Tower summit) and the views are really nice. In fact, the view is better than from the Eiffel Tower since you are looking at it.
Depending on the time of the year, you could time it to be here around sunset. But it's worth it either way!
TIP: Get your ticket in advance and skip the queues at the entrance. People with reduced mobility get a big discount – in that case, get the ticket once you get there.
There is also a nice restaurant here if you are looking for a special treat for your last evening in the city (in that case, be sure to reserve in advance!). But there is really no shortage of good restaurants, cafes, cocktail bars, and pubs in this part of Paris, so you'll find plenty of nice places to eat nearby. I indicated a few of them on our map.
Where to Stay
There are so many nice areas where you could stay in Paris and there is really not one 'best' place. As a general rule, try to stay in the heart of the city center, close to the metro, next to lots of local restaurants, and – ideally – within 15-20 minutes walking distance to places like the Louvre or Opera. That way, you are really centrally located for most sights.
Good to know: Many hotel rooms in Paris are tiny! Often, there is just enough place in the room for a double bed and one person can hardly turn around in the bathroom. Pay attention to this when making your choice so that you know what to expect!
Advice based on our multiple trips to Paris. If your main focus of visiting Paris is sightseeing and getting to know the city a bit deeper, I recommend staying in the area north of the Louvre and east of the Paris Opera. There are many nice hotels here for various budgets, this area has lots of restaurants, and so many of the main landmarks are within easy reach from here. Some of the best department stores are also located in this area.
Here are some hotel recommendations in this area for various budgets:
€€€€€ InterContinental Paris Le Grand.
€€€€ Chouchou Hotel.
€€€ Hotel Prelude Opera (we stayed here – see below for more info).
€€+ Hotel Choiseul Opera (one of the most popular 3* hotels in this part of Paris).
€+ Hotel des Arts – Cite Bergere.
Our recent experience: On our recent visit on which this 4-day Paris itinerary is based, we stayed at Hotel Prelude Opera. This hotel is located very close to Grevin Museum, next to some of the nicest covered passages of Paris, about 15 minutes walk from the Opera and 20 minutes walk from the Louvre. The location of the hotel was excellent, with the metro just behind the corner and lots of good price/quality restaurants. It's a very good-value mid-budget 4* hotel that has been recently renovated. Also, by Paris standards, the rooms are of a rather comfortable size.
On a somewhat higher budget, a very nice choice in this area is La Maison Favart, with an indoor swimming pool and big family rooms for up to 4 people. You'll find lots of other options for all budgets nearby too.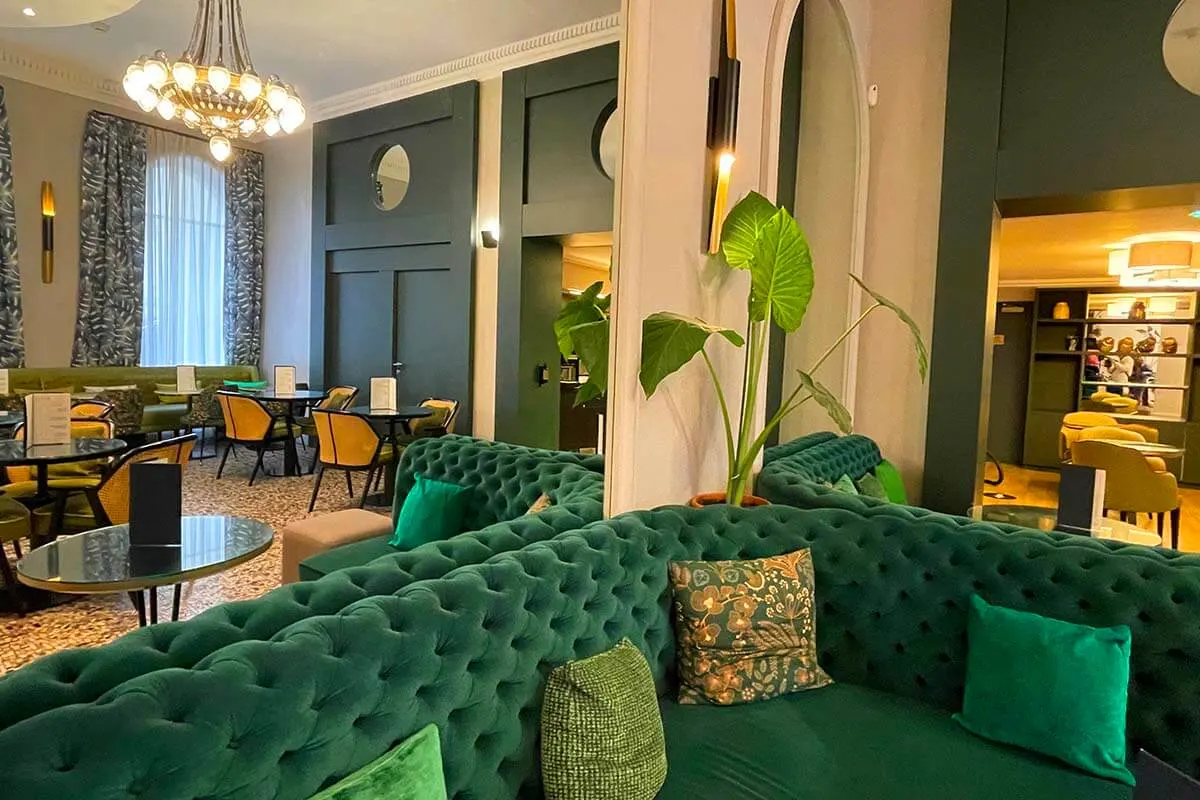 So, this sums up our recommendations on how to spend 4 days in Paris.
I hope that this very detailed guide will give you a better idea of what can be done in Paris in about four days. Of course, you can also skip the places that don't interest you that much and take it easier leaving more time to relax and explore deeper.
So use this itinerary as it is or adjust it to your interests and plan your own perfect trip.
TIP: Be sure to also take a look at our first-timer's guide to visiting Paris. It contains lots of useful information and tips for your trip to the City of Light. Check it out!
Enjoy Paris!
More travel inspiration for Paris:
If you found this post useful, don't forget to bookmark it and share it with your friends. Are you on Pinterest? Pin these images!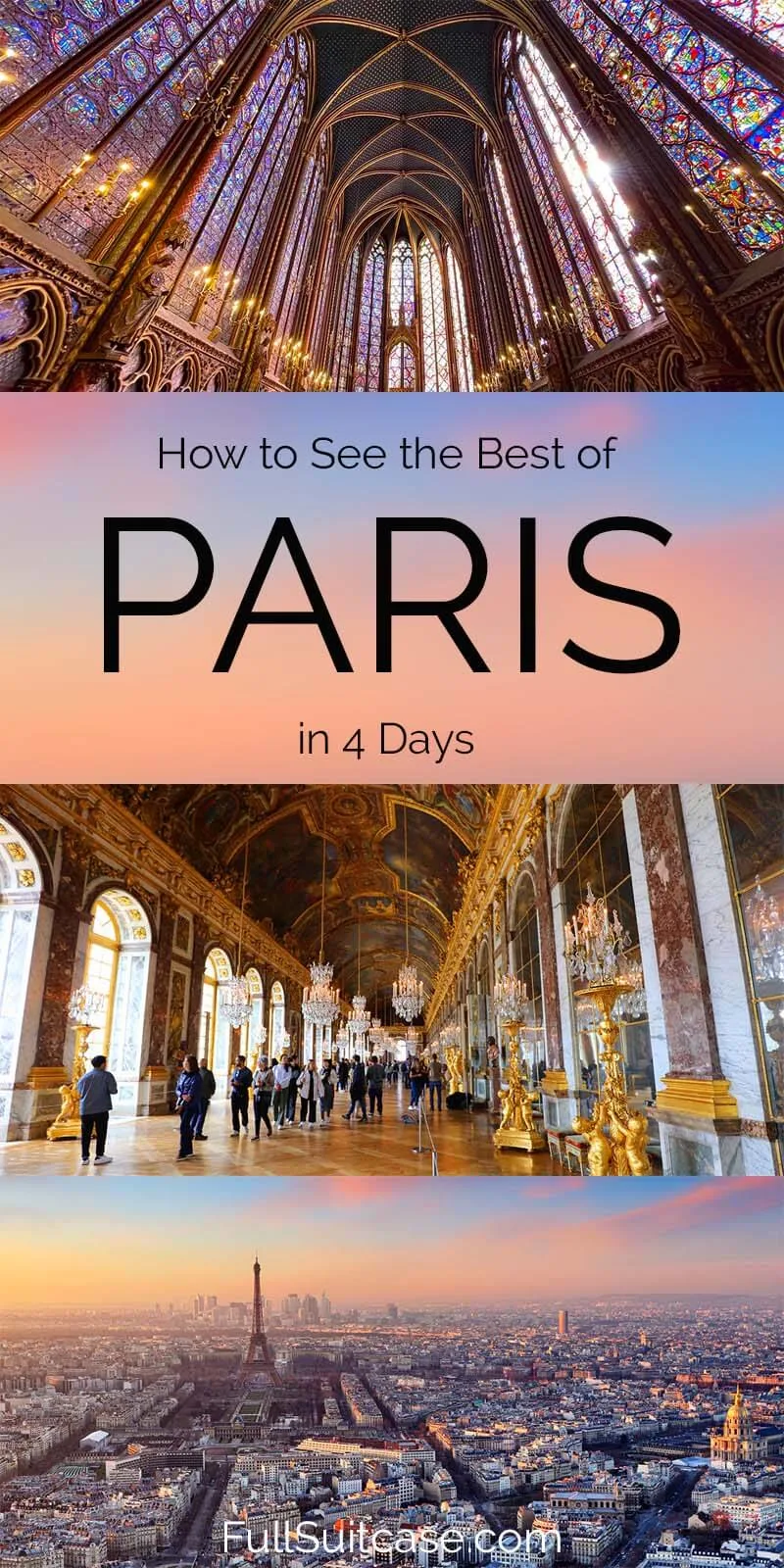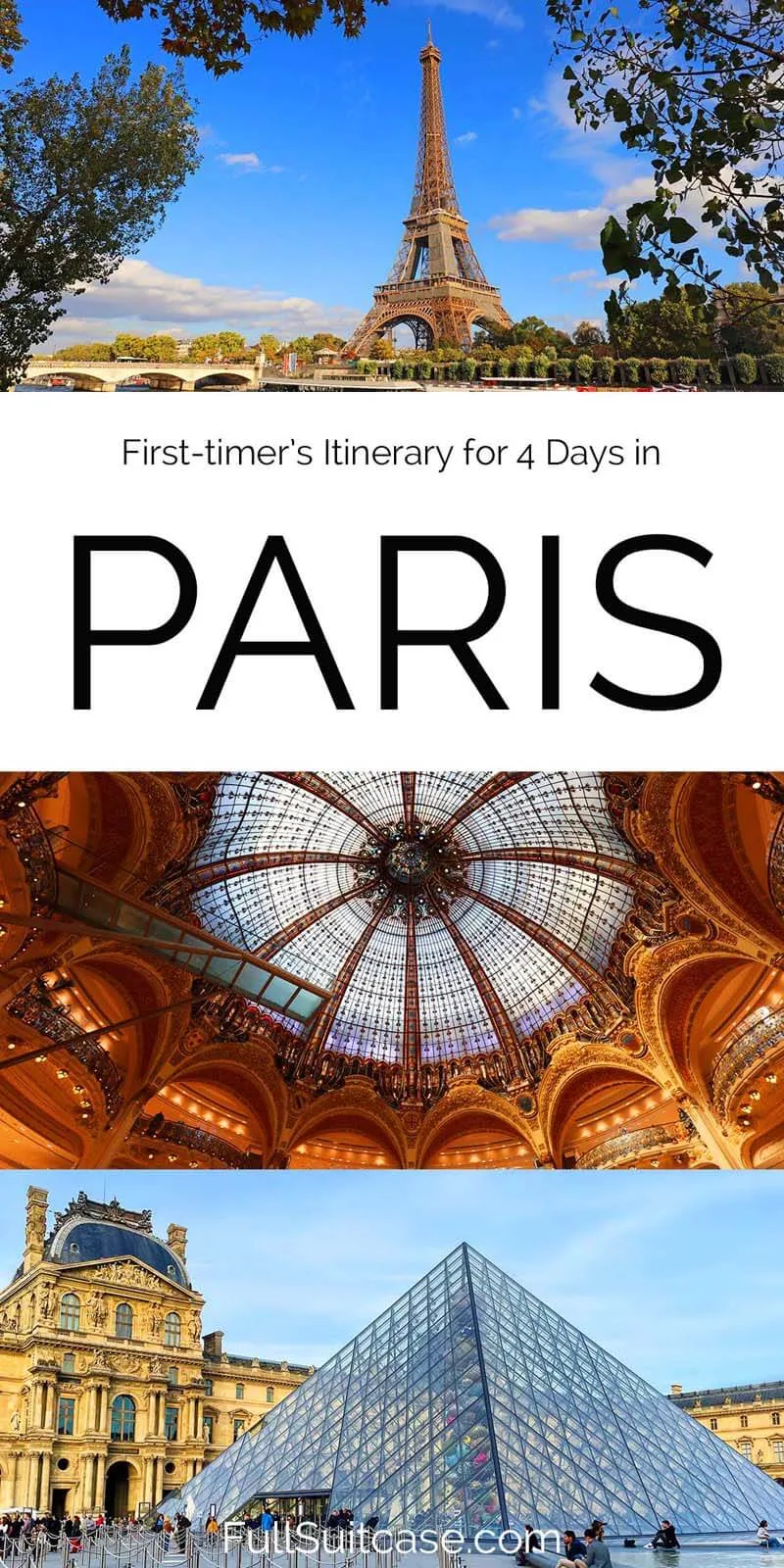 More travel inspiration for some of the most beautiful cities in Europe:
If you are visiting other European cities and are looking for in-depth information for your trip, take a look at some of our city guides:
READ ALSO: Best Time to Visit Europe