Are you traveling to Phuket and want to explore some of the nearby islands, but are not sure where to start? This Phuket island hopping guide features all the most popular islands that you can easily visit as a day trip from Phuket. It also includes a few lesser known islands nearby and some well known islands a bit further away that are well worth a visit.
In addition, for each of the islands featured in this Phuket island hopping guide, we included practical tips and information on how to get there.
We have recently stayed in Phuket and used it as a base to do some island hopping nearby. However, we opted for a longer island-hopping adventure in Thailand and Phuket was just a part of it.
So in order to give you a better picture of the available Phuket island hopping options, I also asked other travel writers to share their favorite islands that they visited as a day trip from Phuket. This way you can read authentic travel stories that will hopefully help you decide which islands to visit from Phuket.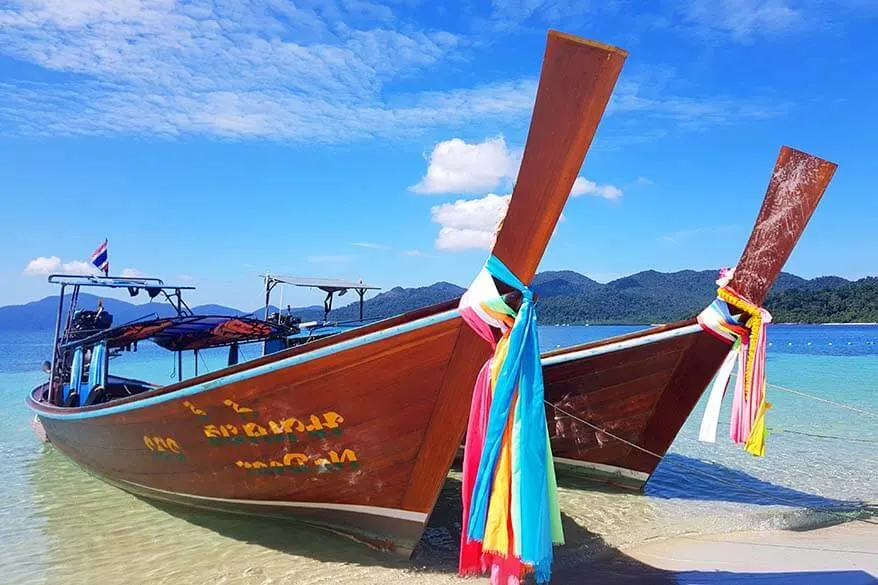 Phuket is an ideal base for island hopping in southern Thailand. In fact, infrastructure is so good that it makes it possible to see so many amazing islands without ever having to switch hotels. So if you are short on time and want to explore the most spectacular islands as a day trip from Phuket, you'll be glad to know that there are many amazing choices. Those islands are featured in the beginning of our selection (#1-8).
Many bigger islands not far from Phuket are certainly worth a longer trip and an overnight stay. So in this post, I also included a few islands that you can visit from Phuket, but where you better stay overnight. While, theoretically, they could also be visited as a day trip from Phuket, I personally would advise staying on those islands a bit longer. You'll find these islands featured towards the end of this article (#9-10).
At the very end of this article, I also included 5 islands (#11-15) that are very close to Phuket, but are more local and therefore rarely visited by day-trippers, let alone organized tours. Each of these five islands are well worth a short visit, but they are also perfect as a place to stay in Phuket area. Stunning location, no crowds, and exclusive luxury resorts – these islands are a great alternative if you are not keen on staying in the huge hotels along the crowded beaches on Phuket itself. After all, staying on a little paradise-like island is the ultimate island-hopping experience.
This Phuket island hopping guide not only features the most beautiful islands near Phuket, but it's also full of practical tips and information showing you how to visit them. Find out!
TIP: If you want to see as many different islands in a short time, check out this 2-day tour that visits 12 (!) different islands.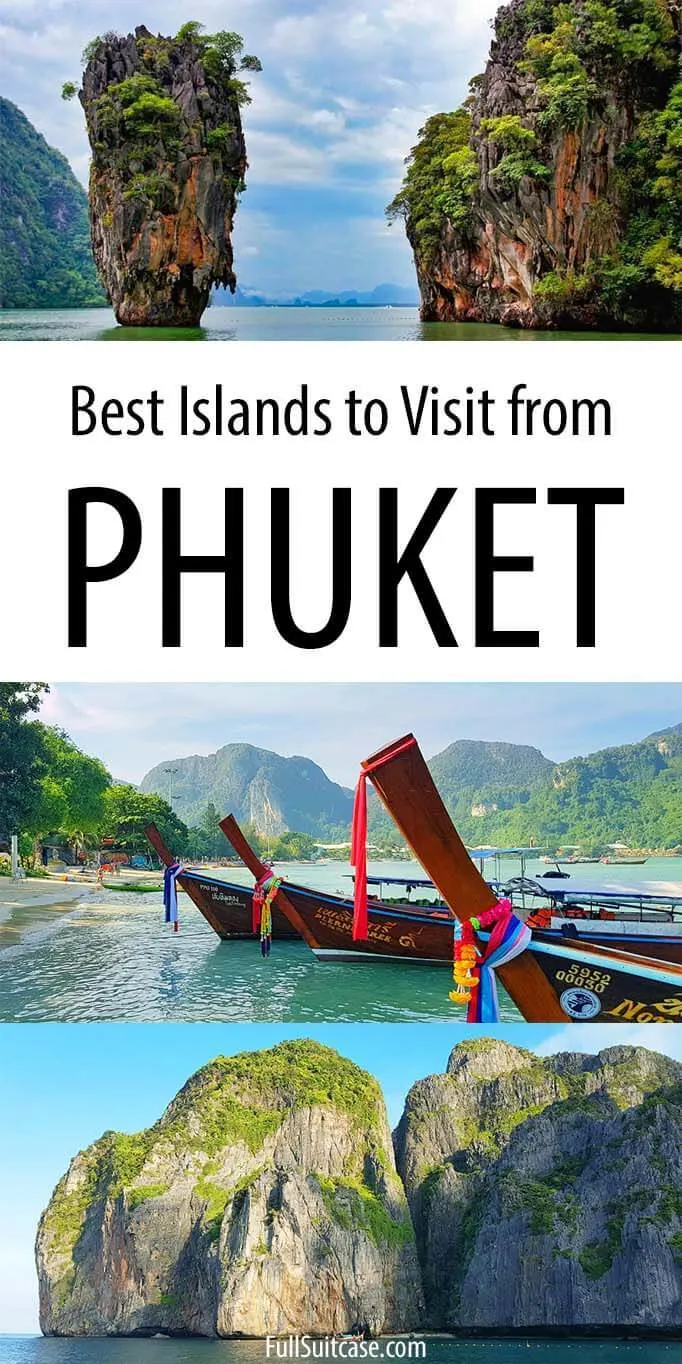 Here are some of the best islands you can visit from Phuket:
1. Koh Phi Phi
I'll start with one of the most beautiful islands of the Andaman sea and our personal favorite day trip from Phuket – Phi Phi islands. The name Koh Phi Phi actually refers to not one island, but a cluster of six islands. Most day trips and tours will focus on just the two biggest islands – Ko Phi Phi Don and Ko Phi Phi Lee.
Phi Phi Don is the only inhabited island of Phi Phi islands and is a real tourist hub with busy boat piers and a big choice of restaurants, shops, and accommodations for all budgets. Despite its reputation of being a party island, it's well worth a visit due to its stunning location.
On the quieter side of the island, you can still find white sand beaches and azure blue waters surrounded by some amazing scenery. Make sure to also go up to the two viewpoints overlooking the wide surroundings. The views are stunning!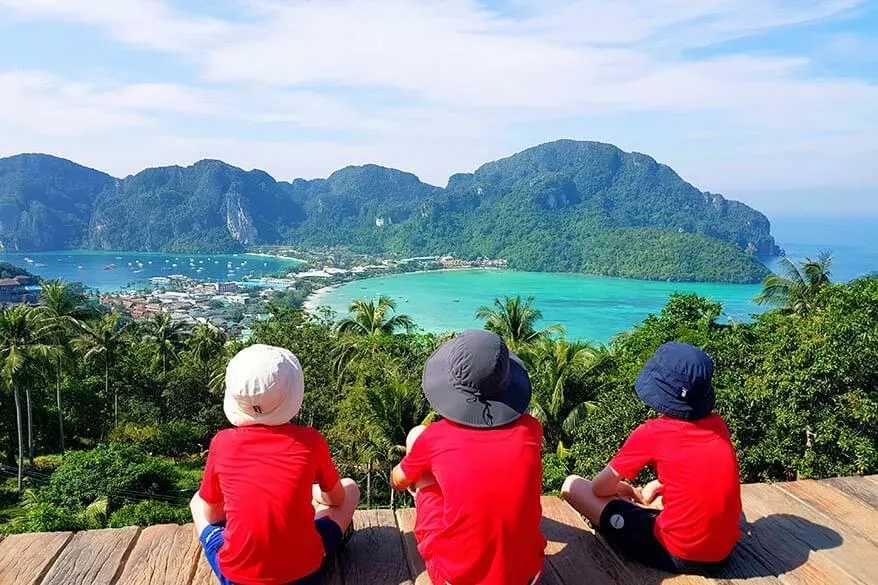 Koh Phi Phi Leh is an uninhabited island, probably best known for its secluded and incredibly picturesque Maya Bay, featured in the famous movie The Beach. To get here, you'll need to take a boat.
All the guided Phi Phi islands tours from Phuket visit both islands and make many stops along the way, including several snorkeling locations. The most popular stops are Pileh Lagoon, Viking Cave, Monkey Beach, and lunch on Bamboo Island.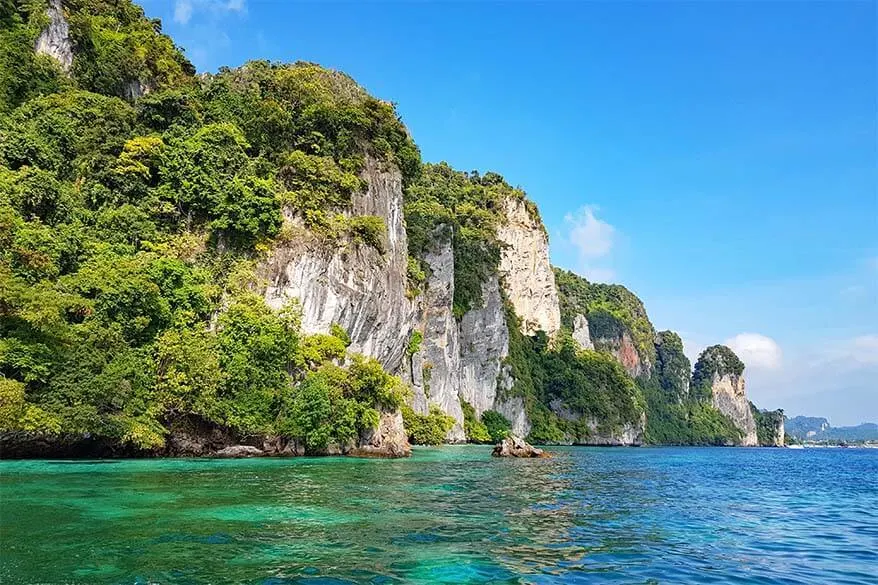 How to visit Phi Phi islands from Phuket:
On your own. There are many ferry and speedboat connections between Phuket and Phi Phi Don. A speedboat takes about an hour (you can book a speedboat here), whereas a ferry will take 2 hours (you can book a ferry here). You can easily visit Phi Phi Don on your own. However, if you also want to see Phi Phi Leh and the stunning coastline, you'll need to hire a local long-tail boat to get there. There are plenty of boats on both harbors of Phi Phi Don and you can just negotiate the trip and the cost once you get there.
With a tour. There are so many options when it comes to tours from Phuket to Phi Phi islands. Prices depend on the type of boat, small group vs big group, and the time of the day (early morning tours tend to be a bit more expensive). But in terms of itinerary, it's pretty much the same.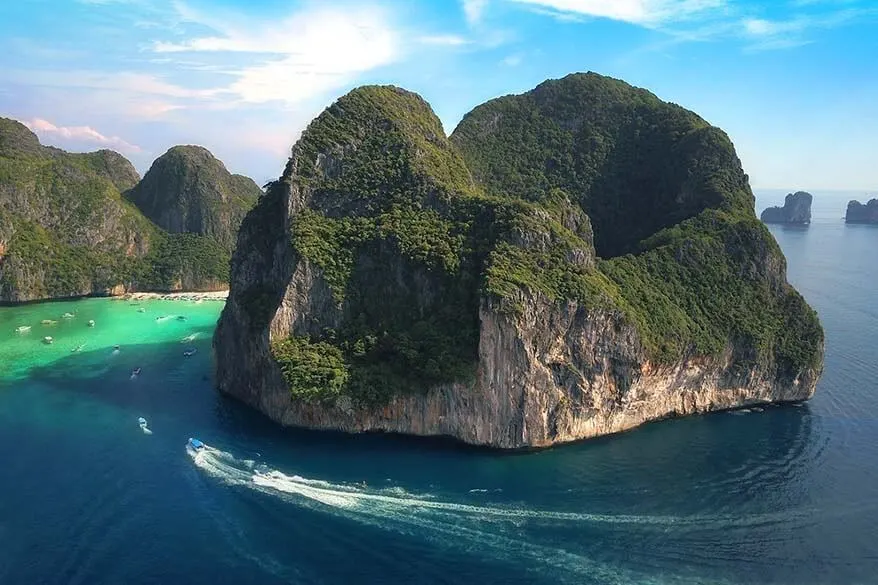 2. Phang Nga Bay & James Bond Island
The second group of islands that are a must when island-hopping from Phuket, is Phang Nga Bay Marine National Park. There are over 100 islands in this area, but its main landmark is the so-called James Bond island.
Known for its appearance in the 1974 James Bond film 'The Man With The Golden Gun', the stunning Khao Ping Kan with a 20-meter tall islet Koh Tapu, has gained the name 'James Bond Island'. With flocks of tourists visiting the island to take in the striking scenery created by the towering vertical karsts on emerald-green water, it is best to get here early in the morning to avoid the crowds.
Just 40 kilometers off Phuket, many tour companies offer full-day and half-day tours around Phang Nga Bay. Organized day trips usually include hotel pick-ups, minivan transfers to Phang Bay and back, a long-tail boat or speedboat to James Bond Island, as well as the 200 TBH entrance fee to the national park. Organized trips also include lunch and a stop at the floating fishing village of Koh Panyee.
Other main points of interest of Phang Nga Bay are the sacred Buddha Cave Temple, Wat Tham Suwana Kuha, and Hong Island (see also as an independent day trip below). If you go with a tour, you usually have the option to explore the caves and the stunning coastline by canoe or kayak as well.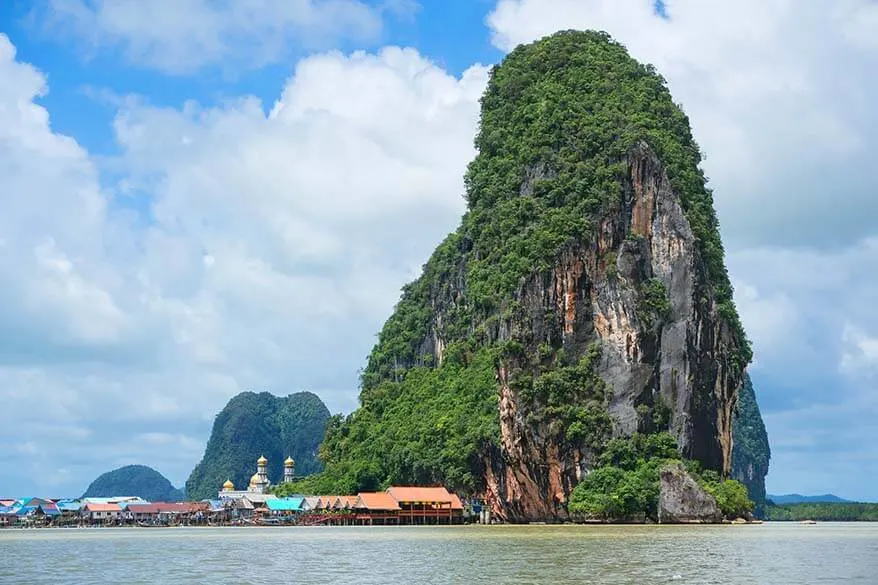 How to get to Phang Nga Bay from Phuket:
On your own. You can explore all the attractions of Phang Nga Bay by hiring a long-tail boat. If you have a car or a motorbike, you can drive to Klong Khien Pier and rent a long-tail boat for a half-day excursion (it can be quite affordable or rather expensive – depends on how many people share the boat). Alternatively, you can also drive to Sam Chong Seafood, a floating restaurant that serves good-value tasty food and arranges long-tail boat hires as well.
Book a tour. There is a big variety of organized tours offering island hopping at Phang Nga Bay. Here are some of the highest-rated tours you can book from Phuket:
No matter how you visit, Phang Nga Bay is definitely worth a trip. Without any doubt, this is one of the absolute best day trips you can make from Phuket!
James Bond Island is suggested as one of the best islands to visit from Phuket by Karolina from Lazy Travel Blog.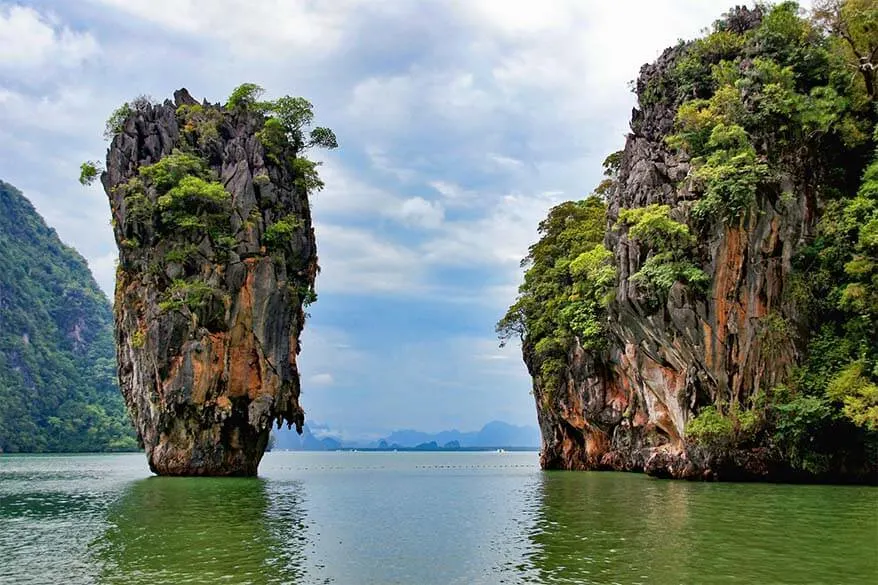 3. Ko Hong
A paradise, away from the bustle of Phuket, is one of my favorite islands in Thailand, Ko Hong. Known as Hong Island, it is located near dozens of other uninhabited islands in Phang Nga Bay.
Hong Island is one of the larger islands in the bay. On arrival, there is a small additional park entry fee. The beach has the softest white sand with stunning views of limestone cliffs and gentle emerald waters. It is the perfect spot to lay out and relax or spend some time snorkeling.
If you come here with a tour, you then continue to the back of the island, where a small entrance leads into a lagoon inside the middle of the island. It is perfect for kayaking!
Dedicated Ko Hong tours spend most of their time at Hong Island. However, they also take the time to explore the nooks and corners of several other stunning islands in the area.
How to get to Ko Hong from Phuket:
On your own. It is possible to hire a private long-tail boat from a local fisherman for the day. This is a perfect option for couples, families, or groups of friends looking for a more intimate experience and more say in the time spent on the island. It is easy to find local fishermen near the main pier in Phuket or anywhere along the beach. There are often language barriers in Thailand, but with persistence, we found a local Thai person to help arrange the tour for us and negotiate a price. The tour was basic, with nothing provided (no food, water, etc…); just a long-tail boat, wind against our faces, and a smiling captain steering the boat.
With an organized tour. Tours to this part of Phang Nga Bay by long-tail boat range in cost. Prices depend if the tour is on a long-tail or a fast boat. There seem to be more tours going to Ko Hang from Krabi than from Phuket, but there are a couple of James Bond Island tours that visit Hong Island as well. You can find some Hong Island tour options here.
This stunning little island is suggested as an unforgettable day trip from Phuket by Yana from Beard and Curly.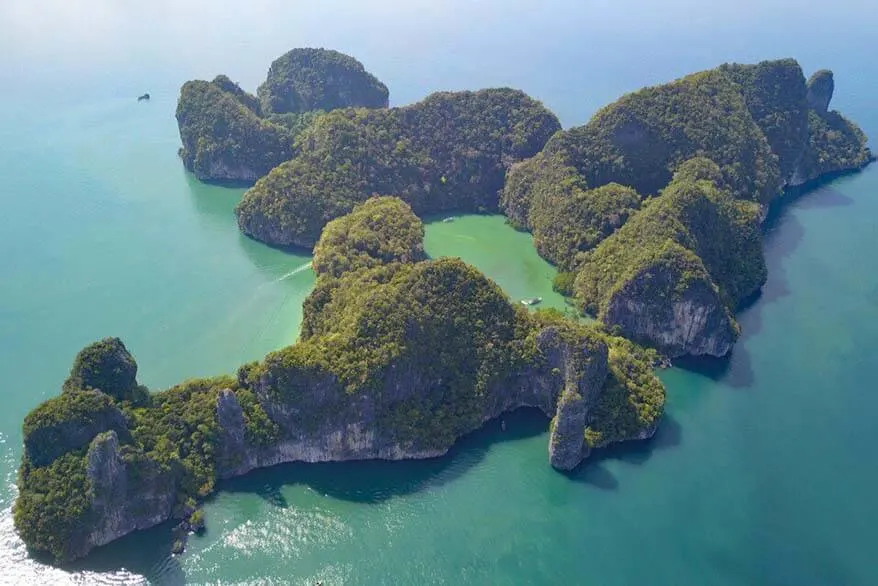 4. Koh Racha Yai & Koh Racha Noi
The Racha Islands, Racha Yai & Racha Noi can be found a mere 20km south of Phuket. Despite being so close to the busy Phuket, the islands are still quite off the beaten path. The laid back atmosphere and lack of major development will give you an inkling of how Koh Phi Phi was 20 years ago.
In the Thai language "yai" means big and "noi" means small. The smaller Racha Noi island is uninhabited and has more rocks than beaches. Fishing and diving are the main attractions at Koh Racha Noi. The larger island, Koh Racha Yai, is the main attraction with gorgeous beaches, secluded bays, a few bars, and accommodations.
Crystal clear water and an abundance of sea life make for excellent diving and snorkeling, which is one of the biggest draws to the Koh Racha Yai. Patok Bay has the longest beach of brilliantly white sand and it's here that all the boats moor. From the jetty continue up the beach and follow the track to the village in the middle of the island. The little village has hut-like restaurants and shops that stock most things you would need for a short stay.
If you continue with the dirt track up and over the hill you'll reach the equally beautiful Siam Beach. This is the quieter side of the island where you can escape from the day-trippers on Patok Beach. If you're lucky, you may see the huge monitor lizards and the odd water buffalo in the coconut groves. Walking from one side of the island to the other should take about 15 minutes.
Transport on Koh Racha Yai is mostly by foot, but you can hire bicycles and motorbikes. Make your way to the West of the island for some spectacular sunsets.
How to get to Koh Racha Yai from Phuket:
On your own. Boats to Koh Racha Yai leave from Chalong Pier or Ra Wai Beach and take 35 min. You can hire a speedboat or a ferry shuttle. It is also possible to take a long-tail boat from Chalong Beach to Racha Yai, but it will take more than an hour and could be dangerous should the weather suddenly change.
Book a tour. While not as popular or well-known as the other island-hopping options from Phuket, it is possible to find organized tours to Koh Racha Yai. Most of them involve scuba diving, but there are also more relaxing tours more focused on water sports, snorkeling, and beaches. Here's one of the best-rated Koh Racha Yai tours from Phuket. It actually visits two white-sand islands near Phuket – Racha Island and Coral Island (see below).
Koh Racha Yai day trip from Phuket is suggested by Jeanne from Learning to Breathe Abroad.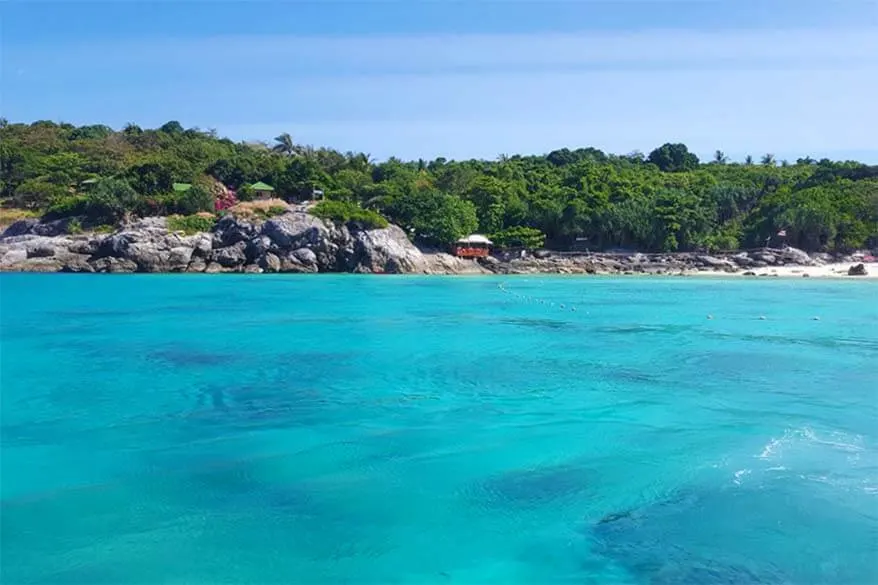 5. Coral Island – Koh He
Ko He (also Koh Hay or Koh Hae) or in English Coral Island, is located nearest to Phuket of all the islands in this selection. Despite that, it's not hard to find places that are not yet completely overrun with tourists. It's a great getaway for those looking to visit a white-sand blue-sea island near Phuket.
Coral Island is famous for its big variety of water sports and activities like diving and snorkeling. The place to be on Coral Island is the white-sand Long Beach, but it can get really crowded with day-trippers from Phuket. A better option for those looking to escape the crowds a bit more is Banana Beach, just 10-15 minutes walking distance.
How to get to Coral Island from Phuket: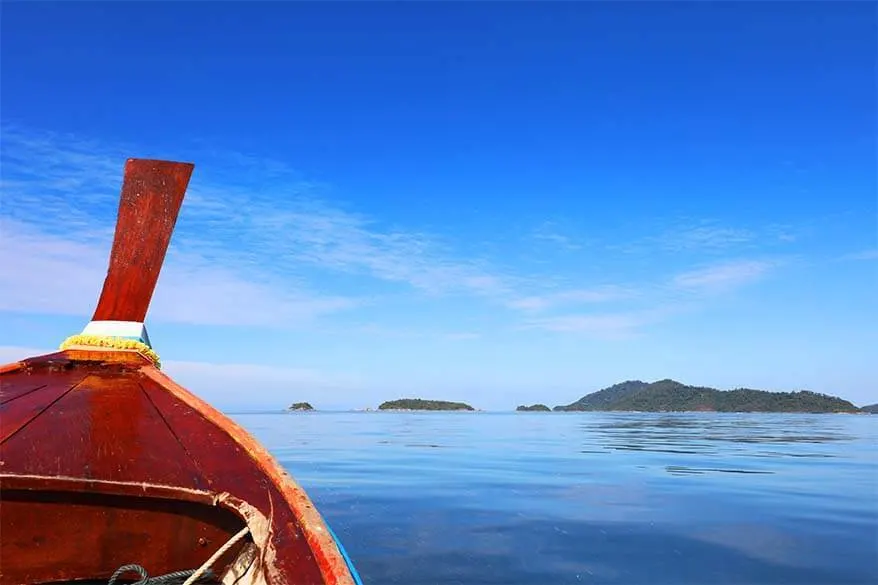 6. Similan Islands
The Similan Islands are a group of eleven islands off the coast of Southern Thailand that can be visited on a day trip from Phuket or Khao Lak. This island archipelago is one of the best snorkeling spots in Thailand and I can highly recommend a visit if you are looking for an unforgettable island hopping experience in the Phuket area.
Depending on where you are staying in Phuket, and from which pier your tour departs, the total journey to Similan Islands by car and speedboat can take up to 2-3 hours. Journey times can become longer due to traffic and bad weather, but it's worth the trouble.
How to get to Similan Islands from Phuket. The best way to get the most out of your visit is to take an organized day trip to the Similan Islands. If you book a tour, they will arrange everything including pick up from your hotel, drop off at the end of the day, and take you to all the best snorkeling spots in the Similan Islands.
On a 1-day trip from Phuket, you will visit 2-3 different islands. The Similan Islands have the clearest and most turquoise waters I have ever seen, paired with soft white sandy beaches. The islands are a protected national park and there is a wide variety of marine flora and fauna. If you're lucky enough, you might even be able to snorkel with turtles!
Similan Islands day trip from Phuket is contributed by Greta from Greta's Travels.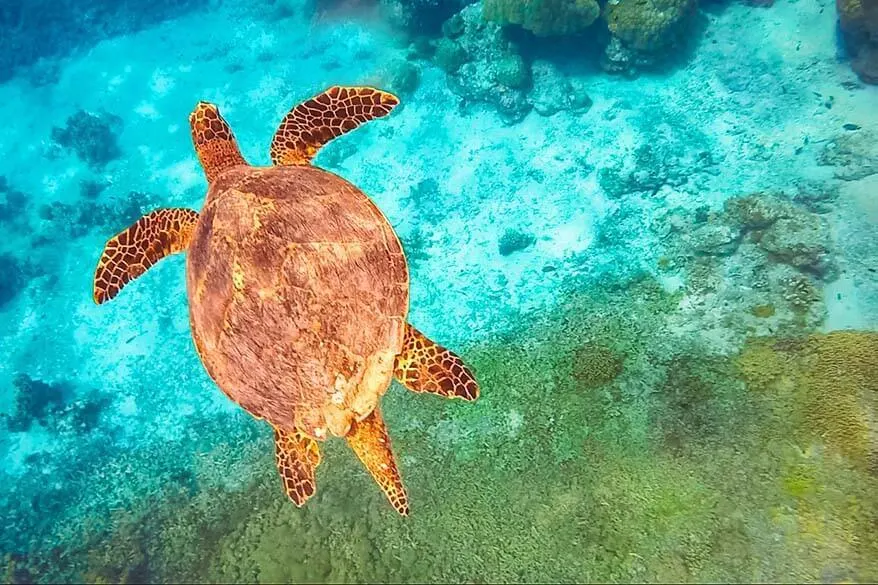 7. Surin Islands
Surin Islands, north of Similan Islands, is an archipelago of 5 islands. They are a bit further away from Phuket than most other islands and are therefore not as widely known or visited. It's a real paradise with natural unspoiled beauty, the way many popular Thai islands used to be some 20 years ago…
With emerald green waters, colorful coral, and lots of sea life, Surin Islands are known as one of the absolute best snorkeling and diving locations in Thailand.
How to get to Surin Islands from Phuket. Surin Islands are quite far from Phuket, so the best way to get there is by booking an organized day tour. If you rather go on your own, there are boats running from Khao Lak, but depending on the schedule you might have to stay there (camping?) at least one night.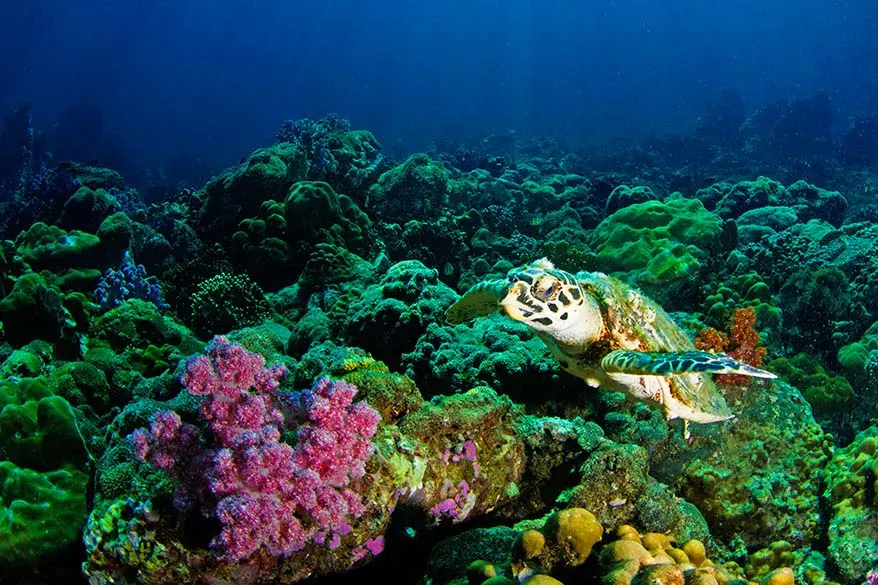 8. Koh Jum – Ko Pu
Koh Jum, also known as Ko Pu, is one of Thailand's quieter and less developed Andaman islands. The island with two names (the northern part is known as Koh Pu, while the southern part is designated Koh Jum) is accessible from both Krabi and Phuket.
The beaches that make up Koh Jum's western coastline are an obvious highlight. Popular stretches of sand include Lubo Beach, the island's northernmost beach, Ao Ting Rai, and Ao Si. There is a smattering of low-key bungalow resorts along the beachfront that serve drinks and food (drop-ins welcome). Further south, Golden Pearl Beach is home to a few luxury villas. Water activities include swimming, snorkeling, and scuba diving with local outfit, Koh Jum Divers.
There's not a whole lot else to do on Koh Jum—and that's precisely what makes the island so appealing. You won't find any rowdy bars, full moon parties or shopping malls (at the time of our visit, there wasn't even an ATM). Hire a motorbike or bicycle to explore more of the island. Don't miss Baan Ko Pu and Baan Ko Jum, the largest towns, which both have markets and mosques to see (the island's residents are predominantly Muslim). You can also hike in the jungle interior and up Mount Pu, but make sure to hire a local guide who knows the area well.
How to get to Koh Jum – Ko Pu from Phuket. A high-speed ferry connects Phuket's Ao Po Pier to Baan Koh Jum. The trip takes around 1.5 hours. Visitors also have the option to purchase a van-ferry joint ticket from Phuket Airport or the bus terminal. Note that boats are sometimes canceled during the rainy season, so it's best to check availability in advance.
This lesser-known island not far from Phuket and Krabi is suggested by Emily from Wander-Lush.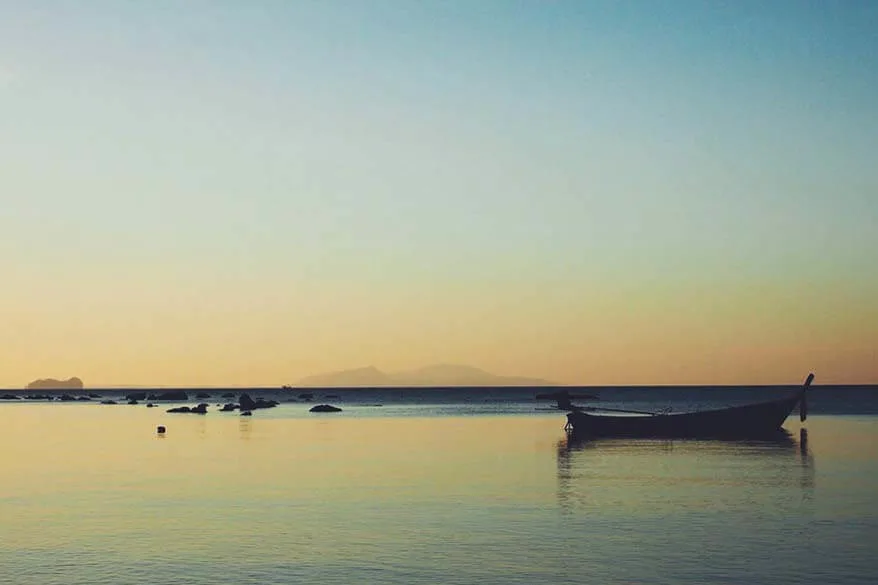 9. Koh Lanta
Located about 70km away from Phuket, Koh Lanta is not immediately the first destination that comes to mind when exploring island hopping options from Phuket.
I personally wouldn't advise going to Koh Lanta for just a day, but if you can stay on the island overnight, it's definitely worth the trip. It was one of the favorite islands from our trip in Thailand!
Even if you take the earliest boat from Phuket to Lanta in the morning, you'll probably have just 4-5 hours on Koh Lanta. The last boats from Koh Lanta to Phuket leave around 1-1.30 PM. Koh Lanta is a big island with lots going on, therefore I suggest that you stay on Koh Lanta for at least 1, ideally 2 nights. That way you can actually explore the island a bit more.
Koh Lanta has miles of calm, sandy beaches and very few people compared to the other popular islands nearby. This makes it a welcome respite from Phuket, which is usually packed with tourists.
The island is also surrounded by healthy coral, so snorkeling is always a pleasure here. The best way to do it is by boat via a snorkeling tour that allows you to reach more remote snorkeling locations near Koh Lanta. Here you can find a big selection of the most popular tours in Ko Lanta.
The Mu Ko National Park in the southwest of Koh Lanta is great for hiking. Don't miss the lighthouse where you can enjoy some beautiful views. There are also remote beautiful white sandy beaches here.
Other popular things to do include kayaking tours to the nearby sea caves. You can also visit Lanta's Old Town where you can see the Chinese Temple or do some shopping.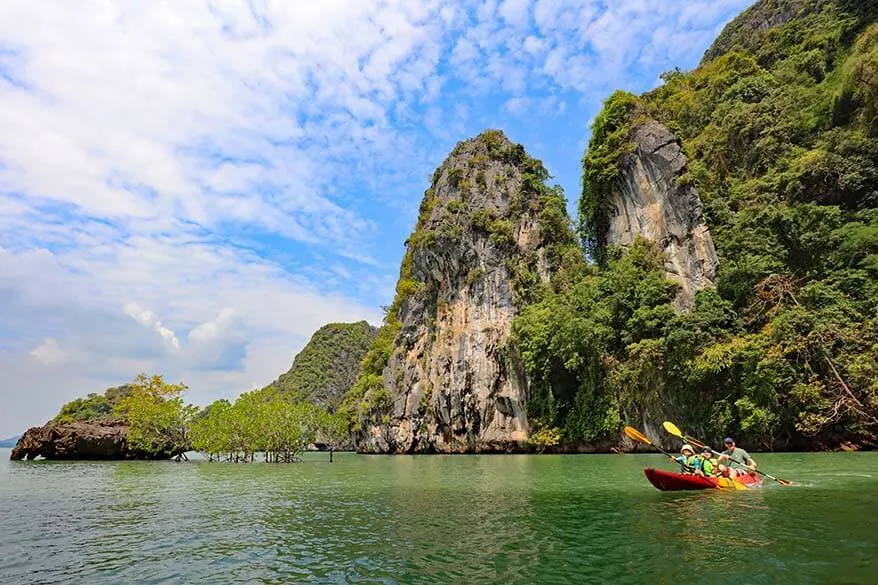 How to get to Koh Lanta from Phuket. Lanta is a short (1.5 hour) speedboat ride from Phuket. If you are just visiting Koh Lanta just for a day or two, don't take a slow ferry as it can take over 4 hours. The speedboat costs more, around 1300-1500 TBH, but it's so worth it. Boats to Lanta leave from Rassada Pier in Phuket. On Koh Lanta, the boats arrive at the Saladan Pier, which is located on the northwest side of the island.
You can book a boat transfer from Phuket to Ko Lanta and just visit for a day, but if you are on a tight schedule, make sure to book a boat there and back in advance!
Once you get to Ko Lanta, you can then do the tours that start on the island itself. At the moment, there are no day trips from Phuket that would include the transfer as well as sightseeing, because it is really easy to arrange yourself. And also because most people stay in Ko Lanta longer than a day (this is my personal recommendation as well).
Koh Lanta is suggested by Stefan from Nomadic Boys.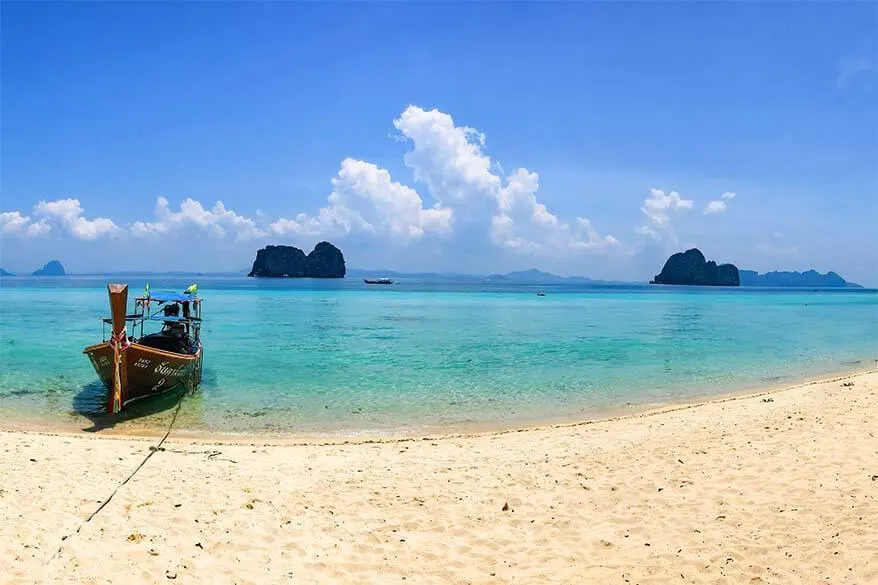 10. Ko Samui
Koh Samui is one of the most beautiful islands in Thailand. This is one of the islands where you'd want to stay longer! And not just because it's really far from Phuket, but also because it has so much to offer that it would be a shame to not explore this island a bit more. After all, Ko Samui is one of Thailand's largest islands.
I was not sure if I would include Ko Samui in this selection of islands to visit from Phuket and I myself would definitely not just go there for a day. But it turns out that it's possible to do that, so if you have just limited time and want to visit Koh Samui from Phuket, I want you to know that it is possible. Below you can find all the practical information, in the meantime here are some insider tips on how to see the best of Ko Samui in just a day.
Start the day at the Rich Resort in Lamai – their breakfast is healthy and yummy and very affordable. On top of that, you can also take a dip in their swimming pool overlooking Lamai beach.
Next, you may want to hire a motorbike or a car for the day as it's much easier to go around. If you are visiting Ko Samui for just a day, make sure that you arrange to drop off the vehicle at the airport; this would make things so much easier. And don't forget to drive on the left!
The first stop I recommend is the Lamai viewpoint. Afterwards continue to Grandpa & Grandma rocks (Hin Ta & Hin Yai Rocks). Another few minutes drive further you can see Overlap Stone. Don't miss the Secret Buddha Garden (or Magic Garden). After that, you can visit Na Muang Waterfall 2 (not 1, it is a bit too far if you are short on time).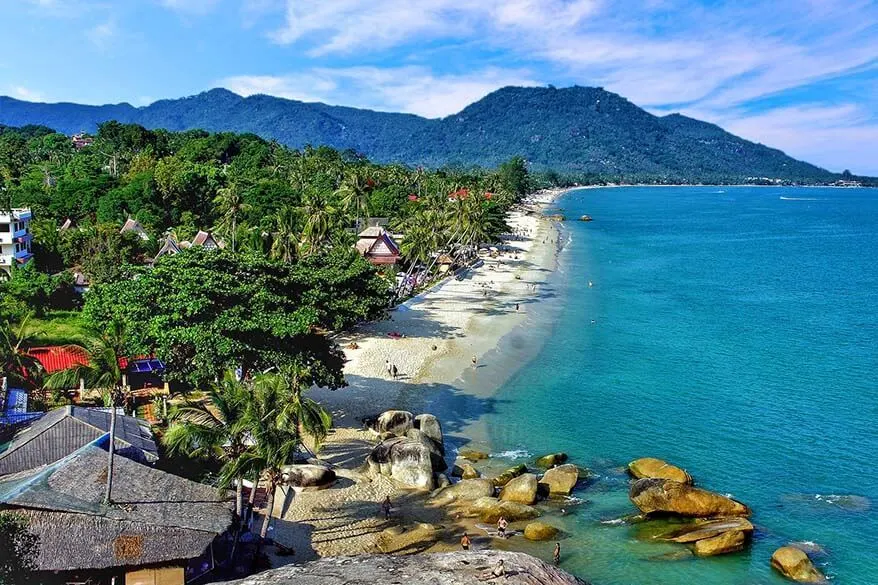 I suggest heading to Na Than Pier for lunch (a great spot for sunsets too). After that, you can drive back towards the airport and check out Chewang area along the way. Alternatively, if you still have half a day left, make a loop through Maenam beach, fisherman's village, and The Big Buddha Temple (Wat Phra Yai).
How to get from Phuket to Koh Samui:
By plane. For a day trip, the best way to travel from Phuket to Ko Samui is by taking a plane. Return flight from Phuket to Koh Samui will only take 55 minutes and Bangkok Airways offers several flights a day. You may spend more on flights (approximately $100 one way), but gain the whole day to explore Ko Samui. You can drive across the island in about an hour, but with various stops, you certainly need at least one full day to see some of the best places of Ko Samui. If you are planning to do this, make sure to book your flights well in advance.
By car. The second option is to rent a car in Phuket, drive to Don Sak Pier in Surat Thani and get on a ferry. It departs every hour from 6 am to 7 pm. This route takes about 6 hours one way and isn't really feasible if you have just a day. So in this case, you definitely want to stay in Ko Samui for at least one night. Even then, start early, so that you have some time to explore the island.
Ko Samui is suggested as one of the best islands to visit in Thailand by Anna Sherchand, who was also adventurous enough to actually visit it from Phuket.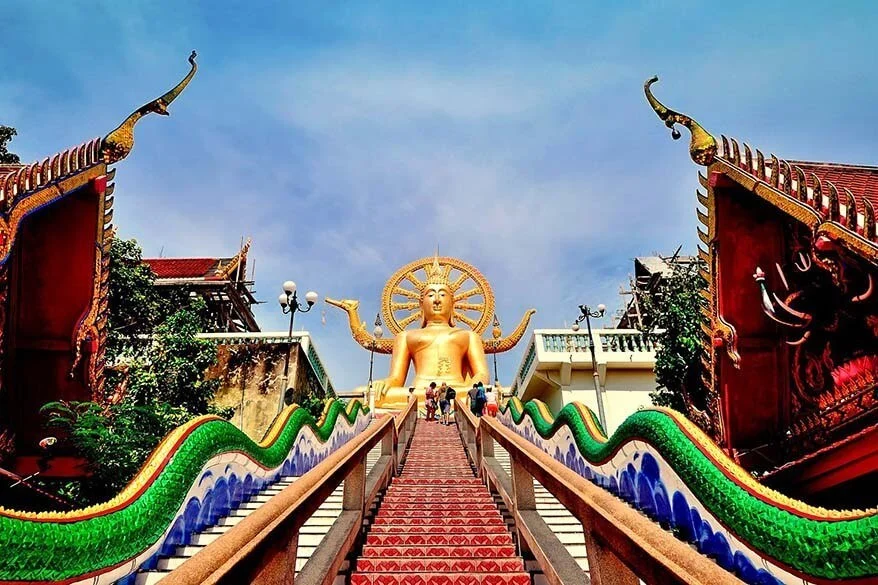 The selection above features some of the best islands that you can easily visit from Phuket. This list is not complete, of course, and there are countless possibilities. Below you can find several wonderful lesser known local islands close to Phuket.
These islands are more suitable for those looking to escape the crowds. They are so close to Phuket that can also serve as a perfect alternative home base for your island-hopping excursions.
We ourselves also opted for this option and, instead of staying in busy Phuket, chose a resort on a little island nearby.
Here is a selection of some incredible off the beaten path islands close to Phuket:
11. Coconut Island
We stayed in a beautiful The Village Coconut Island Beach Resort on Coconut Island, just 5 minutes by boat from Laem Hin Pier in Phuket.
It's a quiet island with a local village and no day tourists at all. In addition, it is so close to Phuket that it allowed us to easily book day trips to the other islands nearby without having to pay more for the same tours offered by the hotel.
TIP: booking online is so much cheaper! See also our practical tips a bit further below.
12. Naka Yai Island
Naka Yai island, just a stone's throw away from mainland Phuket, is popular with day-trippers as well as honeymooners. It's called the Pearl Island and no visit would be complete without a short stop at the pearl farm.
With many wide sandy beaches, few people, and spectacular views of nearby Phang Nga Bay, it's a perfect day trip from Phuket. There is also an exclusive resort on the island that makes me want to book a trip back to Thailand right away. Check it out – The Naka Island, A Luxury Collection Resort & Spa.
The best way to get to the Naka island is by taking a long-tail boat from Ao Por Pier; it takes just 15 minutes.
13. Ko Yao Yai
Another wonderful island that I heard nothing but good things about is Ko Yao Yai, just 25 minutes by speedboat from Bang Rong pier in Phuket.
There are several really nice accommodations on this island and many budget options.
It's a perfect offbeat island getaway for everyone looking for a more unique island experience near Phuket.
14. Ko Yao Noi
A bit more developed nearby Koh Yao Noi island is also easily reachable from Bang Rong Pier. It takes about an hour to get there.
You could visit for a day (check out this local Koh Yao Noi bike tour) or stay on the island a bit longer (there are quite a few accommodation options).
It's a very local island with few tourists and eco-friendly activities and accommodations (you have to check these adults-only Treehouse Villas!). If you are looking for a somewhat different island experience in the Phuket area, this could be it.
15. Ko Mai Thon
If you are looking for a unique and romantic island getaway near Phuket, make sure to check Ko Mai Thon. Maiton is a private island and the best way to visit it is by staying at the exclusive resort Maiton Private Island By Favstay (I'm not sure it's still operating at the moment of the last update though…).
Crystal clear green waters and white-sand beaches, in combination with this beautiful resort – it's a dream island vacation and an experience you won't find in Phuket itself.
Maiton is a perfect honeymoon island in Thailand! If you are on a tighter budget, you can also visit Maiton island as a day trip from Phuket.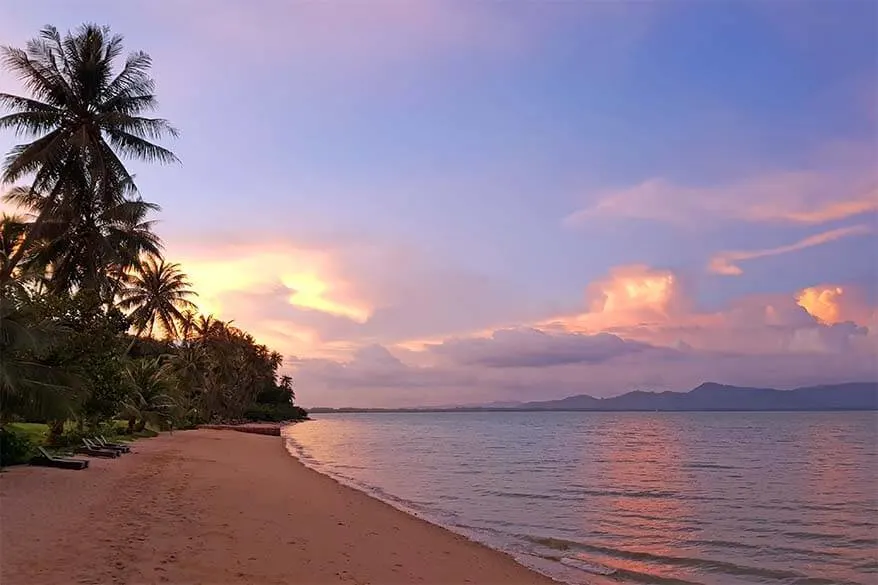 Phuket island hopping – which boat to choose
Depending on which islands you are visiting, you may want to consider different options in terms of transportation.
Take local long-tail boats for shorter distances or off-the-beaten-path experiences – they are perfect for that! Believe me, you really don't want to sit in a long-tail boat for more than an hour – 90 minutes at a time, even if the sea is very calm. Also keep in mind that long-tail boat drivers hardly ever speak any English at all. So sometimes it might be difficult to explain where exactly you want to go.
Book speedboat tours for all bigger distances, such as visiting Similan Islands or Koh Lanta, but also Phi Phi islands and James Bond Island. It allows you to see so much more in a short time and you can spend more time sightseeing than sitting on the boat. It's also rare that anyone gets seasick on a speedboat. But the best of all is that organized tours have set itineraries and English-speaking guides.
Book ferries only for short distances or if you have a lot of time to visit different islands. Ferry transfers are really not ideal for further day trips. Ferries are much slower, you have no flexibility, the groups are much bigger, and if the sea is rough you'll get seasick quicker.
Private speedboat. Many companies offer the possibility to book a private speedboat for day trips near Phuket. However, for longer trips of 8-9 hours, you'll quickly pay 800-900 EUR. Still, it might be worth looking into these options if you are visiting with a big family or a group of friends. If you look well, you might be able to find cheaper options; we didn't find any. Long-tail boats can be a much cheaper alternative for private island hopping tours, but once again, you don't want to do that for very big distances.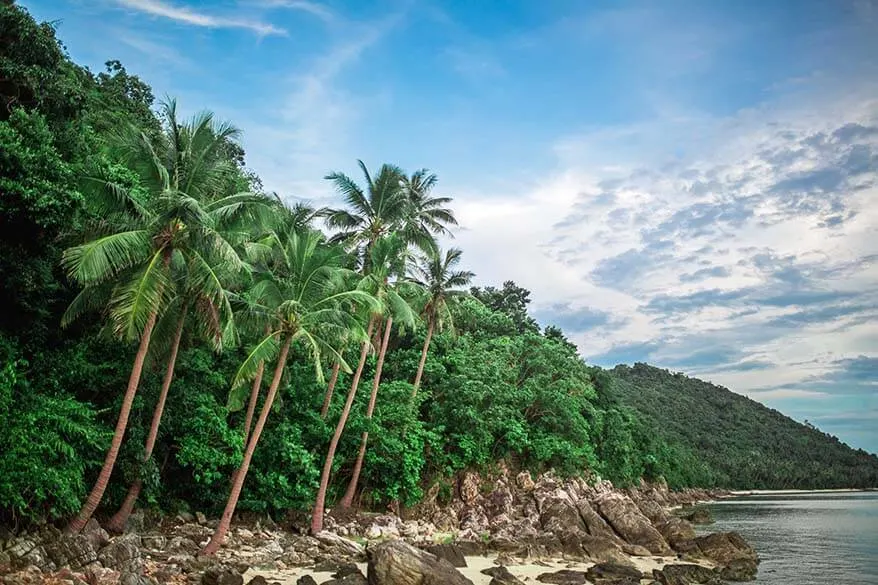 Practical tips for island-hopping day trips from Phuket
When looking into all the options for island hopping from Phuket, you will get overwhelmed with choices. If you don't research in advance, you'll find yourself drowning in the tour brochures and offers everywhere you go… From tour kiosks all over the place, taxi or van drivers, hotel lobby areas and resort activity centers – everyone seems to be selling island hopping tours in Phuket.
You might think that booking tours in Phuket itself will save you time and money, but our experience shows quite the opposite. Booking online lets you compare different offers, itineraries, prices, and read customer reviews.
Furthermore, if you book with a reputable agency (we recommend GetYourGuide which we also used for our tours in Thailand), you have the option to cancel any tour up to 24 hours in advance. It's also easier to get a refund in case of any problems. Try to reschedule a tour or get a refund from a local kiosk…
But that is not all! We found that most island hopping tours were not cheaper if booked in Phuket. Even worse, most tours organized by hotels and resorts were about 50% more expensive. That's a difference of hundreds of euros for a big family like ours… per tour.
The cheapest option by far is to try and arrange all your island hopping tours yourself. However, this is easier said than done and is not always a feasible option if you are short on time.
First, you have to get to the right pier that has the best connections for the islands that you want to visit.
Second, keep in mind that ferries have strict schedules. Most ferry connections in southern Thailand seem to happen in between 8 AM and 1-2 PM; if you want to come back later, you have to make sure there will still be a ferry available.
Third, boat transfers are ok for getting from A to B, but you won't see anything on the way. In most cases, you will still need to hire a long-tail boat to bring you to places worth visiting, but the 'guides' won't speak English… It's a lot of organization, research, and even more hassle if things don't go as planned.
My advice for you is take a real vacation and book organized tours for all island hopping trips that involve visiting more than one destination on the same day. Please see our hand-picked tour suggestions and practical information for each destination above.
Are you visiting southern Thailand and are looking for more ideas on where to go and how to plan your trip?
Check our 2-week Thailand island hopping itinerary that includes many places mentioned in this post, but also brings you to some amazing islands further away. It also includes an incredible nature destination not far from Phuket – Elephant Hills at Khao Sok National Park. Take a look!
Some travel inspiration for Bangkok:
If you found this post useful, don't forget to bookmark it and share it with your friends who are planning to visit Phuket. Are you on Pinterest? Pin this image!