Planning to visit North Cascades National Park from Seattle and wondering how to do it in just a day? In this guide, we share a suggested itinerary for the North Cascades day trip, as well as practical info and tips to help you plan your trip. Find out!
Located close to the USA/Canada border in northern Washington State, North Cascades National Park is one of the more remote and less-visited national parks in the U.S. It takes a bit of effort to get there (and explore it deeper), but you will be rewarded with truly spectacular scenery.
The good thing is that with some good planning, you can easily visit North Cascades (and the adjacent Ross Lake) in a day. This guide will show you exactly how to do that so that you can make the most out of your day trip.
One of the best ways to experience the area is by hiking. But you can also see some jaw-dropping scenery just by driving through the park, stopping at a few viewpoints, and doing a few short walks.
In this guide, we show you a few ways how you could spend a day in North Cascades – one that includes the most spectacular hike, and one that's more easy-going. That way, you can plan your own perfect day trip based on your interests and the time that you have.
Good to know: This article is published in cooperation with fellow travel writer Paul Fuchs of Paul In The Parks. Living in Indiana, USA, Paul is an outdoor enthusiast on a quest to explore every national park in the country. At this point, he has been to nearly 30 parks. In this guide, he shares his experience-based tips for visiting the North Cascades NP.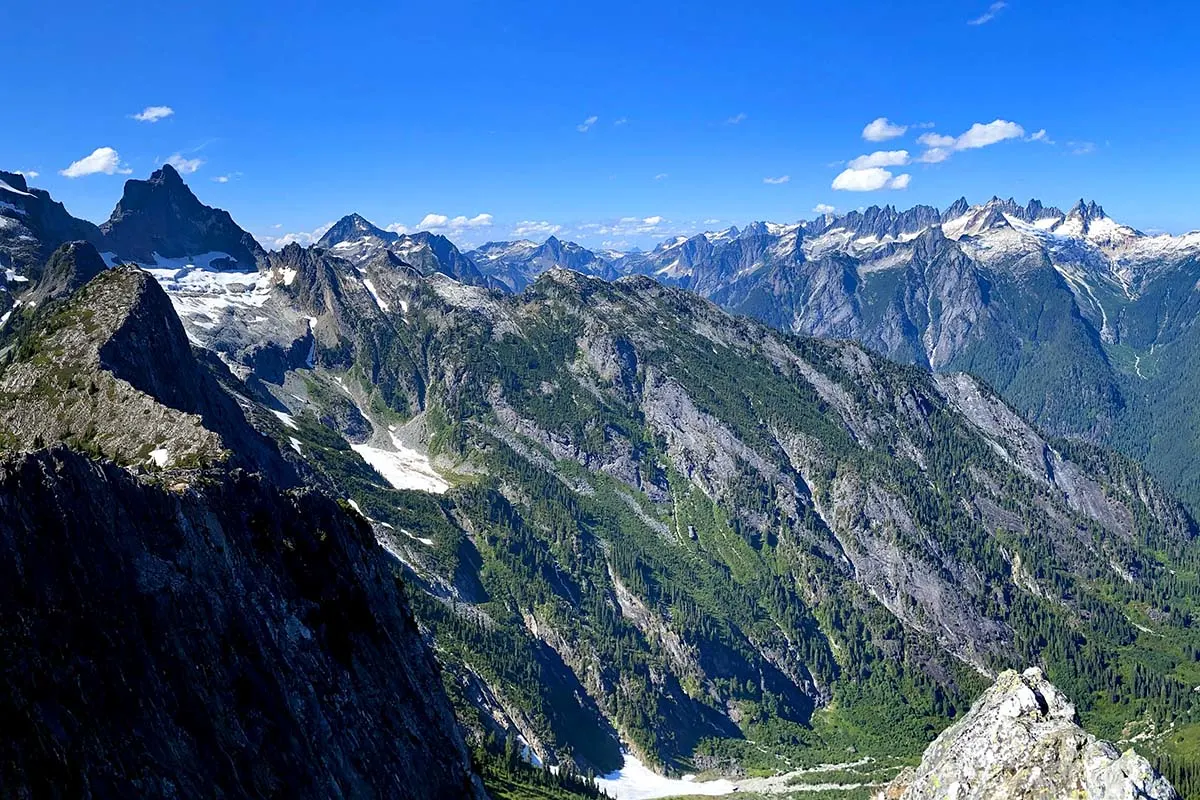 Getting to North Cascades from Seattle
North Cascades National Park Complex is located about 110 miles northeast of Seattle. The drive from the city to the entrance of the park takes 2 hours.
Directions: From Seattle downtown, take I-5 north for about 46 miles until you reach WA-530 E. Continue west for another 46 miles on WA-530 until you reach State Route 20 (aka the "North Cascades Highway"). Continue west for 14 miles and you will reach the complex's west entrance and its entrance sign.
You can see this route on the map below. In addition, further down, you can also find an interactive map indicating all the best places to see in North Cascades in a day.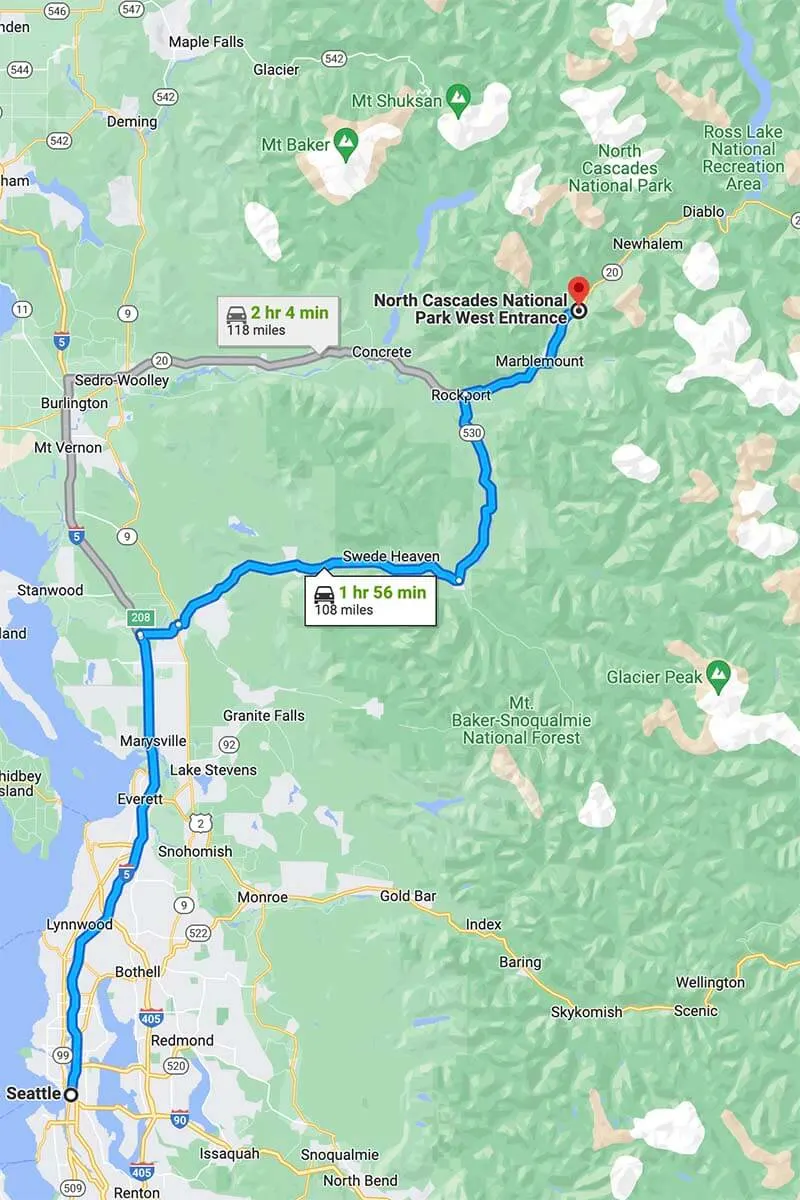 North Cascades & Ross Lake (What's in the name)
Before we start with a suggested itinerary for your North Cascades day trip from Seattle, there are a few things you may want to know about the layout of the park.
When people talk about North Cascades National Park, they are usually referring to both the actual national park and the park that bisects it, Ross Lake National Recreation Area.
Ross Lake contains three lakes formed by dams along the Skagit River. Due to the presence of manmade structures and power lines, this area was designated separately as a "national recreation area", and is not technically part of the national park.
North Cascades Highway (SR20) and Ross Lake are the main areas that most people visit. That's because the rest of the park is more remote and can only be accessed either by hiking or driving on unpaved roads.
With just a day in North Cascades, you will be focusing on these main areas. So in this article, we refer to North Cascades and Ross Lake jointly as the North Cascades National Park Complex (or simply North Cascades National Park).
Now that the semantics are out of the way, let's see how to plan a day trip to North Cascades.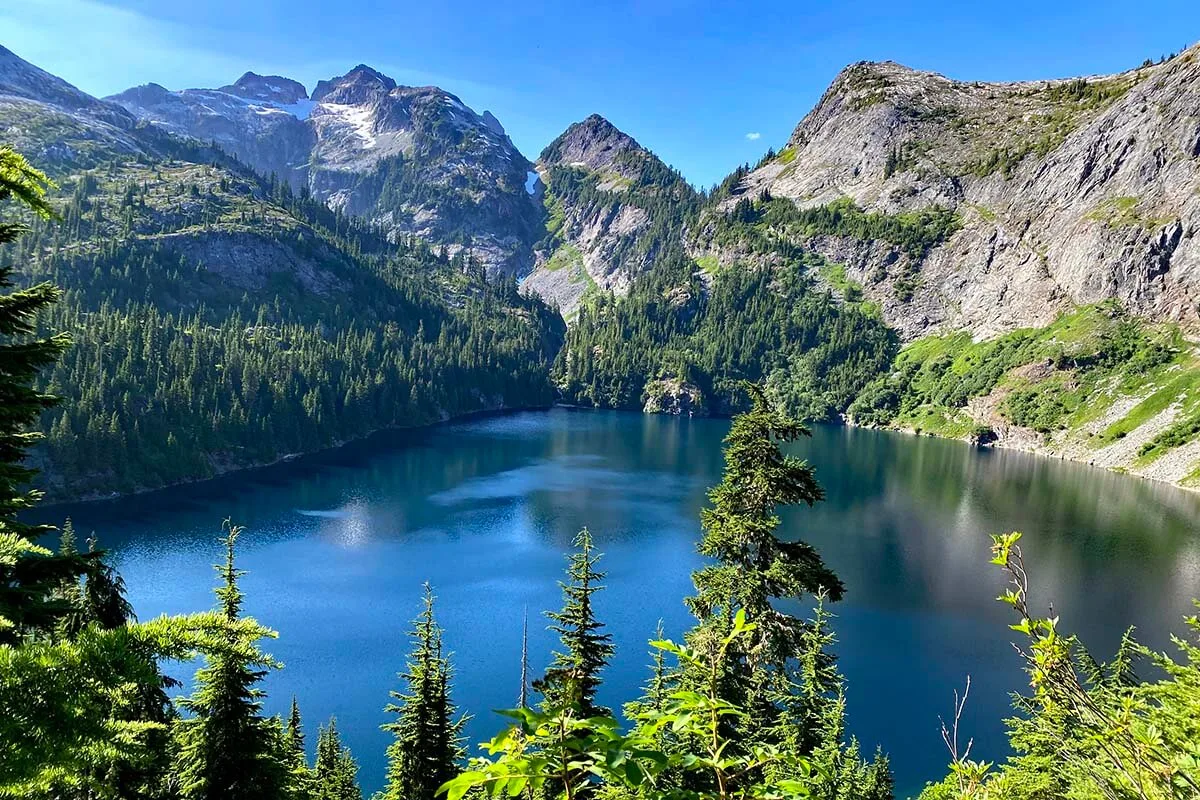 North Cascades 1-Day Itinerary
First, if you want to experience the best that North Cascades has to offer, the best time to visit is between late June and early September. Late September – early October is a good time to visit North Cascades for stunning fall colors. In fact, this is one of the best USA national parks to visit in September!
Snow typically closes the North Cascades Highway from November through April. Most snow at lower elevations is usually melted by mid-to-late June.
Visiting in the summer also means that the days will be longer, giving you much more daylight to comfortably plan your North Cascades day trip, especially if driving from Seattle.
Good to know: The main attractions of North Cascades National Park are fairly condensed, making it possible to see the top places in a day. The actual itinerary depends on what you choose – a longer hike or a more easy-going visit with several scenic stops along the main road and one or two short hikes.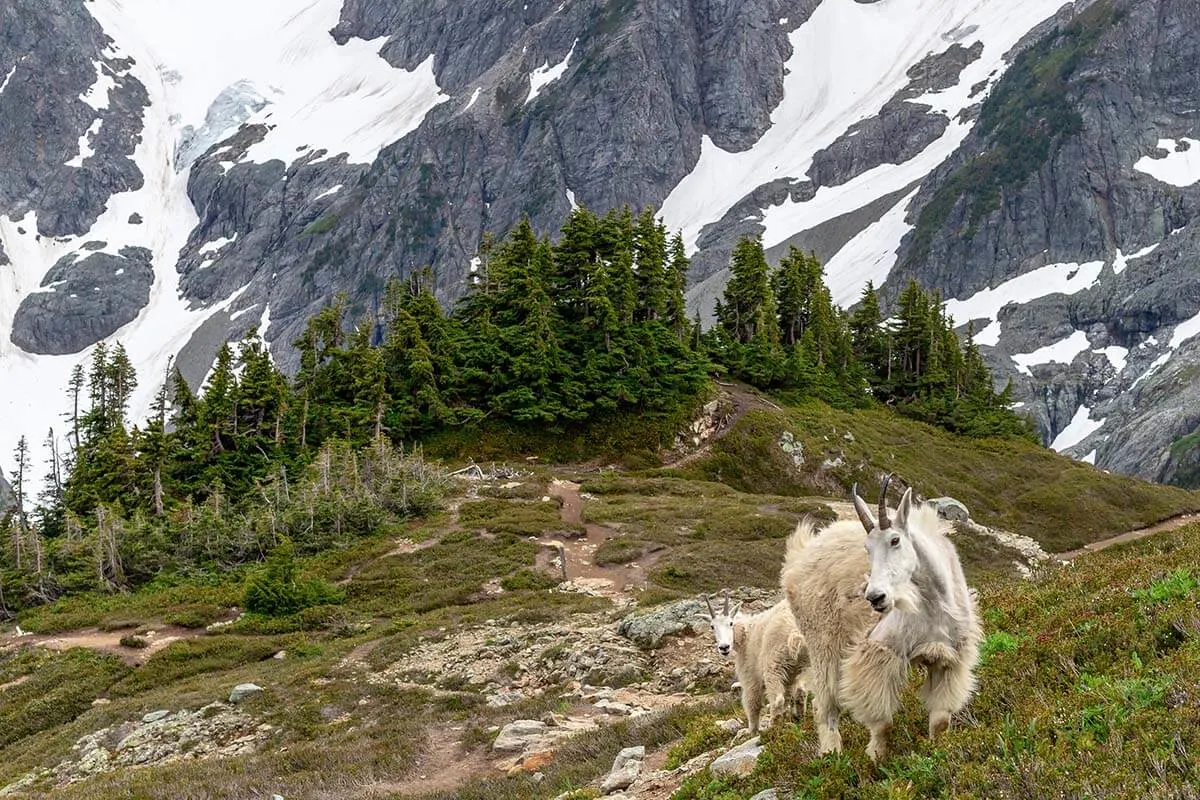 What to See in North Cascades in a Day Trip Itinerary
Now, let's take a look at what you can see and do in North Cascades in a day. Further below, you can find a short overview of this itinerary, but first – all the nicest places to see.
Here are some of the best places to see on your day trip to North Cascades, if arriving from Seattle:
North Cascades Visitor Center & Sterling Munroe Trail
As you drive from Seattle to North Cascades National Park and enter the park from the west, you will soon come across the Visitor Center.
This is a good place to stop to stretch your legs, use bathroom facilities, and also get some information for your visit or ask any questions to the park rangers.
If you feel like it, you can also take a short walk on the Sterling Munroe Trail which starts right at the visitor center. This easy boardwalk walk of just 110 yards (100 meters) brings you to a nice viewpoint with Picket Mountains in the distance. It takes less than 5 minutes, so definitely check it out.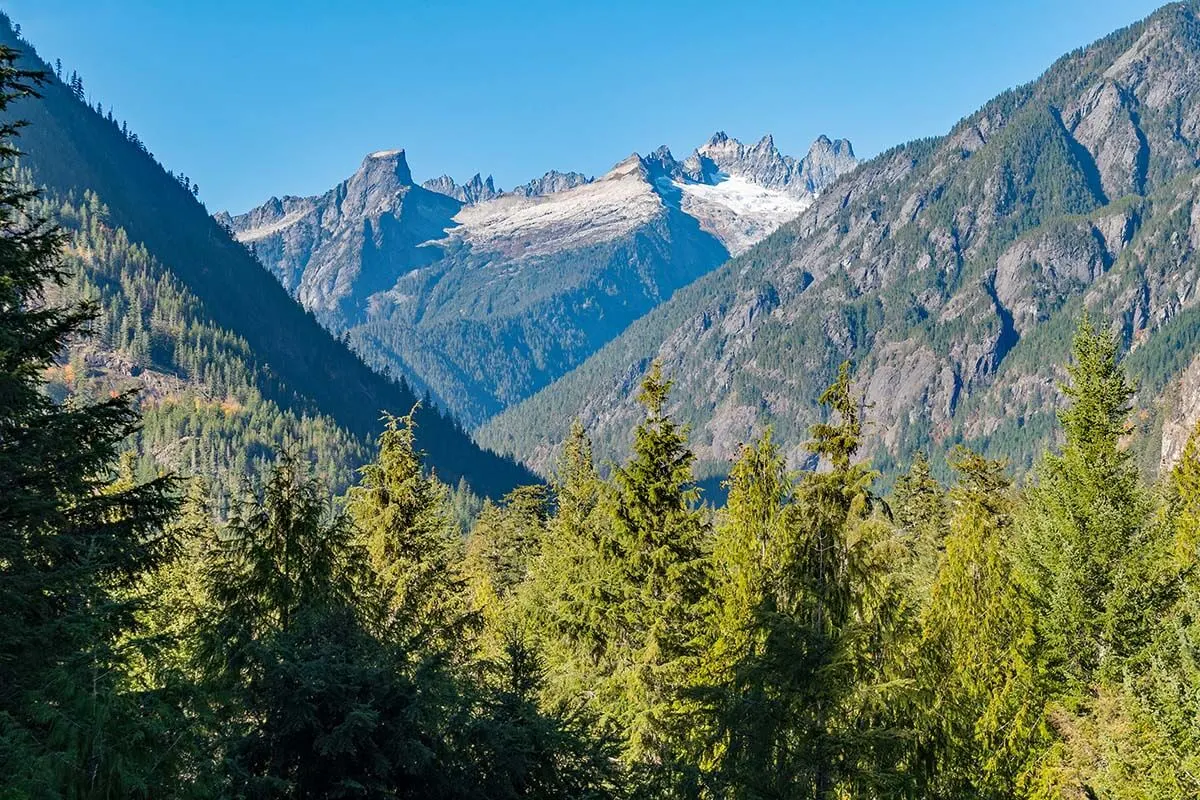 Trail Of The Cedars
Next, head to the historic town of Newhalem, where you can do another short walk. The Trail Of The Cedars is a 0.5-miles (0.8 km) easy loop trail through the woods where you can see some giant red cedar trees.
But one of the highlights here is the suspension bridge over the Skagit River at the start of the trail. Even if you don't want to walk further, it's worth getting out of the car to walk over this bridge.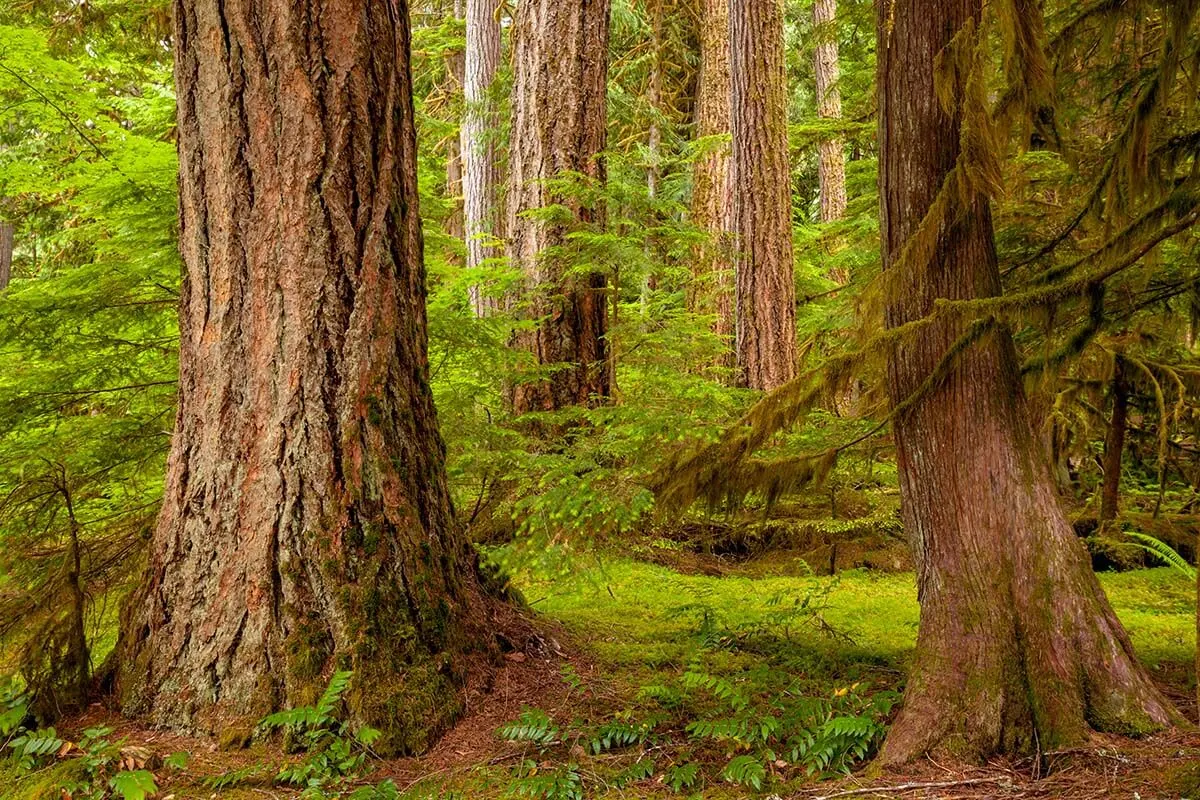 Ladder Creek Falls
Ladder Creek Falls could be your next stop, just a bit further along the river. In fact, the two trails are so close to each other that you could just leave your car in one place and walk to the other. It's best to park your car across Gorge Powerhouse.
Be sure to check the location on our map below, especially if using Google Maps, because it has two different locations for Ladder Creek Falls, one of which is totally wrong.
Ladder Creek Falls is another short walk of just 0.4 miles (0.6 km), but it goes uphill and involves some stairs. Also here, you'll need to cross a suspension bridge in order to reach the falls on the other side of the river. The trail then takes you through the woods and to a nice little waterfall.
In addition, you can also stop at the old Gorge Powerhouse where you can read more about the history of the development in this area.
Good to know: Ladder Creek is nicely lit in the evenings. So if you still have some energy left after all the sightseeing, come back here at the end of the day again.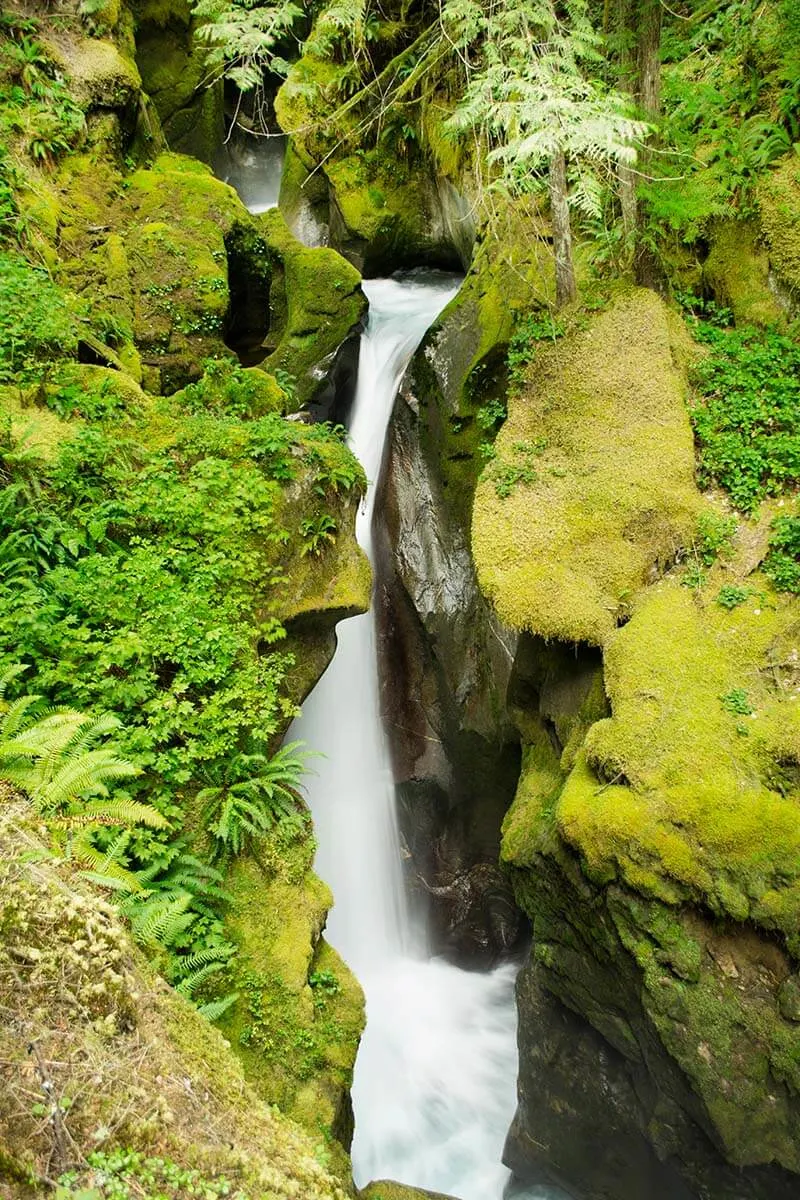 Gorge Overlook
As you drive further east on the North Cascades Highway, be sure to take in the scenery around you. A dense pine forest will occasionally part to reveal breathtaking views of the surrounding mountains.
Along the way, you'll pass several waterfalls, most notably the Gorge Creek Falls. Consider making a brief photo stop here.
You can just enjoy the view from the bridge, or you can also opt for a short walk to the overlook of Gorge Lake where you can see the blue waters of the lake and the river dam below.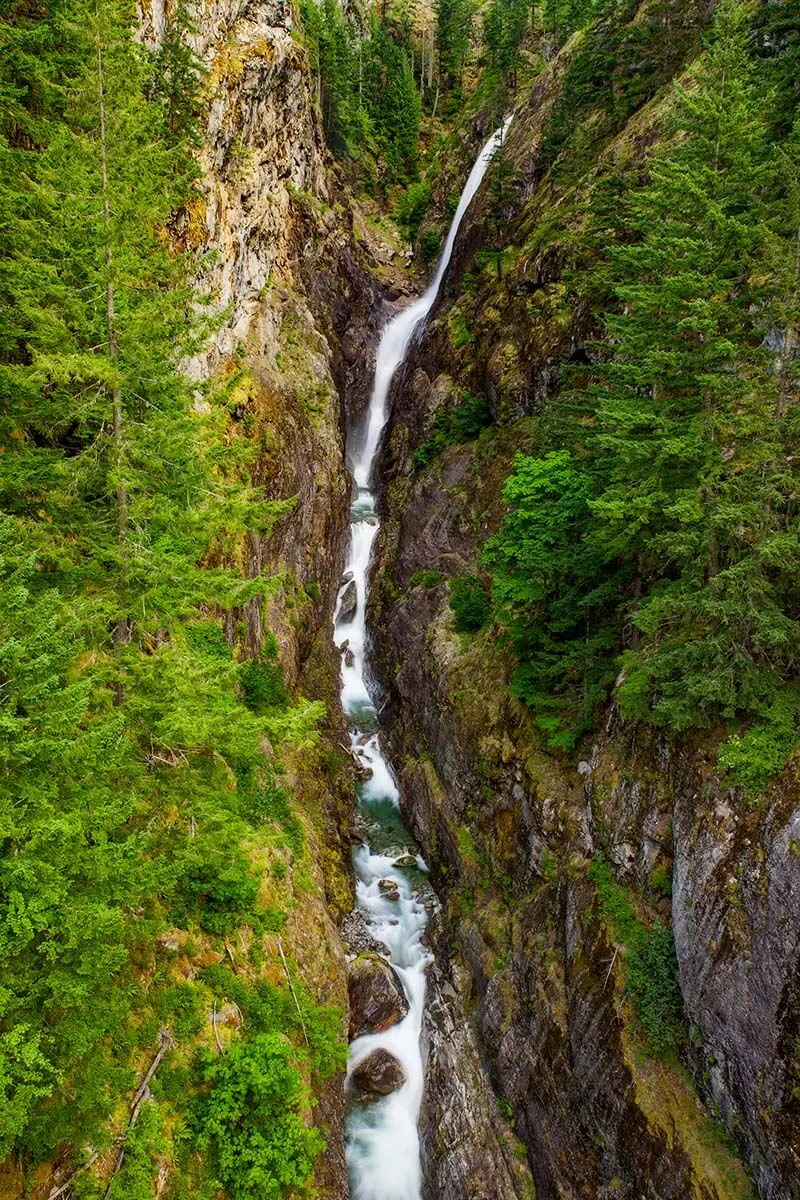 Diablo Lake Overlook
Then drive another 8.5 miles to Diablo Lake, one of the must-sees in North Cascades. As you near the lake, you will catch glimpses of vibrant blue-green water through the trees. A bridge just past the Thunder Knob trail will provide your first full look at Diablo Lake and the impressive mountains that surround it.
A few minutes later, you will reach the Diablo Lake Overlook (aka Diablo Lake Vista Point). This is an amazing viewpoint of Washington's most impressive lakes.
Surrounded by snow-capped mountains, glaciers, and dense pine forests, Diablo Lake has a brilliant blue-green color. The glaciers grind rock into a fine powder, which is deposited into the lake via streams and creeks. The powder creates a unique hue that looks most vibrant on a clear, sunny day.
This alpine scene is extremely picturesque and looks like a real-life postcard. See the picture below and also the featured image at the top of this article.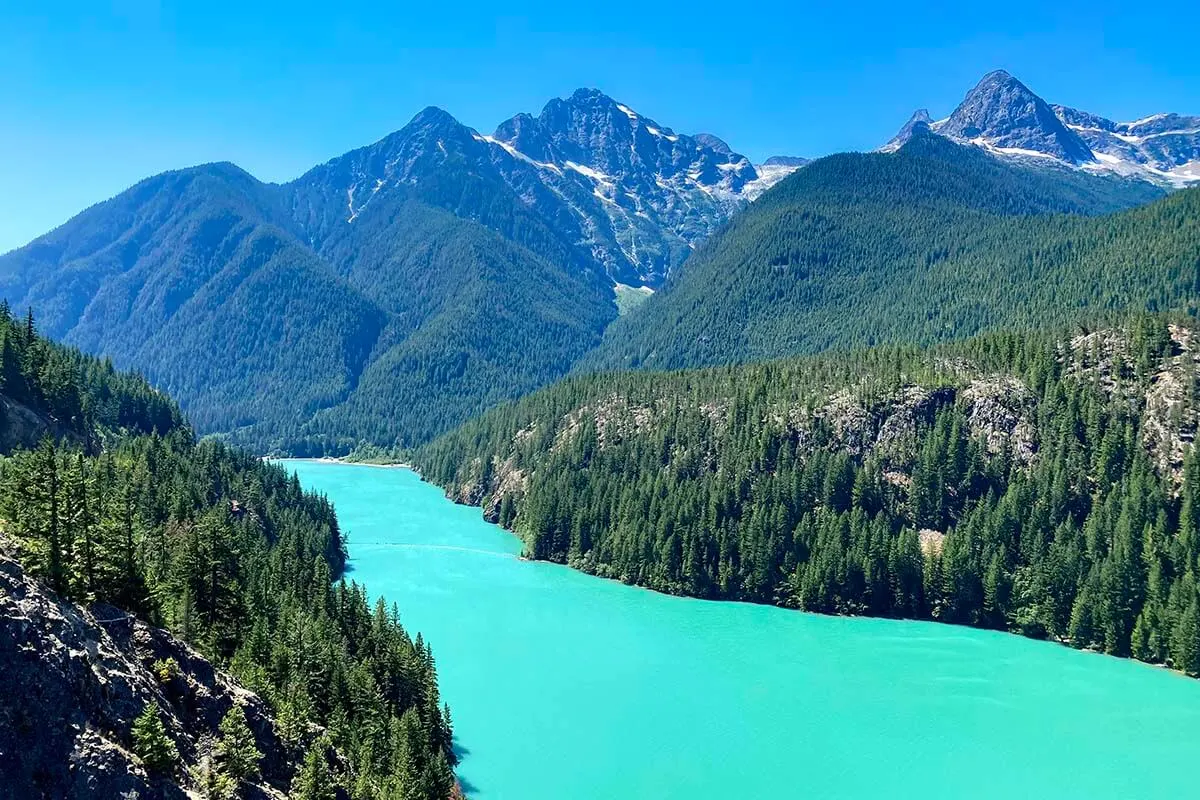 Ross Lake
Next, continue east down the highway, and in just a few minutes, you will reach Ross Lake Overlook. While not as vibrantly colored as Diablo Lake, Ross Lake's deep blue hue makes it really beautiful too.
The lake – formed by Ross Dam – is huge. It stretches to the north for many miles through the Cascade Mountains and even over the Canadian border. It offers all kinds of recreational activities, from circumnavigating the lake via a long network of trails to kayaking across its clear waters.
With just a day in North Cascades, you won't have much time for water activities. On the other hand, if you decide not to do any of the longer hikes in the afternoon, you could take a boat shuttle or hike to Ross Lake Resort where you can rent motorboats, canoes, kayaks, and paddleboards (more info here).
Alternatively, backtrack west briefly on the highway to find the Ross Dam Trailhead. This trail is relatively short (1.5 miles (2.4 km) roundtrip) and offers a chance to walk across Ross Dam and see Ross Lake up close. It also provides some great views of the surrounding mountains. The elevation gain is 500 ft (150 m), and you should count about 1 hour for this hike.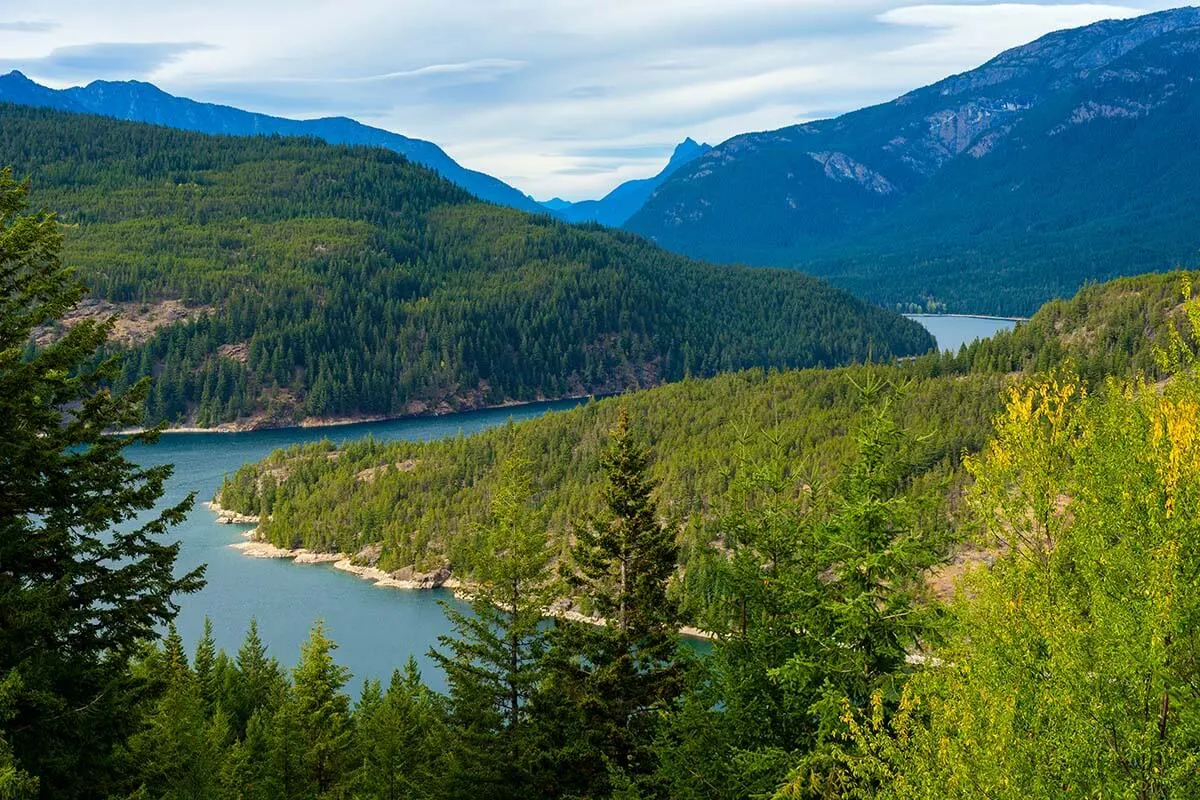 Washington Pass
Next, continue further east along the North Cascades Highway to Washington Pass. It's about 30 minutes drive to get here from Ross Lake. But the drive is very scenic and really worth it.
The mountain backdrops here are truly stunning and the views from the Washington Pass Observation Site are jaw-dropping. Together with Diablo Lake Overlook, Washington Pass is one of the must-sees in North Cascades!
The viewpoint is located just near the car park, so a photo stop here doesn't require much time. In addition, there are a few really nice hikes that we recommend considering in this area, so it's not a big detour to come here.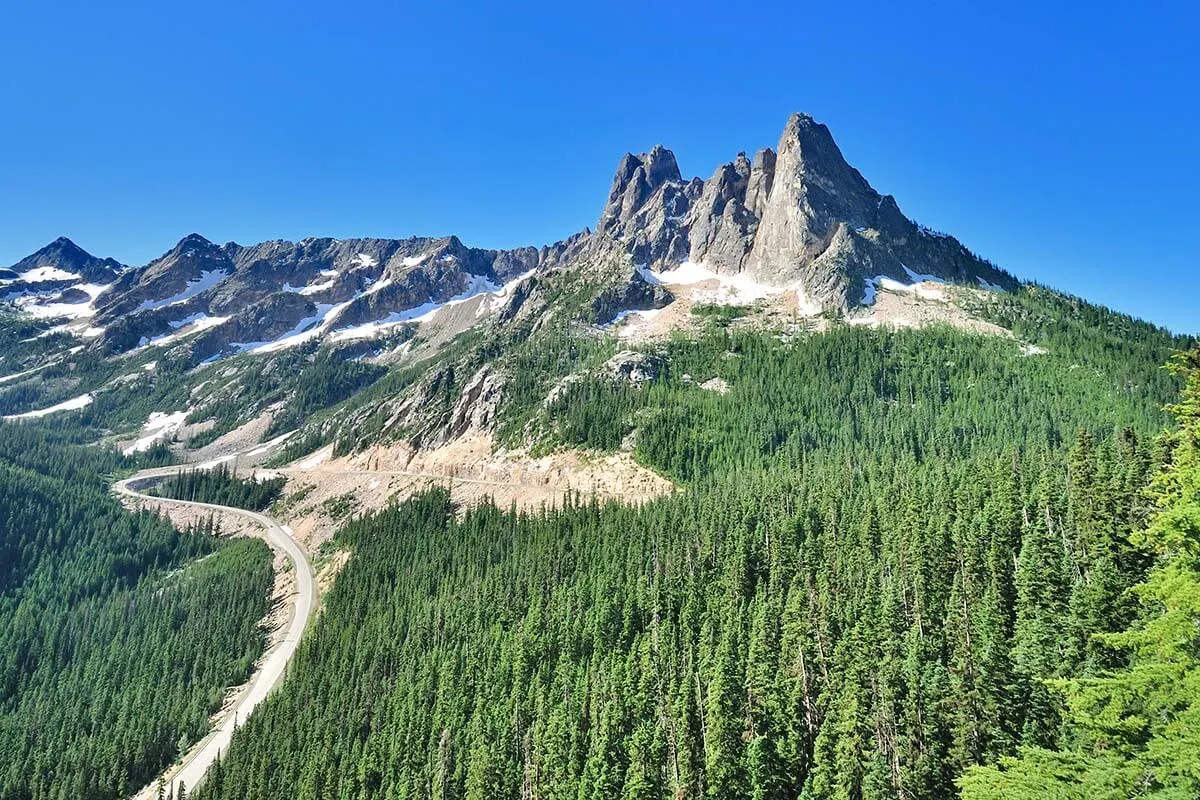 Blue Lake Hike
There are so many amazing hikes in North Cascades National Park. But if you are visiting for just a day, you may not be eager to spend 4-8 hours hiking…
With just one day in North Cascades, we recommend considering the Blue Lake trail, which starts just a mile down the road from Washington Pass overlook. This is a moderate 4.5 miles (7.2 km) out-and-back hike that takes about 2-2.5 hours to complete.
With a gradual incline and elevation gain of about 1,000 ft (300 meters), the hike doesn't feel too challenging, and it's really rewarding. Plus, you may get lucky and see some wildlife along the way. However, this is also a very popular hike, so the biggest challenge might be finding parking.
Good to know: This hike is also very popular for fall colors, and it's also doable in the late fall when the first snow has fallen already. In that case, hiking poles and traction cleats are recommended.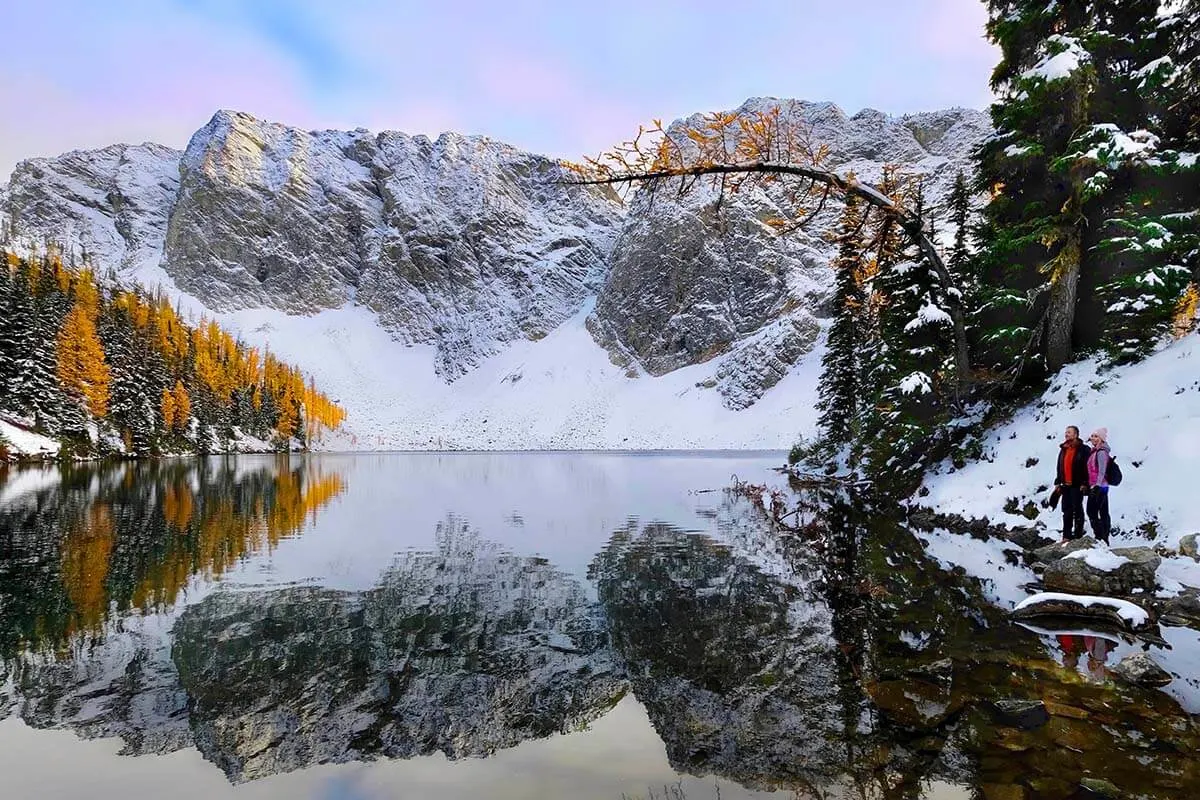 Alternative – One of the Longer Hikes
Alternatively, if you prefer to do more hiking or get a bit more off the beaten path, consider one of the longer trails. In that case, we recommend one of the following:
Maple Pass Loop (7.2 miles – 4-5 hours, 2,000 ft (600 m) elevation gain).
Cascade Pass to (7.4 miles – 4 hours, 1,700 ft (550 m) elevation gain).
Thornton Lake & Trappers Peak Hike (12 miles – 6.5 hours, 4,000 ft (1,200 m) elevation gain). if you do this hike in the summer, you could go for a swim in the lake.
These are all fantastic – but rather long – hikes. Furthermore, only the Maple Pass Loop starts next to the main highway. The other two require quite a drive (unpaved roads too) even just to get to the trailhead.
So if you opt for one of the longer hikes, you will need to start your day really early, and definitely if driving to North Cascades from Seattle and returning on the same day. In addition, you may want to skip some of the stops from our recommended itinerary (such as the Trail of the Cedars, Ladder Creek Falls, or Ross Dam Trail). You could also stop at Ladder Creek Falls at the end of the day if you still have some energy after all the hiking (to see it lit in the dark).
You'll also need a solid level of fitness to complete the longer hikes, and will need to check the time frequently so that you don't get caught in the park after sunset. Our writer visited North Cascades from Seattle and – in addition to the main viewpoints – did the Thornton Lake/Trappers Peak Hike. So it's definitely possible, but don't underestimate it.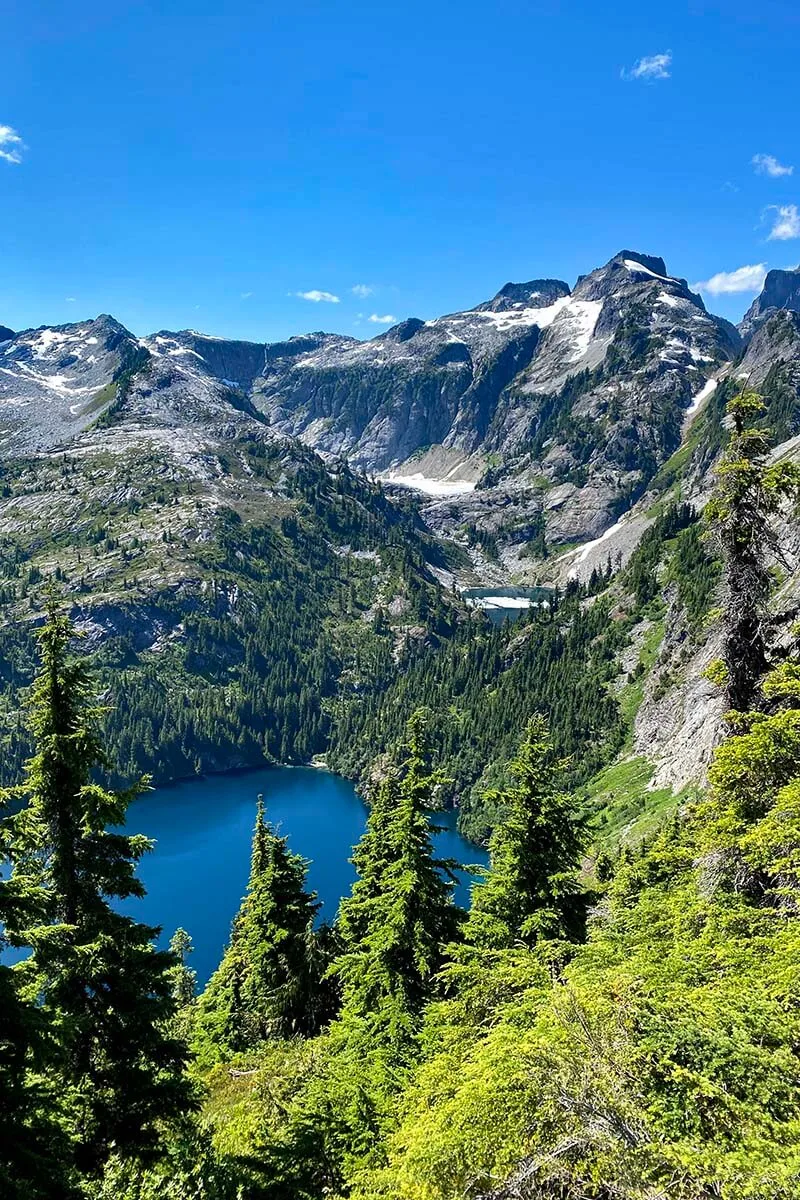 Where to Stay
The final decision when planning a North Cascades day trip is where you'll stay at the end of the day. Here are the best options:
If you are doing a day trip to North Cascades from Seattle, you'll have about a 2-3 hour drive back to the city (depending on which hike you chose).
Alternatively, if North Cascades is just part of a bigger road trip, you'll likely continue east toward Winthrop, WA. This small town has good facilities and is the best place to stay near North Cascades. Be sure to book your accommodation in advance because the options are rather limited, and summer is the peak travel season here. TIP: We recommend Methow River Lodge. It's one of the nicest places here, plus it includes breakfast.
If you are headed back to the western side of the park and are looking for a place to stay near North Cascades, the nearest place with a few lodging options is Concrete, WA.
This sums up our detailed itinerary. Below, you can see an overview of all the best places that you can see in North Cascades in a day, as well as a map, and approximate times needed for your visit. Take a look!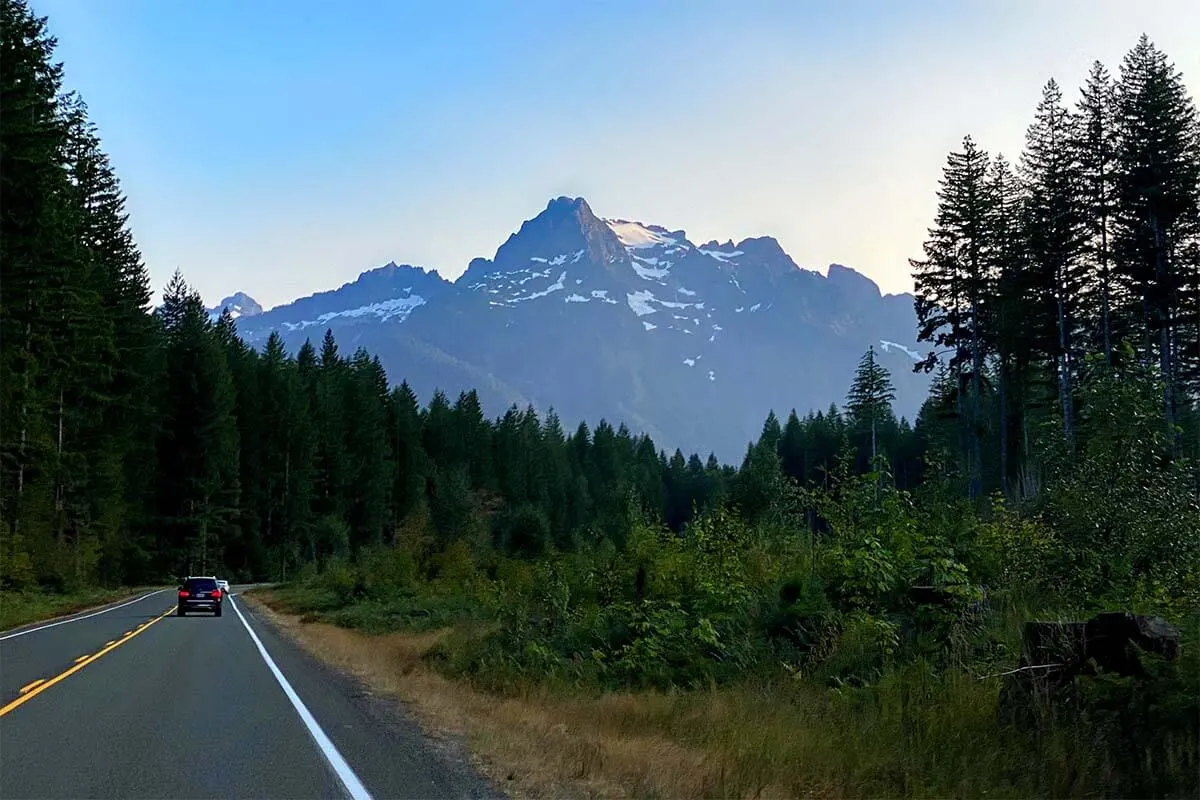 North Cascades Day Trip Itinerary & Map
Here is a summary of our recommended itinerary for visiting North Cascades in one day. It starts and ends in Seattle. Of course, as mentioned above, you can decide to stay closer to the park as well – that will make your day more relaxing.
To help you plan your visit, we also created a map indicating all these places (see down below). That way, you can see exactly how it all fits together.
This is our recommended 1-day North Cascades itinerary from Seattle that includes all the top spots and one easy/medium hike. This itinerary is doable for the entire family, and you can adjust it to include even less hiking if you prefer.
Here is what your North Cascades day trip could look like:
Drive from Seattle to North Cascades west entrance (2 hours).
Visitor center & Sterling Munroe Trail (15 minutes).
Suspension Bridge to Trail Of The Cedars (15-30 minutes).
Ladder Creek Falls (15-20 minutes).
Gorge Lake Overlook 15 minutes).
Diablo Lake Overlook (15 minutes).
Ross Lake Overlook (15 minutes).

Optional: Ross Dam Trail (1 hour, 1.5 miles) or a boat on Ross Lake.

Washington Pass (15 minutes + 30 minutes drive).
Blue Lake Hike (4.5 miles – 2-2.5 hours round trip).

Alternative hikes: Thornton Lake & Trappers Peak Hike (12 miles – 6-7 hours) or Maple Pass Loop (7.2 miles – 4-5 hours).

Return to Seattle (3 hours) or continue your trip wherever you are headed.
As you can see, this would be a rather full day – about 10-14 hours depending on the choices that you make. Plus, you should add some extra time for picnic and bathroom stops, etc. All in all, if you want to visit North Cascades from Seattle for a day, we highly recommend that you leave the city very early. Also, only opt for a very long hike if the weather is exceptionally beautiful and the days are long (summer).
How to use this map: Use your computer mouse (or fingers) to zoom in or out. Click on the icons to get more information about each place. Click the arrow on the top left corner for the index. Click the star next to the map's title to add it to your Google Maps account. To view the saved map on your smartphone or PC, open Google Maps, click the menu and go to 'Your Places'/'Maps'. If you want to print the map or see it in a bigger window, click on 'View larger map' in the top right corner.
Tips for Your North Cascades Day Trip
Here are some additional tips for visiting the North Cascades National Park Complex:
Check the weather before you go! Visiting North Cascades in the summer improves your chance of a sunny day. However, the weather in Washington state is still unpredictable. If you are planning a day trip to North Cascades from Seattle, simply pick a different day to visit if the weather is looking unfavorable. If your plans are not flexible, adjust your itinerary based on the weather.
Start your day early! The itinerary suggests leaving Seattle no later than 7 am in order to maximize daylight in the park. If you are willing and able to leave even earlier, do that (or stay closer to the park).
Be flexible with the schedule and note sunset times. Visiting North Cascades in the summer means that you will get a lot more daylight to explore the park than, for example, visiting in the fall. You do not want to get caught on the trail when it's dark, so keep an eye on the time. Also, choose a hike that you feel comfortable with, and based on the weather and the season when you visit!
Pack plenty of food and water. Bring lots of high-calorie, high-protein, salty snacks for hiking. Protein bars, tuna packets, fruit snacks, trail mix, and energy chews are all good to pack. In the summer, you will need a few bottles of water for the longer trails, and some extra water to sip on while in the car. Packing a picnic will also make it easy to make the most of your day without having to worry about where to eat.
Prepare for snow. Bring trekking poles and/or trail crampons in case you encounter patches of snow at higher elevations (especially in the shoulder season).
Prepare for wildlife encounters. It's always a good idea to pack bear spray when going hiking in North Cascades.
Stay overnight if you want to spend more time in the park. If you want to spend multiple days in the park but don't want to backpack, there are a few campgrounds in the North Cascades Complex that offer reservable campsites. On the NPS website, you can find more info about (limited) lodging inside the park. Alternatively, as already mentioned, Winthrop, WA, is the best place to stay nearby.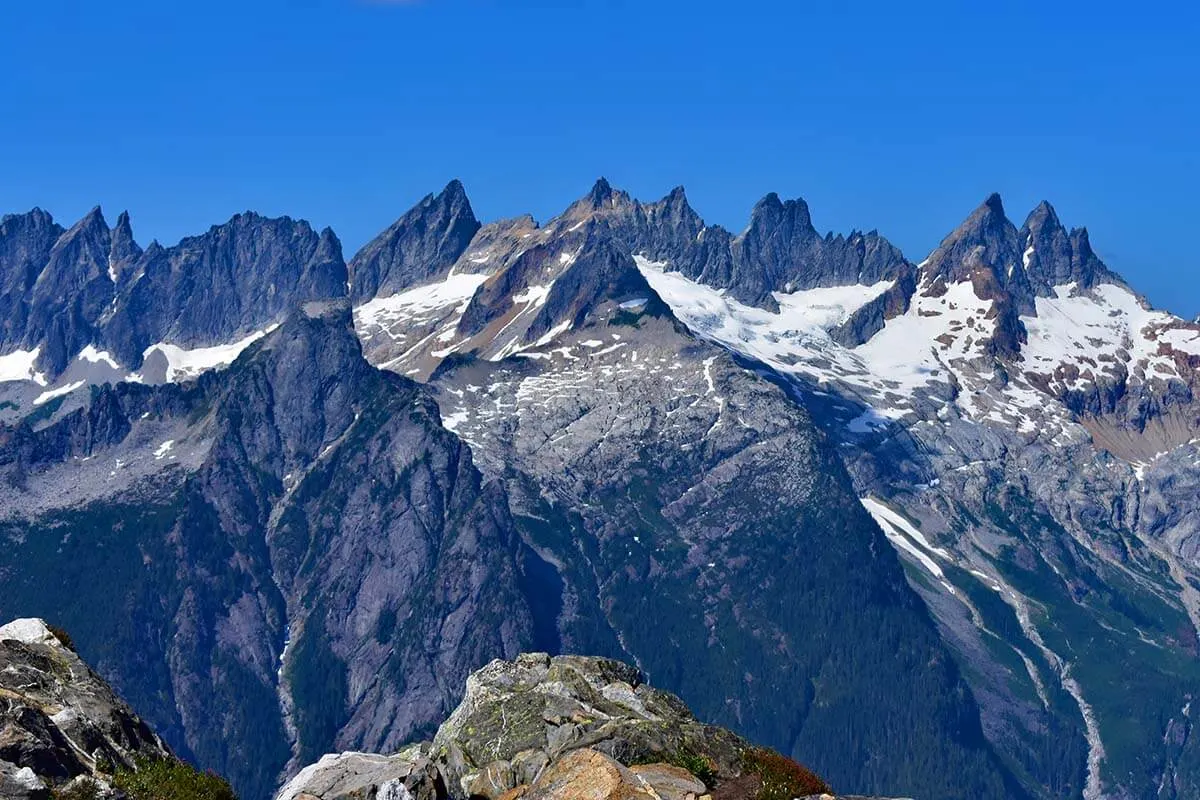 So, this is our recommended itinerary for one day in North Cascades National Park.
We hope that it gives you a better idea of what to expect, the best places to see in North Cascades, and how to best plan your day.
Have a great trip!
YOU MAY ALSO LIKE: Olympic National Park Itinerary (tips for any trip duration)
If you found this post useful, don't forget to bookmark it and share it with your friends. Are you on Pinterest? Pin these images!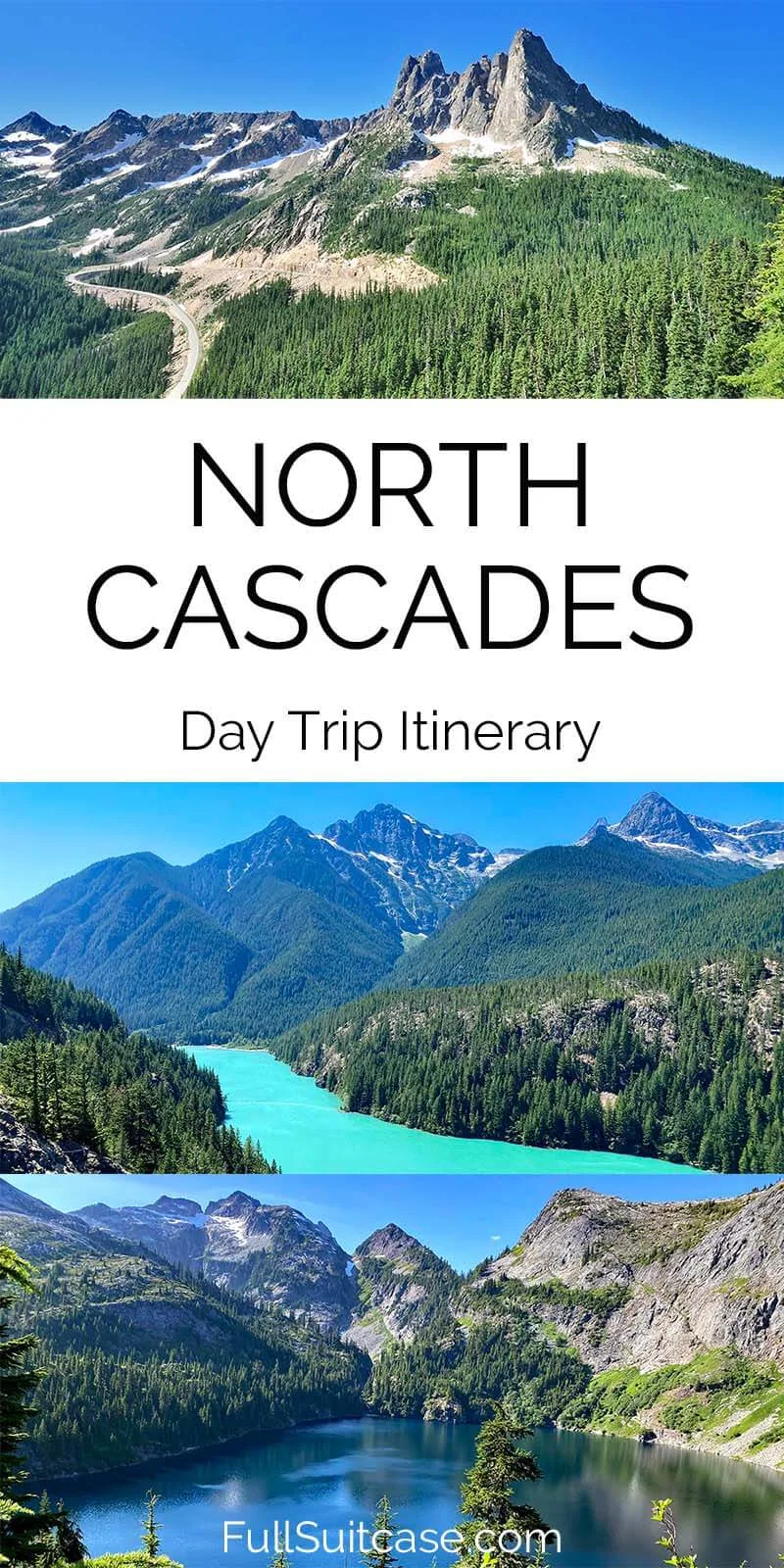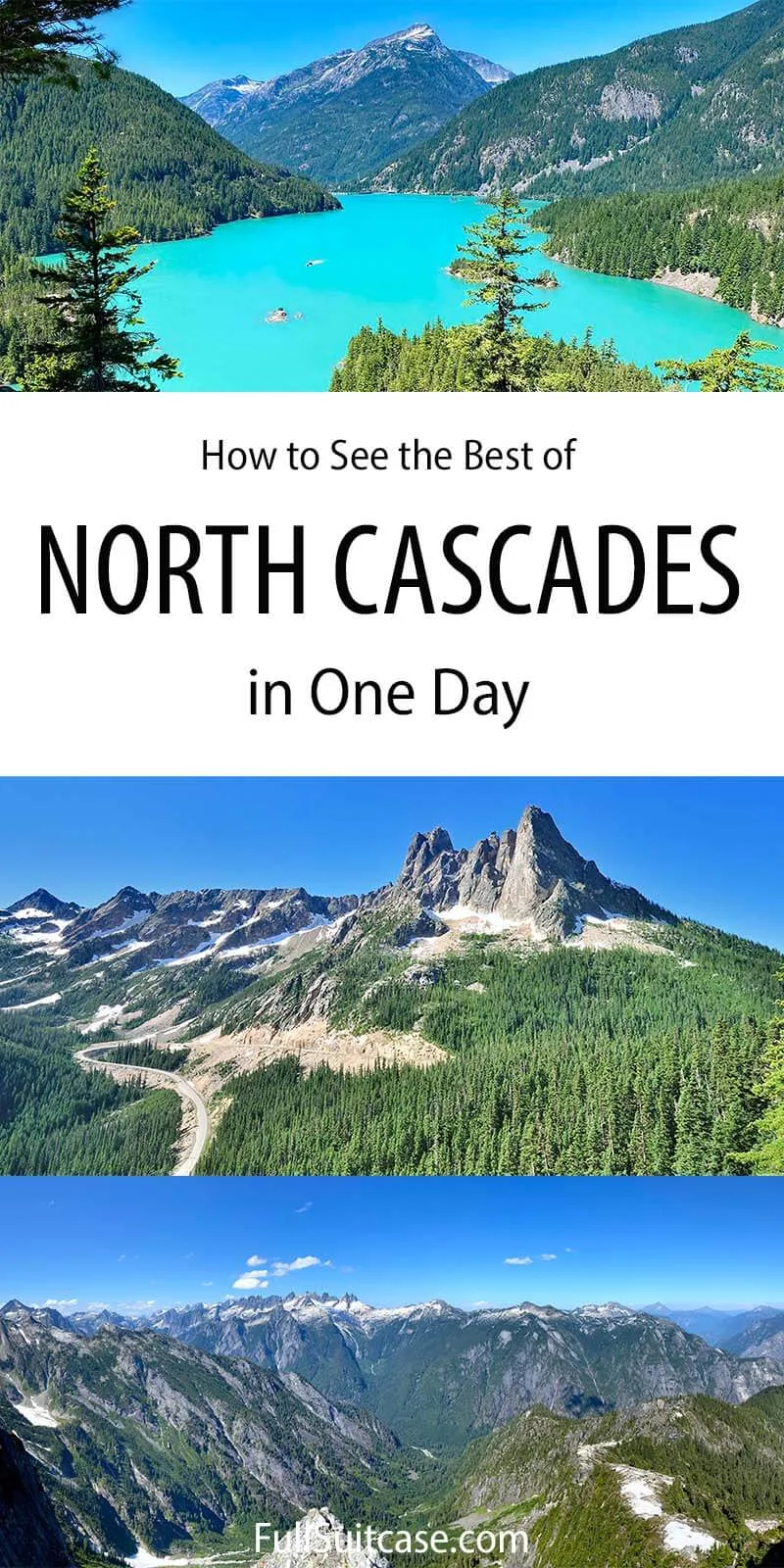 Photo credits: Paul In the Parks and Depositphotos.com
More travel inspiration for some of our favorite National Parks in the USA: