Are you considering a Zakopane day trip from Krakow and wondering what to expect or which tour to choose? In this guide, you can find a Zakopane tour review and our experience-based tips to help you plan a perfect day. Find out!
Zakopane is a charming mountain town located in southern Poland, close to the Slovakian border. It's known for its natural beauty and stunning mountain landscapes of the Tatras Mountains. In addition, you'll find traditional architecture, lots of shops, restaurants, and cafes. The area is also famous for its thermal waters and no visit to Zakopane would be complete without a soak in its hot baths.
Attracting tourists and outdoor enthusiasts alike, the town has a lively atmosphere any time of the year. In the summer, you will find plenty of hiking possibilities and in the winter, it's a popular ski resort. The winter scenes of the town covered in the snow make it look just like a Christmas card. No wonder Zakopane is referred to as the winter capital of Poland
But Zakopane is well worth a visit in any season, even if you don't have the time for summer hiking or winter activities. And because it's located just 110 km south of Krakow and the drive takes less than 2 hours, Zakopane makes a perfect day trip destination from Krakow.
Please note that in this guide we use pictures from different seasons. That way, you get a better idea of what you can expect when visiting Zakopane at any time of the year.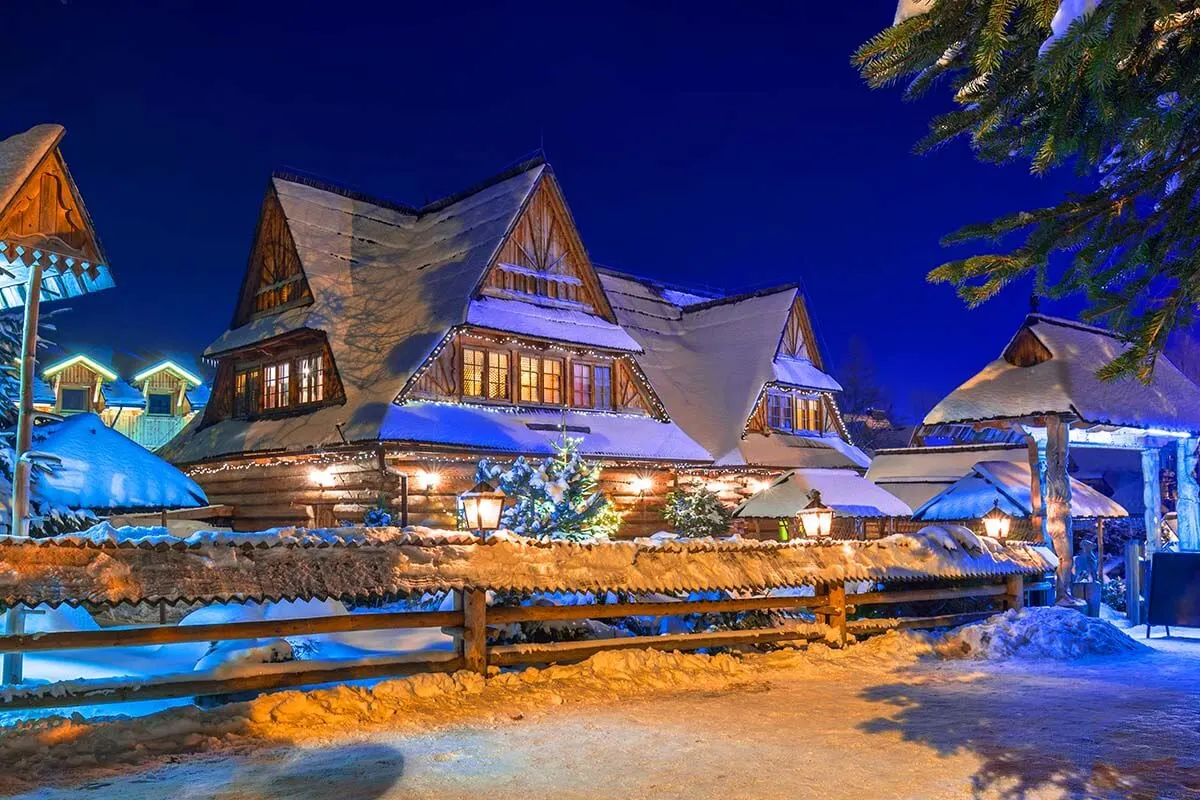 Good to know: You can visit Zakopane on your own or you can book an organized day tour from Krakow. If you are going for just a day, it's simpler to just book a tour. There are tons of tours to choose from and the prices, as well as itineraries, are quite similar. Most Zakopane day tours include a funicular ticket, a visit to the geothermal baths, and some food options, plus some free time in town.
Our writer Christine recently visited Zakopane from Krakow on this highly-rated day tour. In this guide, you can read about her first-hand experience and an honest tour review giving you a good idea of what to expect. Take a look!
When we first visited Krakow a few years ago, our guide at that time suggested we took a day trip to the mountain town of Zakopane. As we were only in Krakow for 3 days and had already booked lots of activities, we had to give it a miss at that time.
But after looking up photos of this resort town when we got home, we knew we would have to make another trip to Poland just to visit Zakopane. So recently, we booked the flights back and finally got to see Zakopane in all its glory as part of this tour.
It was an unforgettable day – and in this article, you'll find out just what we did in Zakopane.
TIP: When you book this Zakopane day tour, you have several options to choose from. For the best experience, we recommend that you go 'all-in' with the funicular ticket and thermal baths entry included!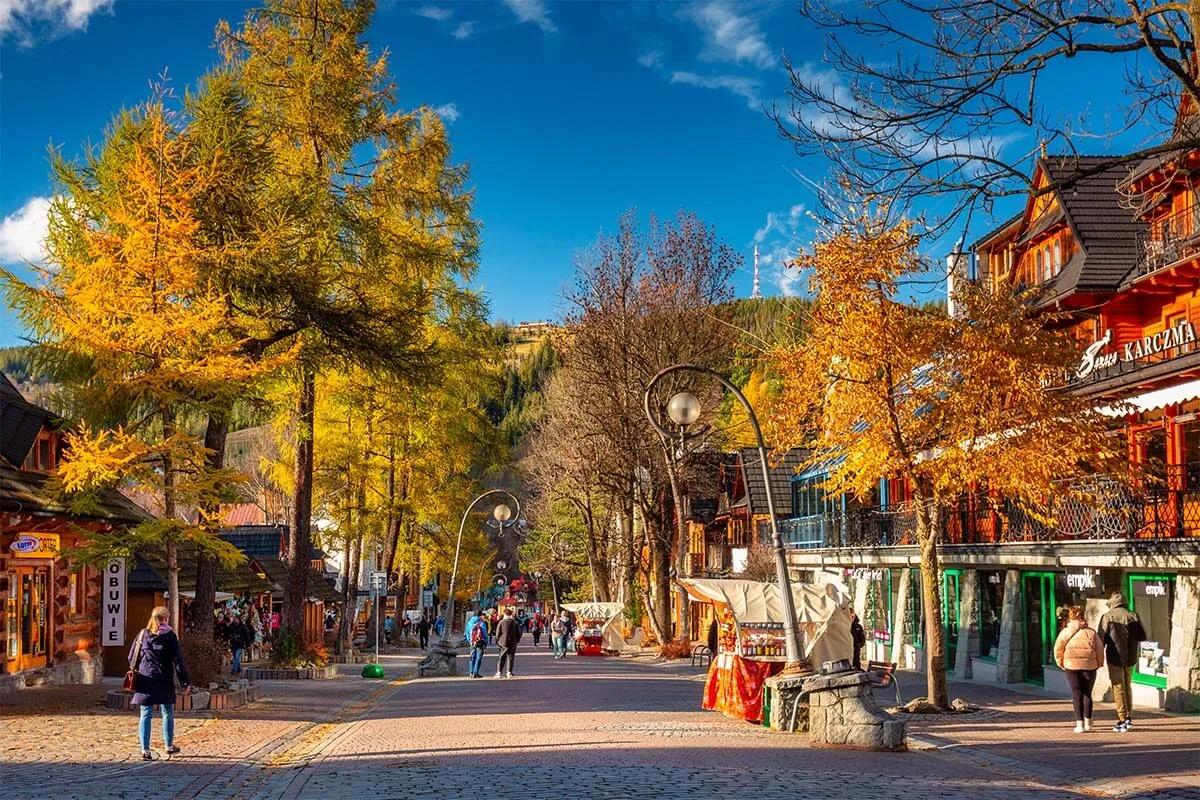 Why Visit Zakopane with a Tour from Krakow
While you could easily plan your own day trip to Zakopane from Krakow, that would require renting a car and doing a lot more research. Quite likely, you would also just focus on 'the musts' and skip some of the more local experiences such as traditional food/drinks tasting which is included with most tours.
We also found that it wasn't worth the hassle to rent a car for just a day. And definitely in the winter when the roads can be icy.
Going with a tour, you don't have to worry about transportation, traffic, where exactly to go (or park), or what to pre-book. Everything is taken care of and you can relax and enjoy the day. Furthermore, tour itineraries are really well thought-off and the prices are very reasonable.
Further below, you can read about our experience on the Zakopane tour from Krakow.
TIP: If you are visiting Krakow in the warm season and have at least 5 days in the area, you could consider renting a car and visiting Zakopane on your own. In that case, you could also visit Wieliczka Salt Mine and Auschwitz Concentration Camp. We visited all these places with tours and always had the best experience and nothing to worry about.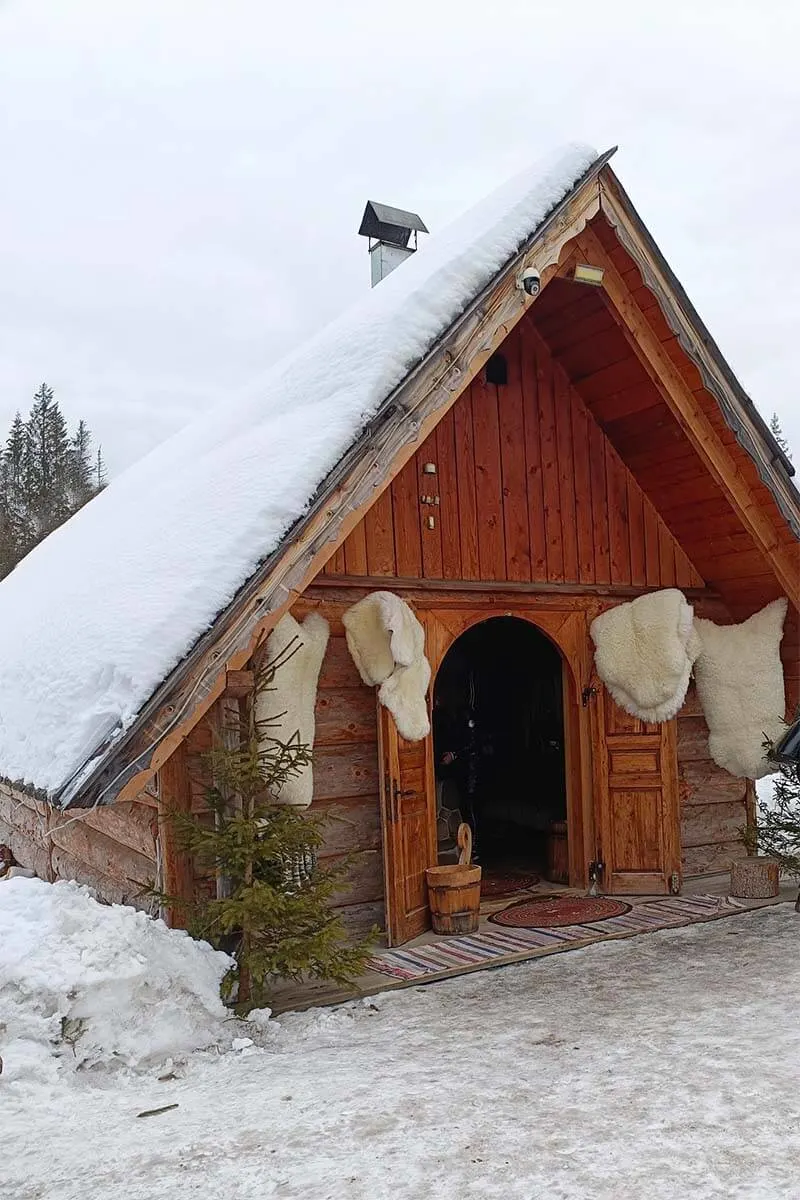 Our Tour Review
As already mentioned, we chose this tour for a day trip to Zakopane from Krakow. It includes a door-to-door service. So you are collected from – and returned to – your accommodation in Krakow.
The description said that our tour guides would contact us the evening before the trip in order to arrange the pickup. And true to their word, we received a message at 8 pm confirming that we would be collected from our apartment at 8.30 am the next morning.
The driver – and our guide Magda – arrived right on time, although we had to take a short walk to the minibus. This is because many areas within the city are pedestrian-only zones and there are strict parking restrictions.
Nevertheless, every subsequent guest was either picked up right outside – or just around the corner – from their accommodation. So the start of the day couldn't have been easier!
Comfortably seated on the minibus (an airconditioned Mercedes Sprinter), we drove around the main city collecting all the tour members. Even this part of the day was enjoyable, as we got to see a few parts of Krakow we hadn't yet visited.
Then we were on our way!
Driving from Krakow to Zakopane
The trip to Zakopane from Krakow is advertised as taking around 2 hours. However, it soon became obvious that the route was extraordinarily busy. We later found out that the time we were visiting was the time of the winter school break for Polish children (early February).
Zakopane is as popular with Polish tourists as it is with international visitors, so the traffic was heavy in places and slowed us down quite a bit.
On the bright side, this gave us more time to soak up the views as Krakow's urban landscape gave way to peaceful villages and – eventually – forests covered in deep, powdery snow. So beautiful was the journey that the time simply flew by!
One of our favorite parts of the drive was through the village of Chochołów.
Over 200 years old, this village is almost exclusively filled with wooden houses called góralskie chaty (highlanders' huts). These charming structures – resembling fairy-tale-like log cabins – were built by the Polish Góral highlanders, an indigenous ethnic group mainly found in southern Poland.
As we meandered past these almost identical dwellings, our guide told us more about their history and the traditional ways in which they are cleaned each year to keep them in such excellent condition.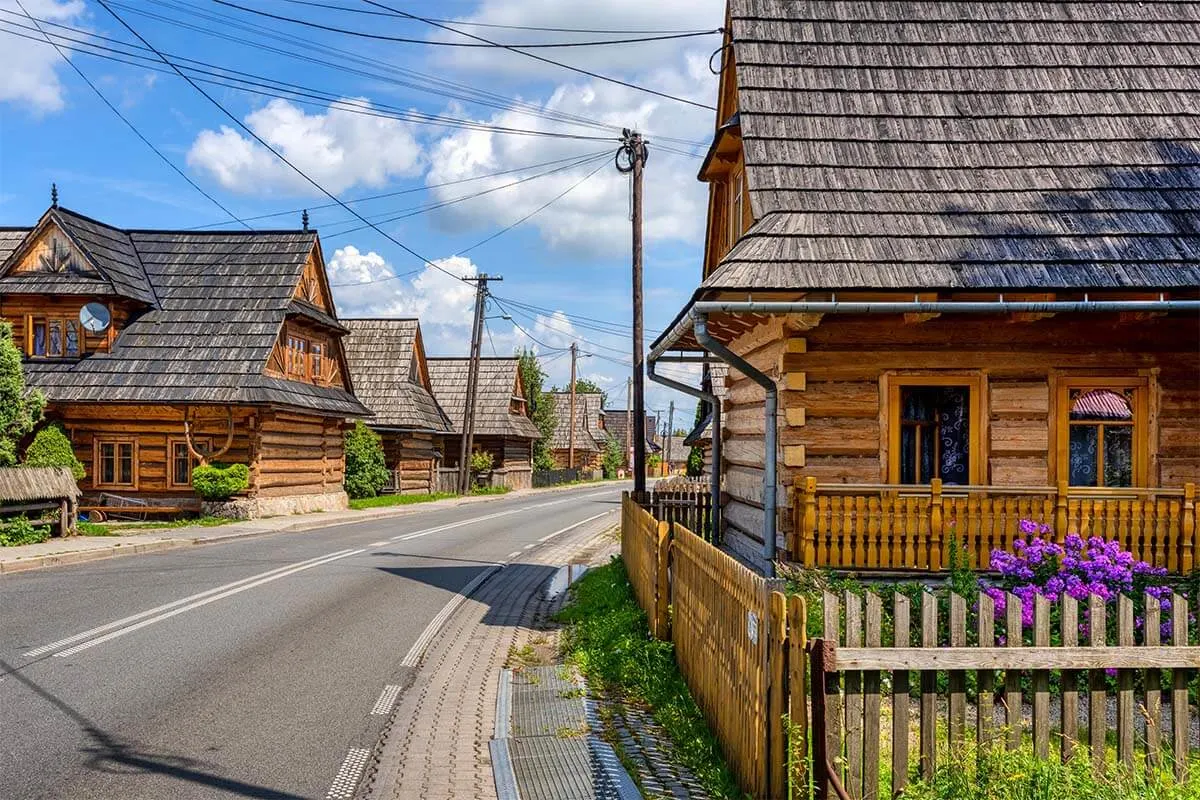 Traditional Cheese Tasting
Around 10 minutes after leaving Chochołów we stopped at a traditional mountain hut in Kościelisko. Here we had the opportunity to try a specialty of the region – traditional Polish cheese called Oscypek.
Made from salted sheep milk and then smoked, this cheese is exclusive to Poland's Tatra Mountains. Inside the hut, we watched as it was smoked over an open fire, then we all assembled outside the hut to try it, served with the traditional cranberry jam.
I had tried Oscypek on my last visit to Krakow, on a food tour of the local markets. But that experience didn't quite compare to enjoying it warm from the fire, with nothing but the remote snowy landscape all around us.
It will probably go down as one of my favorite foodie experiences ever!
Indeed, our guide told us that if we wanted to buy any to take home, we should purchase it right there at the hut. She confirmed that Oscypek produced elsewhere isn't quite as good!
To complete this little meal we were each given a shot of Soplica – one of Poland's older brands of pure, flavored vodka. The version we tried was flavored with quince, which I must admit we didn't particularly care for. Nevertheless, the boost of warmth was welcome!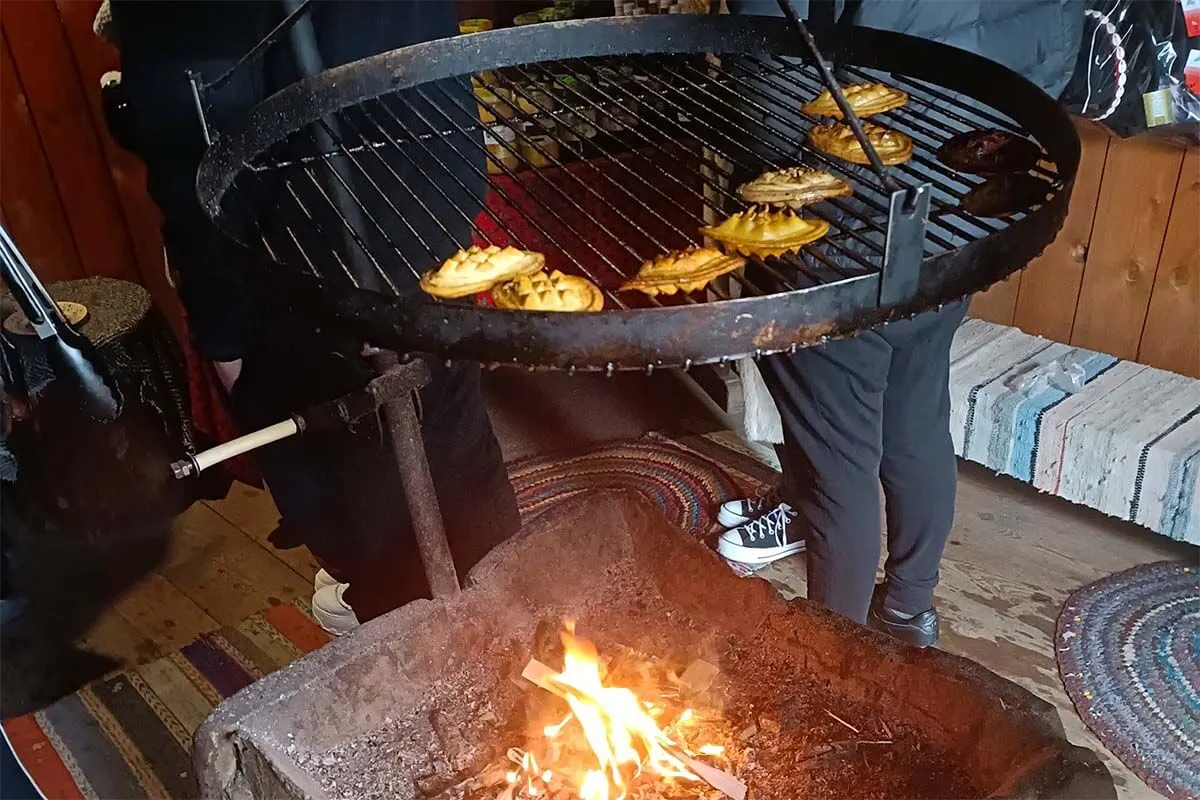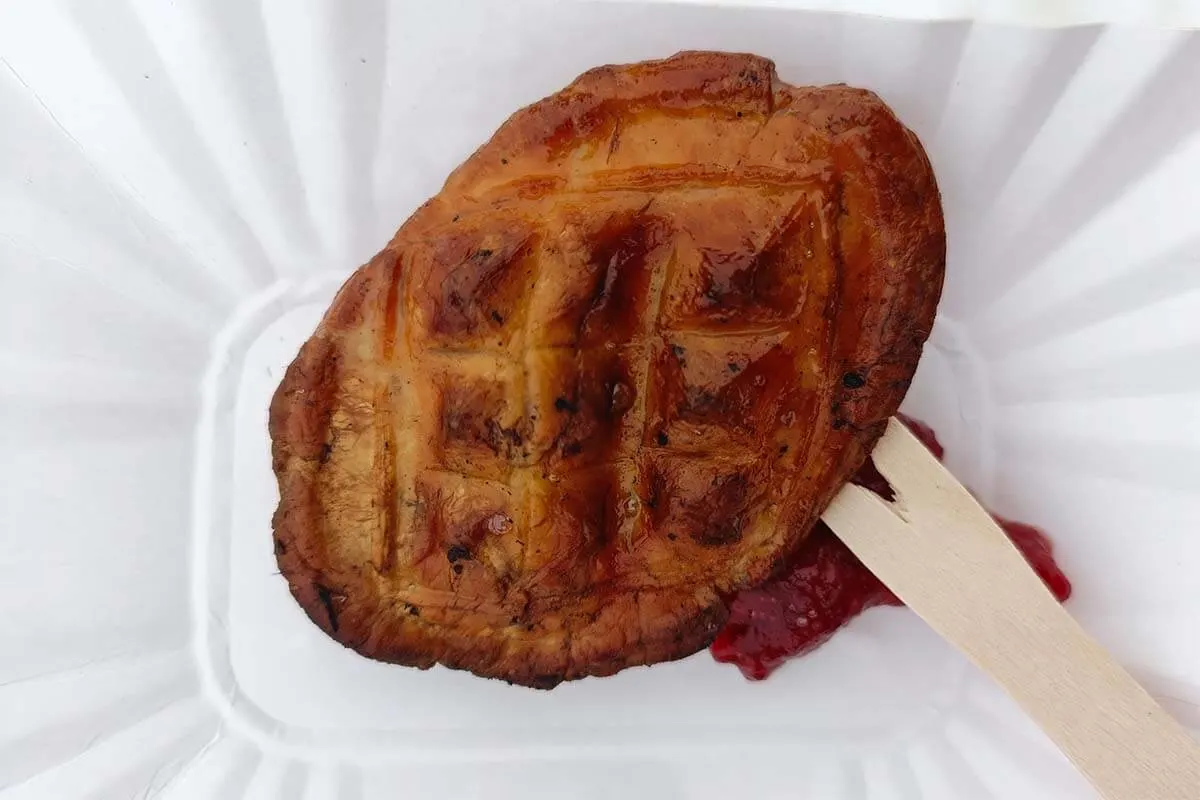 Zakopane
Back on the bus, we traveled for a further 30 minutes before reaching Zakopane town itself.
Our preconceived notions of a sleepy and remote mountain town were quickly dispelled. The resort was very crowded and it took our driver at least 20 minutes to find somewhere to park!
This point in the tour marks the beginning of your free time in Zakopane – usually around 2.5 hours. Because of the traffic on the way up the mountain, we had a little less.
Our guide explained that we could use this time to explore Krupówki Street – the main thoroughfare in the town – or head straight to the cable car that would take us up to Gubałówka.
She also pointed out that the restaurants on Krupówki Street were more authentic – and reasonably priced – than the eateries at the top of Gubałówka.
In town, you will also find an incredibly busy market selling everything from souvenirs to fur-trimmed clothing. If you have some more time, you may find it interesting to browse the stalls; we spotted some unique items here that we hadn't seen elsewhere.
But we decided that our priority with this tour was to take in the mountain views, so we joined the group heading for the funicular. As said before, we recommend booking the tour with all the additional options (the funicular ticket was one of them).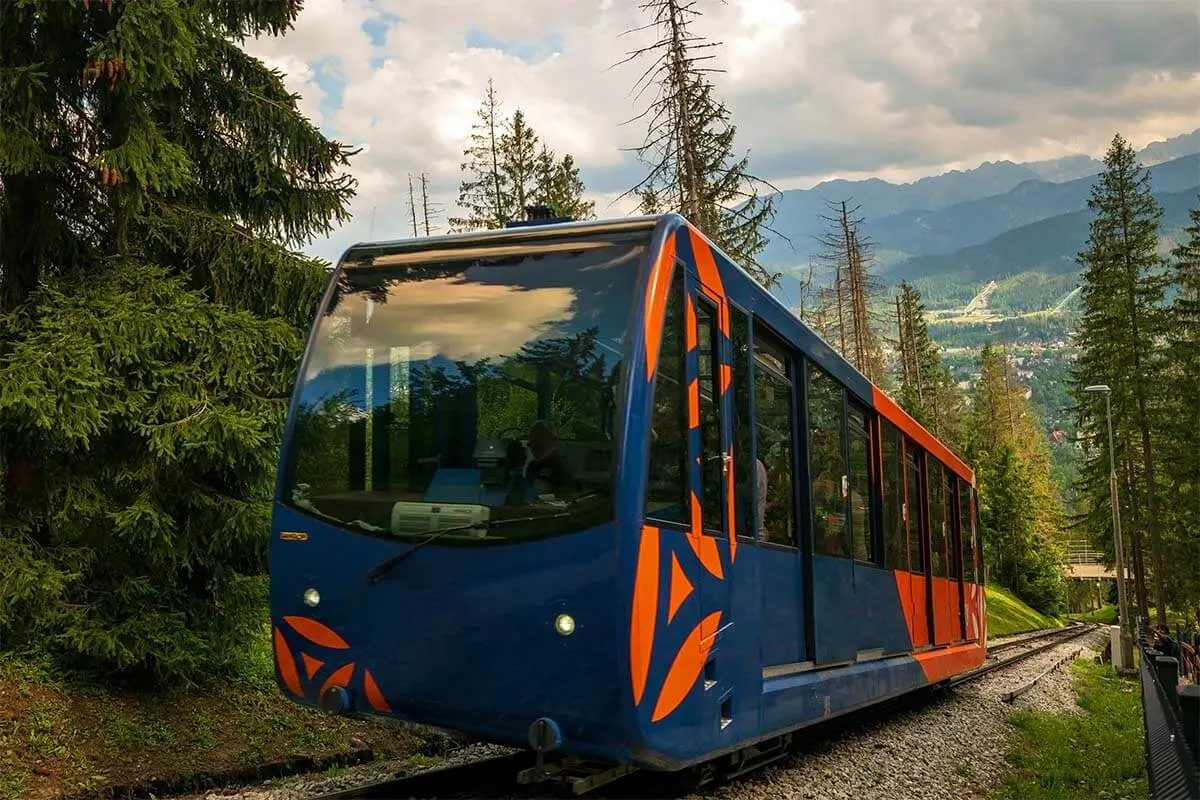 Gubałówka Funicular & Lunch
The tickets for the funicular (aka Gubałówka cable car) were included with the tour and our guide quickly ushered us through the barrier. Although it was busy, the wait to ascend the mountain was not particularly long. But the car is very wide and open, a design clearly meant to accommodate a lot of people in one go.
Whilst this cut down on the waiting time, it meant we had no view at all during the actual ascent. That being said, the journey only took a matter of minutes, and as we spilled out of the car at the top of Gubałówka we realized it was more than worth it!
The views of the Tatra Mountains from this vantage point are – quite simply – breathtaking!
Just as you exit the cable car you come to a Górale-style tavern called Restauracja Tarasy Gubałówka. We were lucky enough to find a place outside that gave us a 'ringside seat' to enjoy the scenery and have some lunch.
Just as we were warned, the food here was expensive and – compared to everything else we'd eaten in Poland – not that spectacular. You could choose to sit inside the restaurant where there are many more dining options, but as we all wanted to stay outside we were limited to little more than hot dogs, burgers, and kebabs.
Nevertheless, gazing at the snowy mountaintops as we ate and listening to the traditional music piped from the restaurant made this another of our favorite culinary experiences!
Good to know: If you need the bathroom when at the top of Gubalowka, be prepared to pay for the privilege! We were charged 5 zloty (+- 1 euro) per person, with someone waiting at the door with a card machine to ensure we didn't forget!
After lunch, we took a walk to the Gubałówka lookout point for a better view of the mountains.
You'll need the right footwear for this. In the summer, sneakers will be sufficient for just this short walk. But in winter, ideally, you wear warm winter boots with good grip, as the walking surface is compacted ice and VERY slippery. One member of our group was wearing trainers and really struggled to get around.
Krupówki Street & Market
We decided to head back down to town at this point so we'd have a little time to explore Zakopane town and the famous Krupówki Street.
Unfortunately, we hadn't anticipated the size of the queue for the cable car! It took almost an hour to descend the hill again, which meant that we had very little time to check out the market before returning to our minibus.
TIP: If it's important to you to see the views from Gubalowka and visit some of the town too, I'd recommend skipping lunch at the top. Visiting when the resort is less crowded will definitely help too. In general, try to avoid weekends, popular public holidays, and Polish school breaks.
As we boarded the minibus we were given our second shot of the day. This time it was cherry-flavored Soplica, which we all agreed was much nicer than the quince version. Be sure to give it a try!
We were now on the way to the final stop for the day – the famous thermal pools of Zakopane.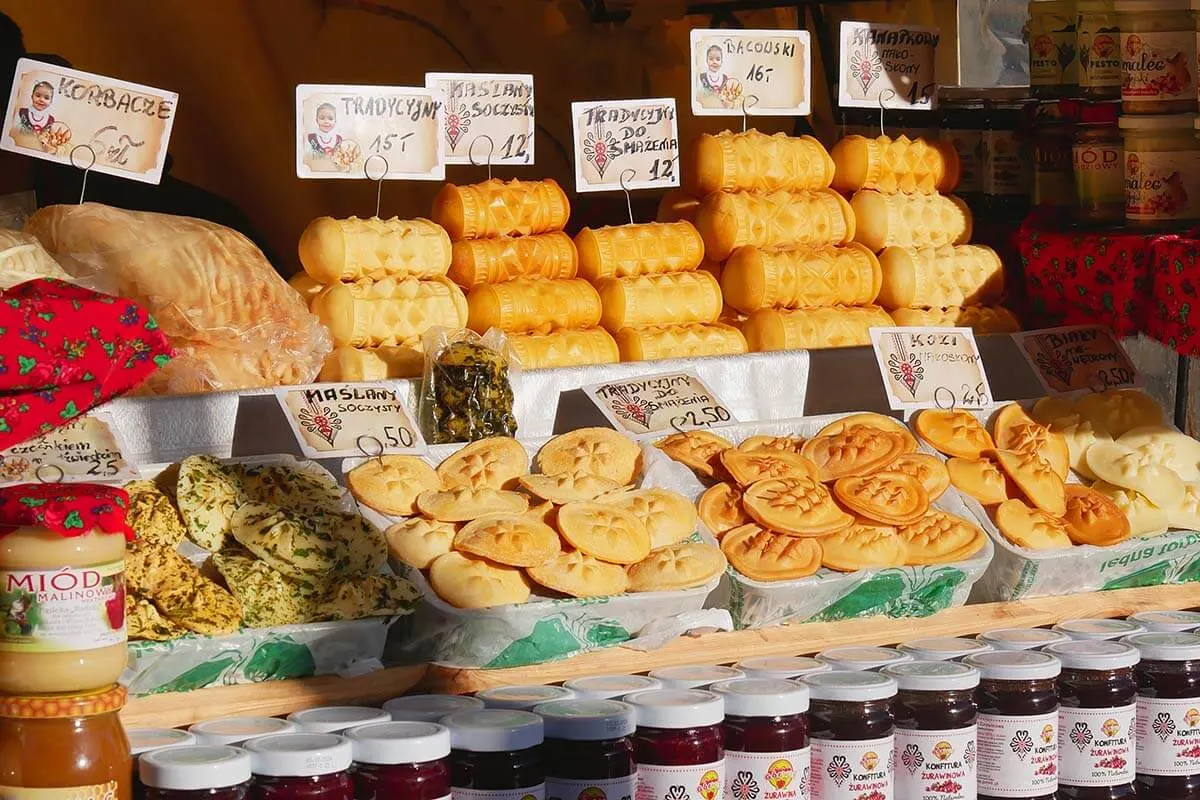 Bukovina Thermal Baths
Bukovina Thermal Baths is a large complex consisting of several swimming pools, saunas, SPA, and wellness. We found the description for the baths a little misleading and were under the impression that these would be natural thermal pools. Whilst the water in a couple of the pools is thermally heated via hot underground springs, the baths are more like a community pool in appearance.
As long as you know what to expect, however, you'll have a great time. This is also a great place for families traveling with children.
This complex has many different pools, a raging river, a slide, hydro massages, and more. The experience of sitting submerged in very warm water, surrounded by the snowy landscape and with steam rising all around us – was unforgettable! What's more, we had 2.5 hours to enjoy the experience, which really allowed us to relax.
Good to know: If you opt to visit the baths as part of your tour, you'll need to bring along a swimsuit, towel, and flip-flops. The flip-flops are important as you are asked to remove your shoes even before entering the changing rooms.
The wristband you are given on entry includes the use of a locker – you simply hold the wristband to a sensor. If you're having trouble understanding the signage, there are lots of helpful staff members on hand to assist.
You can also use your wristband to pay for items in the pools' restaurant and bar. When you leave the pool, your wristband is scanned and you can then pay whatever you owe at the exit.
We had already planned an evening meal in Krakow, but if we visited the baths again we would eat in the restaurant. The traditional Polish food looked amazing and was very reasonably priced.
TIP: If you don't mind waiting a bit longer to eat, you could also skip lunch on the mountain and have a meal here. This would give you quite a lot more time for sightseeing in Zakopane.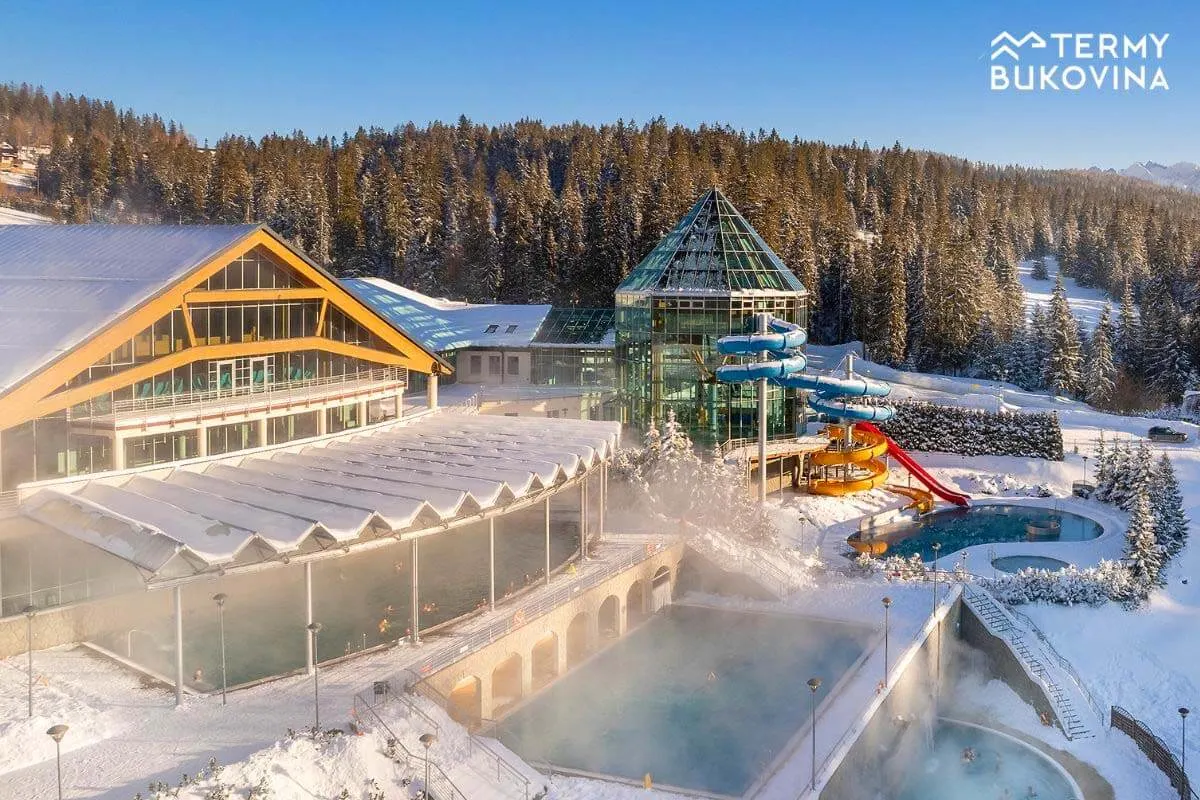 Back to Krakow
As we boarded the bus for the journey back to Krakow, we were given our final treat of the day – a chocolate croissant and a bottle of water. This was perfectly timed and very much appreciated, as most of us were a little thirsty and hungry after all that swimming.
The journey back to Krakow took 2 hours and was a little less entertaining than the journey up the mountain since it was now totally dark. In the summer, when the days are much longer, you would enjoy the beautiful scenery along the way back as well.
But it was a nice, quiet time to reflect on a fun-packed day – one that we all agreed was excellent value for money and the highlight of our trip to Poland!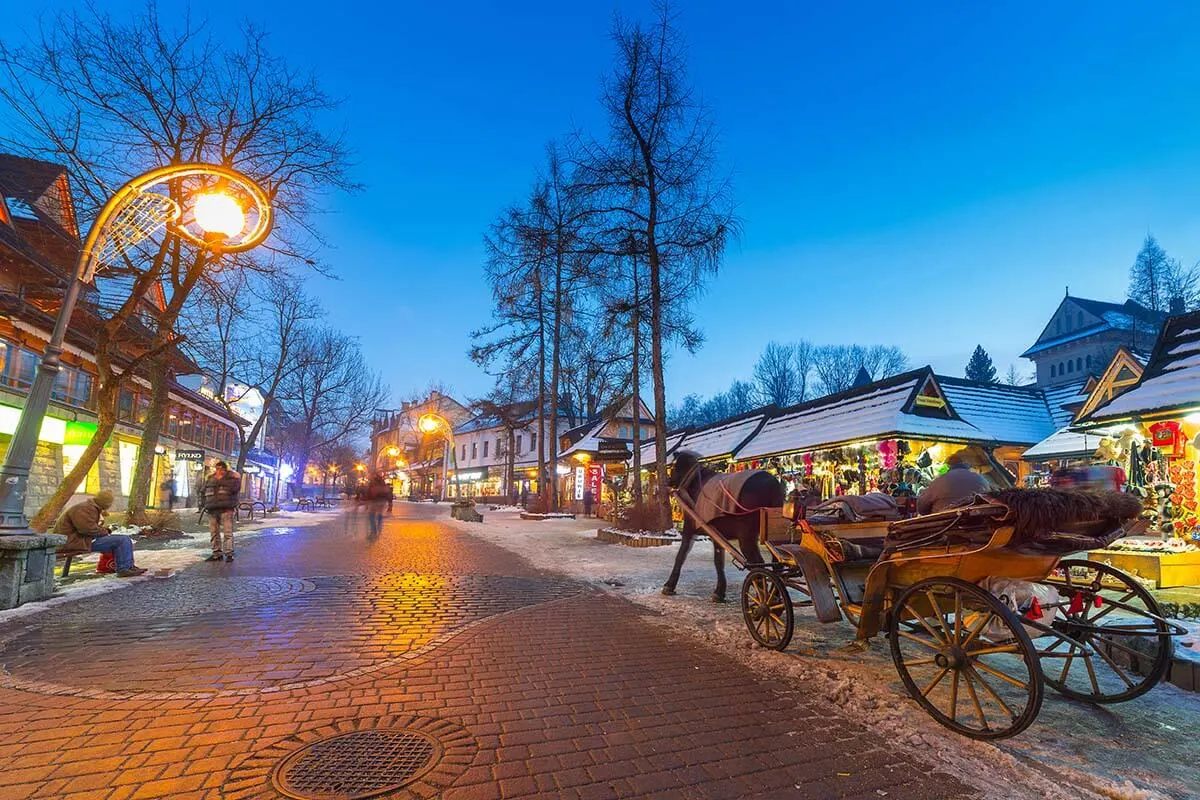 Tips for Planning a Zakopane Day Trip from Krakow
Based on our experience, here are a few tips and things to consider when planning to visit Zakopane from Krakow:
Avoid visiting on a weekend and during public holidays and school breaks. If you can, try to avoid the peak times when planning your visit to Zakopane. It's an extremely popular destination, so coming on a quieter day will give you a much more relaxing and authentic experience.
Do some research and book your tour in advance. As already mentioned, there are quite a few day tours from Krakow to Zakopane (see the selection of tours here). While most itineraries are quite similar, some tours include a hotel pick-up as well as specific activities and/or meals in the price, while others add the additional cost per each additional option that you choose. So keep this in mind when comparing the prices.
If it's important to you, double-check which thermal pools are included with the tour that you book. Our tour included a visit to Bukovina Thermal Baths which is not too big or too crowded. Many other tours (see here) go to Chocholow Thermal Baths, which has 30 pools and is the largest thermal bath complex in Poland.
Dress for the mountain weather. In summer, you'll likely need a sweater or even a light jacket in the mountains, and in the winter, you should wear a warm winter jacket, scarf, gloves, hat, and sturdy winter shoes with good grip.
Bring a swimsuit, flip-flops, and a towel. Unless you want to borrow a towel from your hotel or accommodation (which is likely quite big and heavy), we recommend packing quick-drying travel towels.
Save time by skipping lunch. You can bring a few snacks with you or even get something quick to eat in Zakopane without sitting down for a meal. This will give you more time for sightseeing.
READ ALSO: Tips & Tricks for Visiting Krakow (first-timer's guide)
So, this is our guide for the Zakopane day trip from Krakow. We hope that this gives you a good idea of what to expect.
While not everything on our tour was perfect (mostly due to the fact that we visited during the busiest week during the Polish winter school holidays), we found the tour more than worth it.
The mountain scenery in the Zakopane area is amazing. Plus, we got to see some beautiful countryside and get a taste of the traditional lifestyle (and food/drinks). In addition, we really enjoyed the relaxing soak in a warm geothermal pool at the end of the day.
All in all, we highly recommend a visit to Zakopane. It's truly one of our favorite experiences of two different visits to Krakow.
Have a great time!
More tips and inspiration for visiting Krakow:
If you found this post useful, don't forget to bookmark it and share it with your friends. Are you on Pinterest? Pin these images!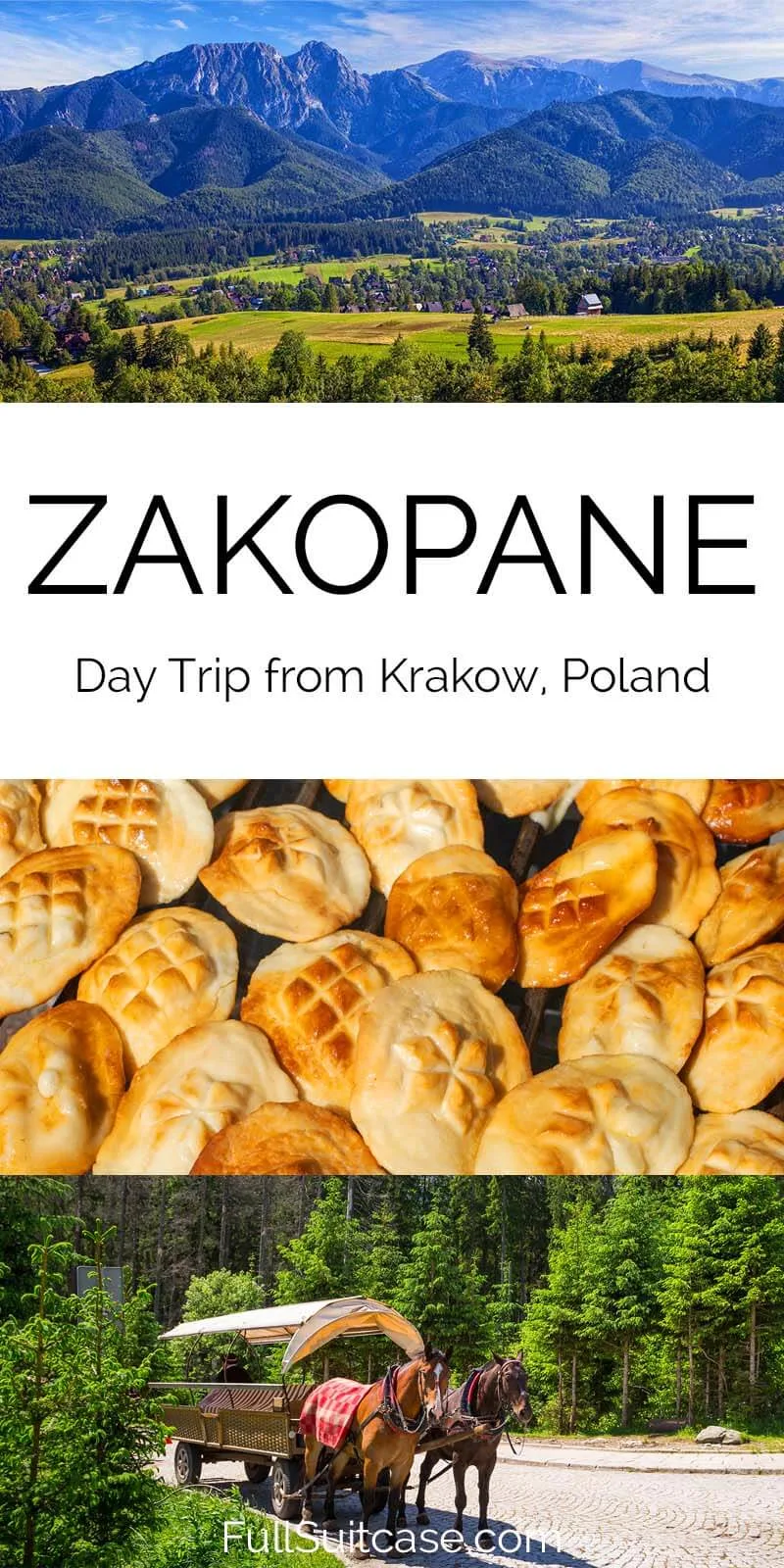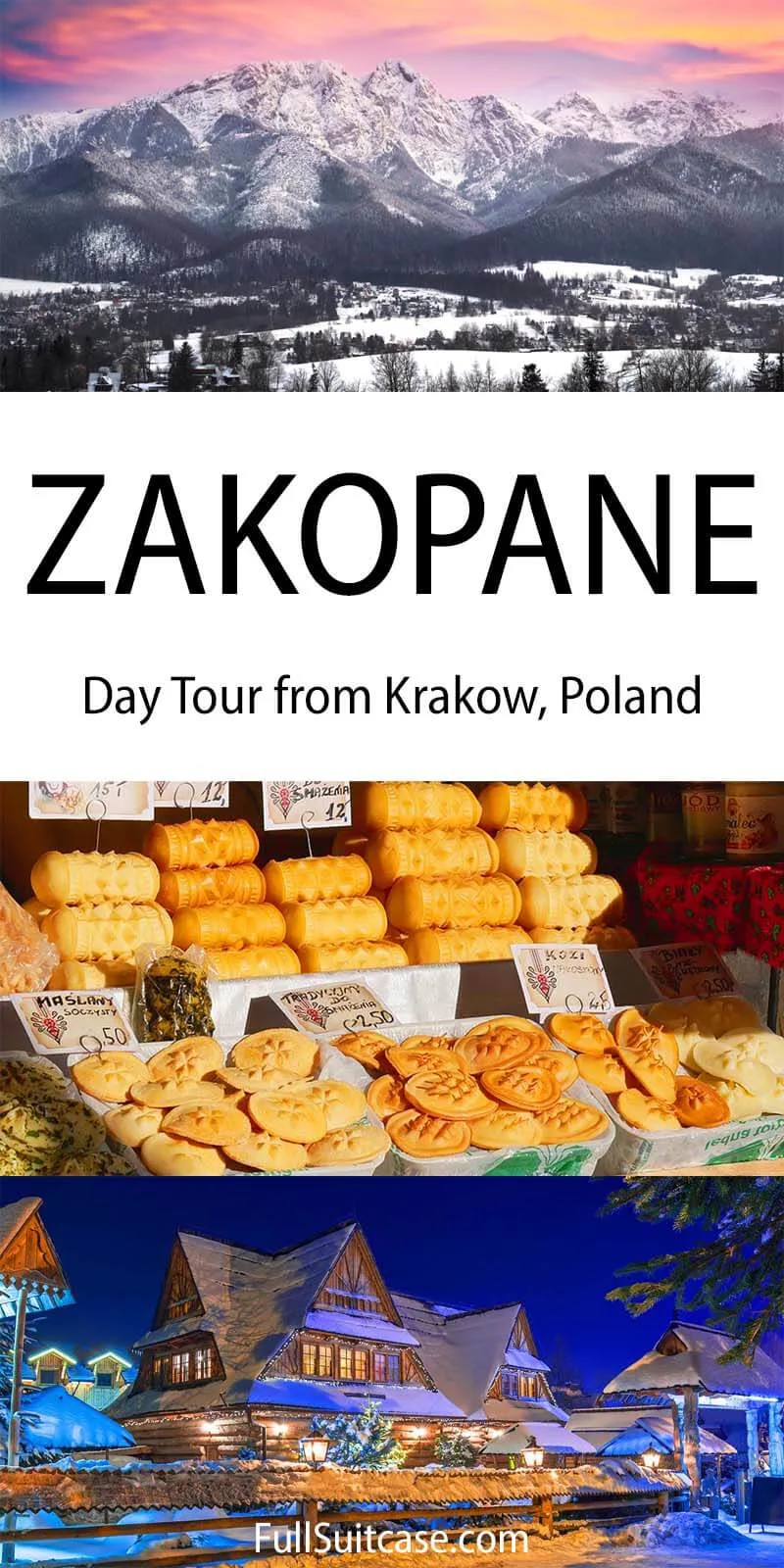 Images: personal collection and Depositphotos.com. Additional credits: Patryk_Kosmider/Depositphotos.com and igorpasz/Depositphotos.com