Are you thinking of visiting Auschwitz concentration camp in Poland, but not sure what to expect, how to get there, or which Auschwitz tour to choose? This guide should answer all your questions. Find out!
Auschwitz-Birkenau, aka Auschwitz concentration camp, or simply Auschwitz, is the largest of the Nazi concentration and death camps, dating from WWII. Visiting Auschwitz may be one of the most difficult and emotionally draining things you will ever do, but it is an educational experience that goes far beyond reading accounts of this dreadful period in human history.
Located in the town of Oświęcim (Polish name of Auschwitz), some 70 km west of Krakow, a visit to the Memorial and Museum Auschwitz-Birkenau is considered a must-do day trip from Krakow. Even if you have just a weekend in Krakow, an Auschwitz tour is really a must.
Our writer Christine recently visited Auschwitz and agreed to share her experience with our readers. I've also been to the Auschwitz museum, but my own trip dates from many years ago. This visit left a lifelong impression on me and it's a place we are planning to revisit when our kids get a bit older… I was a teenager when I visited Auschwitz and, several decennia later, I can still see images of the camp in my memory as if it were yesterday… One thing I know for sure – it's an experience that will stay with you forever.
This guide to Auschwitz is designed to help you plan your visit to this heart-breaking UNESCO World Heritage site. In this article, you'll find some brief history, advice for getting to Auschwitz and visiting the camps, and also for the best Auschwitz tours.
Furthermore, you'll get a better idea of what to expect from the Auschwitz day trip, both emotionally and practically. At the bottom of this article, you can also find some essential practical information for your visit. Read on!
TIP: If you don't have the time to read the entire article and are simply looking for the best Auschwitz tour from Krakow, this highly-rated tour is currently one of the best picks. You can choose from a few different transport/pick-up options (also a private tour).
If you would like to combine a visit to Auschwitz with Wieliczka Salt Mines on the same day, then check out this popular 2-in-1 day tour.
Complete guide to visiting Auschwitz – OVERVIEW
Should You Visit Auschwitz?
First, let's cover the most important question – should you visit Auschwitz? This is a question we pondered quite deeply. On one hand, we had already planned a visit to Krakow, so visiting Auschwitz seemed a natural choice. On the other hand, it was the uncomfortable feeling that a 'sightseeing' tour to the site of such unbelievable horror is, perhaps, in some way insensitive to the memory of those that suffered so terribly there.
We were also concerned about the extent of the emotional impact such a visit would have on our group.
Having spent a day at Auschwitz, I can say without reservation that visiting the camps is a harrowing – yet necessary – experience. It gives you a greater understanding of the events that occurred.
The camps have been preserved as a memorial to those who suffered and died there – whose memory it's so important to honor. Some of the exhibits reinforce the fact that this was not an episode in ancient history, but something shockingly evil that occurred in our recent past.
Above all, a visit to Auschwitz deepens your sense of outrage that such horrors could have been inflicted on innocent people, increasing your determination to speak out against bigotry and injustice whenever you encounter it in the future.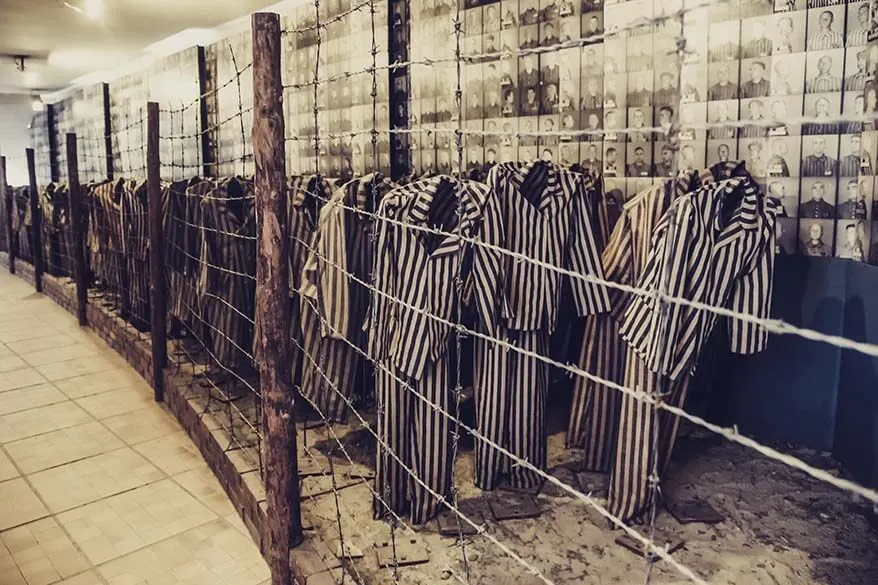 Auschwitz Concentration Camp
Interesting to know: While the total number of people who died in Auschwitz is uncertain, it is estimated that over 1,3 million people were sent to Auschwitz concentration camp and over 1,1 million people died there. The vast majority of the victims were Jews, but there were also Polish, Roma, and Soviet war prisoners…
Something we didn't realize before visiting is that the Memorial and Museum Auschwitz-Birkenau is actually made up of two camps: Auschwitz I and Auschwitz II (Birkenau). The camps are about 3 km apart and any Auschwitz tour includes a visit to both of these camps. In the past, there was also a 3rd camp – Auschwitz III-Monowitz, which was purely a labor camp/ However, there is nothing left of it, apart from a memorial next to the road.
Auschwitz I was built by the Nazis in 1940 and initially used as the headquarters of the SS, as well as a detention place for Polish Political prisoners. However, its role quickly changed and Auschwitz was designated for use as the 'final solution' for all those perceived to present a threat to the Nazi regime (mainly Jews). It was here that millions of innocent people were subjected to cruel medical experimentation and murder.
The number of prisoners and the sheer scale of its human intake quickly became too great, so the second camp – Auschwitz II (Birkenau) – was built as a 'death camp' in 1941. People were brought here from all over Europe in cattle trucks via the railway that led directly into the camp. These railway tracks are still there today as a haunting reminder of their purpose.
Practical info: With only 3 km between the two camps, it is possible to walk from one to the other in 30 to 40 minutes. But there is also a free shuttle bus available, which runs at regular intervals that depend on the season. If you are visiting Auschwitz with a tour or a private driver, they'll take care of the transfers.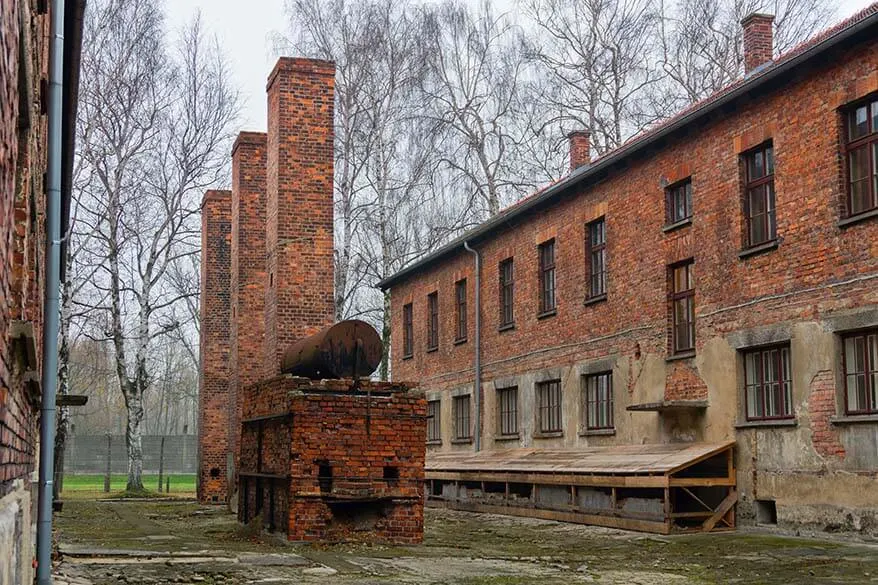 Auschwitz I
Former Auschwitz I site is located near the village of Oświęcim (Auschwitz). It is the camp with the grimly famous 'Arbeit Macht Frei' sign over the gate – a sign which, cruelly, meant 'Work sets you free'.
The experiments to investigate the effect of Zyklon B gas on humans began here and – chillingly – many of the empty containers are still displayed.
When you first enter the camp with a tour group, you may – depending on the time of year – be shown 20 minutes of harrowing footage shot by the Soviet army when they liberated the camp in 1945. If you are an independent visitor, you can ask if there are any plans to show the film that day, for which you would be charged a small fee.
The camp itself is composed of many separate blocks, which have subsequently been named according to whatever aspect of camp life the exhibits inside relate to. While some blocks are closed to the public, most are open and contain information panels in both Polish and English.
Many exhibits are stored behind glass in temperature-controlled environments in order to preserve them. The sheer number of items on display – from shoes to heaps of human hair – defies description. Yet, according to our guide, the quantity represents only a fraction of the true amount, which is stored elsewhere.
The hallways of many of the blocks are lined with photographs of the prisoners, some of whom were liberated but most of whom lost their lives here. The quality of the photographs – which look as if they were taken only recently – is outstanding. We found ourselves compelled to try to look at every face, to take a quiet moment to remember and honor these people.
Elsewhere on the site is a courtyard, scene of countless executions via gunfire. You will also see the framework for the prisoners' gallows and the spot where Rudolf Hess – the longest-serving camp commander – was eventually hanged as a war criminal in 1947.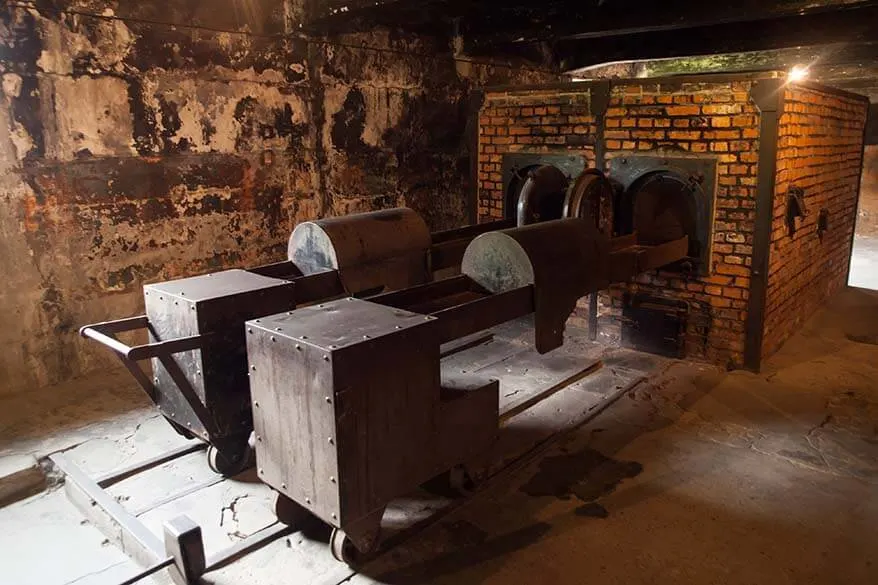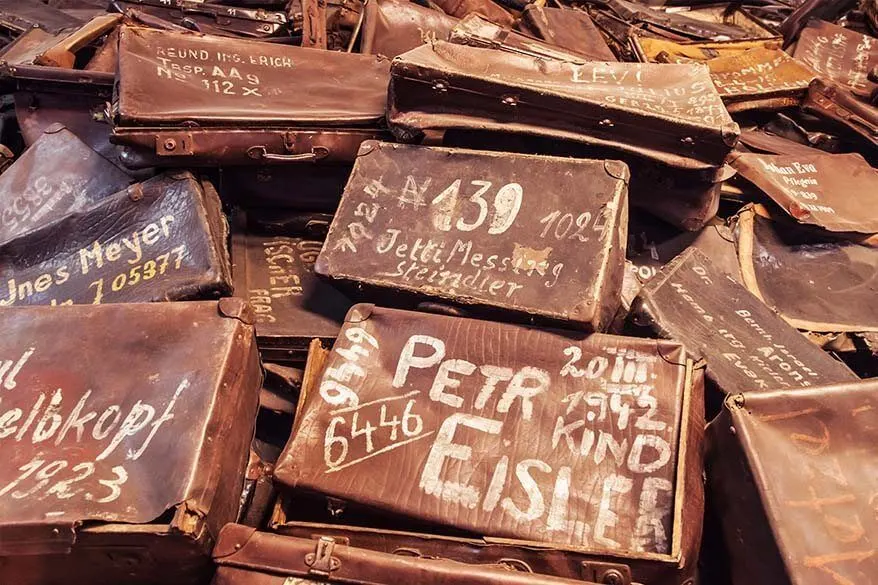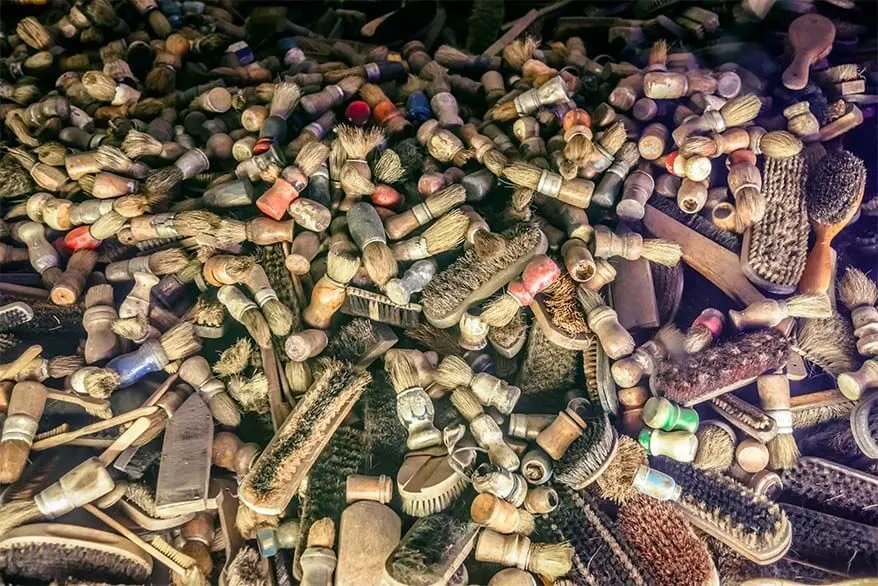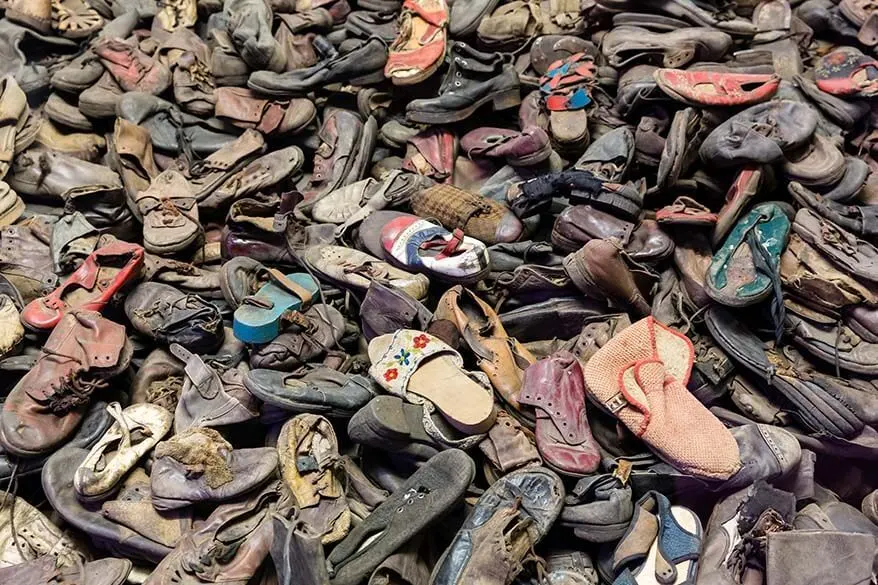 Auschwitz II
Former Auschwitz II (Birkenau) site is the larger of the two camps. At one point, it held over 90,000 prisoners (compared to the 16,000 held at Auschwitz I).
Over 1.5 million people died at Birkenau, either as a result of the desperately poor living conditions or in the gas chambers.
We found this the bleaker and most desolate of the two camps. Its size is immense, with rows of barrack-like blocks as far as the eye can see, each set some distance apart from the next. In such a large, open area the wind is relentless, so it can get really cold here, especially if you are not visiting in summer. Since we were here in November, the wind and the cold helped us realize even better the harsh reality of how terribly difficult camp life must have been for the inmates.
As you enter the camp you immediately see the termination point of the railway lines that brought in the prisoners. It was here that the people were divided into those to be sent to the gas chambers and those deemed fit enough to work.
The main crematoria and gas chambers were constructed at Auschwitz II. You can now only see their ruins, as they were destroyed by the Nazis who tried to hide the evil acts they had committed.
Some of the blocks are open to the public, allowing you to see the shocking conditions in which inmates were forced to sleep and wash. Due to the sheer size of the camp, it is easy to move around and see exhibits clearly, even on busier days.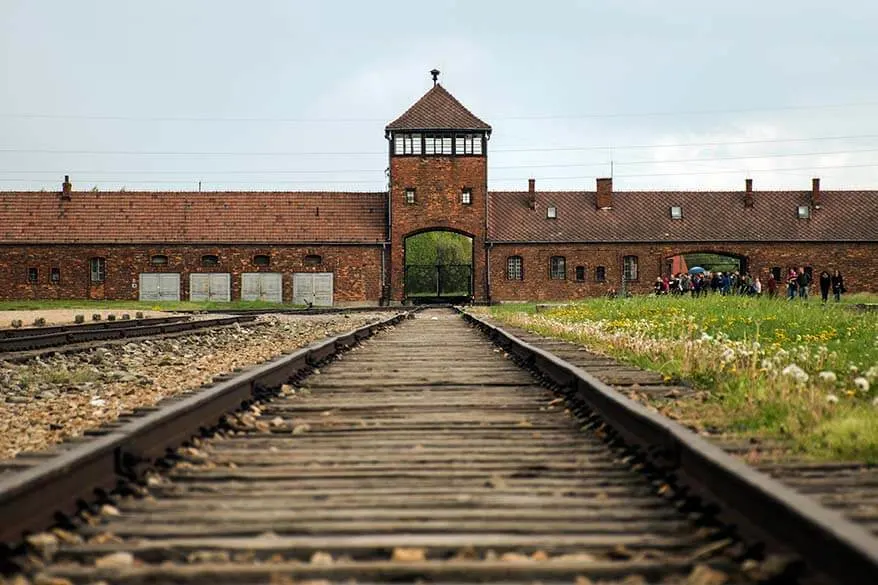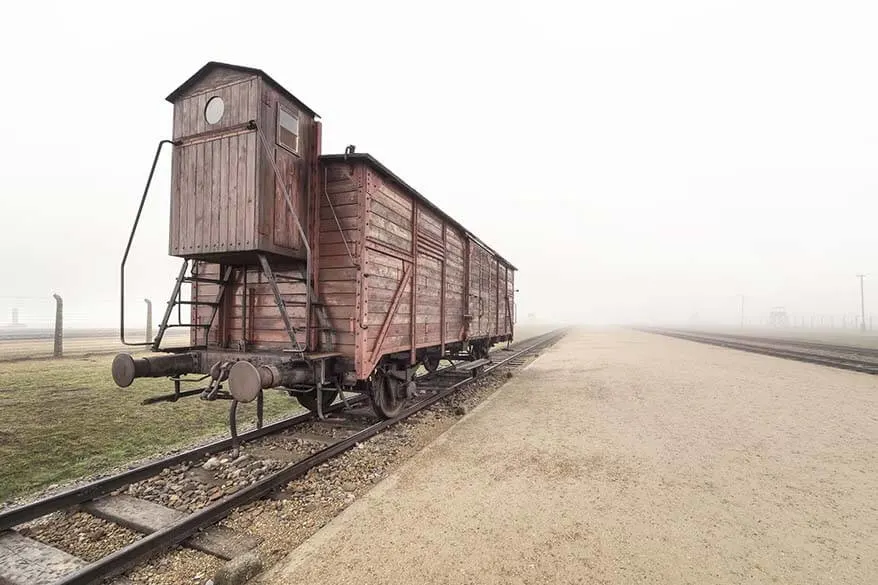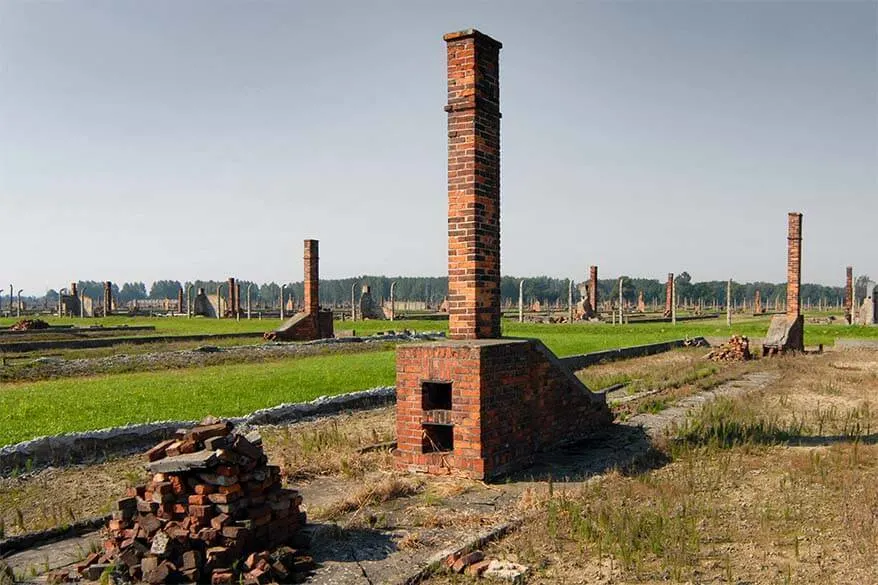 How to Visit Auschwitz
There are very limited facilities for tourists near the camps, so most people stay in the city of Krakow and visit Auschwitz as a day trip from Krakow (there are various tours that can bring you here – more about it below).
Good to know: Expect your tour of both camps to last at least 4 hours. Travel to and from Krakow is a round trip of at least 3 hours, so you will definitely need to set aside an entire day to visit Auschwitz. Most Auschwitz tours take 7-8 hours.
There are basically three ways how to visit Auschwitz:
Independent visit with a guided tour at the camp itself (certain entrance times don't require a guide, but it's really advisable you visit Auschwitz with a guide).
With a complete Auschwitz group tour, including transportation from Krakow and between the camps. These tours normally include a guide and some also foresee lunch at a local restaurant.
Private tour with your own driver/guide from Krakow (this is the option we chose, but the exact tour we did isn't available anymore). But you can find other alternatives for a private Auschwitz tour. For example, this highly-rated tour has several transport options including a private tour (you'll see all the options when you select your travel dates and the number of people).
Below, you can find practical information for each of the options.
Auschwitz tour options:
1. Visiting Auschwitz on Your Own
If you decide to visit Auschwitz on your own, there are certain things you should know. First, it's really advisable to book your entrance slot in advance. Second, you'll probably want to know how to get to Auschwitz. Find out!
Getting to Auschwitz
Auschwitz is such a popular place to visit that there are many options on how to get there.
By bus. By far the cheapest way to travel, the bus trip from Krakow to Auschwitz takes between 1.5 to 2 hours. The Krakow MDA Bus station is located just behind Krakow's Main Railway Station and there are four different carriers that operate the route, most running small buses. You can buy tickets from the office at the bus station, or from the driver. Most buses take you directly to the Auschwitz I camp. Do check before boarding, though, as some buses go straight to the Oświęcim Bus Depot, which is a considerable distance from the camp.
By train. There are frequent trains from the Krakow Glowny Main Station to Oświęcim, although the station in Oświęcim is located between the two camps. This means you will either need to walk (which takes around 25 minutes) or take a bus or taxi to the first camp – you can then use the free shuttle bus to visit the second. The train is around 20 minutes quicker than the bus but costs around twice as much. Please note that the trains can be very busy early in the morning, especially during weekends.
By car. You can hire a car and drive to Auschwitz yourself, but car traffic is restricted in Krakow and you really won't need it at any other time during your stay in the city. For that reason, you might prefer to take a tour or hire a private driver (more info further below). The journey from Krakow by car takes around 1 hour and 15 minutes via the motorway, but many private drivers will be happy to take you on a longer route by request, which allows you to see more of the surrounding areas.
With a guided tour – more information further below.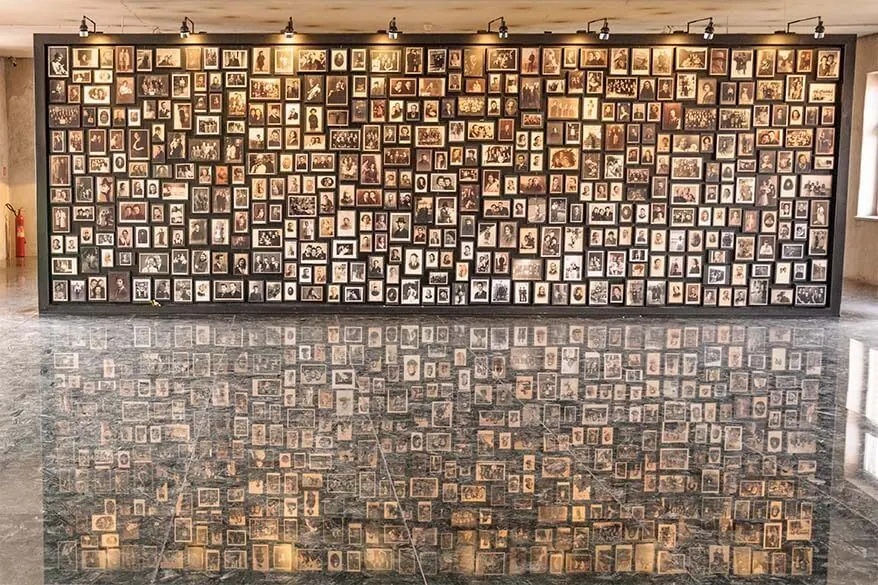 What to Know about Auschwitz Tickets
Although both Auschwitz camps are free to enter, you MUST get a ticket and join a guided tour (small fee) to enter Auschwitz I. There are some exceptions during the off-peak hours (depending on the month) – more info here. Headsets are provided, so it is always possible to hear your guide, even when you are some distance apart.
It is not always necessary to join a guided tour. So this can be a good option for those who want to visit the museum at their own pace. However, if you decide to go on your own, make sure to buy the guidebook (available at the museum). It marks your route clearly and explains the importance of each area you visit. However, even if you visit Auschwitz at a time when entry is free, you still need a 'free ticket' to enter.
Important: You can book tickets online three months in advance. If you are planning to visit Auschwitz on your own, I highly recommend doing this at least 2 weeks before your trip, because tickets get booked up quickly and many are bought in bulk ahead of time by group tour operators.
It is possible to turn up on the day and get a ticket at the office, but I wouldn't recommend it as you may have to wait several hours, or you may not be permitted entry at all. Even in the low season, there were long queues of people here; you really don't want to risk this if you're visiting Auschwitz in the high season.
TIP: If tickets on the official site aren't available anymore, you can usually still book a group tour from Krakow. It's more expensive but better than not being able to visit at all.
Good to know: All tickets are timed, so it's important that you turn up at the time you booked, or you will not be allowed entry. I actually recommend getting to the camps at least half an hour before the time on your ticket. You will need time to negotiate the crowds outside, clear security, and collect your headset if you booked a tour.
If your ticket doesn't include a tour – but you decide on the day that you would like one – just go to the Visitor Centre, which is located opposite the bus stop.
The above guidelines regarding tickets do not apply to Auschwitz II, which is always free to visit without a ticket.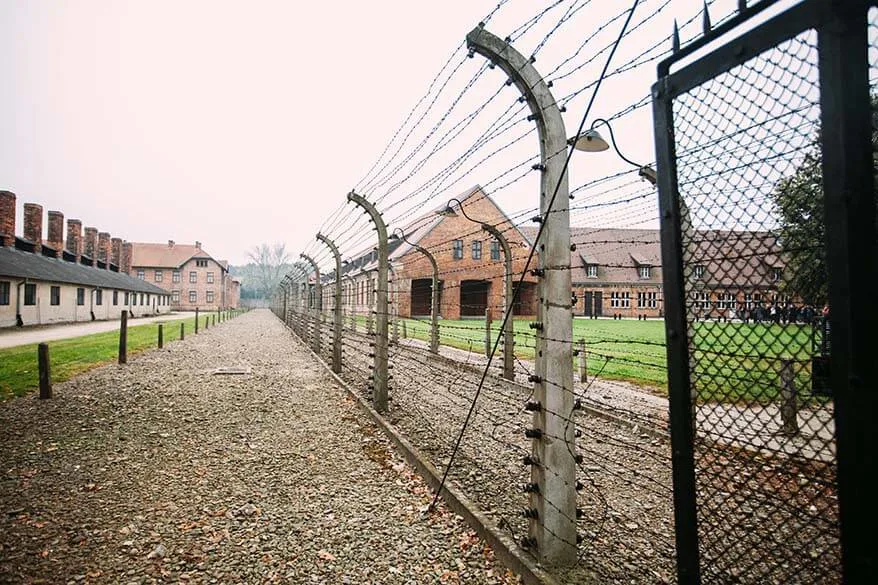 2. Auschwitz Tour
Booking an organized guided tour is by far the easiest way to visit Auschwitz from Krakow. Your transportation and tickets are taken care of, so there is nothing to do besides turn up at your departure location at the right time.
Good to know: If you book a complete tour with transportation, the tour operator will take care of your timed Auschwitz entrance tickets as well. This is also the best way to be able to visit Auschwitz if you didn't reserve your tickets in advance.
While we aren't big fans of guided tours, some places really require local insight and more information in order to truly appreciate them. Auschwitz is a site that you really should visit with a guide. Guided tours are extremely informative and are sometimes led by those with links to the camps, adding a greater level of insight.
There are many tours available that include transport from the city. The choice might be overwhelming, so we did some research and picked some of the best options – see below.
Below are some of the best Auschwitz tours from Krakow:
Guided tour from Krakow. This is the cheapest, best-rated and by far the most popular Auschwitz tour. You can choose between five different languages and you can book a tour with a big bus or – more expensive – with a smaller group. Note that the price doesn't include lunch and the break is really short, so it's best you bring your own snacks.
Guided minivan tour from Krakow. This is a small-group Auschwitz tour with amazing reviews. A bit more expensive than the big group tours, this will probably be a more relaxing day trip. The itinerary is pretty much the same as the tours mentioned above and lunch is not included.
TIP: There are also Auschwitz day tours from Warszaw (you can find all the best options here) as well as from Katowice (see the best options here).
READ ALSO: Wieliczka Salt Mine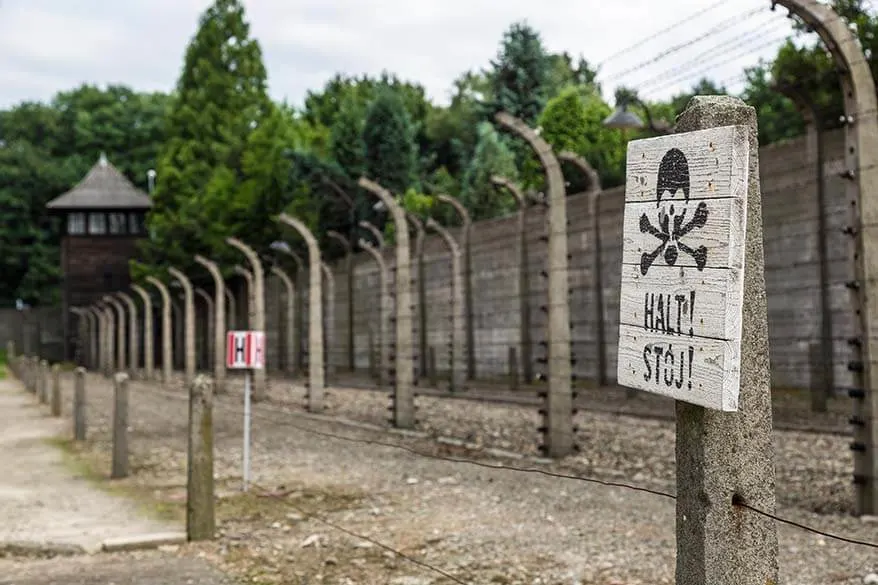 3. Private Auschwitz Tour
If you want all the advantages of a group tour, but don't like to spend the whole day with a group of strangers, then a private Auschwitz – Birkenau tour might be a better option for you. Another advantage is that private drivers will pick you up straight from your hotel and often they'll be more flexible in terms of the tour duration, giving you more flexibility in terms of sightseeing as well as lunch.
If you are traveling with a bigger family or a group of friends, as we were, then a private tour is not much more expensive than a group tour.
There are several options: hiring a private driver (so for transportation only) or hiring a private driver in combination with a guided tour. Even if you just hire a driver, you can always join a guided tour offered at the museum itself. One thing you really have to make sure is that your private tour includes pre-booked entrance tickets.
There are several options when it comes to private day trips to Auschwitz. It's important that you check a couple of them because prices can differ quite significantly depending on your group size and what's included.
Here are some of the best options for a private Auschwitz day trip:
Transfer with a private driver. This is what we did – booked a private round-trip transfer from Krakow to Auschwitz, not including the tickets to the site itself (we booked those separately). Since the same service we used isn't available anymore, we now link to the best comparable option.
Private transfer and a guided tour. This is one of the best-rated private Auschwitz day trips with a personal driver. It includes tickets and a live tour guide at Auschwitz and Birkenau.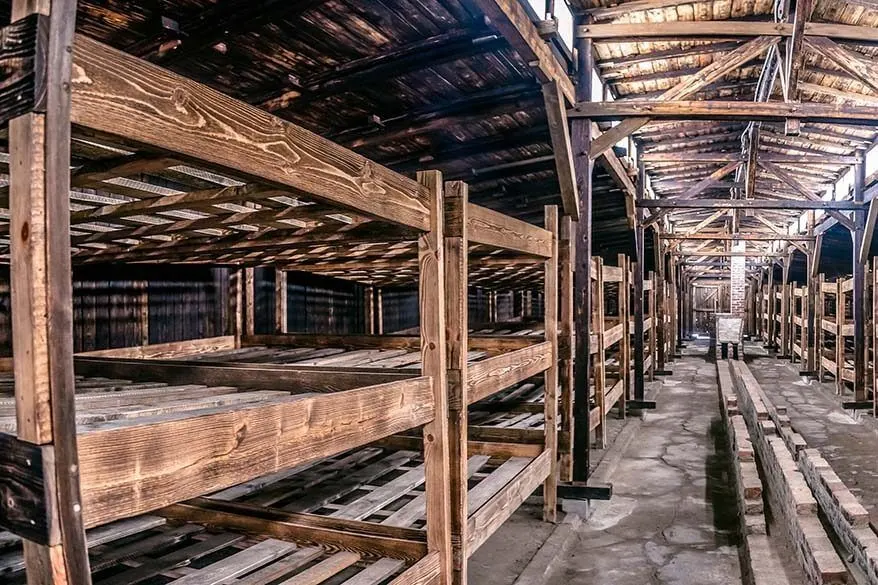 Important Information for Visiting Auschwitz Concentration Camp
Opening times. Both Auschwitz camps are open daily, except for New Year's Day, Christmas Day and Easter Sunday. They open at 7.30 am, but the closing time varies depending on the time of year. Visiting hours and details of any scheduled closures can be found here. Both camps are free to visit, with paid guided tours available (and obligatory during certain times, as described above – see 'What to Know about Auschwitz Tickets' section).
Security is strict at Auschwitz I. The contents of your bag will be checked, you will need to pass through a metal detector and you may be asked for ID (so make sure you have it with you!).
Bags. Your bag MUST be smaller than 30 x 20 x 10 cm (the size of a very small purse) or you will not be allowed to bring it in. There are lockers available for a small fee, but these tend to get full at busy times. You may be able to leave your belongings in the tour bus or your private car, but it's best not to take anything that you don't absolutely need.
Accessibility. Both camps have very limited disabled access and would be very difficult for anyone with mobility issues to get around. There are also very few spots to sit and rest.
Facilities. There are bathrooms available at both camps, but bring some change with you as some require a small fee to enter. Auschwitz I site has a restaurant and a fast-food counter, but there is no food available at Auschwitz II. I would recommend bringing a few snacks and some water with you (and leave it in the car while visiting the first camp – eating or drinking inside the camps is not allowed). There are also good bookshops in both camps.
Photography. You are allowed to take photographs in many areas of the camps, but no flash photography is allowed inside the buildings. There are certain areas where photography is completely forbidden, although we saw many people taking photos nonetheless. Some of the signage regarding photography is quite small and easy to miss, so I recommend checking before taking photos if you are unsure.
Clothing. Respectful clothing is a must. Also, dress warmly, and bring a jacket even in the warmer months. As mentioned above, Auschwitz II can feel particularly cold. I also recommend bringing plenty of sunscreen in the summer, as there is little shade in either camp.
Footwear. Wear comfortable, practical footwear – you will be walking long distances. The ground can be uneven and muddy, with loose rocks in places, so you may even want to consider hiking boots.
Auschwitz with kids. It is not recommended for children under the age of 14 to visit Auschwitz since much of the experience is simply too harrowing for a younger child to process. Some tours won't allow younger children, but as far as visiting the camps goes – this is just a recommendation that is not strictly enforced. So it's up to you to decide if you want to expose your kids to all the horrors of this place. Just beware that it can be really hard for the younger kids to understand and deal with what they'll see in Auschwitz. As already said before, I myself visited Auschwitz as a teenager and it's an experience I'll never forget.
Have you visited Auschwitz and want to share your experience? Or are you planning a trip and have some questions? Feel free to leave a reply below.
More tips for your trip to Poland:
If you found this post helpful, don't forget to bookmark it and share it with your friends. Are you on Pinterest? Pin this image!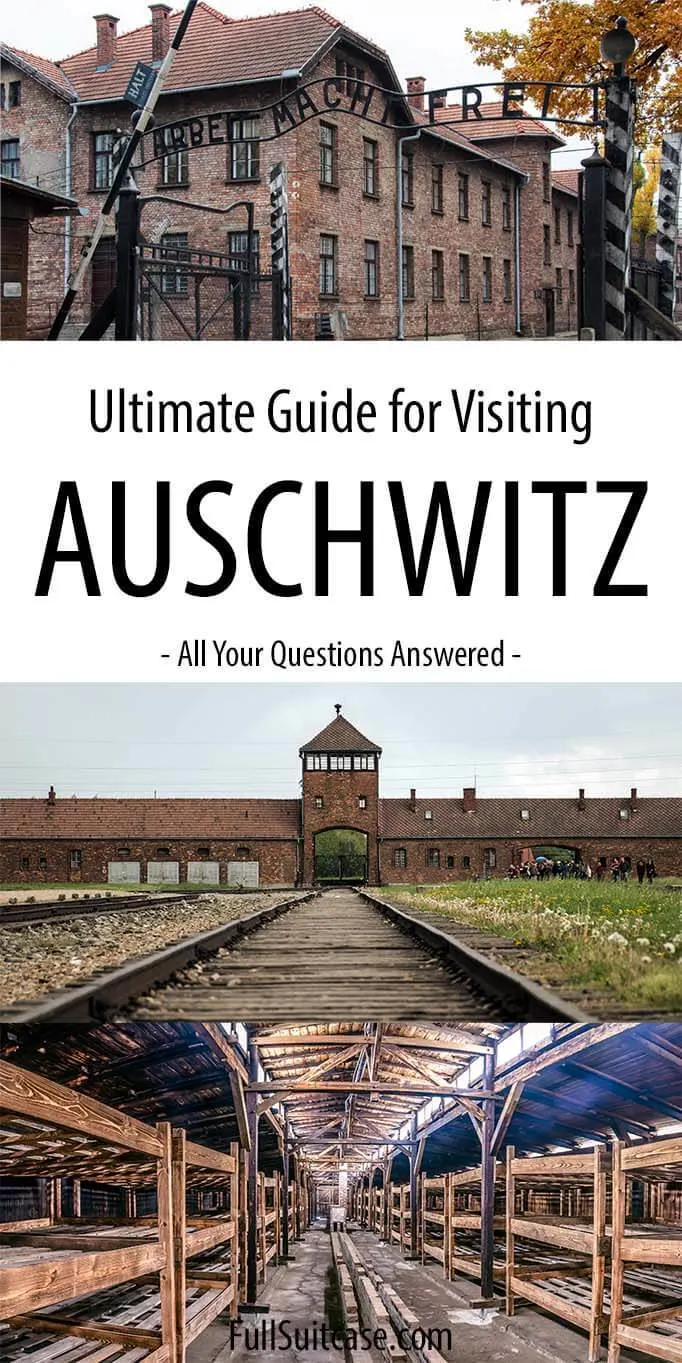 Image credits: hiddentalentsphoto/Depositphotos.com// donogl/Depositphotos.com// vidumg/Depositphotos.com// Shootme/Depositphotos.com// pyty/Depositphotos.com// Nomadsoul1/Depositphotos.com// santirf/Depositphotos.com// dinosmichail/Depositphotos.com// boule1301/Depositphotos.com// Buurserstraat38/Depositphotos.com// yarko.photo/Depositphotos.com// UTBP/Depositphotos.com// bloodua/Depositphotos.com