If you are looking for gift ideas for kids, you probably already know how difficult it is to find a fun gift that they'll actually like and use. What do you get for a kid who has so many toys already? In this article, we are sharing several ideas for travel gifts for kids that will make any kid happy. These are so much better than any toys, take my word for it.
This list contains many practical and affordable travel gift ideas for kids. While these are all related to traveling one way or the other, they can make a perfect gift for any child.
Some of these gifts are meant for toddlers or preschoolers, while most others – for boys and girls from 6 to 12 years old. You will find a few travel gifts for teenagers on this list as well. Read on!
Good to know: We have three kids and so all these kids gift ideas are based on our first-hand experience and lots of mispurchases… Our house is filled with toys and gifts that were very exciting on the first day but stayed in the box ever since. The kids gifts on this list are the ones that they actually use time and again. Find out!
READ ALSO: Best Family Travel Destinations Worldwide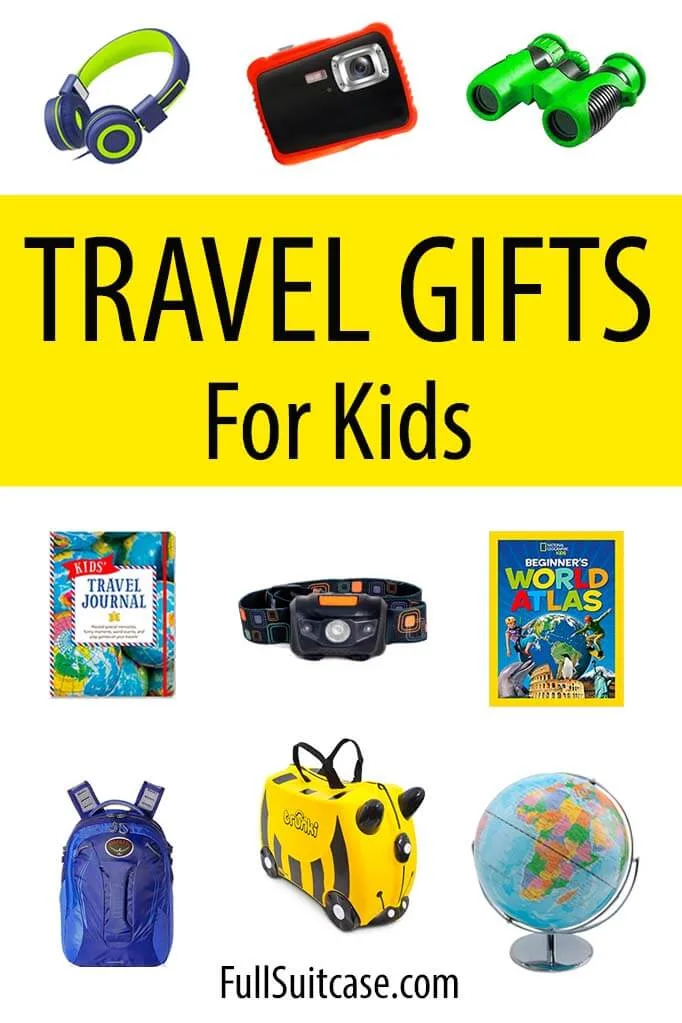 These are some of the best travel gifts for children:
1. Binoculars
One travel gift for kids that you really cannot go wrong with is binoculars. Choose binoculars appropriate to the age of the child and they will love and use them for a long time.
I suggest you go for the better quality sturdy binoculars with decent magnification rather than toy binoculars.
For young children, I recommend sturdy kids binoculars that won't easily break. For teenagers, it's best to get decent, quality binoculars, that will last many years.
READ ALSO: Tips for Traveling with Kids
2. Kids Travel Bags
Kids travel bag, a rolling suitcase, or a backpack is a great travel gift for kids of any age. Young children love having their own bag to carry and for older kids, their own travel bag is simply indispensable on any trip.
Young kids will love ride-on suitcases or rolling kids luggage.
School-going kids usually love to have their own travel backpack, which also comes in handy for field trips and on other occasions. I can highly recommend this Osprey travel backpack – it's a wonderful gift for any child and one they'll use time and again.
If you are looking for a very practical gift for kids age 4 to 8, I can highly recommend Trunki BoostApak. It's a backpack and a booster car seat in one and all our three kids have used these for years. We take them on every road trip abroad and we use them at home as booster seats as well.
READ ALSO: Best Travel Bags for Kids & Best Travel Booster Seats
3. Globe
A globe is a wonderful gift for all school-going kids, whether they are traveling or not.
You can find globes in all sizes, with or without a light, and even ones that have educational apps connected to them…
For young kids, a learning globe is a wonderful gift that will keep them engaged for years to come. 8 to 12-year-olds will probably appreciate a globe with the built-in light. For teenagers, I would suggest an educational globe with place names.
4. World Map or Scratch-off Map
A world map is an excellent gift for any child and encourages them to learn more about our world.
If you are looking for a very general map with the continents, check out this world map that's more meant as a decoration for young kids' rooms. A bit more educational, and perfect for young kids is this kids' world map. Teenagers will probably prefer this high-quality classic world map.
For avid travelers, a scratch-off map makes a great gift. They can scratch off the places that they have visited and use it to dream about and plan new trips. There is a big variety of scratch-off maps available; here is one of the best-rated scratch-off maps that I found.
5. Kids Atlas
There is probably no better gift than a gift of learning. A book is always a great gift idea, but if you don't know where to start and which books kids like, why not get an atlas instead. It's such a great way to get the kids to read more, while at the same time also learning more about the planet we live on.
There are so many various kids' atlases, so it's not difficult to find one that suits any age. School-going kids will love this National Geographic USA road trip atlas or this Kids' World Atlas by Lonely Planet.
READ ALSO: Best Travel Books for Kids
6. Waterproof Kids Camera
Kids want to be just like their parents and one travel gift they'll really appreciate is a travel camera. There are some really affordable and good-quality cameras for kids, so you don't have to worry about the budget.
For young children, I recommend choosing a more robust, waterproof travel camera like this.
Teenagers will be happy with an action camera and if you invest in a quality camera like a GoPro, they'll use it for many years to come.
7. Travel Games
Travel games are fun, they don't cost much, and they make for a great travel gift for kids.
Many of the all-time favorites are included in this 12-piece Magnetic Board Game Set. Other favorites are Travel Scavenger Hunt, UNO (or UNO Junior for younger children), and of course many more.
Pocket-sized creative story generator Story Cubes provides hours of imaginative play for all ages. Story Cubes are the perfect way to keep your kids busy and entertained not only during the trip but also at home.
UNO and Story Cubes are always in our luggage when traveling with kids.
READ ALSO: What to Pack in Kids' Hand Luggage
8. Single-player Travel Games for Kids
Travel games are always fun, but our kids also love single-player games that require logical reasoning and planning skills. Our boys have some games from ThinkFun and SmartGames and it keeps them busy for hours.
There are so many single-player games that you will have no trouble finding one for a child of any age. Many of these games are very compact and easy to take with you and are therefore perfect to play at home or on the road.
For young kids, I recommend Rush Hour Jr, SmartGames Jump'IN, or Noah's Ark Magnetic Travel Game.
For older kids and teenagers – games like Think Fun Tipover, ThinkFun Gravity Maze Marble Run, or ThinkFun Rush Hour.
Travel games are not expensive and are great for those looking for affordable kids' gift ideas.
9. Travel Toys for Outdoors
We don't often take many toys when traveling, but we try to take at least one toy for outdoors.
A ball is usually too big to pack, but for example, a frisbee is a great alternative. It's a perfect toy to keep children busy on any trip, and a foldable frisbee is so light to pack that you can always take it with you.
If there is one thing that our kids missed during our road trips when they were little, it's beach toys. They are just too big to pack when traveling overseas, and so we never took any. However, recently I stumbled across this collapsable beach pail and shovel set that is so small to pack that it would make a great gift for any young traveler.
10. Twistable Crayons
If you are looking for a great gift idea for young children, I cannot recommend twistable crayons highly enough!
At home you can use any pencils, drawing markers, paint, or regular crayons, but when traveling, they are all pretty much useless.
Twistable crayons provide a frustration-free drawing experience for any young traveler. No broken crayons anymore, no paper to peel, no sharpener required, and the little artist's hands stay clean.
11. Reusable Sticker Sets
Another great travel gift idea for young kids is a set of reusable stickers.
Young children love stickers and a fun reusable sticker set can keep them busy for a long time.
It's a really great travel gift that is not just very affordable, and easy to pack. Plus, it also guarantees hours and hours of play fun for the little kids.
READ ALSO: Tips for Flying with Kids
12. Hand Puppets and Finger Puppets
Hand- and finger puppets make for another great travel gift for young kids.
Hand puppets are light to pack and can be very entertaining, especially for the youngest travelers.
Also finger puppets can be really fun for young children. They are even smaller to pack – perfect if you are traveling light.
13. Luggage ID Tags
If you are looking for a small, inexpensive, and original travel gift idea for kids, why not consider some fun luggage ID tags.
You can find luggage ID tags for Disney fans, luggage tags with monsters, Star Wars luggage ID tags, or some fun colorful luggage ID tags for teenagers.
14. Travel Journal
If you are looking for a gift for a child who travels, consider a travel journal. It's such a wonderful way to document their journey and keep fun memories.
There are travel journals for girls and for boys, for younger children or for teenagers, and there are even some really creative ones.
No matter which one you choose, it's a gift that they will keep and cherish for a long time.
15. E-reader
There is probably no better gift we have ever given our kids but the Kindle e-reader. They absolutely love their Kindles and they read so many books when we travel – something they wouldn't be able to do otherwise, since packing a suitcase full of books is really not the best way to travel light.
In the car or on the plane, while waiting at the airport or even in the restaurant – an e-reader is such a great gift that anyone will use again and again.
We chose Kindle Paperwhite for our kids, which enables them to read in a dark room or in bright daylight. It's a bit more expensive than most other kids' travel gifts on this list, but they'll use it for many years and it's well worth the investment.
16. Digital Tablet
A digital tablet is probably the most expensive item on this kids' gifts list and one that I think only parents should get for their children. After all, it's up to them to decide when and how they introduce their kids to electronic games…
For young kids, I recommend very affordable and robust kids' tablets. For older kids and teens – a digital tablet from Samsung. Samsung tablets are much cheaper than iPads, the battery lasts longer, and the price/quality ratio is excellent.
17. Swiss Knife Junior
A Swiss knife might not be the best gift idea for young kids, but a teenage boy will absolutely love it.
This original Victorinox Swiss Knife is a nice gift for a responsible, active teenager who loves to camp or spends lots of time outdoors.
18. Headlight or Pocket Light
Little adventurers just love to explore in the dark! Our kids are absolutely fascinated by their pocket lamps and it's something they use just as much at home as they do when we travel.
There are so many pocket lamps available and even decent-quality pocket lights are quite cheap, so it's no big deal if they lose one. This can also be a great stocking filler for kids!
A headlight is another really nice gift for kids who like outdoor activities like camping or hiking.
19. Luggage Scooter
If you are looking for a gift for traveling kids who have it all, a luggage scooter might be a fun idea.
Luggage scooters come in many different sizes and shapes, and the price tag depends a lot on the quality.
Here you can find some popular luggage scooters for kids.
20. Headphones
Headphones are a great gift idea for kids, from around 6 years and older. Not only will the kids love the idea of being able to listen to their own music, but parents will appreciate it as well. After all, we all have our own preferred music style, which is often very different from that of the rebellious teenager…
For younger kids, check out these headphones made especially for children. Teenagers might prefer wireless earbuds.
21. Reusable Water Bottle
Perfect gift for any traveler, a reusable water bottle is an environmentally-friendly gift that kids will appreciate as well. Not only does it teach them to use less plastic, but it also encourages young kids to drink more water – good for the environment and for their health.
Choose a nice colorful model that suits the kids' age and you have found a perfect gift that they will use every day.
So, these are some ideas for travel gifts for kids that you really cannot go wrong with.
Do you have some great, original gift ideas for children? Feel free to leave a reply below.
READ ALSO: Best travel gifts & Scandinavian gifts for everyone on your list