Dreaming of traveling with kids, but are not sure if it's a good idea? Or looking for some family travel tips and hacks that will help you plan a truly unforgettable trip that the whole family will enjoy? Then read on!
Ever since our kids were little, we took them on the most amazing trips around the world. Before our oldest turned 5, we have visited places like South Africa, Namibia, and Australia with them…
We often get questions about how we travel around the world with three young children and manage to see so much. And I know many people who dream of making a really nice far trip with kids 'one day', but don't dare or don't know where to start and end up booking another beach vacation instead…
So in this article, we are sharing some of our best family travel tips. Find out!
Here are our top family travel tips for traveling with kids:
1. Don't postpone it
First, let me tell you that there is no good reason to postpone your life and your travels until the kids get older! Not one good reason, really!
So the very first family travel tip on our list is to just go for it!
Don't wait to travel till your kids are 'old enough to remember'. If you would apply the same thinking to all childhood experiences, you wouldn't do much with your children when they are young.
You never thought of not taking them to a playground or to a theme park because they won't remember it later, did you?
Travel when you can, as soon as you can, and as often as you can. Not only will you have great experiences and memories together, but you will stimulate your kids' interest in the world, encourage them to appreciate other cultures, and be more open to new things in life!
And yes, often you will not be able to explore places exactly the way you would like to when traveling with kids, and sometimes your heart will break because you will not be able to do the most beautiful hike which is too difficult for your young children… But in any case, you will see much more than if you would have stayed home.
Remember – you can still travel with your children when they are older. You just don't have to wait that long to start!
READ ALSO: Benefits of Traveling with Family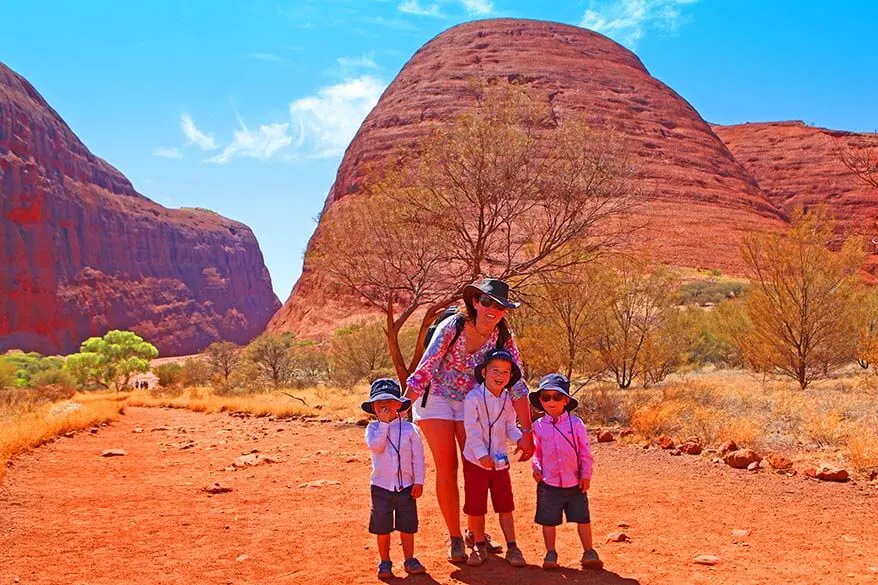 2. Adjust your expectations
When traveling with kids, especially when they are young, you have to adjust your expectations and plan your trips with kids in mind.
Maybe you haven't traveled much yet and are dreaming of finally taking your family on a nice trip. Or is it just the opposite – you have seen half the world before you had kids and now can't wait to take your young children to the other side of the world…
I guess you know by now that nothing is quite the same when you have kids. This also applies to travel! Traveling with children is just not the same.
As long as you understand this and are willing to adapt to your new travel companions and their interests, you will have just as much fun traveling as a family as when you traveled on your own or as a couple before.
Don't take the kids to visit the most beautiful churches of Europe or on a temple tour through Asia! Long city trips and museum visits are too tiring and boring for young children. You can do some hiking depending on the age and the number of kids you have, but you should probably forget all the long hikes for a while (unless you are prepared to carry kids on your back).
So what can you do? Theme parks are of course always a great success, but you don't have to spend all your holidays in Disneyland or Sea World for the next ten years! In our experience, nature and animals are always a big success with children, no matter their age.
Young children have to be able to move, to play, to discover new things their way. They need to be able to touch, to feel, to taste… Kids also need a lot of rest, and they need a certain routine in order to feel happy and safe.
So make sure that you take all these factors into account when preparing any trip with kids!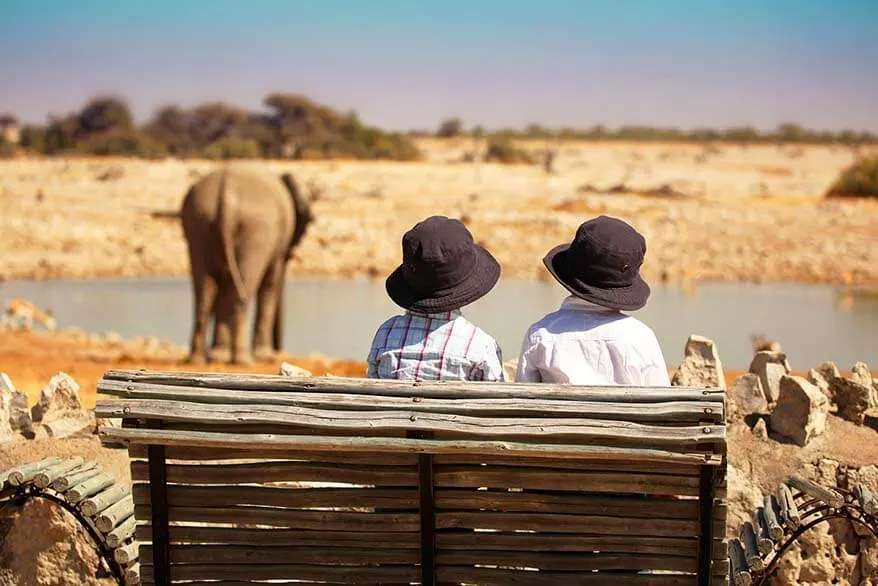 3. Prepare your kids for the trip
When traveling with kids, make sure to start preparing your kids for the trip in advance.
Tell them that you are going on a nice trip, get them excited about the destination by telling what you will see and do there, maybe get some age-appropriate books or show some pictures of the destination. However, don't exaggerate.
It makes no sense to tell a 2-year old that he will be going to Australia in a year from now. On the other hand, a 10-year-old may spend months reading all he can find about Australian wildlife, and it will be like having a walking Wikipedia with you on a trip…
The more the children will know about the upcoming trip, the more excited they will be about it. And they will look forward to it just as much as you do!
READ ALSO: Best Travel Books for Kids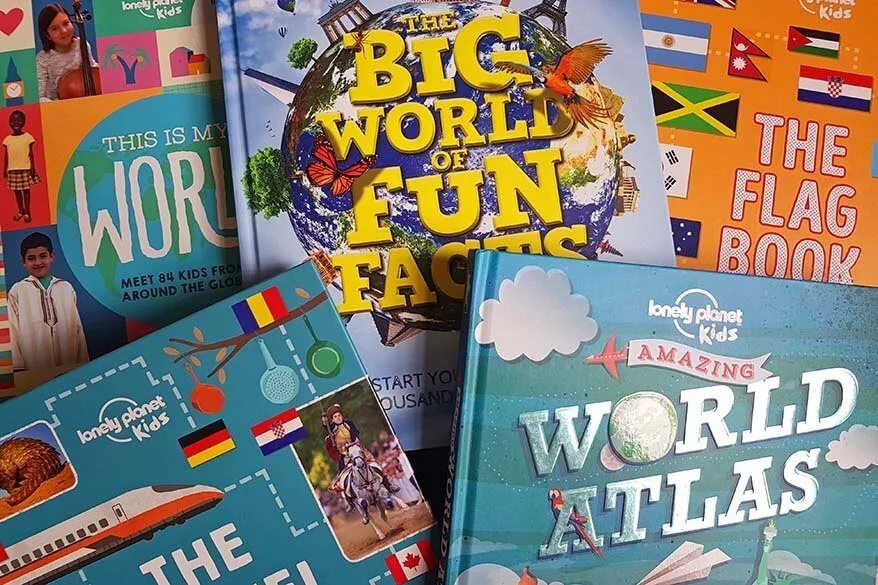 4. Plan in advance
If you want a truly relaxing and fun trip for everyone, prepare your family trip in advance!
I know some people may not agree with me, but traveling with a family of 5 has taught me that it's so much easier and more enjoyable if you plan your trip in advance.
If you have plenty of time or don't really care where you will stay and whether you will be able to see the most worthwhile places, then you can just go without any plan, of course.
However, it's a real challenge to find affordable family rooms to accommodate more than 4 people in many places. Furthermore, it can get almost impossible to find suitable accommodations if you travel during school holidays and don't book well in advance.
So figure out your itinerary, book your flights, accommodations, and reserve a car in advance. That way you can actually enjoy your vacation rather than spend your time looking for a hotel every night.
If you want flexibility and certainty at the same time, renting a camper could be a good option for your family in some countries. Alternatively, you can use one location as your home base to explore the wide area. Many places in Europe are very suitable for this kind of traveling, for example, Tuscany in Italy.
It's also important to plan ahead and prepare for your flight. Just a simple thing as reserving the seats or kids' meals in advance can make your flight with kids so much more pleasant.
LEARN MORE: Tips for Flying with Kids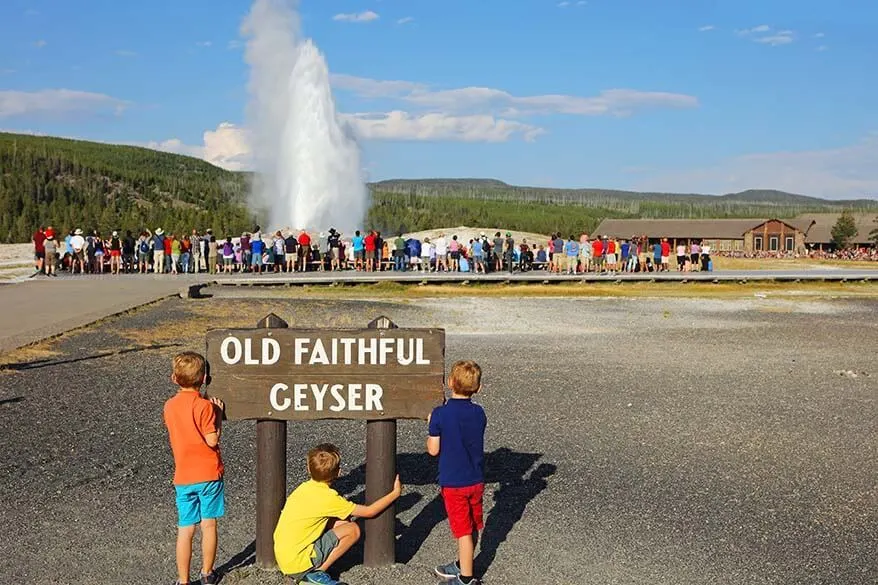 5. Travel light
One of my top family travel tips is to not overpack! Long family road trips can turn into a nightmare if you take too much luggage. Not only will you have difficulties squeezing it into your car every day, but it will also take you ages to find something. Also your chances of losing something are always higher when you have more stuff… So pack only what you really need!
Make sure that you can layer the clothes when necessary. You can easily get your clothes washed in the hotels or do it yourself. In some countries, like Australia, you will find that most hotels offer free guest laundry facilities. Unless you are traveling to very remote areas, you can always buy something that you really need.
When we went on a 5-week long trip to Australia and Tasmania with our three kids, we took 2 big soft travel bags as checked luggage and 2 small backpacks as hand luggage. We also took a travel booster that's also a backpack for our 5-year-old and a travel stroller for the twins. That's it! With just two adults and three young kids to keep an eye on, we didn't have enough hands to deal with any more baggage than that.
On our recent Thailand island hopping trip we packed just two big travel backpacks for the whole family and each of the kids carried a small backpack as well.
Pack smart and you will be surprised at how little you actually need.
READ ALSO: What to Pack When Flying with Kids & What to Pack for Family Road Trip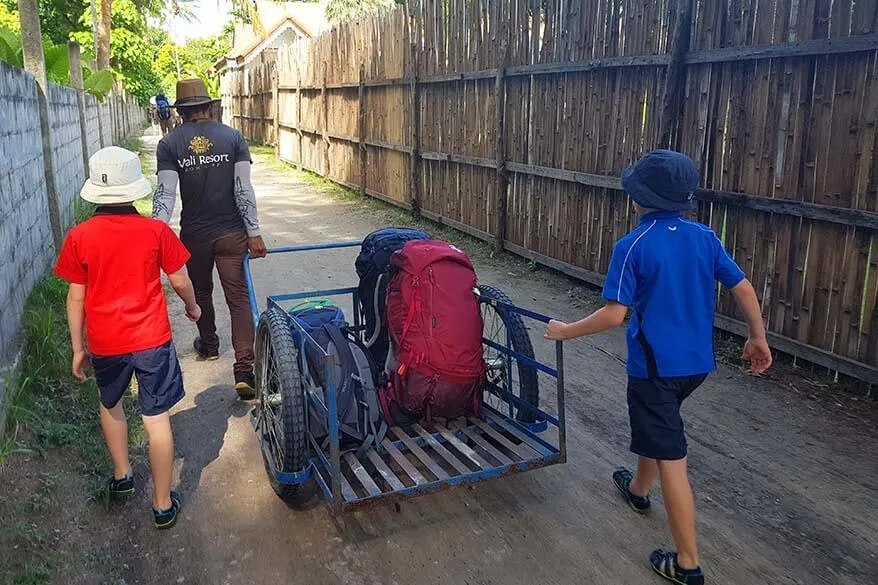 6. Know how to beat jet lag
When traveling over multiple time zones with kids, you really have to prepare for jet lag and plan on how you'll deal with it.
It's usually not the best idea to make big plans for things to do on the very day of your arrival. On the other hand, if you know you'll be jet-lagged and up early at dawn the next day, it might be a great opportunity to book a sunrise trip that you'd otherwise never do with kids… We did this in Thailand and it worked out just great!
The best way to deal with jet lag is to start adjusting to the new time zone as soon as you land. Usually, it means staying up late on the first day. But have you ever tried keeping a tired baby awake? Right… So look for ways to deal with jet lag and the time difference that actually work for your family. We have some tips that we apply in a separate article that you can read via the link below.
Remember that it's much easier to keep the kids awake if you stay active and do something outdoors: go explore the city, take the kids to a playground, go to a park, make a short walk….
Oh, and when you are out and about, don't forget to stop by at a local store and get some snacks! The chances are pretty big that children (or you) will get hungry in the middle of the night. I still remember our kids eating a Nutella sandwich and an apple after midnight on one of our first nights in Australia.
LEARN MORE: How to Avoid Jet Lag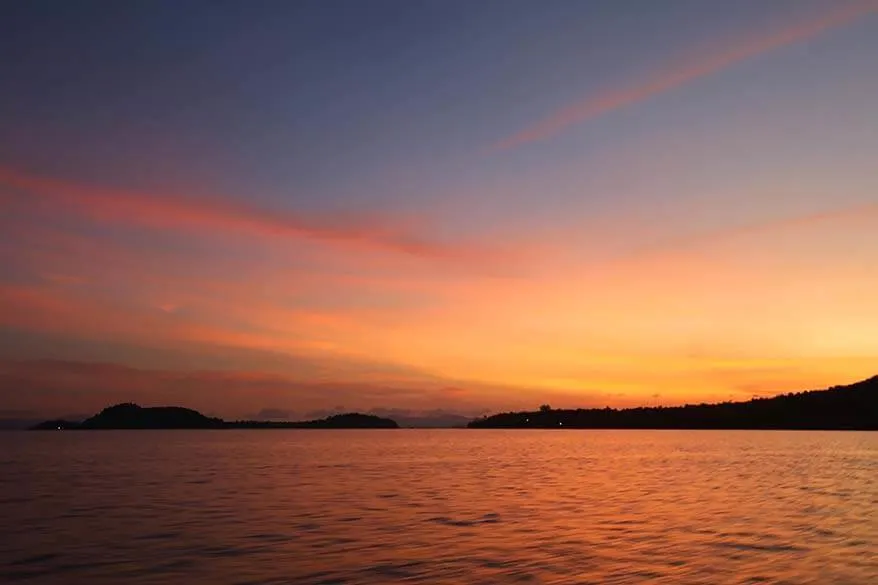 7. Take a road trip
Road trips are a perfect way to travel with children!
Being on the road means that you have plenty of variation without any significant effort. You see many new places every day and have all kinds of exciting experiences along the way.
Try to plan your family road trip in such a way that you definitely get to visit the main landmarks you really want to see, and then fill the gaps with stops at the places which are more suitable for children.
We have taken so many amazing road trips with kids and it's our favorite way to travel as a family. You see so much, can stop when and where you want to, pack what you need (and always have it with you), and plan some great stops that the whole family will enjoy.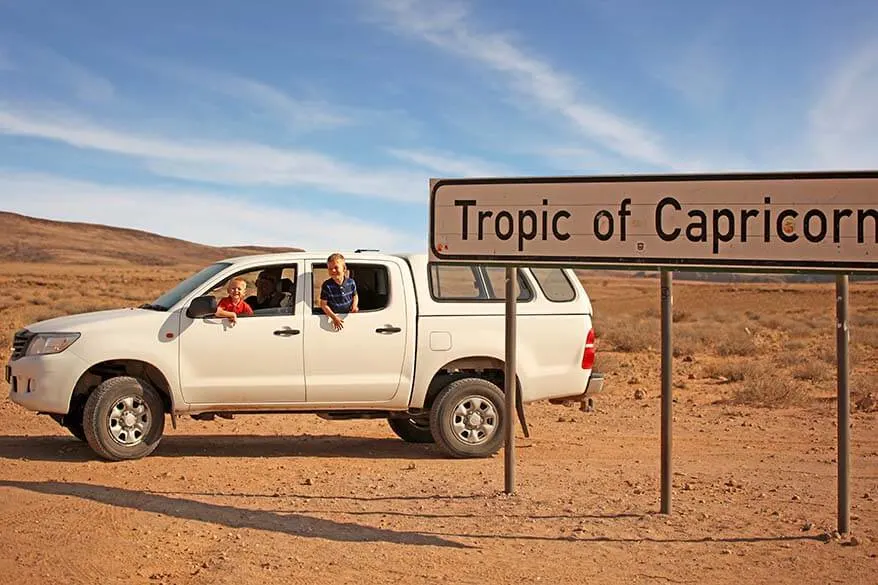 8. Limit driving times and fly the long distances
Now that I told you how great road trips are, I'm telling you to fly instead… 🙂 Road trips are great with kids, but they are only fun if you don't have to spend the entire day in the car! So if you have to cover some really big distances for multiple days in a row, definitely consider flying instead!
If you travel to the other side of the world and you only have two weeks, the chance is big that you will fall into the trap of trying to see too much in too little time. Every road trip involves long hours in a car, but make sure that you limit actual driving hours to 3-5 hours a day when planning a family road trip.
We try to avoid long driving days unless absolutely necessary. More than 2-3 hours in a car in one go is too much to handle for young kids.
And don't plan to drive 5 hours in one go on three consecutive days either! If you drive this long, then hopefully it means that you are heading to a place which is really worth the trip. So consider staying there a bit longer and take your time to relax and explore.
READ ALSO: How to Survive Road Trips with Toddlers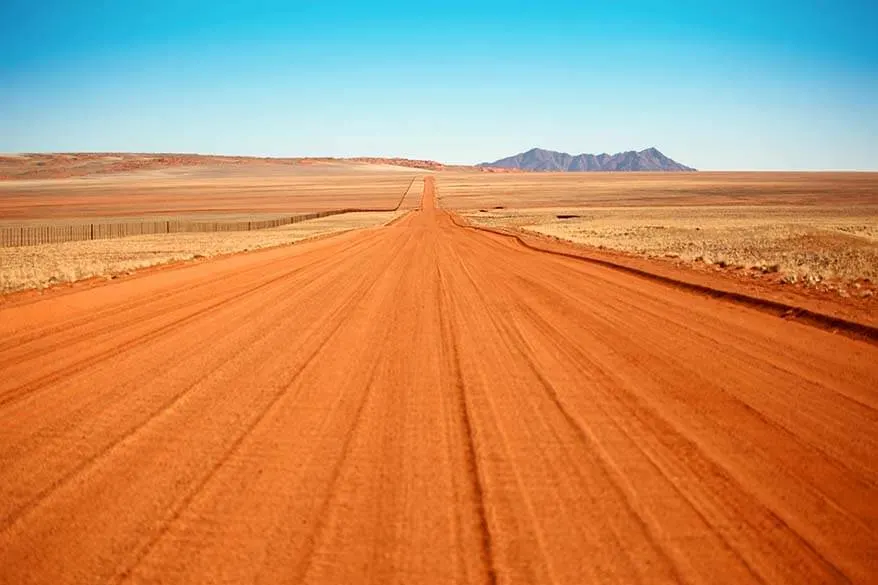 9. Forsee enough variation
Variation is probably the most important factor for a successful family trip! Kids get tired and bored quickly. So avoid this and keep them busy and engaged!
If you foresee enough variation in your activities, you can travel pretty much anywhere with kids of any age.
Want to visit temples in Thailand? No problem. Pick one or two best ones. Want to visit a big city in Europe? Go ahead, as long as you find something fun to do for the kids as well!
Go to the local market. Go to the beach. Take the kids to see some animals. Visit some historic ruins or climb a tower. Do some water sports… Go on a boat ride (kids love boats!). Do a desert ride on a camel. Visit a local tribe or do something else you really want to do…
Consider other ways to bring variety to your trip as well: different types of accommodation, various means of transport, and don't forget local food.
When we travel, our kids are surprisingly open to new experiences. Mind you, they can be difficult about the food at home, but on the road, they eat pretty much anything.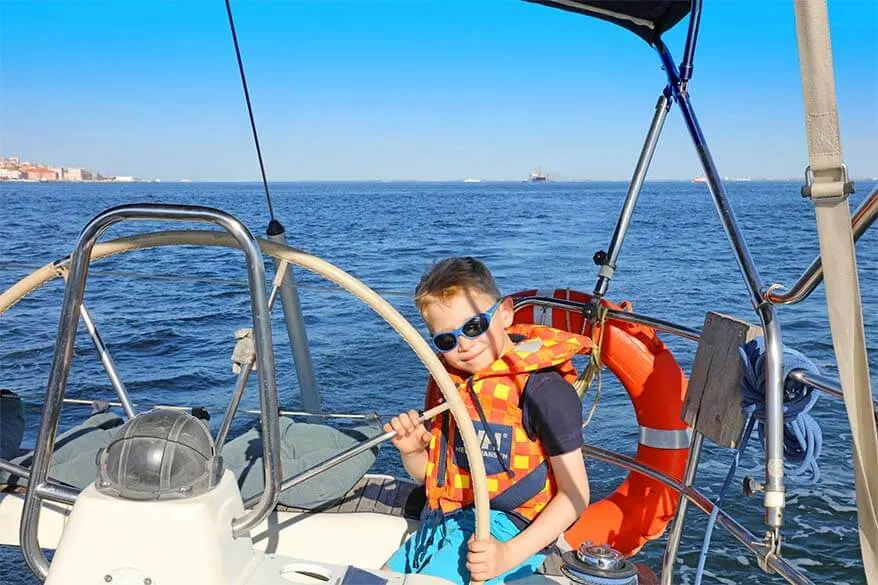 10. Let the kids play!
Kids, and especially young kids, are pretty much single-minded. They want to play! So give them the time and the space to do that when you are traveling!
Look for accommodations with a garden and a pool, go to a child-friendly restaurant once in a while, stop at playgrounds…
Play games in a car. Play games while you hike. Play, play, and when you are tired, play some more.
Single-player puzzle games are a good way to keep children busy during the trip. Our kids also pack UNO on every trip.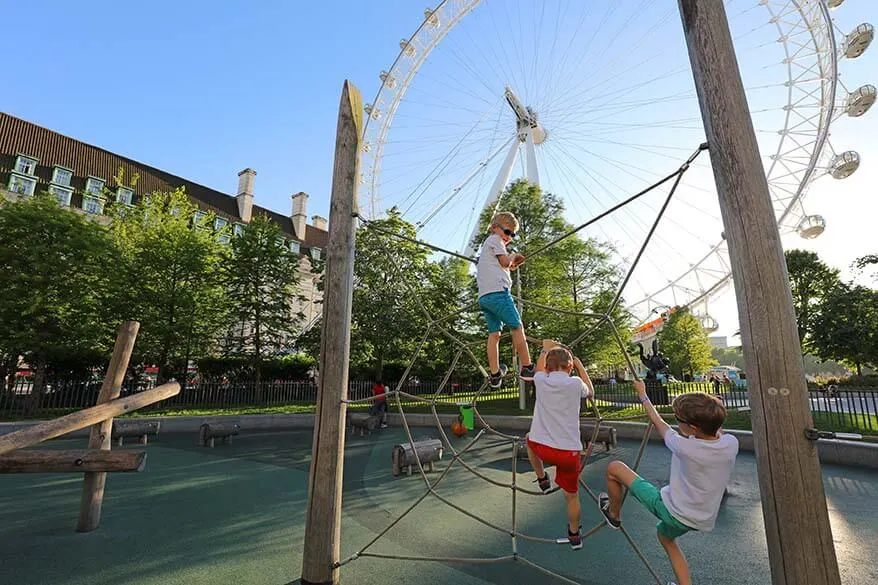 11. Look for animals
When traveling with kids, make sure to look for animals. When it comes to animals and kids, any kind of animals are better than no animals. They'll even play with a snail on the pavement…
Young kids love to see animals! While some destinations like Yellowstone, Costa Rica, Australia, or Africa are perfect for wildlife, it might be less evident in some other places.
However, remember that feeding ducks or chasing pigeons might be just exciting for your children as seeing an elephant.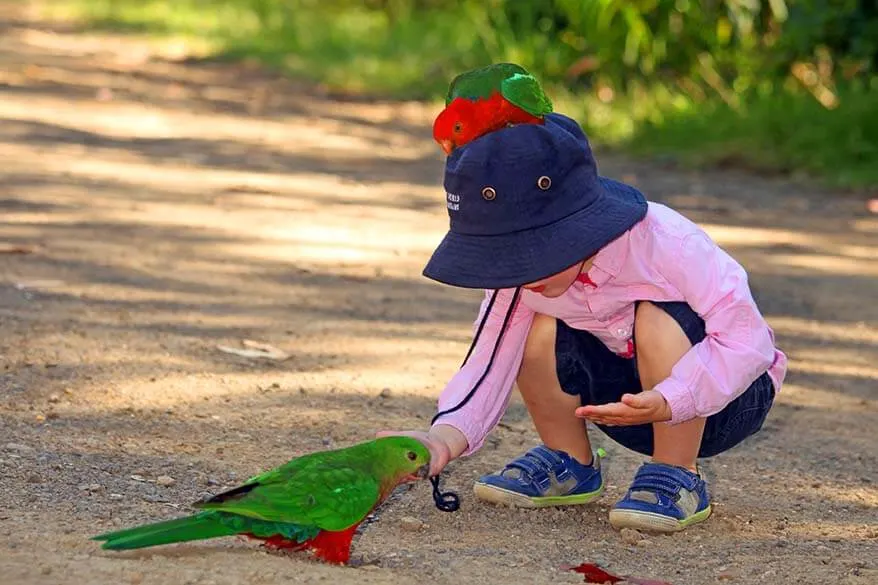 12. Stick to the routine
This is very important when traveling with young kids and gets less important as they get older. But when traveling with young children, try to keep the same routine as at home; as much as possible, of ourse.
When traveling, try to keep the same habits that you have at home, especially the ones related to going to bed in the evening. For example, we always read stories to our kids before going to bed and after they took a bath or a shower, no matter where we are, just as we do at home.
Kids feel safer and more relaxed this way and they know what to expect. They also sleep better.
13. Visit nature destinations
Traveling with family can be very expensive, but there are many ways to make it as expensive or as cheap as you want it to be. One of the best ways to keep your family's travel budget under control is to visit nature destinations.
Furthermore, it's so much more relaxed in nature than it is in the cities or theme parks. There are no crowds of strangers where your kids could get lost and no souvenir shops and other expensive distractions behind every corner.
Enjoy all that nature has to offer! The most beautiful things are often the ones that don't cost anything at all.
You don't have to do every excursion that is available in the area, often you don't have to do any at all. Go hiking and take a picnic with you – a great time guaranteed.
READ ALSO: Best US National Parks to Visit with Kids & Hidden Gems National Parks to Visit with Kids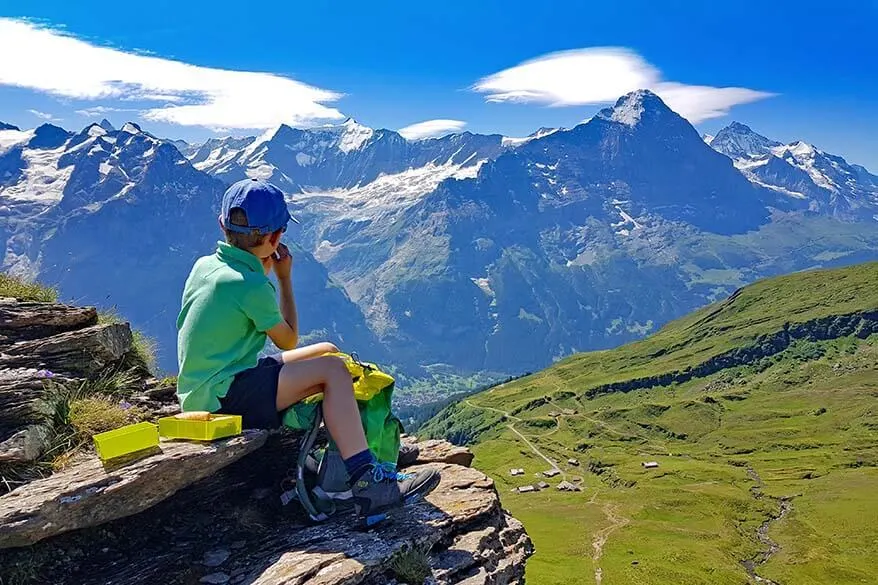 14. Don't buy souvenirs (or get just one)
One of the biggest challenges when traveling with kids for us is them asking us to buy something all the time. This is especially tough when traveling with young children who want everything they see and the moment they see it – ice cream, street food, souvenirs…
I know how difficult it is for kids to just look at something without buying it, and especially so on a trip where you see all kinds of new and irresistible items everywhere you go.
But you really have to resist the temptation, especially when it comes to buying souvenirs. Because once you start, there is just no end to it…
On top of that, things get lost, they get broken, and the worst is that they take place in your luggage during the trip.
Take a picture of the souvenir if you want to and save your money for an extra excursion or go and get some of that local ice cream instead!
We have a deal with our kids that they can choose one item to buy on the very last day of the trip. That saves us lots of whining, endless discussions, and money. By the end of vacation they usually have a better idea of what they really want AND they have something new to keep them busy at the airport or on the plane.
READ ALSO: How To Travel Cheaply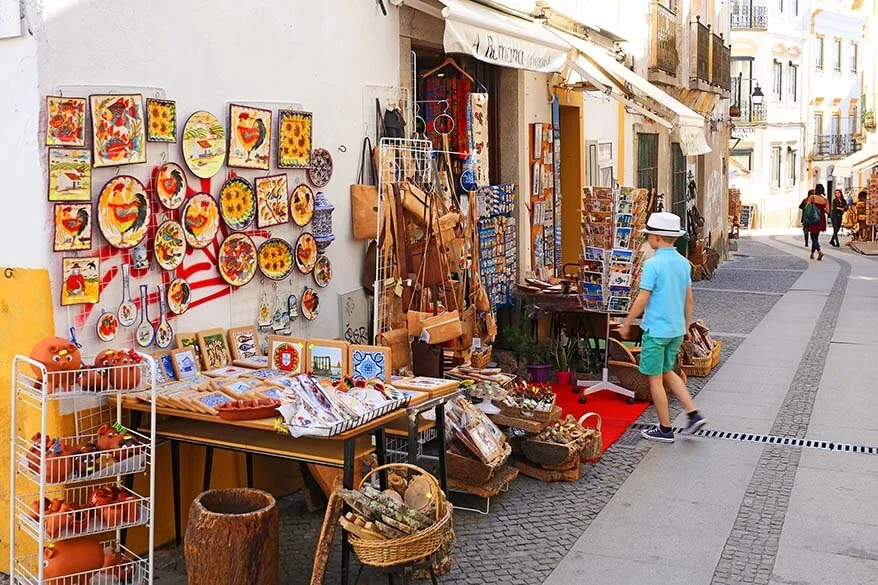 15. Want to buy something? Get binoculars!
If you want to give your kids something special for the trip, get them a pair of small binoculars.
We gave our boys small binoculars as a present during our trip to Namibia, and they loved it. They were very excited to use their binoculars when we went on safari rides, it kept them busy and they were much more interested in all that was happening around them than most other – much older – children whom we met on safari.
I read that some people advise buying a small digital camera for your kids, and while that may be a good idea for somewhat older children, I wouldn't give it to a 4-year-old unless you want him to take a thousand photos of his feet.
We always pack binoculars. For any road trip, not only for the African safari. It's one of the cheapest and most useful travel gadgets you can get for kids of any age!
READ ALSO: Best Travel Gear for Kids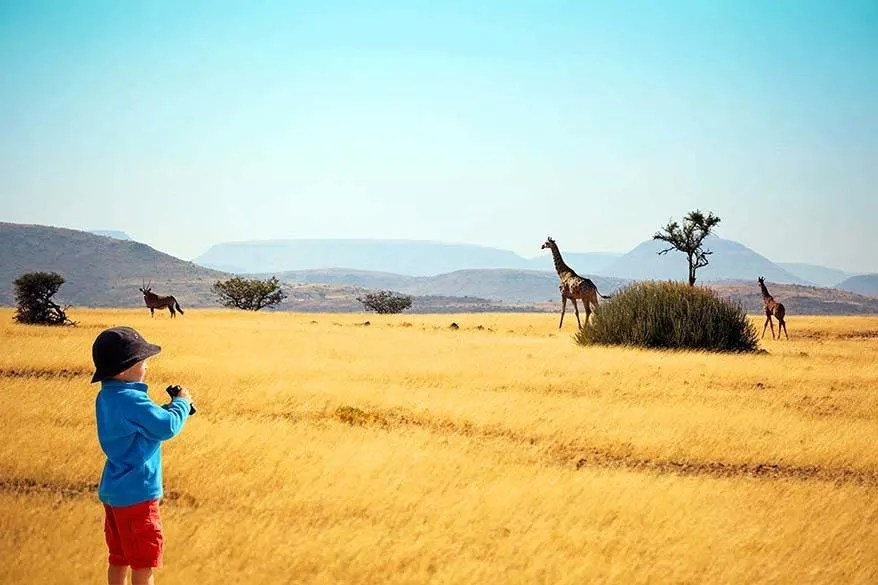 16. Live in the moment and enjoy!
And the most important of all the family travel tips I can give you is to relax and enjoy your trip and time with your family!
Live in the moment, embrace new experiences, try new things, get out of your comfort zone, and make ever-lasting memories with your kids. That's what traveling with your family is all about!
More tips for traveling with kids:
So, these are our most essential tips for traveling with kids. Do you have any family travel tips or tricks that you want to share? Feel free to leave a reply below!
If you found this post useful, don't forget to bookmark it and share it with your friends. Are you on Pinterest? Pin these images!