Are you looking for a travel bag for your children and wondering which one to get? Or maybe you are wondering if it's even worth getting a separate travel bag for kids? This article should answer your questions.
When it comes to traveling with kids, a little organization goes a long way! Something that we've found key to a smooth journey is packing carefully and making sure that we have easy access to things we need when we need them. The best way to achieve this is by having a dedicated luggage space for everyone's belongings.
If you have no luggage restrictions, then it's often really handy to allow your kids to have their own travel bags.
One thing you should keep in mind, however, is that every trip is different and so your kids' luggage needs might be very different as well, depending on your family vacation destination. You won't pack the same way when you are going for a short weekend getaway by plane compared to a long road trip with your own car…
So while sometimes it's extremely convenient to have separate travel bags for kids, there might be trips where you better do without them (especially if you are traveling with more than one child).
To help you decide, we listed some of the advantages of kids having their own travel bag. See further below.
Also, there are dozens of kids travel bags on the market right now. So it is not always easy to choose the right travel bag for your children. Further below you can find some tips on what to look for in good travel luggage and how to choose the best travel bag for kids.
And finally, you will find our hand-picked selection of some of the best kids' travel luggage available with a list of the features they offer. Hopefully, this will help you find just the right thing to make your family travel easier. Find out!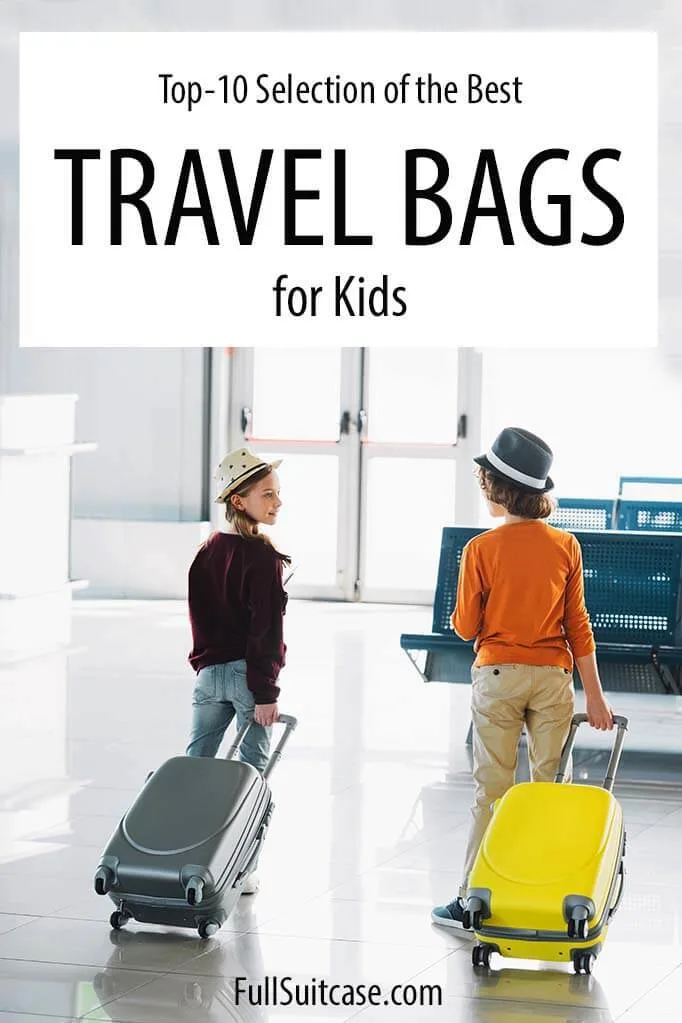 Kids Luggage – OVERVIEW
Advantages of Kids Having Their Own Travel Bags
As already mentioned, there might be situations when you don't want to carry any extra bags on your family trip. However, there are many advantages of each child having their own travel bag. Take a look!
Better Organization
If you have several family members traveling together, packing everyone's things individually is a real time-saver. Rather than trying to separate a large mixed bag of toys and clothes on arrival at your destination, everyone will have their own items at hand, making it quick and easy to unpack.
The same applies to hand luggage for your journey. Having each child carry their own toys, snacks, and precious items keeps your own bag clear. This also makes it easier for everyone to locate exactly what they need.
TIP: We always try to pack a spare set of clothes in each child's travel bag. Accidents happen and it's reassuring to know that you can easily access a change of clothing in an emergency! If you travel with several kids of similar ages and your luggage space is limited, you can also just pack one set of emergency clothes in the carry on luggage.
TIP: If you don't want to take a separate travel bag for each child, give them each a packing cube (or two). That way, they can still have their own travel 'bag' to pack something that they really want to take with them.
READ ALSO: What to Pack in Kids Hand Luggage
Excitement!
Getting your children involved in the packing really helps add to their excitement as your trip draws closer. Furthermore, having your kids help you pack, teaches them some organizational skills.
Sense of Responsibility
Kids respond so well to independence and by providing them with their own travel bags, you are giving them a real sense of responsibility during their journey. It's also helpful for them to realize at the packing stage that they can't take ALL their toys with them and that choices have to be made!
When our kids were younger, they would usually get a set number of toys they could bring with them (usually not more than 2-3 if we traveled by plane and a few more if we travelled by car). As hard as it looks, it really helps you travel light. In addition, it teaches your kids to make choices. More often than not, kids don't play with the toys they pack from home anyway. Playing with shells and stones on a beach is much more exciting than anything they could have packed from home.
What to Look for in a Good Travel Bag for Kids
If you decided that it's the right time for your kids to have their own travel bags, here are a few tips on what to look for when choosing the right luggage for your kids.
Durability
How durable a bag needs to be, depends largely on the type of traveling you'll be doing. If the bag is only needed for shorter, local journeys, then you will be able to get away with something lightweight and less robust. But for other types of journeys – particularly air travel – it makes sense to have a sturdy bag. You need something that can withstand the trials and tribulations of long-haul travel, especially if you are planning to check it in.
Hardshell or Softshell?
There are pros and cons to both types of luggage.
Hardshell bags offer the most protection for fragile items and they are better at protecting their contents from the weather. This is especially important if you plan to check the bag for flying and there's a chance it might be sitting on the runway in the pouring rain!
Hardshell bags, however, are more prone to scratches and cosmetic damage and are much less flexible in terms of how much you can pack.
You can certainly cram a lot more into a soft bag and they often have lots of extra little pockets and compartments, which make it easy for your kids to separate their toys, snacks etc. They are often more lightweight too.
TIP: The fact that you can get a lot more into a softshell bag makes it easy to overstuff it! If you are planning to take it on a plane as hand luggage, make sure that it meets the airline requirements.
Zippers
The zipper is often the weak point in any luggage and can be the first thing to break. It can be pretty devastating in the middle of a packed airport! Look for strong zippers that are easy for little hands to manage, and sturdy seams that are less likely to bust.
Weight and Design
You need to make sure that your child can manage the weight of the travel bag you buy, and that you will be able to manage it in addition to your own bags if they ask for your help. And they certainly will! You should always anticipate that young children will tire of carrying their own bags and you will be the one who ends up carrying it.
Backpack or Suitcase?
Kids travel backpacks are a good choice for shorter trips, for carry-on, or when the luggage isn't too heavy. The weight is divided by the straps which make them easier for children to carry. Just make sure to look for wider straps for ultimate comfort.
Another bonus with backpacks is that they tend to include lots of compartments, helping to keep items better organized.
Trolley-type bags and kids suitcases with wheels are great for longer journeys, or when the luggage is heavier. If your child has smaller items to organize, look for a wheeled bag that includes additional pockets or get them a couple of packing cubes.
Make sure that the wheels roll smoothly and that the suitcase won't easily tip over, which children can find very frustrating.
Depending on a trip or your child's age, you may want to consider a hybrid design, which offers the option of a backpack and wheeled bag. This gives the best of both worlds, allowing your child to go from one mode to another when they get tired.
A Bag That Will Grow With Your Child
If you only travel now and then, you really want to look for a bag that will give you several years of service. This means that you need to give careful thought to the design of the bag you choose. It needs to be large enough for both a younger child and an older child to use, both in terms of capacity and height.
In this case, you may also like to avoid cartoon designs or certain colors. While your child may love a certain TV character now, it could be a very different story even a year from now!
However, if your child will be using their travel bag on a regular basis, then its life may be fairly limited anyway. In this case, I would let your kids choose the bag they like the most, even though it has pink unicorns or colorful cars all over it. The more they like the bag, the more likely it is that they will carry it themselves the whole time.
TIP: Choose a bag that the kids could also use at home – for sleepovers, school trips, extracurricular activities, and similar. That way, you don't waste money on a travel bag that will only be used once.
Warranty
Some kids travel bags offer extended warranties, although it's important to note that these only usually cover manufacturing faults rather than wear and tear, accidental rips, etc.
Also, if you are getting a travel bag for a really young child, chances are that it will not be used for long anyway. So I wouldn't necessarily let my choice for kids luggage depend on the warranty duration.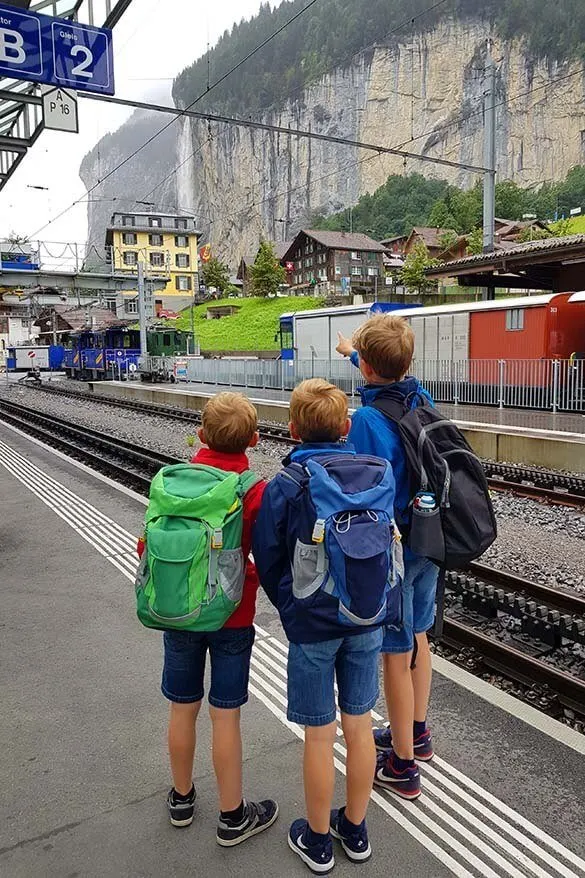 The Best Travel Bags for Kids
And finally, now that we covered the advantages of kids travel bags and what to look for when choosing one, below is a list of some of the most popular travel bags, backpacks, and suitcases for kids of all ages.
As the kids get older, you won't be buying any special kids' travel bags anymore, so most of the bags in this selection are mostly meant for younger children. But we also included several timeless luggage suggestions that will suit school-going kids and teenagers as well.
For each of the kids' travel bags listed below, we also included a short review and a list of the main features that we think make them most useful. Find the best travel bag for your kids – see below!
Please note that the numbering in this post is totally random. It's also a pure coincidence we ended up with a round number of 10. All the kids travel bags listed here are really good and they all have something unique. There is no one perfect choice for everyone, but I hope that this list will help you find the right bag for your child. Find out!
1. Skip Hop Kids Luggage with Wheels
One of the cutest travel bags for kids on the market, Skip Hop Kids Luggage will best suit the youngest members of the family. It has been a favorite of many traveling families for years. In fact, we already featured this travel bag in our selection of the best kids travel gear. I know several families who use these bags for all their kids and all their trips.
The Skip Hop kids luggage is not only fun to look at, but it's also really well made and easy to use.
Available in different animal designs, this kids' travel bag is sturdy and durable. We love the cute, matching zipper pulls and the handy write-on name tag, which is useful if your child takes the bag to daycare.
Deceptively spacious, the bag will hold up to a week's clothing for younger children. The only disadvantage is that the retractable handle can't be set to different heights, so it can be difficult for younger children to pull comfortably.
Suitable for youngest kids – from toddlers to preschoolers.
Dimensions: 7″ x 12.5″ x 18″.
Easy to clean.
Elastic mesh bottle pocket.
Back loop to keep shoulder strap tucked away.
TIP: Skip Hop has a big selection of matching items, such as toddler backpacks, lunch boxes, or reusable water bottles, so you can get the whole set of accessories for your kids.
2. American Tourister Kids' Softside Suitcases
There are a variety of American Tourister softside bags to choose from. The kids' models often feature Disney characters and there are also really nice designs that would appeal to teenagers as well.
The front is made of vinyl, which is flexible enough to allow you to squeeze in those extra items, and there's a large mesh pocket on the interior panel.
These bags tick lots of boxes – they are durable, lightweight and easy to roll, with an easy-pull handle that makes them perfect for little hands. The 18″ models are fairly small in size, so we recommend using them for younger children only. For older kids and teens, we recommend 21-28″ luggage.
Suitable for kids of all ages, starting with 18″ bags that will suit kids from about 3 years old.
Wide range of designs and sizes available.
Easy-to-roll in-line skate wheels.
10-year warranty against defects in materials and workmanship.
3. American Tourister Hardside 18″
There are lots of different vibrant Disney designs to choose from in American Tourister's hardshell range, which offers that extra layer of protection for your child's belongings.
The 18″ kids hardshell suitcases feature a very useful zip-around mesh divider which effectively creates an extra compartment. The zippered side is really useful for storing socks and undies.
The wheels move smoothly and quietly and the bag rolls along upright, so it's very easy to manage, also for young kids (age 3 and up). The handle is comfortable for little hands and slides up and down easily.
Suitable for kids from about 3 years old.
Dimensions 18.0″ x 13.0″ x 8.0″.
10-year warranty against defects in materials and workmanship.
Mesh divider to create a separate compartment inside the suitcase.
Cute Disney zipper pulls.
TIP: There are also similar models for somewhat older children and teens – take a look at the bigger sizes here.
4. Trunki Original
The durable Trunki is the original ride-on suitcase for kids and is a great way to keep little ones occupied when they are waiting around en route. It can also be used as a seat when the kids are tired of standing.
It has horn grips for steering and a comfy saddle, but there is also a shoulder strap that doubles up as a tow leash. This means you can easily pull your little one along if he's simply too weary to ride!
The perfect size to use as carry-on luggage, the Trunki has a capacity of nearly 15 gallons, with an internal pocket and elastic straps to keep everything in place. There's also a lock, so you don't have to worry about it coming open as your child moves it along.
One disadvantage is that the wheels of the Trunki are designed to allow it to move in a straight line only. This means it has a tendency to tip over fairly easily on corners, which can be annoying when it happens repeatedly!
Nevertheless, this is still a great travel bag for kids. It provides some entertainment and might help you survive airport madness without losing your mind! Just make sure to make clear arrangements with your kids, so that they don't get too wild on their little wheels, because other passengers might not appreciate that.
Suitable for children age 3+.
5-year warranty.
Ride-along, tow-along, carry-on.
Dimensions 17.5″ x 8″ x 12.2″.
Can be locked.
5. Kids Hardside Carry on Luggage Sets with Wheels
There are so many really nice luggage sets for little kids. The iPlay iLearn luggage sets offer a nice cuteness/quality ratio. They come in a range of different fun designs.
These kids luggage sets are constructed from tough, durable polycarbonate material, offering great protection for delicate items and that all-important weather-proofing!
Despite being tough, these bags are lightweight and easy for kids to manage, with multi-directional wheels that make it easy to roll them along. The telescopic handle is comfortable for little hands, with smooth and sturdy grippers.
The backpack has nice wide, adjustable straps so it's comfortable to wear, while the case has pockets inside (a nice touch, since some hardshell suitcases don't offer this feature).
TIP: The backpack would work well as a school backpack too, making the most of your investment.
Best suitable for little kids.
Made of durable Polycarbonate, ABS and Nylon.
Lightweight.
Sturdy, 2-way zippers.
6. Jack Wolfskin Explorer Backpacks
If you are looking for a comfortable travel backpack for kids, take a look at the Jack Wolfskin Explorer series. These backpacks are very light and extremely comfortable to wear for a longer time. These backpacks exist in two sizes: Jack Wolfskin Explorer 16l for preschoolers and Jack Wolfskin Explorer 20l – for kids from about 6 years old.
Two of our kids have these backpacks (20l) and they use them on many trips and also at home, for music school or school field trips. If we plan a vacation that involves lots of hiking, we always pack these backpacks and the kids can carry them without any problems for longer hikes of 4-6 hours.
These backpacks are really well-made and have no zippers. I was a bit skeptical about that at first, but kids love them and don't mind the closing mechanism at all. In fact, I think that any backpack with a zipper would have been broken long ago, while these bags have been used for over 3 years and they still look as good as new.
The smaller backpacks are suitable for kids up to 3-5 years old, the bigger ones – from about 5-6 years. Our twins are now 10 and the 20l backpacks that we bought when they were 7 are still perfect for them.
Lightweight and very comfortable to carry for longer periods of time.
Durable quality materials.
7. Mountaintop Kids Backpacks
Mountaintop kids backpacks come in several sizes – from toddlers to school-going kids. These backpacks are great for all types of travel because they are light, versatile, and you can use them for so many purposes.
These backpacks have comfortable wide adjustable straps so they can be worn for longer periods of time. They can be easily used as a lightweight kids' carry-on bag, but are also suitable for short hikes and other activities. In addition, they can be used for (pre)school and school trips too.
So if you don't need a big travel bag for your child, this backpack might be a much better investment. Most designs are timeless, so these backpacks can easily be used for several years.
The toddler bags are suitable for kids up to 3-5 years old, whereas the bigger models will suit kids from about 4 to 10 years old.
Lightweight.
Timeless designs.
Water-resistant quality materials.
8. Stephen Joseph Rolling Luggage
The Stephen Joseph Luggage Range includes lots of brightly colored designs for younger children, but the brand makes lots of other items for kids too, including umbrellas, rain boots, totes and more. If your child likes matching items, then a Stephen Joseph Luggage Set makes a great coordinated accessory.
Kids will love the multiple outside compartments on these bags, which are great for organization, but not always found in other models of kids travel bags. That extra bit of space is very useful and you can fit around a week's clothing for a younger child into this bag.
The case rolls easily and can be easily used as kids carry on luggage. Our only cautionary note is that these children's bags aren't quite as sturdy as the others in this review.
TIP: Some parents find that the area at the top of the front pocket is ideal for adding your child's name!
Dimensions: 14.5″x 18″x 6.5″.
Coordinates with a wide range of Stephen Joseph Accessories.
Multiple outside compartments for better organization.
Easy to clean.
9. Yodo Zoo Toddler Backpack with Wheels
Yodo Zoo 3-Way Kids Rolling Luggage is a toddler backpack with wheels. These cute sturdy bags are great travel bags for toddlers and younger kids. They can be used as a hand-held bag, a backpack or a rolling case.
Smaller in size and more suited for day or weekend trips, these bags come with a zip pocket on the inside and mesh pockets for drinks.
If your child becomes tired of carrying the bag as a backpack, he can secure the straps out of sight with Velcro and use it as a roll-along bag. And when he wants to use it as a backpack again, he can use the built-in covers to hide the wheels.
The bags come in small and medium sizes, although it's worth noting that there is no name tag or inner pocket in the small versions. The only thing to take into account is that the backpack might be a bit too big for very young children.
TIP: Make sure that your child has removed the wheel covers before he starts rolling this bag along. It's very easy to forget, but then there's the risk of the covers becoming damaged or dirty after being in contact with the ground.
Dimensions: 11.8″ x 6.1″ x 15″.
Can be used as a hand-held bag, backpack, or rolling bag.
Easy-to-use zippers.
Adjustable handle height (meaning that it's not too uncomfortable for you to pull the bag if needed).
10. ZOMAKE Ultra Lightweight Packable Backpack
This ultra-light packable backpack might be just the perfect solution if you don't want to invest in a real travel bag for your kids or aren't sure if and how often it will be used. It folds so small that you can always take it with you even if you are traveling extremely light.
These backpacks come in many different sizes and are actually meant for adults, but the smallest 20l backpack could be perfect for kids from about 10 years old as well.
This backpack is so light and versatile and offers great value for your money. Chances are big that you'll end up buying one of these for each member of the family. This is a perfect travel backpack that you can always take with you. It will be used time and again.
Weight 0,5 LB (0,22kg).
Packable.
Water-resistant.
Wide, breathable mesh shoulder straps.
11. Trunki BoostApak
No list of kids travel gear on my blog would be complete without mentioning our favorite travel bag that our kids have used for years – Trunki BoostApak.
The backpack makes a perfect kids carry-on luggage. Its 8-liter capacity is usually more than enough for everything that our kids want to pack on the plane.
We just love the versatility of this backpack, which doubles up as a booster seat. You can read more about it on our review of the best booster seats for travel.
Good to know: There is just one disadvantage – the booster seat is only approved in the EU, so you cannot buy Trunki BoostApak in the United States.
Suitable for children age 4-11 years, weighing from 15-36kg.
Approved as hand luggage by most airlines.
Converts from a backpack to a booster seat in seconds.
The fold-out seatbelt guides and seat belt adjuster help you ensure a perfect – and safe – fit.
EU-certified for everyday car use.
So, this is our selection of the best travel bags, suitcases, and backpacks for kids. Does your family have a favorite kids' travel bag or backpack? Let us know by leaving a reply below.
READ ALSO: Travel Gifts for Kids (That they'll actually use)
More tips for traveling with kids:
Travel gifts for the whole family:
If you found this post helpful, don't forget to bookmark it and share it with your friends. Are you on Pinterest? Pin this image!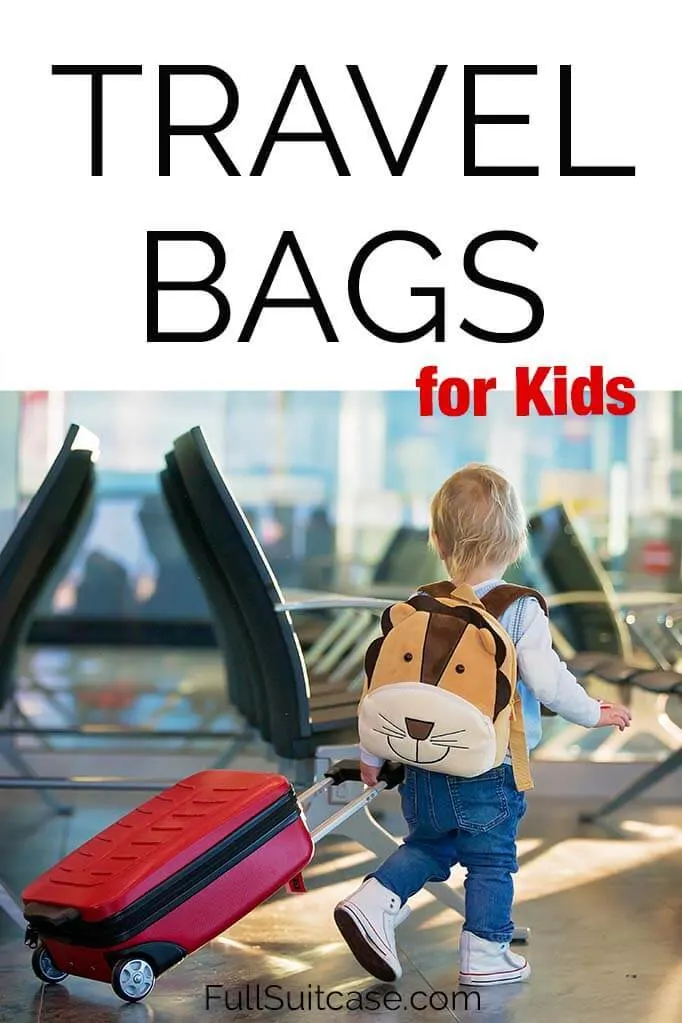 Image credits: Jurga/FullSuitcase.com// tatyana_tomsickova/iStock.com// LightField Studios/Shutterstock.com