Looking for a gift for someone special and running out of ideas? This list of Nordic gifts should give you plenty of inspiration for some unique presents inspired by Nordic countries.
In this selection, we feature some traditional gifts from Norway, Finland, Iceland, Sweden, and Denmark, and also fun presents inspired by Nordic folklore, lifestyle, culture, and design.
Whether you are looking for travel-themed Nordic gifts for someone who loves Scandinavian countries and their culture or simply like Nordic motives or Scandinavian design, you're sure to find some great ideas in our gift guide below.
Good to know: Our hand-picked selection features Nordic gifts for birthdays, Christmas, and pretty much any other occasion. Only a few Scandinavian presents on our list are on the more expensive side; most others are really affordable, and many are also practical gifts that can be used every day.
Some smaller gifts also make good Christmas stocking fillers. And we made sure that our guide has something for everyone on your list – men, women, and children.
Take a look!
READ ALSO: Travel Gifts for Kids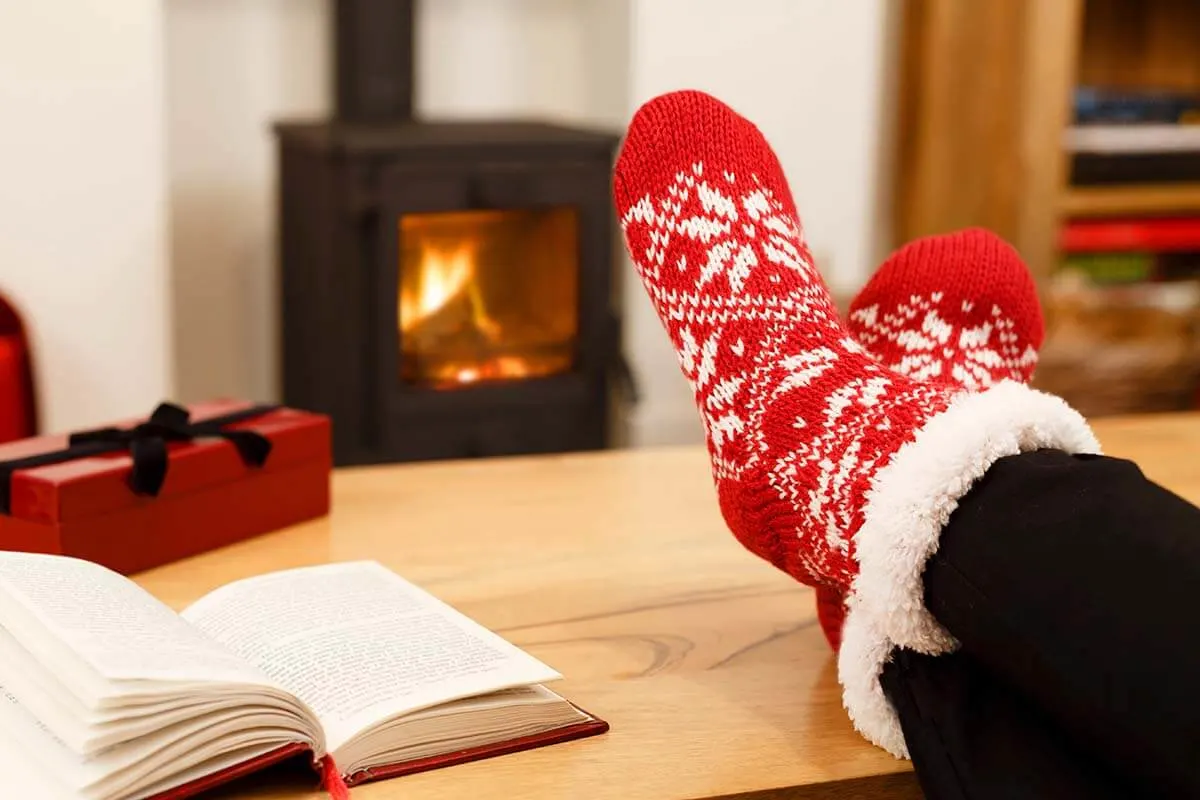 Here's our selection of Nordic gifts for him and her:
Nordic Wool Socks
No list of Scandinavian gifts would be complete without mentioning Nordic wool socks. It's a present you truly can't go wrong with (unless the receiver lives in a tropical climate and has no intention of traveling to the Nordics or other cold places, of course)!
Whether you are looking for a fun affordable gift for kids, teens, women, or men, colorful warm socks with Scandinavian motives are sure to put a smile on their faces!
If you want to play it safe, you can opt for somewhat more traditional colors. Whereas if you are looking for something a bit more remarkable, go for the more colorful designs.
It's a useful gift too, but definitely more special than getting someone a pack of regular socks they'd buy for themselves anyway. And one can never have too many warm socks, right?
TIP: Nordic socks also make for great Christmas stockings fillers.
Amazon has a nice selection of warm Nordic socks for everyone on your list.
Scandinavian Cookbooks
If you are looking for a Nordic gift for someone who loves to cook and likes to try something new, a cooking book can be an excellent present!
There are books focused on the cuisine of a specific country, or you can also opt for a Nordic cookbook or a Nordic baking book that has recipes from different Nordic countries.
Here are some more popular Scandinavian cookbooks in English:
Scandinavian Christmas Ornaments
If you are looking for fun Nordic gifts for Christmas, then you can't go wrong with Scandinavian Christmas Ornaments.
From knitted Swedish gnomes to wooden snowflake ornaments, there are so many beautiful Nordic Christmas decorations!
TIP: Many of the Nordic-style Christmas ornaments are made of wool, wood, or other materials that won't easily break. So this is a nice gift for anyone with young kids or pets as well.
Take a look at our hand-picked selection below, and see here for many more.
Nordic Delicacies
When you really don't know what to get someone who has everything, food or drinks can be a good solution. Norwegian, Icelandic, Finnish, Danish, or Swedish delicacies make for some really nice Nordic gifts!
Why not make a nice gift basket containing some of the following foods and drinks with the Nordic heritage:
Viking-inspired Gifts
When you think of the Nordics, you think of Vikings. And, of course, there are all kinds of Viking-inspired Nordic gifts: Viking cups and horn mugs, Viking bracelets or necklaces, Viking knives, etc.
Most Viking gifts are meant for men. But there are also Viking cooking books, Viking toys, etc. so you can find a nice gift for everyone on your list.
Icelandic Sweaters
If you are looking for a somewhat more luxurious gift for someone who loves Iceland (or just want to treat yourself), consider an Icelandic wool sweater 'lopapeysa'.
A quality Icelandic wool sweater is not a cheap purchase. However, if you are certain that the person you're buying it for will actually wear it, then you really can't go wrong with this present. It's a timeless gift that people will use for years to come!
Just be sure that you know what you are buying (as that will also determine the price). There are lots of really nice sweaters with Icelandic designs that only have a bit of wool, whereas the traditional Icelandic sweaters are handmade and consist of 100% sheep wool.
Fjällräven Bags & Outdoor Gear
Fjällräven is one of the most popular outdoor gear brands in the Nordics. This Swedish label is known for sustainable and quality outdoor clothing and equipment.
From the world-famous Fjällräven Känken bags and accessories, travel toiletry bags, winter hats and sun hats, to all kinds of outdoor clothing including some of the warmest winter jackets out there, Fjällräven products make great gifts for women, children, and men.
Anyone who loves the Nordics will appreciate this quality brand! And because their products are so diverse, you can find something for any budget.
Nordic Tales & Mythology Books
Books are always an excellent gift, for young and old.
So if you are looking for a present for someone who is fascinated by Nordic countries and their culture, why not give them a nice book with folktales, myths, and stories from the Nordics.
Amazon has a nice selection of books on Nordic folklore.
Norwegian-style Clothing, Accessories & Home Decor
The Norwegian rose pattern 'selburose' (aka Norwegian snowflake design) is somewhat of a symbol of Norway.
This knitted octagram snowflake/ flower pattern wasn't invented by Norwegians, but it's something you see everywhere – from knitted Norwegian sweaters and mittens to home decor items such as pillows or blankets, and everything in between.
If you know someone who's fascinated by Norway, then you really can't go wrong with a present with a selburose design.
Here are just a few ideas for Norwegian gifts with this traditional pattern:
Tomte Gnomes
Tomte (aka Tomten) is a sort of Swedish version of Santa Claus. In fact, it's more of a house gnome who secretly lives in or near your house and is responsible for the protection of its residents and their welfare.
Finland has a similar elf called Tonttu and Norway – Nisse. Whatever you call it, it's part of the Nordic folklore and makes for a nice Scandinavian-style gift, especially at Christmas.
There are lots of nice gifts featuring this Scandinavian character, but the most popular are, of course, Tomte books and fairytales.
Books on Scandinavian Lifestyle
Nordic nations are among the happiest in the world. If you want to learn more about their secrets to happy life and well-being, check out some interesting books on the Scandinavian lifestyle.
These books also make a nice present!
Swedish Dishcloths
If you are looking for a practical, affordable, and sustainable Nordic gift, check out Swedish Dishcloths. Invented by a Swedish engineer in the 1950s, these reusable dishcloths are commonly used all over the Nordics instead of paper rolls.
They say that a single Swedish dishcloth can replace 17 rolls (!) of paper towels. It's no wonder that these eco-friendly dishcloths are quickly gaining in popularity all over the world.
You can find them in all colors, sizes, and designs. And because they are also so cheap, you could even use them as stocking fillers at Christmas. They even have them with Christmas designs.
Moomins
Moomins are comic characters best known for the Moomin books by Tove Jansson. World-known as an essential part of the Finnish culture (if not a cult), Moomin books were actually originally published in Swedish.
Moomin characters are so cute that Moomin-related products make great gifts for anyone on your list, not just for children. From Moomin books to mugs, socks, and countless other products, you'll have difficulties choosing!
Here are just a few popular options if you want to join the Moomins family:
Trolls
Trolls are part of Scandinavian folklore, mainly Norse mythology. So if you are looking for somewhat more unusual and fun Scandinavian gifts, why not take a look at trolls!
From world-known colorful Troll mini-dolls to recent Trolls and Trolls World Tour movies by Dream Works, these make great gifts for kids! These are much cuter than the original hairy Scandinavian trolls featured in Norwegian folk tales or in older movies…
Finnish Sauna Accessories
When you think of Finland, you probably immediately associate it with the Finnish sauna.
A wooden sauna bucket and ladle make a nice present for sauna lovers. In addition, there are other sauna accessories such as sauna hats (although they're more a Russian tradition than Finnish), thermometers, etc.
Nordic Calendars
If you are looking for a simple, affordable, and practical Scandinavian Christmas gift, you can also opt for a nice calendar with pictures from one of the Nordic countries.
We especially love calendars with pictures from Iceland or from Norway since the landscapes in these countries are amazing! But there are some stunning calendars from Denmark, Sweden, and Finland as well.
READ ALSO: Iceland Travel Guide & Norway Travel Guide
So, this is our guide to some fun Nordic gifts inspired by different Scandinavian countries. I hope that this helps you find something special that will make your friends and family happy.
For more gift ideas, you may also want to check our guide to some travel-inspired gifts or – if you are looking for gifts for children – travel books and destination guides for kids and travel gifts for children.
And if this Scandinavian gift guide has inspired you to visit some Nordic countries, be sure to check our articles about Iceland, Norway, the Faroe Islands, or Greenland.
You can also find an overview of all destinations in our travel destinations guide.
If you found this post useful, don't forget to bookmark it and share it with your friends. Are you on Pinterest? Pin these images!