One of the most asked questions when it comes to road-tripping with kids is what kind of travel car seat is the best. The answer depends on so many different factors – how and where you travel, how old are your kids, and how light you want to travel. In my opinion, packing a high-back car seat on a plane is really not worth the hassle, so in this article, I will only focus on the best booster seats for travel – portable booster seats. Here's why.
In my opinion, if you are traveling with a baby or a young child, you better just rent an appropriate car seat when you rent a car abroad.
Car seats for that age group cost a lot of money and are bulky to pack, while the price to rent one isn't that high compared to what it costs.
Whereas if you travel with older kids who can use a booster car seat, it's exactly the opposite. Travel booster seats are cheap to buy, easy to take with you, and renting one would often mean paying more.
And now back to the best portable booster car seats. Below, you can see an overview of the information you can find in this article, including all the best travel boosters in our selection.
You can jump straight to the product information, but I strongly recommend that you also read practical tips and advice that should help you choose the right child booster seat for travel.
Update: We have done our best to update this article through the years. But there are so many changes all the time! Regulations change, products and companies disappear and new ones emerge. With the last update, we had to remove two products completely since they are not available anymore and there are no similar alternatives. So use this just as a guide to see what kind of different types of travel boosters there are, and be sure to always double-check the requirements and product specifications that are important to you!
TIP: At the moment of the last update, BubbleBum booster is the most popular travel booster seat choice among our readers in the USA. Ride Safer Vest is a distant second, on a much higher budget but also quite incomparable to any others safety-wise.
Travel booster seats – overview:
Travel Car Seats & Booster Seats – Our Experience
We have three kids and have traveled with them overseas ever since they were born. We always rented car seats for our kids when they were young. I just couldn't imagine adding a big car seat to our travel luggage, not even to mention having to take two or three of them.
To us, traveling light is the best way to survive traveling with young kids.
LEARN MORE: Tips for Traveling with Kids
When our oldest was almost 5, we made a 5-week road trip in Australia. Twins were just 3 years old at that time. With three young children and multiple flights, there was just no way we would pack portable car seats for all of them. So we reserved car seats for the twins when we booked our rental car. With multiple rental cars at 4 different destinations in Australia, we spent a small fortune on those two car seats.
We, therefore, decided to at least look for an alternative solution for our 5-year-old. That's when we started researching all available booster seats and realized that buying one would save us several hundreds of dollars.
But even a regular booster seat is not easy to pack with you. So we looked for the best travel booster seats – something that would fit all the safety requirements and at the same time would be easy to pack.
This was years ago and in the meantime, we have bought two more travel boosters for our twins as well. I am happy to say that we are still using the same travel booster seats today. We have used them on every single trip ever since and also on a daily basis at home. Buying a quality travel booster car seat was one of the best investments ever.
But before we talk about the specific travel booster seats, we should first cover some things you have to consider before buying a booster seat for your trip. Read on!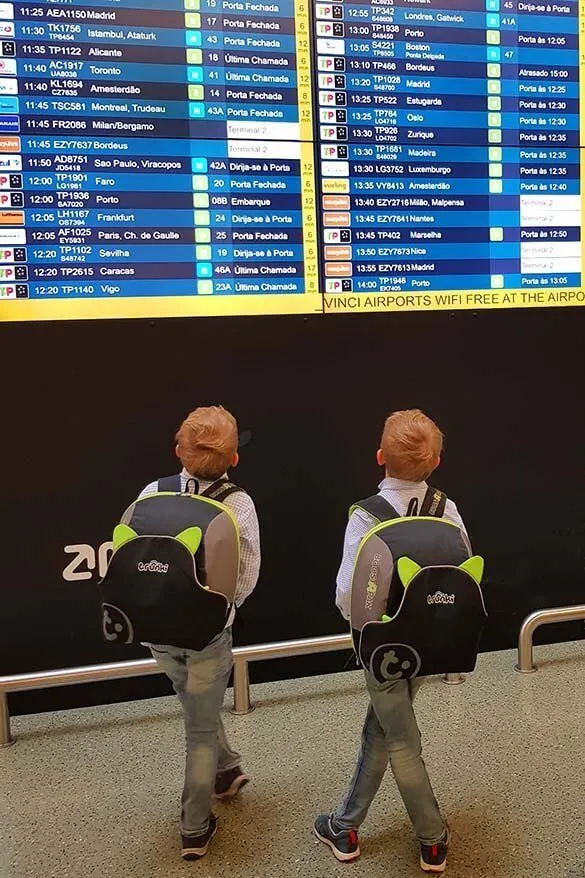 Booster Seat Requirements
Booster seats are generally suitable for kids from around 4 years of age when children are no longer required to use a car seat with a 5-point harness. A portable travel booster seat ensures your child's safety whenever you rent a car or use a taxi away from home.
However, the rules for the use of car seats and booster seats vary significantly from one country to another. So it's essential to consult an official source for the country that you are traveling to in order to make sure that you have the right car seat for your child. More information about this below.
In some parts of the world – particularly much of Asia and northern Africa, there are hardly any laws requiring car seats or boosters of any kind. However, I'd still advise to rent one or bring your own. After all, you should be more concerned with your child's safety than the (lack of) local laws.
We have rented car seats in South Africa and in Namibia for our kids and most of the time they looked completely ok to us. If in doubt, ask to change a car seat – quality car rental agencies usually have plenty of them available.
As I said before, the moment our kids were old enough for a booster car seat, we just bought our own and never had to worry about it again. Bringing your own booster seat gives you complete peace of mind and ensures that your children can travel safely wherever you go.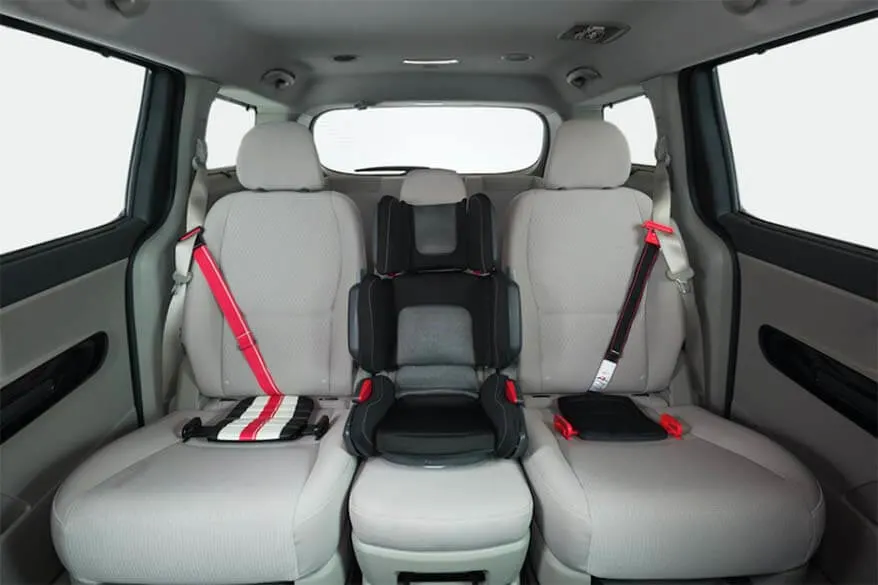 Local Laws
If you are traveling abroad, make sure to check the laws for booster seats in the country you are visiting.
Below you can find some links to the car seat and booster seat rules for a variety of destinations. Please note, however, that laws around car seat requirements change all the time, so it's your responsibility to do proper research for the most up-to-date situation for the country you're visiting.
Some countries require travel booster seats to carry specific labels in order to be legal for use, so it's very important to read these regulations carefully.
While the rules about car seats and boosters for children are very relaxed across much of Asia, there are some countries that do have regulations. Our advice is to look up your specific destination and check the rules before you travel.
Car seat requirements are now a bit different all over Europe. While in the past you could use a booster car seat for kids from around 4 years, the new law requires a minimum height of 125 cm (4ft1) and weight of at least 22 kg (49 lbs) in order to use a backless booster seat.
In most European countries, kids can use a regular adult seat from 135 cm (4ft4) height (e.g. France, UK, Denmark, Sweden, Spain, Netherlands, Belgium, Luxembourg…). However, some other countries require that kids under 150 cm (4ft 9) or under 12 years use a booster seat as well (e.g. Germany, Italy, Austria, Switzerland, Portugal, Poland, Slovenia,…).
Since car seat requirements are different in every country and the situation might change again, I encourage you to research the laws of the specific country you're planning to visit. You may also want to check if the booster you have is approved for use in the country you're traveling to.
Other Things to Consider When Choosing Travel Booster Seat
In addition to local laws and regulations, there are a few other important things to consider when choosing the most suitable booster car seat for travel. Find out!
Safety
High-backed booster seats with 'wings' are the safest type, as they provide the best protection for your child's head and neck in a side-impact crash. Unfortunately, though, it's not always possible to carry this type of seat with you if you are traveling long distances.
The important thing to remember is that any approved booster seat is better than none at all.
Weight and Size
After safety, weight and size are probably the most important considerations when choosing the right (booster) car seat. Whilst some travel booster seats are ideal for local trips and days out and about, others are more suited to longer journeys where you are restricted on how much you can carry.
That being said, you might find that any extra baggage charges you incur from taking your own booster seat would be less than the cost of hiring a booster seat at your destination. Plus, of course, you will then have a portable booster seat for future use!
If you are traveling with 2-3 kids, consider if you can fit all the travel boosters next to each other (and hope they don't fight all the time 😉 – see also our tips for how to handle long car rides with kids.
Versatility
Some seats are designed to serve more than one purpose, which is great if you have limited luggage space and want to get the most 'bang for your buck'.
Important Tips
Wherever possible, we recommend sitting with your child and keeping an eye on them if using a backless booster, as it is a little easier for them to wriggle into an unsafe position.
Try to place your travel booster seat in the middle back seat if appropriate. Experts say that this is the safest position in the car.
Practice fitting the booster seat before you travel. While most boosters are pretty straightforward, some may need a little more expertise!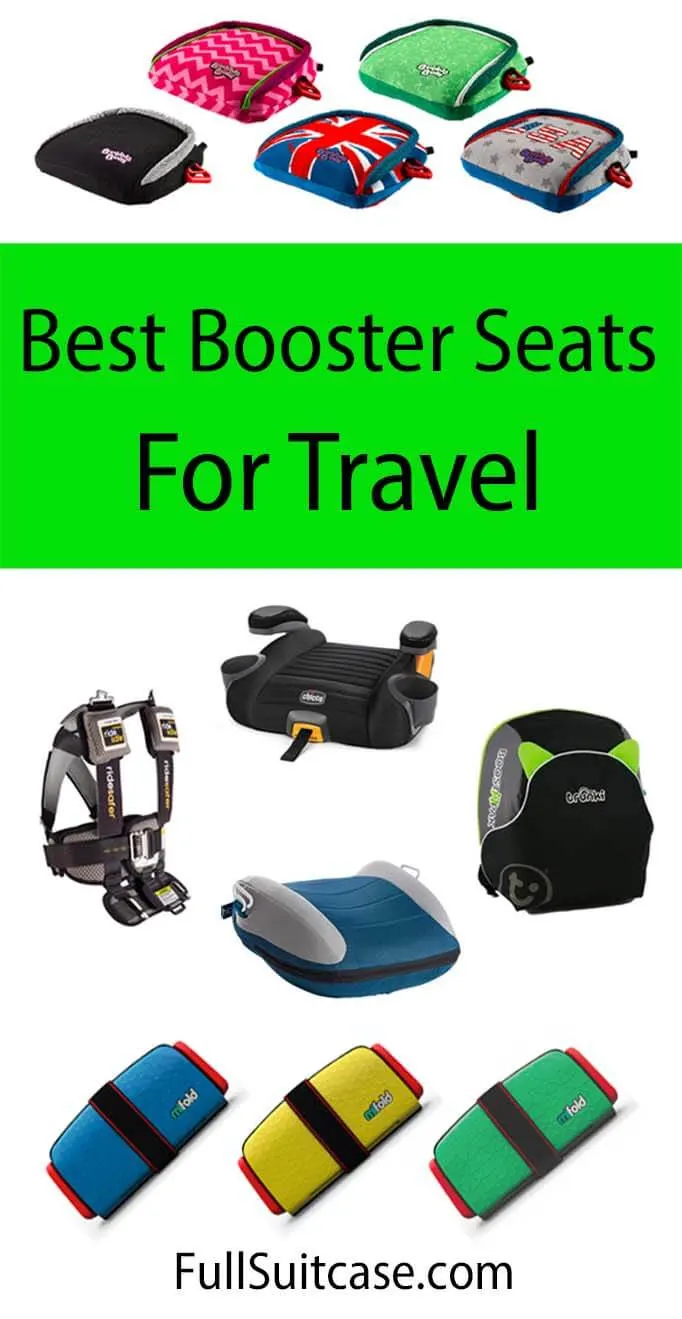 Best Travel Booster Seats: Comparison & Review
There are several good options when it comes to booster car seats for travel. So in order to give you the most complete guide to the best travel booster seats available at this moment, I not only based it on our experience, but also consulted other family travelers, and did extended research.
In the end, I selected portable booster seats that I think are the best options for those looking for a lightweight travel booster that doesn't compromise on safety. In addition, I also included one high-back foldable booster seat. It's obviously not as easy to pack as the backless boosters, but if you are traveling with a smaller child and still rather pack a car seat of your own, it might be a good option.
Below is our selection of the best travel booster seats. You can find a short review of each booster seat and a list of the main features that we think make them so useful. Of course, we also included our personal favorite – the travel booster seat that our kids have been using for years. Find out!
Here are the best travel booster seats:
1. The BubbleBum Booster Seat
The award-winning BubbleBum Booster Seat is described as an inflatable booster seat. However, it actually contains more memory foam than air, meaning that it will protect your child even if punctured in an accident.
BubbleBum Booster Seat takes just 20 seconds to inflate for use, then deflates quickly and folds to a small size, perfect for popping into your hand luggage or backpack.
The booster is designed for use with a 3-point adult seat belt (not a lap belt). The shoulder belt positioning clip and side lap belt clips help keep your child safe and comfortable.
At just 1.2 lbs it is the lightest travel booster seat we reviewed and it's also the cheapest. But because it is a little smaller than some other travel boosters, we feel it's more suited to shorter journeys than long road trips.
BubbleBum booster seat features:
Suitable for children age 4-11 years, weighing from 40-100 lbs (18-45 kg).
Inflates and deflates quickly.
Lightweight and folds to a compact size and easy to store anywhere.
Comes with its own bag.
Made of a durable material.
Narrow design allows you to use 3 across the back seat.
2. RideSafer Travel Vest
The compact and lightweight RideSafer Travel Vest is a brilliant alternative to a travel booster seat, but it comes with a much steeper price card. Weighing only 1.5 lbs (800 gr), it takes up very little luggage space and is particularly ideal for small cars, where bulkier car seats and boosters can be a tight fit. Fitting three of these vests in a row on the back seat is no problem whatsoever!
While the RideSafer may seem to offer less protection than booster seats at first glance, it's actually the opposite. This is one of the safest solutions available!
Its clever design means that it maintains the car's seatbelt in the proper position at all times. The shoulder belt is held in place, but away from your child's neck, making him feel much more comfortable. It also positions the lap belt below your child's abdomen, which best protects the internal organs.
This is the most expensive of the travel boosters we have reviewed in this article, but for the convenience and safety of your child, the RideSafer Travel Vest is invaluable!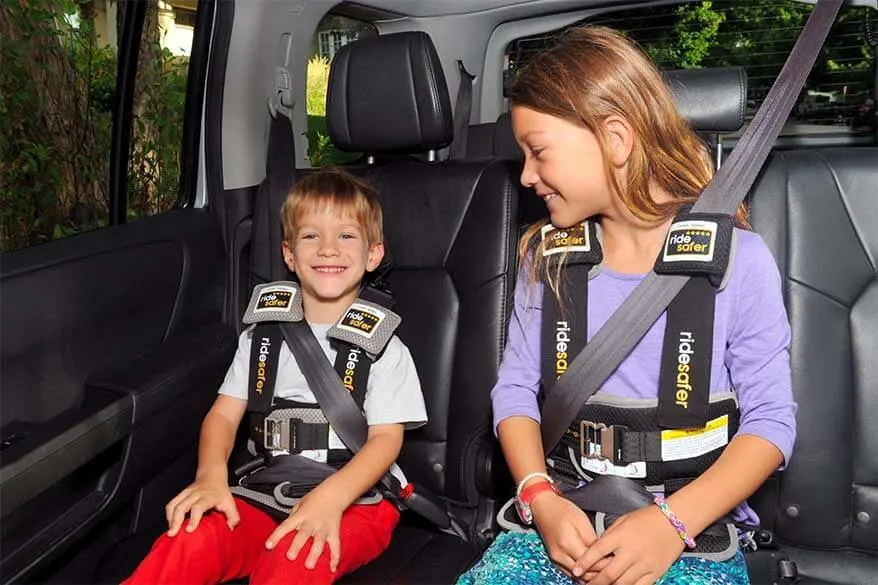 RideSafer travel vest features:
Available in 2 sizes, to fit children from 3-10 years, weighing from 30 to 80 lbs (15 to 36 kg).
Certified for use in cars in the US.
Small, lightweight, and easy to pack in hand luggage or backpack.
Maintains proper seatbelt positioning at all times.
3. Trunki BoostApak
Trunki BoostApak is the travel booster seat that we chose for our kids. We bought one for our oldest son when he was 4 and used it till he didn't need it anymore (around the age of 8-9). Our twins got the same Trunki boosters when they were 4 and used them until the age of 10.
I can't even start to count the number of flights and road trips we have taken them on. The kids also used Trunki BoostApak boosters for their daily commute to school. Our high-back booster seats were only in use when we traveled big distances with our own car here in Europe. Since the new law in some European countries requires that booster seats are used till the kids are 150 cm tall, we used Trunki BoostAPak for our twins until the age of 10.
When we mentioned versatility earlier in this article, Trunki BoostApak is the booster seat we had in mind! The Trunki BoostApak is not just a booster seat, it's also a hand-luggage approved child's bag, with padded straps for comfort and a generous 8-liter capacity.
This means that you can use it to easily pack your child's toys, books, games, and snacks for them to carry, then quickly convert it into an EU-certified travel booster seat whenever needed. You don't need to unpack the Trunki before using it as a seat, as its hard plastic internal shell protects the bag's contents. The shell is also designed to provide maximum strength in an accident.
It's very easy to convert Trunki from a backpack to a booster seat, but if you (like many of us!) find some kids' accessories a little challenging, be sure to practice with it before leaving home!
In addition to using it as a backpack and a car booster seat, the Trunki Boostapak with its wipe-clean cover makes a great booster seat for the movies too! We once even took our kids' Trunkis to a theater.
The only minor issue we've had with this booster seat/backpack is that it's slightly too heavy for younger children to carry – an empty Trunki BoostApak weighs 3.8 pounds (1,7 kg). So when our kids were just 4-5 years old, we usually had to help them with it at the airport. It's not a big deal since the Trunki usually stays in the car for the entire duration of our trip.
Trunki BoostAPak travel booster features:
Suitable for children age 4-11 years, weighing from 30 to 80 lbs (15 to 36 kg).
Converts from a backpack to a booster seat in seconds.
The fold-out seatbelt guides and seat belt adjuster help you ensure a perfect and safe fit.
Approved as hand luggage by most airlines.
EU certified for everyday car use.
Where to buy Trunki BoostApak. For some reason, Trunki BoostApak has always been a 'European' travel booster. Probably because it's only been approved to be used in the EU and is not (yet) on the market in the USA. You can buy it on Amazon UK, but unfortunately, not on Amazon in the US.
4. Hiccapop Uberboost Inflatable Booster Car Seat
Similar in principle to the Bubblebum, the Hiccapop Uberboost travel booster seat inflates and deflates quickly, so you can simply roll it up and pop it in your hand luggage, backpack, etc.
It's cheaper than the BubbleBum, is made of a very thick, durable material and is comparable in weight.
The biggest difference is that – unlike the BubbleBum – there is no foam in the air bladder. Nevertheless, it feels as sturdy as a regular booster seat when inflated.
Hiccapop Uberboost features:
Suitable for children age 4-11 years, weighing from 40-100 lbs (18-45 kg).
Very compact and lightweight.
Inflates and deflates quickly.
Positions seat belt over the lap, not the stomach.
Comes with its own bag.
Lifetime guarantee.
5. Belt-Positioning Backless Booster
Update: The model reviewed below is not available during our last update, so check out these popular alternatives that offer pretty much the same functionality. Since this is the most popular portable booster design, there are so many brands selling similar models and they change the colors and the looks all the time.
Chicco GoFit Belt-Positioning Backless Booster is the only backless booster seat we reviewed that has dual cup holders, which are a huge plus on long journeys. The cup holders fold away, which is handy if you need to fit several car seats across the back seat. They can easily be removed and are dishwasher safe.
A little more expensive than other backless boosters, the Chicco GoFit feels very robust and well-made, whilst providing a lot more padding for your child's comfort than many other seats of this type.
The seat has lap belt guides and a shoulder clip, which is attached to the back of the seat by a fabric strap. In some cars, you can fit three of these seats in the back – but you should only do this if you have a 3-point seat belt in the center seat, not a lap belt.
At 5 lbs it is heavier than the other travel booster seats in this selection and would also take up more luggage space. Nevertheless, it is still light enough to carry around and easy to move from one vehicle to another.
The only downside to this seat is that it doesn't have latch connectors. Whilst this is a bonus in terms of travel, as it can quickly be moved to any vehicle, it does mean that it may shift a little during your journey and will also need to be stowed safely away when not in use.
Chicco GoFit booster seat features:
Suitable for children age 4 and up, weighing from 40-110 lbs (18-45 kg).
Double foam padding.
Armrest covers and seat pad are machine-washable.
Built-in carry handle.
Smooth underside to protect vehicle seats.
So this is our complete guide to the best lightweight portable travel booster seats. I hope it helps you to find the best-suitable travel car seat for your kids.
Have you used any of these lightweight booster seats or have a favorite portable travel booster? Feel free to share your experience – you can leave a reply below.
READ ALSO: Best travel bags for kids
More tips for traveling with kids:
If you found this post useful, don't forget to bookmark it and share it with your friends who might be looking for a travel booster seat for their children. Are you on Pinterest? Pin this image!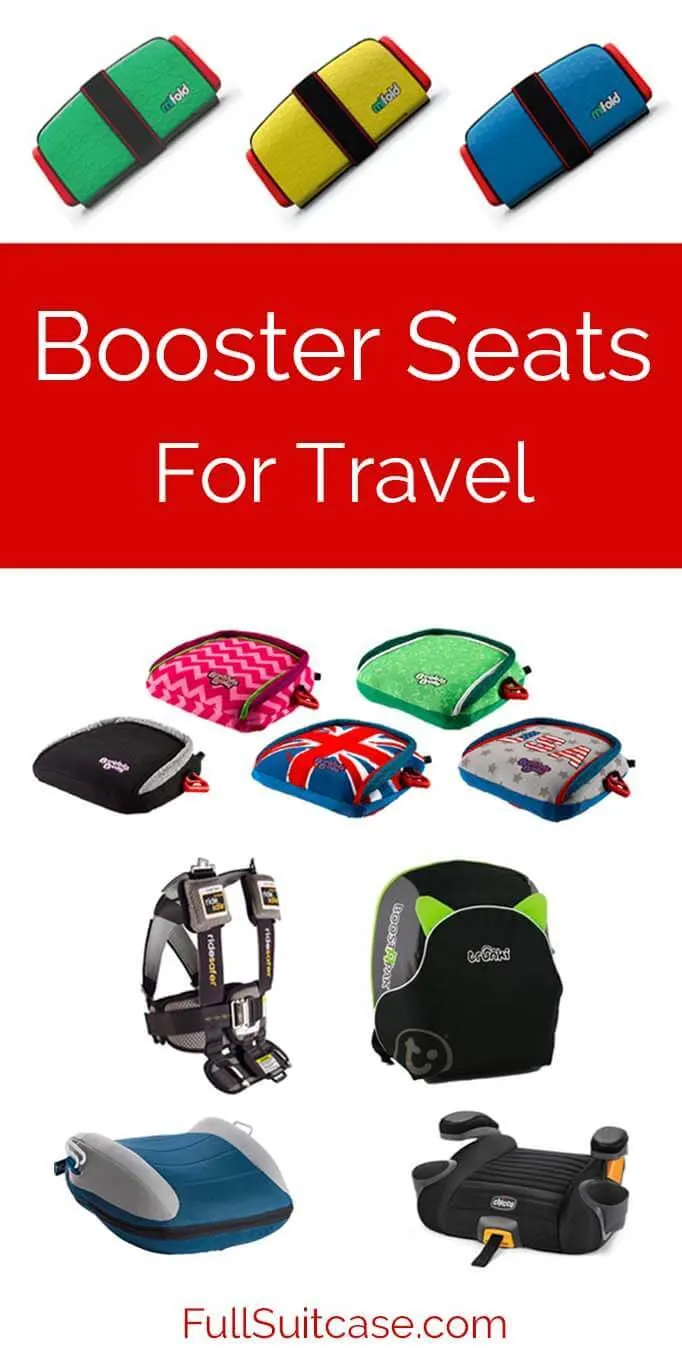 Some travel inspiration for families: