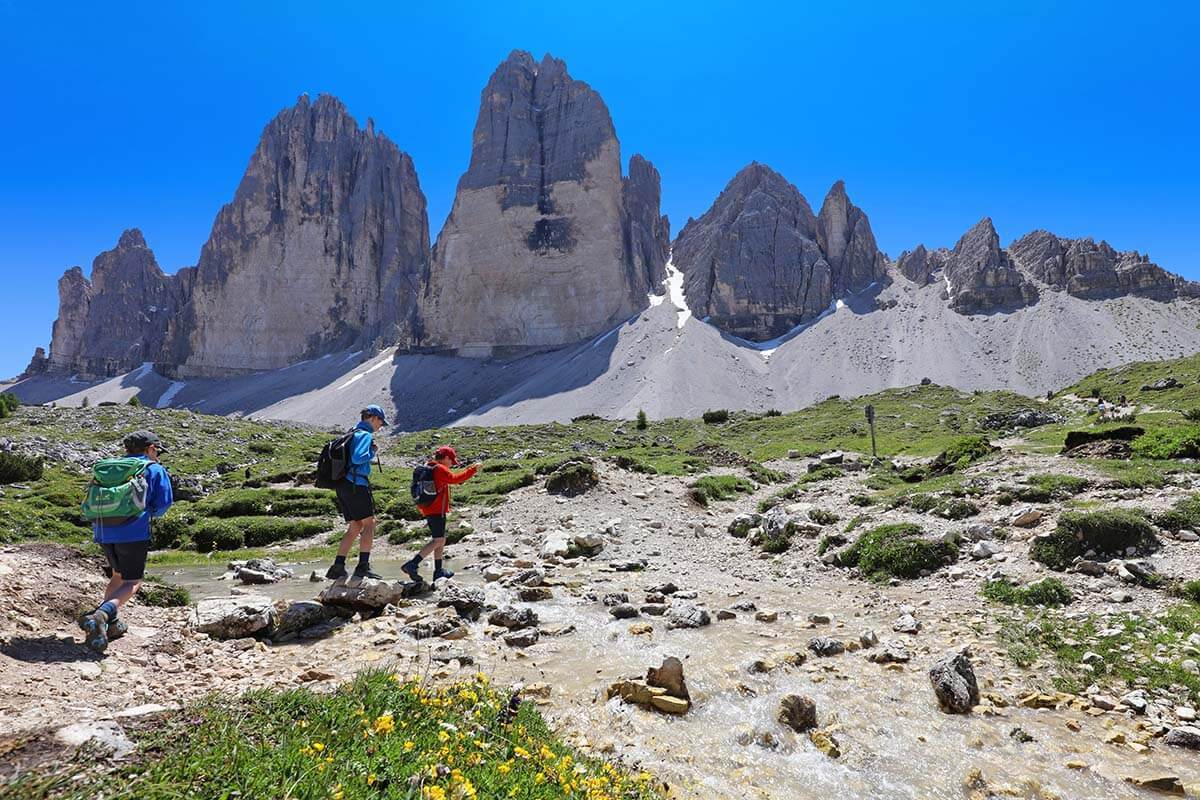 Every year, we write an article with a recap of the most special moments and most memorable travel experiences. And even though 2020 has turned out different than expected (and that's an understatement for all of us), there were still unique opportunities and wonderful moments that made this crazy year just a bit more bearable.
I think it's safe to say that 2020 is a year that none of us will ever forget.
It's ironic how 2019, a year with the most trips ever, was followed by a year with hardly any trips at all. But if there is one thing that 2020 has taught us is that life is too unpredictable to postpone your dreams for later.
We have never felt more thankful for all the opportunities we had and for all the chances we took in the past. It's only when something is taken away from you, that you realize how much you took for granted…
And no, we are not complaining. Even though I haven't seen my family for a year. And even though my business has been crushed by the 2020 bulldozer and will take years to recover… Instead, we are trying to focus on the positive things and be thankful for everything we have. We are lucky to be in good health and we are indeed very optimistic about the future.
But yes, we are also very eager to get out of this crazy rollercoaster ride that 2020 has been. With ups and downs, unexpected turns and twists, but finally, also the (far) end in sight…
All this being said, back to travel. Despite everything, we had some incredible travel experiences this year. Below, you can find an overview of some of the best travel moments of 2020. Take a look!
Best Family Trip
We had very different plans for this year, but in the end, there were just two trips we managed as a family. One was our ski vacation just before covid-19 hit Europe. And the other one was our summer road trip to Italy and Austria that we hadn't planned to take.
After months in lockdown, corona numbers were under control, restrictions eased, and European borders opened up for travel in mid-June – beginning of July.
So the day after the school holiday started, we packed our car, booked accommodation in Austria for a few days, and drove to the mountains. We then continued to the Dolomites in Italy and then back to Austria again, booking everything last-minute and going with the flow.
It was so good to be traveling again! So good to be in the mountains and enjoying the outdoors after more than 3 months of being housebound. I don't think I've ever appreciated any vacation half as much as this last-minute summer road trip this year. It lifted our spirits and helped us get through the rest of the year.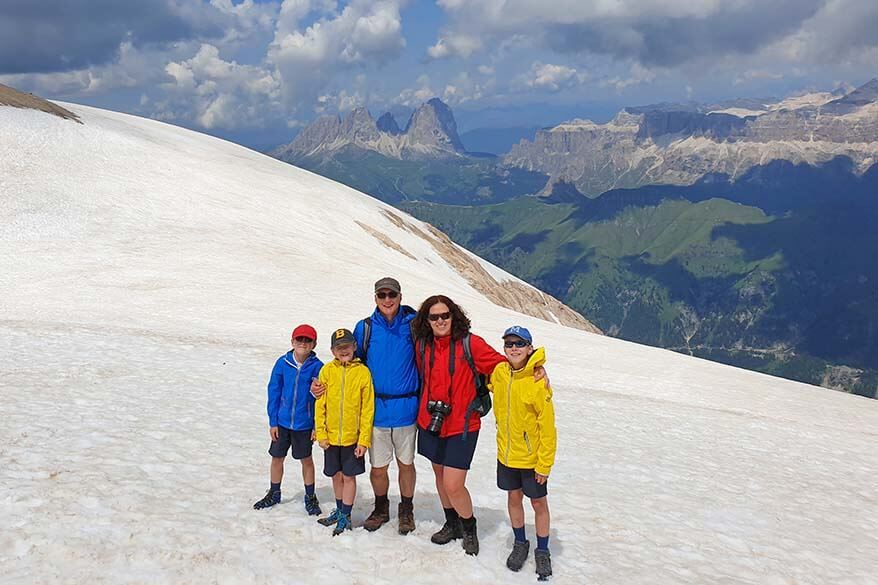 Most Unique Place
The most unique experience of 2020 has to be my work trip to Svalbard in winter. Svalbard is an island archipelago in the Arctic, just about 1050 km (652 miles) from the North Pole.
Traveling to such a remote place is always an adventure. But visiting there in the heart of the Arctic winter is truly extraordinary!
Svalbard is such a unique place, with remote vast landscapes where you truly feel like you reached the end of the world. At the same time, Longyearbyen, the main settlement in Svalbard, is a very lively town with lots of young people, trendy restaurants, and such a great atmosphere.
As far as unique places go, this is one for the top of your bucket list!
LEARN MORE: What to Expect when Visiting Svalbard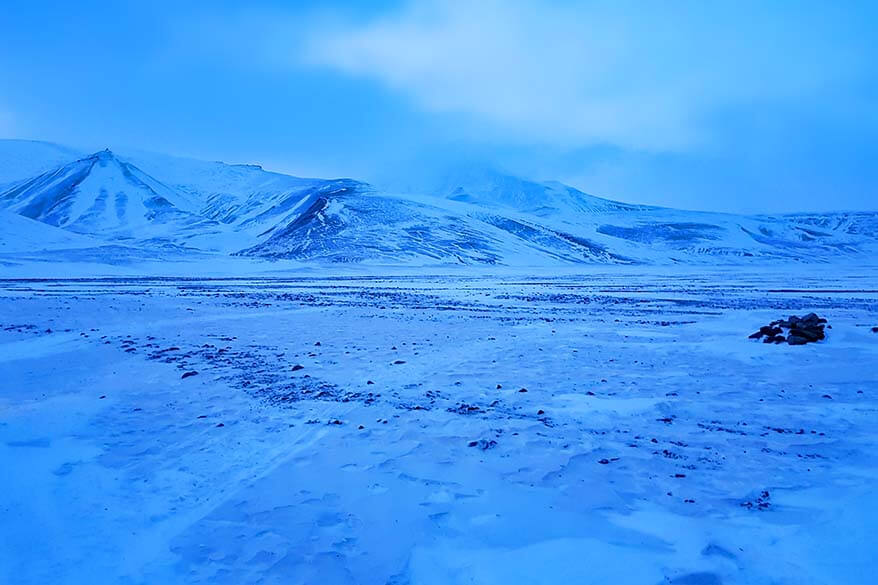 Best City Trip
We hadn't really planned to visit any cities this year. However, this summer we were in the Dolomite mountains in northern Italy, just a short drive from Venice. It was our wedding anniversary, but it was raining in the mountains, so we couldn't do much. And so we decided to do something special and drove to Venice for a day.
If you have ever been to Venice in 'normal' times, you probably know that the city is always crowded. So busy that it's hard to appreciate it. However, visiting Venice in the summer of 2020 was nothing like that!
There were hardly any tourists in the city and we only heard Italian around us. It was such a pleasant visit and we could do so much more than on any other trip in the past. At the same time, it was also really sad to see this grand city so empty…
It was a once-in-a-lifetime experience! But it also made us realize that even the most beautiful places lose their charm without the people. It's the combination of beautiful landmarks and a lively atmosphere that makes any city unique. Cities need people!
READ ALSO: One Day in Venice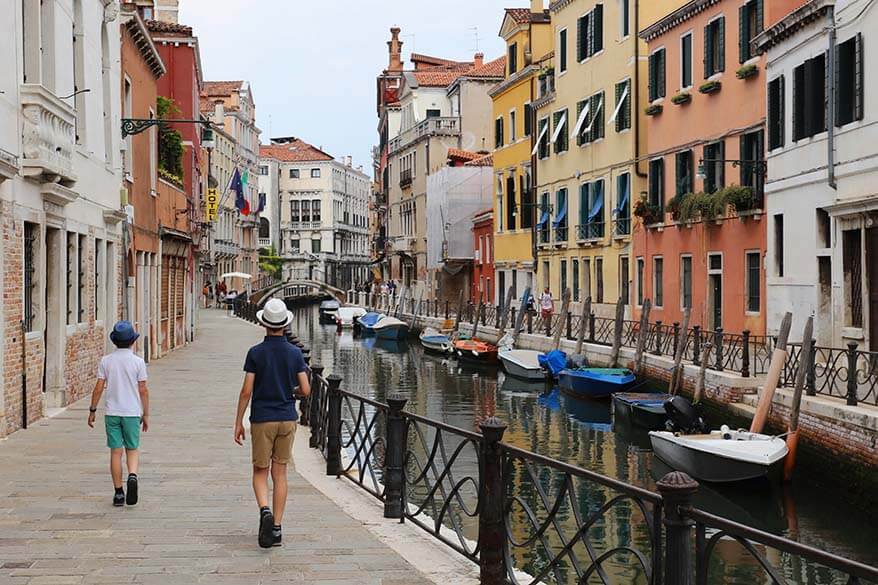 Most Beautiful Hikes
Since our biggest trip of the year was to the mountains, we did many beautiful hikes. One more beautiful than the other… And because we chose the very best hikes in every place we visited, it's really difficult to select just one hike that was better than the others.
So here are some pictures of 5 of the most beautiful hikes we did this year. Each of them would be worth a trip to the region just for the scenery you get to see!
For most of these hikes, we also published more detailed guides where you can find detailed information and see more pictures. Take a look!
Lake Sorapis, Italy
If you have always been fascinated by the colors of Canada's mountain lakes and Patagonia's mountain peaks, then you'll love Lake Sorapis – one of the most beautiful mountain lakes in the Dolomites in Italy.
This beautiful hike has it all! Here, you can find some of the most beautiful mountain scenery in the world and an incredible opal-blue lake that looks like a real-life painting. Simply stunning!
LEARN MORE: Lago di Sorapis Hike in Italy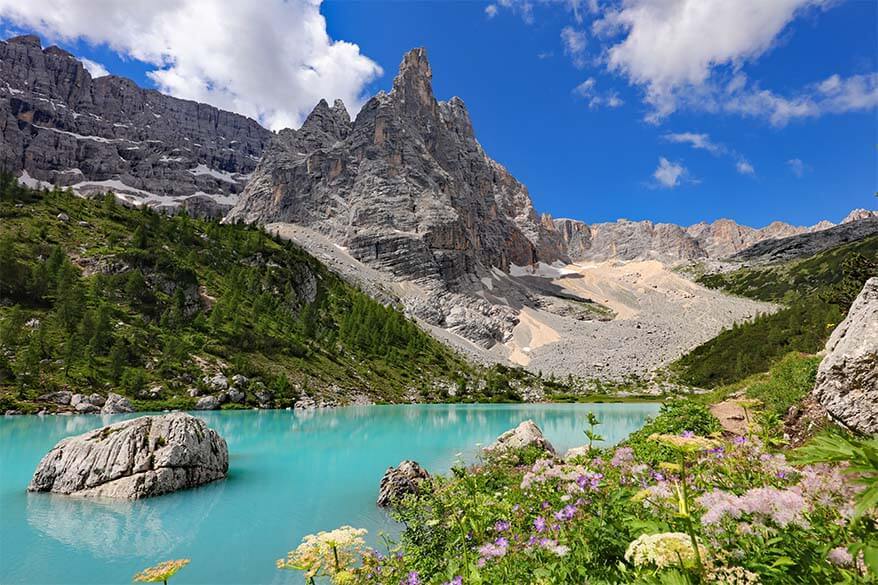 Seebensee – Drachensee, Austria
Seebensee has the reputation of being the most beautiful lake in Tyrol. But also the hike to the Seebensee lake and further to Drachensee has to be one of the most beautiful mountain hikes in Austria!
The scenery is incredible and you get to see not one, but two stunning lakes. If you dare, you can even go for a swim in the ice-cold waters of these glacial lakes.
LEARN MORE: Seebensee Drachensee Hike in Austria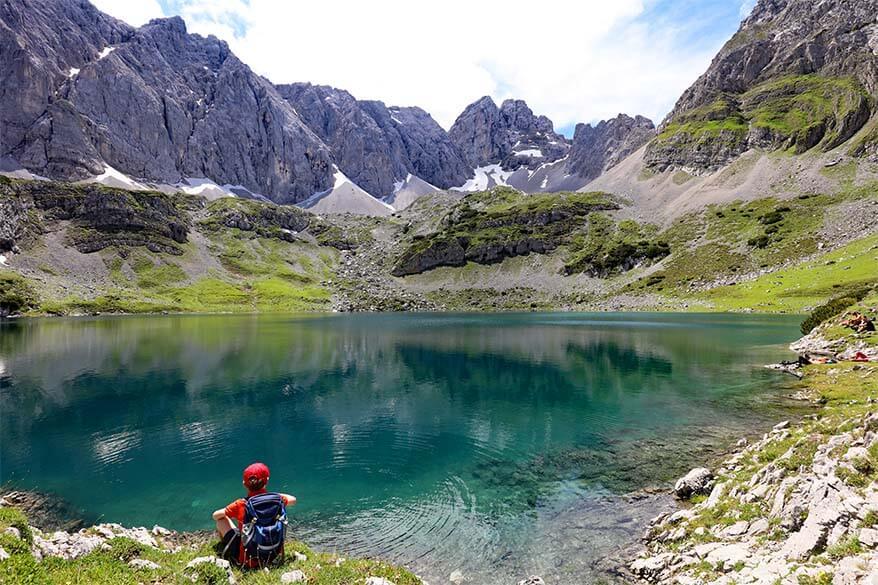 Tre Cime di Lavaredo, Italy
Italy's most iconic hike takes you around the peaks of Tre Cime, the unmistakable symbol of the Dolomites.
This hike – if done right – has so much more to offer than most guides tell you about. In addition to the incredible panoramas of the base walk, you can also visit stunning little lakes nearby, pass incredible Alpine pastures with wildflowers, and enjoy the most phenomenal views of the Italian mountains.
If you haven't been to the region yet, hiking here will make you fall in love with the Dolomites. You'll definitely want to come back for more!
LEARN MORE: Tre Cime di Lavaredo Hike in Italy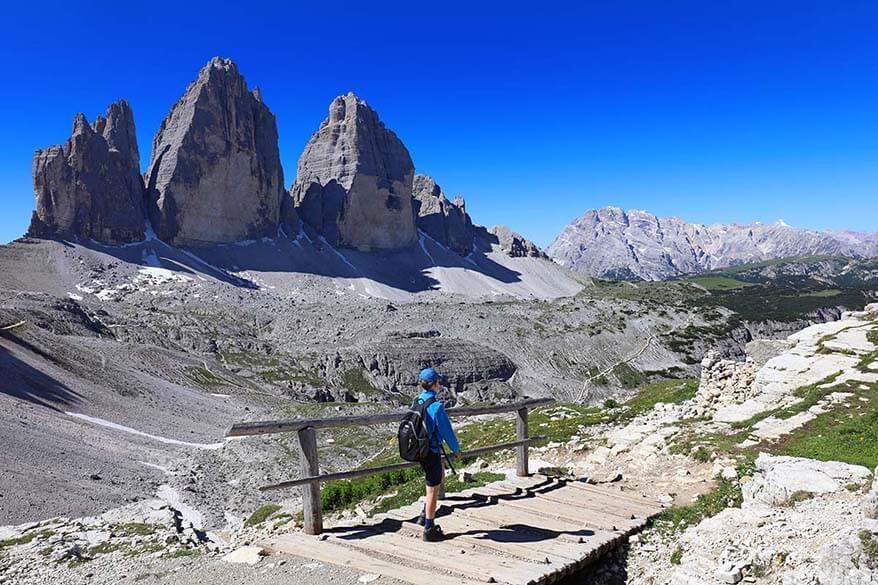 Olpererhütte, Austria
The Olpererhütte hike is one of the most beautiful Alpine hikes in Austria!
It's a hike that has everything that you can expect in the Alps, in one place. A beautiful mountain lake, stunning panoramas, mountain streams, waterfalls, and even cows and sheep with cute bells around their necks. But this hike has been made famous by the incredibly picturesque suspension bridge where you can take some very impressive and dazzling photos.
Olpererhütte itself is a nice mountain hut with a good restaurant. Sitting on the terrace with incredible views and a cold refreshing local drink in your hands – it's as good as a vacation in the mountains can get!
LEARN MORE: Olpererhutte Hike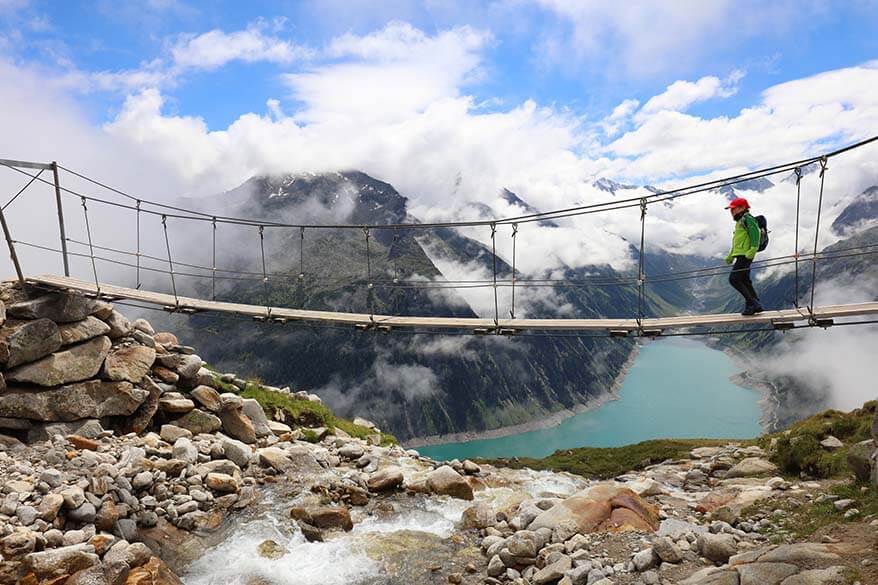 Cinque Torri, Italy
This is one of the most underrated hikes in the Dolomites! The Cinque Torri area is so easy to get to, the views here are phenomenal, and there's so much to see including the incredible open-air Museum of The Great War.
Hiking at Cinque Torri is both easy and very rewarding. And even if you are not a hiker, this place gives you easy access to the most beautiful scenery in the area!
In addition, we also visited some really nice mountain lakes in the Dolomites – Pragser Wildsee, Toblacher See, and Lago di Limides. So beautiful!
LEARN MORE: Cinque Torri Hike in Italy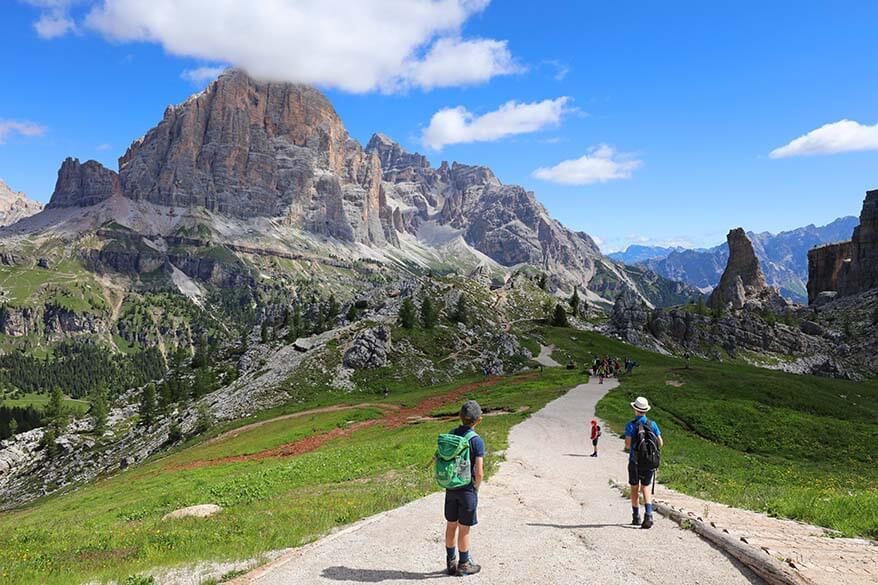 Best Local Experience
Since the year 2020 was the year of local experiences, this year-review wouldn't be complete without mentioning at least a few places we visited in Belgium.
Not that we traveled a lot, quite on the contrary actually. But this summer, when covid cases were low and it was possible to explore safely and responsibly, we did visit several places nearby.
The best local experience has to be our visit to Bruges. Just like Venice, Bruges is normally always crowded with tourists. This summer, there were hardly any people around, just lively enough to be pleasant and truly enjoyable.
We walked around the city center, climbed the Belfry Tower, visited Bruges Historium and its tower, and explored the canals… It was great to see all these places without the usual crowds and be able to take our time to truly appreciate them.
READ MORE: Best Things to Do in Bruges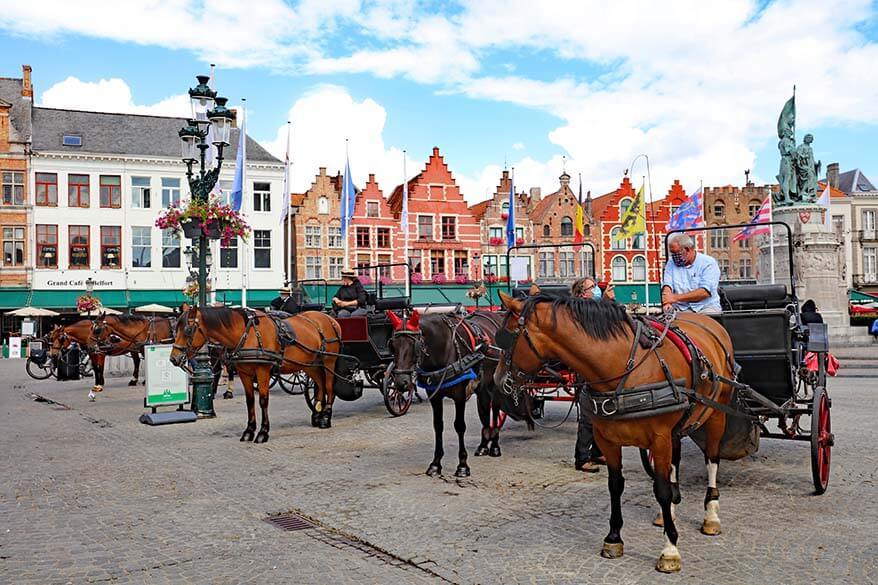 Most Fun for the Kids
Well, this year was very special indeed, and most fun for the kids involved going for a bike ride close to home or jumping on a trampoline in the garden…
But despite that, we were lucky to do several fun activities during our trips, things that make any trip more fun for children. It will come as no surprise that the best travel experience for our kids involved some adrenaline-rush (boys will be boys, after all). Their absolute favorites were the Alpine Coaster rides in Austria.
Mountain toboggans are very popular in Austrian Tyrol. There are more and more places in the mountains where you can find some really cool and long toboggan runs.
This summer, we went on quite a few Alpine coaster rides in Tyrol. It was always so much fun, and – if I'm completely honest – not just for the children. 🙂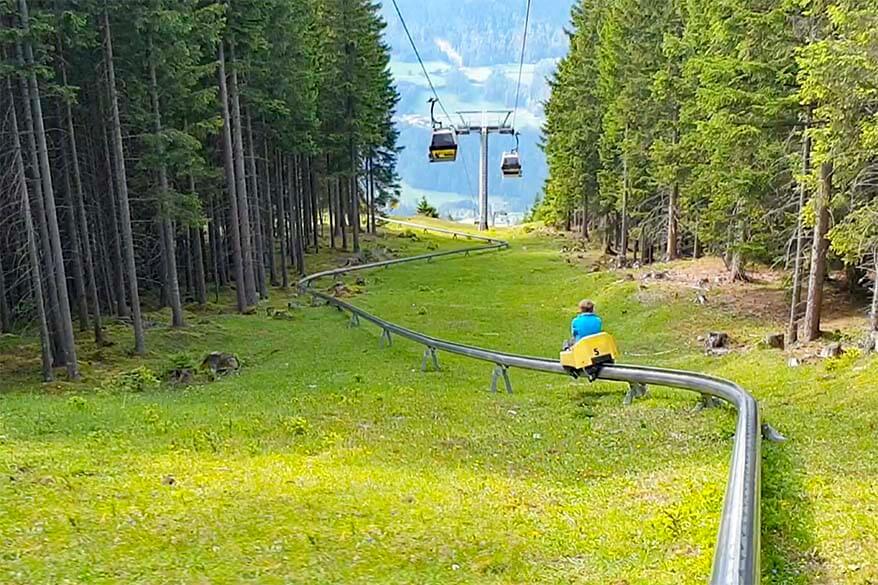 The Most Magical Experience
One of the most magical places we visited this year was Nature's Ice Palace inside the Hintertux Glacier in Austria. I never knew that there were such incredible ice creations that can be easily seen so close to home!
Another very different, but equally magical experience, was visiting a natural ice cave in Svalbard (more about it further below).
Over the years, we have seen a lot of man-made ice tunnels inside the glaciers in Switzerland (Mt Titlis & Jungfraujoch), in Austria (Stubai Glacier), and even in Iceland (inside the Perlan Museum). But there is just no way to compare any of that to the incredible ice creations by Mother Nature!
If you ever get a chance to visit a real ice cave, anywhere in the world, don't miss it!
LEARN MORE: Hintertux Glacier & Ice Palace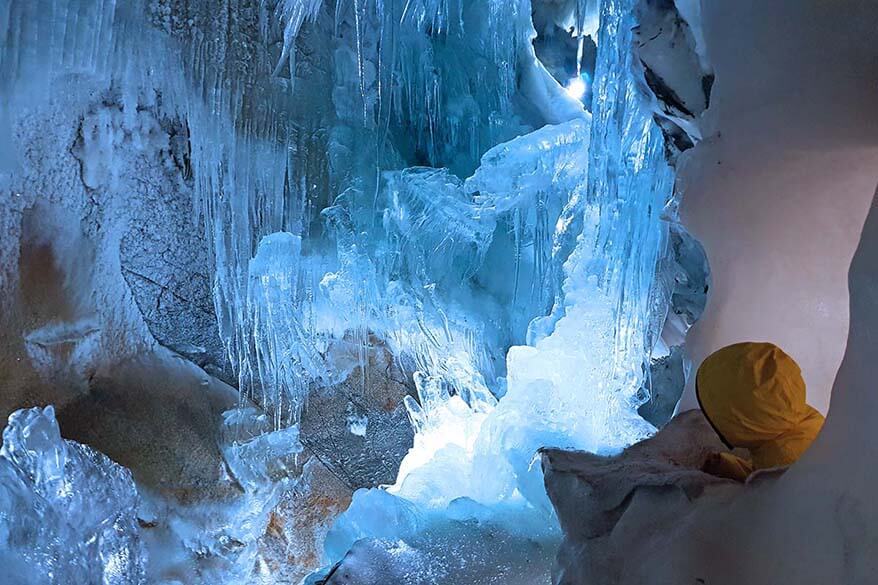 I Thought I'd Never Dare
The most challenging travel experience and something I didn't know I had in me, was a snowmobile day trip in Svalbard. I had never been on a snowmobile before, let alone drive one.
And here I was, in the middle of an Arctic winter, with freezing cold temperatures, driving a snowmobile through barren endless landscapes that only very few people ever get to see…
It's an experience that makes you feel tiny and realize the incredible vastness and power of nature around you. It's also a serious physical challenge that leaves you so concentrated on the driving itself that you cannot think of anything else. It was one of those very rare moments when you truly live in that moment. An unforgettable day!
LEARN MORE: Snowmobile Tour in Svalbard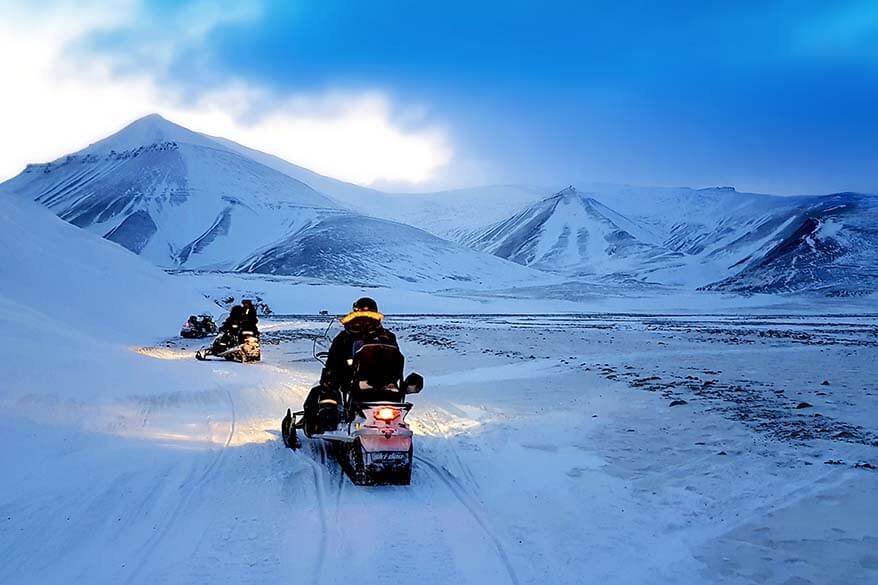 Bucket List Experience
It's always difficult to pick just one experience that deserves a place on any bucket list. And while the snowmobile tour in Svalbard and gondola ride in Venice are also very special bucket-list-worthy experiences, there's one thing I did this year that stands out above all the rest. And that's dog sledding and a natural ice cave visit in Svalbard.
The scenery along this trip is absolutely amazing. And being able to enjoy it from the dog-pulled sled, somehow makes you appreciate it even more. Not even to mention the magical ice caves formed by melting glacier water during the summer and frozen in the winter…
If you do have a travel bucket list, make sure to add this experience!
LEARN MORE: Dog Sledding and Ice Caves in Svalbard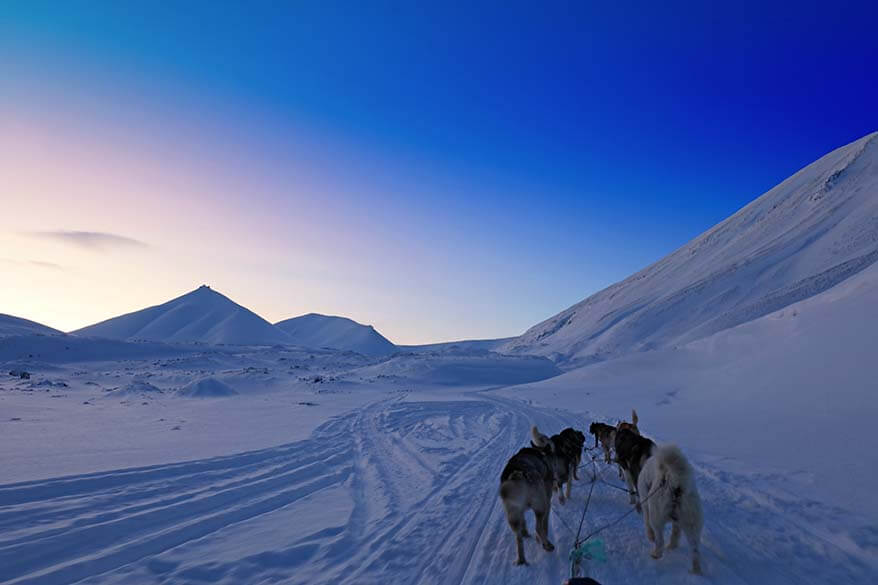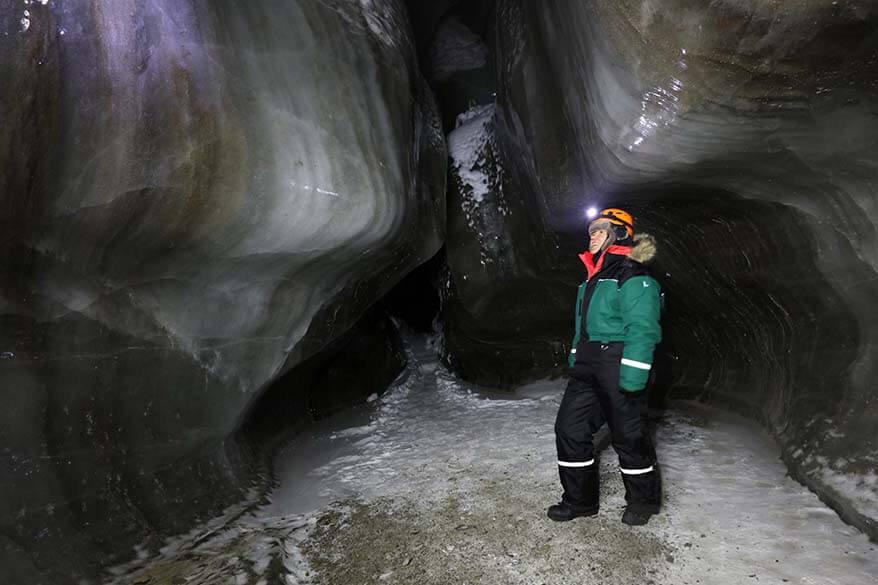 Best Museums
If you follow our blog, you probably already noticed that we don't usually visit museums. We're more nature people. But we never miss an opportunity to visit a good museum – whether it be at home or during our travels.
We visited a few museums this year and almost all of them are worth mentioning because they all have something unique. That being said, I chose three of our absolute favorites. Check it out!
Swarovski Kristallwelten in Austria
I never really knew what to expect, but Swarovski Kristallwelten museum is regarded as one of the must see attractions in Austrian Tyrol, so we decided to check it out.
It's impossible to compare it to any other museum we have ever visited. It's a truly magical place, full or sparkle and glitter. A visit here is like stepping into a magical world of a fairytale!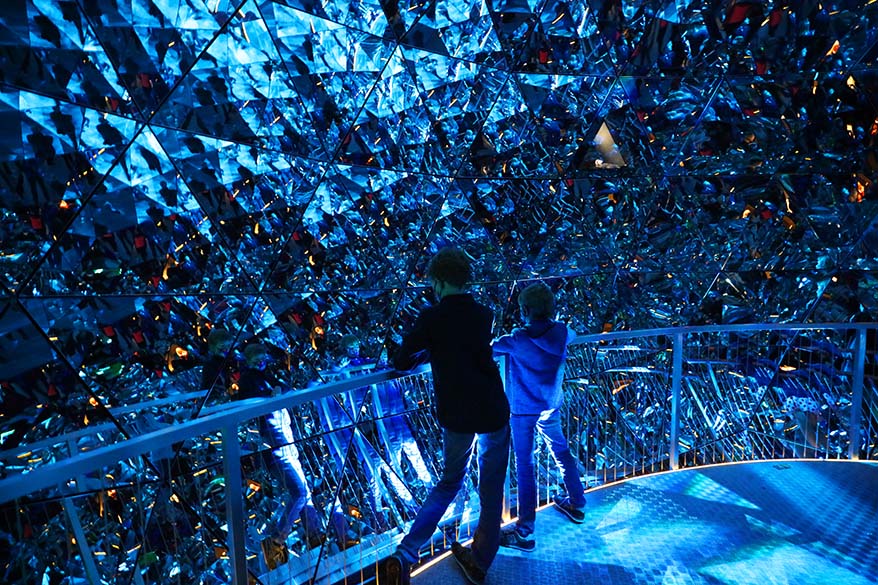 Doge's Palace in Venice, Italy
Another museum that I cannot believe that we overlooked in the past is the incredible Doge's Palace in Venice.
We used to just admire the building and walk past it. But this year, we finally went inside, and it was so worth it! It's a great place to learn more about Venice's history. Not even to mention the building itself, the incredible interiors, and the opportunity to walk over the famous Bridge of Sighs.
If you ever find yourself in Venice, don't miss it!
LEARN MORE: Doge's Palace in Venice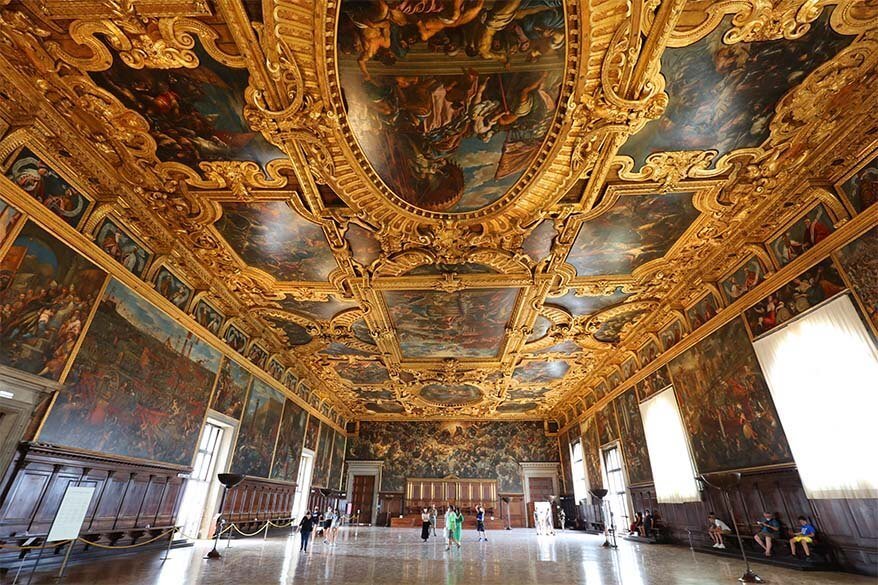 Bastogne War Museum in Belgium
Whether you are a history buff or it's not your thing at all, some chapters of our history are simply too important to ignore. At the crossroads of Europe, Belgium has had its share of war experiences, during both, WWI and WWII.
One of the best war sites to visit in Belgium is the War Museum in Bastogne. And this summer we finally made it there. I didn't really know what to expect, but the exhibitions and especially the 'shows' are so well done that it literally takes you back in time to the darkest days of the Second World War.
The battles near Bastogne were decisive for the outcome of the war, and a visit here is an eye-opening experience that will leave a lump in your throat.
LEARN MORE: Bastogne War Museum & Mardasson Memorial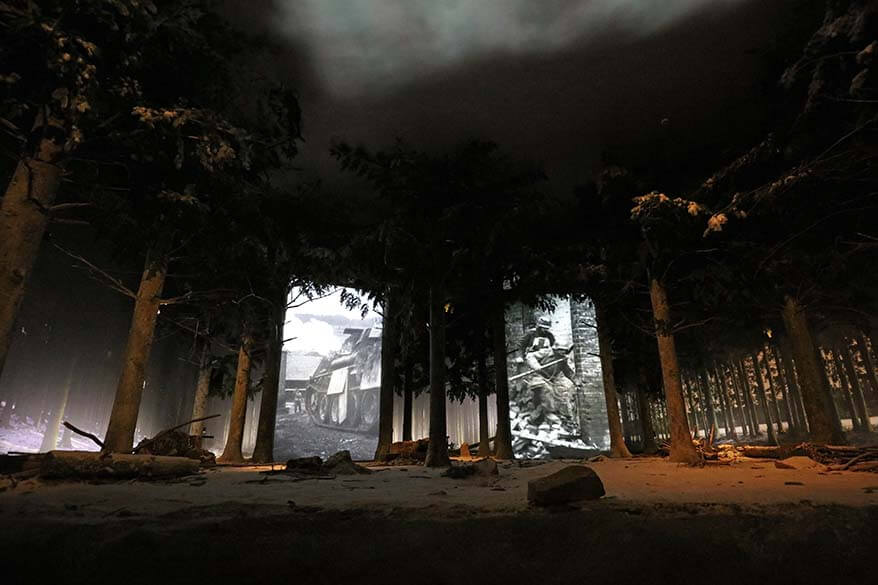 Best (Real) Vacation
There's just one trip this year that could be called a real vacation, and that's our skiing holiday in Switzerland. This was at the end of February, literally days before the coronavirus really hit Europe and everyone understood how serious it was. But at that moment, we did not have a worry in the world…
It was before everyone feared a cough or a sneeze of a stranger. Before face masks and social distancing became the new norm. Before this virus would change our lives, the way we travel, and how we interact with others…
Thinking about it now, we realize that the virus was very much around us already. And it's pure luck that we were on the Swiss side of the mountains and not in Italy or Austria. But there, at that moment, we could still enjoy the carefree vacation, as a real vacation should be.
READ ALSO: Skiing in Engelberg (one of our favorite places for ski holidays)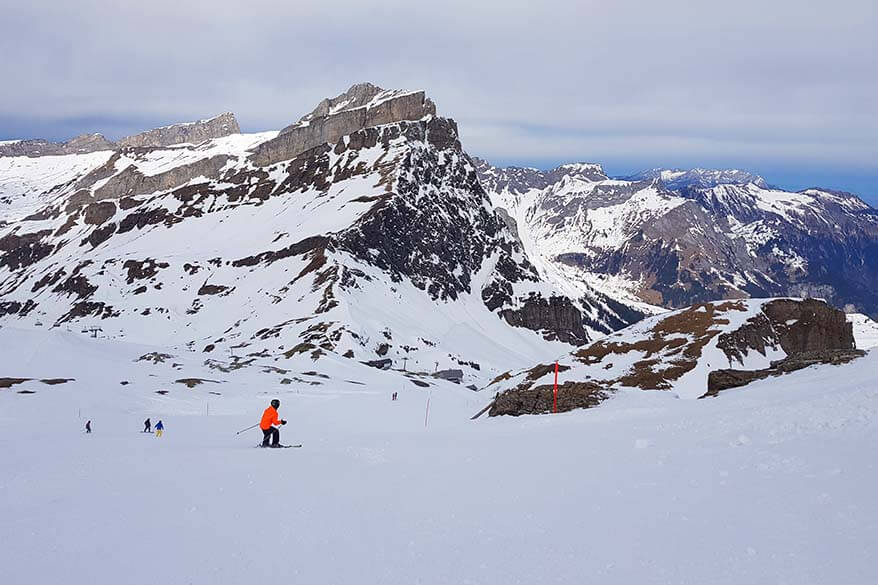 I want to end this year-review with a positive feeling. 2020 has been a tough year for all of us. But it WILL get better again! And one day, all this will be just a faint memory.
While travel will definitely not be back to 'normal' in 2021 yet, there's now finally light at the end of the tunnel and hope for a better and more carefree future again.
I know that just like us, many of you are eager to get out and explore the world again. And when we finally can travel freely and safely again, I'm sure that we will all appreciate it so much more than we ever did in the past!
Thanks for reading. Stay safe and keep on dreaming of all the incredible places you will be able to visit in the future!
All the best for 2021!
xx Jurga
P.S. And while we didn't travel much this year, this gave me a unique opportunity to catch-up on many travel articles from the past trips. I have published 114 new articles, updated 245 older posts, renewed our home page, and so much more.
So check out our travel destinations guide to see which countries we have written about. I'm sure that you'll find plenty of inspiration and useful tips for your future trips!
You may also like our year review articles from the previous years: