Traveling to Croatia soon and looking to visit the famous Blue Cave? Whether you are interested to learn more about the Blue Cave in Croatia, find out how to visit the Blue Cave from Split, Trogir, or Hvar, or learn what to expect from Blue Cave tours – this article should answer all your questions. Read on!
Below you can read more about the Blue Cave in Croatia: what makes it special and what you should know before you go. We also included practical information for visiting Blue Cave, as well as the best Blue Cave tours from Split, Trogir, or Hvar.
In addition, we share our personal experience with the Blue Cave tour from Split, including visiting Hvar, Vis, and many other amazing islands and coastal features nearby. We opted for this highly-rated tour and I can highly recommend it.
At the bottom of the article, you can also find our suggestions for the best Blue Cave tours from Split, Trogir, and Hvar. We also share some practical tips based on our experience with the Blue Cave tour from Split. Find out!
Visiting the Blue Cave in Croatia – OVERVIEW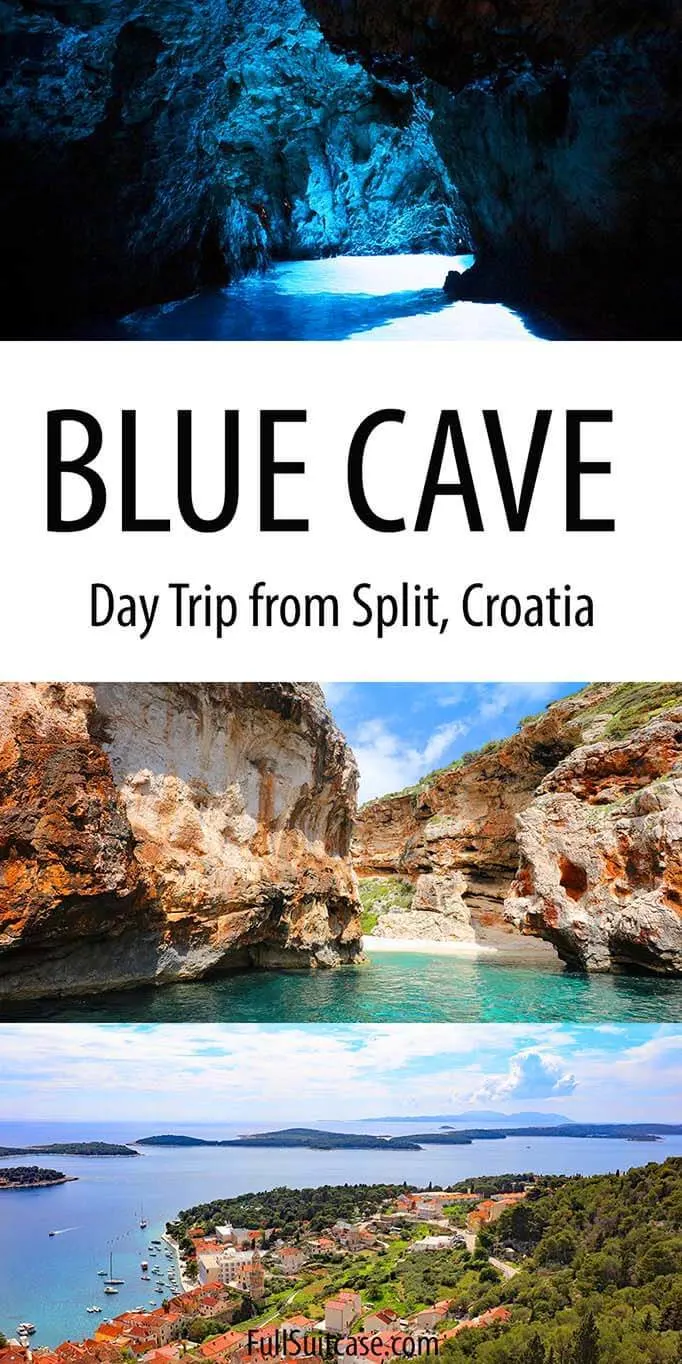 Blue Cave, Croatia – Introduction
Blue Cave (also known as Blue Grotto) is a natural sea cave along the rocky coastline of Biševo island in Croatia. It became world-famous due to its bright blue color that has intrigued me ever since I first saw a picture of the Blue Cave. Can it be real?!
It appears that the blue color is a natural phenomenon that is created by daylight that enters the cave through an underwater opening in the rock. The intensity of the blue color depends a lot on the season, whether it's a sunny day, and even on the time of the day. It's said that the Blue Cave is the most impressive on a sunny summer day just before noon.
We visited the Blue Cave on a rather gloomy morning in April and it was simply amazing. It's hard to imagine that it would look even more blue, even more spectacular on a sunny summer day, but they say it does.
All I can say is that no matter when you visit Blue Cave in Croatia, it will definitely be worth it. If it looks that good on a cloudy day, it is worth the trip at any time.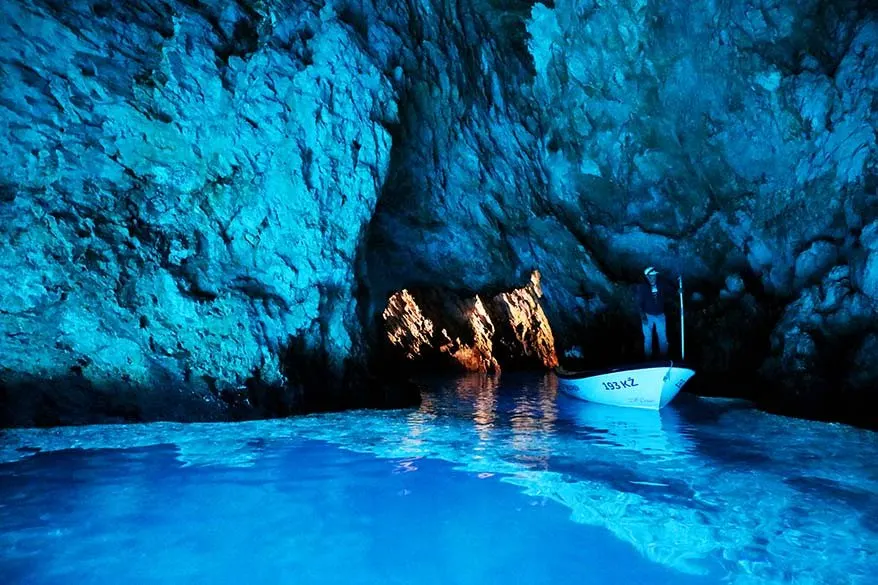 Blue Cave – History
The Blue Cave became world-famous in 1884 when Baron Eugen von Ransonet visited this blue sea grotto in Croatia and shared his story in a local Austrian newspaper.
Blue Cave was previously only known to the locals and could only be accessed by swimming/diving. In order to make it more accessible to tourists, dynamite was used to blow up a somewhat bigger entrance to the cave – just big enough for a very small boat, but luckily not too big to ruin the cave.
In the years that followed, Blue Cave became more and more popular, attracting hundreds of tourists. Nowadays, more than 100,000 tourists visit this small sea cave every summer.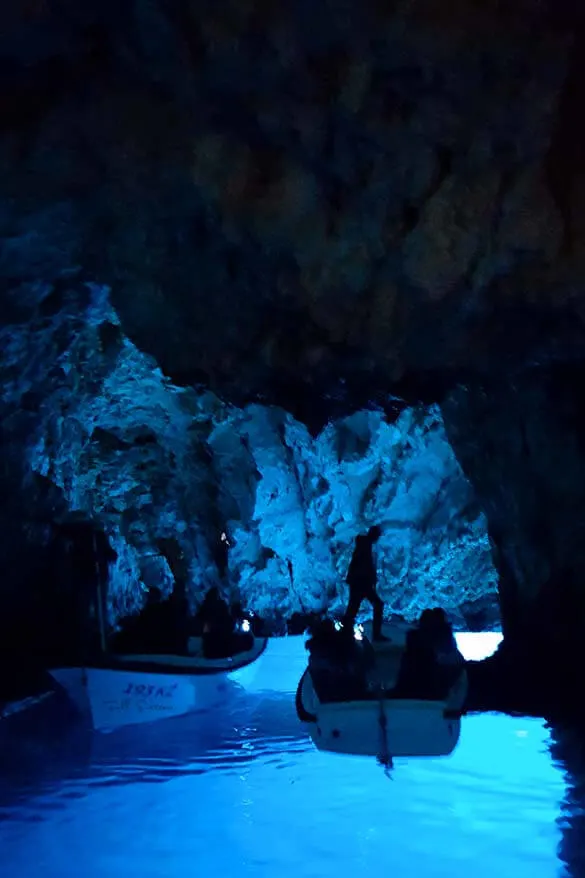 Where is Blue Cave and how to get there?
Blue Cave is located on Biševo island in the Adriatic Sea, some 70km from Split. There are just a handful of people still living on the island year-round. There are no hotels or tourist accommodations on Biševo. So all the visitors to the Blue Cave just come here for a short visit from Split, Trogir, or one of the nearby islands.
It takes 1.5 hrs to get to Blue Cave from Split or Trogir by speedboat and about an hour from Hvar.
The closest more inhabited place from where you could reach the Blue Cave with a taxi boat is Komiža town on Vis island, some 15 minutes by speedboat.
You could consider taking a ferry from Split to Vis and then taking a taxi boat from there. However, the ferry is slow (2h20 one way) and it runs just a few times a day. Furthermore, it arrives on the other side of the island (in Vis town and not in Komiža) and a taxi boat from Vis to the Blue Cave will be quite expensive. And – you'll only get to see the Blue Cave and nothing else. So I really wouldn't recommend this option unless you are staying on Vis island for at least a couple of days.
TIP: The best way to get to the Blue Cave is by joining an organized day tour from Split or Trogir or an organized day tour from Hvar. Trying to get there on your own from any of these places will take much longer and you'd waste an entire day just trying to visit the Blue Grotto, whereas organized tours also visit many other beautiful locations nearby.
When it comes to visiting the Blue Cave in Croatia, organized tours are by far the best use of your time and money.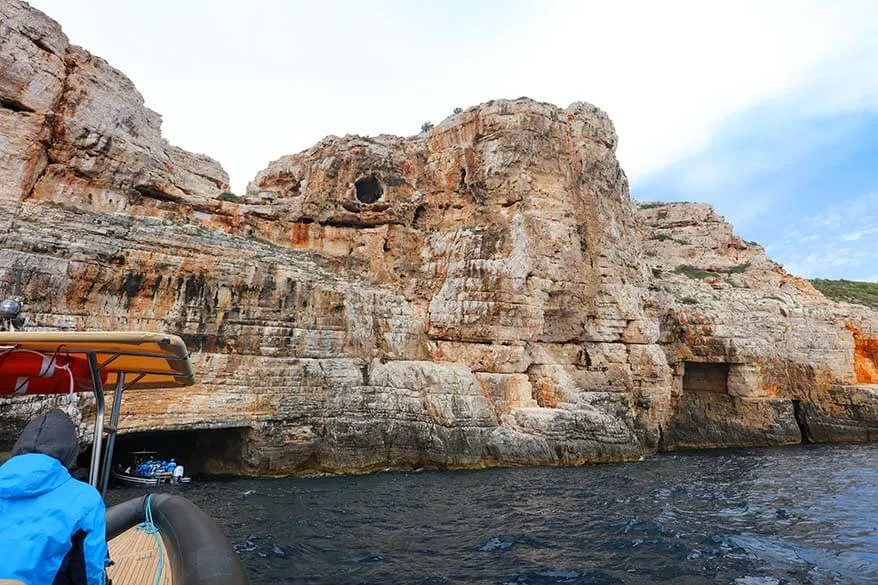 Visiting Blue Cave – there's just one way to enter
There are many tours and day trips that visit the Blue Cave from Split, Hvar, Vis, or Trogir. However, no matter which tour you choose and no matter which way you get to Biševo island, there is just one company that is actually allowed to enter the Blue Cave. They have special tiny boats that are approved for entering the cave and run official 'tours' that last just 10-15 minutes.
Any Blue Cave tour that you book, will bring you to Bisevo island. There you will board a small boat that takes you inside the Blue Cave itself. Ticket price for this small boat is usually not included in your excursion price but the tour guide will help you buy the tickets upon arrival on the island. If you book a Blue Cave tour from Split or the nearby islands, you don't really need to worry about any of the practical details.
The only worry is that it might be quite busy, especially if you are visiting the Blue Cave in the summer. I read that it's not uncommon to wait an hour before you can get on the small boat to visit the cave. The good news is that you can go for a swim while you wait and there is also a café and bathroom facilities. If you go with an organized tour, your tour guide will not only take care of the tickets, but will also make sure to alert you when it's your turn to go to the cave.
In April, we didn't experience any delays at all and could immediately board the little boat that brought us inside the Blue Cave. It was still busy, however, and immediately after us, two other boats entered the cave. So yes, I can definitely see how it can get crowded in July or August.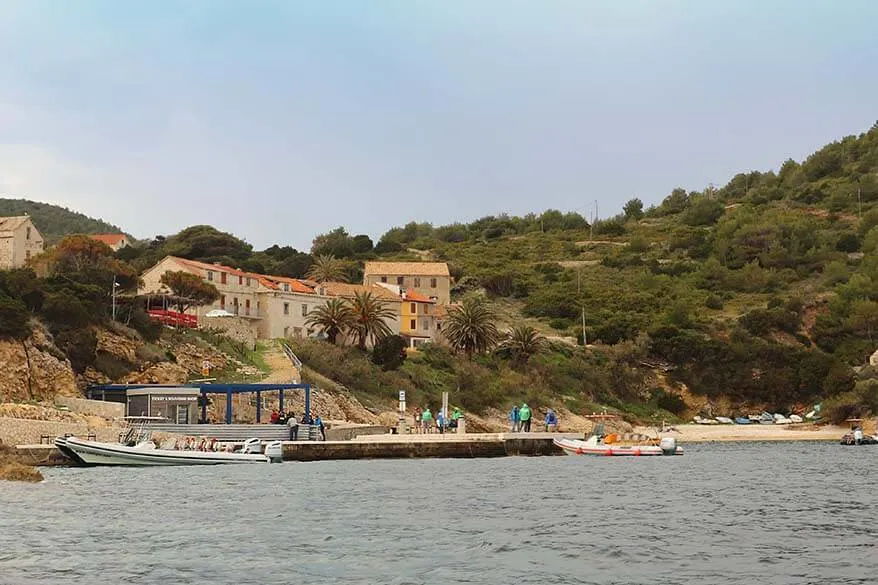 Is the Blue Cave always accessible?
Blue Cave is located on a small island in the open sea. The entrance to the cave is tiny (the opening is just 1 meter high). So yes, sometimes Blue Cave can be inaccessible. Don't worry about it too much, though, especially if you are traveling in summer, as most of the time conditions are favorable and you'll be able to enter the cave without any problems.
However, once in a while, it happens that the waves are too high or the wind is too strong and it's therefore too dangerous to attempt entering the cave. It's something you can't really know in advance or do anything about. Usually, you'll only find out about it on the day itself. All reputable Blue Cave tours will reimburse the Blue Cave ticket price in case the cave cannot be accessed on the day of your visit.
TIP: Choose the Blue Cave tour that includes many other nice stops in its itinerary (read more about it below), so that if you wouldn't be able to enter the cave, you still have an amazing day exploring the islands, little towns, and beautiful coastlines.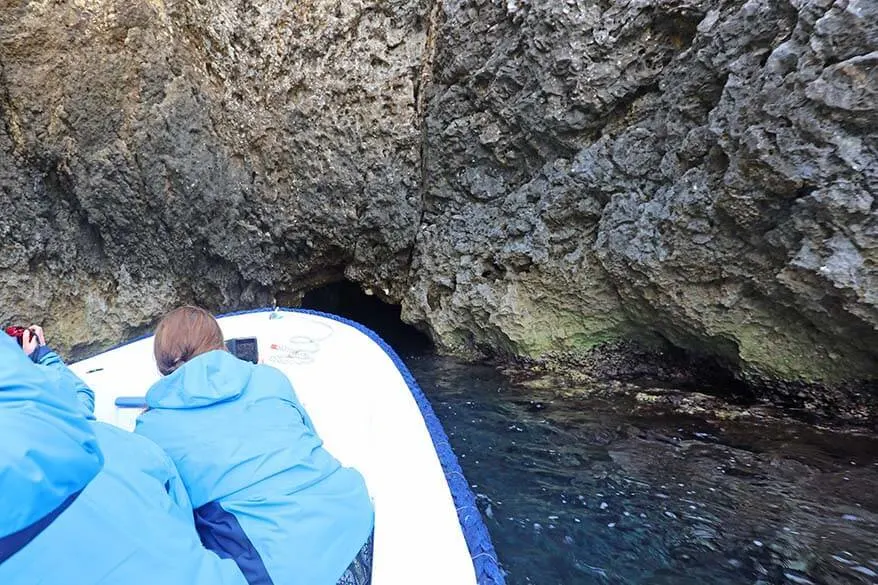 Can you swim inside the Blue Cave in Croatia?
No, swimming inside Blue Cave is not allowed. You cannot enter the cave swimming and you cannot jump into the water from the boat inside the cave either.
Honestly speaking, I think it would be much too dangerous – there are so many boats going in and out all the time and the cave is really quite small. If you want to swim, there are plenty of other amazing opportunities during the day tour.
Blue Cave tour from Split – our experience
We booked this highly-rated Blue Cave tour that runs from Trogir or from Split. After quite some research, we settled on this particular tour for several reasons:
This Blue Cave tour included a visit to Hvar, which was the place we absolutely wanted to see. It also stopped on Vis island and visited several other nice locations, which was a bonus.
This tour had hundreds of very good reviews and was by far the best-rated tour of all the Blue Cave tours that ran in April (most Blue Cave tours only start in May).
I read one or two reviews from people who didn't get to see the Blue Cave due to the weather, yet still said this trip was absolutely worth it. So I felt confident enough that our time and money wouldn't be wasted. And indeed – even if we hadn't been able to see the Blue Cave, I think the trip was well worth it (and yes, we spent over 400 EUR for this day trip for our family).
Below, you can find more details of all the places that we visited on this Blue Cave tour from Split. Read on!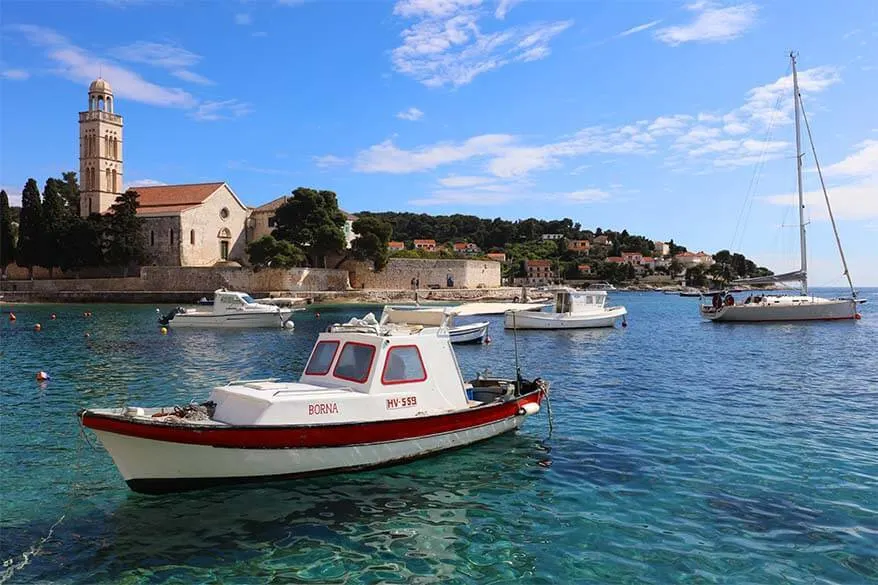 Blue Cave & 5 Islands tour itinerary
Most of the Blue Cave tours from Split are full-day tours that take 10-12 hours. As I mentioned, it takes quite some time to get to the Blue Grotto from Split so it would be a shame to travel that far just for that. Therefore, most tours also visit the so-called '5 islands' on the same day. In addition, they usually make several photo stops at the nicest rock formations along the beautiful coastline.
The best Blue Cave tours are those that will adjust the itinerary to the season and the weather to make sure that you have the best possible time. I'm glad to say that our tour was like that.
For example, it was too cold to swim when we visited, so we had a bit more time in towns, but also visited the Green Cave and the Monk Seal Cave, and made more photo stops along the beautiful coastline. We felt that the itinerary was really well crafted. It covered all the must-see places in the area, offered enough variation, and at the same time it didn't feel too overwhelming or too busy.
Below you can find a short overview of the most popular places that are usually included in most of the Blue Cave tours. Some are longer stops, some – just a quick photo stop. This list is also based on the tour that we took, but it might be a bit different depending on the season when you travel or the tour that you choose.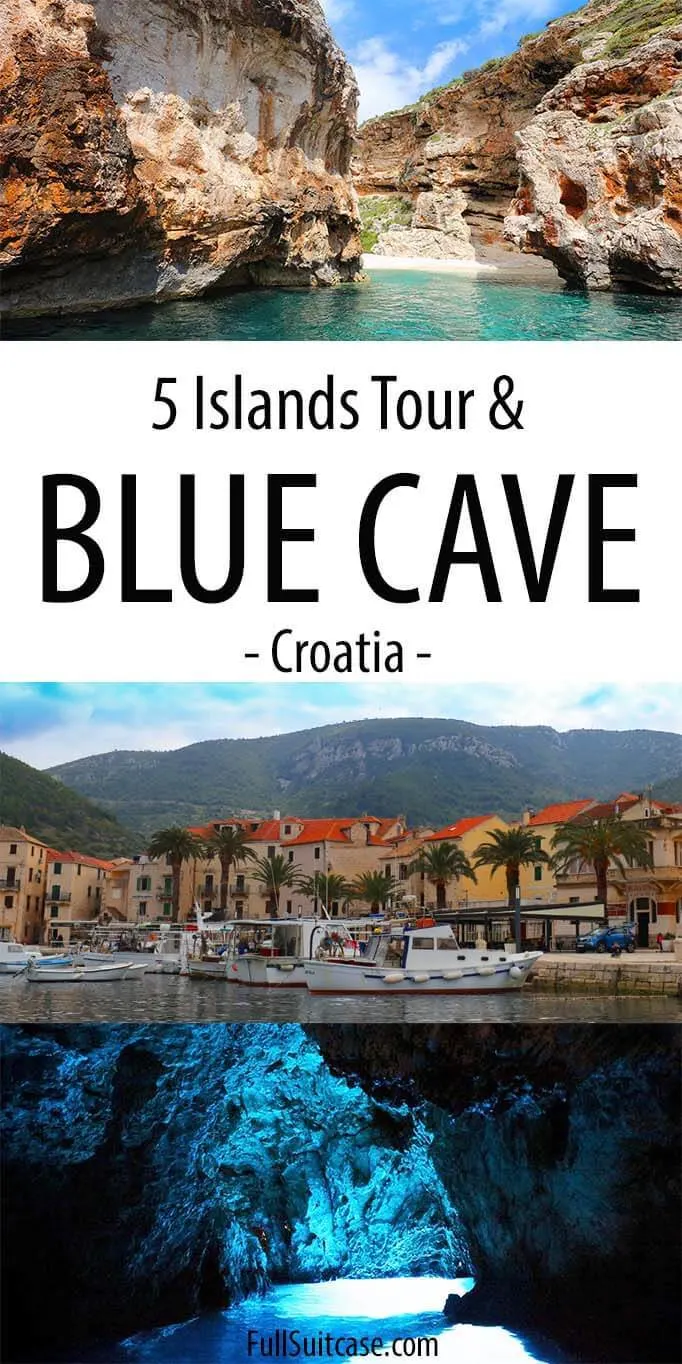 1. Blue Cave (Biševo island)
Blue Cave was the first and the most impressive stop on our day trip itinerary. Since I already covered everything you might possibly want to know about visiting the Blue Cave, I won't repeat myself here.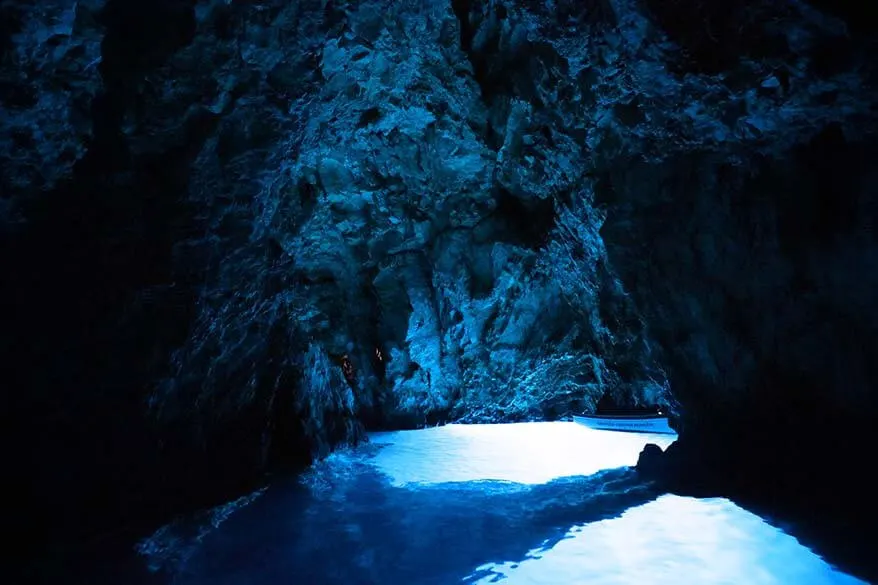 2. Monk Seal Cave (Biševo island)
Just a short boat ride from the Blue Grotto, the Monk Seal Cave is one of those places that not all the tours visit, however, it's really impressive to see.
Our boat entered the cave and we could see it from the inside, but since this stop wasn't mentioned in our itinerary, I'm not sure if they also do this in high season, or only once in a while when the weather isn't suitable for swimming (and they, therefore, have more time for other places).
The cave is named after the Mediterranean Monk Seals who used to live here until several decades ago. Since they were in direct competition with the local fishermen, you can guess the fate of the Monk Seals… Nowadays, they are almost extinct and the chances of seeing Monk Seals along the coast of Bisevo island are close to zero.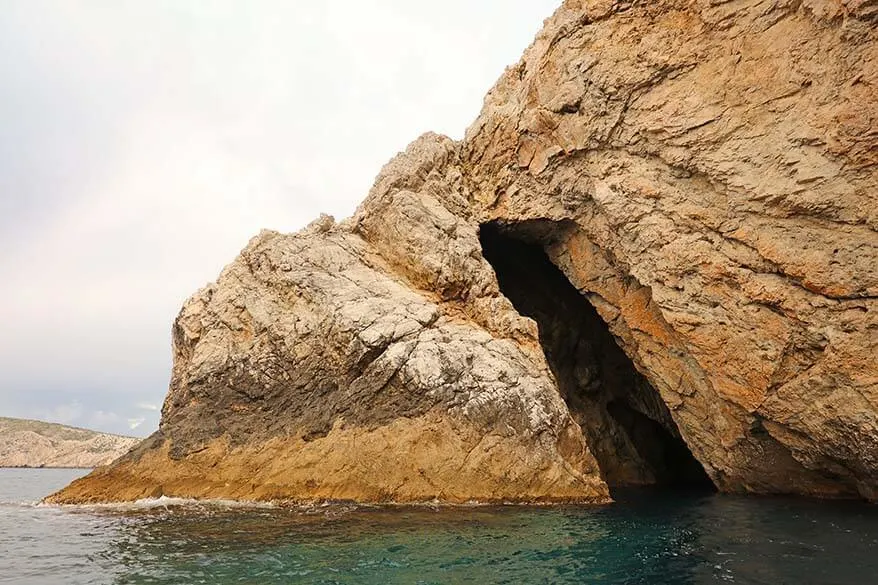 3. Komiža village (Vis Island)
The second stop, just a short boat ride from the Blue Cave, was the picturesque village of Komiža on Vis island. This is a very cozy fishermen's town with stone houses, narrow streets, and a nice waterfront area with several restaurants and shops. At least in April, when we visited, Komiža had a really nice local feel. Fishermen were working on their boats, older people chatting on the promenade along the little harbor, and the local cats were curiously inspecting the visitors…
According to our guide, there are more registered boats in Komiža town than people living there.
We had a bit over an hour to discover the town and since our kids were getting hungry, we decided to have an early lunch in Komiža. Note that lunch is not included in any of the Blue Cave tours, but there are several places where you can have lunch during the day.
Interesting fact: The film Mamma Mia: Here We Go Again is set in Greece, but was actually filmed on Vis island in Croatia.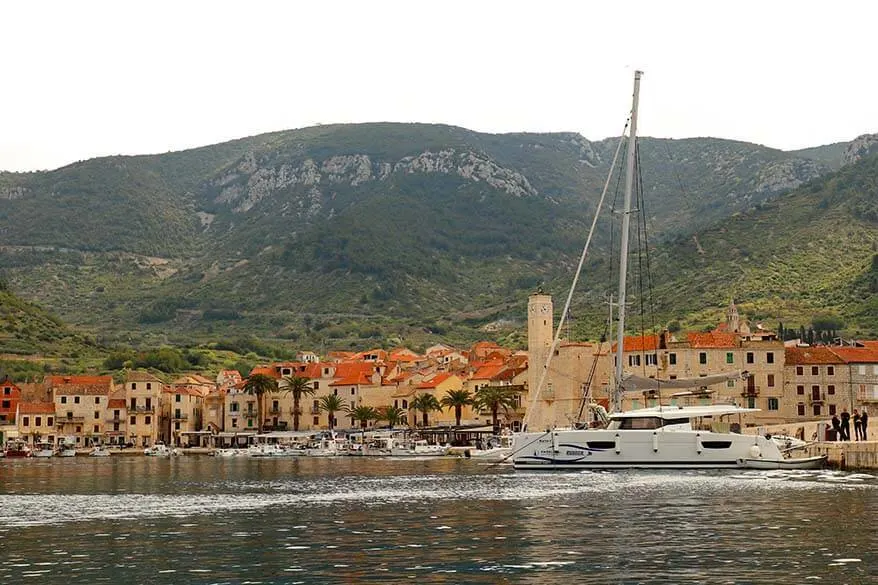 4. Stiniva Cove (Vis Island)
Another popular stop is Stiniva Cove in Stiniva Bay, also on the island of Vis. This is quite a unique place and a protected natural monument.
The cove is surrounded by two high cliffs with just a narrow opening to the sea. It's a secluded and somewhat hidden beach, a perfect place to go swimming or snorkeling.
The coastline and the beach here reminded us of the beautiful beaches in the Algarve region in Portugal and also of the Great Ocean Road in Australia. Simply stunning!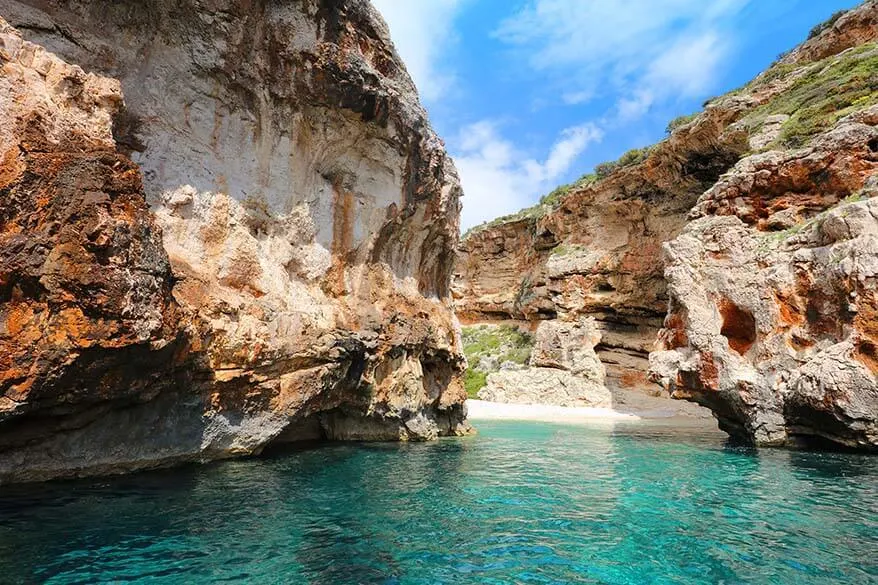 5. Green Cave (Ravnik Island)
Since we visited in the low season, we also stopped at the Green Cave on Ravnik Island (one a few advantages of visiting Croatia in April). It's actually just a sea cave with a small hole on top through which the sun rays light up a small part of the cave, giving it a nice green glow.
The green light is very small and incomparable to the Blue Cave. It's something nice to see, but not something you should feel sorry about if you miss it.
In high season, there is a fee to enter the Green Cave, and it's usually not included in any of the Blue Cave tours. You can ask the guides to visit the cave, but you'll have to pay for the entrance yourself.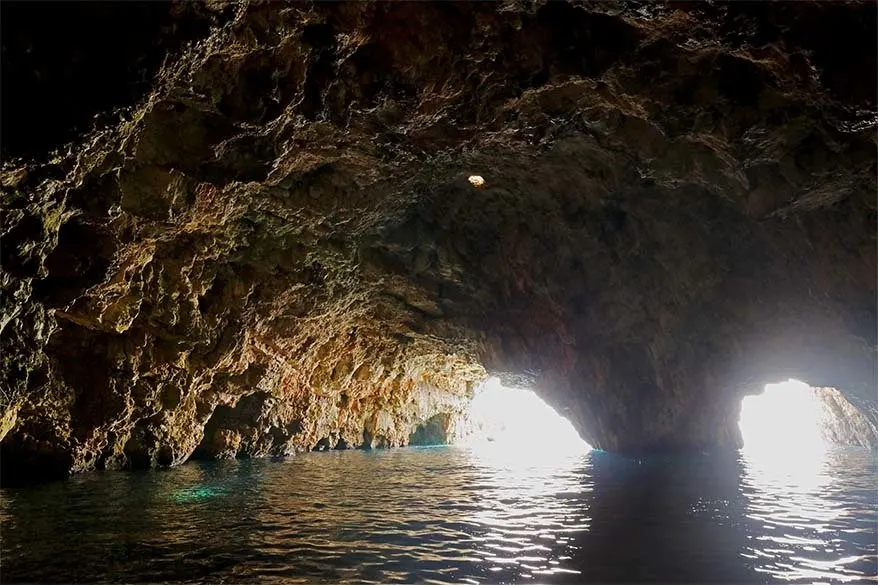 6. Turquoise Lagoon on Budikovac Island
Budikovac island is a private island, known for its sandy beach and crystal clear sea. In summer, the owner runs a little restaurant and a bar here, and tour boats usually stop at the Turquoise Lagoon (also called the Blue Lagoon) for at least an hour.
It's a great place to go swimming or snorkeling (snorkeling gear is included with the tour that we booked and many other Blue Cave tours from Split). Alternatively, you can just relax on the beach or grab a drink at the bar.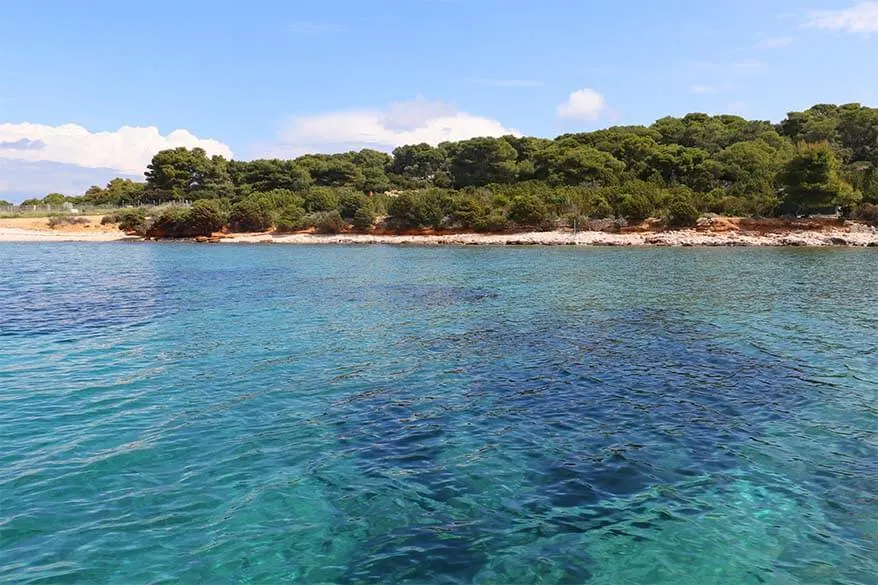 7. Paklinski Islands
Paklinksi or Pakleni islands just near Hvar are simply spectacular. You'd probably need to see it from the air in order to appreciate how unique the landscape here is. But even just seeing it from the boat, this place is simply amazing – green little islands scattered in the azure-blue waters are well worth a short stop.
Palmižana bay is the most popular stop of the Paklinksi islands, best known as a place to party. Here you'll find some restaurants, beach bars, and some Blue Cave tours stop here for a longer time, while others will just pass by on their way to Hvar. This is the place where the rich and famous dock their luxury yachts in summer.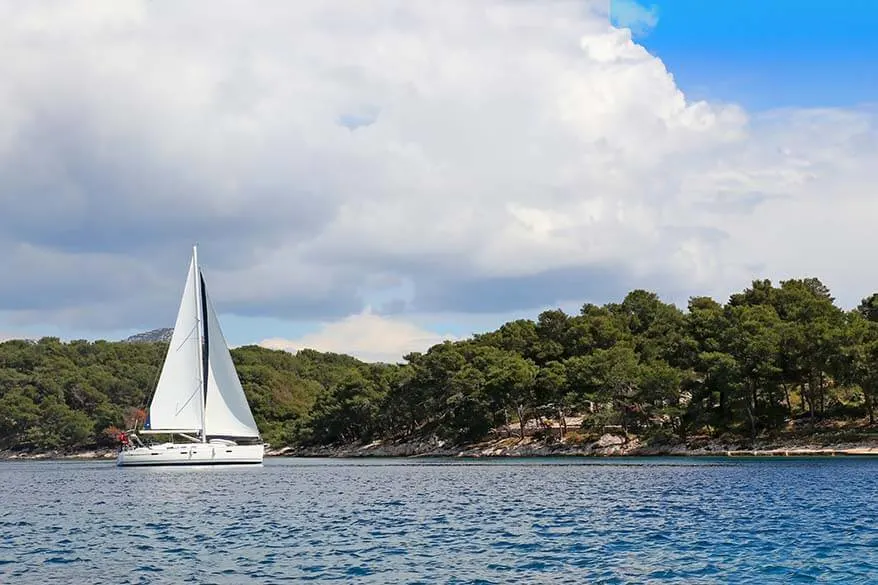 8. Hvar town (Hvar Island)
One of the reasons we chose this particular Blue Cave tour from Split was because we really wanted to see the town of Hvar. All the travel guides describe Hvar as one of the most beautiful and must-see places in Croatia, so this day trip was the perfect way to incorporate a short visit in our Croatia trip itinerary without having to spend much extra time or money.
Hvar is an expensive luxury resort with a beautiful little harbor and a waterside promenade. Our tour stopped here for 2.5 hours which gave us plenty of time to see all the highlights.
If there is one thing you really shouldn't miss in Hvar is the Spanish Fortress. This 16th-century fortress offers incredible views not just over the picturesque Hvar town, but also of the Pakleni islands in the distance.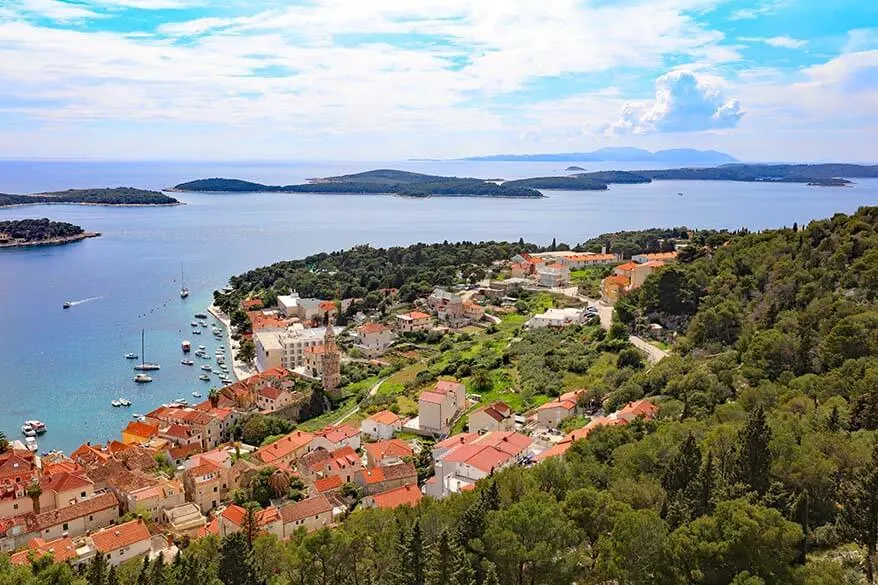 Other places to see in Hvar include the Cathedral and the nice town square around it, Franciscan Monastery, and also the historic Bishop's Palace (now a hotel that's being renovated).
Interesting to see is also the largest fingerprint in the world. It's a big mosaic on the floor at the Hvar harbor, next to a monument to Ivan Vučetić. He was born in Hvar, but emigrated to Argentina. He discovered that each fingerprint is unique and unrepeatable, and thus laid the foundation for the modern dactyloscopy.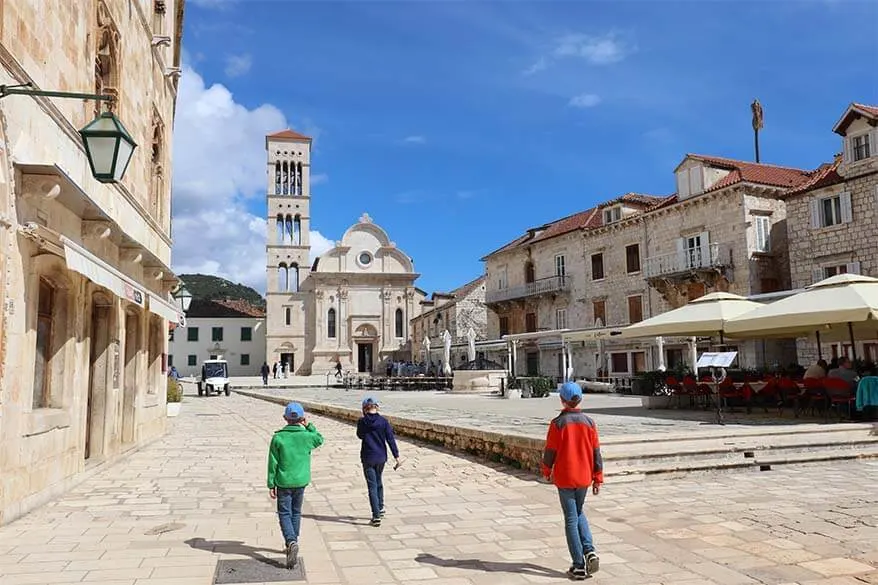 9. Dolphins
We never expected to see dolphins on the Blue Cave tour, but apparently, they are often seen in the area. And indeed, we were extremely lucky to run into a group of dolphins on our way from Hvar back to Split.
So yes, it's possible to see dolphins on the Blue Cave tour as well. For us, it was just the cherry on the cake and a nice way to end the beautiful day of island-hopping and visiting some of the nicest coastal towns and landscapes of Croatia.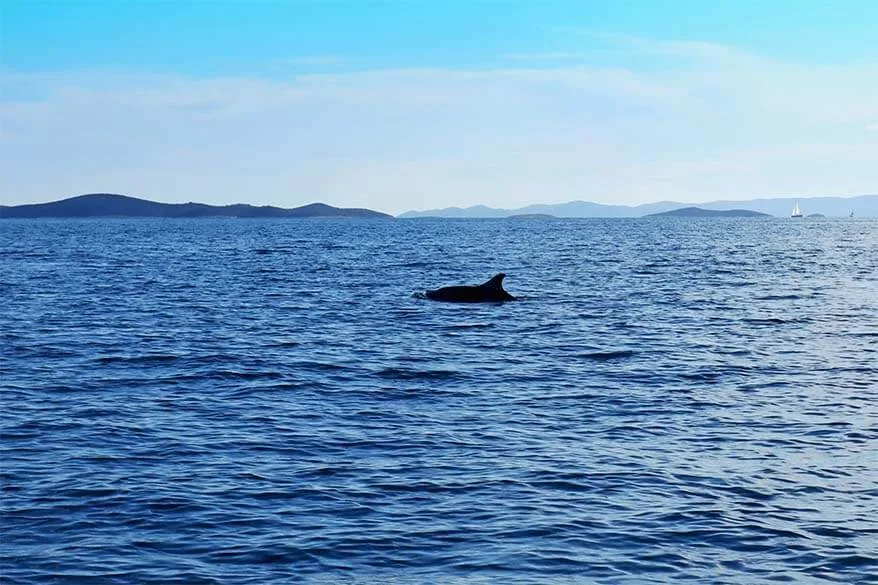 Best Blue Cave tours from Split, Trogir, and Hvar
There are so many tours that visit the Blue Cave in Croatia that it might be overwhelming to try to figure out which one to choose. If you are looking for a Blue Cave tour from Split, it might look that everyone who has a boat also runs a tour… However, not all of them are the same – not just in terms of itinerary, but also the boats that they use, safety onboard, insurance they have, etc.
Since Blue Cave tours are quite long (10-12 hours) and expensive (usually around 100-180 EUR per person or more), I strongly suggest that you do some research upfront and book your tour online. This allows you to check the exact itinerary, read customer reviews, and to be certain that you are booking with a reputable officially registered company that is in order with safety regulations.
To make things easier for you, I made a very small selection of Blue Cave tours from Split or Trogir that have the best itinerary, price-quality ratio, and trustworthy customer reviews. These are the tours that made my pre-selection when researching our own trip. I also included the best-rated Blue Cave tour from Hvar.
5 Islands, Blue Cave and Hvar Tour from Trogir or Split. This is the tour that we did and I already explained some of its advantages above. It has a very good itinerary with enough variation between sightseeing and swimming stops, great reviews, and competitive price. We loved the speedboat, the guides were good, and the lively music on the boat made the long-distance rides feel shorter.
If this tour isn't available, try this very similar Blue Cave & 5 Islands Tour from Split. It's very comparable in terms of itinerary and price. As I said, there are many options, but make sure to read all the details carefully – there are quite some tours that cost just as much but don't include the entrance ticket to the Blue Cave, some others have a different itinerary, etc.
All-in Blue Cave Tour with Lunch from Split. This tour has pretty much the same itinerary as the one that we did, but it's slightly more expensive because they use a more luxurious boat and everything is included. It's also a speedboat, but the seating is different (you don't have to sit like on a motorbike like on most other boats) and the boat also has a small roof that offers some shade that can be very welcome on hot summer days. So if you are looking for more comfort and don't mind a slightly higher price (which also includes lunch), this might be a better option for you.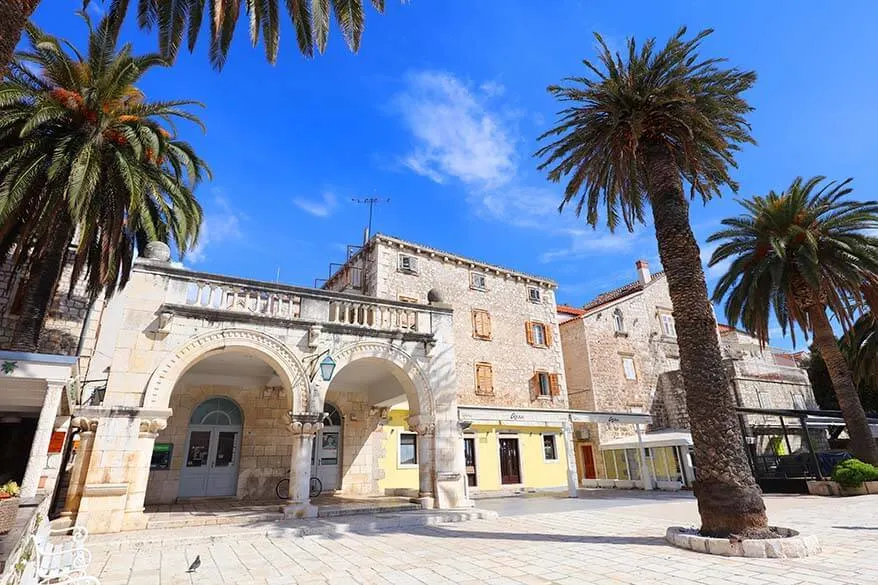 Practical Information
Here is some practical information for visiting the Blue Cave with a tour.
Blue Cave tours from Split or Trogir will usually take 10-12 hours. From Hvar – 8 hours. It's the best day trip you can make in Croatia.
Most speedboat tours aren't suitable for young kids under 3 years old or people with back problems.
We did this Blue Cave tour with kids, age 8, 8, and 10 and they had the time of their lives. They absolutely love speedboat tours!
In summer, make sure to wear your swimwear and take a towel. Sun protection is a must.
It can be quite windy and cold on the boat. Most tour operators offer free jackets, but if you travel on a colder day in the shoulder season, make sure to also wear a sweater and a jacket of your own.
Lunch is not included in most tours, but there are several places where you can have lunch during the day.
Most tours will offer free bottled water, but it's always wise to take some water with you as well.
I recommend packing all your belongings in a waterproof dry bag.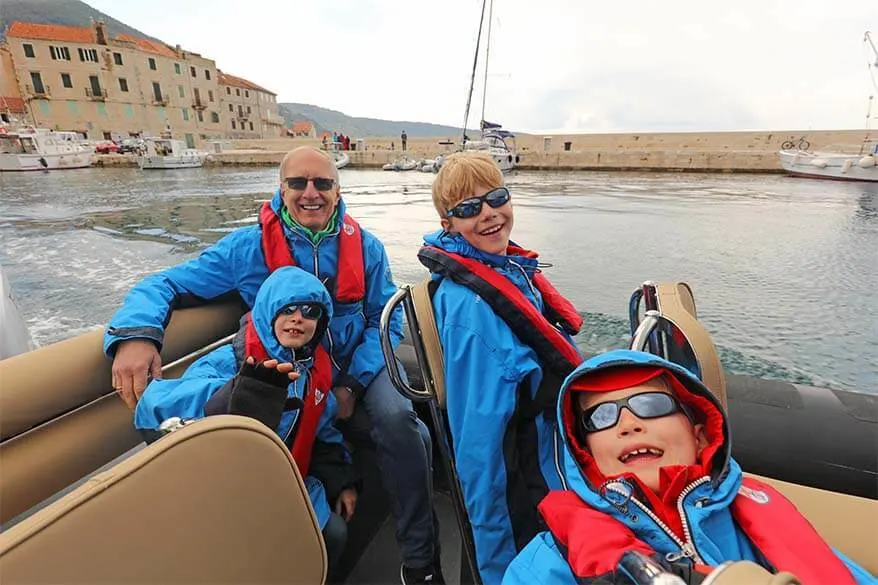 So, this is our guide to visiting the Blue Cave in Croatia from Split, Hvar, or Trogir. Hope it answered all your questions and gave you a better idea of what to expect. If we forgot to cover anything, feel free to leave a comment below and we'll try to help.
Please note that we are not related to any of the companies running the Blue Cave tours in Croatia. We researched the best Blue Cave tour from Split for our own trip and paid for it ourselves because we wanted to give you an independent review, based on our own personal experience.
READ ALSO: Croatia Itinerary
If you found this post helpful, don't forget to bookmark it and share it with your friends. Are you on Pinterest? Pin this image!