Visiting the Benagil Cave is the most popular excursion in the Algarve region in Southern Portugal.
However, this impressive sea cave became so popular that it got absolutely overcrowded. At any given moment in the summer season, you could see dozens of boats, kayaks, standup paddleboards, and even swimmers trying inside the cave at the same time…
Recently, the situation has gotten increasingly unsafe and there have been multiple incidents that have led to dangerous situations for visitors, marine life, but also the fragile coastal landscape.
At the end of August, the government created a work group with the purpose of defining new rules and regulations for visiting Benagil Cave in a safe and responsible manner (you can find the official publication in Portuguese here). The group has four months – until the end of 2023 – to come up with a proposal. In the meantime, local authorities decided to take measures and have announced certain restrictions on visiting Benagil Cave effective 10 September 2023.
This has immediately led to lots of questions… Is Benagil Cave open or closed? Is it closed for everyone and every type of boat? Can you still enter Benagil Cave and see it from the inside or is it no longer possible? Can you still kayak in the area? Is it still allowed to swim to and inside the cave?
I saw so many conflicting answers to these questions online that I decided it was time to investigate it. And what better way to find out than simply to try and visit Benagil Cave, right? Since we were in the Algarve a few weeks after the new rules were announced, we decided to go and check it out.
So here it goes – an update on the current situation as we experienced it.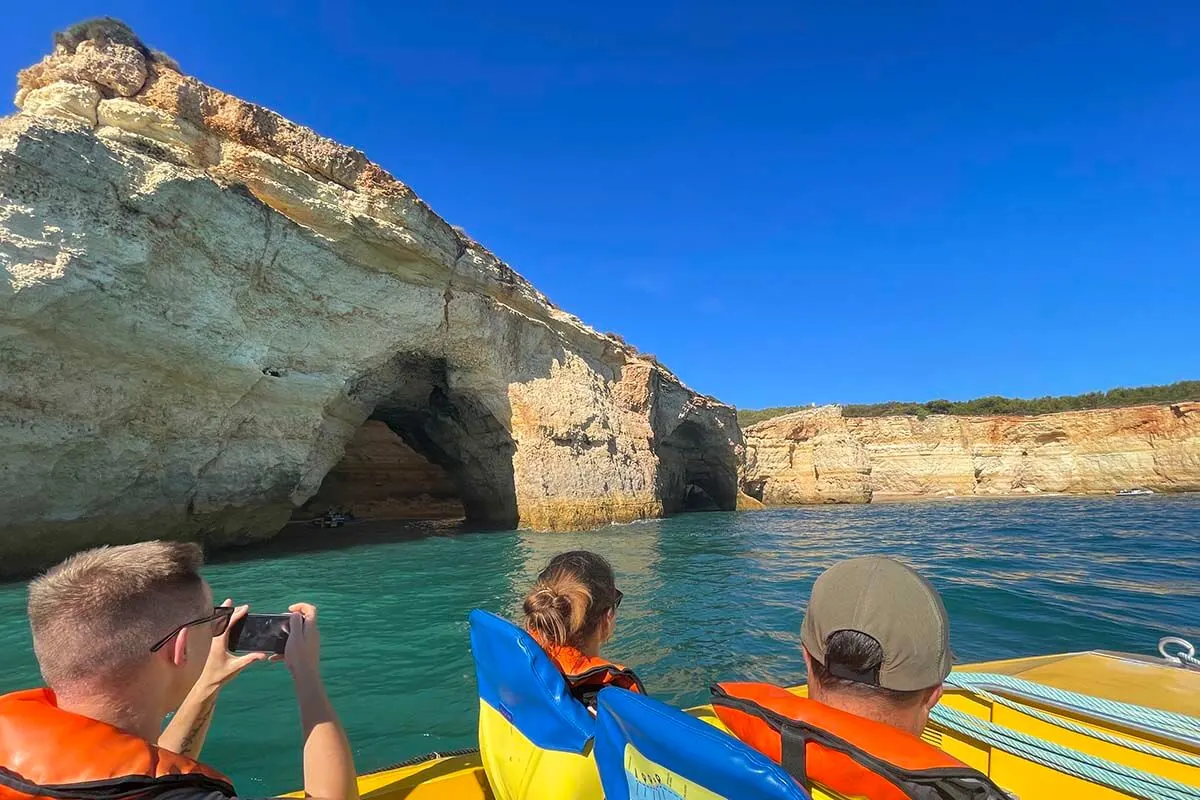 Is Benagil Cave closed?
No, Benagil Cave is not closed. It's open year-round, and sea conditions and weather permitting, you can still enter Benagil Cave by boat.
However, there are quite a few restrictions at the moment – see below.
Can you visit Benagil Cave by boat?
Yes, at the moment, it is possible to visit Benagil Cave – and enter inside the cave – by boat.
If the sea is too rough or it's too windy, this may not always be possible, but that's just common sense, and it's always been like that.
Most boat tours from the nearby towns run as usual and – among other sights – bring you inside Benagil Cave.
We visited Benagil Cave just recently by speedboat from Albufeira and could enter the cave without any problems. There were several other boats there at the same moment and they all went inside.
Can you swim inside Benagil Cave?
Swimming inside Benagil Cave is no longer allowed. It is also forbidden to disembark on the little beach inside the cave.
Can you kayak or SUP inside Benagil Cave?
Kayaks, canoes, SUPs, bodyboards, etc. are in principle no longer allowed inside Benagil Cave at the moment. However, we saw quite a few kayaks at Benagil Cave recently and some of them were going inside, so it seems that the rules are again somewhat more flexible.
Several companies still run kayak tours in the area and it's still a great way to explore the stunning coastline. The main difference from the past is that you can no longer disembark inside Benagil Cave. You can still see the spectacular coastline and it's still totally worth it.
When the restrictions were first imposed, the official statement read that it's forbidden to launch kayaks from Benagil Beach (Praia de Benagil), Marinha Beach (Praia da Marinha), and Albandeira Beach (Praia de Albandeira). However, when we visited Benagil Cave just recently, there were kayak tours running from all these beaches. So it seems that the restrictions have been lifted again.
TIP: Ponta da Piedade near Lagos is another amazing kayaking location in Algarve. The coastline west of Albufeira is also absolutely stunning and can be explored by kayak. So if you want to go kayaking in the area, there are quite a few great alternatives to Benagil. You can find more information via the link below.
READ ALSO: Best Kayaking Spots in Algarve & Kayaking at Ponta da Piedade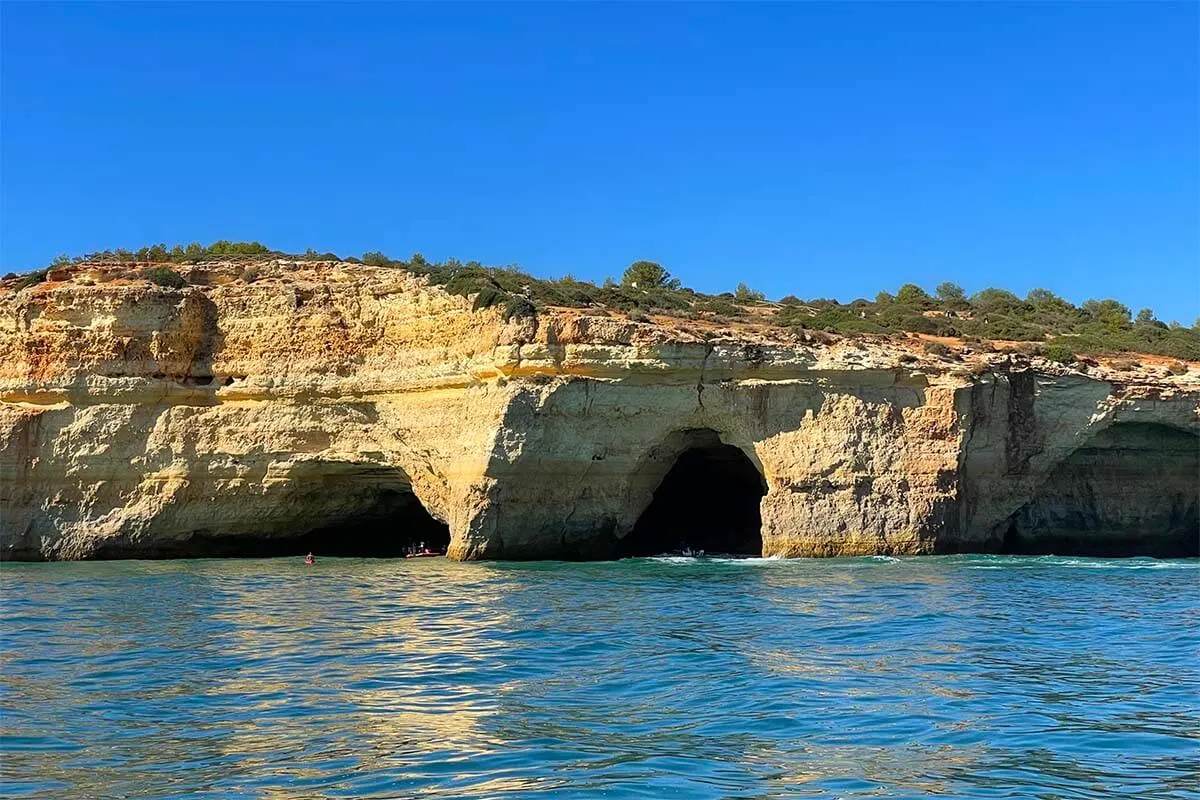 Why are there entry restrictions to Benagil Cave?
As already mentioned, there have been numerous incidents in and near Benagil Cave. Most of them involve kayaks, SUPs, and similar. But there were also several occasions when small boats overturned inside the cave… Luckily, without any casualties…
Furthermore, the area was visited by so many kayaks (sometimes several dozen or even more at once) that the little beach inside Benagil Cave was absolutely crowded. People would disembark inside the cave, drag kayaks over sand, climb on rocks, etc. Some people would also try to swim to the cave from the nearby Benagil Beach. For a few years, this was indeed allowed…
As you can imagine, this not only led to many dangerous situations but also had a significant impact on the fragile ecosystem.
The combination of safety concerns for people and marine life, but also the preservation of the natural beauty of Benagil Cave are the main reasons why entry to Benagil Cave has been restricted.
But are these measures temporary?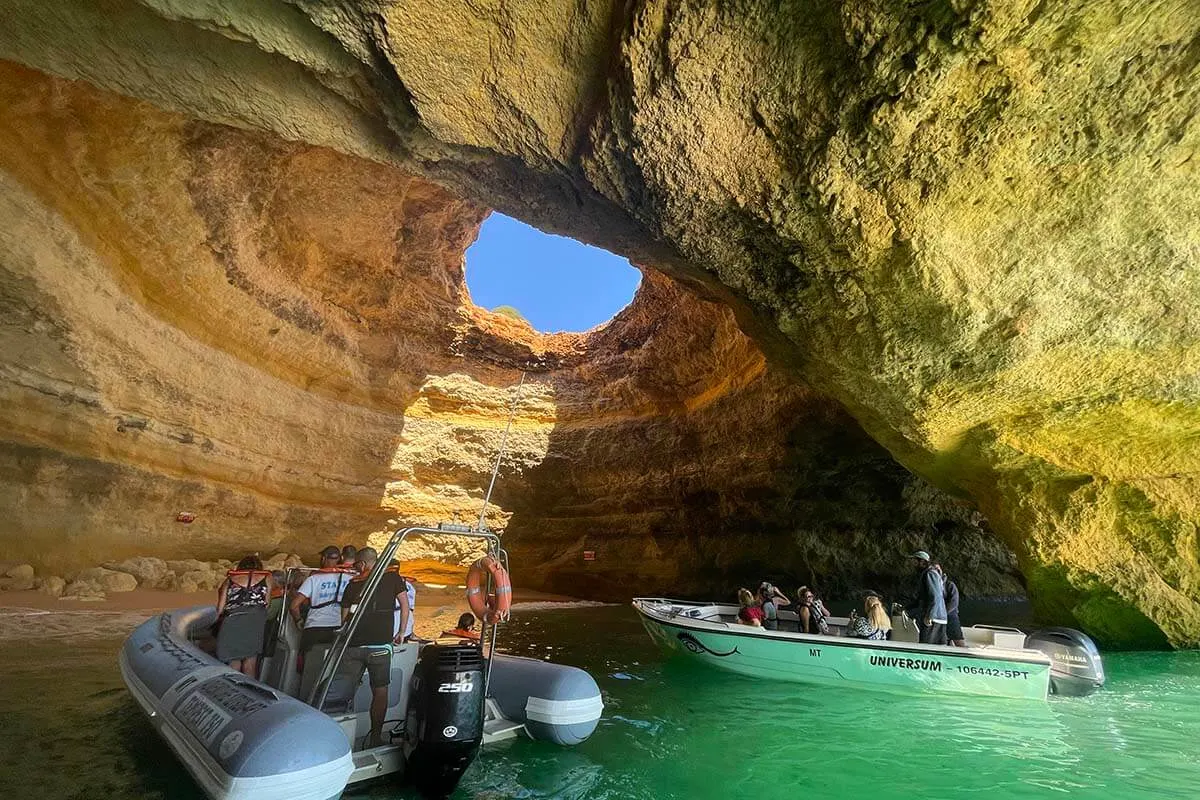 Are the Benagil Cave entry restrictions permanent?
The official statement seems to imply that these measures are temporary, in order to give the marine authorities time to come up with a sustainable solution for visits to Benagil Cave.
However, at the moment, no official date was announced as to when, if, or how the rules will change in the future.
The good thing is that you can still see the stunning Benagil Cave – by boat from the inside and also on foot from above.
TIP: If you want to increase your chances of seeing the sea caves from inside, opt for speedboat tours. The smaller the boat, the easier it can enter the caves (not just Benagil).
For more information about Benagil Cave and the best ways to visit it, please see our detailed guide via the link below.
LEARN MORE: Benagil Cave: Complete Guide
More travel inspiration for the Algarve: