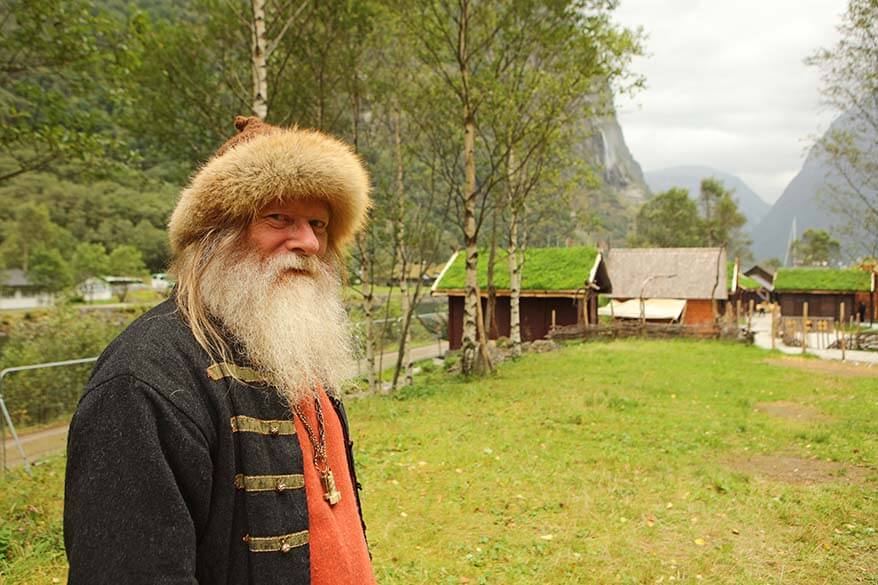 When we first heard about the Viking Valley in Gudvangen, we just knew we had to squeeze it into our Norway trip itinerary. After all, Norway is home of the Vikings, and our boys love everything about them.
If you are thinking of visiting this Viking village when visiting the Gudvangen – Flam area, but are not sure what to expect, this article should give you a better idea of what it's like and if it's worth it. Find out!
Viking Village Njardarheimr
The Viking Valley is not really a museum, as we first thought. It's an authentic Viking village, with real Vikings, where you can experience their lifestyle as it was more than 1000 years ago.
They are not dressed up actors as you often see in places like these, rather reenactors, real Vikings who choose the Viking era as a lifestyle.
This project has been a lifetime dream of Mr. Georg Olafr, who has moved to Gudvangen some 22 years ago, and in 2017 his dream finally became a reality.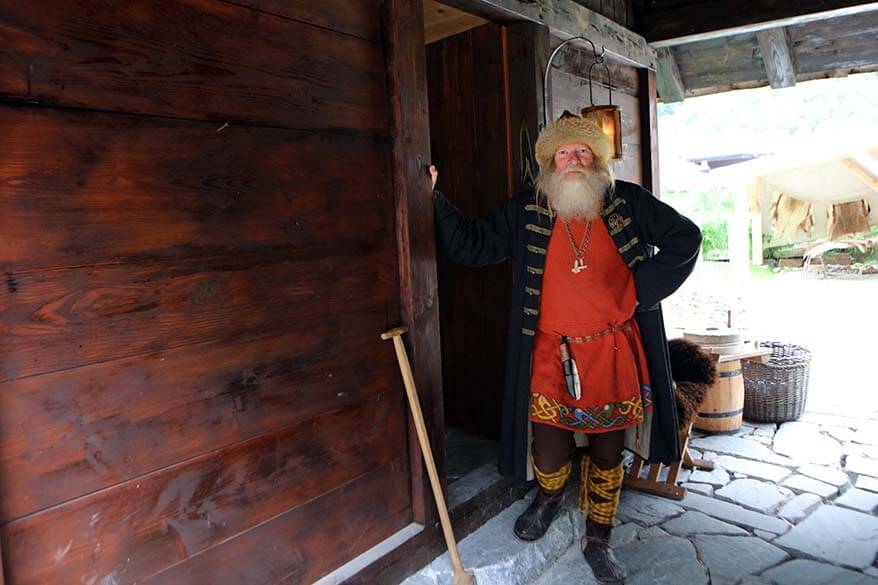 During the Viking era, Gudvangen was an important trading place. For years, it was also a place where Vikings organized their annual summer market.
Viking village Njardarheimr is now built as a permanent village. It is to become a town where Vikings from all over the world can live together re-enacting the past and share their knowledge and stories with visitors.
Njardarheimr village had 18 houses when we visited, and it was far from finished. A big community house was scheduled to be opened soon, as well as many other smaller buildings to house more than a hundred Vikings.
There's already a long waiting list – so many Vikings from all over the world applied to come and live here.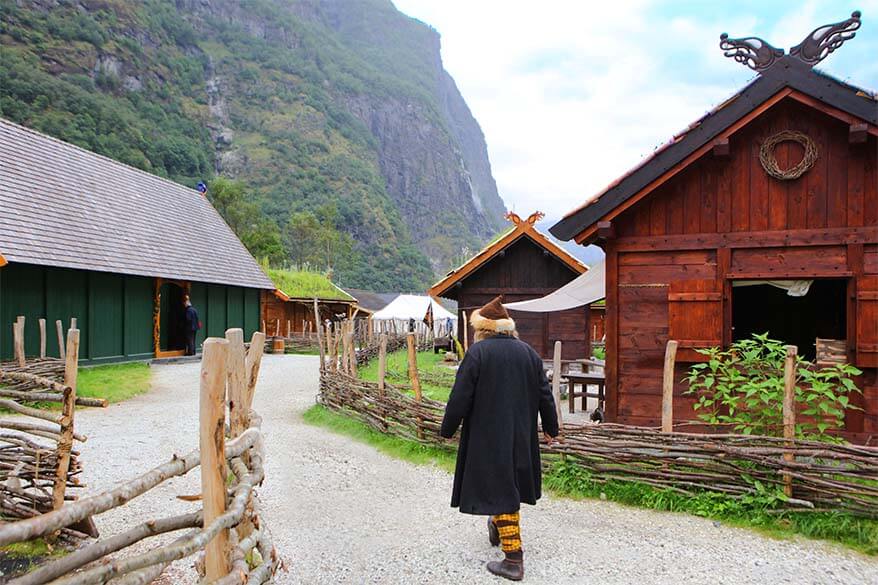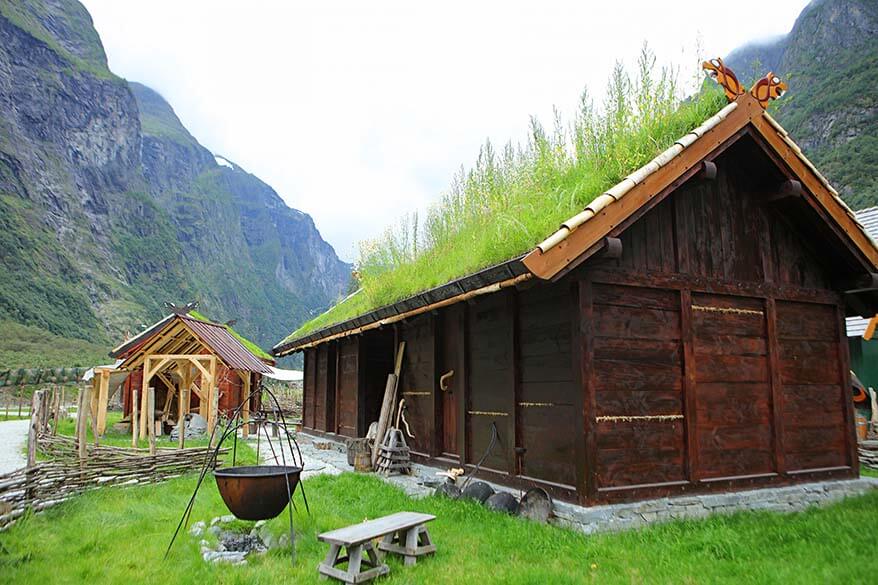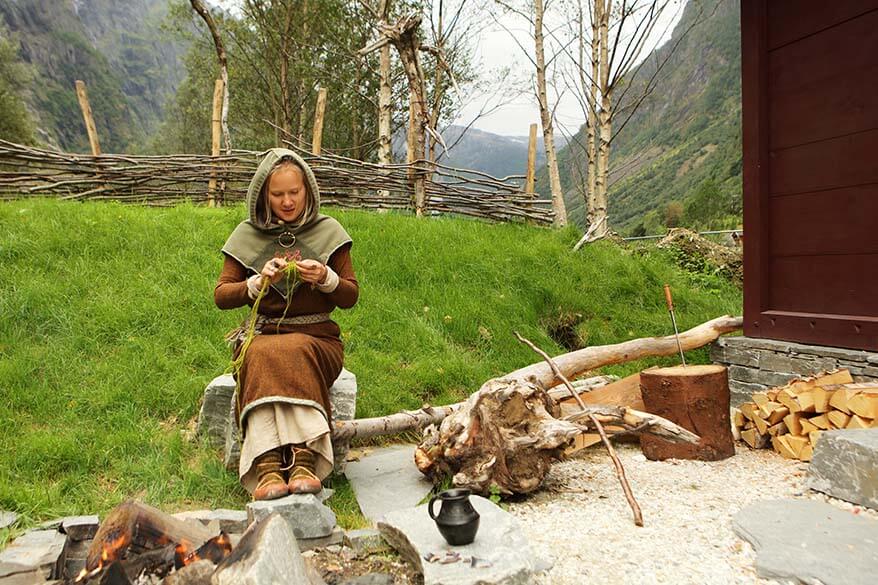 Visiting the Viking Valley – What to Expect
The Viking Valley is a village where you are free to walk around and explore as you please. But you would be missing a lot if you just do it on your own and don't talk to any of the Vikings!
Make sure to join the Viking Experience – one of the guided tours of the village. In fact, you can join as many of the tours as you wish – they run at various times throughout the day, and every Viking tells different stories in their own style. It's so interesting to learn about history, trading, sailing, and handcrafts.
I really recommend that you talk to the Vikings. They are really friendly and eager to tell more about the Viking era, about the handcrafts they are making, their clothes, jewelry, the food…
If you are up to it, you can try archery or ax throwing as well. Our kids were super enthusiastic about this, and I got some more grey hairs just watching them. But, as one of the Vikings correctly pointed out: 'kids who learn to use axes, learn to not hurt themselves with them'.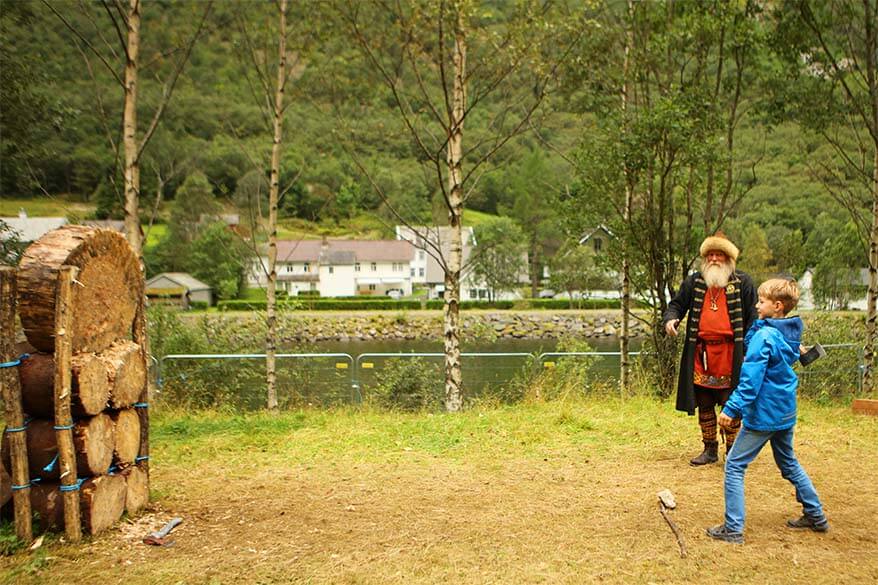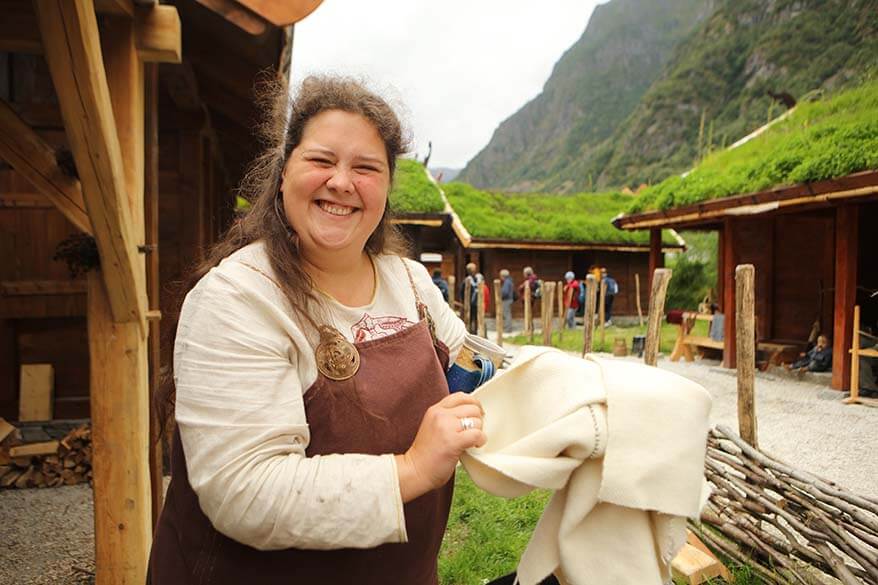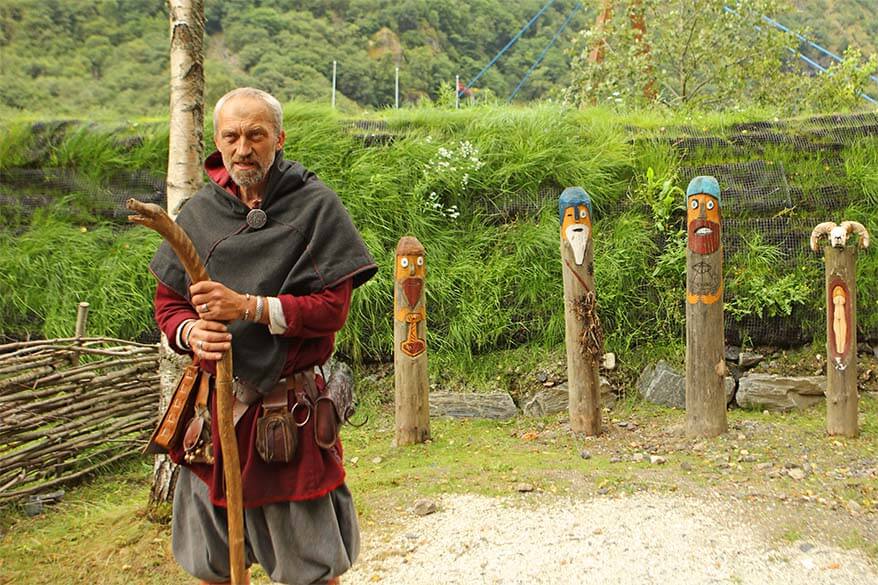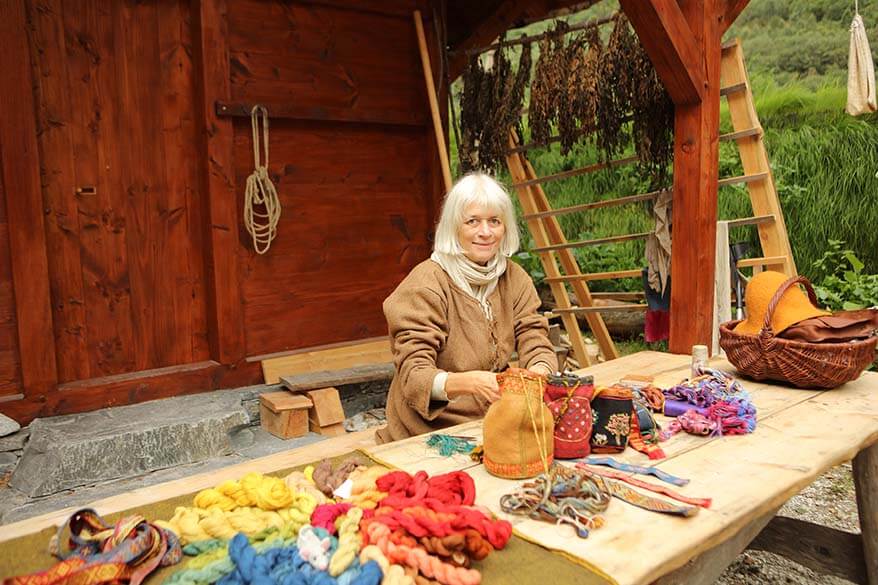 Our kids tried to learn some traditional Viking board games, while we chatted with the Vikings. The people are extremely friendly, so don't be shy and say hi to them. We spent over 2 hours at the village, and the time flew by.
In the Viking village Njardarheimr you can try some authentic Viking food as well. The food is prepared from old Viking recipes with local ingredients that would have been available in the Viking era as well.
The food court was not yet open when we visited. But the idea is to have a place where visitors can taste a variety of food and drinks from traditional Viking cuisines. Traditional Viking meals include Viking soup with freshly baked pan bread, porridge, salmon, sausage, or cabbage salad. For bigger parties or VIP guests they would even serve a whole pit-roasted pig or lamb.
There is also a small shop if you would like to take home some handmade and genuine Viking souvenirs.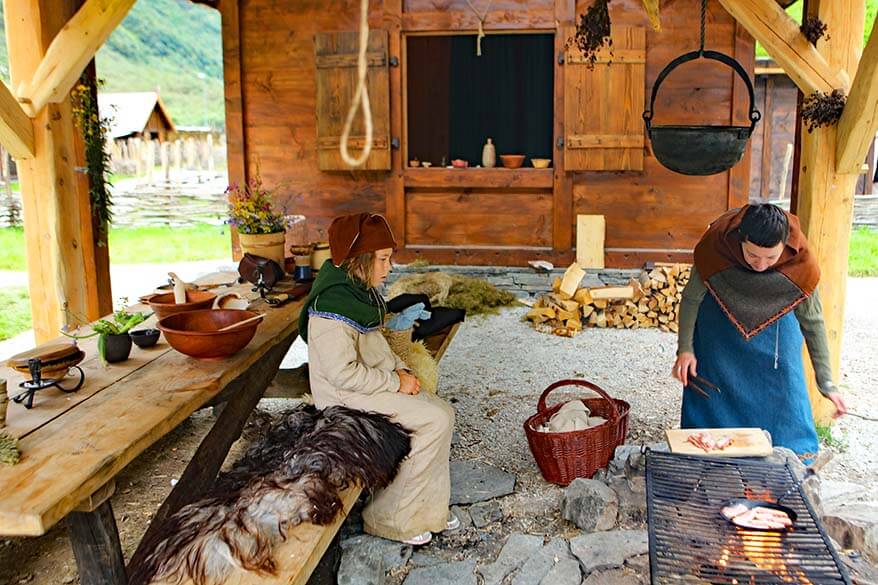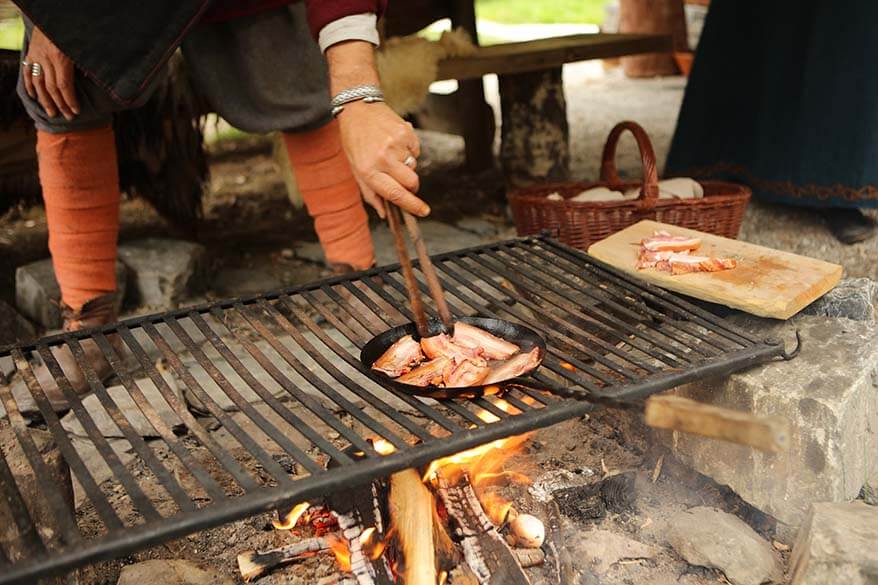 Viking Valley – Practical Information
Viking Valley is open daily from June through September.
Count at least 2 hours for the visit.
Viking village Njardarheimr is located in Gudvangen, just a few steps from the boat for the Naeroyfjord scenic cruise between Flam and Gudvangen.
For more practical information check the official website of Viking Valley.
Conclusion. We are really glad we visited the Viking Valley in Gudvangen, and I can highly recommend it to everyone. It's a unique place, something you won't experience anywhere else. So if you are visiting the Flam – Gudvangen area in summer, don't miss the Viking Village Njardarheimr.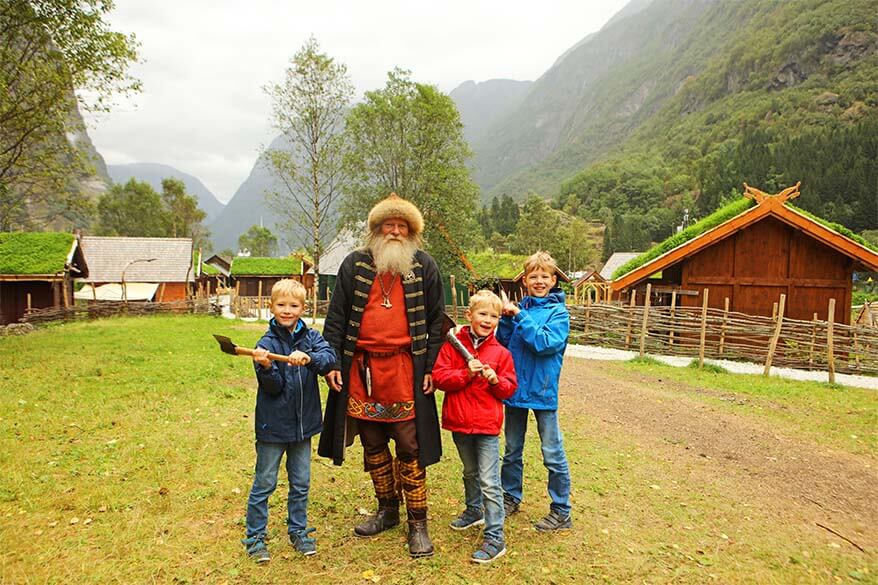 TIP: In our article with the best things to do in Flam you can find a sample one day itinerary for Flam – Gudvangen area. If you plan well and book some activities ahead, it is quite easy to see the very best of Flam including the Viking Valley in just one day. Take a look!
If you found this post useful, don't forget to bookmark it and share it with your friends. Are you on Pinterest? Pin this image!