Planning a trip to Tuscany and not sure where to start and what's the best Tuscany itinerary?
In our previous post, you could read about some of the most beautiful towns in Tuscany. In this article, you can read how to combine all those beautiful places (and some more) and create the perfect Tuscany trip itinerary that allows you to experience the very best of this picturesque region in one week.
How many days do you need in Tuscany
While you can see the main cities in 3-4 days, I recommend at least one week for Tuscany. This will allow you to see not just all the highlights of the best towns of Tuscany, but also to get a glimpse of the beautiful Tuscan countryside.
Below, you can find our suggested Tuscany itinerary that shows you where to go and what to see if you have one week in Tuscany. Read on!
How to see the best of Tuscany in one week
This Tuscany itinerary starts and ends in Florence. However, you can start and end in other towns and combine this trip with a visit to the other regions (e.g. Cinque Terre or Bologna). This is really just meant to show you what's possible and how to plan your time in Tuscany.
In order to see the very best of Tuscany and to experience some of its stunning landscapes, it's best to visit the region by car. On the other hand, you don't really need a car in the cities. Train connections between major towns in Italy are really good. So if you want to, you can visit some of the most beautiful towns using public transport only.
While this Tuscany itinerary is made assuming that you have a car, you can easily adapt it to your needs and your way of traveling. Just use this itinerary as a guide to the best places in Tuscany, how much time you need at each place, and how to best plan your trip.
At the bottom of the article, you can also find a map indicating all the places mentioned in this Tuscan itinerary. Read on!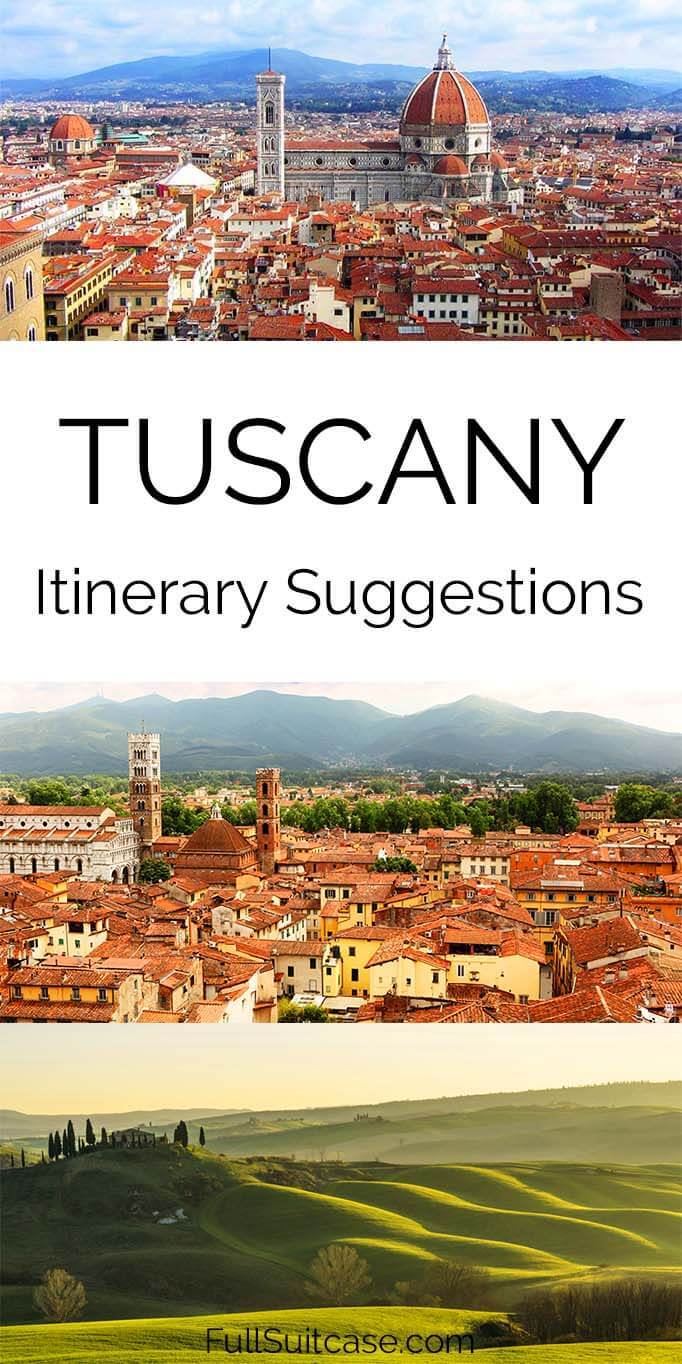 One Week Tuscany Itinerary
Day 1 – Florence
Florence is one of the most beautiful cities in Italy and is not to be missed in any Tuscany itinerary.
One full day is the minimum that you need in order to see the main highlights of Florence. You can find more information, tips, and advice for visiting Florence in some of the more detailed guides to the city on our blog.
Not to be missed in Florence is the Cathedral (you can climb the dome of the Duomo as well), Ponte Vecchio, Accademia Gallery, Uffizi Gallery, and Palazzo Vecchio. If you have just one day in Florence, stroll the old town, check out the market, and walk to Piazzale Michelangelo for the best sunset view in Florence. Alternatively, have a drink at one of the best rooftop bars in Florence.
Stay in Florence for at least one night, in order to take full advantage of your time here. If you are traveling by train, I recommend a hotel close to the railway station. We recently stayed at Hotel Croce di Malta, an excellent mid-budget 4*hotel with a lovely rooftop terrace. If traveling by car, keep in mind that parking in the city is very expensive.
TIP: If you only have limited time and want to see the best of Florence in one day, be sure to book priority tickets for ALL the places you absolutely want to visit inside.
LEARN MORE: One Day in Florence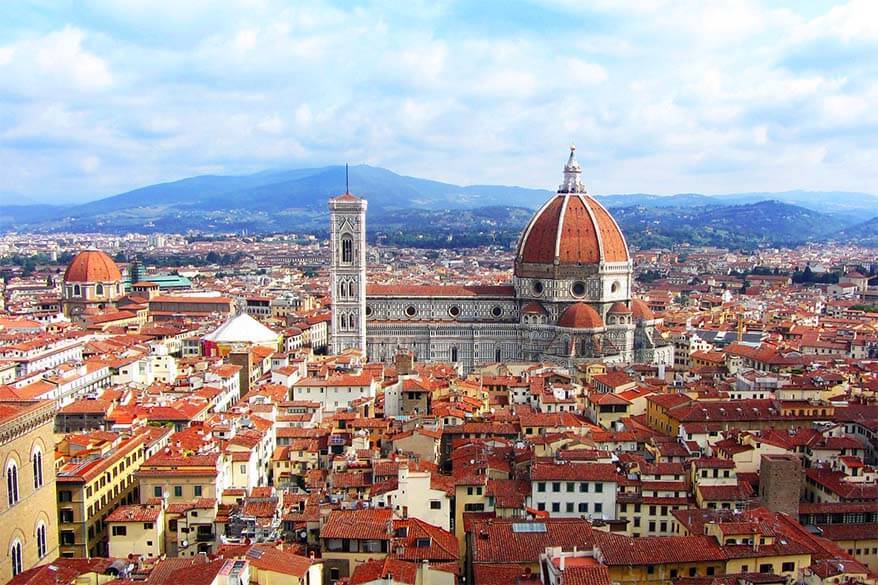 Day 2 – Florence to Siena
Leave Florence early in the morning and drive to Siena. Via Chiantigiana road SR 222 from Florence to Siena is very scenic, so you may want to take this road rather than a highway.
Spend the rest of the day exploring the beautiful town of Siena. Must-see in Siena is Piazza del Campo with its Palazzo Pubblico and the Mangia Tower, Siena Duomo (Cathedral), and the picturesque streets of the Old Town.
TIP: Stay in Siena for 1 or 2 nights. Albergo Chiusarelli is one of the best picks in towns in terms of price/location/quality.
LEARN MORE: Best Things to Do in Siena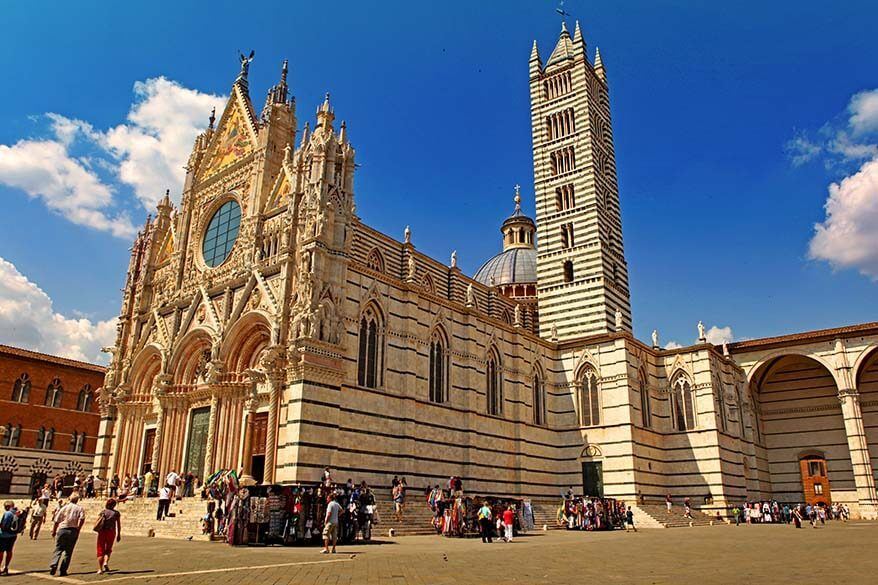 Day 3 – Val d'Orcia – Tuscan countryside
Here is a scenic road trip suggestion through the picture-perfect Tuscan countryside – Val d'Orcia – that you can take as a day trip from Siena.
If you have the time, you may want to spend a couple of days in this area, but one day is sufficient to drive through the scenic Tuscan countryside.
From Siena take the road SR2 to San Quirico d'Orcia. From here continue East along the SR146 in the direction of Montepulciano. This is the most scenic road in Tuscany – the one with the typical Tuscan landscapes you see in travel magazines and on postcards.
Take your time to explore Val d'Orcia and visit at least a couple of charming little towns in the area: Pienza, Montepulciano, San Quirico d'Orcia, Monticchiello, Montalcino… Also the Abbey of Sant'Antimo is worth a visit.
With just one day in this region, I think I'd focus on Montepulciano, Pienza, and the countryside of Val d'Orcia.
TIP: If you are in Siena without a car, the best way to explore the Tuscan countryside is by taking an organized tour, e.g. this wine tour that brings you to Montalcino, Pienza, and Montepulciano from Siena.
READ ALSO: Best Things to Do in Montepulciano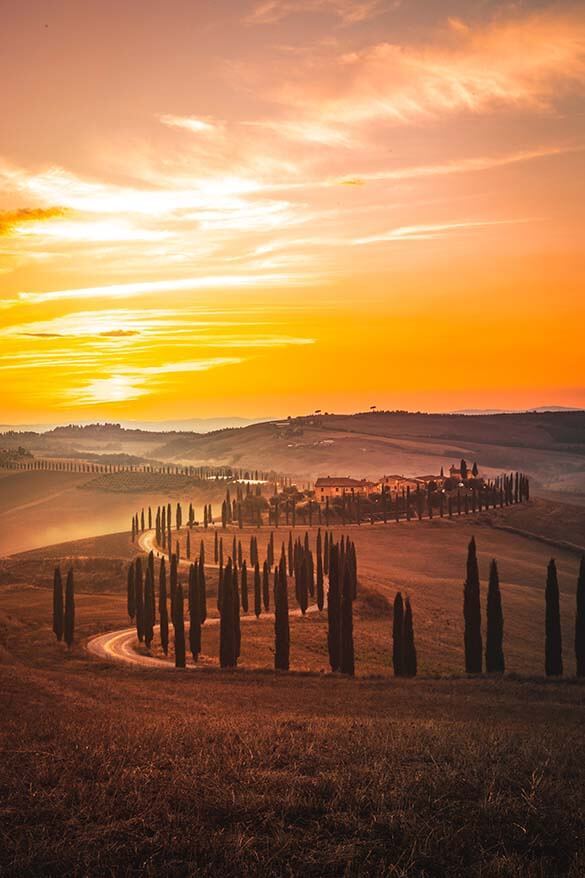 Day 4 – San Gimignano and Volterra
San Gimignano and Volterra are both relatively small towns and their proximity to each other means that you can easily visit them in one day.
San Gimignano, famous for its fourteen medieval towers has a tiny but very picturesque Old Town. It can get extremely busy during the day, so I recommend going there first thing in the morning.
One of the main places to see is Piazza della Cisterna. You can also climb to the top of the Torre Grossa.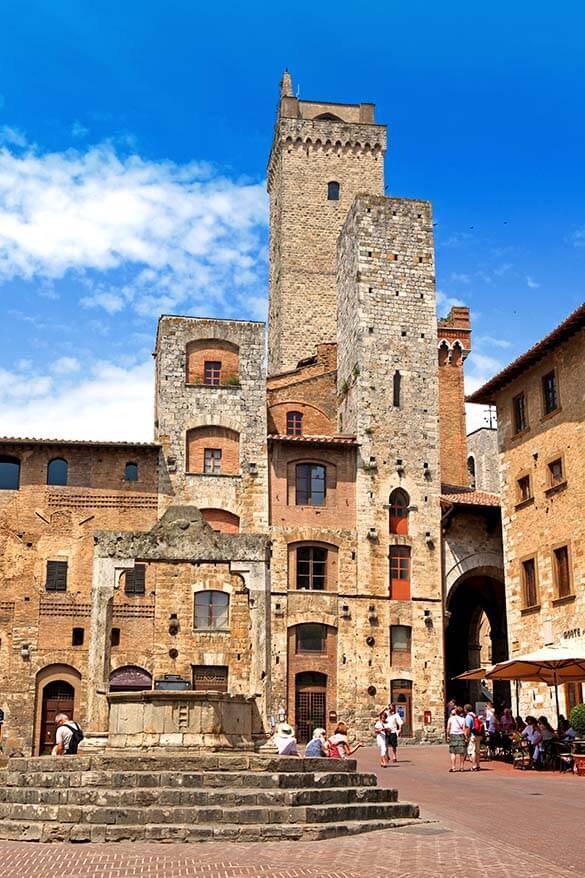 Volterra has a great atmosphere in the evening, so it's best to visit it later in the day. It's a charming medieval town and it's nice to just stroll the streets, check out some souvenir shops, and have a nice Tuscan dinner.
In my previous post, you can read more about what to see and do in San Gimignano and in Volterra.
TIP: One of the nicest and good price/quality hotels in Volterra is Hotel La Locanda. If you are on a tighter budget but want something really special, stay in Chiostro Delle Monache Hostel Volterra. It's located in the 15th-century Franciscan monastery, has a great location, and free parking.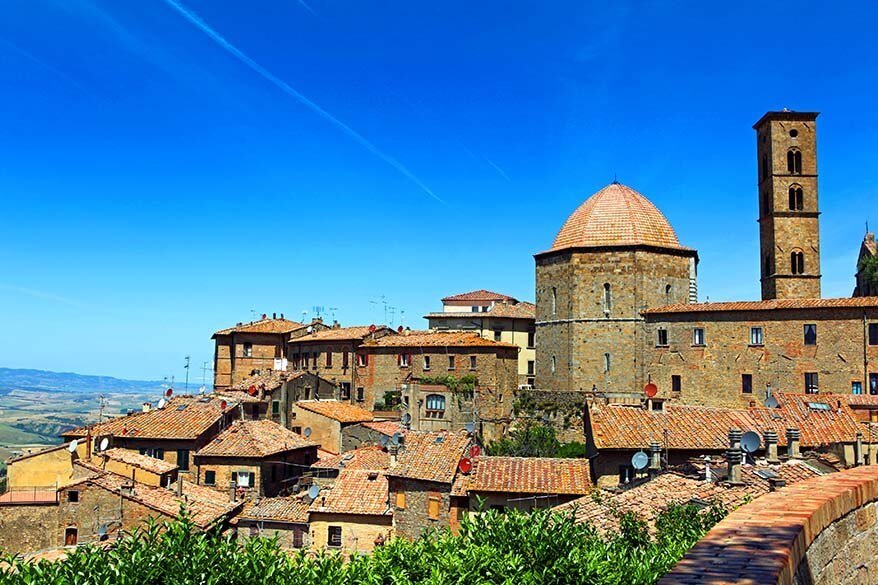 Day 5 – Pisa
Take your time to explore Pisa. Don't limit your visit to the leaning tower of Pisa only! In fact, the leaning tower of Pisa is just one of the many monuments of the Miracle's Square. The Cathedral and the Baptistery are very impressive as well.
Pisa town center has no crowds and is very picturesque as well. Stroll the Arno river promenade and check out the Borgo Stretto, an old shopping arcade with many restaurants, cafés, and shops.
TIP: If you are touring around Tuscany by car, I'd advise not to stay in Pisa. Instead, drive to Lucca after you visited Pisa and stay there for two nights. Lucca has such a great atmosphere and several really nice hotels. They are located inside the city walls and so parking is not free (but possible). Check out Hotel Palazzo Alexander or Hotel Alla Corte degli Angeli.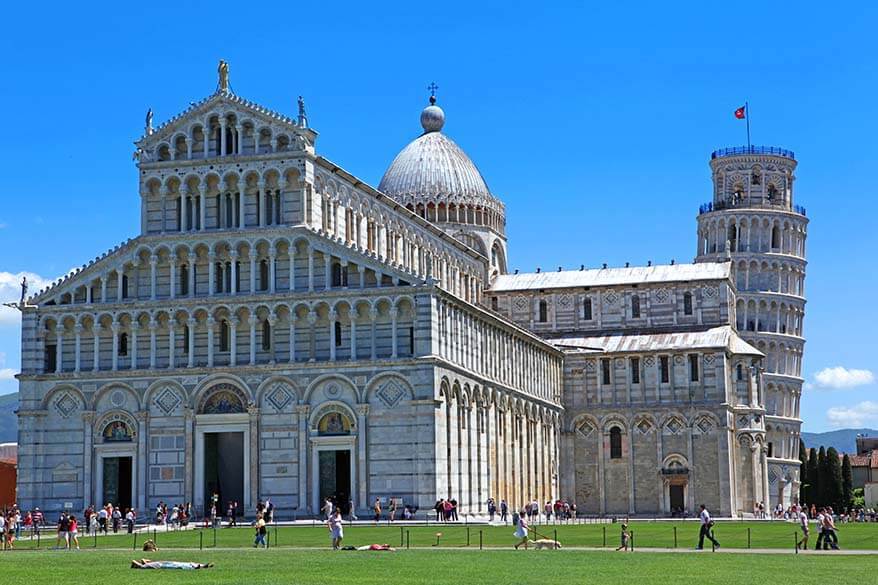 Day 6 – Lucca
Lucca is our favorite town in Tuscany. You can see the main highlights in just one day, but you definitely won't regret it if you choose to stay a bit longer.
The main landmark is the city walls of Lucca which you can explore on foot or by bike. In fact, the best way to see Lucca is by taking a self-guided bike tour.
Piazza dell'Anfiteatro is another must-see in Lucca. Make sure also to climb at least one of the towers -Torre Guinigi or Torre Delle Ore for the best views in town. Here you can read more about what to see and do in Lucca.
TIP: Take a food tour in Lucca – it's a great way to explore the town and taste some of the typical local specialties.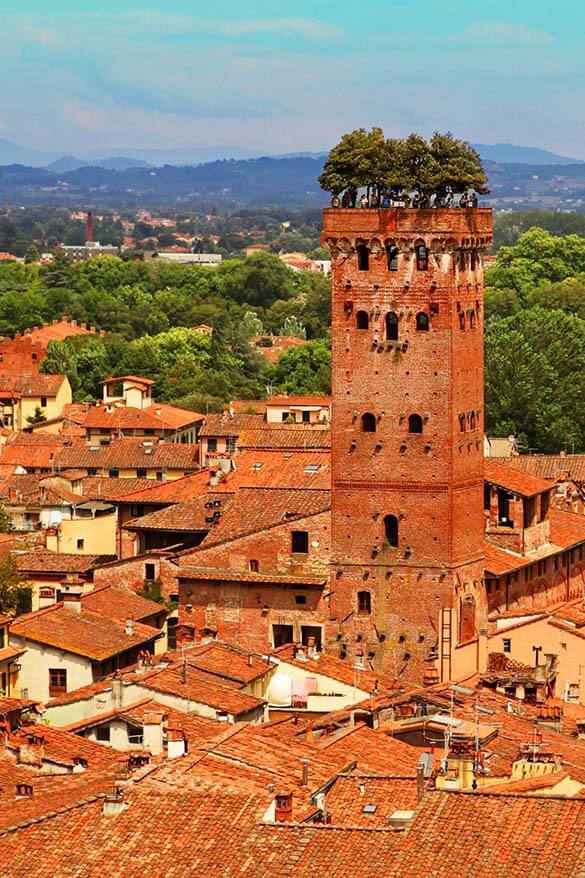 Day 7 – Collodi, Pistoia, Prato, or the outskirts of Florence
There are several nice towns that you could visit between Lucca and Florence. Collodi, Pistoia, and Prato are all worth a detour.
We liked exploring the outskirts of Florence as well. You're hardly out of the city, but the scenery is amazing. Take a road from Florence to Fiesole for stunning views and a beautiful Tuscan landscape.
Alternatively, you could easily visit Bologna. It's located in the nearby Emilia Romagna region (so not in Tuscany), but is more than worth a visit if you find yourself in this part of Italy.
READ ALSO: Florence to Bologna Travel Info & Itinerary + Best Things to Do in Bologna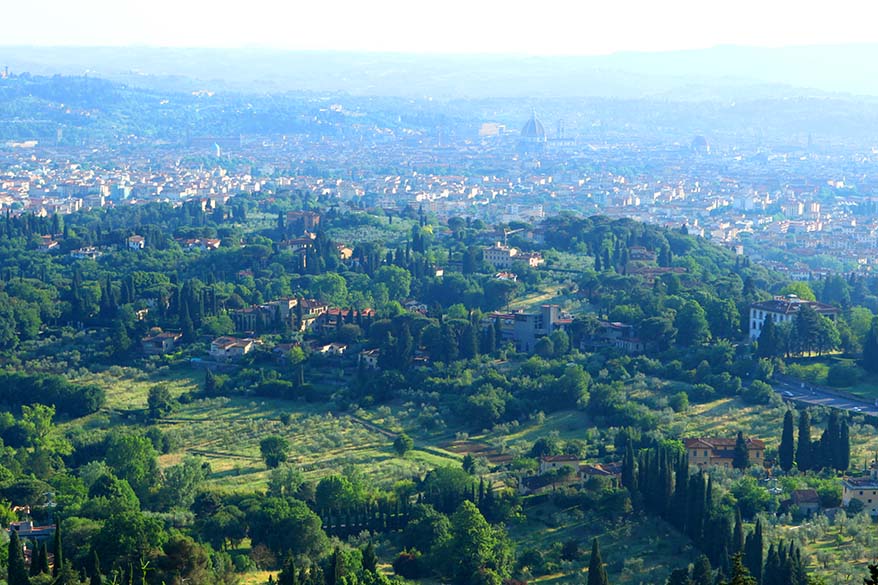 Where to stay for this Tuscany itinerary
Many people ask what's the best area to stay in Tuscany. The answer really depends on what kind of trip you are planning.
If you are thinking of making a road trip in Tuscany, you can find my suggestions for hotels in each town in the day-to-day Tuscany itinerary above.
If, however, you don't like changing hotels and packing your bags every day, you can also stay at one central location in the Tuscan countryside and take day trips from there. Sometimes you'll need to drive an hour, sometimes two, so it's not perfect, but it might still be easier and more relaxing, especially if you are traveling with kids.
TIP: If you want to stay in just one place for sightseeing, the best place to stay for exploring Tuscany would be the area close to Volterra or San Gimignano. It is very centrally located in Tuscany and is therefore ideal if you are looking to stay at just one hotel and explore the region by taking day trips. Here you can find the best deals for accommodation in Volterra and hotels in the San Gimignano area.
In fact, a few years ago we did just that when we were visiting Tuscany with our kids. We stayed at just one hotel in the Montaione area for 12 days and combined relaxing days by the pool with sightseeing. It worked well for us. You can read more in our best of Tuscany – itinerary from one central location post.
On our most recent trip to Tuscany, we were focusing on the area around Siena and Val d'Orcia, plus a few other places in Umbria too. For that, we opted to stay at this beautiful country house in Bettole.
There's really not one 'best' spot to stay- Tuscany is way too big for that. So it all depends on which places you decide to visit.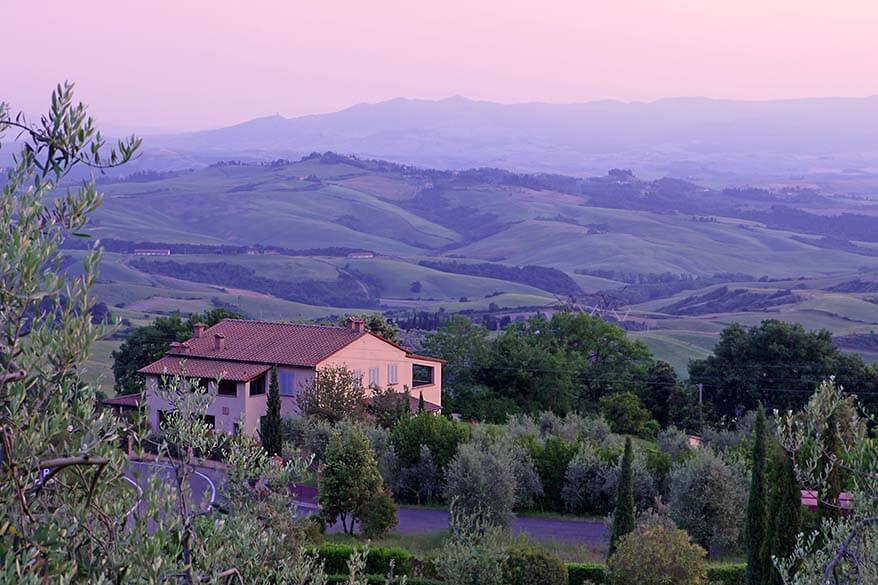 One week Tuscany trip itinerary map
Below, you can see an overview of this suggested Tuscany itinerary on the map. Start in Florence, drive down to Siena, then on to San Gimignano and Volterra. Continue your trip towards Pisa and Lucca, and end in Florence.
Alternatively, continue to Cinque Terre, which is just a short ride from Pisa. Here you can find more information about how to see the best of Cinque Terre in one day.
Best Time to Visit Tuscany
Tuscany is a beautiful destination that has something to offer at any time of the year. That being said, the best time to visit Tuscany is in late spring or in early autumn. The very best months for sightseeing in Tuscany are May and September.
In the summer months, it's very hot here. So if you are visiting in July or August, you may want to concentrate on the Tuscan countryside. A popular thing to do is rent a villa with a pool and make an occasional day trip to one of the smaller towns in the area.
Whereas the weather in late fall, in winter, and in early spring is more suitable for visiting the big cities rather than touring the countryside.
READ ALSO: Best Time to Visit Europe
So, this is our suggested Tuscany itinerary for up to one week. If you are planning a trip to Italy, make sure to check our Italy travel guide for more tips and travel advice for a big variety of popular destinations in Italy.
Alternatively, check our selection of articles below for more tips for a variety of destinations in Italy.
More tips for some of the most visited destinations in Italy:
READ ALSO: Best Places to Visit in Italy
If you found this Tuscany itinerary helpful, don't forget to bookmark this post and share it with your friends. Are you on Pinterest? Pin this image!