The Algarve region in southern Portugal is mostly known for its stunning coastline and most tourists come here for its beautiful beaches. With one beach more spectacular than another, you may be wondering what are the most beautiful beaches of Algarve.
It would be impossible to visit or describe all the beautiful beaches of the region. So in this list, I only included a few that are considered to be the very best.
I have to admit that this selection of Algarve's best beaches is completely biased. It doesn't take into account accessibility or facilities, availability of umbrellas or beach chairs, swimming or surfing conditions… We visited Portugal in April, which is not the best time for beach activities anyway.
The beaches on this list are the most picturesque, awe-dropping, stunning, spectacular… in other words, the best, most beautiful beaches of Algarve. That's the one and only criteria I used.
We only had two days in Algarve and obviously, haven't seen even a small part of Algarve's beaches. But we did some research upfront and the few beaches we saw took our breath away. In fact, we think that Algarve has one of the most beautiful coastlines in the world.
As much as we loved the Great Ocean Road in Australia, I think Algarve's coastline is even more spectacular!
So what are the best beaches in Algarve that you must see at least once? Find out!
TIP: At the bottom of this article, you can find a map indicating these must-see beaches of Algarve. For each beach, I also included accommodation advice nearby. You can easily visit all these beaches from just one base location.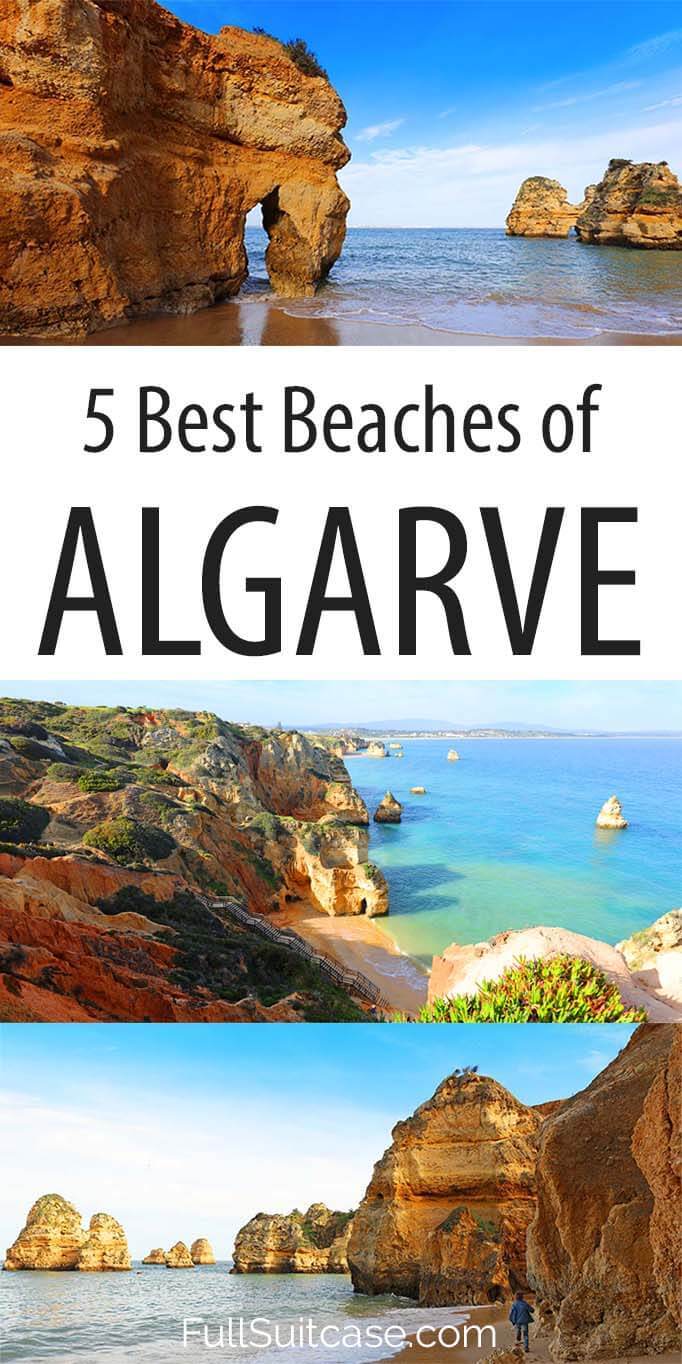 These are the best, most beautiful beaches in Algarve:
Praia de Dona Ana
Praia de Dona Ana is without any doubt one of the most picturesque beaches in Algarve. Located just outside the town of Lagos, it's a popular beach surrounded by steep colorful cliffs and crystal clear blue water.
This beach looks a lot like the 12 Apostles on the Great Ocean Road in Australia and is simply stunning. On top of that, it's rather well protected from the wind and the ocean and is, therefore, a beloved bathing place among tourists and locals alike. Kids will love exploring the rocky coastline and collecting seashells.
We visited on a sunny day in April and it wasn't overly busy; a great place to just walk around and soak in the views. Just keep in mind that Praia de Dona, just like many other beaches in Algarve, is located underneath the high cliffs and can only be reached by a steep wooden staircase. Therefore it's not the best place to be if you have limited mobility or small kids in a pram.
TIP: You can also see this and other beautiful beaches near Lagos by taking a boat trip. There are a few nice options. One of the best excursions is this 1.5-hours boat tour that brings you to some of the nicest parts of the stunning coastline near Lagos. A boat tour is a great way to admire the stunning coastlines and beaches of Algarve from yet another perspective…
ACCOMMODATION TIP: Carvi Beach Hotel is located just next to Praia de Dona Ana.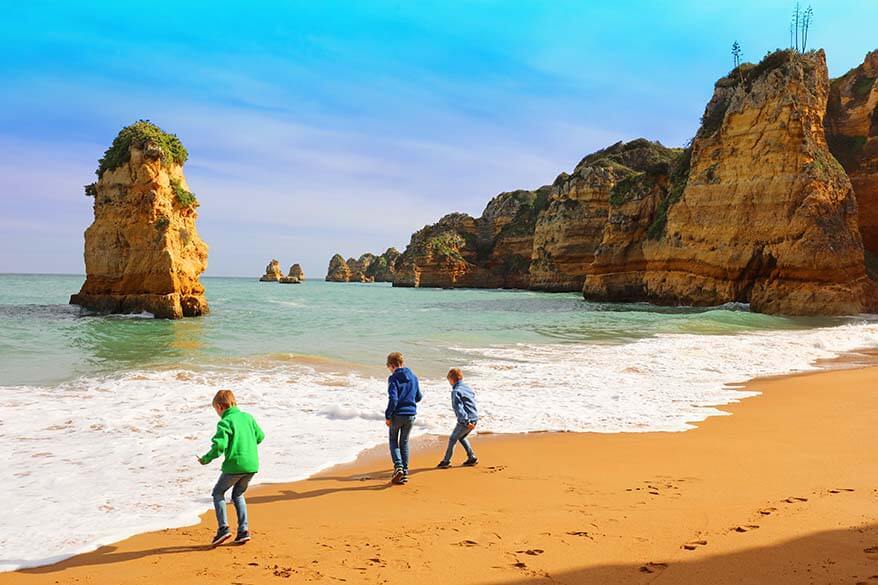 Praia do Camilo
Tiny Praia do Camilo is my personal favorite beach in Algarve. It's located within a short walking distance from Praia de Dona Ana, but is much smaller and incomparably quieter. It was practically empty when we arrived and it felt like we found a secret piece of paradise.
Camilo Beach is really small, so I have no idea how it would look or feel like on a busy weekend in summer, but if you have it all to yourself just as we did, it's as good as it gets.
Accessible via a steep staircase, the beach is actually divided into two separate areas connected by a short tunnel carved inside the rock. Kids loved playing and exploring here and we enjoyed the incredibly scenic location.
I made a short video of Camilo Beach. Check it out!
If you come to Algarve for the scenery and are looking for the most beautiful beaches, then head straight to Praia do Camilo. You won't be disappointed.
ACCOMMODATION TIP: Carvi Beach hotel is one of the best hotels near these two top beaches in Lagos. The nearby Costa d'Oiro Ambiance Village has excellent reviews as well.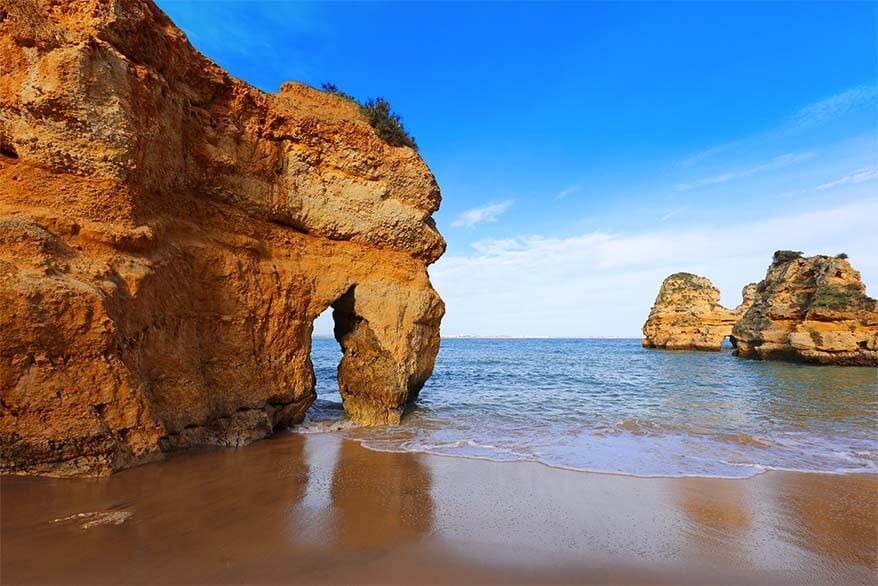 Praia da Marinha
Another place that deserves to be high on the list of the best beaches in Algarve is Praia da Marinha. Actually, it's often ranked among the best beaches in Europe. This beach is a bit further from the main roads or bigger towns, but is just as popular nonetheless.
If you want to find a parking spot here in summer, you better arrive early in the morning. Alternatively, you can make a nice day trip of it and walk (+-5,5 km) along the clifftops from Praia Vale Centeanes. Another nice way to visit Marinha Beach is with this tour which also includes a swim to Benagil Cave – check it out if looking for a more unique way to experience the beautiful beaches of Algarve!
Just as most beaches in Algarve, Praia da Marinha can only be reached by a steep wooden staircase. It's well worth it though. At the beach, there is also a small tunnel under the rocks that connects Marinha beach to the nearby tiny beach of Praia da Mesquita. Even if you can't do the stairs, you will enjoy a visit to this area – the views from the walking trail on top of the cliffs are spectacular.
Praia da Marinha is located in the same area as the famous Benagil Cave. The whole coastline here is dotted with spectacular rock formations, pinnacles, grottos, and hidden sea caves waiting to be discovered. Don't miss!
ACCOMMODATION TIP: There aren't that many hotels near Marinha beach. Suites Alba Resort & Spa is one of a few hotels in the area and an amazing choice if your budget allows it.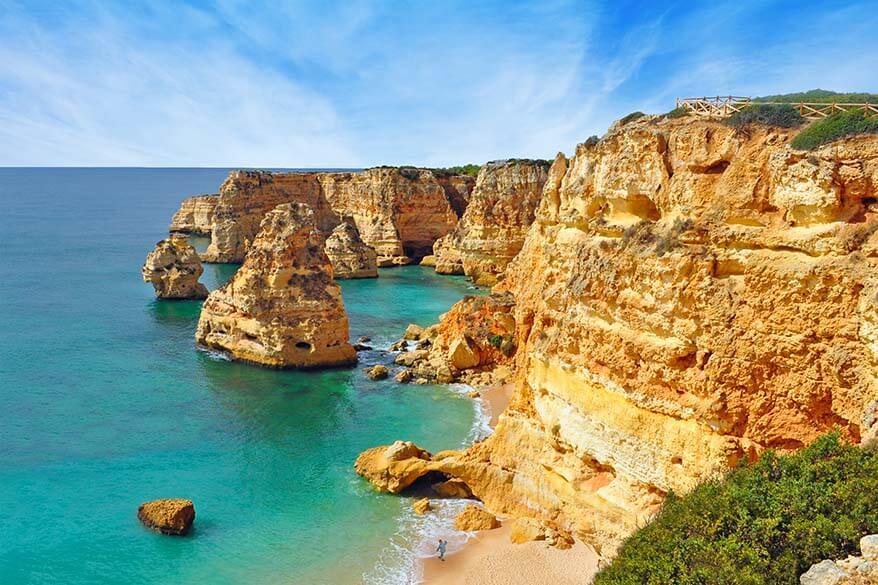 Praia da Falesia
Praia da Falesia is not just one of the longest, but also one of the most beautiful beaches of Algarve. This golden sand beach has the best of it all. More than 6 km of beautiful sandy beach guarantees that you'll always be able to find a quiet spot. Picturesque colorful cliffs dotted with pine trees make you think of Bryce Canyon.
Furthermore, there are really good facilities, bars, restaurants, etc. The part of the beach close to Vilamoura (Praia da Rocha Baixinha) has shallow water making it an ideal spot for families. Whereas Falesia beach itself is perfect for all kinds of water sports (you can also take surfing lessons here).
Falesia beach is located between the towns of Vilamoura and Albufeira, further East than all the other beaches in this selection. Its natural beauty, good accessibility (also by public transport), location within a walking distance to some really nice hotels, facilities, and diversity makes it not just one of the best beaches in Algarve, but in the whole of Portugal.
If you are looking for a beautiful beach with good facilities, then Praia da Falesia is probably the best choice in Algarve.
ACCOMMODATION TIP: There are many accommodations in all price ranges near Praia da Falesia. Best-located hotels near the beach are EPIC SANA Algarve Hotel, Pine Cliffs Luxury Hotel, PortoBay Falesia, and an All-Inclusive Adriana Beach Club Hotel Resort.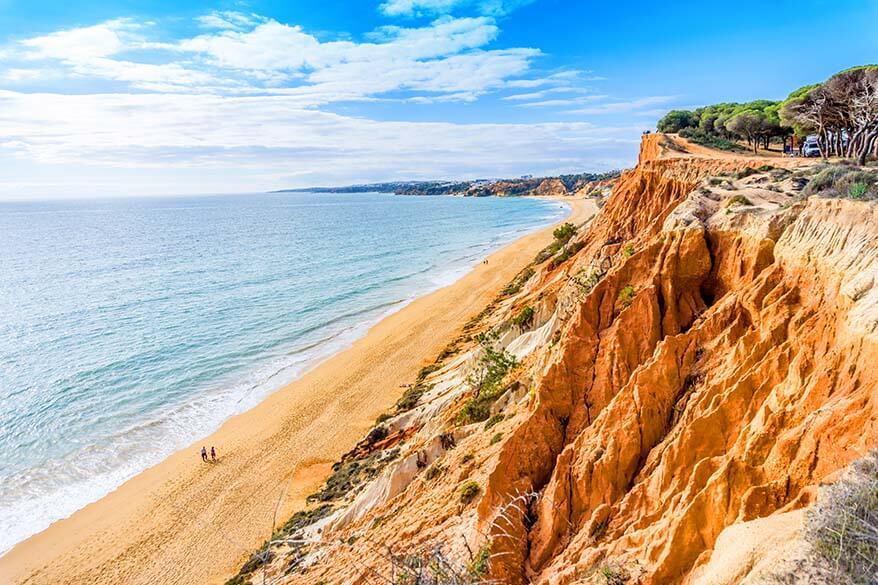 Praia da Rocha
I have to admit that I wasn't sure if Praia da Rocha in Portimao deserves to be on this list of the best beaches of Algarve. It's probably one of the best beaches in Algarve in terms of sunbathing, swimming, and facilities.
However, it's just a bit too big, a bit too busy, and too much like the biggest beaches in Florida or Spain to be truly special. It is, therefore, lacking the charm of the smaller and more remotely located beaches described above.
Nevertheless, if you go all the way to the west side of the beach and keep your eyes towards the sea and the beautiful rock formations, I think you will enjoy visiting Praia da Rocha as well.
It's a big easily accessible sandy beach that is great for long walks. And yes, if you are looking for a real beach holiday in Algarve, then Praia da Rocha definitely ticks all the boxes. Due to its proximity to Portimao, the facilities here are some of the best you can find.
We had lunch at one of the many restaurants here and had very low expectations because the coast looks a bit like a tourist trap. However, the food was really good and the people were friendly. And so after some thought, I decided that Praia da Rocha should be mentioned among Algarves best beaches.
If you prefer good facilities, care less about the views, and just want to have a good time on a beach, then I'm sure you will love Praia da Rocha.
ACCOMMODATION TIP: Praia da Rocha is located just next to the popular tourist area in Portimão and has a big accommodation choice in all price ranges. You can find the best deals for Praia da Rocha hotels here.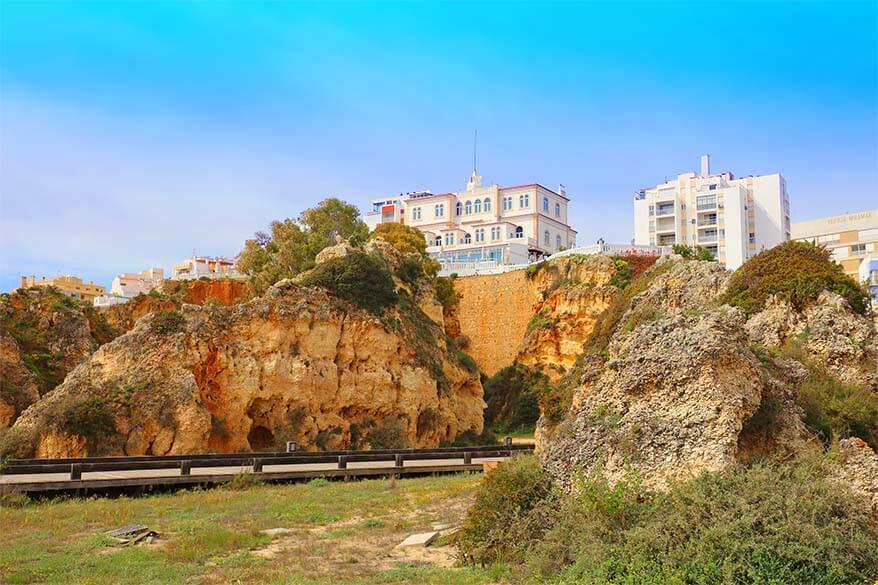 Best beaches in Algarve on the map
I created a map so that you have a better idea of where these most beautiful beaches of Algarve are located. If you are staying in Algarve for a few days, you could easily visit them all.
How to Use This Map: Use your computer mouse (or fingers) to zoom in or out. Click on the icons to get more information about each place. Click the arrow on the left top corner for the index. Click the star next to the title of the map to add this map to your Google Maps account. To view the saved map on your smartphone or PC, open Google Maps, click the menu button, and go to 'Your Places'/'Maps'.
So, this is our selection of some of the best beaches in the Algarve region in southern Portugal. Of course, this list isn't complete and there are many other scenic beaches nearby. But if you are looking for the most beautiful beaches in Algarve and visit several beaches from this list, I think you won't be disappointed.
Here are some other beautiful beaches with nice scenery that might be well worth visiting if you have more time in Algarve: Praia Sao Rafael, Praia do Carvalho in Carvoeiro, and Praia da Coelha.
TIP: If you want to be able to easily visit all the best places and beaches of Algarve from one central location, we recommend staying in the Lagos – Portimao area. Using the map below, you can compare hotels and short-term rental accommodations in the area. Simply insert your travel dates and group size, and you'll see what's available for your stay. Check it out!
Have you been to Algarve? What was the most beautiful beach you visited? Feel free to share your experience and tips by leaving a comment below.
TIP: If you want to see the best beaches in Algarve, you really cannot miss the Benagil Cave, one of the most beautiful places in the region! You can read all about this beautiful place via the link below or check out this popular boat tour that brings you there.
LEARN MORE: Benagil Cave – must see in Algarve !
More inspiration and tips for your trip to Portugal:
TIP: If you are traveling to Portugal, make sure to check our Portugal travel guide for more travel inspiration, travel itinerary, and tips.
If you found this post useful for planning your trip to Algarve, don't forget to bookmark it and share it with your friends. Are you on Pinterest? Pin these images!