Are you visiting Mount Rushmore National Memorial in South Dakota and are wondering what to expect? Looking for information on what to see and do at Mt. Rushmore, where to stay, and how much time you need? Or maybe you are planning a trip to the Black Hills and Badlands area and are looking for ideas for things to do near Mount Rushmore? This article should answer all your questions!
Our guest writer Jen from Travel With A Plan visited Mt. Rushmore with her family and wrote this very comprehensive guide to the area.
Whether you are looking for inspiration or practical information for your visit to Mount Rushmore or places to visit nearby, this article should answer all your questions. Find out!
Visiting Mount Rushmore
A national treasure in the United States, Mount Rushmore National Memorial symbolizes the ideals of freedom and Democracy. Completed in 1941, Mount Rushmore features the 60-foot high faces of four United States presidents intricately carved out of a granite mountainside.
Located in the Black Hills region of South Dakota, Mount Rushmore is often considered a rite of passage to see in one's lifetime. Drawing in more than 3 million tourists per year, visitors from around the world travel here to take in the awe-inspiring views of this patriotic site.
Below you can find my tips on visiting Mount Rushmore National Memorial and things to do in the breathtaking area nearby. Read on!
Visit Mount Rushmore and What to See Nearby – OVERVIEW
Things to Do at Mount Rushmore National Memorial
Along with admiring the enormous sculpted faces of George Washington, Thomas Jefferson, Theodore Roosevelt, and Abraham Lincoln, there are many activities available to immerse yourself in the history and beauty of Mount Rushmore National Memorial.
Here is a short summary of what you can expect to see and do when visiting Mount Rushmore.
1. Stroll the Avenue of Flags
The Avenue of the Flags is the main pathway to the Mt Rushmore memorial. Here, guests are greeted by a walkway flanked on both sides by the flags of all 50 states and territories of the United States.
Arranged in alphabetical order, the names of each state, district, commonwealth, and territory are listed on the pillars directly below each flag.
This impressive scene is both eye-catching and welcoming, as it looks as if the 56 flags are waving guests into the memorial.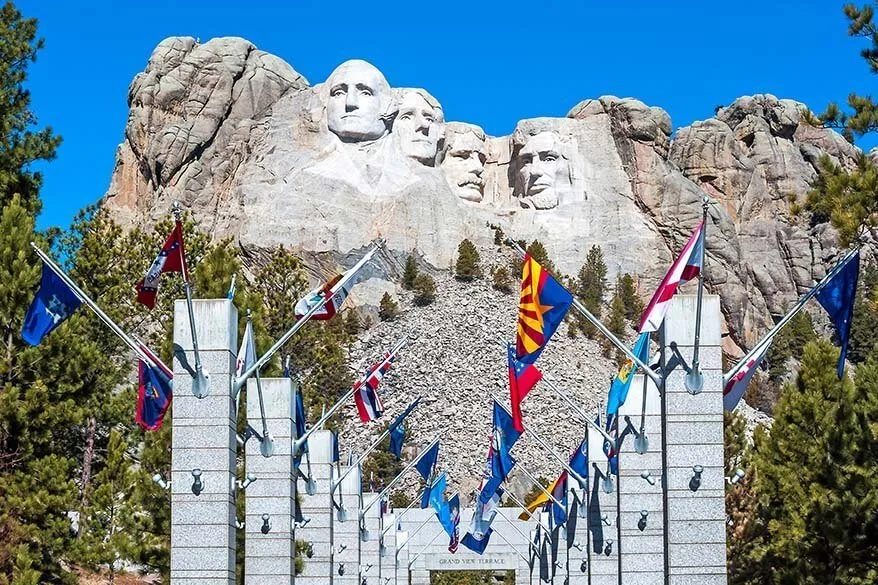 2. Enjoy the Monument from Grand View Terrace
The Avenue of the Flags is the pathway that leads to Grand View Terrace. Grand View Terrace is the primary platform where visitors have a clear view of the gigantic Mount Rushmore National Memorial.
The unobstructed views from this platform provide the classic visuals of the monument that most tourists are familiar with.
Be sure to take advantage of using the free telescopes located here, as well as take plenty of iconic photographs and selfies.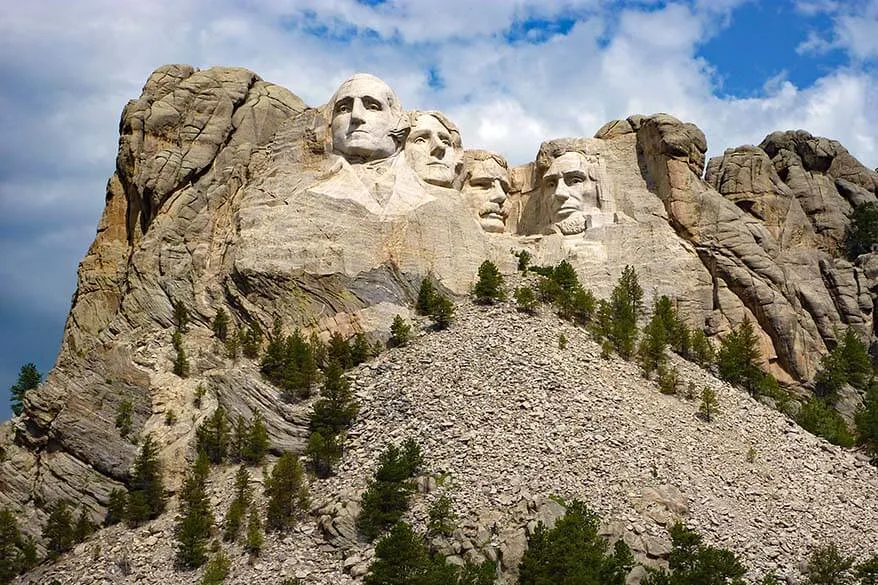 3. Visit the Lincoln Borglum Visitor Center
The Lincoln Borglum Visitor Center, Museum, Theater & Bookstore is located below the Grand View Terrace. This free visitor center offers interactive museum exhibits, a 14-minute film, and an information desk staffed by park rangers.
I recommend spending time here in order to truly appreciate the history and construction of Mount Rushmore.
By watching Mount Rushmore: The Shrine, visitors gain a true understanding of the immense amount of detail and work that it took to carve the faces of these four former U.S. Presidents.
Likewise, the Exhibit Hall provides education on the sculptor and his workers, and even contains some of the original tools used for the carving.
4. Walk the Presidential Trail
The Presidential Trail is a paved half-mile observation loop that begins at Grand View Terrace and leads to viewing areas at the base of the mountain.
This family-friendly trail is a series of steps and vantage platforms that provide a closer view of the sculptures. Its winding walkways also give visitors a chance to get away from the crowds on the terrace.
The Presidential Trail is a paved surface that is suitable for both, wheelchairs and strollers. Plan to spend 40 minutes walking the Presidential Trail loop as it also includes a nature trail full of interesting wildlife, plants, and stones.
5. Join a Guided Tour
During the summer months, free ranger-led programs and guided walks are held each day at various locations throughout the memorial. Ranger Talks last 30 minutes and cover a variety of natural, cultural, and historical topics.
Rent an audio tour wand or multimedia device that features music, interviews, and sound effects that narrate your way around the park.
These are available at the Audio Tour Building across from the Information Center for $6 in English, French, German, Lakota, and Spanish.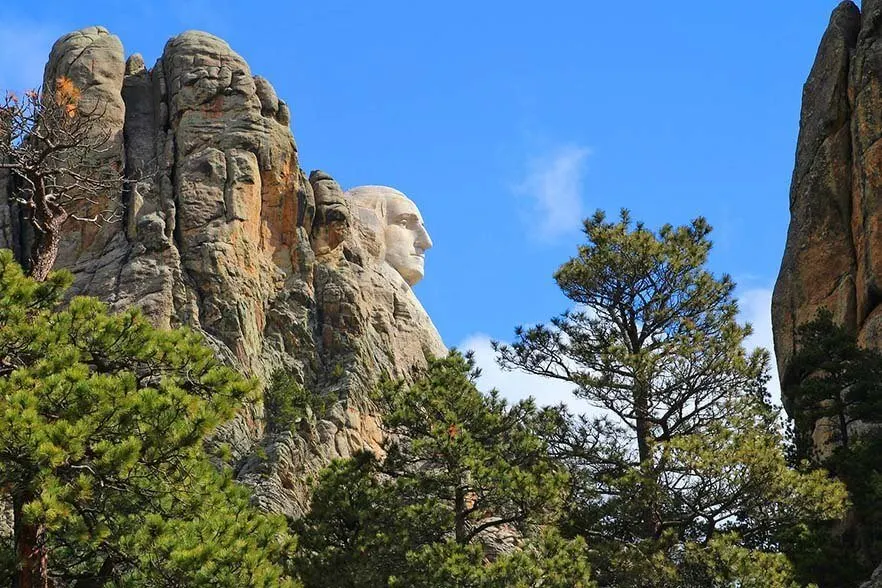 6. Complete the Junior Ranger Program
Mount Rushmore's Junior Ranger Program was designed to educate children on the importance of preserving and protecting national treasures. Likewise, they help teach about nature and history while encouraging kids to have fun exploring the outdoors.
Children aged 3 and up who want to participate can pick up a free age-specific Junior Ranger activity book at the Visitor Center.
Upon returning a completed activity packet to the Visitor Center, children are awarded a Junior Ranger Badge and certificate.
7. Sample Historic Ice Cream
Make a point to grab a taste of history at the Memorial Team Ice Cream Station.
Named in honor of the 1939 baseball team formed of Mount Rushmore carvers, Memorial Team Ice Cream features ice cream, snacks, fountain drinks, and specialty floats.
Favorites here include the popular soft-serve or hand-dipped "Monumental Scoop" and "TJ's" vanilla ice cream. Locally produced by a small dairy farm, TJ's ice cream is based on Thomas Jefferson's original recipe from 1780.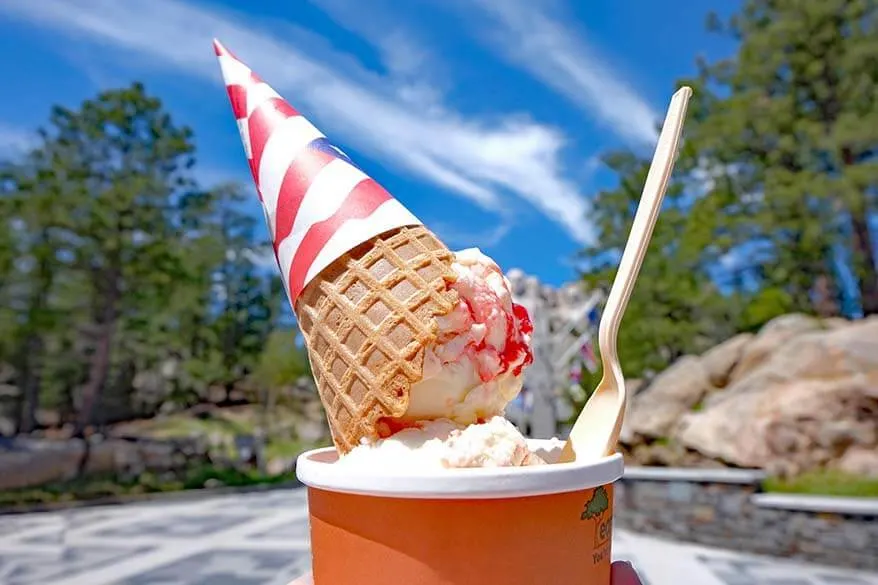 8. Dine at Carver's Marketplace
Open from 8:00 AM-9:00 PM, Carvers Marketplace is Mount Rushmore's only onsite restaurant.
With a perfect view of Mount Rushmore, many guests visit the cafe early in the morning for a hearty breakfast while watching a sunrise behind the sculpture.
Known for its locally sourced menu options such as bison burgers and bison stew, ample seating both indoors and outside on the patio can easily accommodate mealtime crowds.
9. Evening Sculpture Lighting Ceremony
From late May to late September, Mount Rushmore National Memorial holds a special program each evening at 9:00 PM to light the sculpture.
This program consists of a brief ranger talk and the "Freedom: America's Lasting Legacy" film. It concludes with the lighting of the sculpture as the audience sings the National Anthem.
The entire ceremony lasts approximately 45 minutes. Similar to all other programs here, it is free and you do not need a reservation to attend. Please note that from October to April the sculpture is illuminated at dusk without a formal program.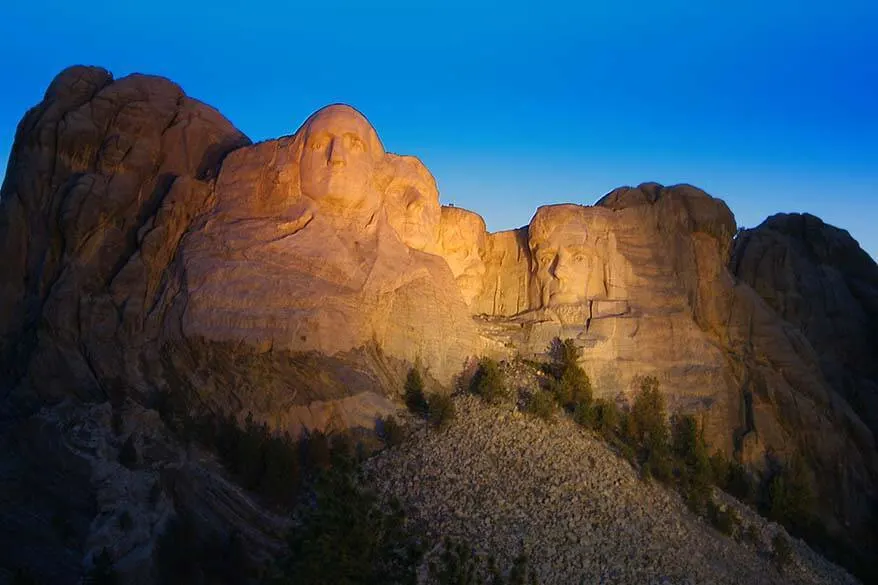 Further below, you can find our selection of the best things to do near Mount Rushmore. But first – some practical information for your visit.
How to Get to Mount Rushmore
Somewhat off of the beaten path, Mount Rushmore is located in a rugged, rural area of South Dakota. A popular road trip destination for those living in the U.S., most visitors arrive here by personal vehicle.
For those traveling from further distances, the closest airport is Rapid City Regional Airport. It's located 35 miles (56 km) from the memorial. From Rapid City, you can either rent a car, join a guided day tour, or hire a private tour company.
Upon arrival, you will find that Mount Rushmore National Memorial has several parking structures to accommodate its large number of visitors.
Though Mount Rushmore remains one of the few popular parks that has managed to avoid an entrance fee, there is a parking fee here.
When Is the Best Time to Visit Mt Rushmore
Mount Rushmore National Memorial is open year-round, except on December 25th, when it's closed for Christmas.
Mt Rushmore National Memorial is a popular destination for families, so the busiest time to travel here is during the summer months of June, July, and August. It is then that school is out of session and the weather is the warmest.
Despite crowds being at their peak during this time, you should know that the park is still very doable when it is busy.
Though temperatures will be much cooler, spring and fall are two other great times to visit the Black Hills region. Along with fewer crowds, the spring and fall months feature seasonal multi-colored trees and plants that are unique to this area.
Practical Tips for Visiting Mount Rushmore
Ready to plan your trip? Here is a recap of things to remember when planning your visit.
Mount Rushmore is located 35 miles from Rapid City, South Dakota.
There is no entrance fee to visit Mount Rushmore National Memorial, but you have to pay for parking.
The Mount Rushmore parking structure and memorial grounds are normally open from 5:00 AM to 11:00 PM. The Visitor Center is open at 8:00 AM and closes at 10:00 PM.
Plan on at least 2-4 hours to explore all that Mount Rushmore has to offer.
Mount Rushmore does not have overnight accommodations onsite.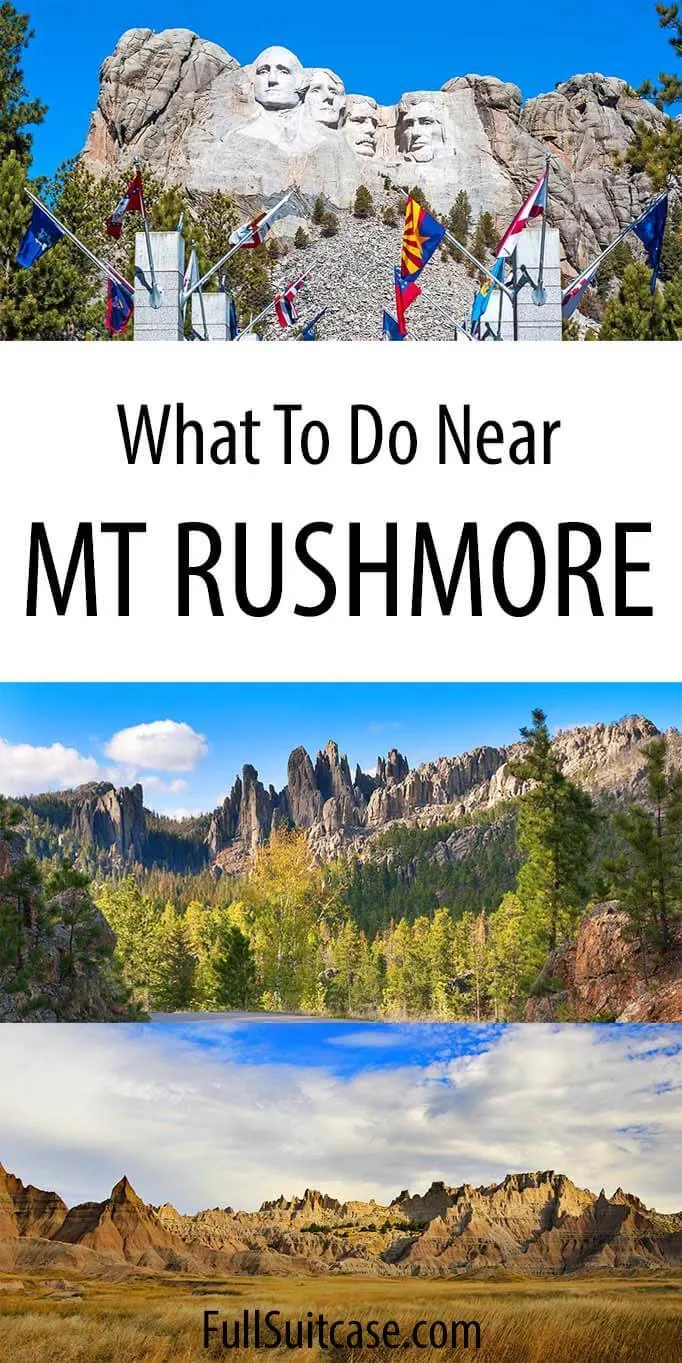 Things to Do Near Mount Rushmore
Since visiting Mount Rushmore National Memorial itself doesn't require more than half a day, many people wonder what other interesting places there are to see and things to do in the Black Hills.
Below you can find some ideas for fun things to do and the best places to visit near Mount Rushmore. At the bottom of this article, you can also find some itinerary suggestions for what to do near Mount Rushmore in 1, 2, 3 days. Read on!
But first, here are some of the best things to do near Mount Rushmore:
Custer State Park
No trip to the Black Hills would be complete without a visit to Custer State Park. Custer has been named one of the World's Top 10 Wildlife Destinations and is one of the few truly wild places that remain in the United States.
Home to a famous herd of 1,400 free-roaming bison, the park is known for its majestic wildlife, awe-inspiring scenery, and prairie dog towns.
TIP: Use this helpful park map to customize your family's adventure throughout this wildlife oasis.
14 miles from Mount Rushmore
Minimum time needed: 1-2 hours
LEARN MORE: Things to Do in Custer State Park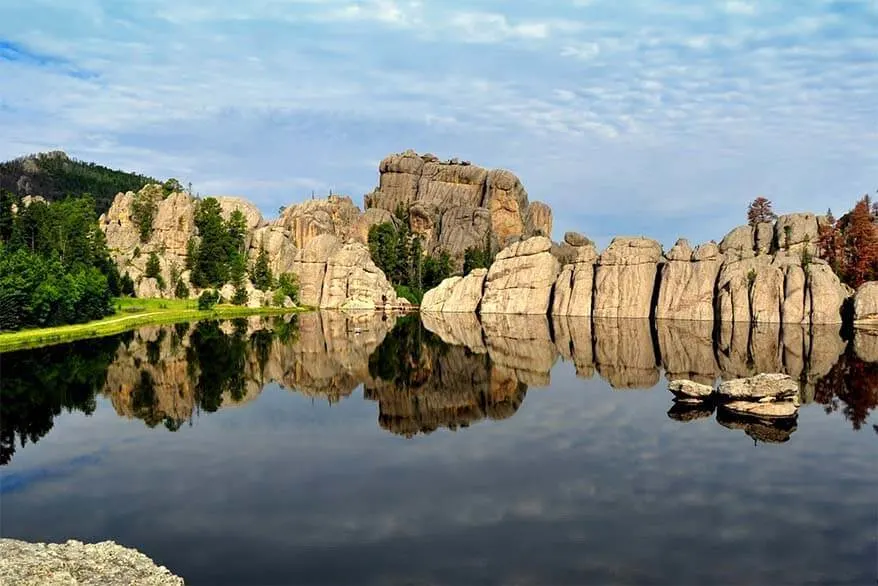 Needles Highway
The 14-mile Needles Highway within Custer State Park is an absolutely spectacular drive through pine forests and rugged mountains. The road's name comes from the needle-like granite formations in which the highway was carved out of.
Due to its high elevation, hairpin turns, and narrow passageways, this drive can be a bit stomach-churning. Its beauty is so captivating, however, that even the faint of heart are sure to appreciate it.
When making travel plans, be sure to account for the slower speed of 25 MPH that is recommended when driving Needles Highway. In addition, the highway is closed during winter months due to weather conditions and is typically only open April through October.
16 miles from Mount Rushmore
Minimum time spent: 45-60 minutes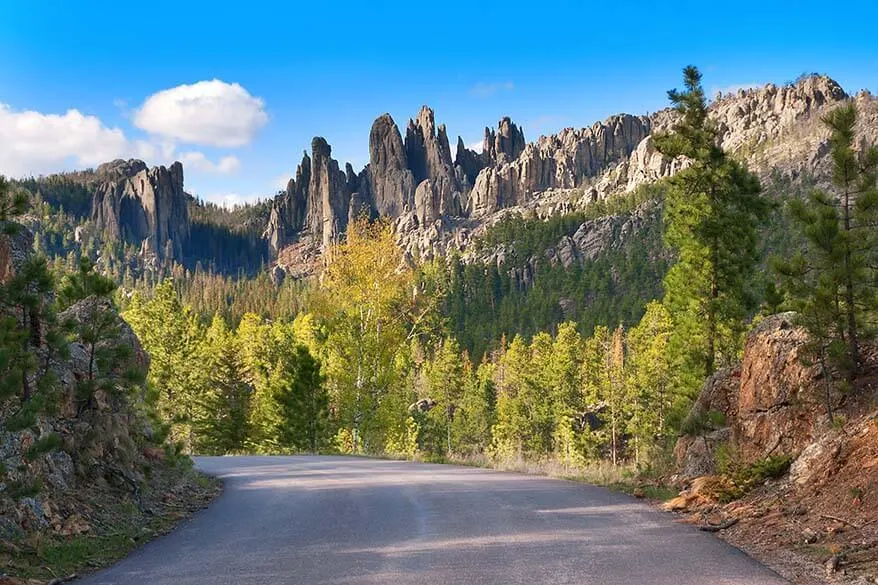 Wildlife Loop Road
The 18-mile Wildlife Loop Road, also part of Custer State Park, takes visitors through open grasslands, red-walled canyons, and pine-covered hills to experience Mother Nature at her finest.
Depending on the day, you might see buffalo, bighorn sheep, elk, whitetail deer, burros, prairie dogs, eagles, and hawks. Chances to see wildlife are always higher early in the morning or late in the afternoon, at dusk.
At the Loop Road's southeastern tip, wild burros frequently approach car windows to 'beg' for treats. Similarly, travelers will experience 'wildlife jams' as some of the parks 1,400 roaming buffalo clog up the roadway.
20 miles from Mount Rushmore
Minimum time spent: 45 minutes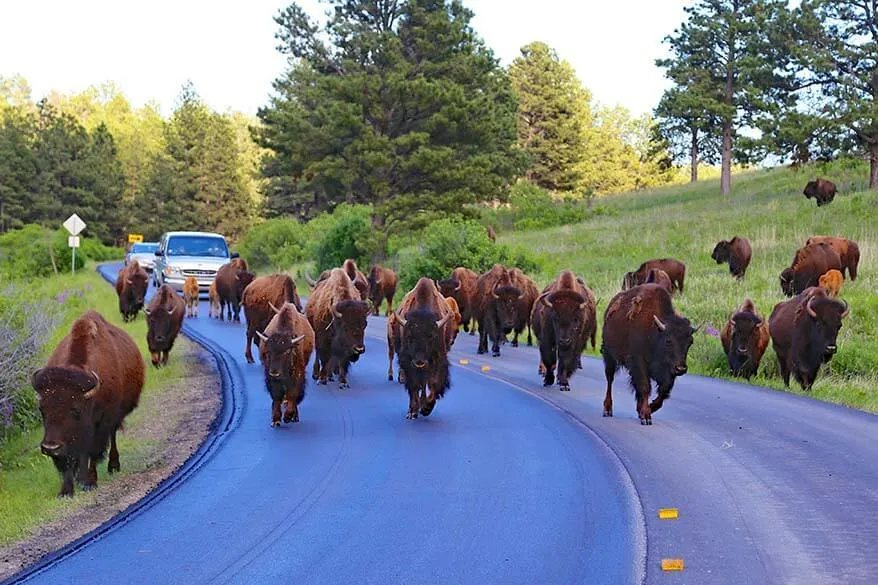 Crazy Horse Memorial
Crazy Horse Memorial is set to be the world's largest mountain carving and has been under construction since 1948. Considered the 'Eighth Wonder of the World in progress', Crazy Horse attracts 1.5 million visitors a year who seek to watch history being made.
Although it's open as a site for tourists and currently features the completed 87-foot-tall head of Crazy Horse, it's far from finished. When completed this Oglala Lakota Native American warrior is projected to be 641 feet wide and 563 feet tall (while the heads of the presidents at Mount Rushmore are only 60-feet high).
The Crazy Horse Memorial campus features an on-site restaurant, gift shop, Indian Museum, and Native American Educational and Cultural Center. Admission rates are based on the number of passengers per private vehicle.
15 miles from Mount Rushmore
Time spent: 1-2 hours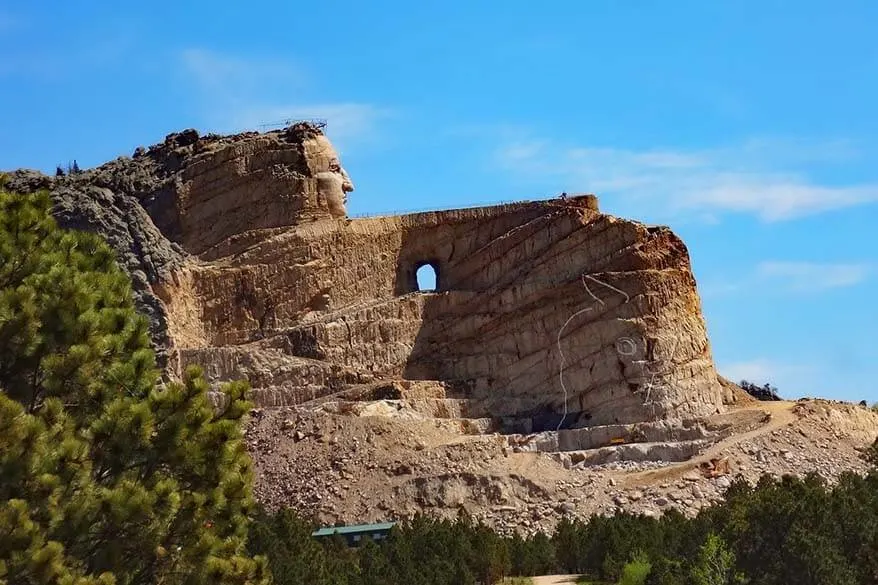 Badlands National Park
Badlands National Park consists of a big area of colorful sharply eroded buttes and pinnacles, along with the largest undisturbed mixed grass prairie in the United States. Some parts of the park remind a bit of Bryce Canon, the others – of Grand Canyon or Yellowstone NP… It's a very unique mix of incredible landscapes…
The rugged beauty of the Badlands draws visitors from around the world to view its dramatic layered rock formations and steep canyons.
From camping and hiking to auto-touring and road-side observation areas, visitors to Badlands National Park are guaranteed countless outdoor adventures.
84 miles from Mount Rushmore
Minimum time: 1.5-2.5 hours. But you can easily spend a day here.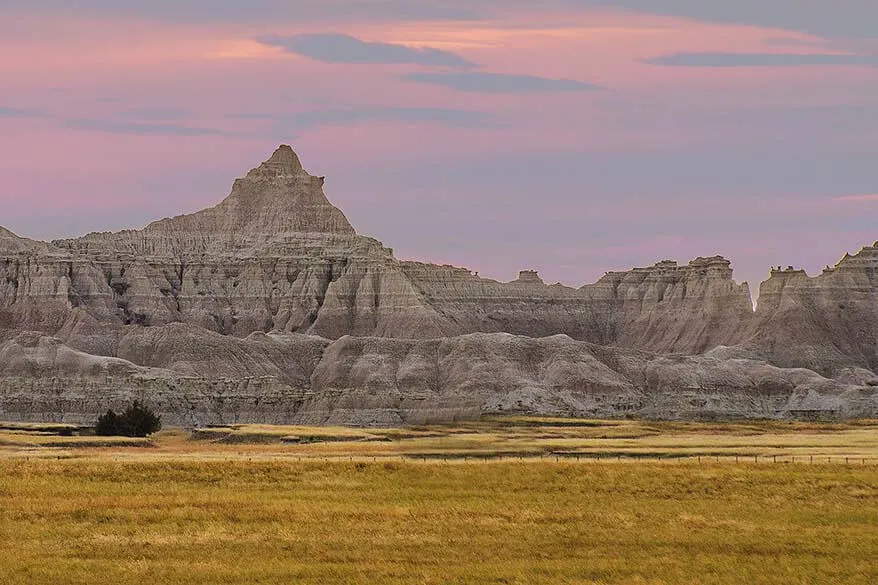 Wind Cave National Park
The sixth-longest cave in the entire world, Wind Cave is located just a short drive from Mount Rushmore. With its majestic boxwork cave formations and adjoining acres of mixed-grass prairies, Wind Cave is the first cave in the world to be designated as a National Park.
Ranger-guided tours of Wind Cave run the whole year-round. Tickets are very popular and are sold on a first-come, first-served basis. So be sure to plan ahead during peak summer months, because it's not unusual that you'll have to wait quite a while to get in.
Though there are no fees to drive through or hike in the park, there are fees associated with visiting the cave. You can find pricing, tour information, and important things to consider before taking a cave tour here.
40 miles from Mount Rushmore
Time needed: 2 hours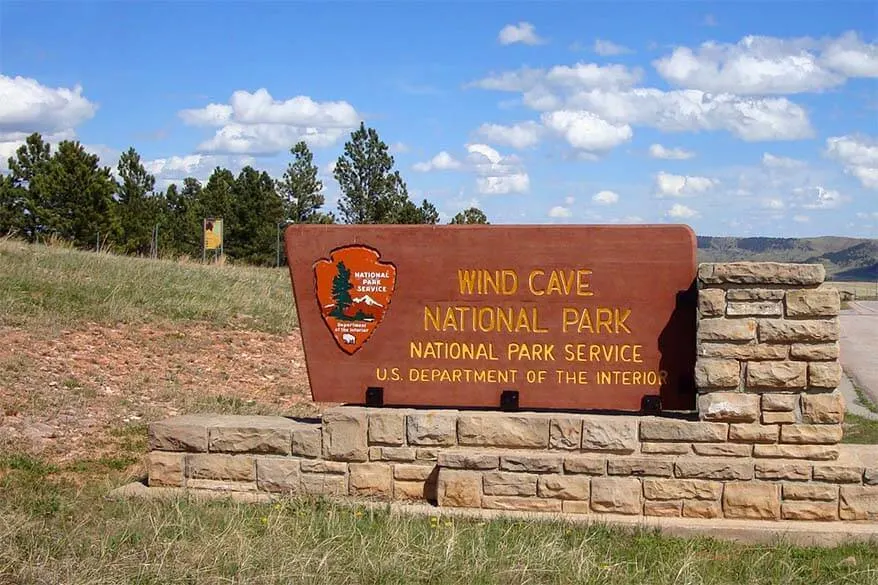 Rushmore Tramway Adventures
If you are visiting Mt Rushmore with kids, you may want to check out Rushmore Tramway Adventures (RTA). Located in Keystone, just 2,5 miles from Mt Rushmore National Memorial, this adventure park offers a variety of amazing family-friendly attractions.
RTA has something for everyone: an aerial adventure park, an alpine slide, a jump tower, a tubing hill, a zipline tour, and a scenic chairlift.
Practical information: Opening hours vary a bit per season, but in general the adventure park is open on weekends in May and September and daily in June, July, and August. Please note that the park is only open weather-permitting.
2,5 miles from Mount Rushmore
Minimum time needed: 1-2 hours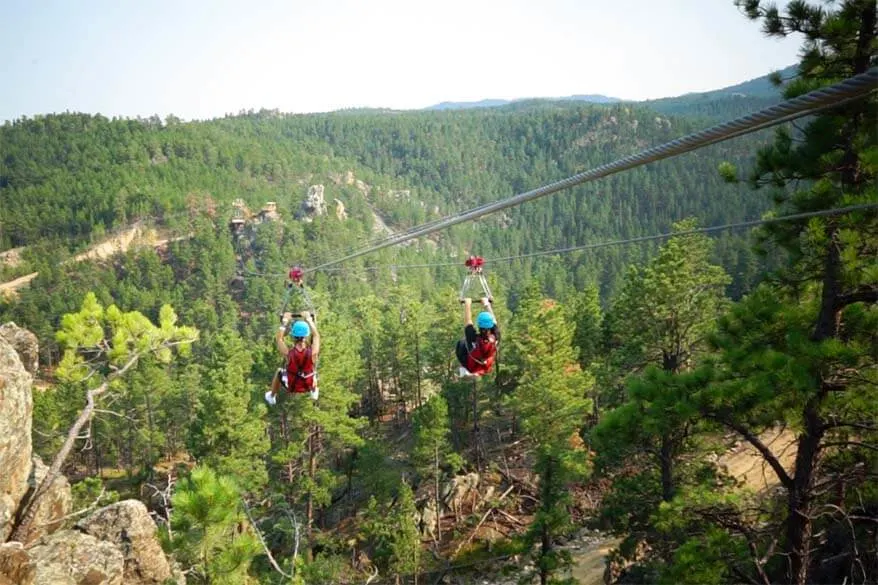 Spearfish Canyon Scenic Byway
Spearfish Canyon is a deep, but narrow gorge carved by the Spearfish River. The 21-mile long Spearfish Canyon Scenic Byway winds it way through the 1000-ft deep canyon and allows visitors a pristine view of multiple natural wonders.
Rock climbing, biking, hiking, and fishing are just a few of the activities that can be done throughout Spearfish Canyon. Our favorite experiences were the up-close-and-personal encounters with the beautiful waterfalls in the area.
Bridal Veil Falls, Roughlock Falls, and Spearfish Falls are all well worth the short walks to get to from the byway.
60 miles from Mount Rushmore
Time spent: 2 hours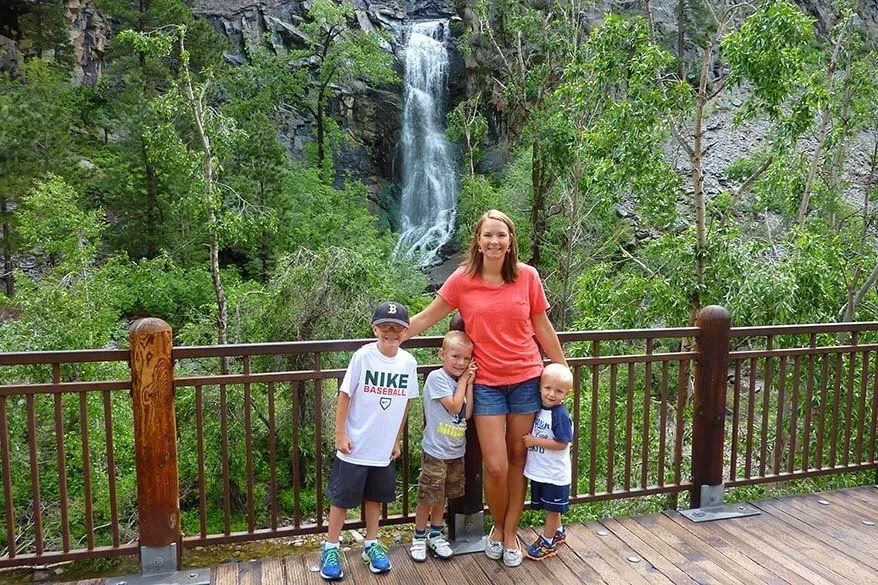 The Mammoth Site
The Mammoth Site is not to be missed in the Black Hills! More than 26,000 years ago, dozens of woolly mammoths and other animals were trapped and died in a pond, which is now Hot Springs, SD. The site was discovered during excavation for housing development and is now preserved as an active dig site and public museum.
Mammoth Site Museum is fascinating and definitely worth seeing. There are hands-on dig experiences for children and knowledgeable guides that provide a fun and educational experience for the entire family.
You can find more practical info for visiting the Mammoth Site Museum here.
57 miles from Mount Rushmore
Time spent: 1-2 hours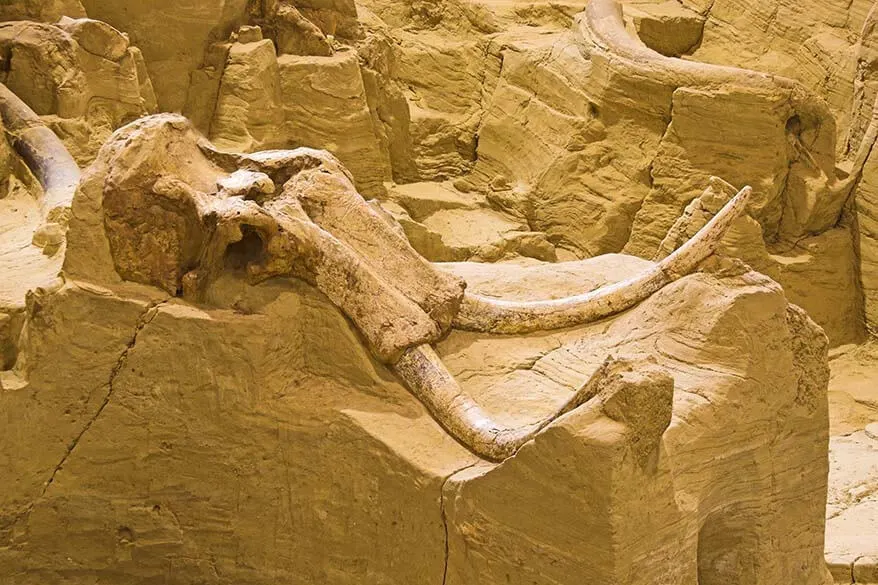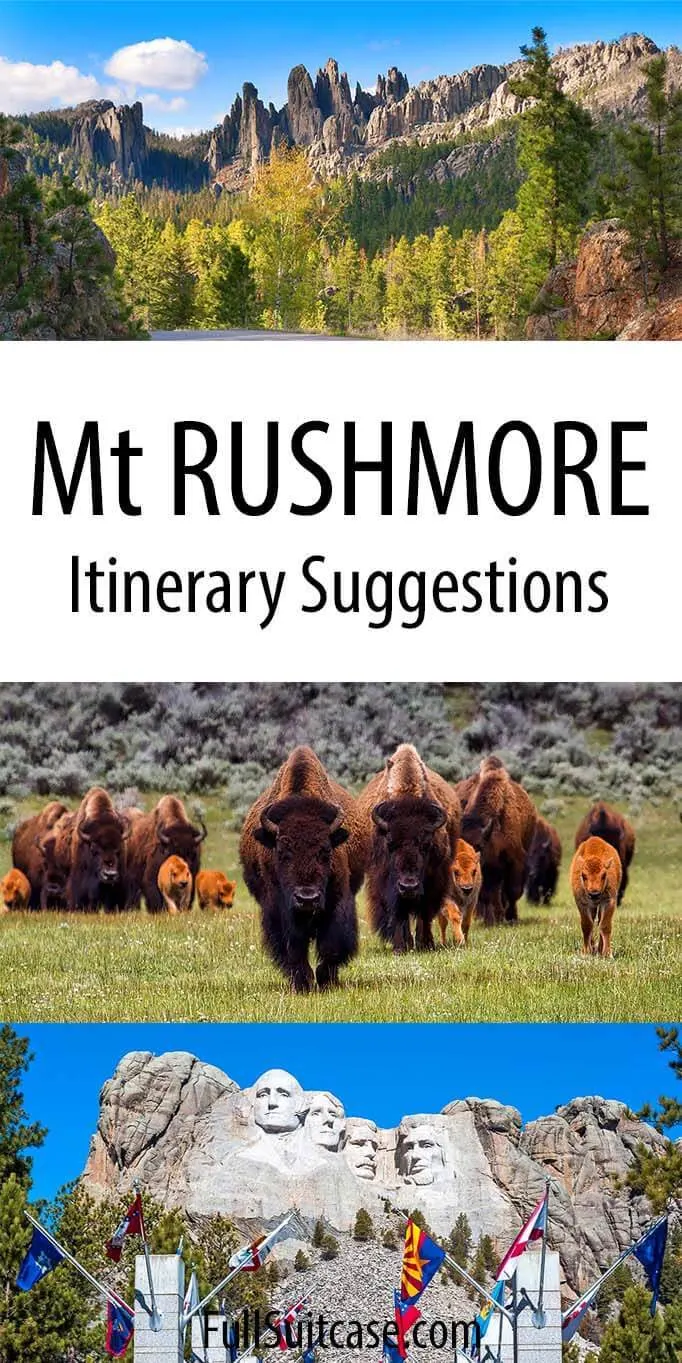 Mt Rushmore & Black Hills Itinerary Suggestions
Because of the large number of things to see and do near Mount Rushmore, as well as how spread out most places are, we recommend at least 4 days in the Black Hills. Just for clarity, the Black Hills is a nickname used to refer to the entire area around Mount Rushmore and all the attractions that are mentioned in this post.
If you have the luxury of having more time, you can easily spend up to 10 days in the Black Hills and you will not run out of things to do, especially if you enjoy hiking.
However, not everyone has a lot of time, and often visiting Mount Rushmore is the main reason for people to visit this area. To make your trip planning easier, I have some suggestions on how to best plan your time if you have just 1 to 3 days near Mount Rushmore. Take a look!
1 Day in the Black Hills
If you only have one day in the Black Hills, I suggest visiting Mount Rushmore first thing in the morning, before crowds build. You then have three options on how to spend the rest of the day in the area.
The first option is to visit Crazy Horse Memorial and Custer State Park, which includes Wildlife Loop Road and Needles Highway.
The second option – ideal for families – is to spend the afternoon at the Rushmore Tramway Adventures adventure park.
Alternatively, you can opt to visit Wind Cave National Park and The Mammoth Site.
TIP: If you have just one day in the area and don't know where to start, consider joining this highly-rated Mt Rushmore day tour from Rapid City. It also covers Custer State Park and the Crazy Horse Memorial.
2 Days in the Black Hills
If you have two days in the Black Hills, visit Mount Rushmore, Crazy Horse Memorial, and Custer State Park on the first day.
You can then spend the second day visiting Wind Cave National Park, Mammoth Site Museum, and Rapid City. RTA is also a great option, especially for families with kids.
Alternatively, visit the Badlands National Park. There is a Visitor Center, several long and short hikes, and multiple scenic overlooks. You can spend just a few hours here, but the Badlands can take up to the whole day as well. It really depends on what you want to see and do there.
Black Hills 3 Day Itinerary
If you have three days in the Black Hills, you can do everything mentioned in the 1 and 2-day itineraries above. So, your itinerary could look like this:
Day 1: Mount Rushmore, Crazy Horse Memorial, Custer State Park.
Day 2: Wind Cave National Park, Mammoth Site Museum, and Rapid City or RTA.
Day 3: Badlands National Park.
TIP: If you are looking for even more ideas for your Black Hills vacation, here you can find a more detailed Black Hills itinerary for 4 days.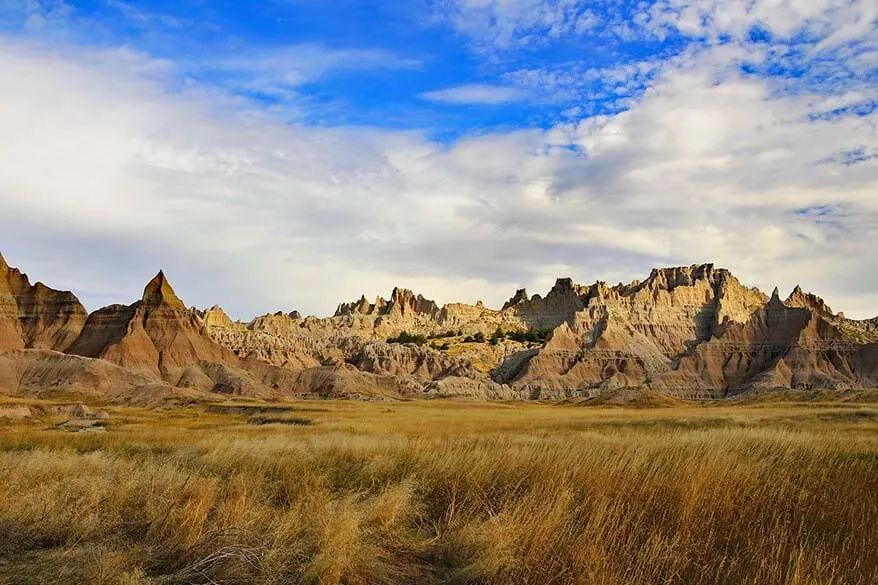 TIP: If you are visiting Mount Rushmore and the Black Hills and are looking for more detailed information, I recommend you also check this highly-rated Mount Rushmore, the Black Hills, and the Badlands guidebook.
Where to Stay – Lodging Near Mt Rushmore
As you can see from the suggested itineraries, it's best to spend a few days exploring the Mount Rushmore area. You'll need at least 3 days in order to have time to experience just the main attractions of the Black Hills.
Whether you are searching for the best match for your experience or your budget, dozens of lodging options are available in the cities and towns surrounding Mount Rushmore. But what are the best places to stay for visiting Mt Rushmore?
Staying in a local community such as Keystone, Custer, Hill City, or Rapid City, will not only give you quick access to Mount Rushmore but also to the many other Black Hills attractions.
Accommodations include mid-range and budget hotels, cabin rentals, campgrounds, tent sites, and romantic B&Bs. All can be found within 3-25 miles from Mount Rushmore National Memorial.
TIP: If you want to stay as close as possible to Mount Rushmore, then check out Keystone, SD. Just 1.7 miles from Mt Rushmore National Memorial, it has a very central location for all the sights mentioned in this article.
K Bar S Lodge and Roosevelt Inn are highly recommended here. For a unique experience consider 'glamping' with a view of Mount Rushmore at Under Canvas Mount Rushmore.
LEARN MORE: Complete Guide to Mount Rushmore Hotels
Compare Hotels and Short-term Rentals near Mt Rushmore
Using the map below, you can compare hotels, apartments, and short-term rental accommodations in Keystone, the closest town near Mount Rushmore.
Simply insert your travel dates and group size, and you'll see the best deals for your stay. Check it out!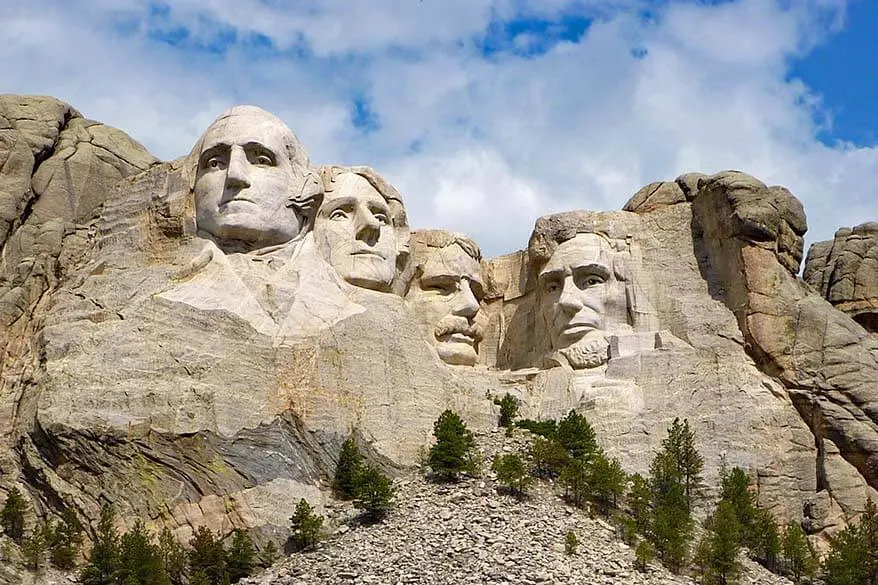 So, this is our guide to Mt Rushmore. I want to thank our guest writer Jen for this great blog post about visiting Mount Rushmore and all the amazing things to do in the Black Hills. Just reading this, makes me regret that we didn't include Mount Rushmore and the Badlands to our American road trip itinerary that started in Denver and ended in Yellowstone… The Black Hills area would have made the circle round!
TIP: If you are visiting the Black Hills, you should know that it's really easy to combine this area with a visit to Yellowstone and the Grand Teton National Parks.
About the author. Jen is an American travel writer. A planner by nature, Jen has spent the last 12 years planning fun, and hassle-free family vacations for her family of 5. She considers travel to be an essential part of their family's health and wellbeing. Her blog Travel With A Plan is a compilation of the planning and execution that has gone into making family vacations efficient, enjoyable, and memorable. She is dedicated and passionate about sharing travel ideas, products, and experiences that are practical, and that work for families.
More USA travel inspiration:
If you found this post helpful, don't forget to bookmark it and share it with your friends. Are you on Pinterest? Pin this image!