Once a year Hallerbos forest in Belgium turns purple, attracting big crowds to admire this colorful nature spectacle. The Blue Forest in Halle, Belgium gets its name thanks to the beautiful purple carpet of bluebells, also called wild hyacinths. They bloom around mid-April and to the beginning of May.
Are you visiting Belgium in spring and want to see one of the most stunning spring flower displays in the world, but are not sure where and when to go or how to get there?
This article should answer all your questions about visiting Hallerbos, the Blue Forest in Halle, just near Brussels. Find out!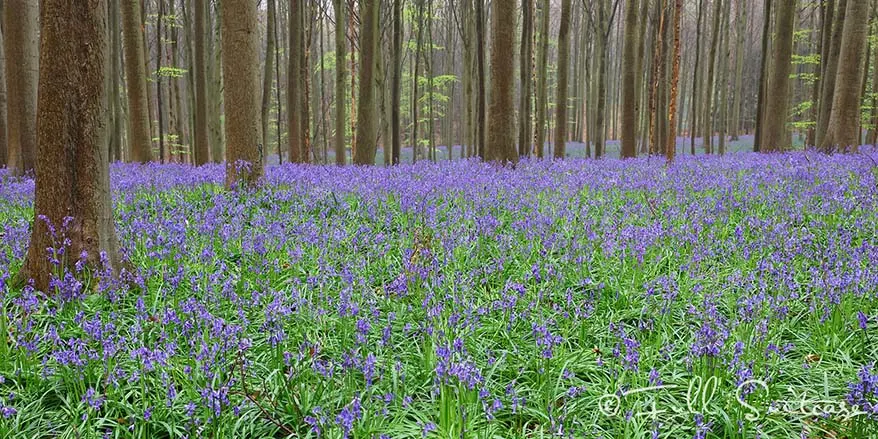 Visiting Hallerbos Forest near Brussels
The first thing you should know is that Hallerbos is a public forest. So there is no entrance fee or opening times you have to take into account.
You are free to visit any time you want. But if you want to truly enjoy your experience, there are some things you should know. Read on!
Photography Permits
You may want to know that since recently, you need permission for commercial photography in Hallerbos forest. Any professional photoshoot (or video), with or without models, requires a permit. More info about permits here.
If you are just taking pictures for yourself, you don't need any special permission. However, please make sure to stay on designated paths at all times.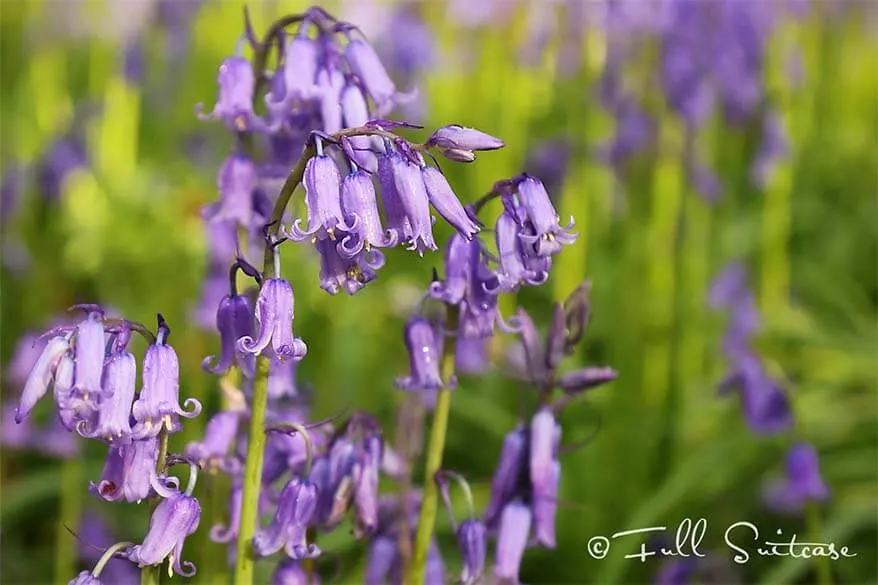 When is the best time to see bluebells in Hallerbos
The exact timing of flowering bluebells may be a bit different from year to year, but generally the second half of April is the best period to visit Hallerbos.
The perfect timing to see the bluebells in Belgium is dependent on the weather. It is also a bit different each year. The ground has to be warm enough, at the same time there should be plenty of sunshine, which is only possible when the trees have no leaves yet. So the season of bluebells is really short, usually not longer than two weeks.
In 2016-2017, Hallerbos bluebells were at their best during the last 10 days of April, whereas in 2018 the best time to visit was about a week-10 days earlier. In 2019, the weather was exceptionally warm and by the 24th of April, there were so many leaves on the trees that the flowers didn't get enough sunlight anymore. Also in the last few years, the best time was around mid-April.
TIP: If you can, try to visit Hallerbos on a weekday. It will also be quieter early in the morning or towards the evening; the busiest time in the forest is late morning to early afternoon.
Our experience: We visited Hallerbos on a late Saturday afternoon on a rainy day and it was not as busy as we had expected. However, car parking areas are really limited and we had difficulties finding a spot for our car. We had lots of rain and just a beam of the sun during our visit. I can definitely tell you that if you want better pictures, you will want to go when it's sunny… But then you'll also find many more people of course… Hallerbos gets very busy on sunny weekends at the end of April.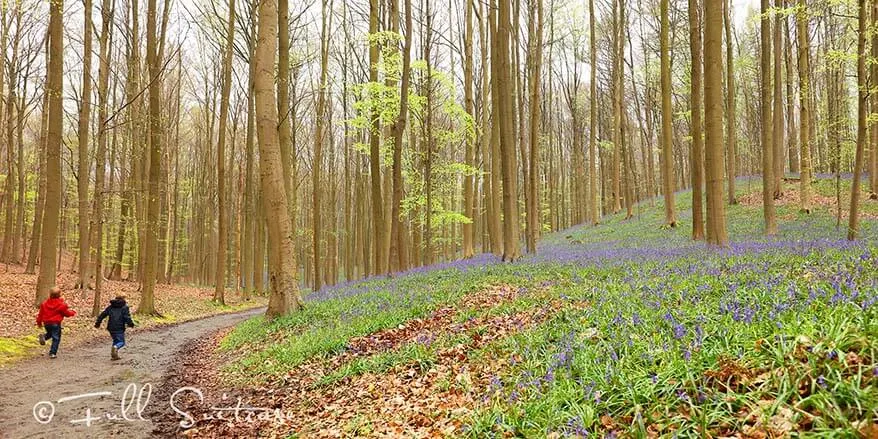 How to get to Hallerbos
Hallerbos forest is located 20 km South of Brussels. You can find its exact location on this map.
There are several options for how you can reach Hallerbos. You can take a train from Brussels to Halle. In Halle, there is a bus connection to the forest. Here you can find all the practical information on how to reach Hallerbos by public transport.
Alternatively, you can rent a bike at the Halle train station (5 km or 3 miles ride to the forest).
Usually, you can also drive to Hallerbos by car. However, if it gets too busy, local authorities sometimes close the roads to the forest and foresee shuttle buses from the designated parkings nearby.
If you are driving, keep in mind that most car parkings are very small and the roads around the forest are extremely narrow. Also, some streets leading to the Hallerbos forest are turned into one-way-streets during the bluebell blooming period, so your GPS might not work as it should.
If you decide to go there by car, make sure you have a good GPS with you, or even better use Google Maps and use this address: Vlasmarktdreef, Halle.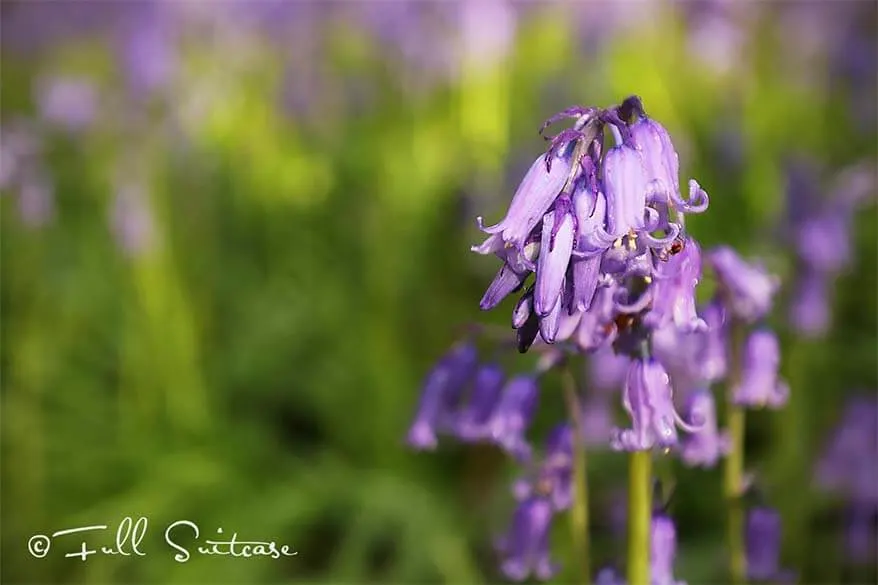 What is the nicest part of Hallerbos forest?
You can find bluebells in many different parts of the Hallerbos forest. However, not all areas are just as impressive.
We were told that the nicest parts with the most impressive flower carpets are reached by following the yellow walking path – Reebokwandeling. The whole walk is a round trip of 7 km (4,4 miles).
We visited the forest with kids and only did a small part of the walk and were absolutely impressed by the purple flower carpet all around us. You can find the map of the forest on the official Hallerbos website.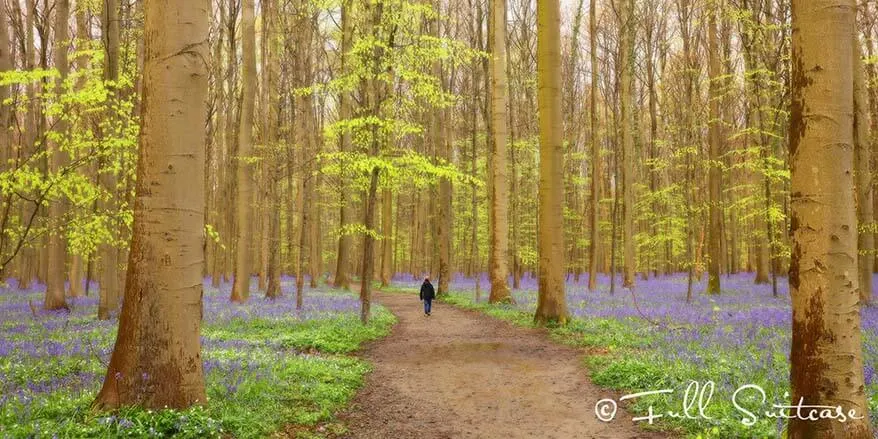 Video of the Hallerbos Bluebell Woods in Belgium
I created a short video of Hallerbos forest, just to give you an idea of how immense the blue carpet really is. It's my very first video ever, so try to look at the beautiful forest and not at the quality of the video.
Tips for Your Visit
We live in Belgium and Hallerbos isn't that far for us. Yet somehow rarely manage to find the time to visit it at the peak bluebell blooming season. So despite us being locals, there were a few things we didn't consider when we visited Hallerbos recently.
Here's what you should know when planning to visit Hallerbos:
The forest can be very wet and some paths are extremely muddy after the rain. While some roads in the forest are tarmac, most paths leading to the nicest places in the forest are really muddy. You may want to wear walking shoes or even hiking boots. If I were to go there again, I'd definitely take rain boots, certainly for the children.
There are no bathroom facilities in the forest and only a few restaurants nearby. The restaurants may be far away from where you are, so if you plan to spend a couple of hours in Hallerbos, you may want to pack a picnic and take some water with you.
If you are visiting Hallerbos with young children, you will be glad to know that you can visit some parts of the forest with a stroller. However, you would need a stroller with large rubber wheels and be prepared to push it uphill once in a while.
Once again, try to avoid weekends. Visit early in the morning on a weekday, ideally on a sunny day.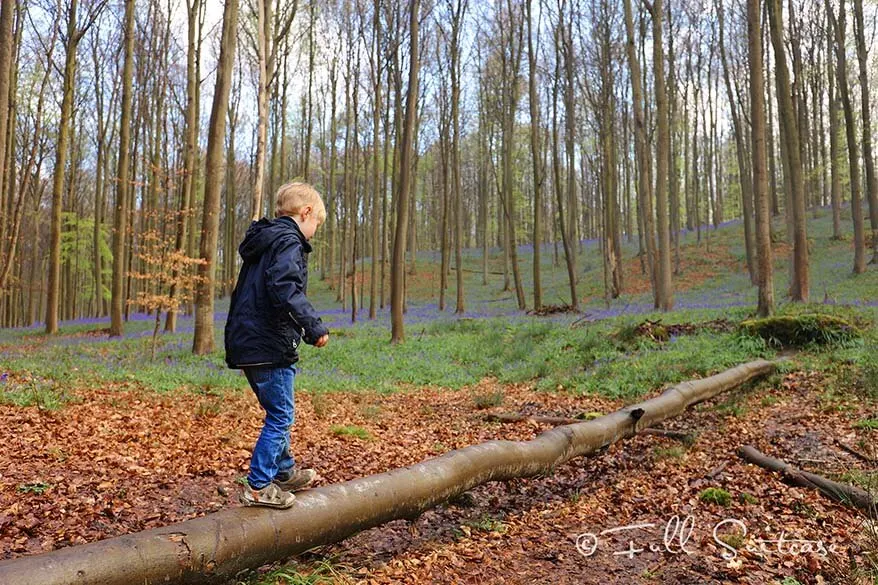 So, this is our guide to visiting Hallerbos.
Are you planning a trip to Belgium? Don't miss our insider tips and advice. Check this suggested Belgium itinerary that brings you to all the best places in just 3 or 4 days.
READ ALSO: Interesting & Fun Facts About Belgium
More inspiration for your visit to Belgium:
More inspiration for your visit to Luxembourg & the Netherlands:
If you found this post helpful, don't forget to bookmark it and share it with your friends. Are you on Pinterest? Pin this image!