Are you considering a trip to the most beautiful country in the Baltics and wondering what there is to see and do in Lithuania? In this article, you will find my selection of some of the best places to see and the best things to do in Lithuania. This is an insider's guide, filled with local tips and advice, and I hope that it will inspire you to visit my home country and explore it deeper.
I have been running the Full Suitcase travel blog for several years now, writing about the most diverse destinations from all over the world… Yet, I always struggled to write about my home country, Lithuania, because it's somehow hard to see it through the eyes of a tourist…
However, when I Googled 'best things to do in Lithuania', I found that all the best-ranking articles don't do Lithuania justice… Sadly, most of them are written by hired writers who have never even been to Lithuania and have no idea what it's truly like, not to mention all the inaccuracies and highlighting the strangest places just for the sake of filling the article…
And so I decided that it's time to share my favorite places and best things to do in Lithuania, giving you a unique local insight and useful practical tips.
I want to show you how diverse and beautiful my home country is and that there is so much more to see and do in Lithuania than it looks at first sight. Find out!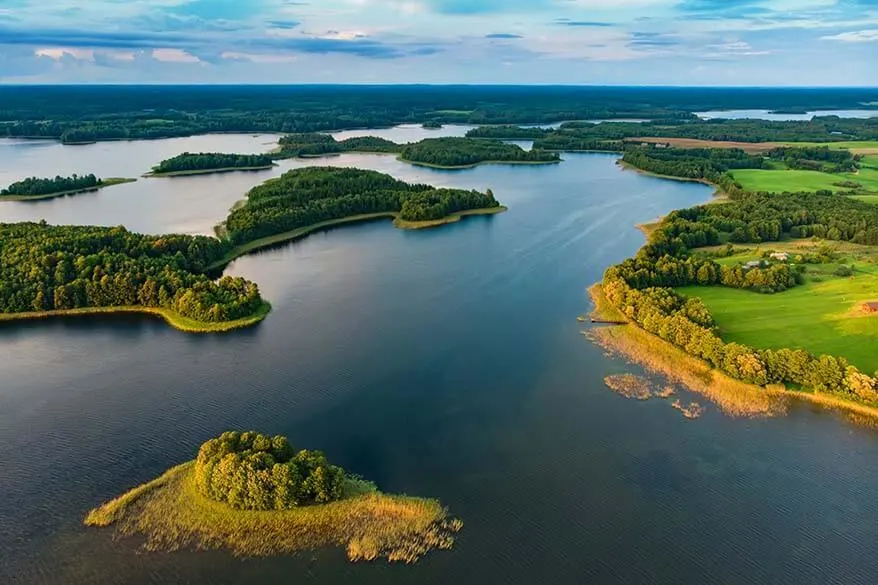 This guide contains the very best things to do in Lithuania and the most unique destinations that you really should see. Every place featured here is one that we, Lithuanians, are proud of. At the same time, I only chose places that I think are truly worth your time as a tourist.
So if you are visiting the country for the first time and want to see the very best that Lithuania has to offer, this guide is for you. Find out!
Good to know: Because the locations mentioned in this article are scattered all over Lithuania, I also created a map, indicating each point of interest. You can find it at the bottom of this article. That should help you get a better idea of where everything is located and plan your trip accordingly.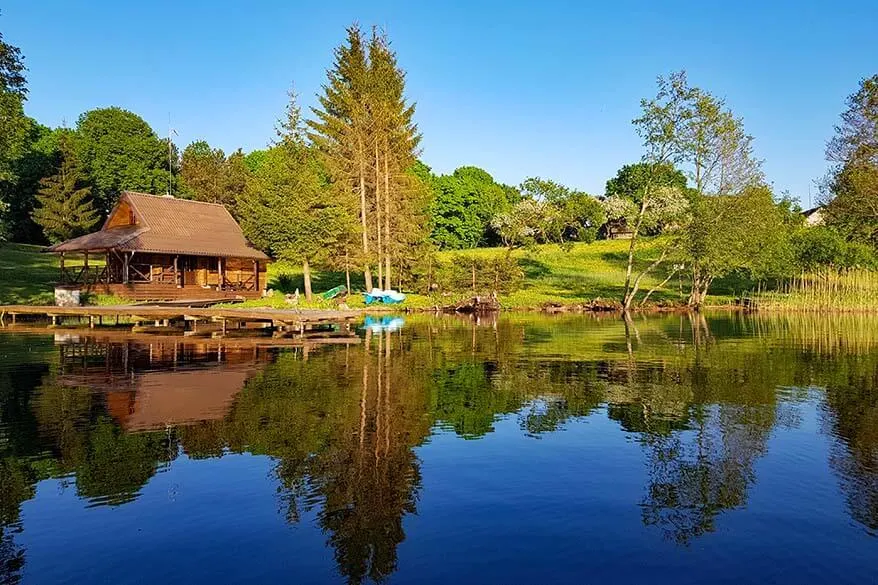 These are the best things to do in Lithuania:
1. Sand Dunes of the Curonian Spit
I want to start this list with my personal favorite place in Lithuania – sand dunes of the Curonian Spit. This is a place where I spent countless summers as a child, a place that I took my husband to when he first visited Lithuania, and a place that I recommend to every tourist traveling to Lithuania.
The Curonian Spit is one of the most unique places in Lithuania. This 98 km long, 0,4 – 4km wide sand-dune spit separates the Curonian Lagoon from the Baltic Sea. There are just a couple of villages, surrounded by endless forests and drifting sand dunes. Sometimes, it seems that time stood still here.
There is a lot to see in the Curonian Spit (and I'll cover some of the best places below), but the main reason to come here is the sand dunes. Up to 60 meters high in places, these are the highest drifting dunes in Europe.
After intensive logging in the 17th and 18th centuries, the dunes began moving, burying several villages under the sand. Lots of effort and continuous dune stabilization work continues in order to preserve this ever-evolving landscape for future generations. Curonian Spit is now a UNESCO World Heritage Site.
TIP: The most impressive dunes that shouldn't be missed are Parnidžio kopa (Parnidis Dune) in Nida and Pilkosios kopos or Mirusios kopos (Grey Dunes or Dead Dunes) also called Agilos kopa in Naglių Nature Reserve.
Good to know: If you walk too far to the southwest from Parnidis Dune, you risk entering the territory of Kaliningrad, part of the Russian Federation. Make sure that you follow any signs and don't get into trouble for crossing the border.
LEARN MORE: Curonian Spit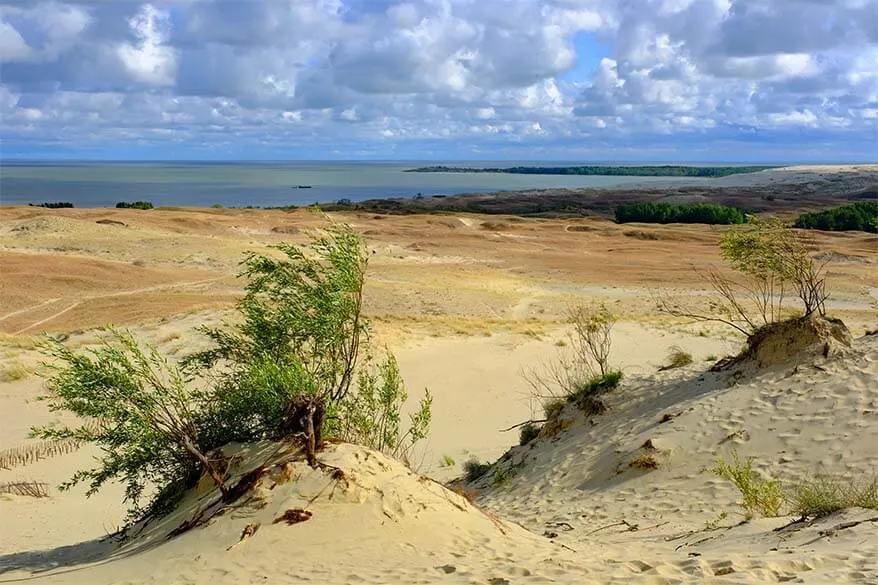 2. Vilnius Historic Center
Vilnius Historic Center, or Vilnius Old Town, is another UNESCO World Heritage Site, and a must-see in Lituania. Despite countless wars and destructions, Vilnius managed to preserve its medieval layout and an impressive mix of Gothic, Baroque, Renaissance, and classical architecture.
There are many impressive buildings in the Old Town and the best way to see it all is to explore the historic center on foot.
Don't miss the St. Anne's Church and the adjacent St. Francis of Assisi (Bernardine) Church, the Gate of Dawn, Pilies Street, the Palace of the Grand Dukes of Lithuania, Vilnius University and the Church of St. Johns, the Presidential Palace, and of course Vilnius Cathedral with its Bell Tower, and our National pride – Gediminas Tower…
I am not going to mention all these places separately because this would require a whole separate article. But some of them deserve a separate mention and you'll find some more info further below.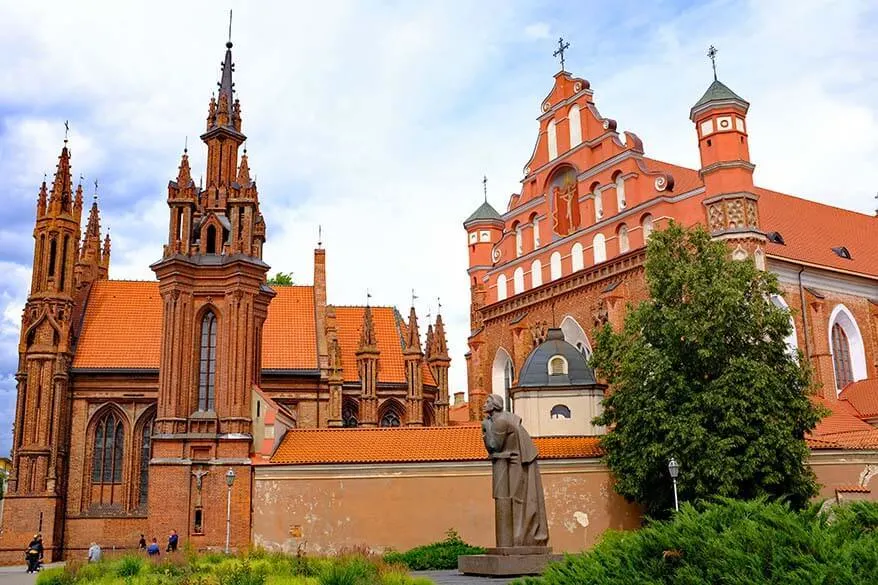 3. Trakai Island Castle
Trakai Castle, built in the 14-15th centuries and just recently restored, is considered a definite must-see place in Lithuania. Located in the most beautiful setting on a little island surrounded by Lake Galvė, the castle is truly impressive. The whole area around Trakai is dotted with lakes and if you can, take your time to explore it as well.
Because Trakai is just a short drive from the capital city, visiting Trakai Castle is the most popular day trip from Vilnius. It's also one of the most visited tourist attractions in Lithuania, a favorite among tourists and locals alike.
Sometimes, it might feel like a tourist trap, but if you look beyond the crowds, the tour buses, and the souvenir shops, you'll be able to appreciate the unique setting and impressive architecture dating back from the times when the Grand Duchy of Lithuania was one of the main powers in the region, stretching all the way to the Black Sea.
TIP: You can visit Trakai by taking a guided tour from Vilnius. Alternatively, take a car or a train and visit on your own. If you come in the warm season, I highly recommend renting a rowing boat or a kayak. It's a great way to explore the beautiful area around the castle. The best way to appreciate the incredibly beautiful surroundings here is by taking a hot air balloon tour.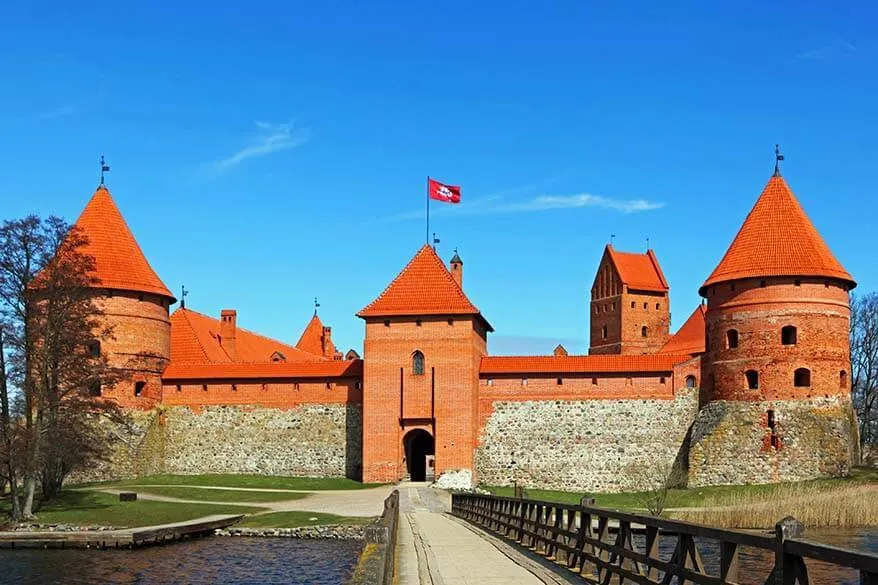 4. Gediminas Castle Tower
One of the absolute must-see places in Vilnius, Gedimino bokštas (Gediminas Tower) deserves a separate mention and a place on this 'best of Lithuania' list. This tower is one of our National symbols and one of the very few historic places in the country that we were allowed to be proud of even in Soviet times.
Gediminas' Tower is the most important feature remaining of the former Upper Castle in Vilnius. The first wooden fortifications at this place were built in the 14th century by Grand Duke Gediminas. This castle was the start of Vilnius city which would later become the capital of Lithuania.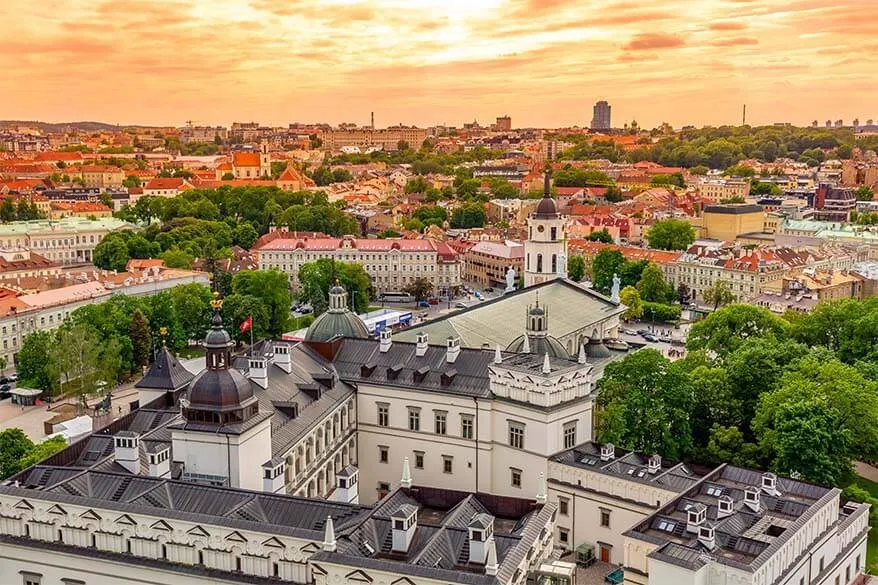 According to a legend, Gediminas was hunting in the sacred forest near the two rivers that we now know as the Vilnia River and Neris River. Because he was too tired to head home, he set camp at this place for a night. That night, he dreamt of an iron wolf, standing on top of a hill and howling as loud as a hundred wolves. In the morning, he asked the head priest to interpret the dream. He told him that the iron wolf represents a castle and a city that will be established here and the glory and fame of which will be known throughout the entire world.
As it was common in those days, Gediminas saw this as a will of God and decided to build a city in this location, naming it Vilnius, after the Vilnia River.
Every Lithuanian grows up reading fairy tales and stories of this legend and it would be hard to find a Lithuanian who hasn't visited the tower at least once in their lifetime… It will come as no surprise that Gediminas' Tower Castle is considered as one of the most important places to see in Lithuania.
Practical info: Gediminas' Tower Castle is open daily (except on Public Holidays). You can either take a funicular or walk up the hill. The views from the top of the tower are worth the effort and you can also visit the weapons and armory exhibitions inside.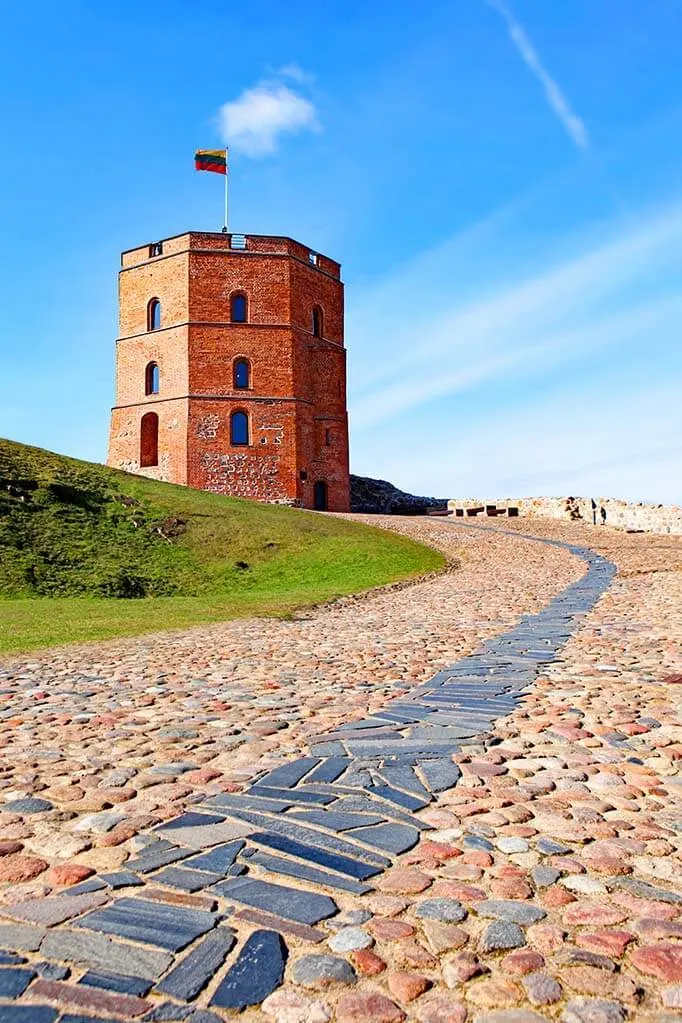 5. Hill of Crosses
Kryžių kalnas, Hill of Crosses, is not just one of the best places to visit in Lithuania, it definitely deserves a place on any list of the most unique places in the world. Hundreds of thousands of crosses in all shapes and sizes, covering this tiny hill in the middle of nowhere is a very impressive sight!
Hill of Crosses dates back to the beginning of the 19th century when people were placing crosses to commemorate their loved ones who died in the uprising against the Russian Tsar. Needless to say, the authorities were not amused. It was forbidden to place crosses and they were being torn down by the government. That didn't stop the people, however; they just looked for more remote locations. That's how the Hill of Crosses on the Domantai Hill Fortress was born.
Despite the political oppression, the Hill of Crosses continued to grow and became a symbol of hope and strength for the Lithuanian people. It has become a very popular place for all kinds of religious celebrations in the interwar period.
Afterwards, as Lithuania was occupied by the Soviets, it was strictly forbidden to place crosses or to come to pray here. The Soviets have tried everything in order to destroy the Hill of Crosses – they took away all the crosses, closed the roads leading to it, and even tried to flood the area… But the harder they tried, the stronger was the will of the people to preserve it.
People would come here in the middle of the night, bringing new crosses all over again. The Hill of Crosses has become the symbol of heroic resistance to the suppression of religious freedom.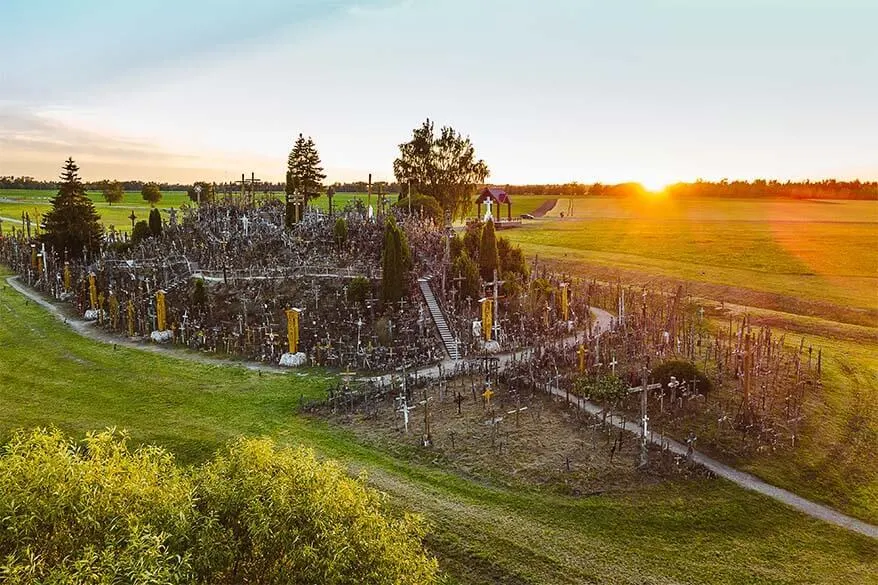 Ever since Lithuania's independence, the Hill of Crosses has gained more and more significance. Its importance was crowned by the visit of the Pope in 1993. Nowadays, it's a popular pilgrimage site and one of the most special places to see in Lithuania.
Practical Information: Hill of Crosses is located near Šiauliai, in northern Lithuania. It's about 2.5 hrs drive from Vilnius and 2hrs drive from Kaunas or Klaipėda. It's a good stop if driving to Riga in Latvia, that's also about 2 hours away from here. It's always open and there is no fee to visit and you can come here at any time.
While it requires some effort to get here, most people consider it more than worth it. It's one of the most unique places you'll ever visit.
TIP: You can visit the Hill of Crosses with this popular tour as a day trip from Vilnius. Alternatively, there is a private tour that combines the Hill of Crosses with a visit to Anykščiai (see #14 further below).
LEARN MORE: How to Visit the Hill of Crosses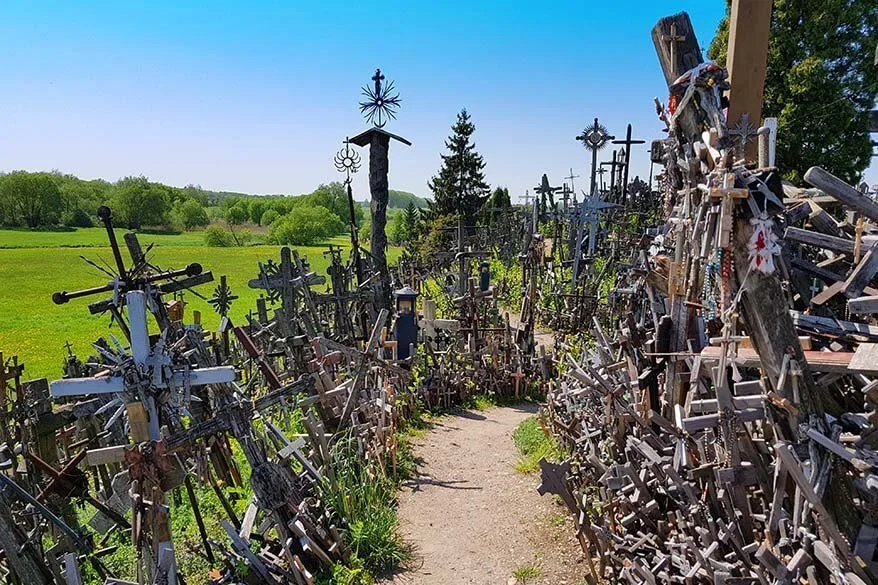 6. Palace of the Grand Dukes of Lithuania
Valdovų rūmai, the Palace of the Grand Dukes of Lithuania is an excellent museum located inside the restored 15th-century palace at the Cathedral Square in Vilnius. I would dare say that, at the moment, this is the best museum in Lithuania.
The museum has several parts, with the most impressive one being the ruins of the original palace underground and the beautiful rooms displaying authentic furniture, tapestries, and paintings on the upper floors.
But probably the most impressive is the incredible historic virtual reality 3D experience. We have seen many virtual reality experiences in various contexts and this one is one of the very best ever. It's great for both, kids as well as adults.
In a matter of a couple of minutes, you're taken back in time and witness the creation and growth of Vilnius city. It's so well done that it will take your breath away. I think that this 3D experience is the best thing you can do in Vilnius. It will help you appreciate everything you see in the city even more. Don't miss this!
Practical info: The museum is open daily in summer, and every day except Mondays the rest of the year. Closed on certain Public holidays. More info here.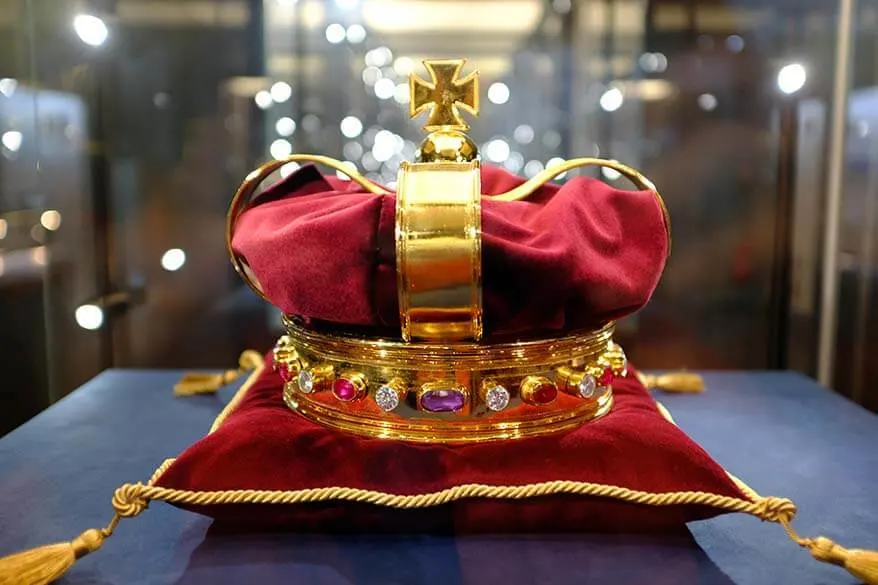 7. Kaunas
No list of the best places in Lithuania would be complete without mentioning its second-largest city and my hometown, Kaunas. Dating back to the 14th century and set in the place where the two biggest rivers in Lithuania – Nemunas and Neris – come together, Kaunas has always held a very significant place in Lithuania's history.
In the interwar period, when Vilnius was occupied by the Polish, Kaunas was the temporary capital city of Lithuania. The city has known good times, but it has also suffered a lot, and for a while, it looked like it was struggling with its image.
Recently, Kaunas has been selected as the European Capital of Culture of 2022 and the city is rapidly changing beyond recognition. I am glad to say that it is doing its best to restore and reinvent itself and is again becoming a city that we can all be proud of.
Not to be missed is Kaunas Old Town, Kaunas Castle, the Town Hall Square (Rotušės aikštė), the Cathedral, Vytautas Church, House of Perkūnas, Confluence of Nemunas and Neris rivers, the main pedestrian street Liberty Boulevard (Laisvės alėja), St. Michael the Archangel's Church, and its countless museums including M.K. Čiurlionis Museum of Art and Žmuidzinavičius Museum, known as the Devils' Museum (more info further below).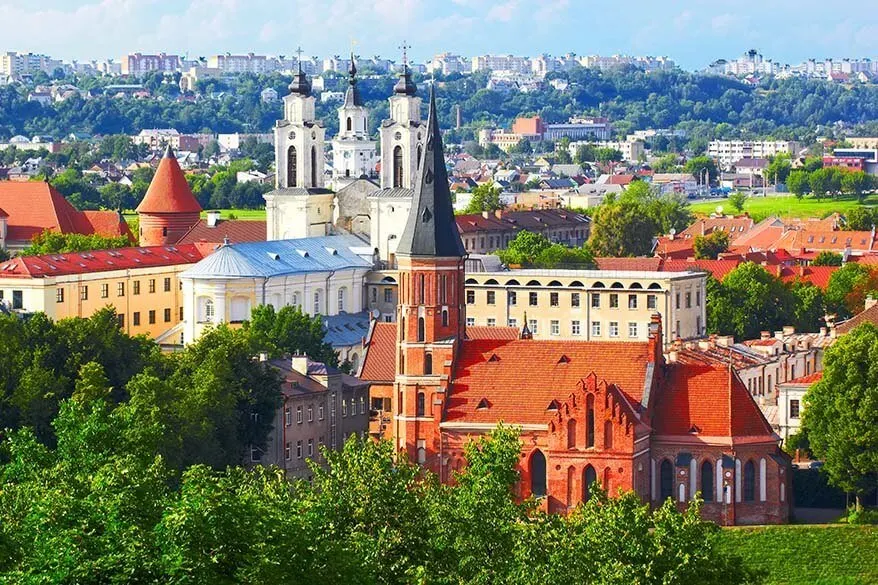 8. Klaipėda
Surprisingly, hardly ever mentioned as one of the best places to visit in Lithuania, Klaipėda is, in my opinion, another must-see in Lithuania.
Lithuania's third-largest town and its biggest main port city, Klaipėda is located at the Curonian Lagoon and the Baltic Sea. If you are taking a cruise through the Baltic States, you'll likely stop here for a day.
Formerly known as Memel, Klaipėda was part of the Prussian Kingdom until 1923. That's the reason why architecture here is very different than in the rest of Lithuania. I just love the wood-framed 18th-century German-style buildings in Klaipėda!
Don't miss the Theater Square, the beautiful riverside of Danės River, and countless narrow streets and historic buildings of the Old Town. Another favorite is the Lithuanian Sea Museum (more information further below).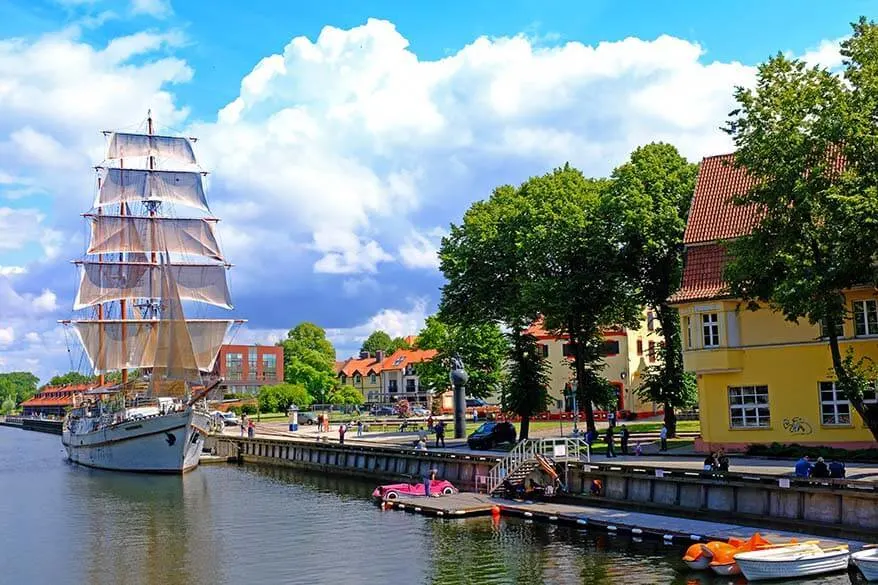 9. Lithuanian Folk Museum in Rumšiškės
There is no better place to get to know what life in Lithuania was like in the past than the Lithuanian Folk Museum in Rumšiškės, aka Open-Air Museum of Lithuania. It's one of the largest ethnographic open-air museums in Europe, set in a beautiful area close to Kaunas Lagoon.
The museum is a great introduction to the ethnographic regions of Lithuania – Dzūkija (Dainava), Aukštaitija (Highlands), Suvalkija (Sudovia), Žemaitija (Samogitia)… All the houses here represent their respective regions and it's interesting to see the architecture (and even the traditional clothing) differ from place to place. Inside, you'll find typical household appliances and machinery, most dating from the 18th – 19th centuries.
Inside the museum, you'll also find a 'town' with traditional buildings from all around Lithuania. There is also a church, a market square, and various houses of craftsmen with demonstrations in pottery, weaving, amber and wood crafting.
TIP: While the nicest time to visit the open-air museum is summer, it's worth a trip the whole year round. Various events are held here in all seasons. Probably the best-known and the most popular one is Užgavėnės (a sort of Mardi Gras or a carnival, but then in the old-fashioned Lithuanian style). If you are visiting Lithuania during the carnival period (the week of Shrove Tuesday and Ash Wednesday), Rumšiškės is not to be missed!
Practical information: The museum is located just off the highway between Vilnius and Kaunas, about 80km from Vilnius and 30 from Kaunas town center. For opening times and other info, please consult the official website of the museum.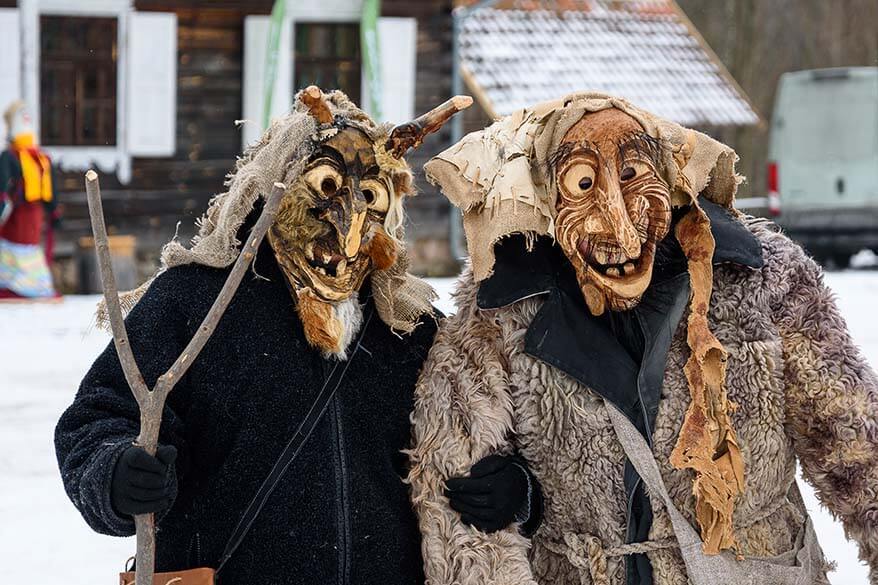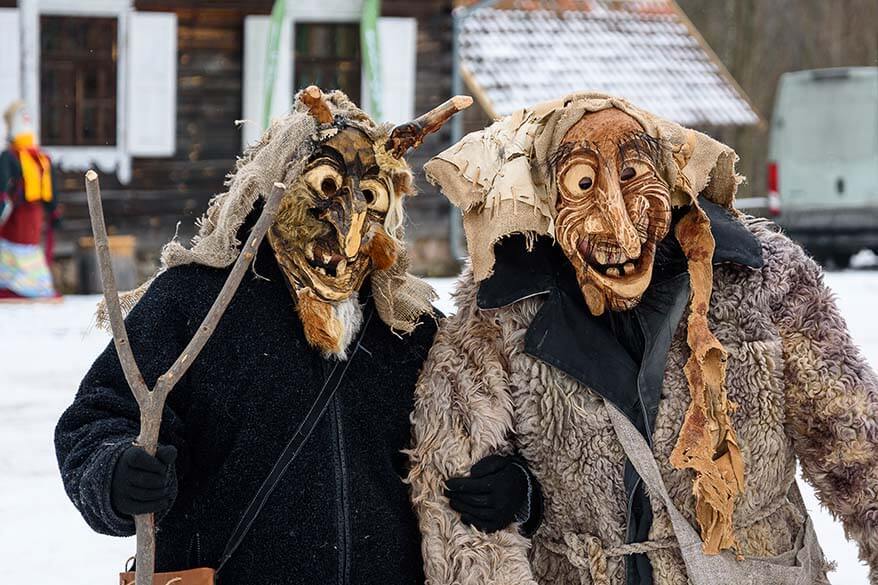 10. Pažaislis Monastery
Pažaislio Vienuolynas (Pažaislis Monastery) and the Church of the Visitation are a part of the largest monastery complex in Lithuania. Located on the shores of the Kaunas Reservoir (huge artificial lake), this 17th-century monastery is one of the best places to see in Lithuania. Yet, you won't find many tourists here. It might get busy during certain events, but most likely, you'll have this gem all to yourselves.
The magnificent buildings are probably the most beautiful example of Italian Baroque architecture in Lithuania and are definitely worth seeing. While it's an actual working monastery, it's possible to visit the beautiful church.
If you have some extra time, go for a walk in the surrounding area. It's so beautiful and peaceful here.
Practical information: The monastery is located about 10km from the Kaunas town center and can be best reached by car. Public transport is also available. It's open for visits daily, except Mondays. For more information and opening hours, please check their website.
TIP: You can visit Kaunas, Rumšiškės Folk Museum, and Pažaislis Monastery as a day trip with this guided tour from Vilnius.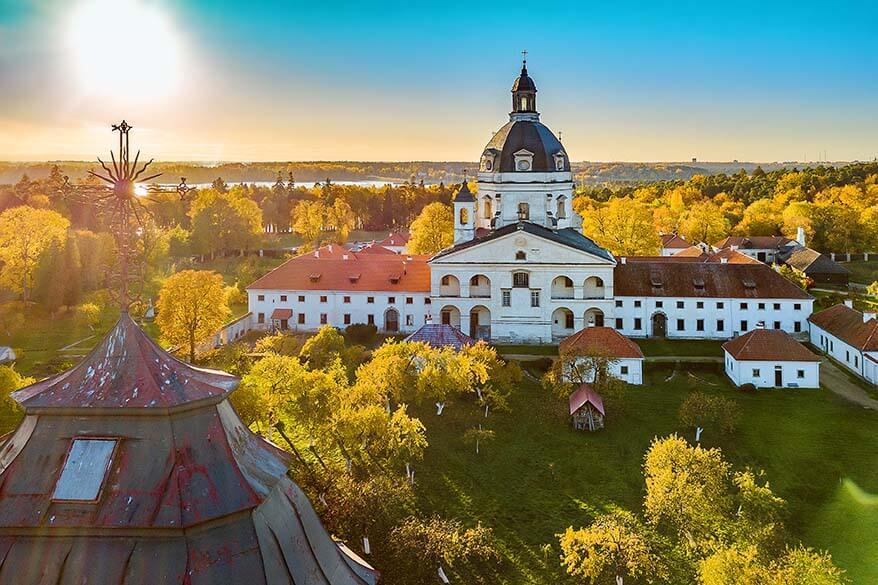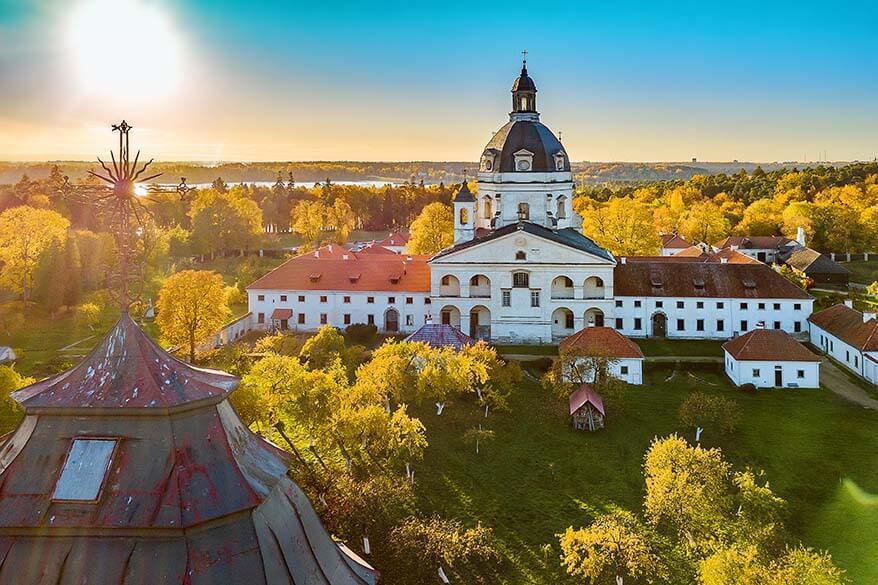 11. Nida
Nida is one of the biggest towns of the earlier mentioned Curonian Spit. In addition to the impressive sand dunes of the area, this picturesque town itself is also worth mentioning among the best things to do in Lithuania. It's a true hidden gem!
Nida is a small fishermen's town that has preserved its unique character and architecture not found anywhere else in Lithuania. It's my favorite vacation place in Lithuania, but because it's more isolated and not laying directly on the beach, it's much quieter than the earlier mentioned Palanga.
Not to be missed are the earlier mentioned sand dunes, the colorful wooden fishermen's houses, Thomas Mann Museum, and the lighthouse. You can also take a boat trip and see the impressive sand dunes from the water or visit the nearby Ventės Ragas (Ventė Cape). But my favorite thing to do is rent a bike and explore the 52 km of bike paths of the Curonian Spit. You'll never want to leave!
LEARN MORE: Ultimate Guide to Nida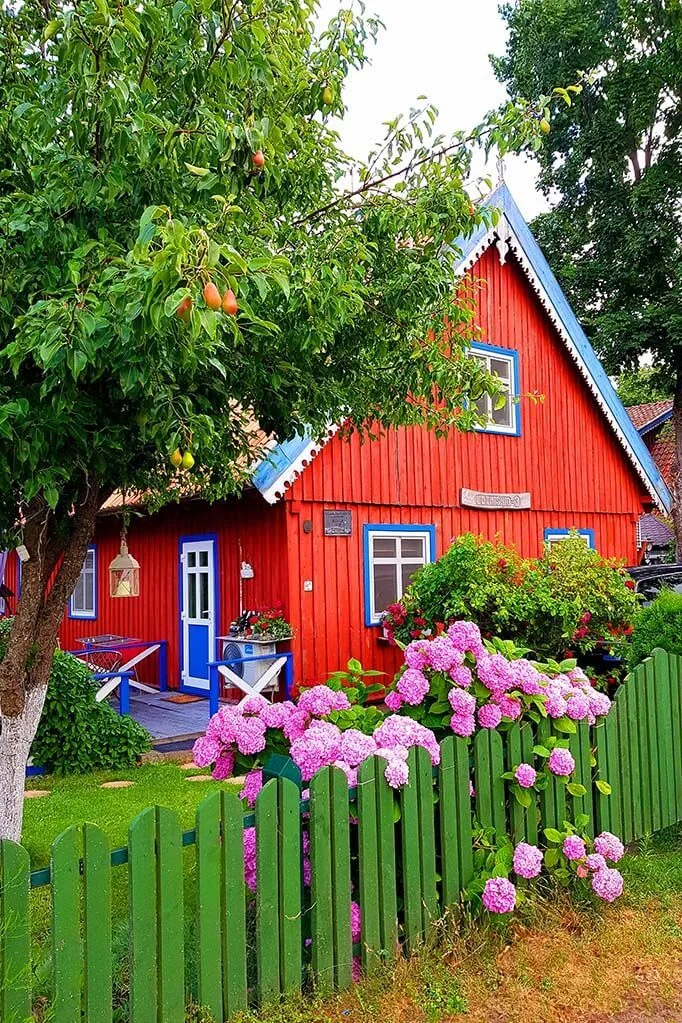 12. Grūtas Park
Grūto parkas (Grūtas Park) is a privately owned Soviet sculpture garden located in the forests of Grūtas village, near Druskininkai in the South of Lithuania. It contains a big exposition of the Soviet-era statues, Soviet memorabilia, and lots of other Soviet relics from the times when Lithuania was part of the USSR.
As Lithuania gained independence and all the towns and villages started getting rid of the statues of Lenin, Stalin, and other Soviet-era heroes, a businessman from Grūtas decided to collect them. In 2001, he opened this unique museum that quickly became the talk of the town. It has recently been expanded and now you can also find a small zoo, a kids' playground (from the Soviet times), and a café here.
Grūtas Park has always been a bit of a controversial place, but it shows a big part of our recent history, and I think it's certainly worth a visit. It is now considered as one of the most interesting places to see in Lithuania, so if you have a chance, give it a go.
Practical information: The park is open daily, the whole year round. For practical information and how to get there, please check their website.
TIP: You can visit Grutas Park, together with some other landmarks in the region by taking this highly-rated private day tour from Vilnius.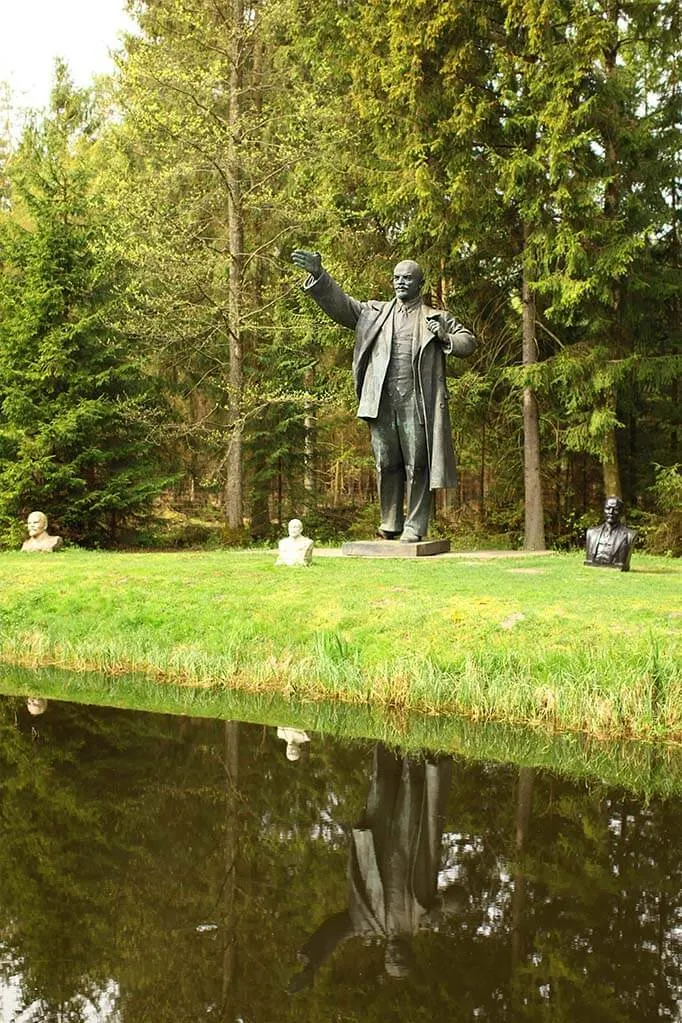 13. Druskininkai
One of the nicest small towns in Lithuania, Druskininkai, is little known to Western visitors. I didn't see anyone mention it among the best towns to visit in Lithuania, but it's really worth a visit. I might be biased as my godparents live here and I absolutely love Druskininkai, but I'm not the only one. This resort town is one of the most popular domestic destinations among Lithuanians and an absolute favorite among vacationers from neighboring countries.
Best known for its SPA treatments, Druskininkai is a very green town, with parks, forests, and lakes in and around the town. There are countless walking and biking paths, and the town has quite a lot to offer to tourists. Take a stroll on the pedestrian Vilnius Blvd, rent a rowing boat on the beautiful little lake with a fountain in the middle, rent a bike and discover one of the many parks, or visit a museum…
There is also a fantastic indoor water park, an adventure park, an indoor skiing arena, a gondola with fantastic views over the Neris River, and so much more… In the evenings, don't miss the Musical Fountain – it's always fun and you can order a song of your choice if you like to. If you want to explore further, you can also take a boat trip to the nearby historic Liškiava village.
Having mentioned all this, it might sound like Druskininkai is a busy town overrun by tourists. But it never feels like that! It has an amazing atmosphere and it's a great place to visit in Lithuania in any season.
TIP: Druskininkai is like a destination in itself, so I recommend spending at least one night here (there are lots of really nice hotels in town). Combine the visit with the earlier mentioned Grūtas Park which is located just nearby.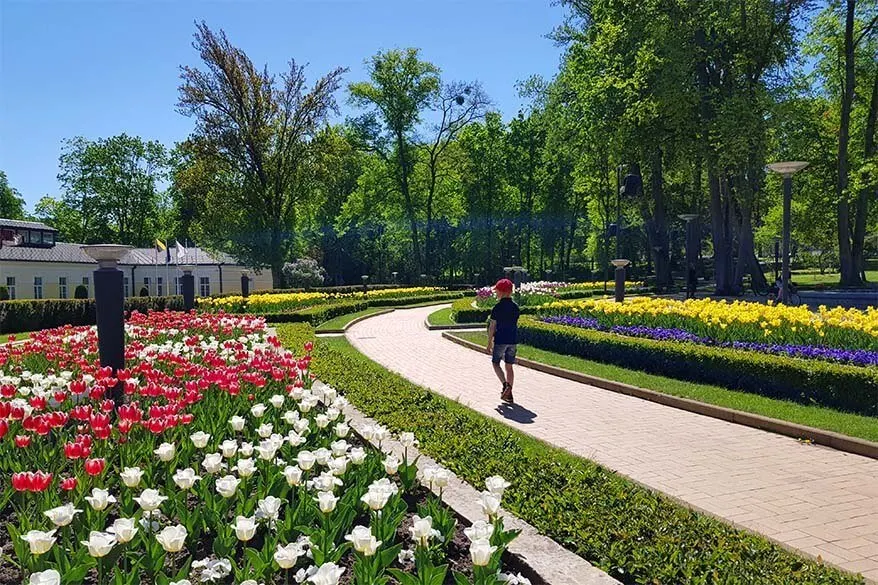 14. Anykščiai: Treetop Walking Path, Horse Museum & Puntukas Stone
Anykščiai is a sort of resort town, about 100km North of Vilnius. Known as one of the SPA towns and mostly visited by locals, I think it's also worth a trip for tourists looking to get a bit off the beaten path in Lithuania.
The town itself is very nice and green, and its main landmark is the St. Matthias Church with the tallest spires in Lithuania. But most Lithuanians come here for another reason. A stone.
Anykščiai has always been known as the place where you could see Lithuania's largest stone, Puntukas. We would travel all the way from the other side of the country just to see the stone… I just found out that it's actually the second-biggest stone in the country, after Barstyčiai stone, but nobody in Lithuania has ever heard of the latter. So Puntukas is our national stone and a place that every Lithuanian will proudly mention as one of the things to see in Lithuania.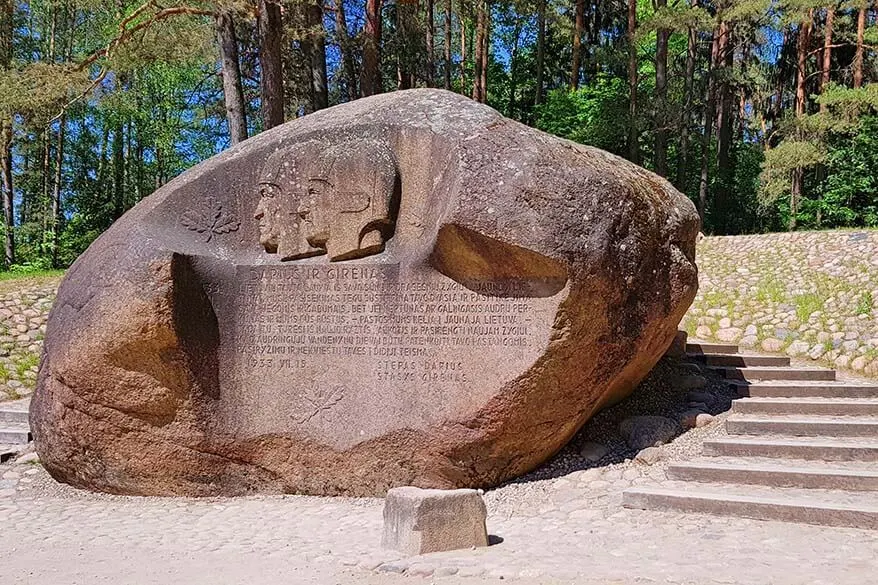 A few years ago, a new attraction has been opened just nearby – Anykščiai Treetop Walking Path, and that is, in my view, worth the visit to the area more than any stone. This Anykščiai Canopy Walk is located inside the national park, surrounded by lush forests. It's a peaceful (although short) walk at the level of treetops, ending on top of an observation tower with an amazing view of the surroundings.
Another highlight in the Anykščiai area is Arklio Muziejus (Horse Museum). It's a great place to visit, and especially if you are fond of horses or are traveling in Lithuania with kids. With lots of hands-on activities and horse riding available, it's considered one of the best open-air museums in Lithuania.
While none of these places is an absolute must-see in Lithuania in itself, all of them together make for a really nice excursion. In addition, you can also combine all these places together with the nearby barefoot path or Labirynth park and turn it into a great family-friendly day out.
Practical information: Puntukas stone can be seen for free at any time, while the treetop walk can only be accessed during the day. It's open daily, but hours vary by season. The Horse Museum is also open every day; for more information, please consult the official website.
TIP: If you don't have a car, there are several tours that can bring you to this area as a day trip from Vilnius.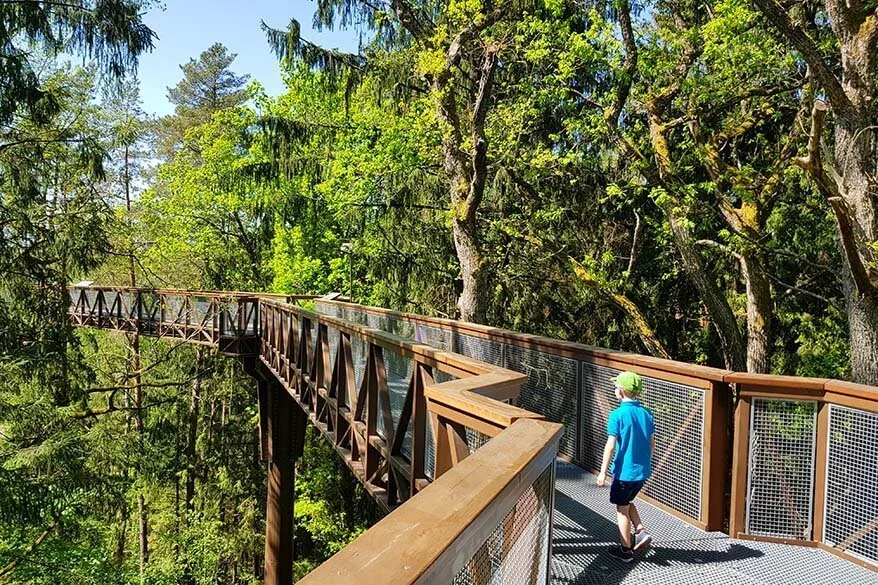 15. Palanga Amber Museum & Pier of Palanga
Palanga is the most popular Lithuanian seaside town. Thousands of Lithuanians spend their summer holidays at Palanga beach.
The town is a mix of beautiful nature, forests, and stunning white-sand beaches, but also the crazy busy and loud pedestrian Basanavičiaus Street that reminds you of a huge country fair… But if you can ignore this noisy crowded street, you will find that Palanga is actually a very pleasant little town that is worth visiting.
The reason why I decided to include it on this list of places to visit in Lithuania is because of the Palanga Amber Museum and the Pier of Palanga.
Palangos gintaro muziejus (Palanga Amber Museum) is located inside the restored 19th-century Tiškevičiai Palace and surrounded by the beautiful Palanga Botanical Garden. The museum features a really nice collection of Lithuanian gold – amber.
Amber is something that you'll see everywhere in Lithuania – every souvenir shop and every market sells all kinds of amber jewelry and other products. But if you want to see some really nice exquisite pieces of amber, then there is no better place to do that than in this museum. My favorites are amber pieces with the fossilized remains of insects. Talking about stopping time…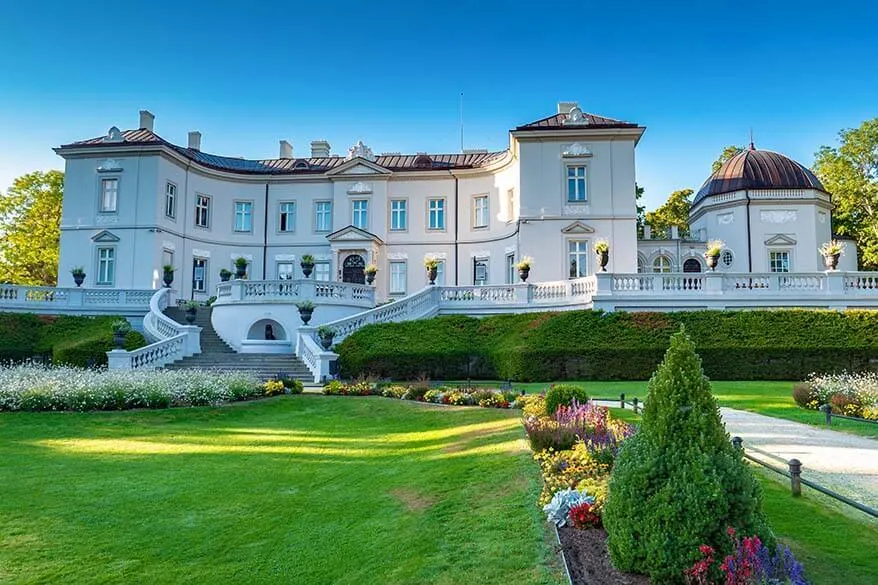 Another reason to visit Palanga is the Pier of Palanga or Palangos tiltas (Palanga Bridge) as locals call it. There is no better place to see a sunset in Lithuania than from this wooden pier that stretches far into the sea.
On summer evenings, and especially on the weekends, it might feel like half of Lithuania has gathered to watch a sunset here. But if you come here in the lower season, you might have it all to yourself, and it's simply magical…
TIP: If you decide to visit Palanga in summer, try to avoid weekends. If you are visiting in the colder season, after the storm, you might find some small pieces of amber on the beach.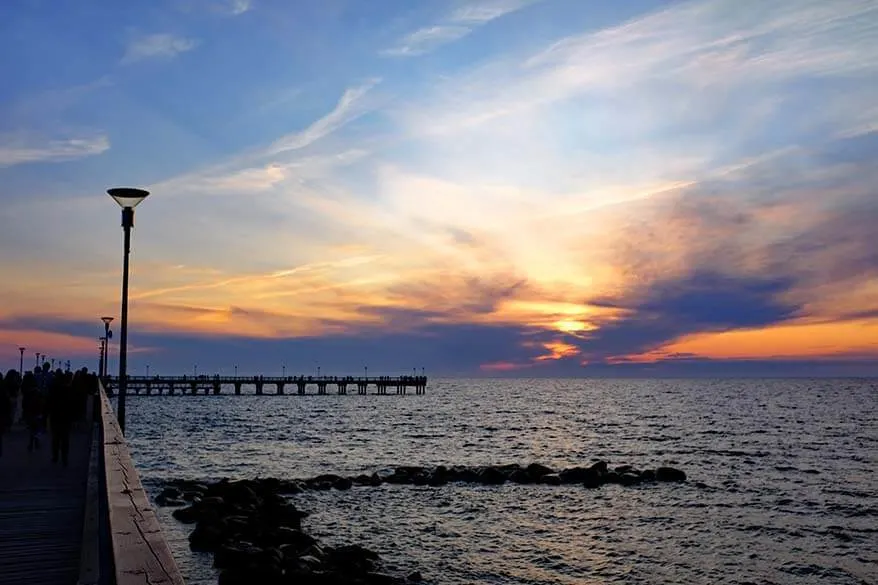 16. Užupis
Located in the center of Vilnius, Užupis is actually just a quirky part of Vilnius Old town. Literally, Užupis means 'beyond the river' and it's indeed separated from the rest of the city by the Vilnia River.
After the fall of the USSR and the disappearance of the former Soviet statues, several local artists erected a statue of the US rock musician Frank Zappa, as a symbol of freedom and democracy. A few years later, they went a step further, and on the 1st of April 1997, declared the independent state of Užupis.
While it calls itself one of the smallest republics in the world and boasts its own constitution, government, president, and even a navy consisting of a couple of small boats, Užupis is not in any way a political statement, but rather an art project if you like. It's an exciting area loved by artists and they pride themselves on treating everyone equally.
Don't miss the Constitution of the Republic of Užupis which can be found on the wall of a building on Paupio Street, 3A. It has been translated into 26 different languages, so no excuses or saying you didn't know the laws of this self-proclaimed republic…
Some of the laws of Užupis state that 'Everyone has the right to be unique', 'Everyone has the right to hot water, heating in winter and a tiled roof', or 'A dog has the right to be a dog' and 'A cat is not obliged to love its owner, but must help in time of need'… You get the idea…
It's a fun place to see in Vilnius and has become one of the most quirky and popular tourist attractions in Lithuania.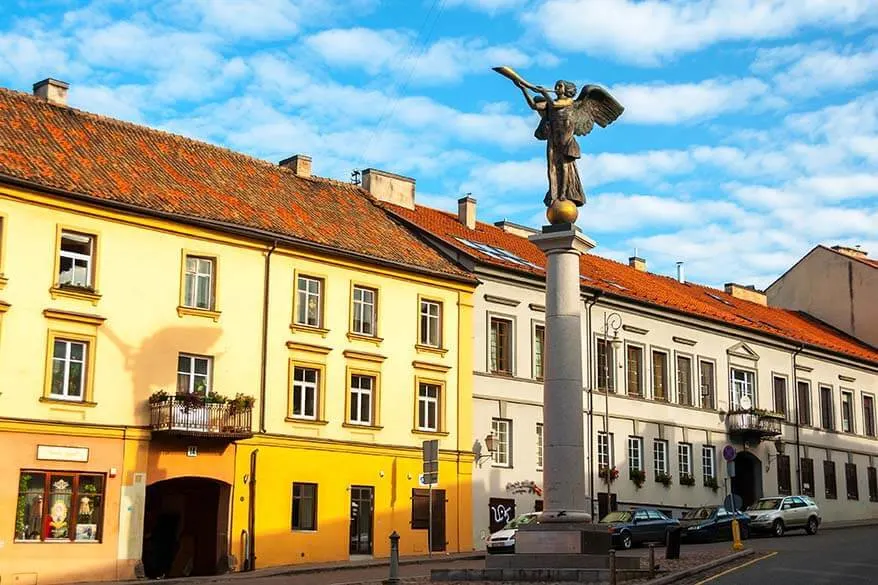 17. Museum of Occupations and Freedom Fights
The Museum of Genocide Victims aka Museum of Occupations and Freedom Fights is one of the most interesting museums in Vilnius, Lithuania. Situated inside the former KGB building, this is by no means a light-hearted attraction. Some of the things you'll see here are harsh and thought-provoking. But it's a big part of our history and so if you want to know what Lithuania has been through in the recent past, this museum is a must!
Inside, you can visit the former KGB prison and see the premises where death sentences were executed for 50 (!) years. Here, you can learn about Lithuania's occupation and repressions by the Soviets, and the persistent fight for independence.
Practical information: The museum is open Wednesday to Sunday, from 10 AM to 5-6 PM.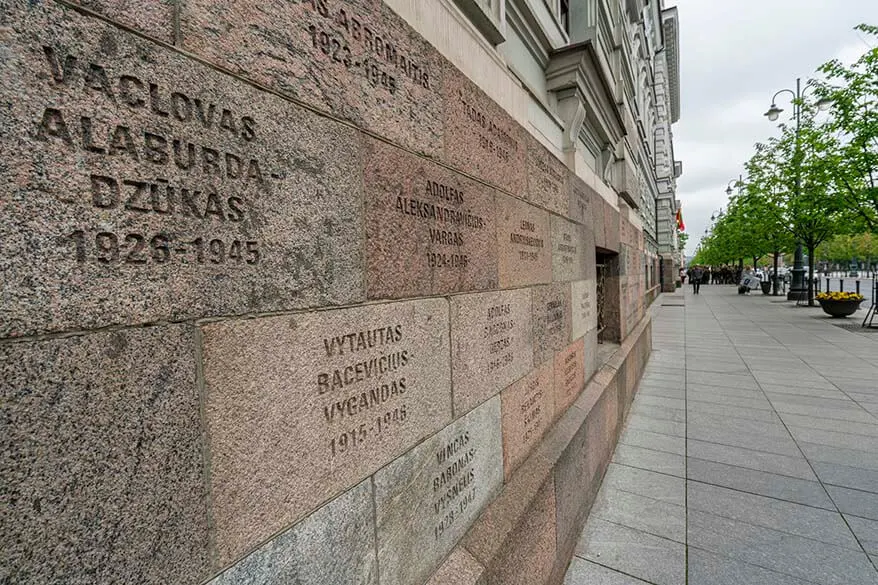 18. The Geographical Center of Europe & Europa Park
Back in 1989, the French National Geographic Institute determined that the geographic center of Europe is located in Lithuania, near the village of Purnuškės. Several countries claim to be at the heart of Europe and I'm not going into those discussions, but Lithuania gladly accepted this French calculation and proudly calls itself the Center of Europe.
If you like visiting quirky symbolic places like this, then you'll enjoy a quick photo stop at the Geographical Center of Europe. It's not much more than a monument, and you can get a special certificate confirming that you visited the center of Europe.
Another interesting place to see nearby is Europos Parkas (Europa Park), a sort of open-air museum that was designed to give artistic significance to the fact that Lithuania is the Center or Europe. This is a privately-owned museum, set in the forest with a variety of large modern artworks scattered in the area. In my view, it's not really a must, but if you are visiting the area anyway, it's a nice place to stretch your legs and see something different.
Practical information: The Center of Europe is located in Purnuškės, about 30km North of Vilnius and can be visited at any time. Europa Park is located in the same area, about halfway between Vilnius and Purnuškės. It can be visited the whole year round and is open daily. For opening hours and practical info, please check the official website.
19. M.K. Čiurlionis Museum of Art
Mikalojus Konstantinas Čiurlionis was a Lithuanian composer, painter, and writer who lived at the end of the 19th – the beginning of the 20th century. He's one of Lithuania's most famous artists and one of Europe's pioneers of abstract art.
In his short life of just 36 years, he created hundreds of pieces of music, paintings, poems, and literary works. M.K. Čiurlionis Museum of Art in Kaunas houses the biggest collection of those works and is one of the best art museums in Lithuania. Not only can you find a big collection of his paintings, but also listen to his music. The two are interrelated and many of Čiurlionis' paintings have musical names.
In addition to the works of Čiurlionis, this large museum houses ancient Egyptian and Greek art, as well as a big variety of European art from the 16th to 20th centuries.
TIP: One of the top attractions here now is an amazing VR film 'Trail of Angels' based on Čiurlionis' works. Don't miss it! And if you don't have time to go to Kaunas, this experience is now also available in Vilnius. You can find more info here (be sure to reserve this in advance!).
Practical information: This museum is located in the center of Kaunas and is open daily, except on Mondays. There is an audio guide available and the dedicated staff is always ready to give you more details. More info here.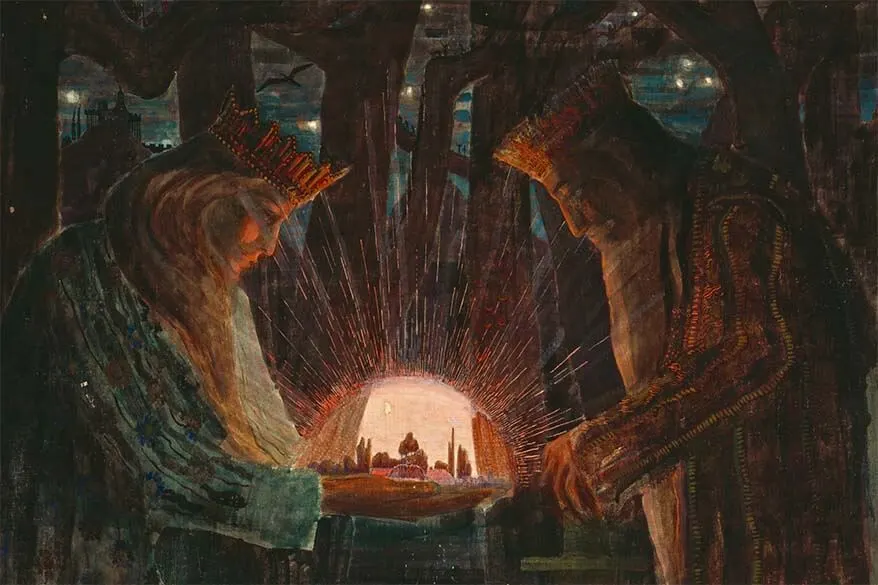 20. Devils' Museum
Žmuidzinavičius Museum, known as the Devils' Museum in Kaunas is one of the most special, quirkiest museums in Lithuania. It's also the only museum in its kind in the world, and so it definitely deserves a mention among the main points of interest in Lithuania. If you are in Kaunas, don't miss it!
Antanas Žmuidzinavičius was an artist who collected an impressive number of sculptures and carvings of devils from all over the world. After his death, his collection has been turned into a museum. In addition to the impressive collection of devils, you can also see paintings by the artist himself.
At the moment, the museum houses over 3000 devils from over 70 different countries. You can also learn a lot about Lithuanian folklore and stories and myths about the devils and evil creatures displayed here. If you bring a unique devil from your own country, the museum will accept it as a present and most likely add it to their collection.
Practical information: This museum is located in Kaunas, just next to the previously mentioned Čiurlionis Museum of Art. It's open daily, except on Mondays.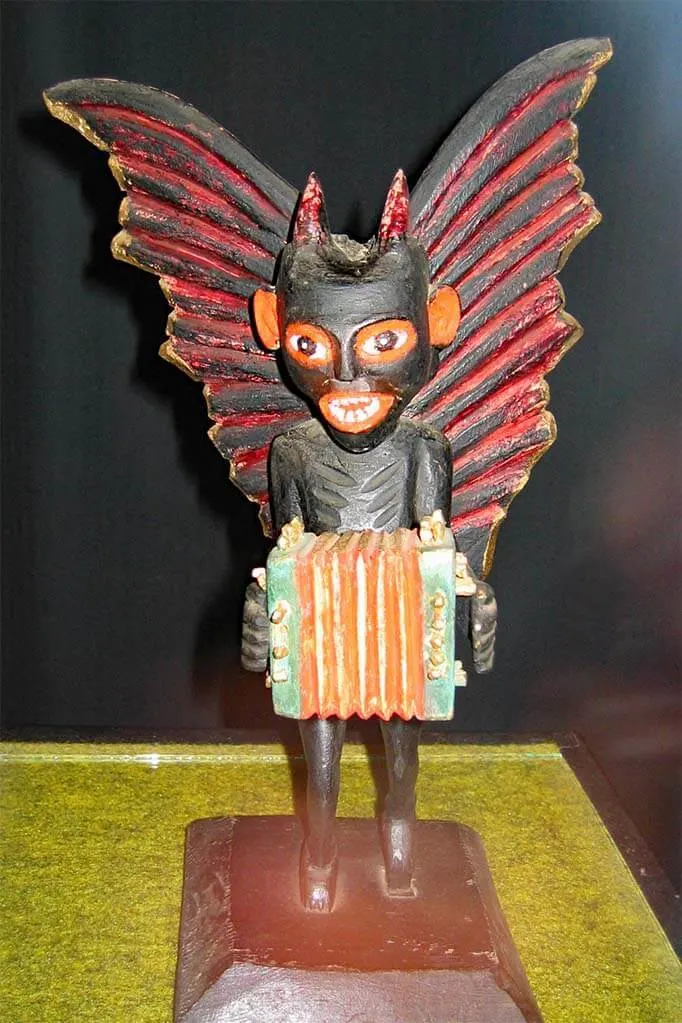 21. The Hill of Witches
The Hill of Witches is an outdoor sculpture gallery in Juodkrantė, on the earlier mentioned Curonian Spit. All the sculptures here are made of wood and most portray Lithuanian fairytale characters, such as witches and devils.
Set in a beautiful forest, this feels like a magical place that will especially appeal to families with children. The Hill of Witches might not be a huge landmark, but it's so unique and so typically Lithuanian that I think it deserves a visit. If you are visiting the Curonian Spit and have half an hour to spare, it's a must-do!
Practical information: Since the sculptures are set in the forest, it's always open and it's free of charge.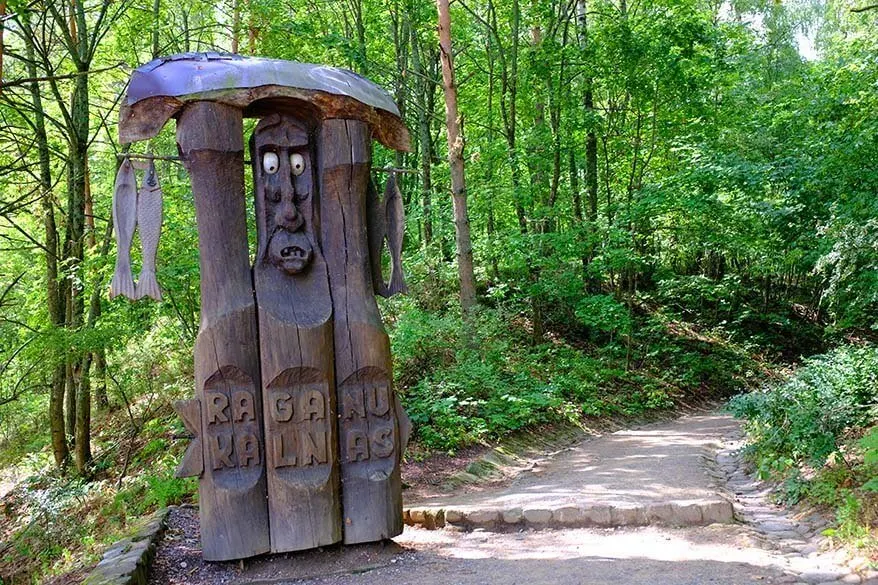 22. Lithuanian Sea Museum
Lietuvos jūrų muziejus (Lithuanian Sea Museum) is a maritime museum with big aquariums, an aquarium tunnel, great sea lion and dolphin shows, and also historical exhibits. Located in an old fort on the northern tip of the Curonian Spit, it's just a very short ferry ride away from Klaipėda town center.
It's a fun place to visit in Lithuania with kids. Not only can you see a big variety of fish and animals including penguins, sea lions, and dolphins, it's also a great place to learn more about the Baltic Sea. In addition, you will find some big old ships and also a replica of an old fisherman's house.
Practical information: Old Smiltynė Passenger Ferry is the best way to get to the museum from Klaipėda. Alternatively, if you are visiting the Curonian Spit anyway, you can come here by car. Just get here early in the morning or parking space will be really hard to find.
It's open the whole year round. In summer, the museum is open daily except on Mondays, the rest of the year – opening hours differ per season. More information on their site. Count at least half a day for a visit.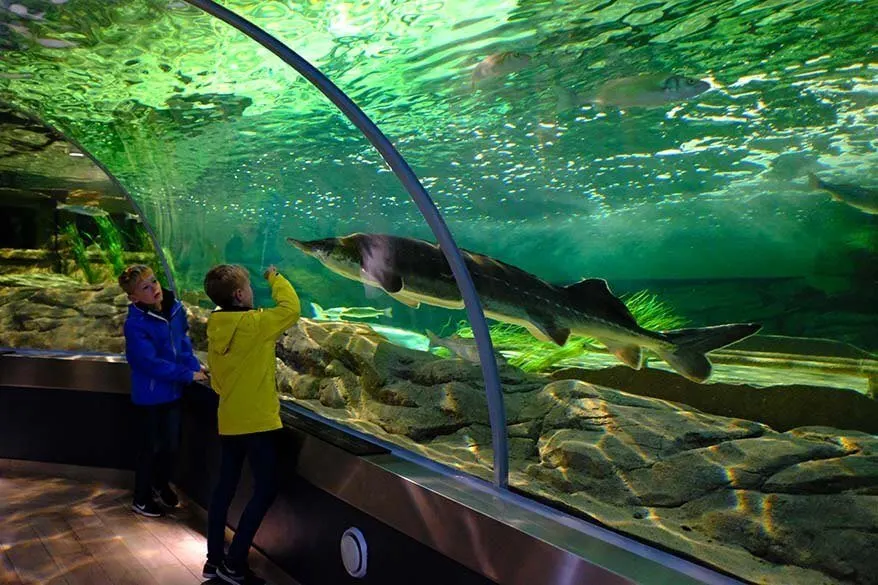 23. Dutchman's Cap
Olando kepurė (The Dutchman's Cap) is a 24-meter high sand hill with a steep cliff crashing into the Baltic Sea. It's probably one of the most untouched, rough coastal landscapes in Lithuania.
The Dutchman's Cap gets its name due to its shape that – looking from sea to land – looks like a traditional bi-corn admiral's hat. This area has been mentioned as a navigational guide for sailors and fishermen in the early 19th century.
While not an absolute must in Lithuania, it's a very nice tranquil place with nice scenery. It's worth a short stop if you find yourself on the Lithuanian coast, but I wouldn't drive all the way to the coast just for this. The best time to visit is at sunset.
Practical information: The Dutchman's Cap is located between Klaipėda and Palanga (see the exact location on the map further below). There are many walking paths in this area. You'll have to leave your car at one of the designated parking areas and walk 10-15 minutes to get to a small viewing platform. It's also possible to walk down to the coast. You can spend half an hour here or a few hours (searching for amber :)) – it's up to you.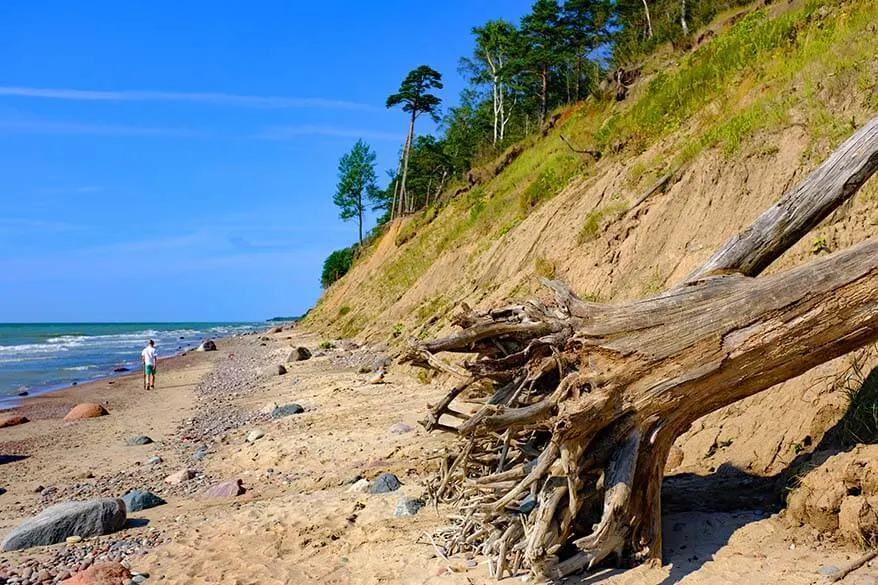 24. Vilnius TV Tower
I was debating whether to include Vilnius TV Tower in this list of the best places to visit in Lithuania. But, since it has historical significance and offers some of the best views in Vilnius, I decided that it's worth a mention.
On the 13 of January 1991, Vilnius TV Tower was at the center of a bloody independence fight against the Soviets. This was one of the last struggles that finally tore the USSR apart. Sadly, 14 Lithuanian people were killed here by the Soviet tanks that day. This is one of the darkest chapters of our recent history and I still remember the events of that day as if it was yesterday.
With over 326m in height, Vilnius TV Tower is the tallest building in Lithuania and the 8th tallest in Europe. You can visit an underground gallery, the Fight for Freedom Museum, and also take an elevator to the 165m height from where you get an amazing panorama of Vilnius and its wide surroundings.
TIP: Have lunch or dinner at the rotating Paukščių takas (Milky Way) restaurant and enjoy the 360° views with the whole city of Vilnius at your feet.
Practical information: The TV tower is open for visits daily. More information on their website.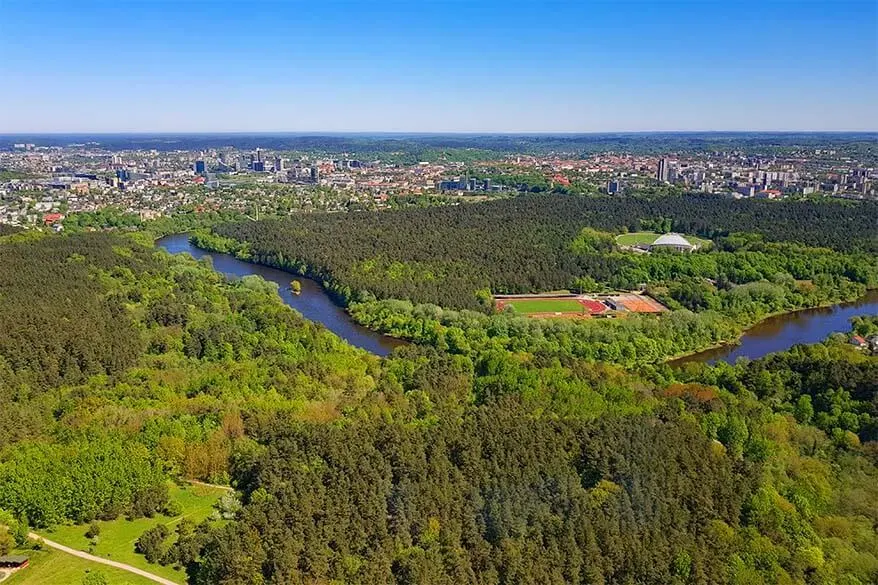 25. Lakes, Rivers, and Forests
With over 6000 lakes, more than 800 rivers, and over 33% of the territory covered by forests, Lithuania is a paradise for those who love simple, untouched nature.
It will come as no surprise that Lithuanians massively leave cities and head to nature every weekend. Kayaking, swimming, fishing, berry- and mushroom picking are just some of the favorite pastimes for Lithuanian people. In winter, people go walking, cross-country skiing, skiing, and also ice-fishing. No matter the season, Lithuanians love the outdoors.
If you are looking to explore Lithuania deeper, do as the locals do, and head to one of the many forests and lakes.
TIP: If you don't know where to start, here you can find a selection of organized kayak tours all over Lithuania. If you are visiting Lithuania in summer, there is no better way to experience our nature than by going kayaking!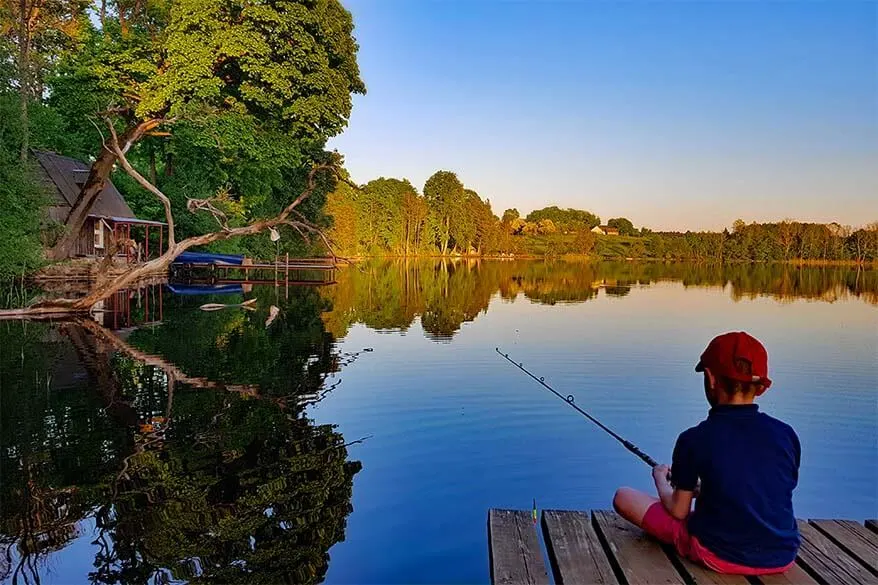 26. Christmas Trees
Lithuanian Christmas trees deserve a special mention. They are so nice and so special that it's really worth it to (re-) visit Lithuania in winter, just to see the Christmas trees.
The most unique and spectacular Christmas trees can be found in Cathedral Square and the Town Hall Square in Vilnius and also at the Town Hall Square in Kaunas.
But also smaller towns often have the most beautiful Christmas decorations.
LEARN MORE: Vilnius Christmas Trees and Christmas Markets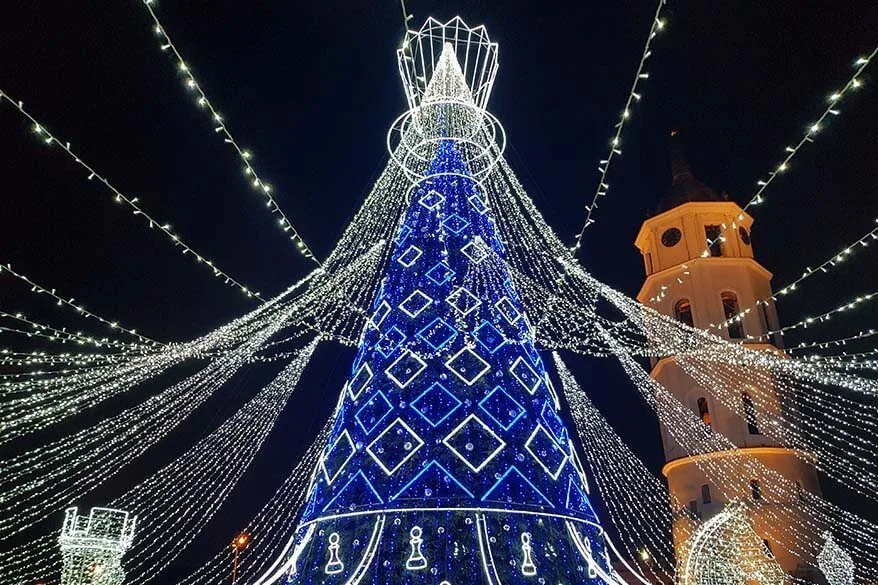 27. Lithuanian Food
No list of the best things to do in Lithuania would be complete without mentioning traditional Lithuanian food. If you are traveling to Lithuania, make sure to taste at least some of our local specialties.
Lithuania has many traditional dishes that you won't find anywhere else in the world. The most famous and typically Lithuanian are our potato dishes, such as cepelinai, kugelis, bulviniai blynai, and vėdarai.
Other favorites include koldūnai (sort of dumplings), lietiniai blynai (filled pancakes), šaltibarščiai (cold beetroot soup), kepta duona su česnaku (fried bread with garlic), baravykų sriuba (boletus mushroom soup), and also non-alcoholic drinks such as kisielius or gira.
TIP: If you try just one typical Lithuanian dish, make it cepelinai. They are a sort of potato dumplings, somewhat comparable to the Italian gnocchi in taste and structure. However, cepelinai are much bigger and they are stuffed with either meat or curd filling. They are usually served with a very heavy and fat spirgučiai sauce, but if you are not a fan of fat food, I recommend asking for sour cream instead.
LEARN MORE: Lithuanian Food: Best Traditional Dishes to Try in Lithuania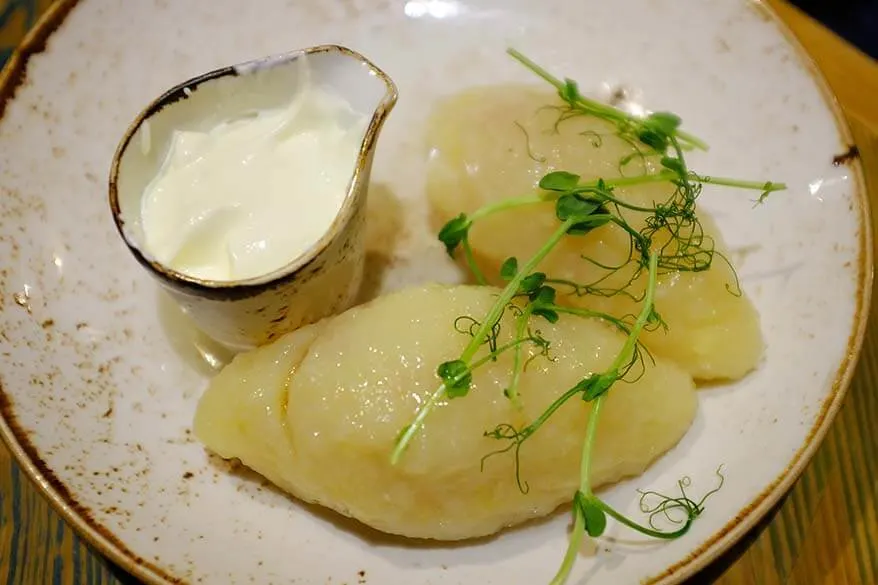 Even More Interesting Places to See in Lithuania
As already said, in this list, I only included the best places to visit in Lithuania that I think are worth your time the most. If you have more time, you might want to consider the following Lithuania destinations as well:
Kernavė – the former medieval capital of Lithuania and an archeological site close to Vilnius.
Kėdainiai – one of the oldest towns in Lithuania.
Birštonas – resort and SPA town surrounded by beautiful nature.
Labanoras regional park tower – 2nd highest observation tower in Lithuania with amazing views of the area.
Panemunė Castle – one of the most authentic castles in Lithuania (17th century).
9th Fort of the Kaunas Fortress – a museum and memorial for the Holocaust victims.
Užutrakis Manor – restored 19th-century manor.
Paneriai Memorial Museum – Holocaust memorial in a forest where tens of thousands of Jews lost their lives.
Ventė Cape – headland of Nemunas Delta and a bird-watchers paradise.
Stelmužė Oak – with over 1,000 years, the oldest tree in Lithuania and one of the oldest in Europe.
…
Needless to say, there is so much more to see and do in Lithuania. But most tourists never visit even half of these places… So if you cover even just a small part of the above, you'll have a much better idea of what Lithuania is truly like.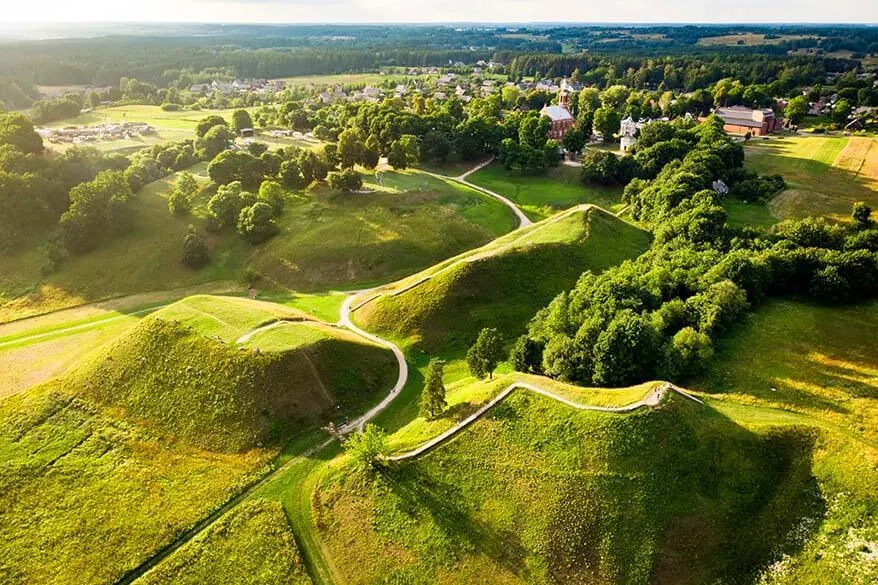 Map of the Best Things to Do in Lithuania
In order to help you get a better idea of where all these points of interest and attractions are located, I created this map of the best places to see in Lithuania.
The purple color indicates the main landmarks and places mentioned in this article. The orange color is for the other nice points of interest that are mentioned separately here above. In order to keep a more clear overview of the main landmarks in Lithuania, I didn't indicate all the smaller places that are worth visiting in each of the mentioned towns.
How to use this map: Use your computer mouse (or fingers) to zoom in or out. Click on the icons to get more information about each place. Click the arrow on the top left corner for the index. Click the star next to the map's title to add it to your Google Maps account. To view the saved map on your smartphone or PC, open Google Maps, click the menu and go to 'Your Places'/'Maps'. If you want to print the map or see it in a bigger window, click on 'View larger map' in the top right corner.
So, this is our list of the very best places to see and things to do in Lithuania. I sincerely hope that you found some new ideas in this article and that it has inspired you to explore Lithuania beyond the most popular places like Vilnius and Trakai.
If you have any questions about the places mentioned above, don't hesitate to leave a reply below and I'll try to help. Have you been to Lithuania and want to share your experience? Feel free to do so as well!
READ ALSO: Baltics Itinerary: how to see the best of Lithuania, Latvia, and Estonia in 2 weeks
If you found this post useful, don't forget to bookmark it and share it with your friends. Are you on Pinterest? Pin these images!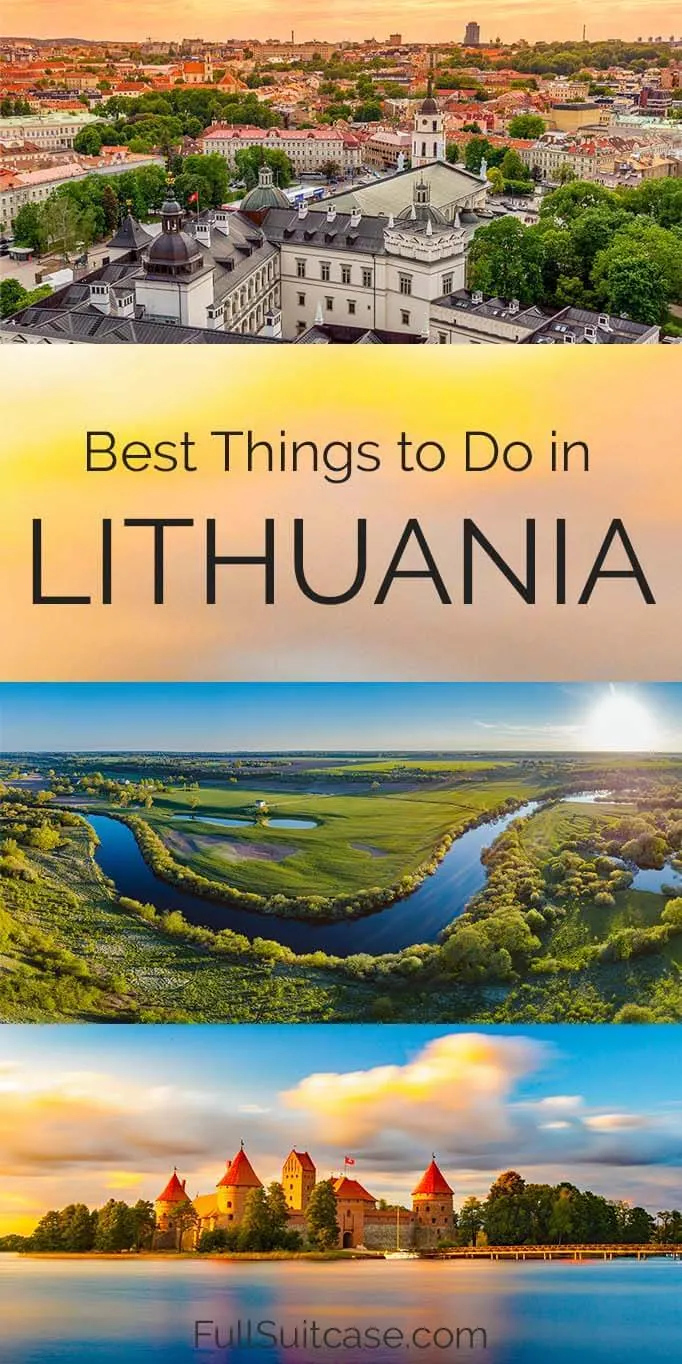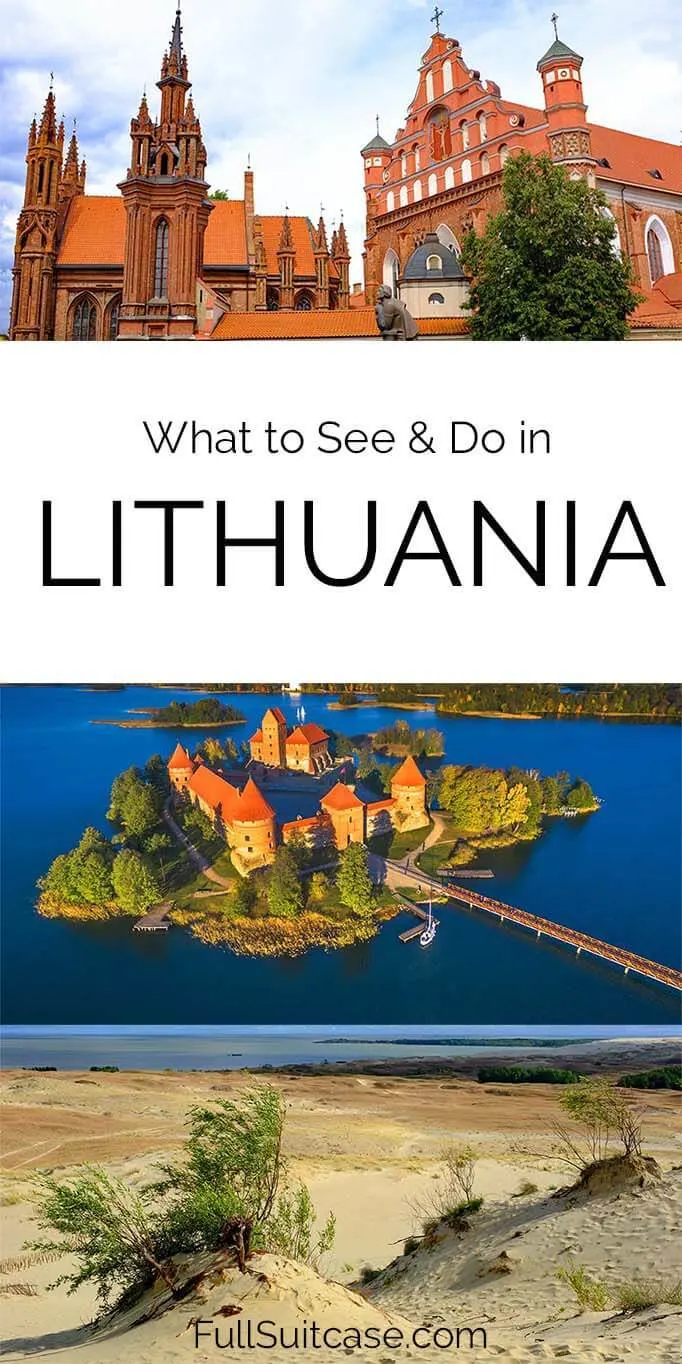 Featured image by Wide Wings/Shutterstock.com. All the other images by Jurga/FullSuitcase.com