Planning a trip to Jackson Hole, WY and wondering what to expect? In this guide, you can learn about the best places to see and things to do in Jackson Hole, coupled with experience-based tips and personal recommendations. Find out!
Think of Jackson Hole, Wyoming, and you probably think of cowboys, mountain views, and skiing. While all of this is part of Jackson Hole, the area has so much more to offer as well!
With easy access to two of America's most popular national parks, quaint towns, and a natural setting that's ideal for loads of outdoor activities, Jackson Hole is one of the most fun travel destinations for family vacations in the U.S. And it's an equally great vacation destination in winter as it is in summer.
Jackson Hole, which is actually a valley comprised of the towns of Jackson, Teton Village, Wilson, and others, has been playing host to tourists practically since it was established. Shortly after Jackson became the only incorporated town in the valley in 1919, dude ranches and other places appealing to those hoping to appreciate some of the area's natural beauty began cropping up.
Today, approximately 2.6 million people visit Jackson Hole every year. Yet, a visit to the area still feels like a trip designed to appreciate nature. And, because of that, it can be a true family adventure vacation.
Good to know: We only visited Jackson Hole shortly on our way to Grand Teton and Yellowstone National Parks. However, a fellow travel blogger Candi from Castles and Carpools family travel blog has recently spent more than a week in Jackson Hole with her family.
In this article, she shares some of the very best things to do in Jackson Hole and their experience-based tips for your trip to Jackson, Wyoming. Take a look!
While most Jackson activities mentioned in this article can only be done in summer, some of them are available the whole year round. We included a section with the best things to do in Jackson in winter as well. That way, you have an overview of all the possibilities, no matter in which season you are traveling. Find out!
Top 4 Experiences in Jackson Hole: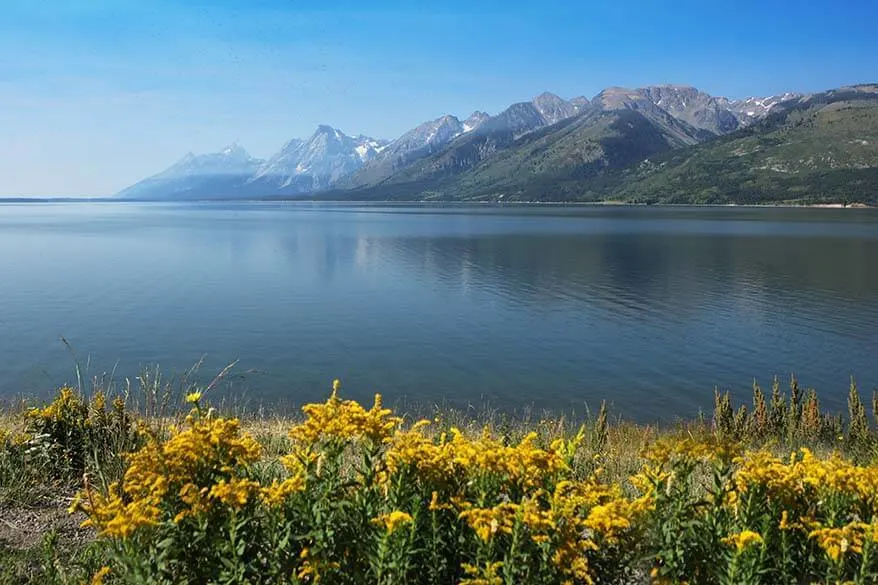 In order to help you orient and plan your trip to Jackson Hole, we also created a map of the best places to visit and the main Jackson Hole attractions.
It's not possible to indicate every activity or hike, but at least it gives you an idea of where most places of interest are located. If you stay in Jackson Hole, you can visit most places and do most activities as a day trip.
At the bottom of this article, we also include some tips for where to stay in and near Jackson Hole.
How to use this map: Use your computer mouse (or fingers) to zoom in or out. Click on the icons to get more information about each place. Click the arrow on the top left corner for the index. Click the star next to the map's title to add it to your Google Maps account. To view the saved map on your smartphone or PC, open Google Maps, click the menu and go to 'Your Places'/'Maps'. If you want to print the map or see it in a bigger window, click on 'View larger map' in the top right corner.
Here are the best places to see and things to do in and near Jackson Hole:
1. Jackson Town Square
Visiting the Town Square and the surrounding downtown was one of our family's favorite things to do in Jackson Hole.
The Town Square refers to the park with the iconic arched elk antler entryway that is often found in pictures of the area. It encompasses some green space for the kids to run, park benches, and a veteran's memorial.
The Town Square is surrounded by great shops, inviting restaurants, and interesting art galleries. We found fantastic souvenirs in the many stores and had some delicious food in the restaurants. We also went on a covered wagon ride and saw the performance of the Jackson Hole Shootout, the 6-night-a-week reenactment of frontier justice (a must-do!)
TIP: Stop by the local farmer's market in the Town Square on Saturday mornings for local produce, products, and a great atmosphere.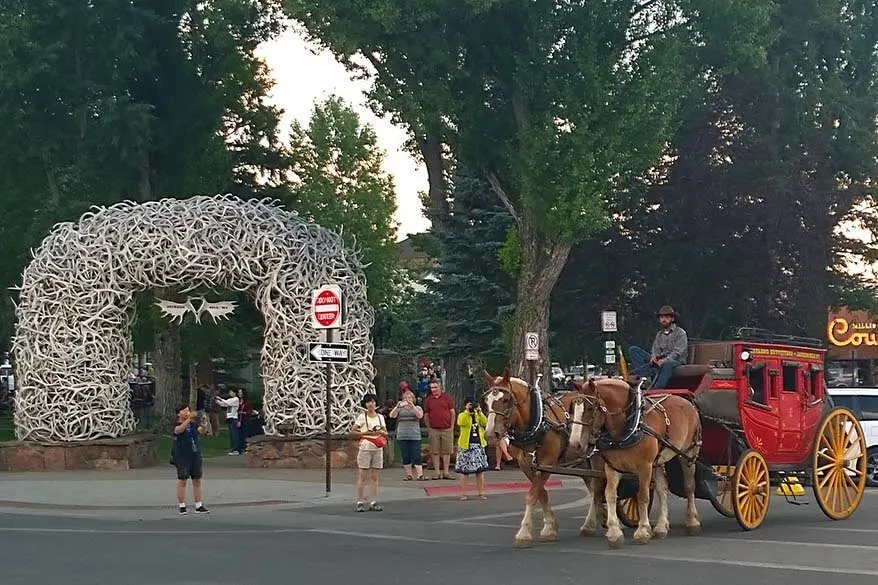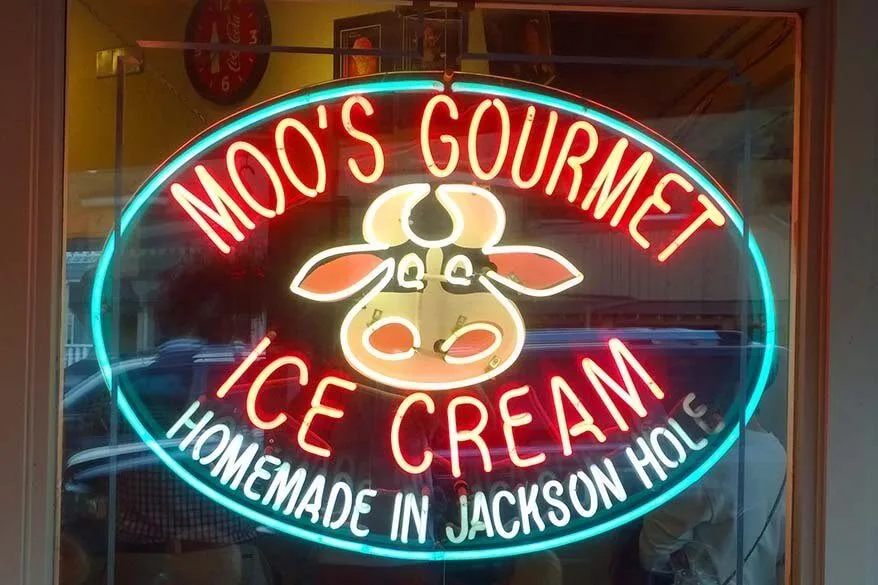 2. Grand Teton National Park
Just a few miles from Jackson Hole, you'll find Grand Teton National Park. Often regarded as one of the most scenic national parks in the U.S., Grand Teton is a destination in itself. There is so much to see and do! The park offers stunning mountain scenery and is home to a wide variety of wildlife.
Start your tour of the park at the Craig Thomas Discovery and Visitor Center. This is a great place to learn about the land as well as the history of the area. Ranger-led programs, exhibits, and a short movie paint a picture of what the Teton Mountains have meant to Native Americans and mountaineers of the past and the challenges for the future.
A self-guided walk through the Menors Ferry Historic District gives you a chance to step back in time. You can visit cabins, a general store, a ferry, and a building that houses wagons and coaches from the homestead era.
Make sure to also visit Mormon Row. It's here that you will find the most iconic sceneries of the park – the Moulton Barns with Teton mountains in the background. The barns are relics from a fascinating time of the park's history when Mormon settlers first came to the area. Other historic sites include the Chapel of the Transfiguration, Cunningham Cabin, and the Luther Taylor Cabin.
TIP: There are various guided tours to Grand Teton NP from Jackson Hole. They can help you make the most of your visit, especially if you are short on time and want to make sure that you don't miss any of the best places.
READ ALSO: How to Spend One Day in Grand Teton National Park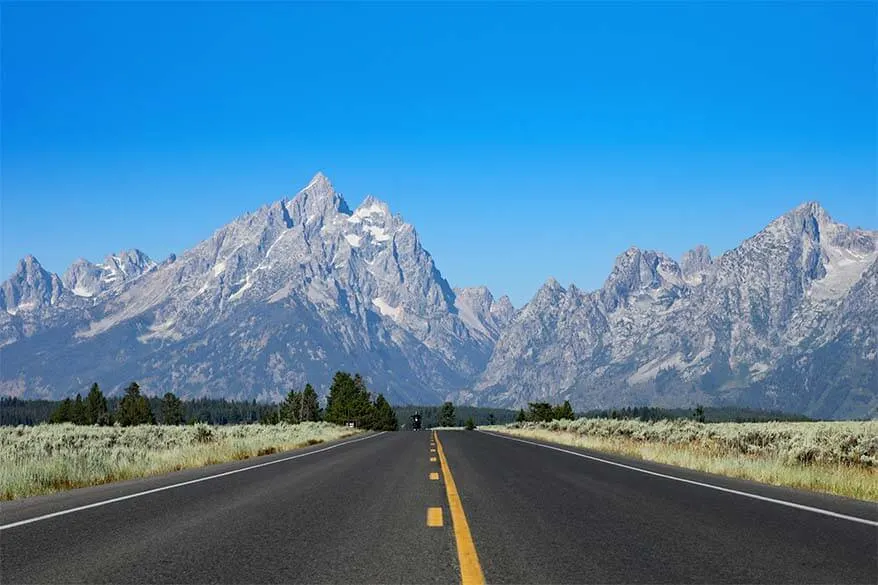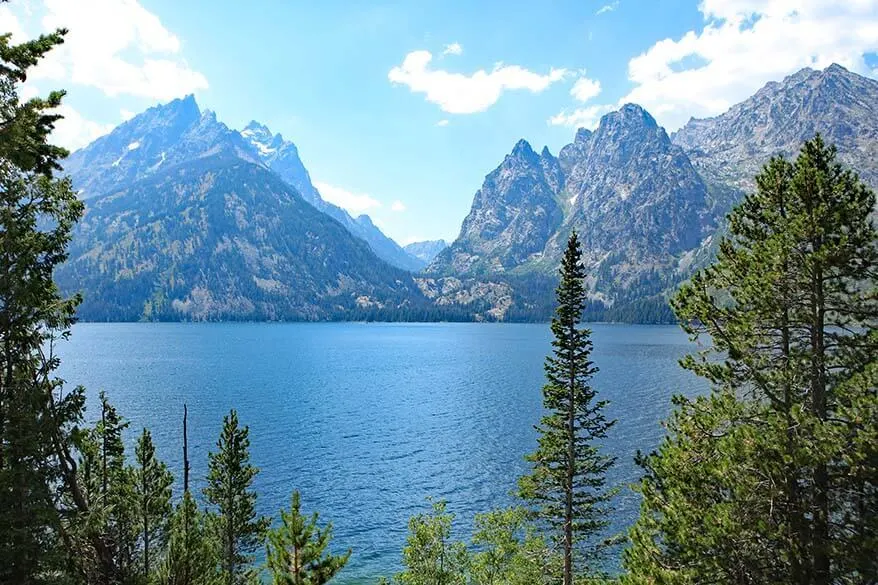 3. Jackson Hole Mountain Resort, Snow King Mountain, or Grand Targhee
Jackson Hole Mountain Resort, Snow King Mountain, and Grand Targhee are three Jackson Hole ski resorts. They are part of what keeps travelers coming back to this part of Wyoming in the winter. But there's no snow needed in order to have fun here. Visiting these mountain resorts is one of the best things to do in Jackson Hole in the summer months too.
Snow King Mountain is located right in Jackson. It's a great destination for all kinds of outdoor activities for the whole family. Big and little adventurers will enjoy the labyrinth maze, rock climbing, tandem paragliding, Cowboy Coaster, Alpine Slide, ropes course, and bungee trampoline. Even the less adventurous among your crew will like the mini-golf course or a ride on the scenic chairlift. In winter, you can go skiing or snow tubing here.
Jackson Hole Mountain is the largest of the three resorts and is located in Teton Village. In addition to some of the same activities offered at the other places, the highlight of a trip here is a ride on the tram or gondola. They both run in summer and in winter and transport you to the mountain peaks with sweeping views of the valley below.
The 6-person Bridger Gondola travels to an elevation of over 9,000 feet during a 12-minute ride. There are three restaurants at the top. The 40-person aerial tram takes you yet another 1,000 feet higher for spectacular views and, very likely, a chance to walk in the snow even in the summer.
You can find more info and get your tickets for these aerial trams here.
At about 1hr drive, Grand Targhee is the farthest ski resort from downtown Jackson. It also offers golf, disc golf, a bungee trampoline, a climbing wall, and a chance to explore gemstone mining at the Grand Targhee Mining Company.
TIP: Riding the aerial tram was another one of our kids' favorite things to do in the Jackson Hole area. However, those in your group with a fear of heights might want to skip this activity. Kids will also love the high-ropes course.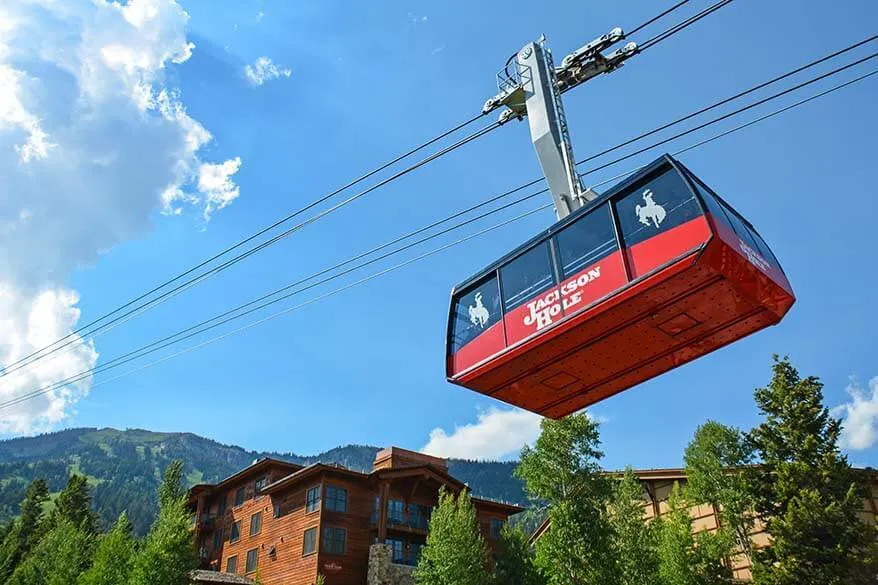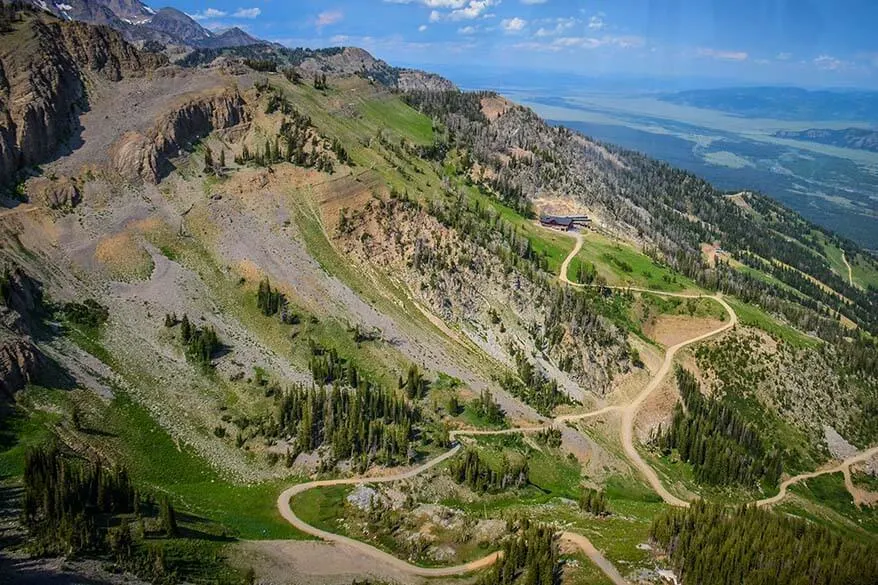 4. Hiking or Biking
One of the most popular things to do in the Jackson Hole area in summer is hiking. But even though it's a popular activity, it's usually not difficult to avoid the crowds. Jackson Hole has a lot of fantastic hikes and finding a trail away from the crowd is quite easy.
The mountain resorts mentioned above as well as Grand Teton National Park offer trails for all levels of hikers. In fact, Grand Teton NP has more miles of separated hiking pathways than any other national park in the United States.
The names of the trails or landmarks – Paintbrush Divide, Cascade Canyon, and Inspiration Point, just to name a few – are just one of the clues to the magnificence of the scenery you can expect to find here.
Jackson Hole has also become a mecca for biking in recent years. Some of the same areas that are great for hiking are also perfect for biking. You can also access biking trails via a ski lift at Jackson Hole Bike Park, located at the Jackson Hole Mountain Resort in Teton Village. From young kids to skilled mountain bikers, there's something for every level of a biker in Jackson Hole.
TIP: A bear spray is a good idea when hiking in this area, especially if you plan to find a more isolated trail.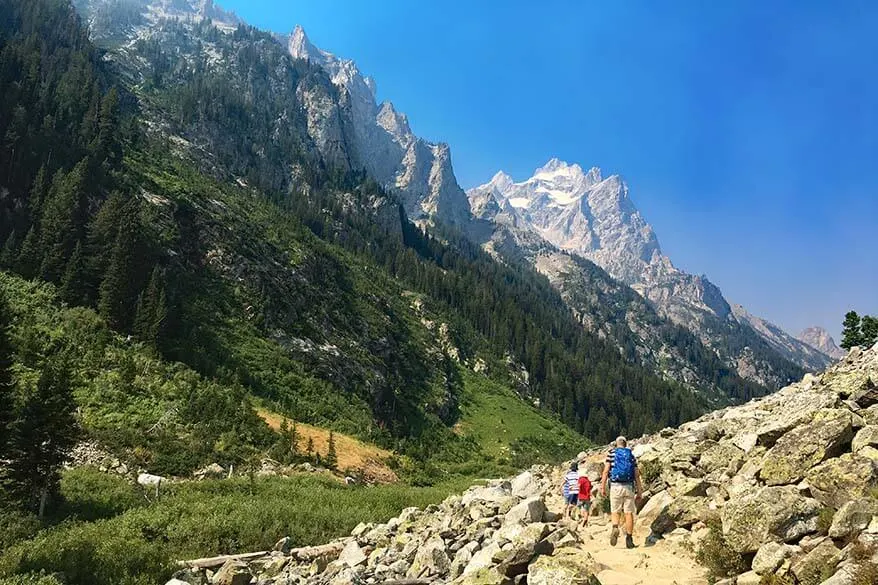 5. Whitewater Rafting
Jackson, WY also offers some great water activities. If visiting the area in summer, be sure to add whitewater rafting on the Snake River to your list of things to do in Jackson Hole!
The Snake River is rated a class III river, making it navigable by a wide variety of rafters. Many rafting companies take families with children as young as 6, while others require them to be at least 12.
Rafting trips last from a few hours to most of the day, with some excursions offering lunch as well. Expect chilly but refreshing water, generally in the mid-60s (18-19°C) in July and August.
Here you can find some of the best whitewater rafting tours in Jackson Hole. Some rafting trips are very easy-going and family-friendly – see also the floating trips section below.
TIP: Don't forget to pack water shoes if you plan to go whitewater rafting. You need to bring shoes that can get wet and won't fall off your feet, so flip-flops won't work.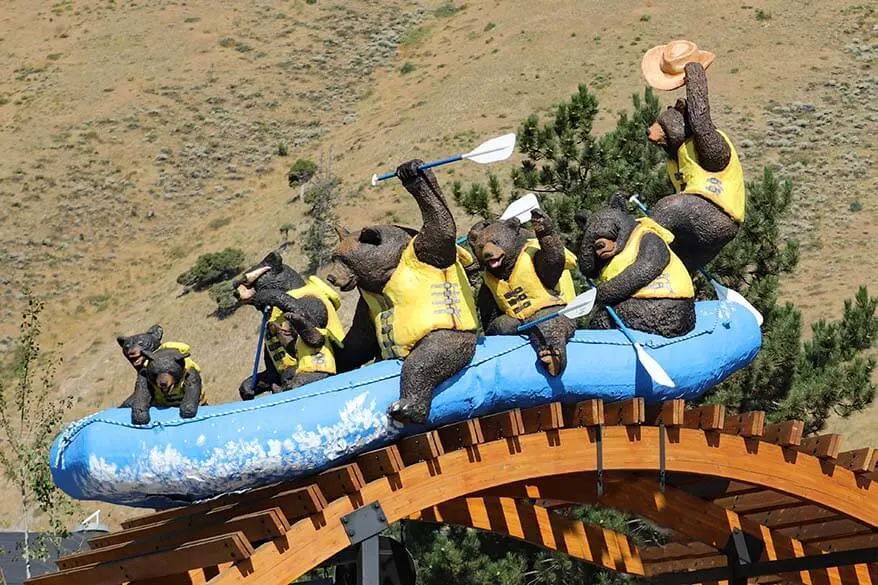 6. Scenic Float Trips
If you are not interested in paddling through rapids, but still want to get out on the water and enjoy the scenery, then consider a scenic float trip. There are organized float trips on Snake River or you can opt to head to one of several lakes near Jackson Hole.
Floats on inner tubes, a wooden drift boat, a raft, or a stand-up paddleboard offer great vantage points to appreciate the grandeur of the mountains and possibly glimpse wildlife. Outfitting companies provide guided float trips lasting from several hours to all day. Or if you prefer to charter your own course, you can rent equipment in town.
The good thing about organized float trips is that they are very relaxing and are suitable for almost all ages. Even kids from about 4 years can participate. Take a look at this family-friendly floating tour!
Motorized boat rentals are also available in the local waterways. The largest and most popular lake for boating and other water activities in Grand Teton National Park is Jackson Lake. Or head to Jenny Lake, where you'll find rangers who can help you plan your day on the water and nearby trails, additional marinas, and equally spectacular views.
For boat rentals southwest of Jackson, head 37 miles to Alpine, Wyoming. There, you'll find the Palisades Reservoir at the end of Snake River Canyon.
TIP: The Jenny Lake Boat is available for those who want a short, 15-minute shuttle ride to enjoy the beautiful scenery. You can either do it as a short scenic tour or hop off for a hike as well. The ferry carries visitors across the water from the southern point of Jenny Lake to Cascade Canyon.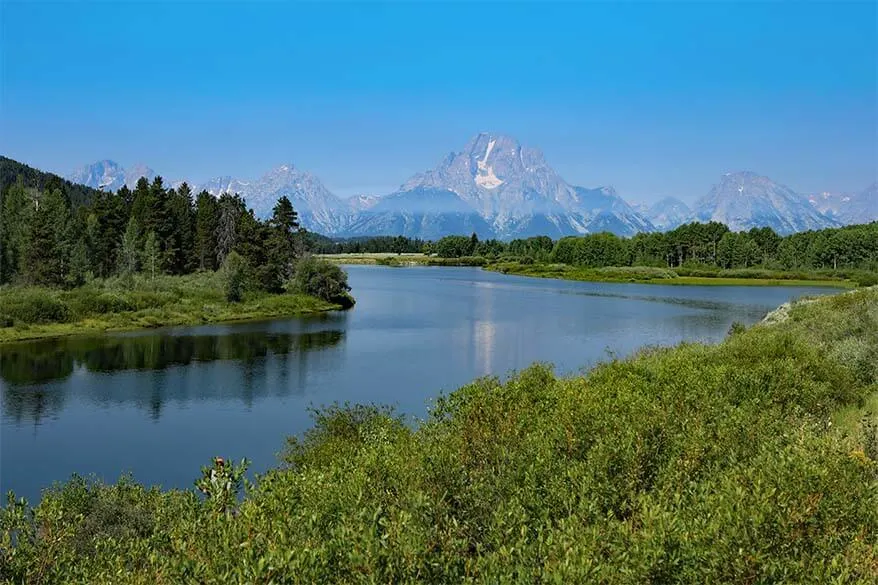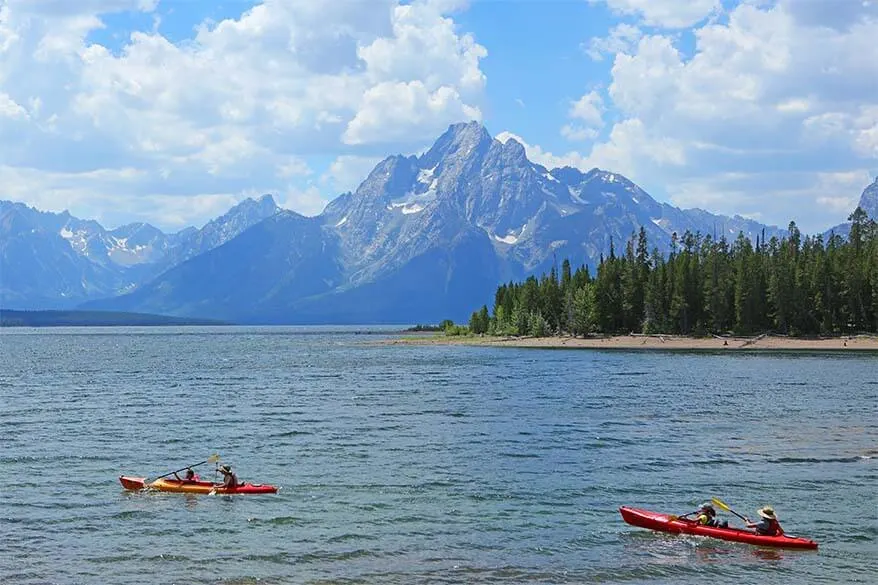 7. Yellowstone National Park
Although Yellowstone National Park can be a separate vacation in itself, you can also visit Yellowstone with a day tour or by booking an overnight trip from Jackson Hole. Either way, Yellowstone is one of the best places to visit near Jackson Hole, so don't miss it!
The south entrance of Yellowstone is located 57 miles (90km) from Jackson. Driving time from Jackson to Upper Geyser Basin (Old Faithful) is approximately 2 hours; to the Grand Canyon of Yellowstone – about 2.5 hours. Within a full day, you can definitely see some of the main landmarks of Yellowstone.
Several companies offer guided tours of Yellowstone that depart from Jackson. Having an experienced company do the planning for you when you have limited time can be a great way to make sure you get the most out of your Yellowstone day trip!
TIP: If you are planning to visit Yellowstone on a self-drive trip, check out our detailed guides below:
READ ALSO: Yellowstone South Loop – Best Places to Visit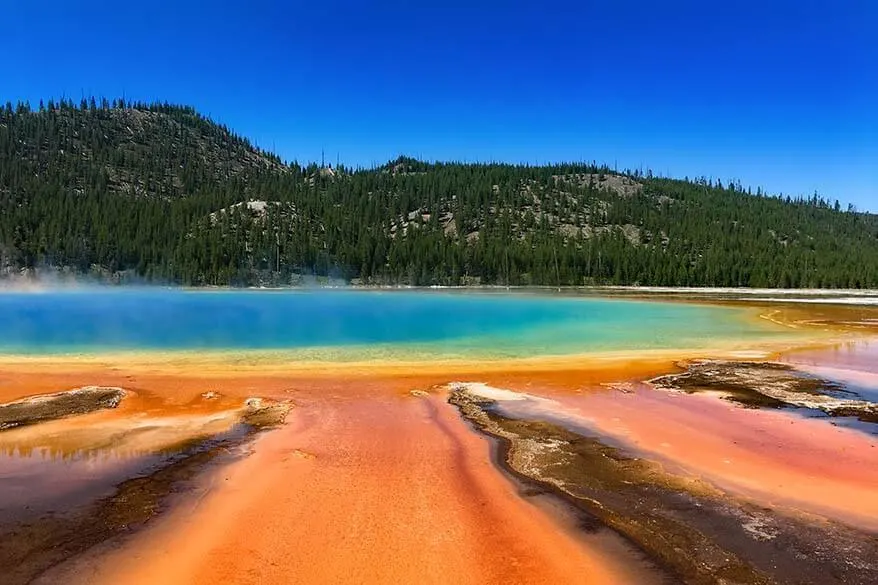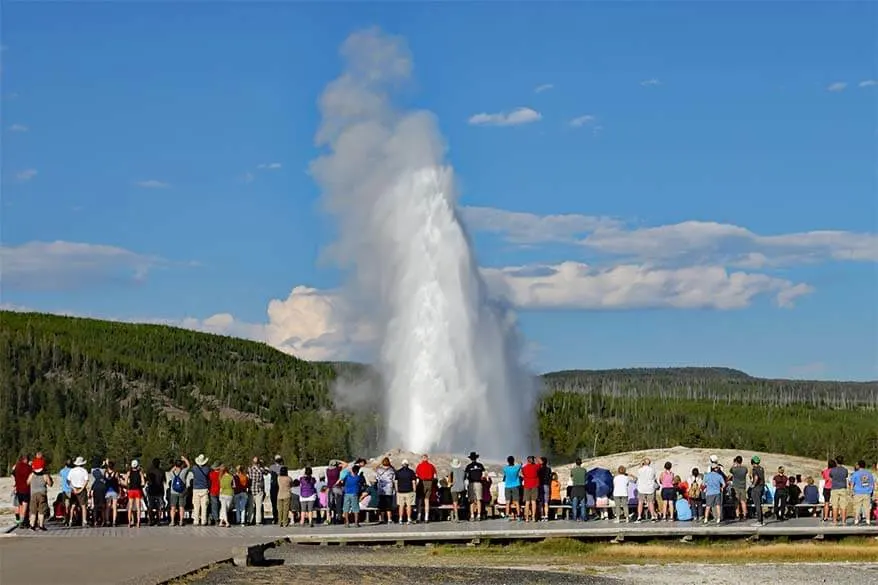 8. National Elk Refuge
National Elk Refuge is an almost 25,000-acre wildlife refuge. It was created over a hundred years ago in order to provide a sanctuary for many elk living in this area.
If you're hoping to see elk at the refuge, visit between mid-December and the first week of April. In winter, there are plenty of elk around and you can take a horse-drawn sleigh ride for a unique way to see the land and the animals that inhabit it.
If you visit Jackson Hole in winter, an excursion to National Elk Refuge is an absolute must! If you want to see other wildlife, you can also opt for a shorter, half-day wildlife safari tour at the Grand Teton National Park.
Although you won't see elk here during the summer months, the National Elk Refuge is still a great stop on your Jackson Hole trip in the summer as well. The elk herd makes its way to higher ground but songbirds, ducks, geese, trumpeter swans, blue herons, and other birds can be spotted at the refuge in the warmer months. And you can still learn a great deal about the huge elk herd during a summer visit.
The best part of our visit to the National Elk Refuge was having the opportunity to talk to the staff who work there and viewing some of the items on display. Visitors can also hunt and fish at the refuge during certain times of the year.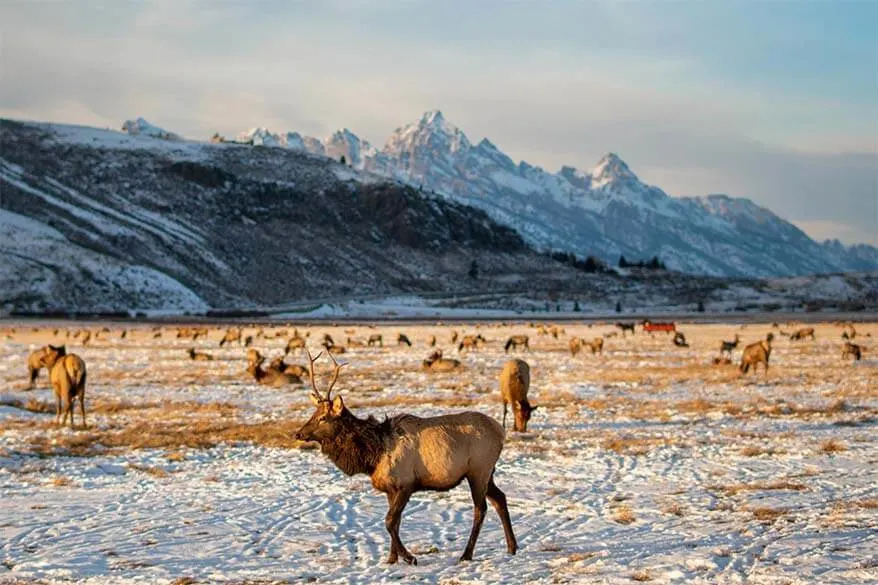 9. Horseback Riding
One of the best ways to experience the western culture of the Jackson Hole area is to visit a ranch and go horseback riding.
Local ranches offer horseback riding excursions that are available in the form of half-day, full-day, or multi-day trips. There are many great places to go horseback riding around Jackson Hole, but for the most scenic rides head in the direction of the Teton Mountains. Most outfitters require children to be at least 5 to 7 years old but welcome riders of any level.
Heart Six Ranch, located north of Jackson Hole in Moran, is one of the very best options for a horseback riding adventure with the best views. You can opt to stay at the ranch, but you can also simply come for a horseback riding tour and enjoy the stunning scenery of the Tetons in a unique way.
TIP: Don't forget to pack long pants or jeans as well as closed-toe shoes as they'll be required for a horseback riding excursion.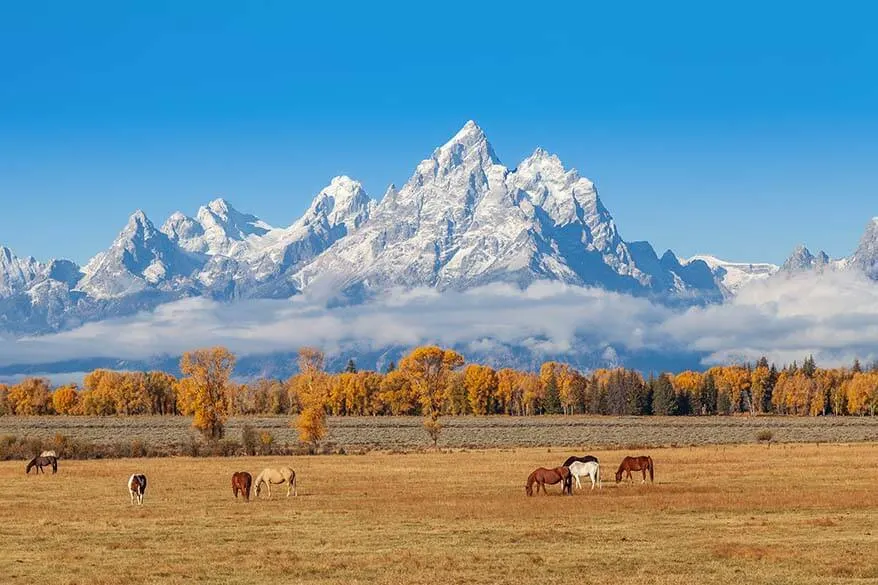 10. Local Museums
If you love learning about the history of the area, a visit to the Jackson Hole Historical Society and Museum is a great way to get acquainted with the history of this region. The museum is divided into two parts. One part is devoted to Native Americans indigenous to the area and the other to the settlers who arrived later. Both give a fascinating insight into the people who shaped the valley.
Art lovers will appreciate the more than 5,000 pieces of art representing animals from around the world at the National Museum of Wildlife Art. Works from prominent artists like Andy Warhol and John James Audubon are displayed here. Collections depict the history of wildlife in art, from 2500 B.C. to the present.
And don't let the words "art museum" scare you away from bringing the kids here. This museum also houses a children's area. Kids can create their own art, see a life-size diorama, try on animal costumes, play in a puppet theater, and curl up in a reading nook. You can get the tickets for this museum here.
Those with young kids will also want to visit the Jackson Hole Children's Museum for some interactive playtime. Exhibits include the Wild Wind Machine, Innovation Wall, and Mountain Market.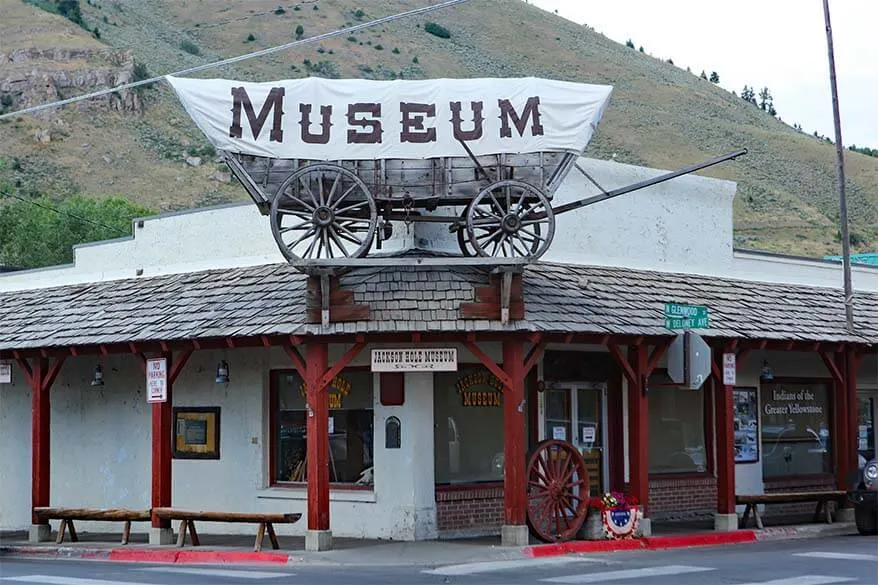 11. Chuckwagon Dinner and Show
One of the most entertaining ways to have a memorable evening is by going to a chuckwagon dinner in Jackson Hole.
Chuckwagon dinners are reminiscent of the way they were done in the Wild West. The food is served outside and with entertainment provided, this is a fun way to experience the culture that shaped the valley. You listen to music and hear tall tales, all while enjoying a hearty meal.
TIP: Some chuckwagon dinners take guests on a covered wagon ride to another location to eat, while others are stationary restaurants. Decide which option is for you before you embark on your culinary adventure.
Chuckwagon dinners can be found in the beautiful Cache Creek Canyon in Jackson. Heart 6 Ranch and Bar-T-5 Covered Wagon Cookout are among the best experiences in the stunning scenery, and there are also a few other places.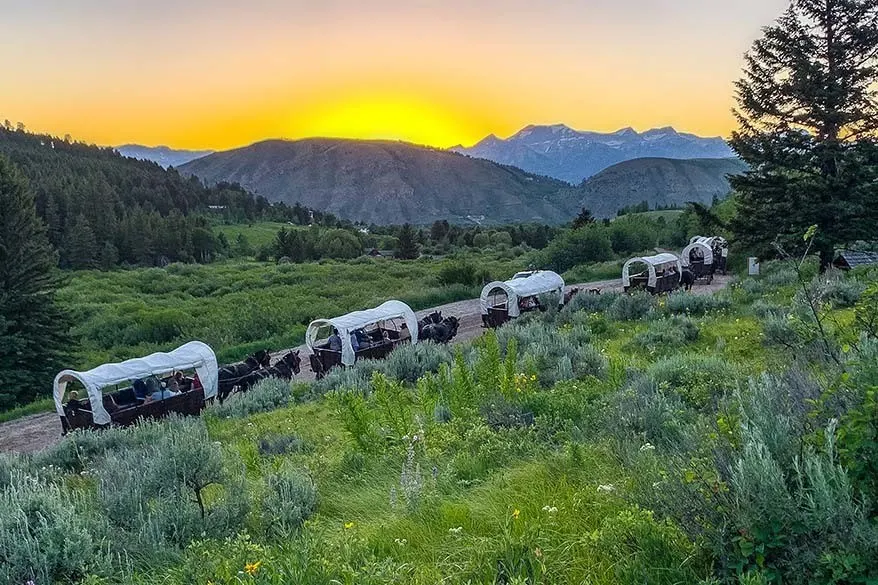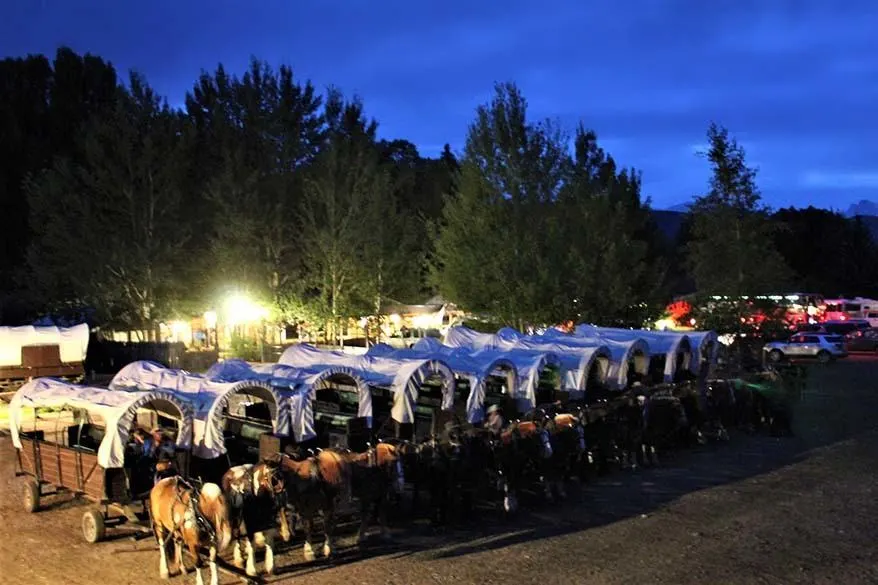 12. Granite Hot Springs
If you're looking to add a relaxing activity in a natural setting to your list of things to do near Jackson Hole, check out Granite Hot Springs. These hot springs are located 1-hour drive south of Jackson (see our map at the top of the article for the exact location).
Alongside Granite Creek, you'll find naturally heated water in a man-made pool, set in a pristine location. If you like a soak in the hot springs, this is a great place to visit near Jackson!
Prepare for a bumpy 11-mile drive to get to the hot spring from the main road. But it's worth it because of the beautiful scenery. Although the facilities are in the "no-frills" category, nature provides all the luxury you need. Hiking and picnic spots are nearby to make the trek there even more worthwhile.
TIP: Be sure to also stop at the waterfall – Granite Falls – that you'll pass on the way.
Good to know: The springs are open in winter and in summer, but closed in the spring and late fall. In winter, you cannot get here by car, only by snowmobile, skiing, dog-sledding, or with a fat bike. For more information, please consult the official website.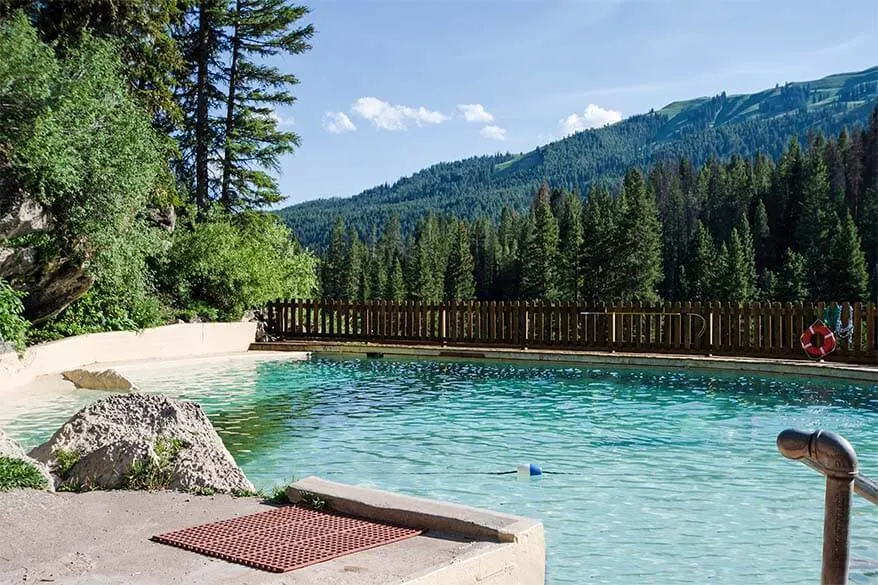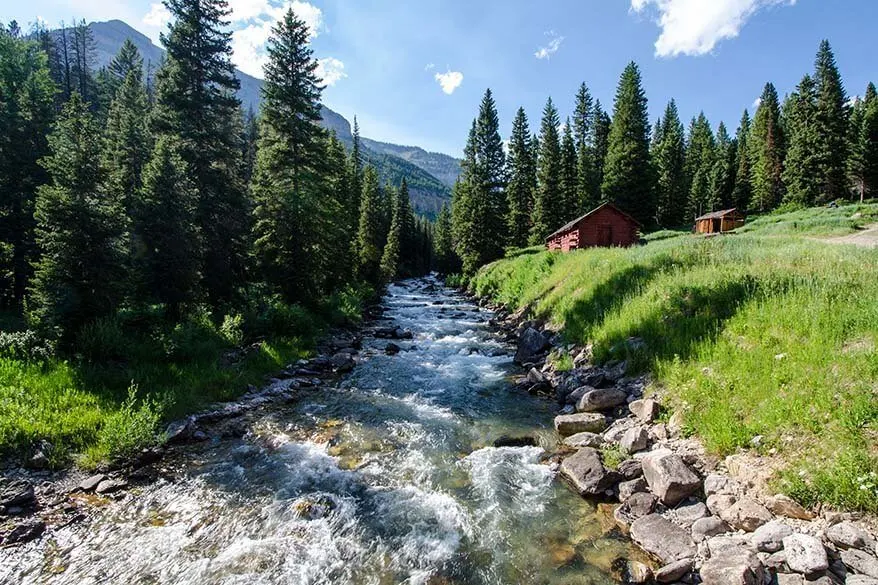 13. Jackson Hole Rodeo
Nothing embodies the spirit of the Wild West more than attending a rodeo. Wyoming definitely has some of the best rodeo shows in the country! The Jackson Hole Rodeo has been entertaining audiences and bestowing accolades to riders for over 100 years.
The Jackson Hole Rodeo is located at the base of Snow King Mountain. It features bronc riding competitions, barrel racing, calf roping, and other rodeo events. Rodeos are held rain or shine in the outdoor arena.
Rodeos are hosted Wednesday and Saturday nights at 8 p.m. Memorial Day through Labor Day weekends, except during the annual fair held for one week in July. Additional rodeos are held on Friday nights throughout July and August. A special rodeo is hosted annually after Labor Day to support the Shriners Hospital for children. For more practical information, see the website of the Jackson Hole Rodeo.
TIP: Want to see the animals outside of the arena and meet the cowboys and cowgirls who compete in the rodeo? Book the "Behind the Chutes Experience".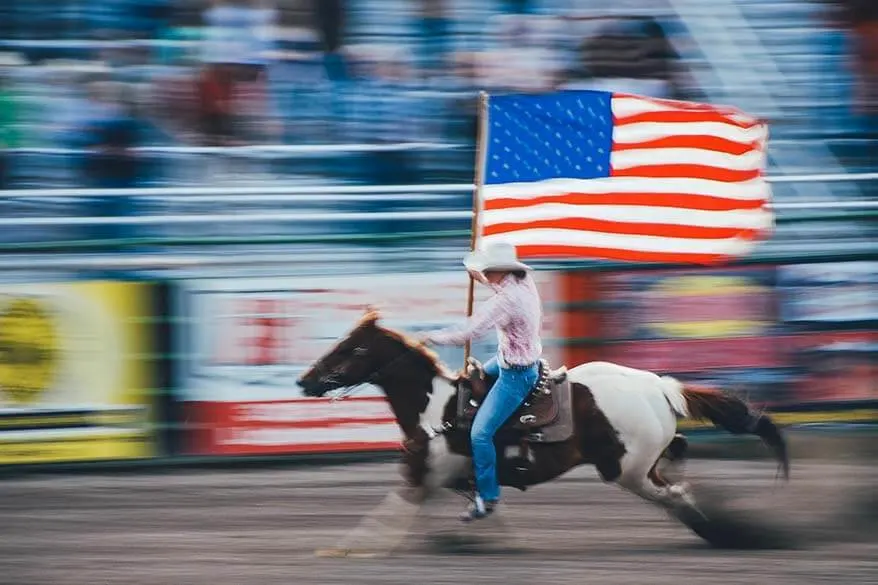 14. Hot Air Balloon or Helicopter Flight
If you are looking for something really special to do in Jackson Hole, then you may want to consider air tours. It's an amazing way to experience the beauty of the Jackson Hole area and the Grand Teton National Park from above!
You can opt for a sunrise hot air balloon tour and there are also helicopter tours. Helicopter travels faster, covers bigger distances, and also flies over the mountains. Whereas hot air balloons will cover smaller distances and you'll be able to enjoy the scenery slower and sometimes you can even see wildlife from above. It's also much cheaper than helicopter tours.
While very different, both these experiences are absolutely unique and you really can't go wrong with either of them! And since these tours take just about an hour, it's very easy to fit them into any itinerary when visiting Jackson Hole.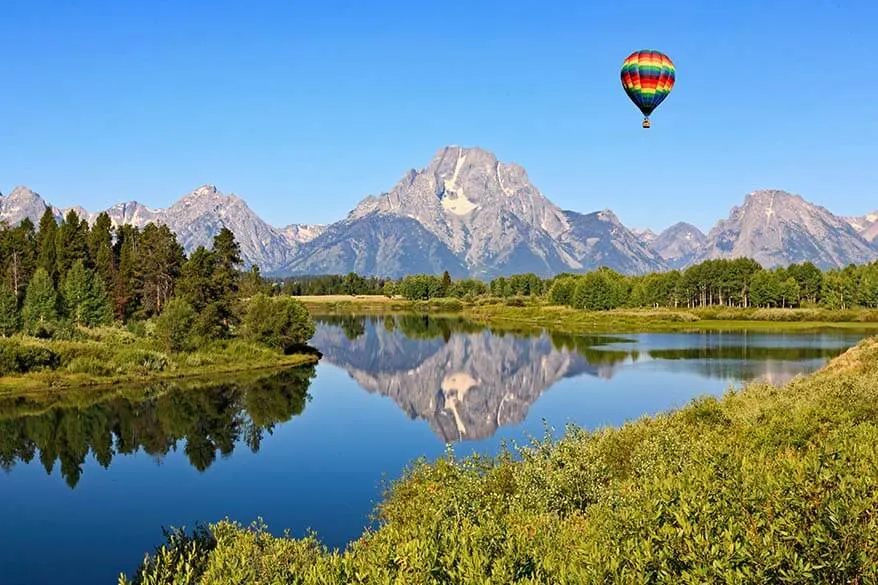 15. Fly Fishing
A fly fishing excursion in Jackson Hole is actually one part world-class fishing and one part a scenic float trip.
Fly fishing in Jackson Hole is ideal for both experienced fishermen as well as first-timers. The summer season runs from June well into the fall, but book your trip early because that's also a popular time to go.
Your best bet is to book an outing with a local fly fishing company. Expert fishermen will then take you to one of the many great spots to cast your reel.
Some options include the Snake River in Jackson Hole, south of Jackson on the Green River, the Henry's Fork section of the Snake River or Palisades River in Idaho, Flat Creek on the National Elk Refuge, or the streams and lakes in Grand Teton National Park.
TIP: Fly fishing is a fun activity for older kids or teens who enjoy spending a least half a day on a small boat. But it's probably not ideal with younger kids who can't sit still.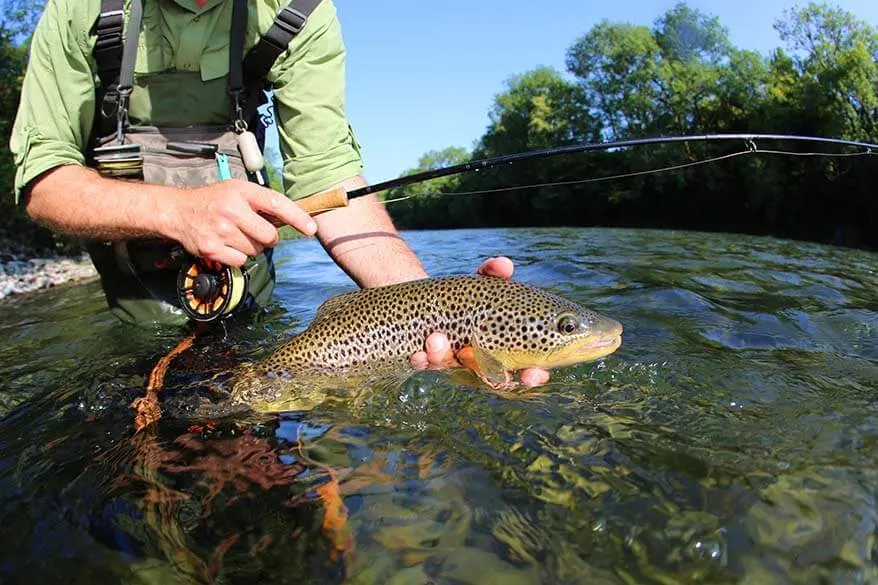 16. Camping
Whether you are looking for glamping with all the amenities at your fingertips or are looking for a traditional camping experience off the beaten path, you'll find all kinds of camping experiences in the Jackson Hole area.
Camping in Bridger Teton National Forest, Gros Ventre Wilderness Area, or Caribou Targhee National Forest is one of the best things to do near Jackson Hole in summer. Definitely, if you are visiting with kids!
If you're looking for a campground for tent camping, check out Jenny Lake, Gros Ventre, Lizard Creek, or Signal Mountain campgrounds. For RV camping, check out Headwaters Campground at Flagg Ranch or Colton Bay Campground.
TIP: If you're looking for a camping location that's more remote but still safe for families, ask locals about Curtis Canyon, near the National Elk Refuge, or other "secret" spots near Jackson Hole where you'll be likely to have plenty of space to call your own.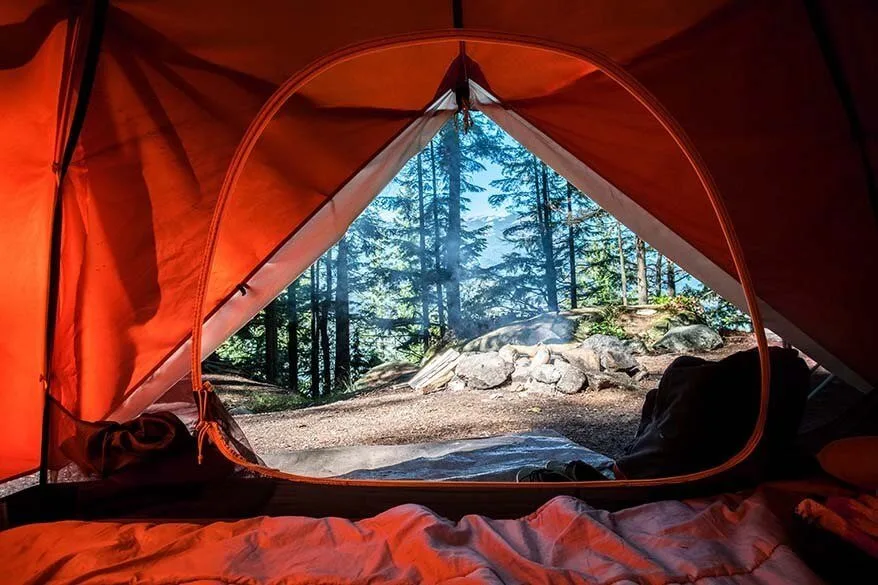 17. Winter Activities in Jackson Hole
In addition to all the great things to do in Jackson Hole in summer, it's also a wonderful destination for a winter break! There is so much to experience in Jackson Hole in winter as well. Here are some of the best options:
Skiing, cross-country skiing, and snowshoeing. Some of the best places to go skiing near Jackson Hole are the above-mentioned mountain resorts (Jackson Hole Mountain Resort, Snow King Mountain, or Grand Targhee). For snowshoeing, there are tours available and they usually go to the Grand Teton NP.
Dog sledding or snowmobiling. If you are looking for a fun day spent in the most beautiful winter scenery, definitely consider dog sledding tours or a snowmobile tour near Jackson Hole. Having done this in various other destinations, I find that these are some of the best winter activities you can ever do! Especially with the scenery that you find around Jackson!
Horse sleigh rides. Another great way to experience the stunning winter landscapes of Jackson Hole and the Tetons is by going on a horse-drawn sleigh ride. It's a very unique adventure that you'll remember for years to come.
Wildlife safaris in Grand Teton National Park. Also in winter, there are tours to Grand Teton NP from Jackson Hole. Many of them also visit National Elk Refuge mentioned above.
Winter day trips to Yellowstone. And yes, also in winter, you can visit Yellowstone from Jackson Hole. Because the roads are closed to regular vehicles, you can only visit with a snowcoach or with a snowmobile (usually only available for bookings once the winter season actually starts).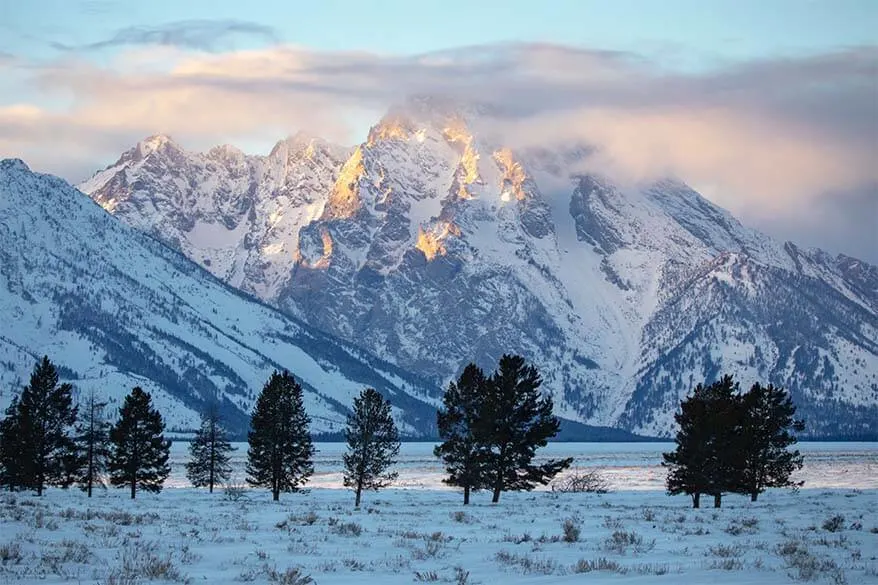 Where to Stay in Jackson, WY
There are so many nice places to stay in the Jackson Hole area. There are numerous hotels in Jackson town itself and lots of nice accommodations nearby (see an overview on Booking.com or on Expedia).
Depending on what you are planning to see and do, you may want to stay in town, at one of the ranches, go glamping, or camping. Or you can also choose several different accommodations in several areas and save yourself some driving each day. The possibilities are endless…
Further below, you can read about our experience and where we stayed. And here are a few of the most popular hotels in Jackson, WY: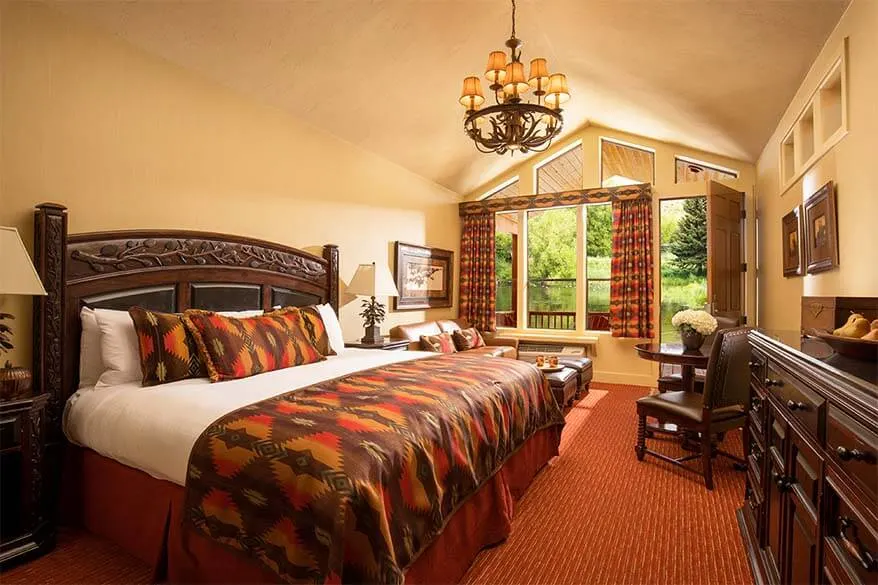 Where we stayed
We spent more than a week in Jackson Hole and also close to Yellowstone and stayed in a couple of different places.
I spent a ton of time comparing accommodations in Jackson town with the resorts at Teton Village. And then when we were there, I visited a few of the Teton Village resorts. For a summer trip, I was glad that we opted to stay downtown for the biggest part of our trip because it allowed us to split up our time a little more easily.
This is where we stayed in Jackson Hole and nearby:
Editor's note: When we visited Jackson, we stayed at The Lexington at Jackson Hole and we can recommend it as well. The location is very central and you can walk to shops and restaurants in town. Furthermore, they have spacious parking and an indoor pool, and the rooms are really nice too. This upper-mid budget hotel is perfect for a short stay, but also for a longer holiday in Jackson Hole.
READ ALSO:
Best Towns & Hotels Near Yellowstone
Where to stay in Yellowstone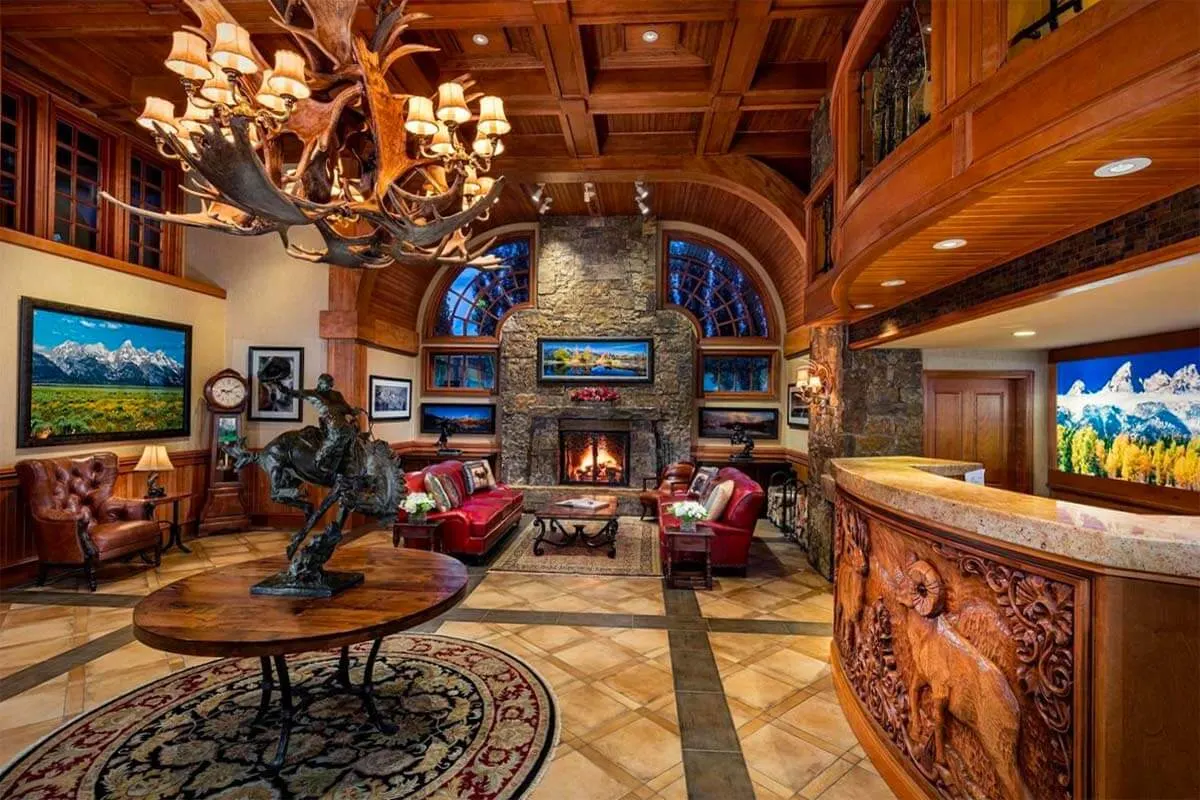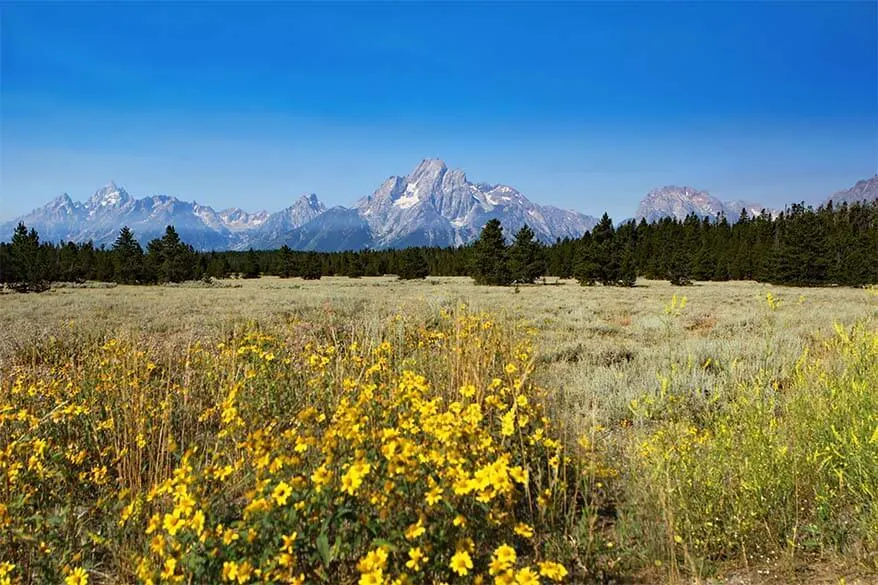 So, this is our guide to the best things to do in Jackson Hole and nearby. I want to thank our guest writer Candi once again for all the great tips and hope that they will help you make the most of your trip to this beautiful area!
If you are looking for more information for your visit to Yellowstone, you can find landmark guides, itineraries, and practical tips in our Yellowstone travel guide. Check it out!
READ ALSO: Essential Tips for Visiting Yellowstone & Yellowstone Itinerary
If you found this post useful, don't forget to bookmark it and share it with your friends. Are you on Pinterest? Pin these images!