Are you considering a trip to Dubai, but have no idea how much it costs? Is Dubai expensive to visit? How much money do you actually need for a trip to Dubai? This article should answer some of your questions!
Dubai is indeed not cheap, but – as everywhere in the world – it also depends on the choices you make. The biggest expense is, of course, the flight and the hotel, followed by some activities and excursions. Transport and food prices are comparable to those in Western Europe.
In this article, we give some examples of how much everything costs in Dubai and how expensive is Dubai for tourists.
You can also find some experienced-based tips on how to save money when traveling to Dubai. Find out!
READ ALSO: What to Wear in Dubai
What does a flight to Dubai cost?
Return flight prices from Western Europe to Dubai start from 350-400 EUR depending on the travel period and how much in advance you book.
TIP: You can find the cheapest flights by using search engines like Skyscanner, Momondo, or Kayak.
How expensive are Dubai hotels?
You will find some of the world's most expensive hotels in Dubai, but there are plenty of more affordable options as well. The cheapest room for 2 at Burj Al Arab will cost you almost 2.000EUR/ night, but you can also stay for a week for the same price at 'regular' hotels. There are also plenty of more budget-friendly accommodations as well.
Hotel prices in Dubai highly depend on the hotel you choose, the location, the number of people/rooms, travel period, etc. It's really impossible to give an estimate.
The best way to get a quick idea of accommodation prices in Dubai is by checking websites like Booking.com. It's also often the quickest and the most transparent way to find the best deals for your stay.
TIP: Using the map below, you can compare hotels and short-term rental accommodations in Dubai. Simply insert your travel dates and group size, and you'll see the best deals for your stay. Check it out!
The best areas to stay in Dubai are close to the beach and in particular Jumeirah Beach, Jumeirah Beach Residence at The Walk, and The Palm.
Important to know: Keep in mind that Dubai accommodation prices that you see online don't include municipality taxes and fees. These fees add up to more than 20% of the price that you see and you have to pay this at the hotel.
Our experience: We stayed at DoubleTree by Hilton Jumeirah Beach hotel. It's a great option for big families looking for a very good price/ quality ratio at a fantastic location. You can read the complete review of DoubleTree by Hilton Jumeirah Beach Hotel Dubai here.
Is food expensive in Dubai and how much to budget for restaurants?
Like everything else in Dubai, you can find food and restaurants in all price categories. Traveling with young children, we usually keep clear of the most romantic upmarket restaurants so I cannot comment on those. We didn't go to KFC or McDonald's either. We mostly dined at the restaurants on The Walk or in one of the malls.
The price we paid for lunch or dinner varied from 240 to 500 AED (60 to 125 EUR) for 2 adults and 3 children.
TIP: Go out for dinner. Prices at hotel restaurants are usually much higher than prices at restaurants in town. You will often pay at least twice the price at the hotel restaurant compared to dining outside of the hotels.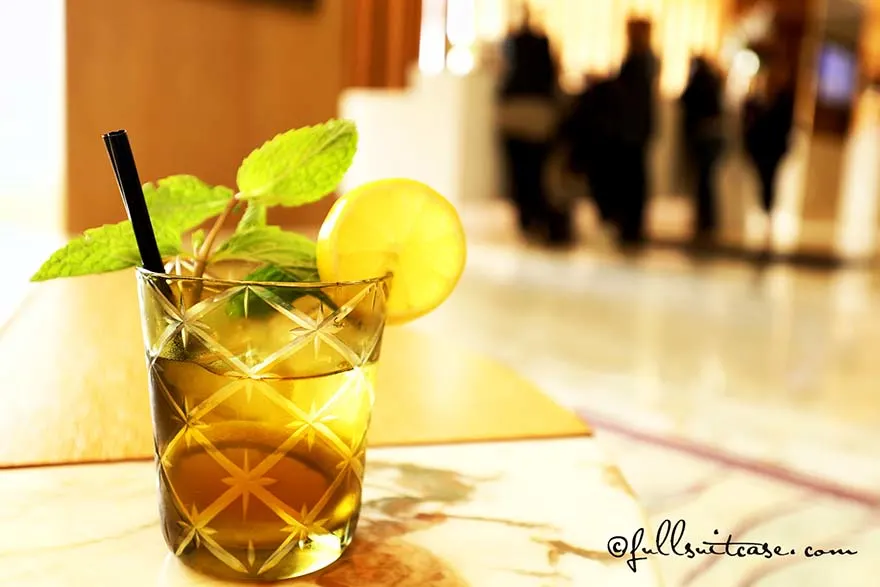 Examples of the average Dubai restaurant prices
Soft drinks: 15-18AED (4-4,5 EUR)
Smoothies and shakes: 24-30 AED (6-8 EUR)
Children's menu (often includes a drink): 25-40 AED (6-10EUR)
Appetizers and desserts: 20-40 AED (5-10EUR)
Sandwiches and burgers: 35-55AED (9-14 EUR)
Main dishes: 40-100AED (10-25 EUR). Local dishes are usually cheaper and you can have an excellent lamb dish for 40AED (10EUR), but a good steak can quickly cost you 150AED (38EUR).
There was a little supermarket close to our hotel at The Walk, and food prices there were very comparable to those in Western Europe.
How much does alcohol cost in Dubai?
I don't have a good idea of how expensive alcohol is in Dubai. The only time we had alcohol was when we ordered two strawberry daiquiris at the pool bar of our hotel, and it was a happy hour price of 50AED (12 EUR) for two.
We preferred non-alcoholic cocktails, fresh fruit smoothies, and shakes which I can highly recommend!
How expensive is a metro or taxi in Dubai?
Public transport such as the metro or taxi is very cheap in Dubai. Here you can find more detailed information about Dubai public transport and prices.
What about tax-free shopping in Dubai & how expensive is clothing or electronics?
Dubai malls are among the biggest in the world offering a huge selection for any budget: from H&M, Zara, or GAP to Chanel, Dior, or Louis Vuitton.
We found that most prices in Dubai are much higher than in Europe: clothing, electronics, toys.
Dubai is therefore probably not the best destination for a shopping weekend with your girlfriends.
How much do excursions and activities cost in Dubai and how to save money?
Some of Dubai's activities are completely free or very cheap. Some others can cost an average month's salary…
Most day trips and popular excursions in Dubai will cost you between 50 and 150 EUR, depending on the duration, activity, group size, etc.
Good to know: For the best price and availability, book your Dubai excursions in advance. Here you can find our selection of some of the best tours in Dubai.
TIP: One of the best ways to save money on tourist attractions in Dubai is by getting Dubai Unlimited Pass with access to over 45 included attractions and experiences over 3 or 5 consecutive calendar days. Dubai: iVenture Card Dubai Select Pass is another good option to save money on Dubai's top activities.
To help you get a better idea of what to expect when visiting Dubai's most popular activities and save money, we included some experience-based tips below. Read on!
READ ALSO: Best Free & Cheap Things to Do in Dubai
How expensive are Dubai's water parks and how to book with a discount?
The most expensive activity we did was a day at Aquaventure waterpark at Atlantis, The Palm. The cheapest online ticket now costs about 80 EUR for adults and about 65 EUR for kids under 1,2m (4 feet). If you don't get your tickets in advance, you will probably pay at least 15-20 EUR/pp more per person.
GetYourGuide now offers a pretty good deal for Aquaventure in combination with the Lost Chamber Aquarium. Their cancelation policy is the best out there.
A locker will cost you another 10-20 EUR, and you do need one of 20 EUR in order to fit a regular-size backpack. You have to pay for the towels as well, so better bring one from your hotel.
Food and drinks are quite expensive in the park, but somewhat comparable to similar places in Europe (count 5 EUR for small fries and 4 EUR for a drink) and you are only allowed to bring a bottle of water per person with you.
Other water parks like Wild Wadi in Dubai and Yas Waterworld in Abu Dhabi are a bit cheaper than Aquaventure.
TIP: If you intend to spend several days at the Aquaventure water park, consider booking a room at Atlantis hotel. The entrance to the park is included in the price of the hotel room.
This might be quite a good deal for a family of 3 or 4 people staying in one room in a less busy season. Depending on the season, the prices at Atlantis and family room rates start at around 500 EUR (+ tax) per night for up to 4 people. If you take into account that tickets to the water park alone cost about 300 EUR for a family of 4, staying here can sometimes be quite a good deal!
Note that children under 1,2m (4 feet) are not allowed on any of the big rides in Dubai water parks. There is a children's play area with water slides and they can join you on the Lazy River as well.
There are plenty of other activities at Aquaventure. You can swim with dolphins, feed the fish, or have pictures taken with sea lions… These are all very expensive and you have to figure out if they are worth it for you and your family. Whatever you decide, remember that it will be much cheaper if booked well in advance.
How expensive is it to visit 'At The Top' in Burj Khalifa
Another must-do in Dubai is visiting the top of Burj Khalifa – the world's tallest building.
The cheapest regular ticket to 124+125th floors costs (from) about 42 EUR. A visit at sunset will cost you almost double, and prepare to pay three times the price if you don't want to wait in line. You will pay at least 135 EUR per person for admission to the Sky level (148th floor).
We went at 6.30 PM just after sunset and enjoyed amazing views of Dubai at night. We also saw a dancing fountain performance from above. The waiting time to go up was no longer than 15 minutes, so I don't really see why you would want to pay three times the price for immediate access. We had to wait longer to go down and that is the same for everyone, no matter which ticket you buy.
The price for Burj Khalifa is the same at the counter as it is online, but if you don't book in advance the chances are high that there will be no availability at certain times. If you haven't booked, try going early in the morning or late at night as it's less busy.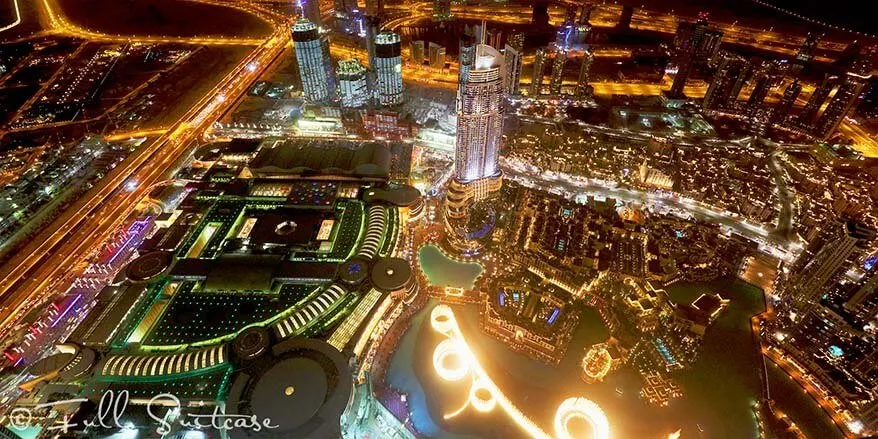 Dubai Aquarium and Underwater Zoo
The entrance fee to the Dubai Aquarium and Underwater Zoo is pretty steep, starting at about 35 EUR per person.
TIP: If you want to visit the aquarium, it is better to get a combination ticket that includes Burj Khalifa tickets as well.
Good to know: Dubai Mall gets very busy in the afternoon and the line to get into the aquarium got very long after 2 PM, so get up early and go there first thing in the morning. Or admire this huge aquarium from the Mall for free and save your money for something else.
Dubai Marina Dinner Cruise: our experience
One of the most popular excursions in Dubai is a Dubai dhow dinner cruise. There are many companies operating the boats and you will find plenty of options.
We had booked a New Year's Eve cruise which got canceled without any apologies and we were offered another one 2 hours later the same evening at 10 (!) times the price instead. You get to see the fireworks, they told us!
1500 EUR is quite a bit more than I am willing to pay to see the fireworks from the boat. We could see them better from our hotel room! This is Dubai – if there is demand, they adjust supply and the prices. But you still don't know if you will get what you were promised…
We then looked online and found another company that operated the cruise at the regular price and we really enjoyed the evening. We booked Alexandra Dhow Cruise and it was a great price/quality ratio for families as children under 6 were free.
We paid 420 AED (105 EUR) for a dinner cruise for the 5 of us and it was about the same price as just dinner at a restaurant. You get a buffet dinner, great views, and a traditional dance performance. We found this cruise really worth doing in Dubai.
TIP: Based on our experience, I wouldn't recommend booking any tours with the local companies directly, but rather using sites like Viator or GetYourGuide. If something goes wrong, at least you get your money back, and often, they'll find an alternative for you as well. Also, local companies can't risk canceling on big operators like that, whereas canceling some individually booked tours doesn't have any consequences for them.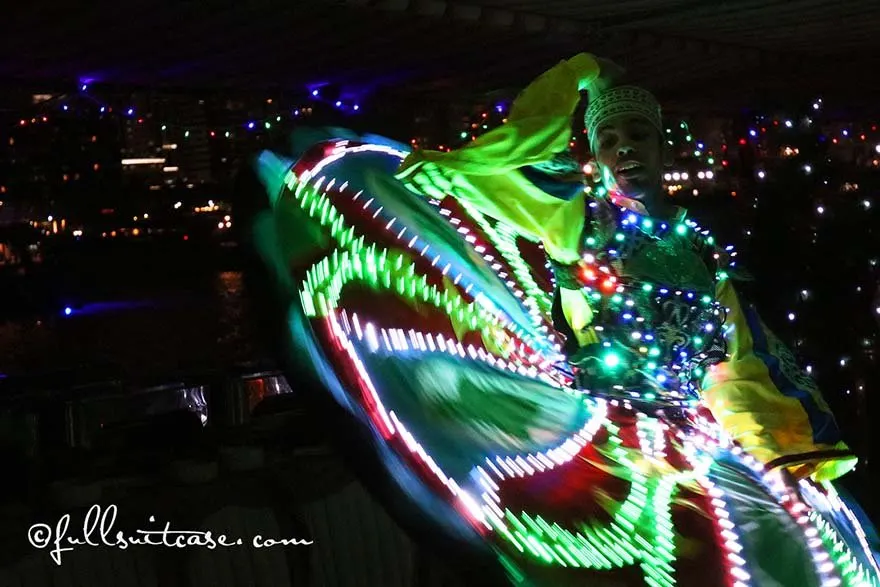 I hope that this overview of Dubai prices will help you prepare better for your visit so that you can avoid unpleasant surprises for your wallet.
If there is one tip I can give you when trying to save money on your trip to Dubai is to do research and book as much as possible in advance. Dubai is not cheap, but with some advance planning, you can keep your trip budget lower.
FAQ
Here are some frequently asked questions about how expensive is Dubai for tourists and our short answers to them:
Is Dubai expensive to visit?
Visiting Dubai can be as expensive or as cheap as you want and so much depends on your choices. In general, prices in Dubai are comparable to other major cities in the world. Accommodation and tours can be quite expensive, but there is so much choice that you can make it more budget-friendly if you wish. Restaurant prices are comparable to those in Western European cities.
Is Dubai expensive for food and drink?
Also for food and drink, Dubai can be as expensive or as cheap as you want to make it. There are cheap restaurants, popular restaurant chains, and also very upscale restaurants. Prices of drinks also depend on the restaurant, with alcoholic beverages being more expensive, or course.
How much does a meal cost in Dubai?
The main dish in Dubai restaurants usually cost around 40 – 100 AED (10-25 EUR). Sandwiches and burgers cost 35 – 55 AED (9-14 EUR). Appetizers and desserts cost around 20-40 AED (5-10 EUR). Of course, there are always exceptions, from cheap street food stands to upscale restaurants. Also, local dishes are usually cheaper than e.g. an imported steak.
Can you drink alcohol in Dubai?
While alcohol consumption is strictly regulated, yes, you can drink alcohol in Dubai as a tourist. However, you can only buy and drink alcohol in licensed venues, such as hotels, restaurants, or nightclubs.
** Traveling to UAE soon? Make sure to check our hand-picked selection of the best Dubai tours and activities that you really shouldn't miss!
** If Dubai is high on your list, but you have limited time and/or budget, you could consider a short stopover in Dubai in combination with another trip.
More inspiration and information for visiting Dubai:
For families: What to Do in Dubai with Kids
Getting around: Dubai Public Transport – Getting around Dubai
Interesting to know: Interesting Facts About Dubai
If you found this post helpful, don't forget to bookmark it and share it with your friends. Are you on Pinterest? Pin this image!