On the 30th of June school was out and we were both wondering how in the world we would keep the kids busy for 62 days. Tomorrow, on the 1st of September, we will be driving the kids to school wondering where the time went.
I have to admit that I have very mixed feelings about it. On one hand, I'm glad that the kids will be back to school tomorrow and I will finally be able to get something done without getting interrupted every half a minute. On the other hand, I cannot believe the long-awaited summer vacation is over.
Vacation full of unforgettable experiences, amazing places, and so many great memories. I'll probably need the whole winter to write about even a small part of what we've seen and done, but for now – here is a short overview and 29 pictures of some of the fun, crazy and unforgettable things we did this summer.
Switzerland, France, Yellowstone, Arches National Park, Rocky Mountains, the Netherlands… these are just a couple of places we visited with kids this summer. I look at the thousands of pictures on my computer and cannot believe they are all from the last two months… I wonder if I will ever get our family albums up-to-date…
Looking for some travel inspiration in the U.S. or Europe? This post should give you plenty of ideas for your next trips.
Most Beautiful Roads
People often say that it's all about the journey, not the destination. So here are some pictures of those amazing journeys in between the – just as amazing – destinations.
We drove some of the world's most beautiful roads this summer! From the highest continuous paved road in the United States – Trail Ridge Road which reaches an elevation of 12,183 feet to the longest causeway in the Netherlands crossing 32 km over the sea…
Arches Scenic Drive, USA
We never expected Arches National Park to be so scenic. It exceeded all our expectations!
This National Park isn't that big, but it has so much to offer! The good thing is that you can see so much just by taking short stops along the main scenic drive. Yes, there are some amazing hikes in Arches, but even if you don't hike, you'll be able to experience the most incredible sceneries!
LEARN MORE: Arches Scenic Drive
Here you can find more inspiration for the best things to do in Arches National Park and also the best things to do in Canyonlands National Park, just nearby.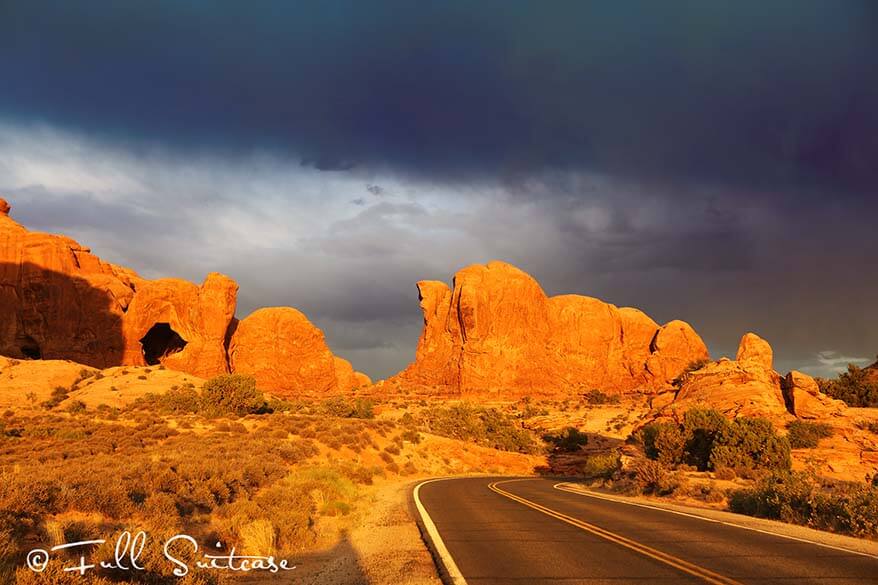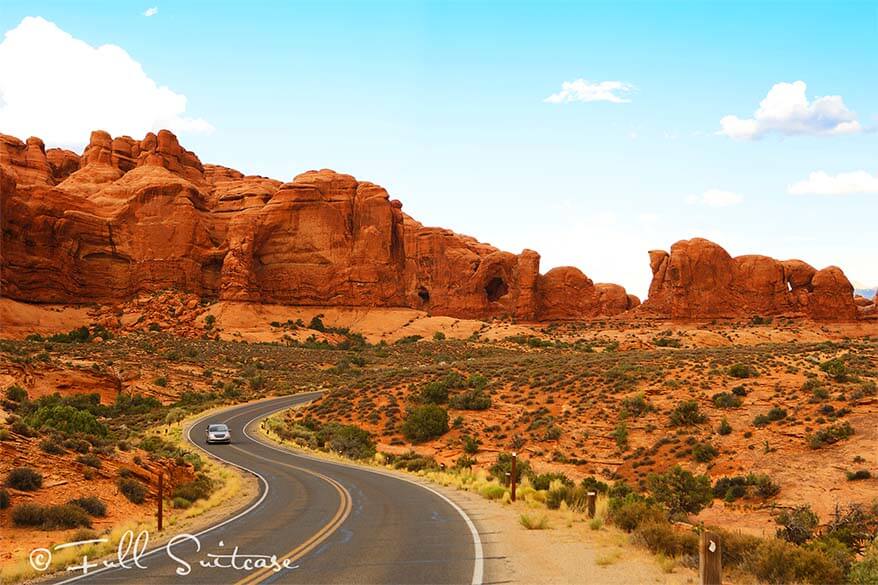 Grand Teton National Park, USA
I have to admit that I expected more of Grand Teton National Park, but you wouldn't tell it when driving this beautiful road.
From everything we saw and did in Grand Teton, simply driving the scenic road through the park, was the highlight. The scenery is stunning!
READ ALSO: One Day in Grand Teton National Park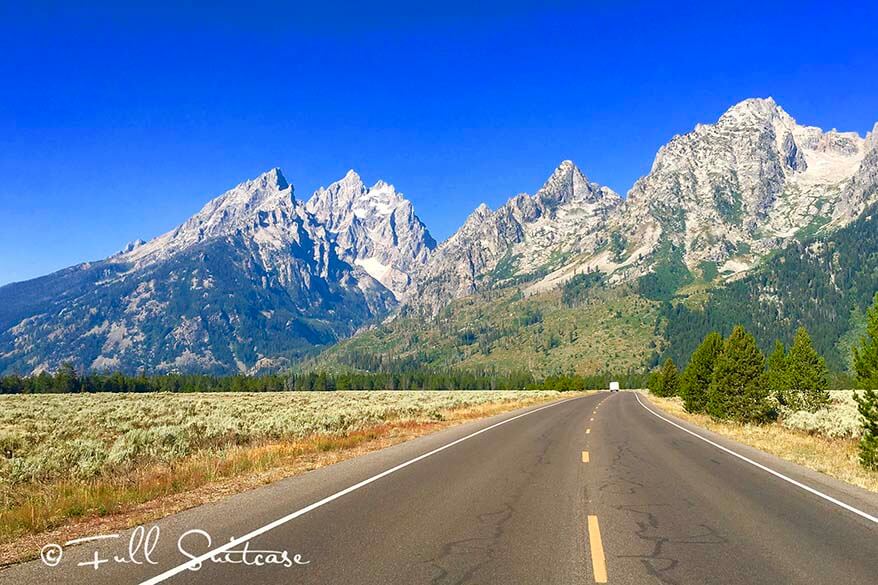 Scenic Highway 128 in Utah, USA
I read about this road by coincidence when preparing for our visit to the Moab area (close to Arches and Canyonlands).
It was described as 'Utah's best-kept secret'. The pictures don't do it justice – it's definitely one of the most beautiful roads, ever!
READ ALSO: Moab Itinerary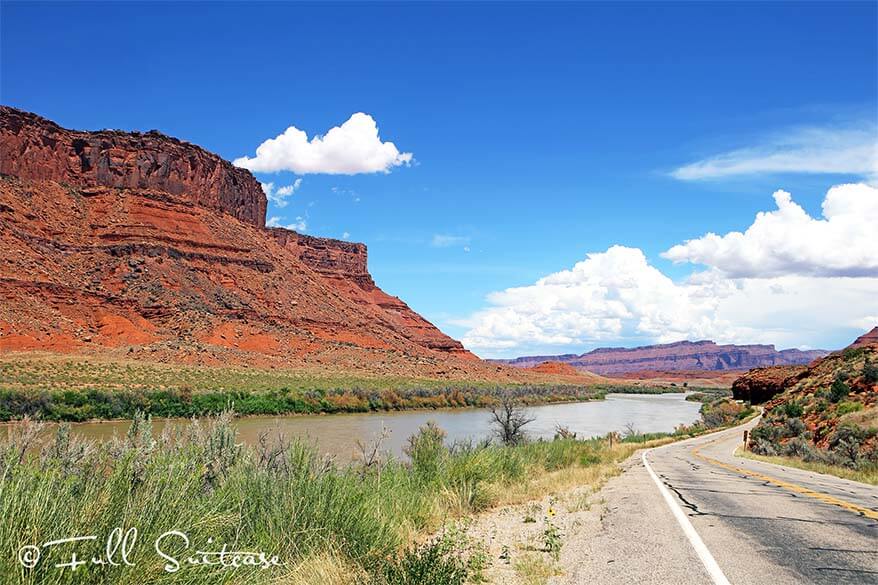 Afsluitdijk, Netherlands
Afsluitdijk in the Netherlands is a 32km – long causeway over the sea. It's literally a highway in the seas.
Driving here is very impressive, maybe even more so because of the stormy weather we had that day… Nevertheless, I'd love to redo this on a sunny day.
Furka Pass, Switzerland
There are many beautiful roads in Switzerland, but you won't find them driving the highways… The mountain passes are the most spectacular, of course. So if you're visiting Switzerland in the summer, make sure to drive a few mountain passes. It's a not to be missed experience!
Probably the most famous mountain passes in Switzerland are the three passes very close to each other Furka Pass, Susten Pass, and Grimsel Pass.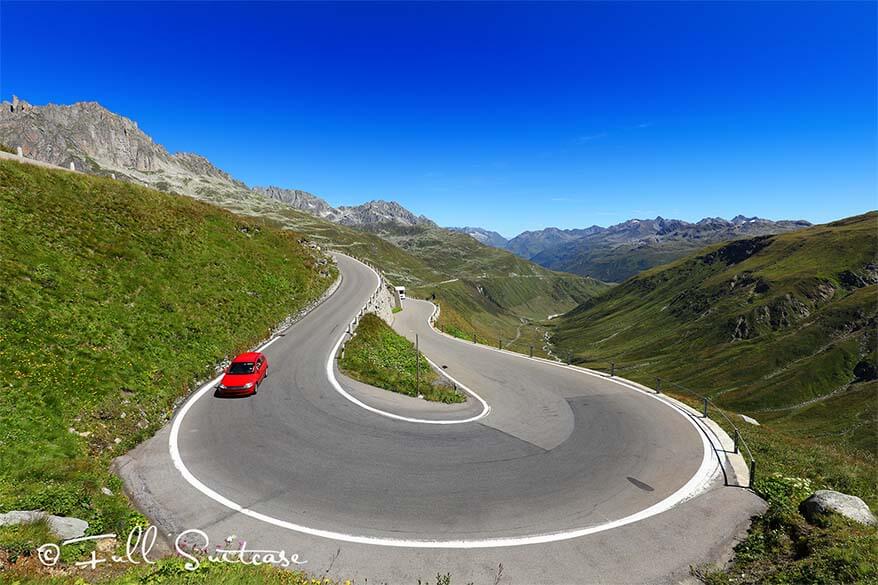 Unbelievable Places
We visited some incredibly beautiful places this summer. Charming little towns, stunning landscapes, erupting geysers and the most unbelievable nature creations… All this and so much more – check it out!
Yellowstone National Park, USA
I'd need a couple of hundred pictures to even try to describe the amazing diversity and beauty of America's oldest National Park. Grand Prismatic Spring, Old Faithful Geyser, Mammoth Hot Springs, or Yellowstone Canyon – these are just a few of the incredible natural wonders you'll find in Yellowstone.
We loved Yellowstone so much that we have written lots of guides to help you plan a memorable visit of your own. Take a look at a few featured articles below or go straight to our Yellowstone Travel Guide for a complete overview!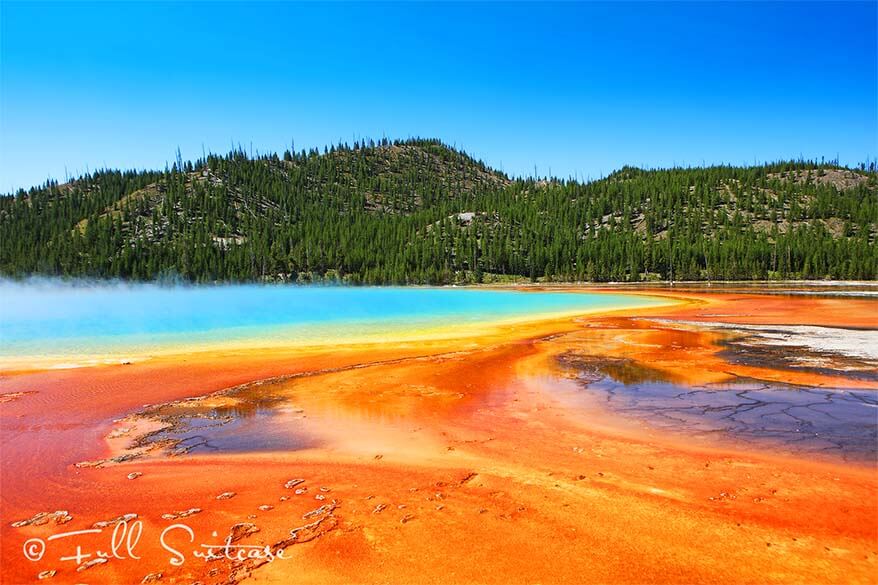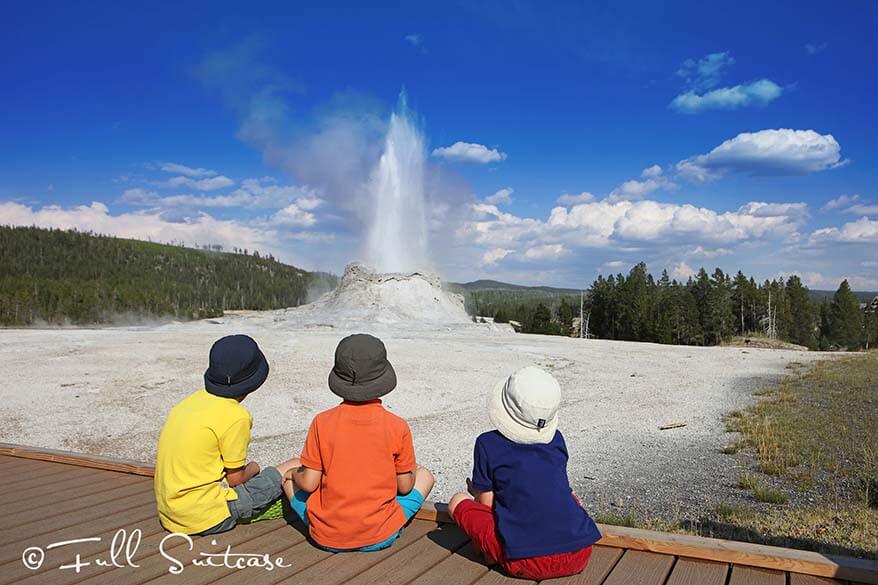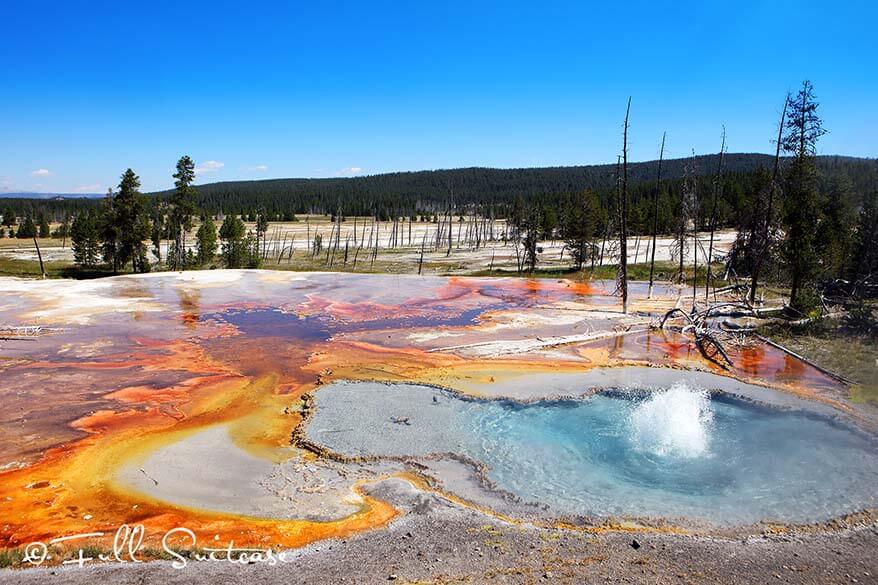 Maroon Bells, USA
If there is one place that was absolutely worth getting out of bed for early in the morning, then it's the Maroon Bells near Aspen, Colorado.
These are the most-photographed mountains in the United States. And when you see the unbelievable reflections early in the morning, you understand why!
LEARN MORE: Maroon Bells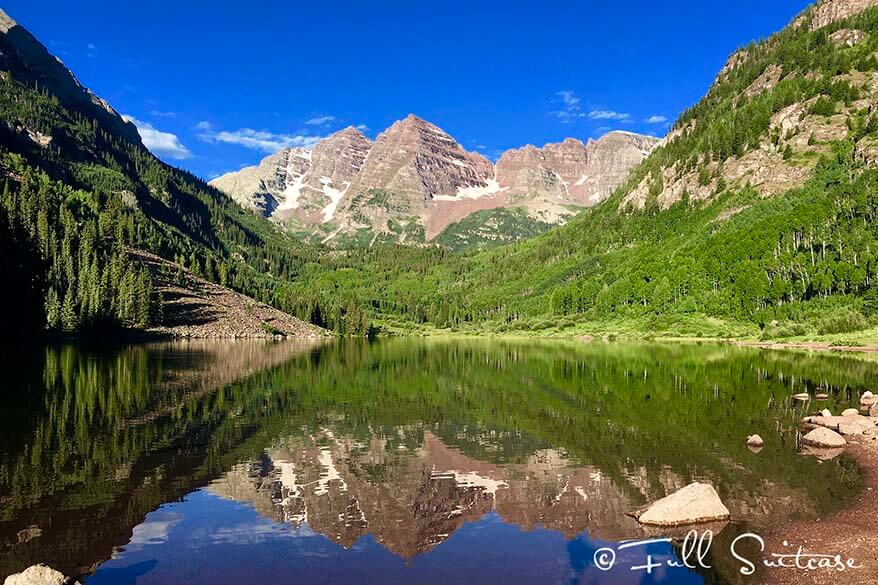 Colmar, France
I cannot believe that we passed Colmar so many times on our way to Switzerland without ever taking the time to visit. This town is so picturesque that it's hard to believe it's even real. But it sure is! One of the most beautiful towns in France.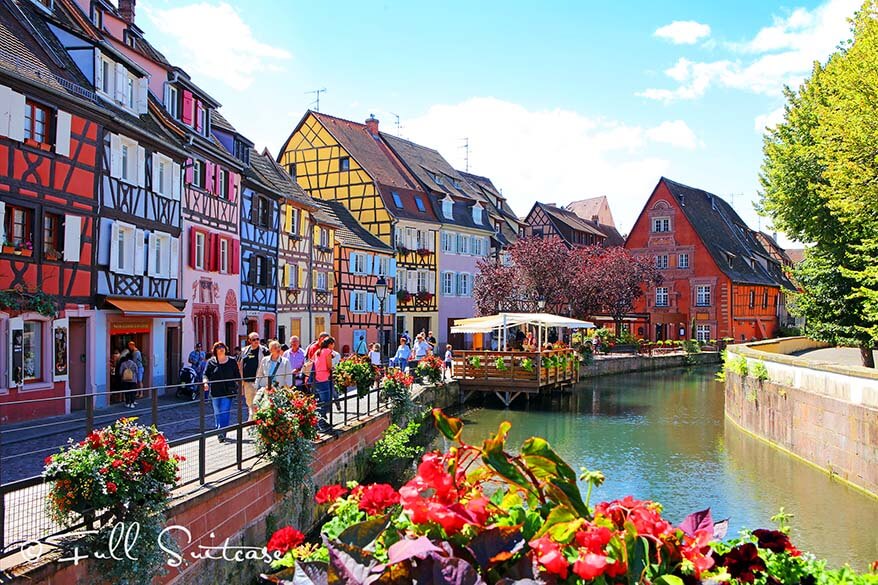 Giethoorn, Netherlands
Giethoorn has to be the most beautiful village in the Netherlands! There are no streets here, only the canals. Instead of walking or driving around, you have to take a boat to explore this fairytale village.
Just don't be like us and if you can avoid it, don't go when it rains. See further.
READ ALSO: Best Day Trips from Amsterdam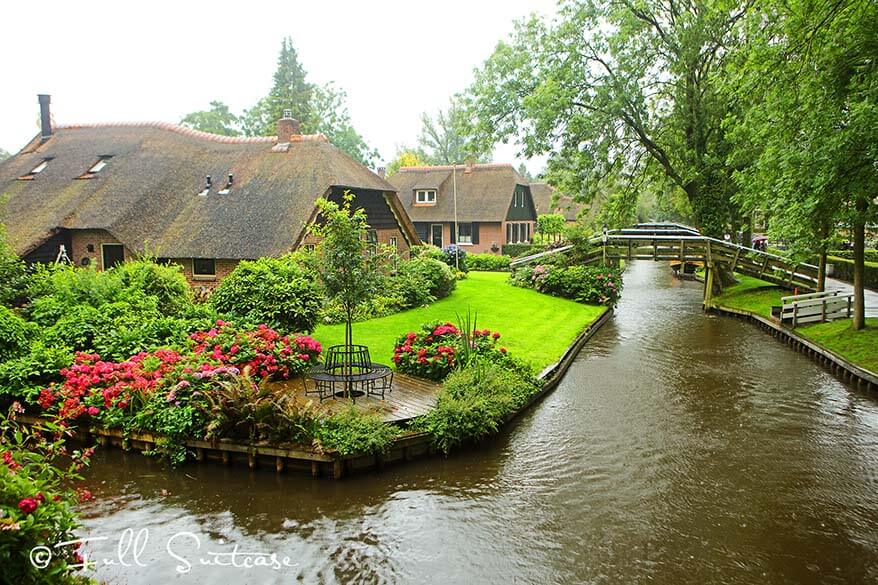 Ice Grotto, Switzerland
If you ever want to walk in a real ice tunnel, you can do so in Switzerland. Last winter we visited the Ice Grotto at Mount Titlis. This summer – the one at the earlier-mentioned Furka Pass.
We have a short video of the walk on our Facebook page – check it out!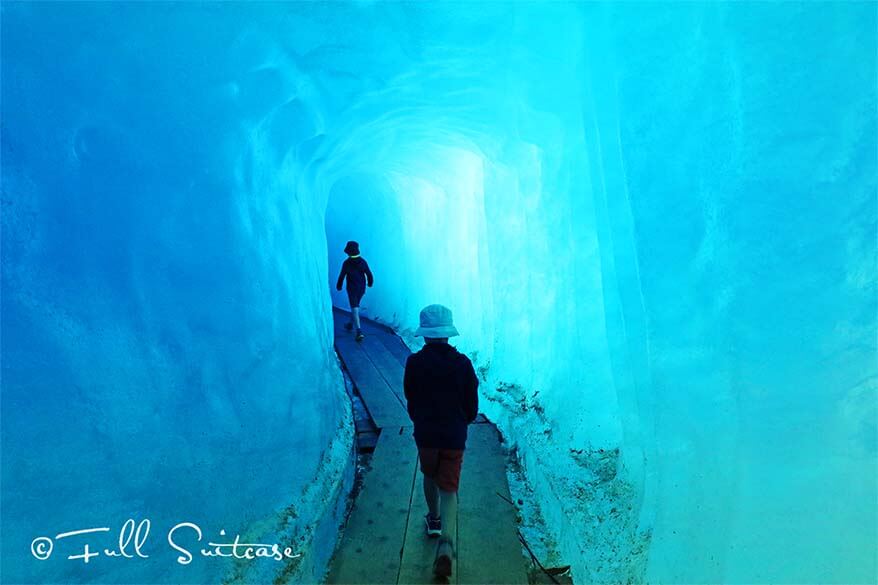 Alkmaar, Netherlands
One of the most fascinating things we did this summer was visiting the world's most famous cheese market, Alkmaar Cheese Market.
LEARN MORE: Alkmaar Cheese Market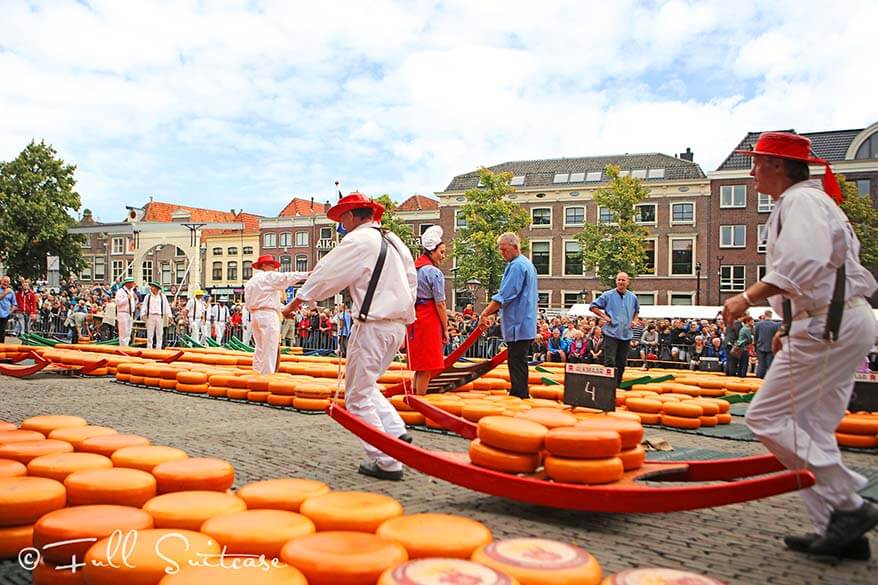 Dinant, Belgium
If you like fairytale-like little towns, you'll love the charming little town Dinant in the French-speaking part of Belgium.
LEARN MORE: Dinant, Belgium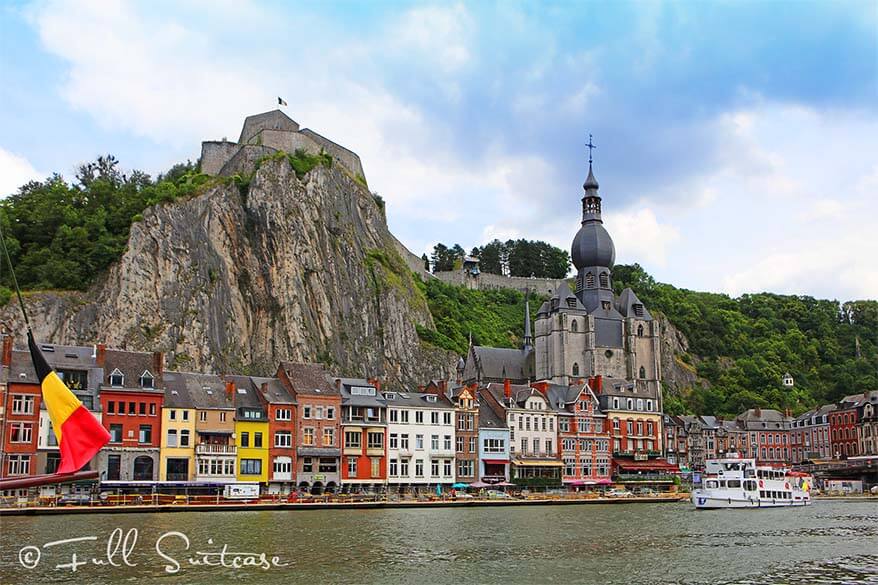 Amazing Hikes
Often we had to walk far, really far to get to the most beautiful places. So we hiked a lot. By the end of the summer, the kids were doing full-day 12-16km (7-10 miles) walks in the mountains as if it was a walk in the park.
Here are some of our favorite hikes from this summer:
Oeschinen Lake, Switzerland
This has to be the most beautiful hike. Ever. We have hiked here years ago, then again this summer, and it had that same WOW effect on us again.
Even as I'm updating this article years later, this hike is still our favorite in the whole world. Furthermore, it remains one of Switzerland's best-kept secrets.
LEARN MORE: Oeschinen Lake Hike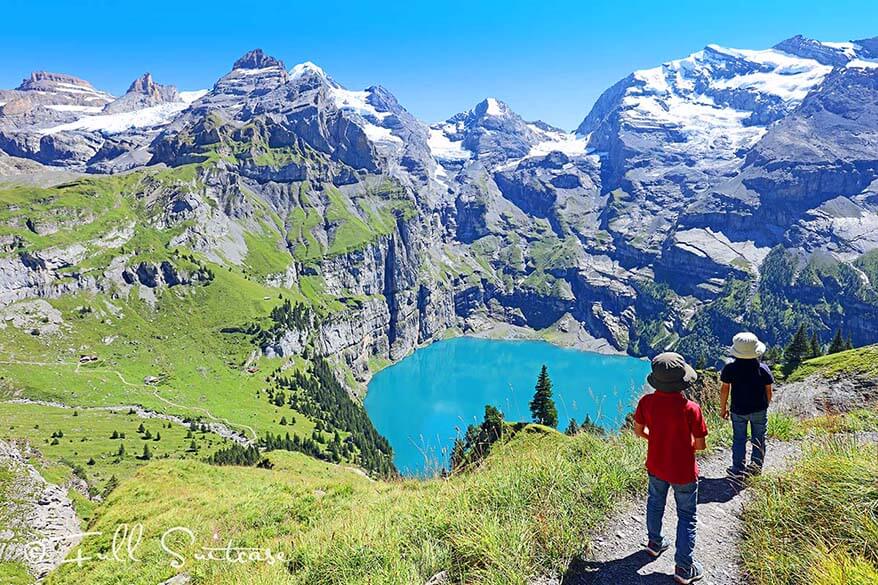 Delicate Arch Trail, USA
If you do just one hike at the Arches National Park, make it this one! Not only does it bring you to the foot of the most beautiful of all the natural arches in the park, but the scenery along the hike is well worth the effort as well!
LEARN MORE: Hiking to Delicate Arch with Kids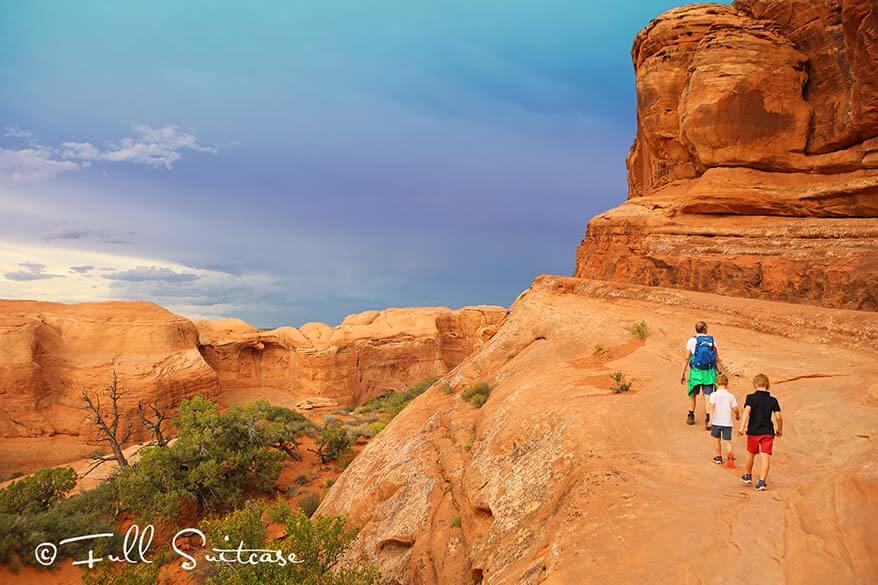 Crater Lake Hike at the Maroon Bells, USA
If you are ever in Colorado, don't miss the Maroon Bells near Aspen and don't miss the hike to the nearby Crater Lake.
The Crater Lake is a hidden treasure at the end of this walk!
LEARN MORE: Maroon Bells & Crater Lake Trail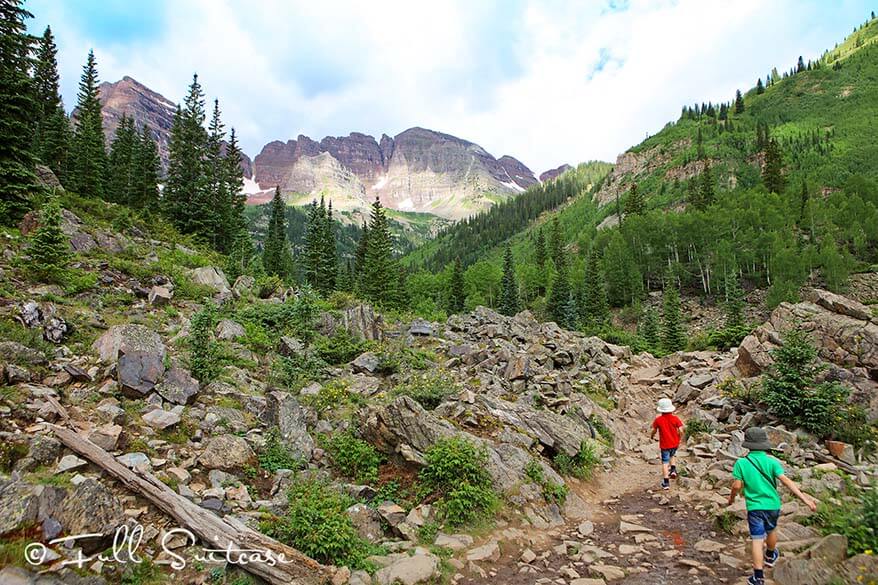 Uncle Tom's Hike Yellowstone
With more than 300 steps, this hike is not for everyone. For us, this was the most beautiful hike in the Yellowstone National Park!
READ ALSO: Best Things To Do in Yellowstone With Kids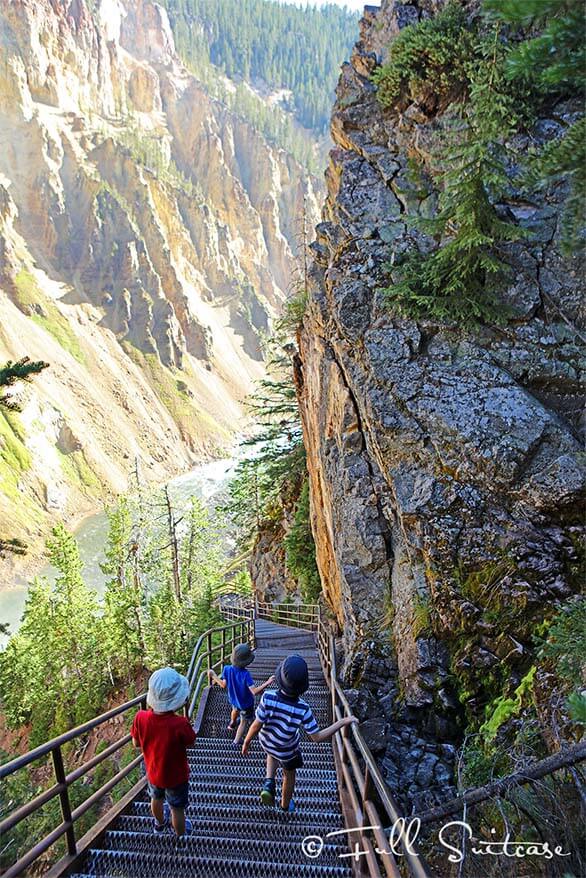 Four Lakes Hike in Engelberg, Switzerland
This is an extremely beautiful hike in Central Switzerland. You start at Trübsee in Engelberg, follow a series of cable cars and hiking trails, and pass stunning lakes and Alpine pastures that truly make you feel like you're walking inside a postcard.
LEARN MORE: Four Lakes Hike in Engelberg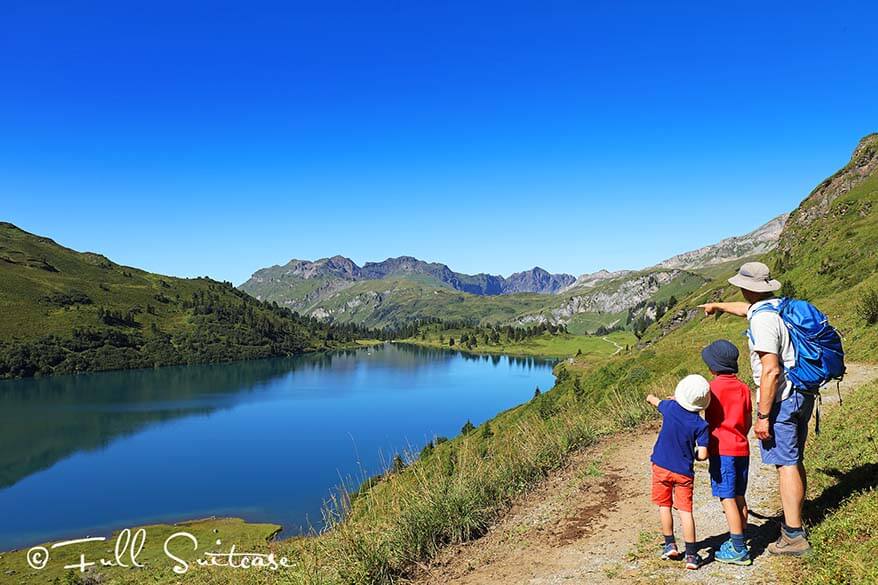 Crazy Stuff We Did This Summer
Now that I think of it, we didn't even get to one single theme park this summer. But we (and the kids) had plenty of fun!
Fighting with knights, rafting and swimming in the Colorado River, climbing the rocks, swimming in the warm geyser-fed river in Yellowstone, riding a toboggan in the Swiss mountains, touching a bone of a long-extinct dinosaur…
But the craziest of it all was taking a little boat for a ride in the pouring rain in Giethoorn, in the Netherlands. Amazing place, but don't ever go on a little boat in such bad weather… I don't think we will ever forget this experience! My mom was with us and I am afraid that she will never join us on a trip again. Sorry, mom!
Boat ride in the rain in Giethoorn, Netherlands
Do you know that the name Giethoorn comes from 'gieten', which translates into English as 'to pour'. No wonder it was pouring the whole day!
And since the best way to explore this village is by boat, we went for a boat ride in the pouring rain. Trying to drive a boat on these narrow canals was really tough, but the rain on top of it all just made it a truly hilarious experience.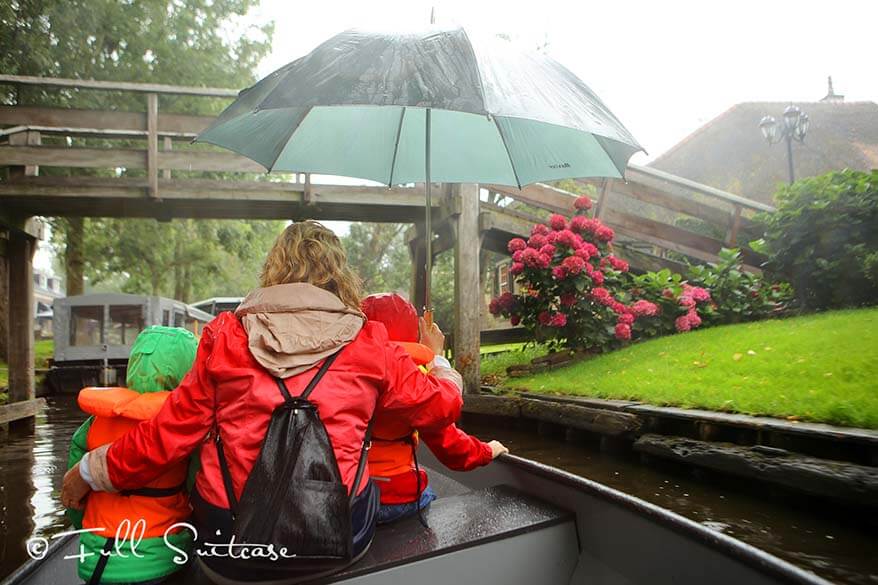 Picture time at Double Arch, USA
Have you ever seen Asian tourists take pictures? They jump and they do all kinds of crazy things – these people must have the most amazing photo albums!
Our kids were watching others 'pose' for pictures and decided that they could do it just as well.
Getting a sharp picture of three jumping kids at low light in the evening was not meant to be, but we had so much fun trying!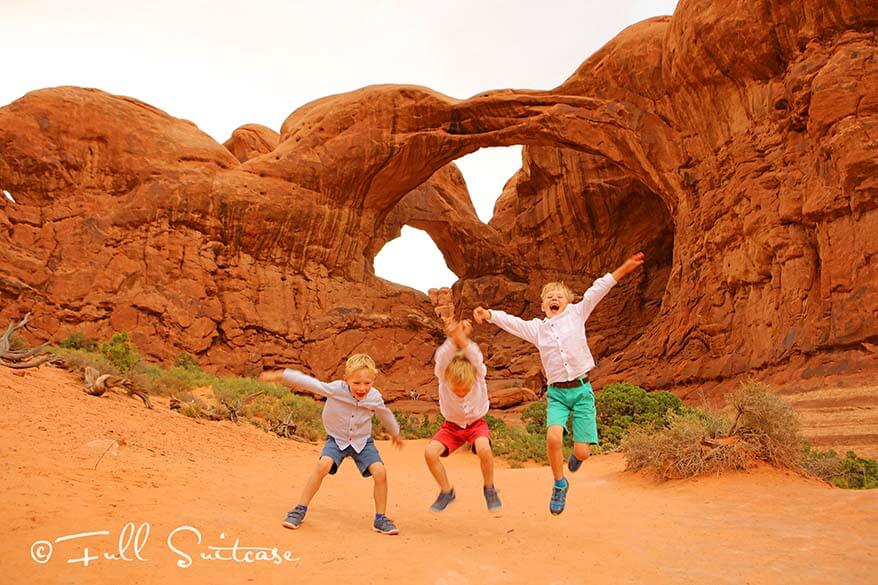 Rafting on the Colorado River, USA
Rafting was not in our plans, but what do you do when it's over 43°C (110°F) for days in a row… It was too hot even on the raft, so we all went swimming in the river. Even the kids joined in!
LEARN MORE: Rafting in Moab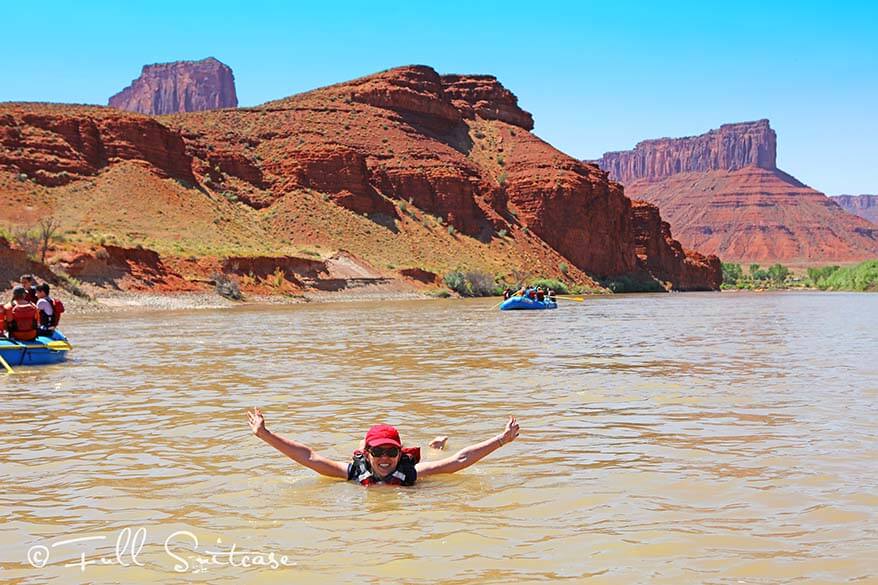 Dinosaur National Monument, USA
We never really cared much for dinosaurs before we visited this amazing place. Dinosaur National Monument is an impressive place, a site where they found so many dinosaur fossils. Just take a look at the picture of my son at one of the 'tiny' dinosaur bones!
Kids are all into dinosaurs right now! We even have (toy) dinosaur eggs sitting in the water waiting to hatch.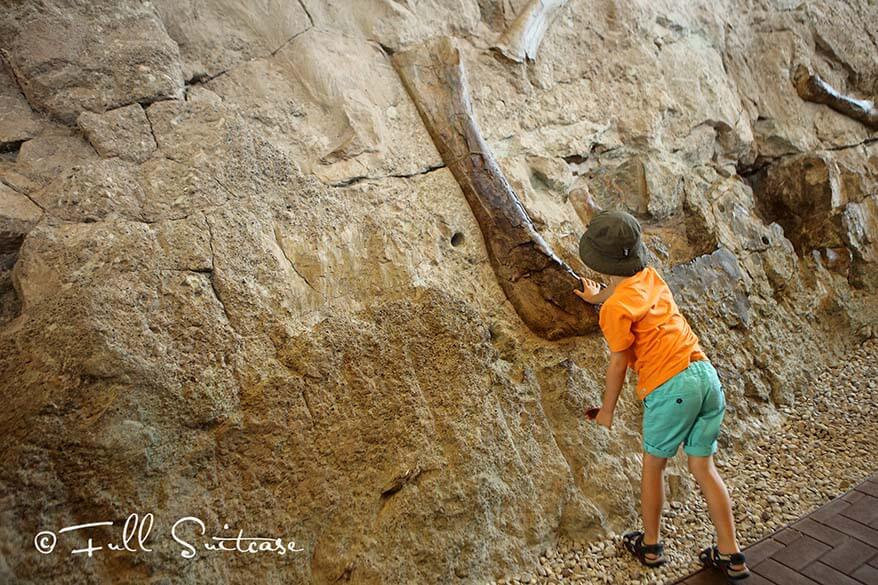 Boiling River, Yellowstone NP, USA
Don't be mislead by the picture below. Boiling River is a real mountain river with a very strong current. And the water is cold. But there is a place where it gets mixed with the water from the nearby geysers, and it's like sitting in a hot tub. Swimming here is a once-in-a-lifetime experience!
LEARN MORE: Boiling River, Yellowstone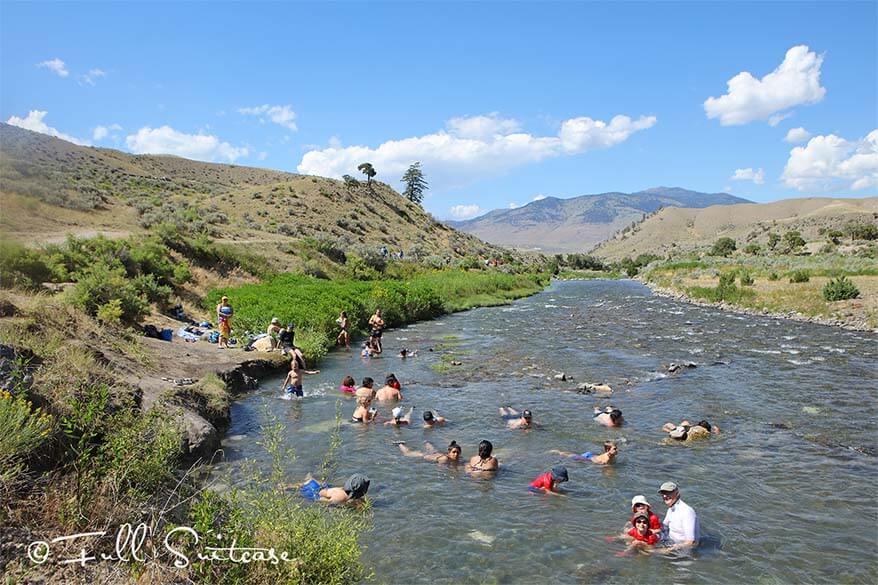 Toboggan in Kandersteg, Switzerland
When the kids heard about the toboggan run in the mountains, they were so excited that they didn't even complain during the 5-6 hour hike we did that day. As long as they could go tobogganing afterward!
I have to admit that I was just as excited as they were. Sledding down the mountain was so exhilarating.
Until now, we've never done anything like this before. But now that we got the taste of it, we go tobogganing everywhere where it's available. And it's getting more and more popular in various mountain destinations in Europe.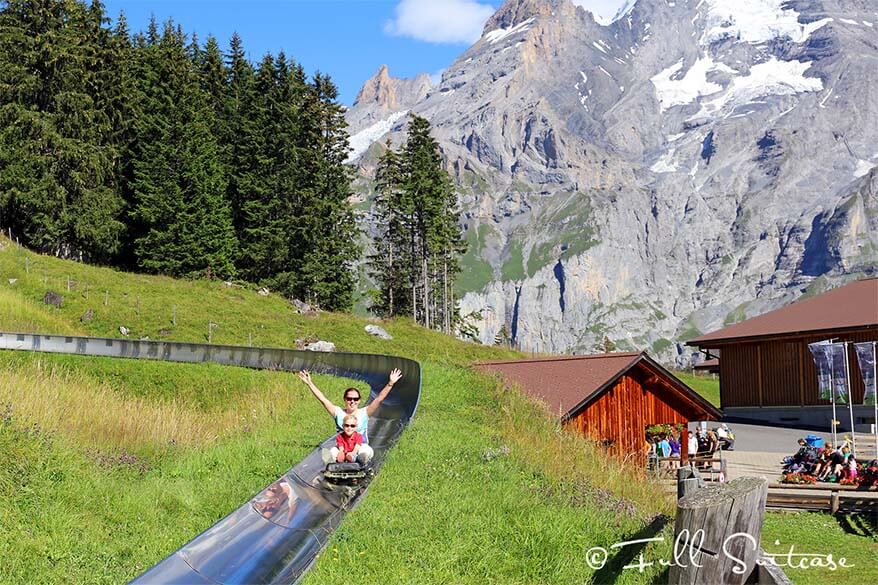 Snow in the summer, Rocky Mountains, USA
It's always surreal when you can play in the snow on a hot summer day. On top of the Trail Ridge Road in the Rocky Mountain National Park, we found some snow in the middle of the summer. Kids loved it!
READ ALSO: Rocky Mountain National Park Itinerary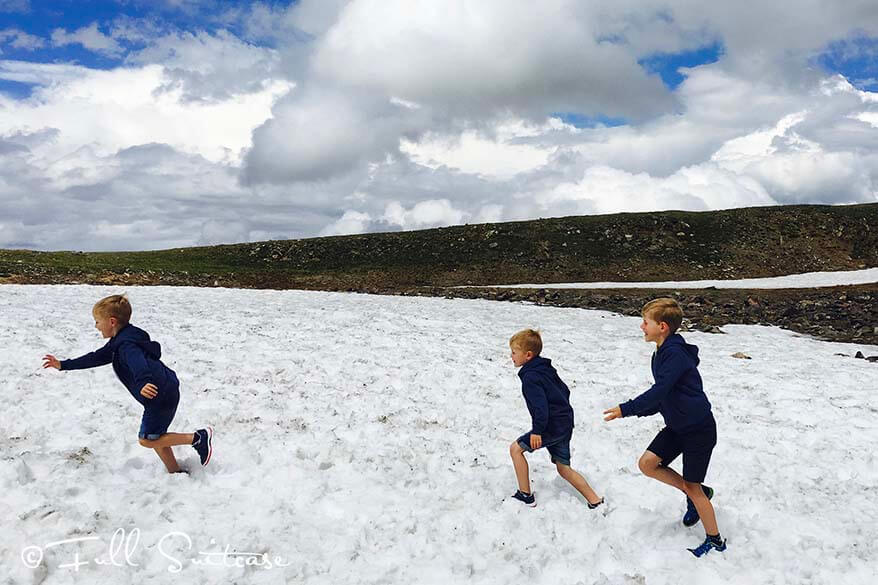 Fighting with knights, Belgium
Sometimes I envy our kids – everywhere we go, they can do so many things that are 'for kids only', things we never ever tried.
Like fighting with knights with real swards which they could hardly lift… Oh well, at least we could join them on the toboggan.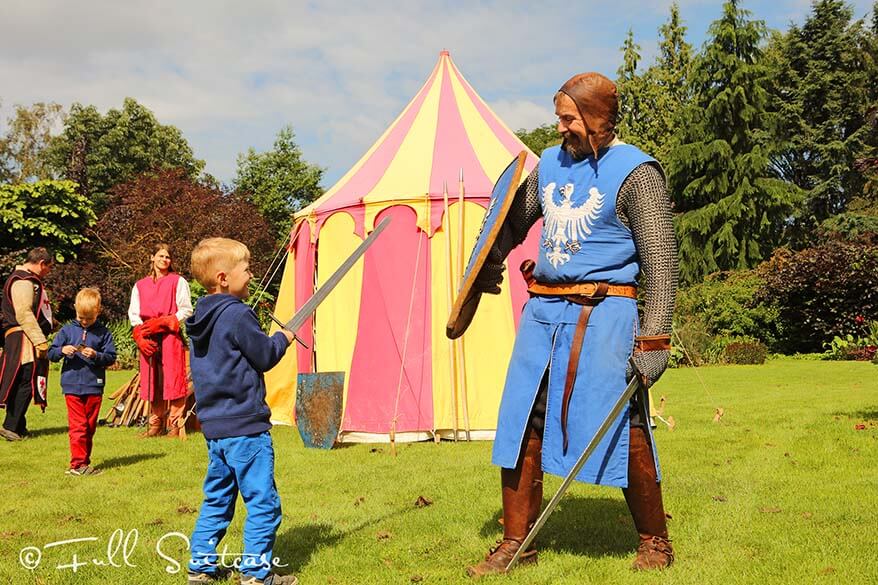 So, this is a small part of our summer vacation. Hope you enjoyed reading this post! If this inspired you to plan a trip of your own, check our American road trip itinerary for some ideas and practical tips.
Read also:
If you enjoyed reading this, bookmark and share this post. Are you on Pinterest? Pin this image!